Volume 3, page 90-99
---
Page 90

ADRIAEN van de VELDE, born in Amsterdam in the year 1639, found himself driven from his youth on by an inherited natural passion for the arts of drawing and painting. While still in nursery school he was able to help himself to his brother Willem's drawing pens, brushes and paints, drawing and dabbling with paint everything he could find, even the board of his box bed, on which (when he was still wearing a dress) he had painted a dairy farmer in colour so remarkable for his years that it was kept long after that time. This was told to me in person by his daughter, the housewife of his broker Sodijn in Amsterdam. One and another of these spring fruits showed satisfactorily that he was born for painting, which is why his father did not wish to frustrate that inclination. But as he was not inclined to embark on the art trail of his father or brother, being ship painting, they thought it good to place him with Jan Wijnants. And it is remarkable that when it was shown to Wijnants what he had thus far drawn on his own, his wife, looking on, said to her husband, tapping him on the shoulder: Wijnants your master is born. Time confirmed this prediction.

He practiced art for some years with Wijnants, after which he diligently stuck to drawing and painting cows, oxen, sheep and landscapes, daily carrying his equipment outside in the field, which he kept on doing once a week to the end of his life. The multitude of his art
---
Page 91

scenes, which decorate the most important cabinets of art lovers in the Netherlands and elsewhere, show clearly enough that the maker was a great master in art. Indeed, no one has come forth who has surpassed him in the loveliness, clarity and pleasant preferences of such objects. And what his brush was able to achieve other than cows, oxen, sheep and landscape painting is demonstrated by his various Passion pieces in the Catholic church in the Spinhuissteeg of Amsterdam [1-4], and in the church over the Appelmarkt, where a half-sized Descent from the Cross may be seen. He was a man who lived by rules and order and pursued art diligently. He was also particularly skilful, for it would otherwise be impossible that we would see so many of his art works, all the more because he lived so few years; for he is buried the 21st of January 1672, at the age of 33 years, to the loss of art in general and several art practitioners in particular, to whose works his brush added great lustre, as can be seen in the works of Jan van der Heyen, Frederik de Moucheron and others. His portrait is found in Plate D 12.

Among the commendable students that he nurtured with his art lessons, appears DIRCK van BERGEN. He painted oxen, cows, sheep, figures and landscapes, glowingly and clearly coloured like those of his master but not as detailed, with the trees and landscape more gloomily foliated, but other than that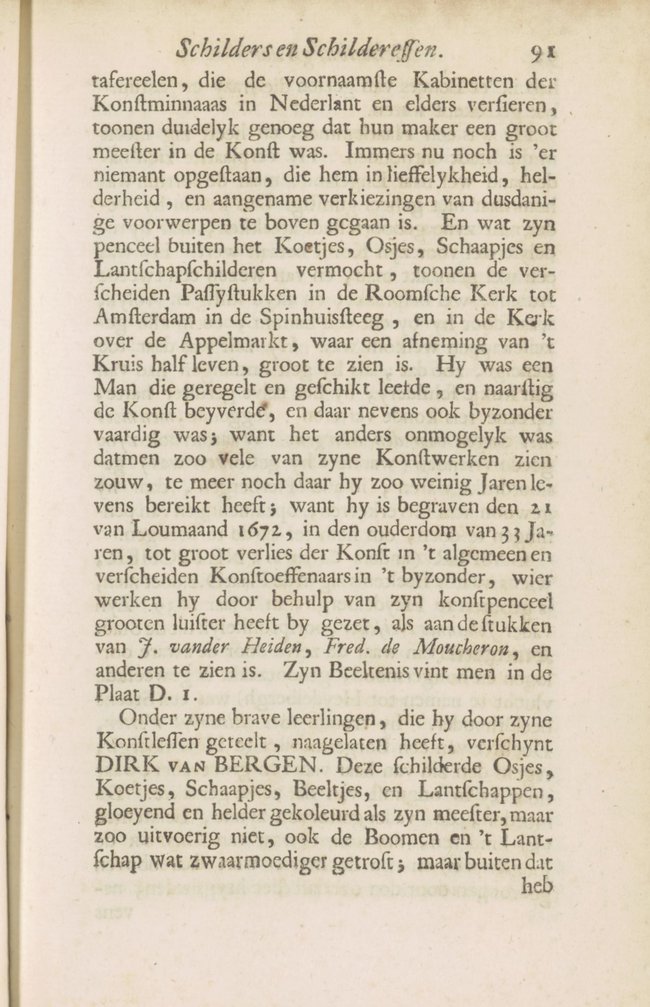 ---
1
Adriaen van de Velde
Christ in the garden of Gethsename, dated 1664
canvas, oil paint 88 x 138 cm
lower left :
Amsterdam, Augustijnenkerk (Amsterdam)

2
Adriaen van de Velde
Soldiers preparing the flagellation of Christ
canvas, oil paint 88 x 138 cm
center right :
Amsterdam, Augustijnenkerk (Amsterdam)

---
3
Adriaen van de Velde
The crowning with thorns, c. 1664
canvas, oil paint 88 x 138 cm
Amsterdam, Augustijnenkerk (Amsterdam)

4
Adriaen van de Velde
Christ meets Veronica while carrying the cross, c. 1664
canvas, oil paint 88 x 138 cm
Amsterdam, Augustijnenkerk (Amsterdam)

---
Page 92

I have seen animals by him that were handsomely and naturally drawn.

He was born in Haarlem and lived mainly in that city. He did later move to England, but fortune did not entirely favour him there. Thus he returned to his native city, where he was reasonably well paid for his art. He was a well-built man and by nature a second Adonis, eloquent and always lusty and happy, for which he was beloved by all and welcome in all company. He was so inclined that if he had received money for a piece of painting, he could consume it with tranquil heart in one journey saying, one must not worry about tomorrow. That is why his good friends (when he had died) were necessitated to collect coins in all the inns in which he was wont to stay so as to bury him.

CASPAR (otherwise Casparus) NETSCHER, whose worthy portrait shows itself in Plate D. 2, was born in Heidelberg in the year 1639. His father, Johannes Netscher, was originally from the city of Stuttgart (from where he was necessitated to take flight to Heidelberg because of the severe wars and famine) and was a stone sculptor. He married Elizabet Vetter, daughter of a burgomaster of Heidelberg, against the wishes of his father and grandfather, whereby he fell out of their favour. The mother, the father having died, burdened with four children, three sons (of which Caspar) was the youngest) and a daughter, was further forced by the excess of soldiers
---
Page 93

to leave Heidelberg in great haste along with many others, and to take refuge in a rural castle, where they were besieged by the pursuers. The proverb rightly says, misfortunes slaughter the monks. They seldom come alone.

When they did not wish to surrender this fortress on any terms, they were so closely beset and imprisoned by the besiegers that they could not get any food inside, so that she descended into the utmost famine, two of their sons dying for lack of food. And with the youngest, about two years old, and the little daughter, she fled (finding an opportunity) in the night.

Under these circumstances they lacked everything except courage. She carried the youngest on the arm and the little daughter could trail behind, and without long deliberation set out on a journey, depending on the protection of the Almighty, who always extends aid to widows and orphans. Thus they arrived in Arnhem, where some, induced by pity, gave them the means whereby they could honestly pass their time.

Dr. Arnold Tulleken, a religious, commendable and rich man, later took in Caspar, who was a good-looking boy and one who evinced a great spirit, with the intention of teaching him Latin and of turning him into a medical doctor. This project was under way and had good results until he got to the third school, when the love of drawing in him broke out strongly and he covered all the paper he could obtain, including his essays, with little men and beasts,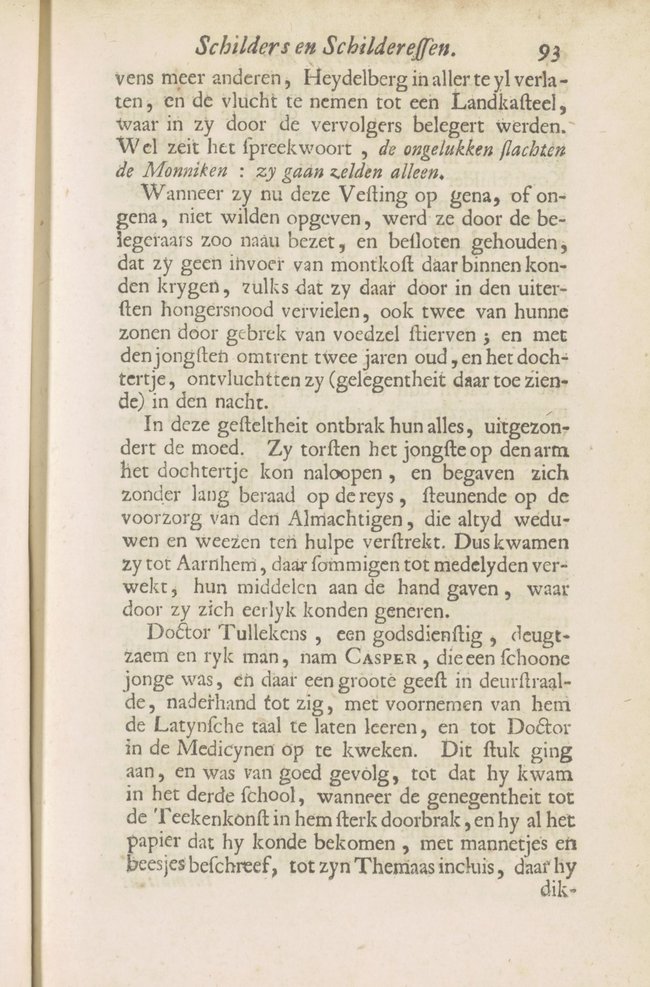 ---
Page 94

for which his master frequently chastised him.

Mentioned Tullekens, seeing that this impulse to art was in no way to be stopped, supported this inclination in him and placed him with the painter Hendrick Coster who painted all sorts of dead birds and whatever else belongs to a kitchen piece, to be instructed in art. He later went to Gerard ter Borch II, painter and burgomaster of Deventer owing to Mister Wijnand Everwijn, who was a cousin of Ter Borch, where he learned to paint everything after life and progressed in art in little time. He had especially learned from his master the handling of white satin thinly and clearly, which he later often applied in his brushwork.

Finally having come so far that he could float on his own wings (as they usually say), he went to Holland and at first painted for headsmen. I mean art merchants who gave Caspar small reward for his work, even though in the habit of buying this work for a slight amount and selling it at a higher price. This unreasonable treatment did not appeal to him, being a means to extinguish the spirit and desire of artists instead of fanning it. He therefore decided (now being twenty years old) to undertake a journey to Rome and at the first opportunity went on a ship with cargo for Bordeaux, taking along a letter from Doctor Tulleken to his nephew Neny [= Noeij], merchant there, to thus continue his journey via France to Italy. Arrived there he got to know one Godijn, a mathematician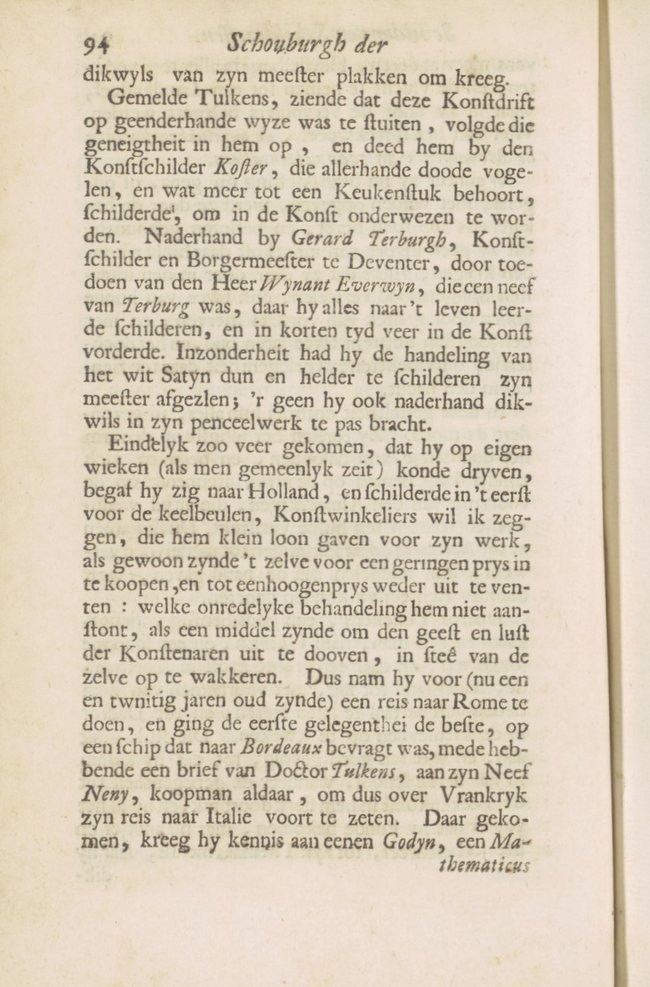 ---
Page 95

and fountain maker from Liège, who later died in the service of the King of Poland [= Jan III Sobieski]. Godijn had a daughter who caught his eye and whom he married on the 25th of November of 1659, so that his intended journey to Rome was halted and he settled in Liège with the intention to keep on living there. But seeing that those who were of the Reformed faith were with time more oppressed and fearful of more general persecution, as later happened, he decided (since he still had only one son and before he gained more children) to flee to escape this religious oppression. That is why he then headed for Holland and settled in The Hague, where he made several outstanding art works. But seeing that his table gained more and more bread-eating olive sprouts and portraiture was the way to make money and had other advantages, he applied himself to that. And his intention succeeded, for in his time he painted not only a host of portraits but also the most important people in The Hague and elsewhere, including almost all of the potentates who came to The Hague, which caused his purse to swell and his fame to grow. Hence Charles II, King of England, who coveted his art, had ambassador William Temple request several times that he come to his court, which he declined politely because he loved his tranquillity, had no taste for courts, and feared the discomforts of the sea, but also because he had been plagued by stones since his twenties and in later years most lamentably with the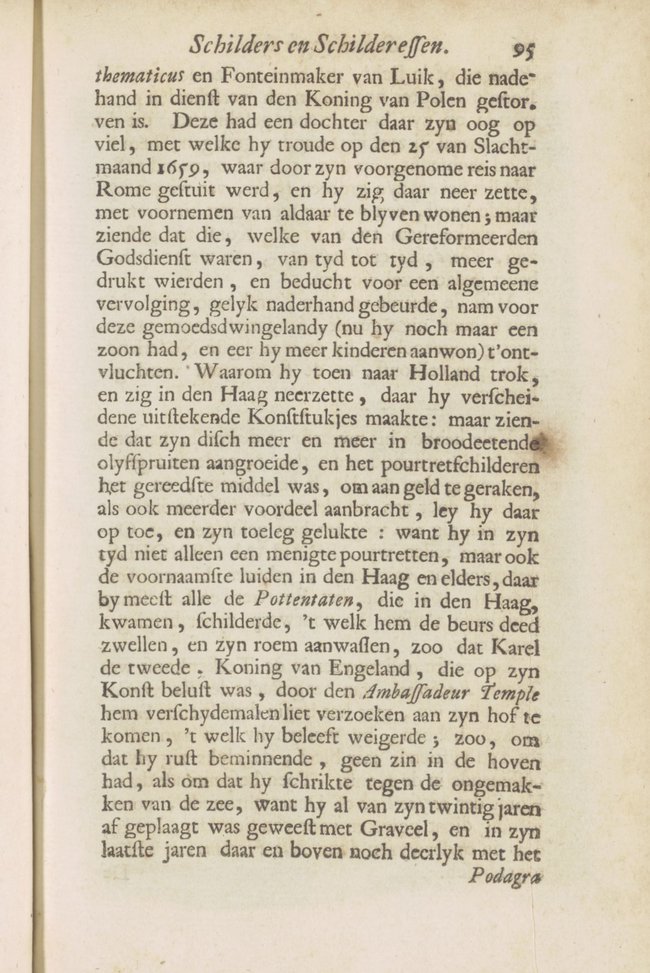 ---
Page 96

podagra or gout, which often disturbed his rest. However, he painted various portraits sitting in bed until this ailment, having entered his intestines, brought him death in January of 1684. Beside his great fame on account of his painting, he left a widow with nine children, of which two followed his steps into art. They were Theodorus and Constantijn Netscher, who will be commemorated in their turn.

As far as the value of his art is concerned, nothing need be said, seeing that it is now avidly pursued and hung in the cabinets with the worthiest Netherlandish art of the brush.

Many have attempted the most difficult in art, namely history painting, others have taken satisfaction with the least part of art, and still others have cleared a middle road between these two extremes, to their happiness. Amongst these we count ABRAHAM GENOELS II, bent-named Archimedes, born in Antwerp in 1640, who took portrait as well as landscape paintings as subjects for his reflection.

His first instructor in the art of drawing was Jacques Backereel, of the family of Backereels, which we commemorated at the beginning of the sixteenth [sic] century, with whom he stayed from his eleventh to his sixteenth year, daily practicing art diligently. Then, discerning that knowledge of the art of perspective is essential for a painter, he let himself be instructed by Nicholaas Fierlants of Den Bosch.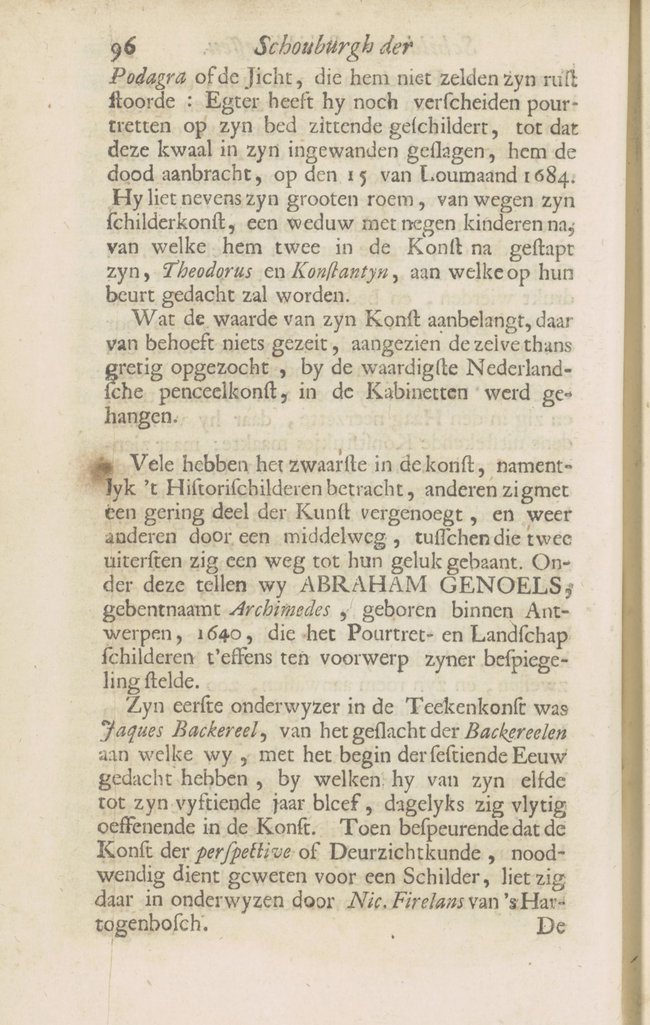 ---
Page 97

Wanderlust crept up on him more and more, and the desire to see foreign lands sprang up until in 1659, at the beginning of the year, he began his journey (under the guidance of Georg Remeeus, whom his father had appointed to look after him). Having arrived in Amsterdam (as there was no opportunity to go by way of Brabant, seeing that the King of Spain [= Philip IV] was at war with France and the belligerent parties were spread across the countryside) he attempted to ship from there to France, which he did not manage readily and therefore had ample time to see the Dutch cities and the handsome art cabinets until some ships loaded with cargo and accompanied by some men-of-war sailed from Rotterdam, with which he went as far as Dieppe. From there he journeyed on to Paris, where he was welcomed by his cousin Laureys Franck of Antwerp, a painter of handsome small works. With him he found Jean François Millet I of Antwerp, a youth of only 17 years but of incisive understanding and great intellect, which was quite clear from the little that he had painted until then, so that our Genoels, seeing his diligence and competence, taught him the rudiments of perspective. Genoels remained in Antwerp painting with Millet for some time and in a short time improved remarkably in art and married the daughter of Laureys Franck, his cousin. What else he witnesses about Franck we will commemorate in his biography.

It did not take long before Genoels had an opportunity at hand to paint some large works to serve as cartoons for Monsr. Gi. de la Noire [= Guy de Lanoy] Tappissier. These were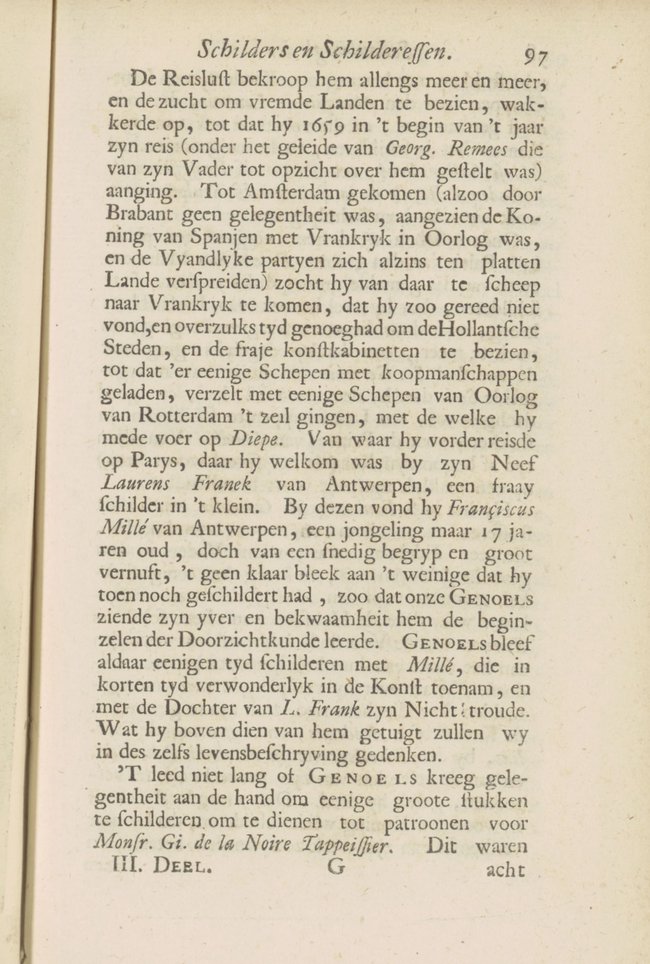 ---
Page 98

eight works with life-size children and landscapes for the Marquis de Louvois [= François-Michel le Tellier, Marquis de Louvois], who had just married and subsequently had the rest of his chambers painted and who had hired Monsr. Gilbert de Sève, one of the twelve professors of the Royal Academy of Painting & Sculpture, in which work he assisted him.

In the meantime he was granted a place in the palace of the great Prior of Malta to complete two of the mentioned great works there, where he was often visited by amateurs. That is why this work proceeded slowly and all the more because he daily went to the suburb St. Germain to the house of the repeatedly mentioned Sève, where he had free board and good daily wages in addition for painting landscapes in works for the Princess of Condé [= Claire-Clémence de Maillé-Brézé]. From that time on his wagon began to roll (as the saying goes) as if on an easy sand path.

He had a room furnished in the Faubourg St. Germain for himself and his servant, who was a nobleman whose father had died in a duel, and was commissioned to make some paintings there for the ambassador of England, for which the heads of the painters' guild of the suburb wished to force him to comply with the laws of their artists' guild. He consulted about this with the oft-mentioned de Sève, who advised him to report to the Royal Academy and go to the Gobelins to Charles Le Brun, the director of the Academy, to show him something of his brushwork, which he did. The latter at once asked him if he wished to paint something for the King [= Louis XIV], for which he would be paid according to the merit of his work and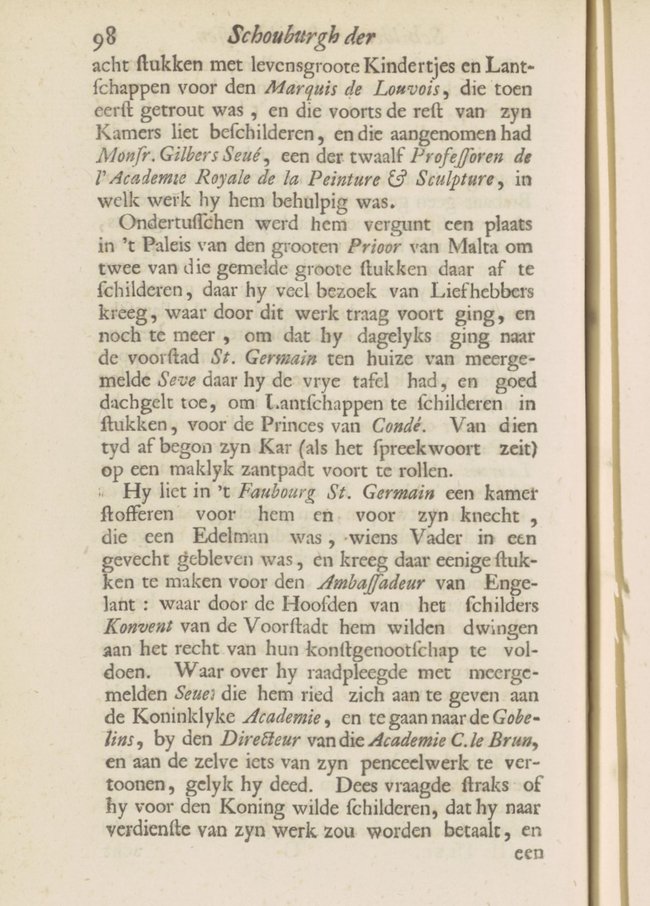 ---
Page 99

would enjoy an annual gift in addition. This was no morsel to pass him by, so he snapped it up at once. Whereupon he was received at the Royal Academy with the customary ceremony. Thus, he came to paint in the Gobelins but continued to live in the Fauburg, seeing he had given his word to Monsr. Noiret, Professor of the Royal Academy to paint two works for the art cabinet of the Duke of Orleans, in a castle built by Henry IV, two days' journey from Paris. In the interim a room was readied for him in Gobelins, and he was put to work by Le Brun painting landscapes for the famous pieces depicting the History of Alexander the Great [5-6], engraved in copper by Gérard Audran and treasured amongst the worthiest of prints [7-8].

Audran, seeing his inventive handling of trees, prepared some plates for him and encouraged him to try etching. He made 26 small as well large landscapes in copper, of which I know 12 (but he etched these in Rome), which are handled loosely and inventively. But Adriaen Frans Boudewijns etched two of the largest, one with pumpkins after a painting, and the other after a drawing made for it. In that time Jan van Huchtenburg was the battle painter in Paris, with whom he maintained an acquaintance.

There for some time, he was sent at the command of the King to make a drawing of the Castle of Mariemont in Brussels, to be woven in a tapestry [9], on which journey the mentioned Huchtenburg and Boudewijns accompanied him to Amiens and from there to Lille, Tournai,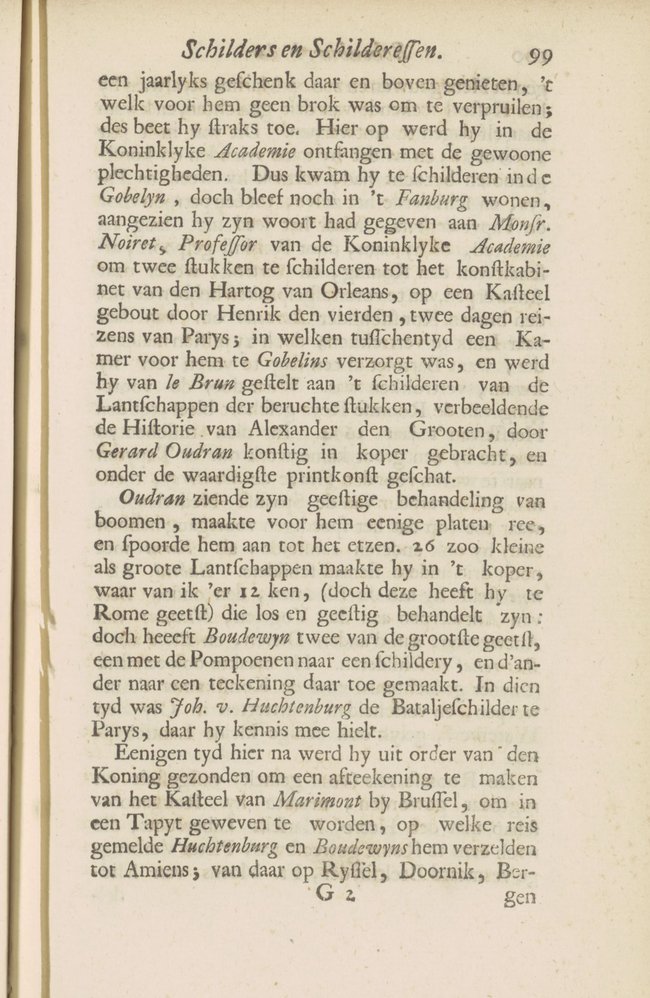 5
Charles Le Brun and Abraham Genoels (II)
The army of Alexander the Great crosses the Granicus, 1665
canvas, oil paint 474 x 1025 cm
Paris, Musée du Louvre, inv./cat.nr. 2894

6
Charles Le Brun and Abraham Genoels (II)
Alexander the Great and the wounded King Porus, c. 1673
canvas, oil paint 470 x 1264 cm
Paris, Musée du Louvre, inv./cat.nr. 2897

---
7
Gérard Audran after Charles Le Brun
The army of Alexander the Great crosses the Granicus, dated 1672
paper, engraving (printing process), etching (printing process) 70 x 137.6 cm
Santa Monica (California), Getty Research Institute, inv./cat.nr. 2003.PR.33

8
Gérard Audran after Charles Le Brun
Alexander the Great and the wounded King Porus, dated 1678
paper, engraving (printing process), etching (printing process) 71.2 x 159.1 cm
Sint-Petersburg (Russia), Hermitage, inv./cat.nr. ОГ-131358

---
9
studio of Jean de La Croix and studio of Jean-Baptiste Mozin after Charles Le Brun and after Abraham Genoels (II)
View of the Mariemont castle in Hainaut, c. 1680
wool, silk, textile weaving processes and techniques 320 x 285 cm
Pau (Pyrenées-Atlantiques), Musée national du Château de Pau, inv./cat.nr. P. 339

---