Volume 3, page 80-89
---
Page 80

that the depiction of the god of war Mars in shining harness painted by him was sold in Amsterdam as a real work by Rembrandt. We know nothing more concerning his paintings, but we can say in addition that all connoisseurs of poetry take him for one to the most outstanding poets of the Netherlands.

In addition he was a man who turned his intellect to reflection of all sorts of matters, so that many relied on his judgment and advice in obscure or confused matters. In 1672 he was requested to join the city council of Rotterdam, but averse to the temper of that time, he refused. However, he did for many years take over the church services of the French community in Rotterdam and was especially a lover of song, for which he had a beautiful advantageous voice and thus sometimes refreshed his spirit with his divine singing until he gave up the ghost, worn down by a lingering illness on the 6th of May 1684. Joachim Oudaan, who then held the first place in Rotterdam amongst all who wrote poetry, honoured his memory with an elegy which is in everybody's hands.

JAN van der HEYDEN, who now has his turn, was born in Gorkum in the year 1637. He learned the rudiments of art with a glass writer but his intellect, passion and outstanding diligence have made him into a great master. His inclination went out to the painting of old and new buildings, views of old castles, churches, temples, with adjoining buildings and village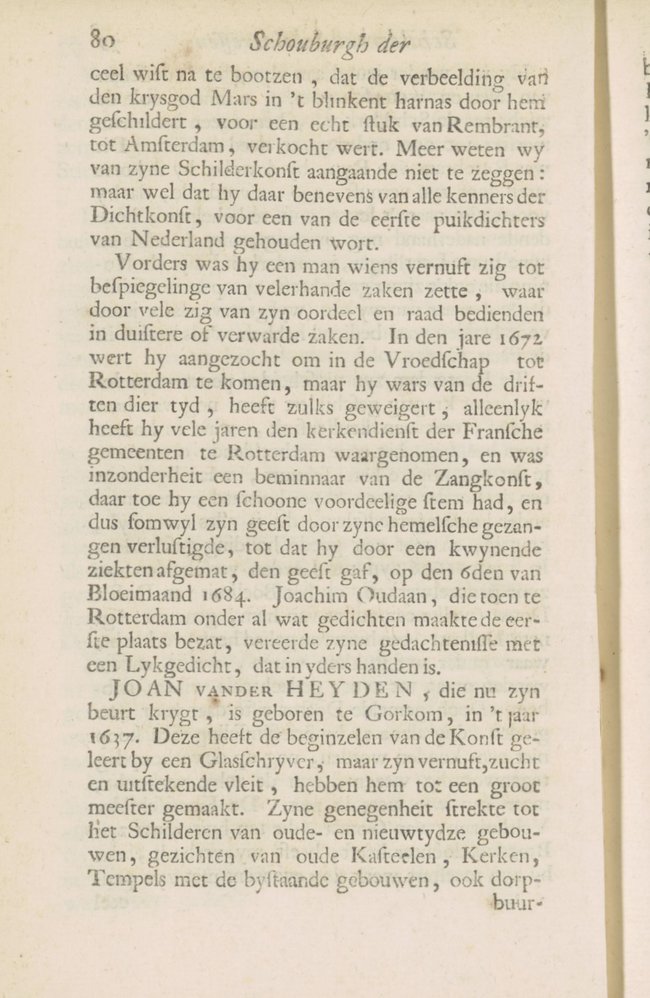 ---
Page 81

neighbourhoods with their orchards and lanes, as well as mansions, etc. as these appear in real life, because he was accustomed to drawing everything after life, to later put it on panel, which he then treated in such detail that his equal in detailed painting is rarely seen. For he painted every stone of the buildings, both those standing in the foreground and those he showed in the distance, so that one can clearly see the mortar between the courses and in such a way that it did not spoil his work or cause any hardness when one viewed the pieces with a general eye from some distance. In addition he also considered the diminution of the stones in accord with the decreasing size of the buildings. With respect to this, people now still believe that he discovered an unusual trick or means because it seems impossible to all those who know how to use a brush that this could be done with the customary way of painting. But be that as it may, it is priceless and amazing.

He made several drawings of the Amsterdam city hall, which he later painted, some seen from the water, others again from the Kalverstraat, together with the weighing house and the New Church. In addition he rendered the bustle of the people on the Dam as these usually crowd together to carry on commerce. But for that he used the help of Adriaen van de Velde, as with most of his other works, until the year 1671 [= 1672], when the mentioned Van den Velde died. But it seemed like it had to be, since he did not need him as much from then on.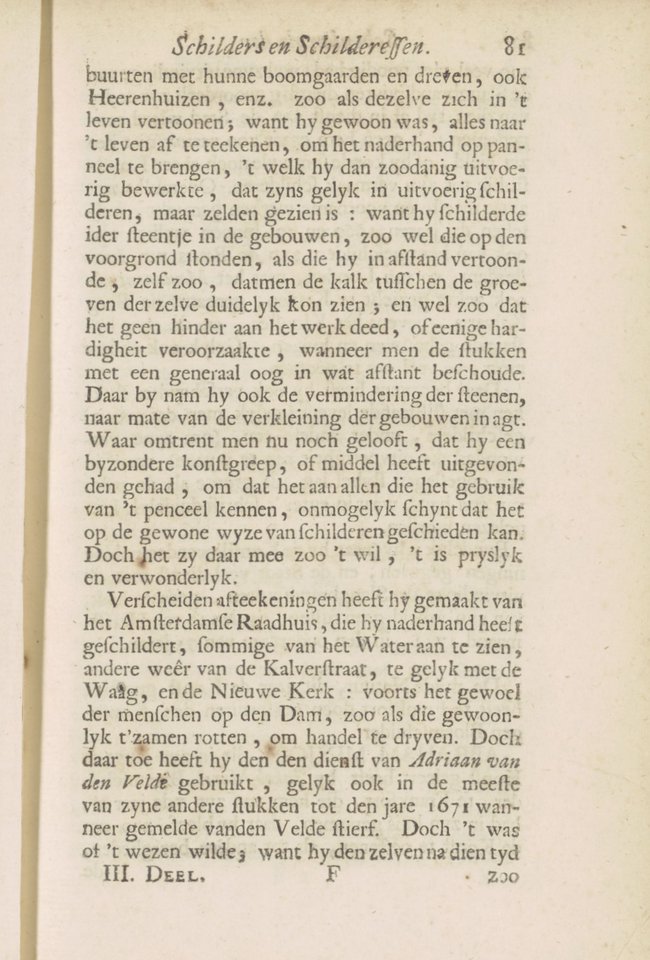 ---
Page 82

With his discovery of the fire hose being judged to be useful, he was from that time on taken in the service of the city. However, this did not keep him so closely occupied that he could not sometimes paint the odd art work for his amusement. As a consequence the most and most important works were made between the years 1660 and 1670, during which time he painted the exchanges of Amsterdam and London, with the Monument [1], as also a certain view of Cologne, named mount Calvary, as well as the cloister and the adjoining buildings and homes, and many more works, too many to be named.

In addition he also painted several pieces with still-standing lives (as they are called), including one (to be cited for its incredible detail) in which lay an opened Bible the size of the palm of a hand, in which the letters could nevertheless be clearly read.

Finally, after he had satisfied the art lovers and was of great service to the city with the invention of the fire hose, he went to rest from his labour on the 28th of September [= March] 1712.

Mild nature, favouring art in this year, had the artful flower painter ABRAHAM MIGNON originate in Frankfurt. He learned art with Jacob Marrel, flower painter in Frankfurt, who took him into his house from his 7th year, where he remained both to practice art as well as to turn his hand to other activities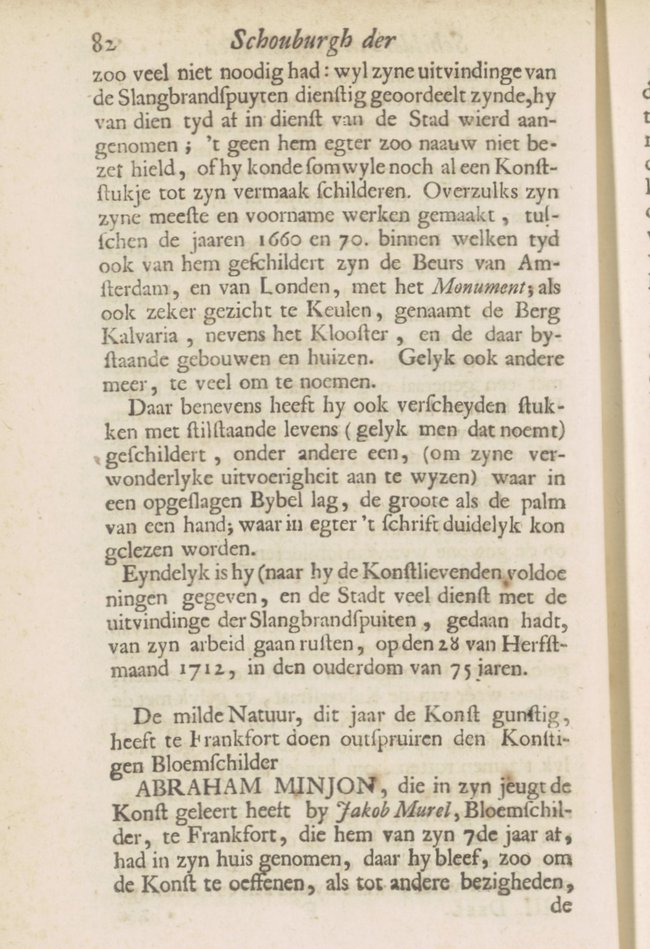 ---
1
Jan van der Heyden
A demonstration of fire engines at the foot of the monument to the Great Fire of London, ca. 1695-1700
paper, pen in black and brown ink, grey wash, inkt 442 x 521 mm
Amsterdam, Koninklijk Oudheidkundig Genootschap, inv./cat.nr. Port. 22

---
Page 83

for twice seven years, meaning to his twenty-fourth year, when he travelled to Holland with mentioned Marrel to join in the art trade. Because of the love and affection that he had for the boy Marrel placed him with the famous Jan Davidsz. de Heem in Utrecht. His father had been a commendable merchant in Frankfurt, but fortune had turned its back on him, so that his mother, being a widow, was forced to go live in Wetzlar (where one could live cheaply), where our Mignon supported her. He was exceptionally diligent and behaved as a man should. He left two daughters when he died in 1679. His art scenes with all sorts of flowers and fruit painted after life were greatly admired during his lifetime and even more after his death by all lovers of art and would have risen more and more in price had not the divine brush of Miss Rachel Ruysch and Jan van Huijsum approached nature much more closely and invested such subjects with greater splendour.

Now follows his contemporary and fellow artist ISAACK DUSART, born in Amsterdam. He mainly used his brush for painting all kinds of flowers with their foliage on satin, but so naturally that they seemed to be living flowers, indeed, better than had ever been done in that way before. He had long stayed in England, from where he brought art as well as a woman [= Catharina van Valkenburg ?] whom he had married, who also understood art and who helped him paint flowers on satin. Those who came to visit them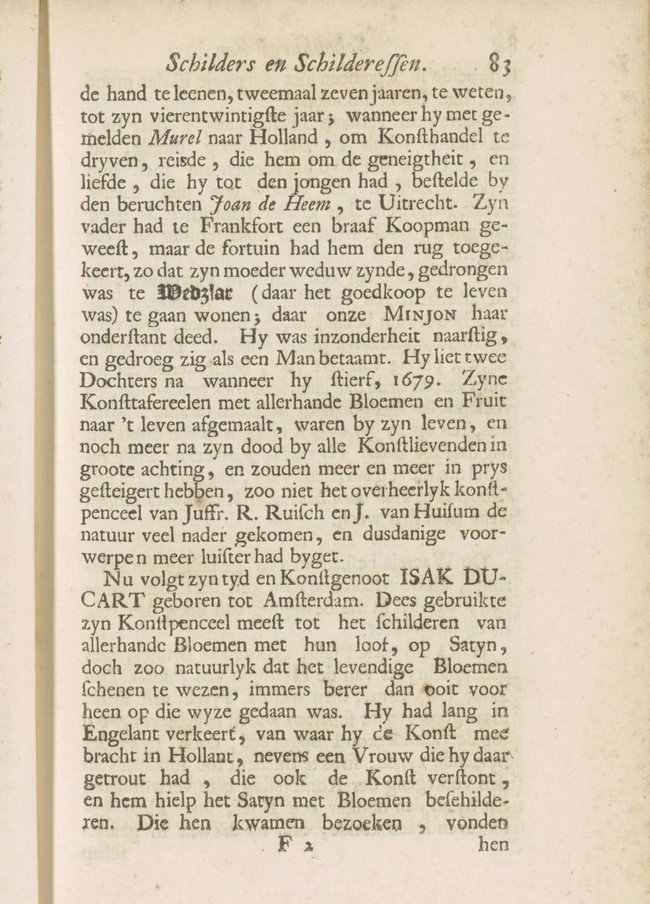 ---
Page 84

usually found them with a pipe in the mouth, smoking in front of their easels.

He who told me this added to it that it was so messy in the house that cat and dog found ample garbage to fertilize with their droppings. The wife was not the most meticulous (besides, all too much punctiliousness is not saintliness) and the husband was indifferent to such things.

It happened that one of their patrons, after eight days had transpired between visits, found everything, only much increased, in the same place. Dusart, who was a bit of a clown by nature, noticed that he regarded the mess askance with a turned-up nose. Sensing that he was judged by him in some way or another, at which he had kept silent, he exacted a double blow. He preceded the man when he got up to leave, saying: They are trifles that one can easily pass by, and showed him the way.

The world consists of steady changes and the people who are part of it are carried along, then high then low, in that movement.

JUSTUS van PEE, born in Brussels, was confidential clerk to the duchess of Parma. His son Emanuel van Pee, who had been left ennobled but without great treasure, was raised to the art of painting. But being unusually near-sighted this left him with an impediment to progress in art. But it is amazing that he could read a letter with small letters in the dark, which he often proved in company.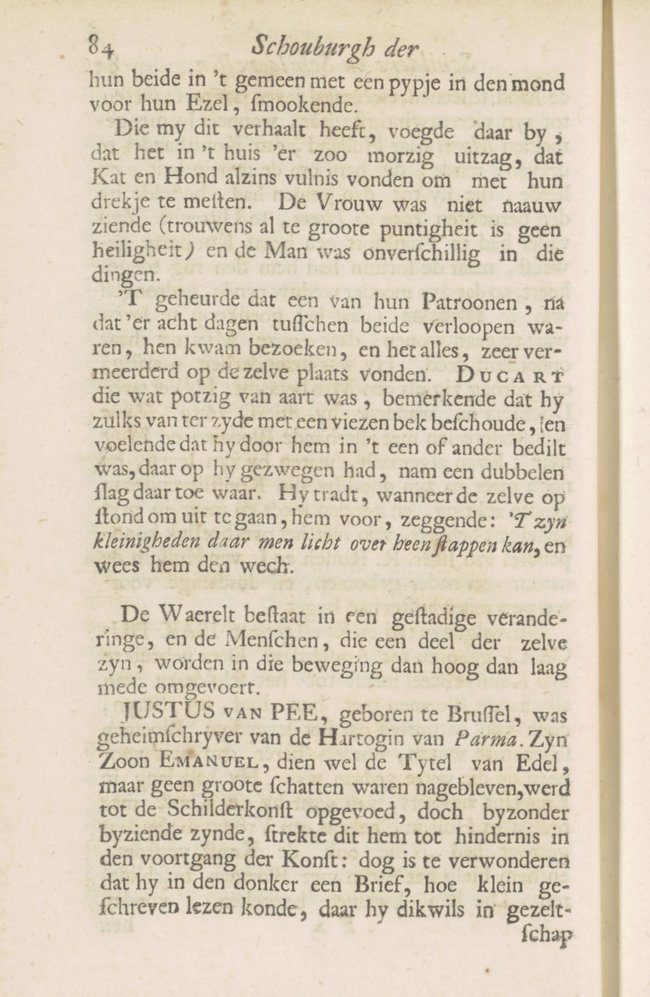 ---
Page 85

Yes, it often happened that those who did not wish to believe it set up a wager and (with the lights of the room blown out) stuck a letter in his hand which he was able to read as well as others could in broad daylight. He left with his household for Amsterdam, where he set up a shop in paintings, for which kind of store paintings, known as a dime a dozen, he kept his son JAN van PEE (who is particularly the object of our pen) from his youth on until he was dissuaded by the art loving Jan Beuns and was encouraged to practice in another way.

He was unusually clownish in all his undertakings, as may be adequately observed from this one incident. When our Van Pee was married and had children, he desired to see Antwerp, the nursery of so many outstanding artists and their art works. He often pressed his housewife about this with velvet words, but this was (as the saying goes) knocking on a deaf man's door, and she was never willing to consent to this. He, put up to it by Isaac Denies, student of Evert van Aelst, who also wanted to go thither, decided to go there silently, without asking or being refused, and to satisfy his inclination, though with the intention to stay away for only three or four weeks. But this required money and clean linen, for which he did not have a favourable opportunity until a certain moment when he felt like eating flounder, and his wife gave him the key to the cash box to get the required money. Then he hid ten ducats, two shirts and some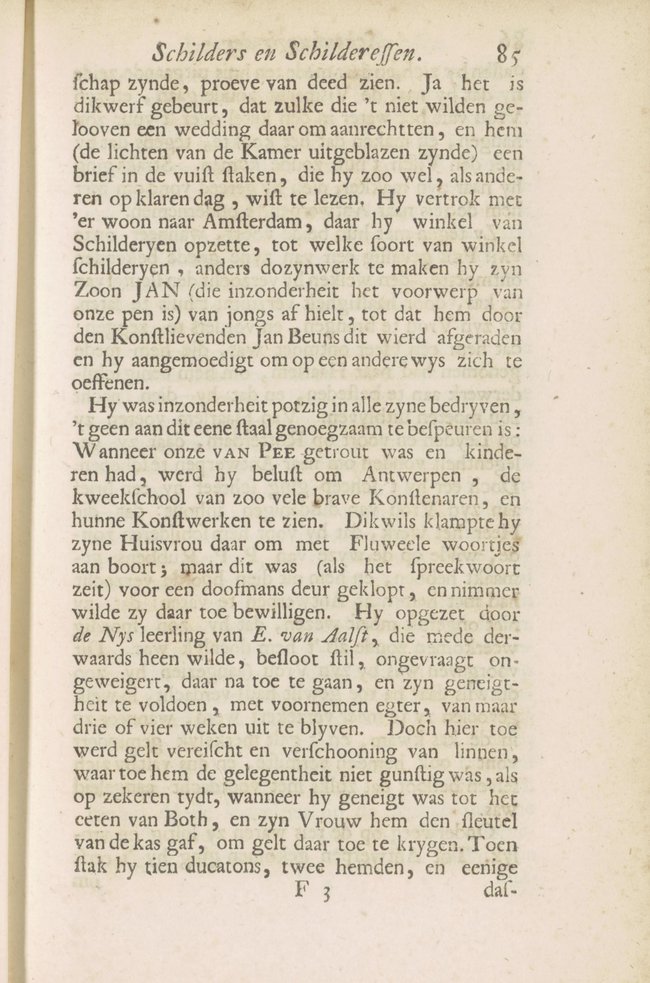 ---
Page 86

ties on his person and leaving the house with this, he said he would go to the fish market, and asked if his wife would already hang the water in the kettle over the fire and see to it that it would be boiling by the time he came home with the fish. He went straight to his pal, whom he found ready to undertake the journey to Antwerp with him.

They were heading off together when our Van Pee happened to meet one of his better acquaintances, whom he charged to bring the key to the cash box, which, in all his haste, he had failed to leave at home, to his wife and further to tell her that he had met a gentleman who had taken him along to Haarlem to commission some work from him, and that he would have to stay away that night. From Haarlem they sailed to Leiden and then to Rotterdam, where they were able to sail for Antwerp. But before he embarked, he wrote a letter to his wife with the following content: that the gentleman wanted the work that he was to do for him in the manner of Peter Paul Rubens and had therefore requested that he ship with him to Antwerp, that she should not be concerned, and that he would come back as quickly as possible. These pretexts were suspect to his wife (seeing he had so often wanted to go there), in which conviction she was all the more confirmed when she looked in the cash box and found the money significantly depleted and also missed shirts, and thus firmly decided that this had been done with premeditation.

On the road they were hearty and jolly. Having arrived in Antwerp he first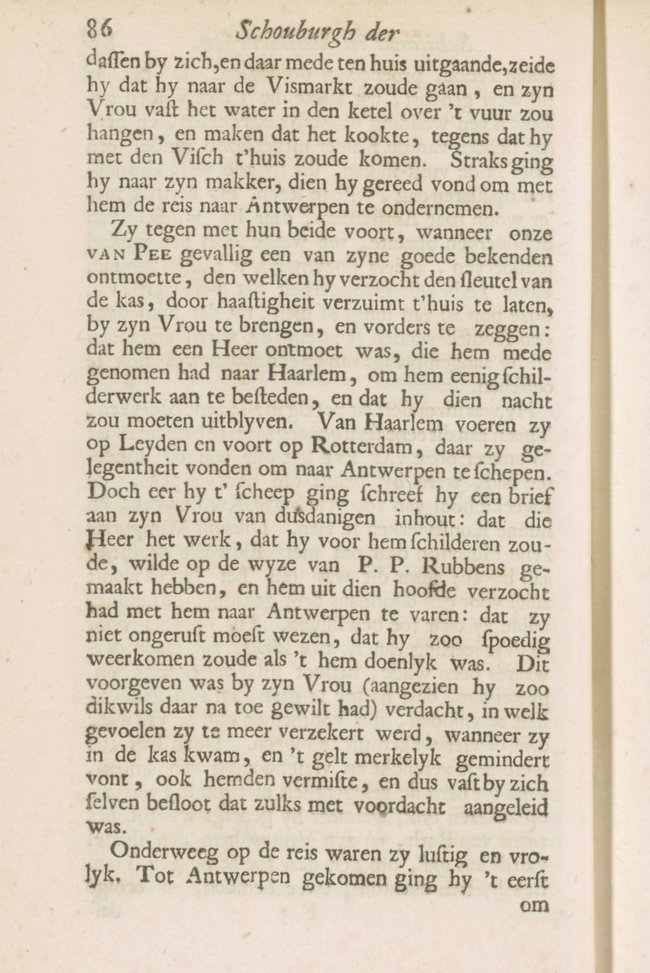 ---
Page 87

paid a farcical visit to the fish market and asked for flounder, with which they at once supplied him. But in the end (when he asked the fishwife how long the fish could be kept alive and if it could be sent to Amsterdam to his wife, who had already put on the water) it was quite apparent that this was only in fun, so that the fishwives laughed heartily about it and called to each other: See here a daft Dutchman who wants to buy a batch of flounder here to send it to Amsterdam.

These travelling companions then went daily into the churches and cloisters to see the famous brushwork of Peter Paul Rubens, Anthony van Dyck, Jacob Jordaens and others, but in the meantime did not fail to test the best liquor to be had in the liquor stores, which finally depleted their money. To write to Amsterdam for a letter of credit seemed to them the obvious course of action, but they reflected that they would have limited credit there and that things could easily end in meagre travel money to pay the costs of their return home. Good counsel was dear. In the meantime they had observed that anyone who offered something for sale at the Friday market got ready money for it. Thus they decided to turn to the brush for their succour, bought paint, brushes, and one small canvas each, and with the little remaining Van Pee hired a beggar to sit for him, and Denies bought some dead birds on the market to paint after life. This project proceeded with vigour. That same day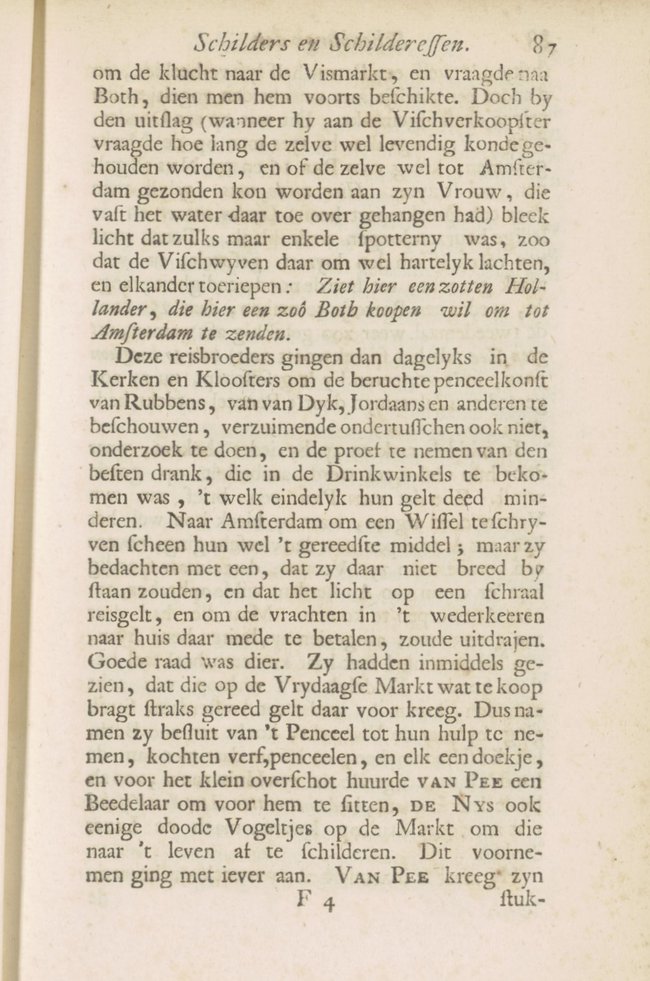 ---
Page 88

Van Pee completed his piece, which depicted a half-length Peter, and the other a table with diverse birds. This was on Thursday. Having arrived at the market with these works in good time, Van Pee got 16 and Denies 18 guilders for his work. With this (as the saying goes) the siege of Leiden was lifted and the empty purses regained their clamour. Then they resumed all over again playing the sloth and seeking diversion until necessity again forced them to make a small panel, in which they were for the second time so successful that (as the saying goes) nothing was out of line for them with respect to rounds consumed in company, now that they had discovered so ready a silver mine in the brush.

In the meantime they became known to everyone, so that much work was commissioned from them at a good profit. So that Van Pee had a letter go to his wife to indicate that everything was going really well for him in Antwerp. In addition he requested that his wife should break up her domicile in Amsterdam as soon as possible to come to Antwerp. But she would not hear of this, seeing she and her children could live quite well off her shop without her husband. Finally, after the passing of eight months, he came back to Amsterdam. He at once went to the fish market and bought a batch of flounder, had them cleaned, and came home with them, saying to his housewife as he was coming in the door, is the water for the fish already on the boil? What he received in reply to this the reader may imagine.

He especially made it is his work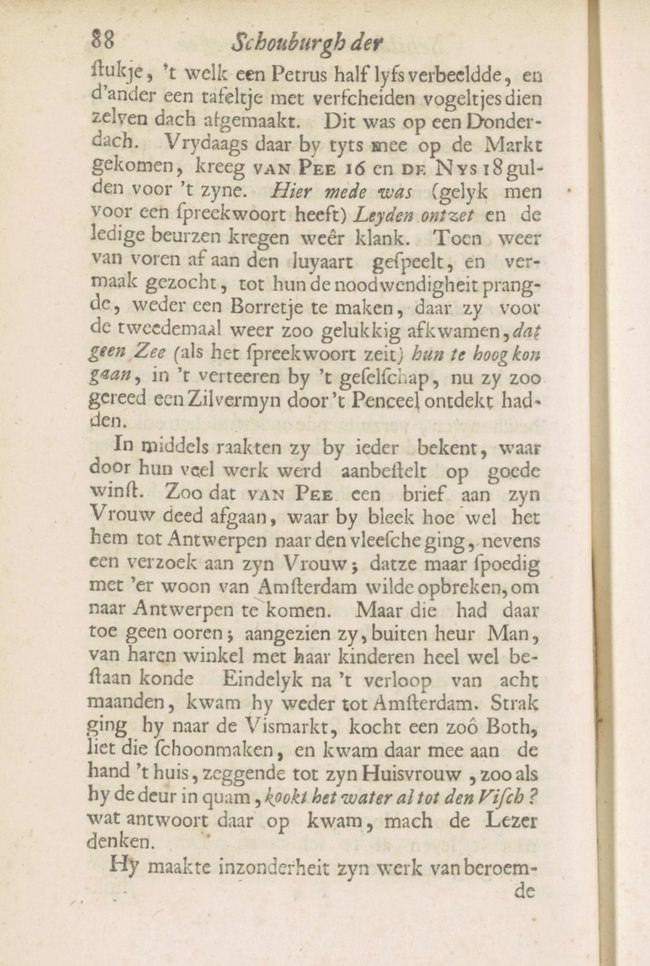 ---
Page 89

to copy famous Italian and other art works, which he was able to imitate so marvellously that one could hardly distinguish them from the originals, and the art sellers, for whom he painted a lot, often played the scoundrel with them.

He left a son named Theodor van Pee, who is still alive, who also took to practicing with the brush and whom we will commemorate in the year 1669.

The portrait of Jan van Pee stands in Plate C. 9.

At the end of the year 1638, on the 11th of November, the commendable painter CORNELIS CORNELISZ. van Haarlem died, being 76 years old. Karel van Mander describes his biography and important works on page 106 of his book. That is why we only commemorate him on the year of his death with this grave inscription:

Here lies Cornelis, covered by a gravestone,
Whose artwork is a marvel to everyone,
Thus his fame lives, though his body rests in the dark.
As he declines, she rises and blushes with more beautiful splendour.

Grey experience has made us see that those whom the goddess of fate wished to elevate above others in knowledge and power of art gave proof of this in the spring of youth, which the poets of fables have wished to indicate by the example of Hercules, who strangled a snake which sneaked up on him as he lay in his cradle. We have no need to hunt down examples from antiquity by dreary routes; the present subject will at once confirm our reflections.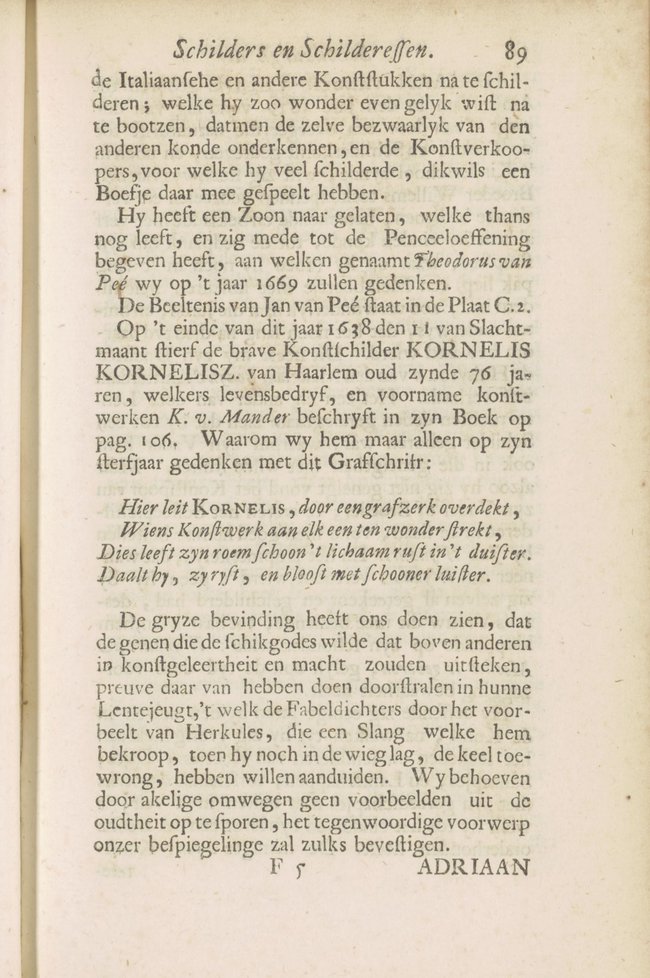 ---