Volume 3, page 70-79
---
Page 70

was able to present himself unusually well, even when he was getting on. He was a widower and had several daughters of marriageable age, amongst which was Josina, who later married Jan Baptist Weenix, and a son named Gijsbert de Hondecoeter, the father of our Melchior, who also became a commendable painter.

Here I must relate an unusual case. Gillis d'Hondecoeter, as mentioned, was a handsome and eloquent man. His son Gijsbert, just mentioned, being in love with a damsel in Amsterdam, let his father know this, with the request to present his case to the damsel and to request free access and courtship with the intent of marriage. The father agreed to this, and went at once to speak to the damsel, who had no parents, to whom he presented his message as attractively to the advantage of his son as he could manage. But no matter what road he took to make that choice attractive for her and to get her to agree, it was no go. She declared openly not to be attracted to his son, and that therefore all insistence concerning him was in vain. She continued: in case a person such as you are were presented to me, I would know what to do about it. A bit taken aback by this response, Gillis de Hondecoeter said: Miss, the subject I put before you accords with your youth and is more fitting for you than for someone of my years, and took his leave from her. But this advantageous answer always remained in his thoughts until the passion of his son had disappeared with time and reflection on another object, when, inclined to marry again, he went to said damsel, and on some sweet pretext asked if she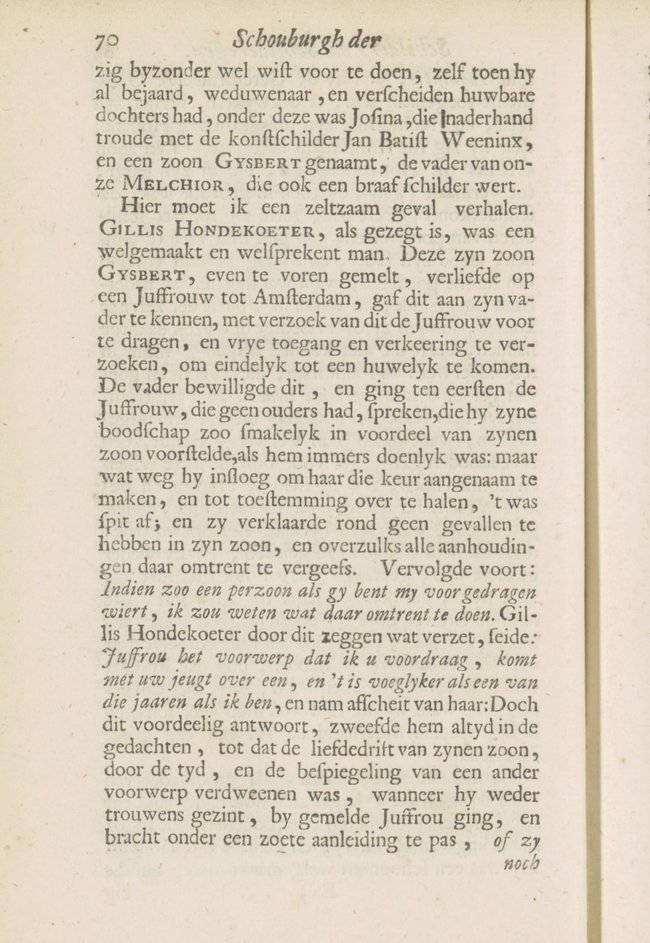 ---
Page 71

still remembered what she had said earlier? She said yes, and that she would stick to her word concerning this, whereupon he declared himself to her, and it became a marriage. But his son moved with his family to Utrecht, where he had been born in the year 1613, not wanting to be exposed to the object of his first love.

He painted all sorts of living fowl, especially roosters and hens. In addition he was a pious and commendable man and provider to the poor of the Reformed Church in Utrecht, but died in 1653, in his fortieth year, so that our Melchior was able to take advantage of his instruction until his seventeenth year.

He surpassed his father in art, which he practiced until his sixtieth year and therefore garnered great fame with his brush.

The commendable poet Willem van der Hoeven reacted thus in his elegies to his death on the 3rd of April 1695:

Oh Melchior, who with your brush with pure sparks,
Born of my eye ignited so ardently
With which everything under the firmament
Raised on wings, you were able to paint after life
I will keep my praise for your effort to the last!
Did ever Arab praise on his camel's nest,
In which the Phoenix as his life approached its end,
Burns itself, and did Ruler Claudius in Rome see the sun bird.
It is usually thought to be idle dreams and nonsense
Versified by the inventive brain:
I have produced a Phoenix on the Amstel,
For which the Ethiopian has to flee and give way,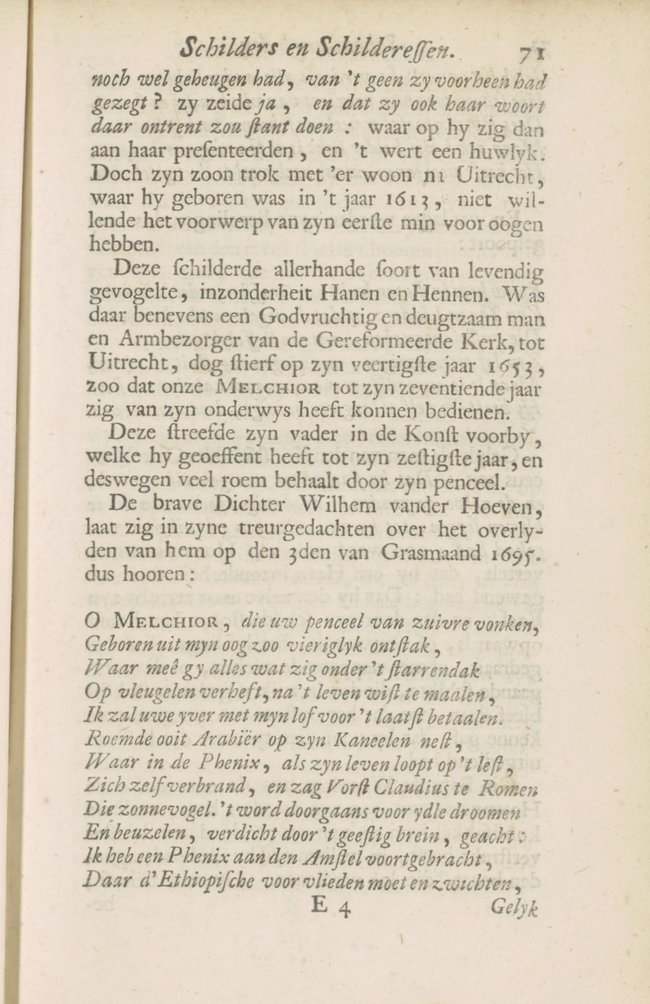 ---
Page 72

Just as the sunlight dims all other light.
No matter how beautiful his decorated with wings, body and tail,
This Phoenix had given birth to many and still more beautiful.
But oh! This clear light disappeared all too soon,
It shone for many years but still too briefly.
And a little further on his favourites are thus encouraged:
Build him in the open air a grave beneath the foliage
Of oak and linden, so that the birds without care
Make their resting place with a lovely sound,
Eternalize his praise with singing and whistling:
But it's not necessary; for his name will never die,
He has himself immortalized it with his paints.

Just as people said of the painter Otto Marseus van Schrieck: That he raised snakes to his purpose, and habituated them to remain lying still in such aspects until he had made full use of it, so it is said of d'Hondecoeter that he had trained a particular rooster to this end, that he only needed to put it by his easel and then, with his small maulstick, arrange the head upwards or downwards, the body turned to the left or right, or with flapping wings as if moving ahead, which would then remain in that position until his master, getting up, indicated that for the moment he had served out his time standing that way.

Jan Baptist Weenix was the uncle of our d'Hondecoeter on his mother's side, whose torch of art often served him as lodestar after his father's death, at which time he possessed all qualities deserving of praise. He was polite and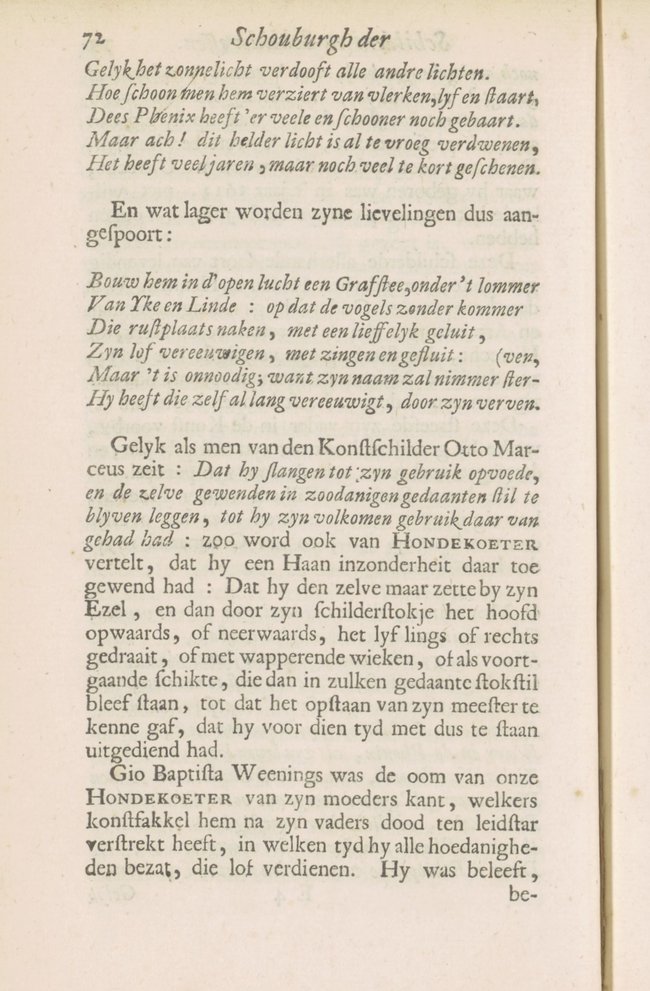 ---
Page 73

modest, a hater of profligates and pub-crawlers, diligent and assiduous in the execution of the practice of art, also particularly inclined to knowledge and sciences concerning the Biblical religion, in which he was so far advanced that as a demonstration thereof he let himself be heard by acquaintances and friends from the pulpit of the Church of St. Jan in Utrecht, to whom he gave such satisfaction that it was being considered if he should be advanced in that practice instead of that of painting. In addition he was of a religious nature, and often poured forth prayers in the evening in his bedroom with such seriousness, so exalted, and mixed with divine considerations that his uncle and mother, with whom he then lived, and the rest of the family (thus the Painter Jan Weenix, his cousin, told me with his own mouth) often stood listening to him in silence on the stairs. Yes, people hold it for certain that the change in his way of living was caused by the meddling nature of his wife and her sisters, who lived in with them, and originated in daily nagging, for they did not suffer, except grudgingly, that he showed his good friends any tokens of friendship at his house. That is why it happened more than once that he received them outside his house, in an inn, and had others invite him so that his wife might not be suspicious, so that she was satisfied for the moment. And he would have acted wisely, had he always been patient in his lot, according to the example of Socrates, instead of expelling his sorrow with wine. For when asked how he could bear the continual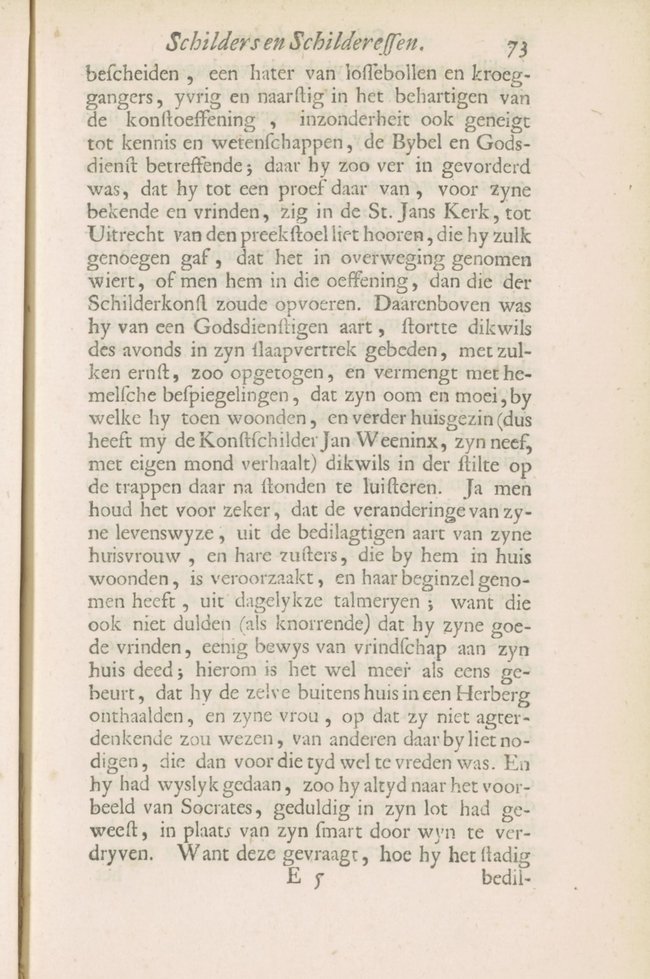 ---
Page 74

interruptions from his wife? Gave as answer: Can you prevent the cackling of chickens? And to another, who asked him: why he put up with the unreasonableness of his wife? I practise my patience that way inside my home so that I may behave wisely under such circumstances when I am out. But, it is no mean task; goes another saying, always to be in control of oneself. Many have striven after this, but very few have arrived at such perfection that they behave themselves under all circumstances so that they keep their good measure. Our d'Hondecoeter often miscalculated in this, and, especially with advancing age had not that power over himself that guarantees perfection, but the weakness that once he was in company or encountered an opportunity to drink, he did not count the successive glasses as soon as a little wine had flowed over his tongue. Thus it went with him in this respect as the proverb says: Once one sheep is over the bridge, the others follow easily on their own. So that it has also happened on occasion as Caius Caesar writes about Cato, that those who encountered Cato coming drunk from a feast in the early morning were as ashamed as if Cato had caught them drunk, and not they Cato. Still (so testifies Willem van Royen II, who trained in art with him), if he had drunk above his mark the night before or had wasted a lot of money, he always had great regret the next day. But this lasted only as long as he remained in his house and at work. But the moment he again joined company that regret had been forgotten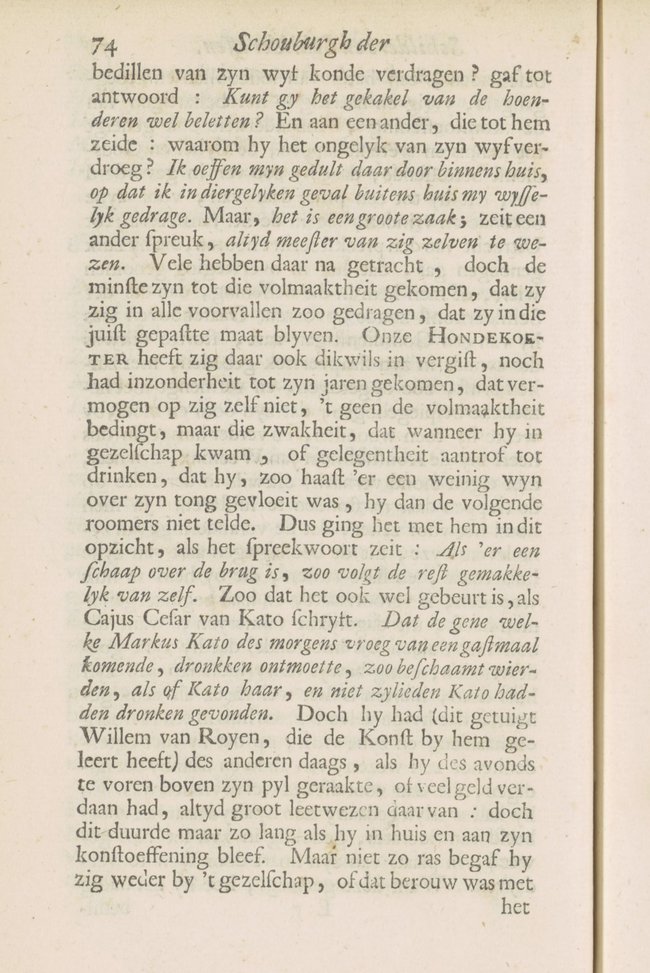 ---
Page 75

with the first glass of wine. This reminds me of the saying of Achilles Tatius, who said: No matter how seriously a man decides on abstinence, he will still be easily tempted to emulation by bad example. But aside from this he was a handsome, good natured, amiable and sensible man, and the phoenix of his art.

One sees his portrait in Plate C 10 and that of his grandfather Gillis d'Hondecoeter in Plate B 6.

In this year 1636 was also in flower the painter MATTHIJS HARINGS of Leeuwarden. He painted his images soft and flowing and was able to capture a likeness of the features very well. And after him follows

JAN van NECK, who was born in Naarden, where his father was a physician. Inclined from his youth to learn art, he was placed with Jacob Adriaensz. Backer, whose bold brush handling and powerful way of painting he was able to observe, imitate and make his own. Beside his dressed history pieces he also painted handsome nudes and bathing women.

Especially praised amongst all his art works is an altarpiece depicting Simeon who embraces the infant Jesus in the temple, which is placed in the French Catholic church on the Bloemmarkt in Amsterdam. In addition he was a man who was immaculate in his way of life and who went to church diligently. He also had an unusual gift for friendship and was well worth being around for his sweet stories, and had the present undertaking entered my head, he would have been of great service to me, especially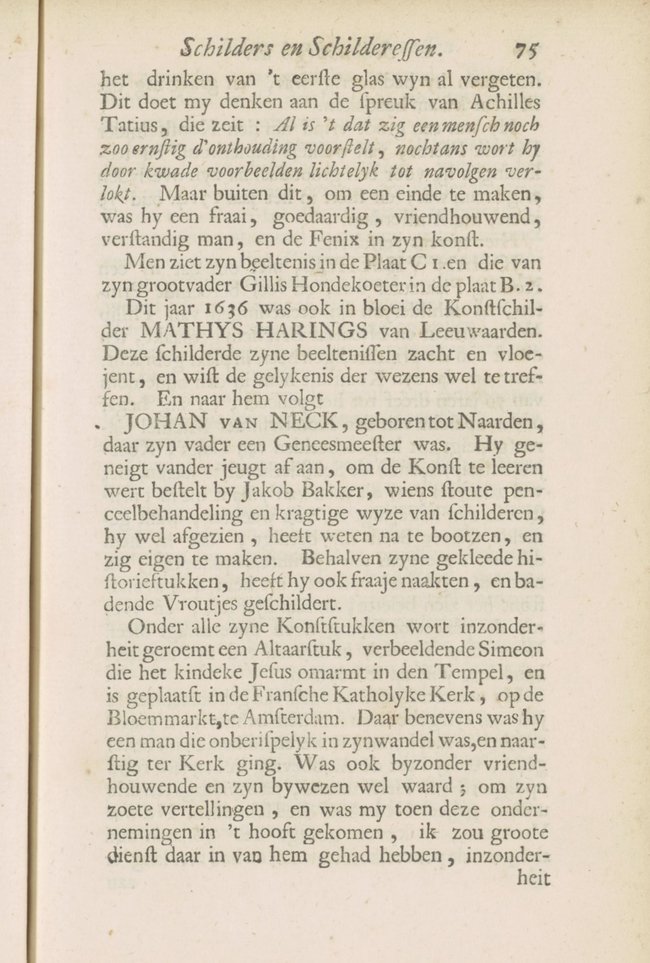 ---
Page 76

when he was bedridden and liked to have me visit.

He was a great friend of the painter Dirck Ferreris, who with his death inherited the greater part of his art on paper and drawings. He died in Amsterdam in the year 1714, 79 years old.

Next to this appears

JOHANNES VISSCHER, not because he was an artful plate etcher and made many famous prints after paintings and drawings by Philips Wouwerman and Nicolaes Berchem as service to print lovers, but because his love of art drove him to the brush at the age of 56 years, and under the supervision of Michiel Carrée (inclined to depicting oxen, cows, sheep, etc.) turned to learning the art of painting with as much diligence as one might expect from someone in the prime of his spring youth. For Carrée attested to me that he often woke him at five and that he did not get up from his easel until nightfall prevented him from seeing, and that his passion for brush practice still remained unsatisfied. That is how he was able to imitate his master's handling in little time.

He was born in Amsterdam, but the year of his birth (to place him properly) I was not able to ascertain except from a certain incident at the time of the earthquake that made all of the Netherlands shake on the 18th of September 1692 at three o'clock in the afternoon. Now as I have just said, Visscher was 56 years old when he took to the brush, and he had not been at it long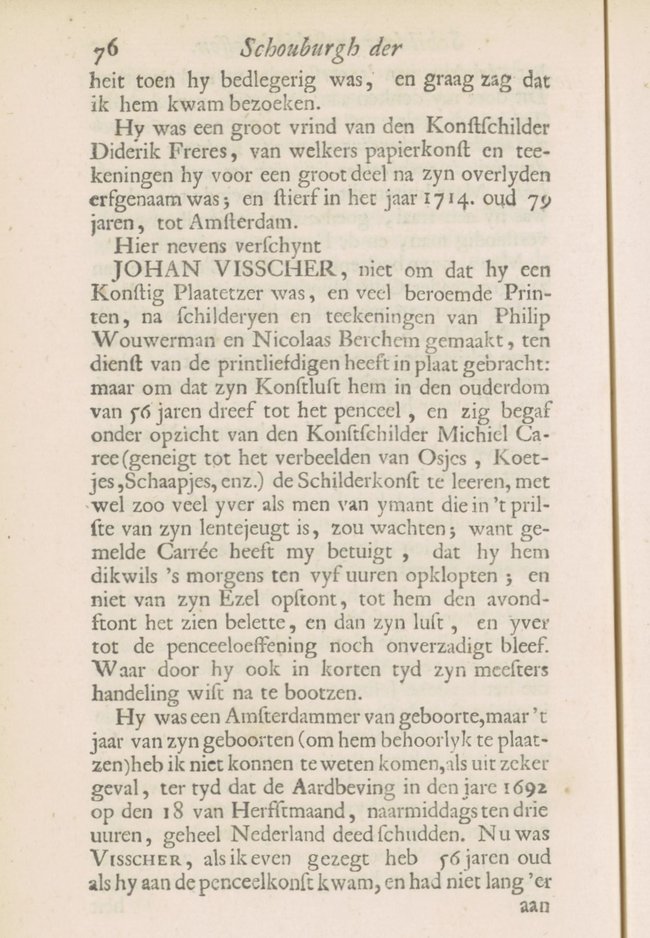 ---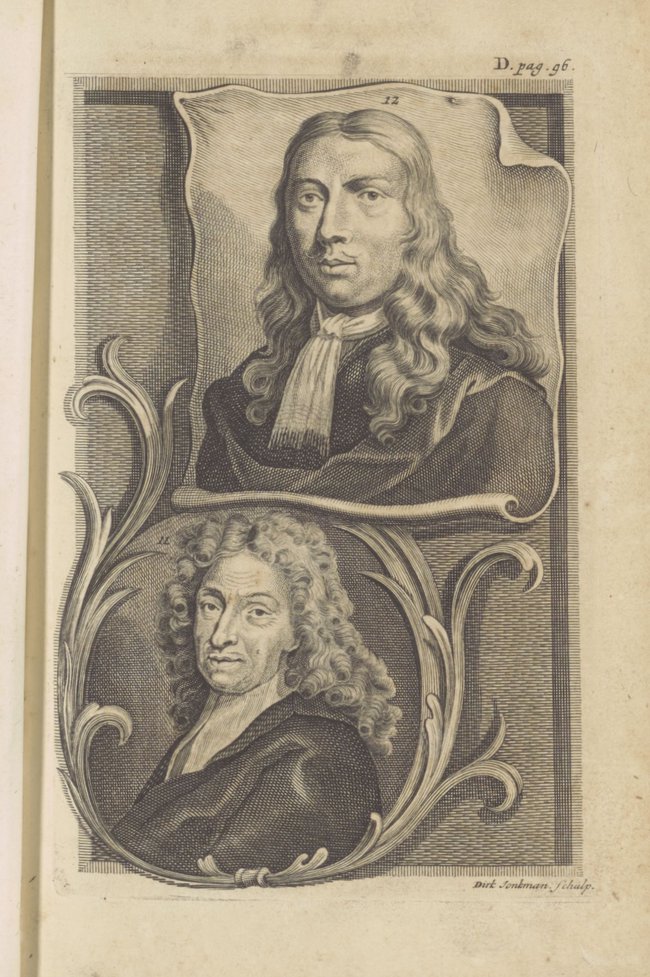 ---
Page 77

when this incident occurred. From this one can easily calculate that he must have been born around the year 1636.

Carrée sat in the lower room and Visscher above his head, painted diligently, when some furniture or other that stood in the attic began to move from one place to another, and to make such a racket that Carrée called out in a loud voice, Visscher! Visscher! What's that racket you are making above my head? He got as answer: I'm not making a racket; but the beer gantry (this was a trestle on rollers) rolls without anyone touching it, from one end of the attic to the other.

To this we apply the saying of Antisthenes, It is better than one turns to learning late than never.

Our Jan Visscher had two brothers. Cornelis Visscher II and Lambert Visscher were older than he and both great masters of engraving, of which the latter showed remarkable sample pieces in Italy, where he also died, just as the first did in the Netherlands. In addition Cornelis had a way of drawing after life in black chalk which is unsurpassable to such a degree that if of all the ways of drawing I had to select one as example for the painting youth, I would not be able to conceive of one better suited to convey the faint light of dawn, broad clear shadows and firm brush strokes treated with understanding and ease. Most of this mentioned art of drawing rests in the cabinet of the art-loving Mister Jeronimus Tonneman in Amsterdam.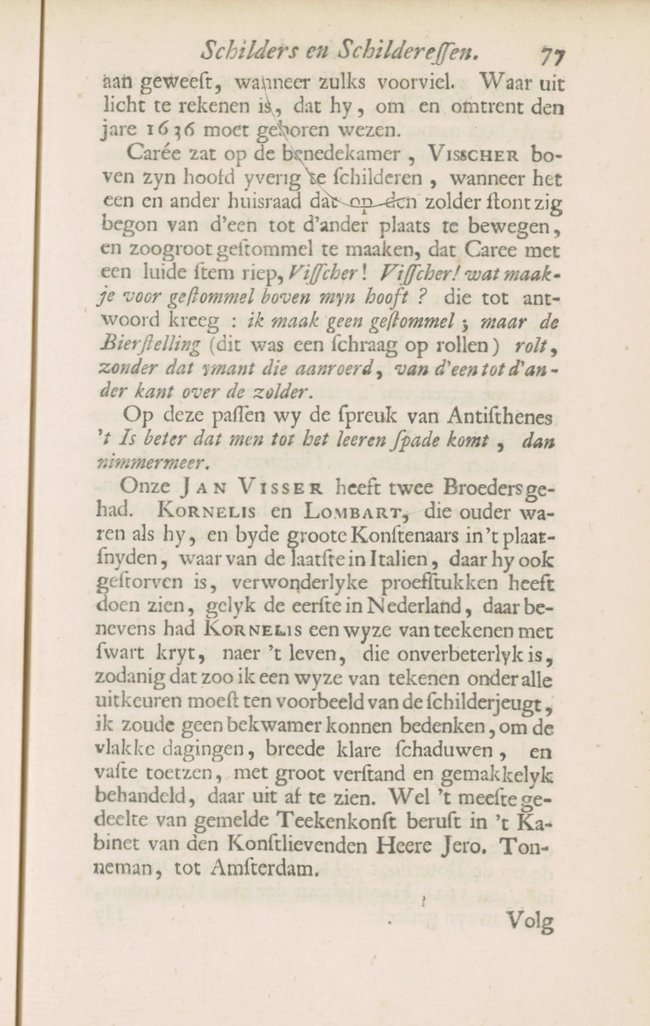 ---
Page 78

Follows his fellow townsman and artist JACOB van den BOSCH, born in 1636. He painted very naturally all sort of tasty summer produce which has the mouths of the sweet-toothed water. He died in 1676.

The art of painting and the art of poetry are two sisters that normally embrace each other, seeing that they have the same fundamental laws and purpose; the one uses the pen, the other the brush to elucidate and bring out anew events obscured by the mould of ages, which is why it is no rare occurrence that the two gifts merge in the intellect of one person.

Otto van Veen, Karel van Mander I and Adriaen van de Venne were poets and painters, as was the Haarlem Cornelis Ketel, who painted many handsome allegories in pictures which he had speak through his refrains and demonstrated his intellect with both.

Christoffel Pierson was a better painter than poet. It was disputed whether Samuel van Hoogstraten understood painting or poetry best, but Dirk Rafaelsz. Camphuysen was a better poet than painter, and this is what we also have to say about our

HEYMAN DULLAERT. However (as became apparent to me), he was far enough advanced in the art of painting that I find reason to bring him onstage as painter amongst his commendable contemporaries.

He was born in Rotterdam on the 6th of February of 1636. His father, Cornelis Michielz. Dullaert was a grain dealer living on the Botersloot. Mister Abraham Dullaert, chief bailiff of the city of Rotterdam in the year 1628, belonged to his family.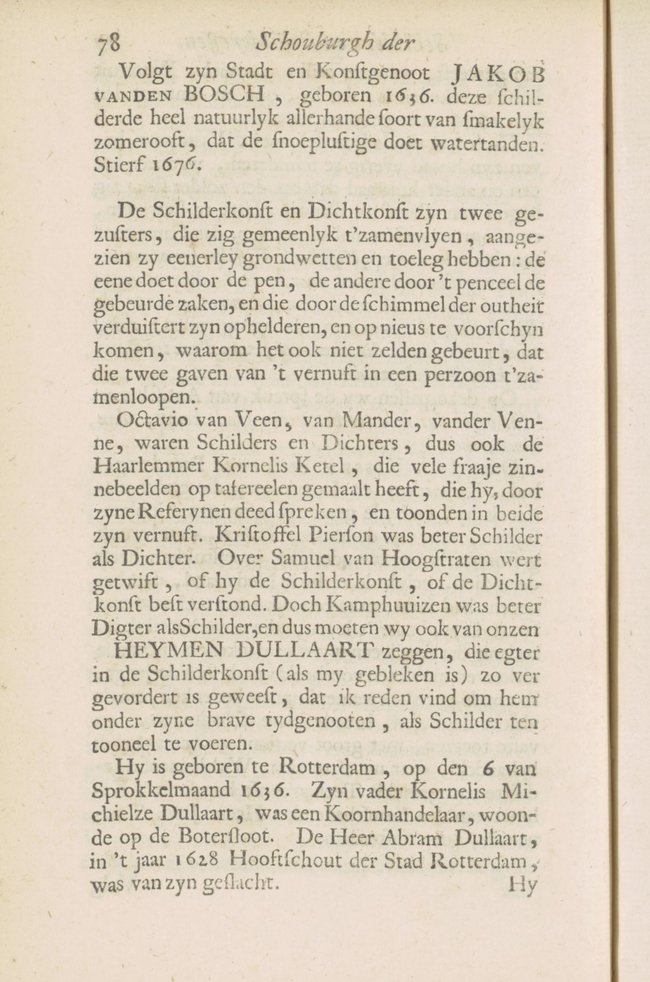 ---
Page 79

From his youth on he was diligent in the practice of languages and sciences when his passion for the art of painting also had him look around for a competent master to be his teacher. This was Rembrandt van Rijn, with whom he advanced so far in a few years by his intellect that he was henceforth able to help himself after life, keeping in touch later on with Rembrandt and his commendable students, including Philips Koninck, who also painted his portrait in his memory [1], which (not having any of a later date at hand) may be seen in Plate C 8.

In Rotterdam there are various life-sized and powerfully painted portraits by him still to be seen, as well as a kitchen piece in which appear two figures, one being a little woman who scours a copper kettle, with the addition of a quantity of other tin and copper household goods along with other kitchen paraphernalia, and all this painted naturally, powerfully, and in good harmony. In Leiden in the year 1696 several of his brushworks works were sold in the auction house of Doctor Douw (who had a sister of his named Agneta Dullaert as wife), including five pieces which his other friends would gladly have had in his memory. But mentioned Doctor asked 400 guilders, but as they could not agree to the sale by exchange of letters, nor be present on the day of the sale, they were sold, but to whom I do not know. The painter Theodurus van Velthuysen of Gouda, who had Dullaert's brother's daughter as wife, has told me that he was able to imitate his master's work so closely with his brush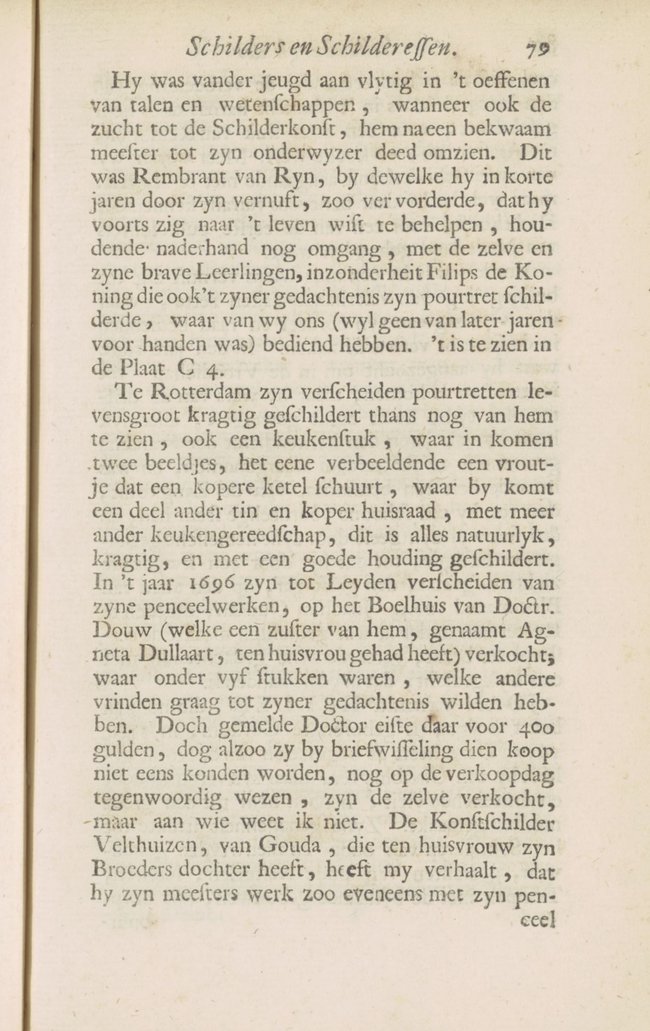 ---
1
Philips Koninck
Portrait of Heyman Dullaert (1636-1684), c. 1655
canvas, oil paint 63.5 x 55.9 cm
Saint Louis (Missouri), Saint Louis Art Museum, inv./cat.nr. 402:1923

---