Volume 3, page 400-408
---
Page 400

to visit our knight, who showed him three works that he wanted to keep for himself. But when the Duke earnestly protested that he was not allowed to take with him any of his art, the knight honoured him with one of the three pieces, being a Mary Magdalene [1], which so delighted the Duke that he pulled a gold watch out of his pocket, giving this as a present to the painter's wife, for whom he understood the piece had been made, adding to this: I am a travelling man, when I have come back home, I shall remember you. So that some time afterwards he sent him his portrait splendidly set in 90 diamonds.

Since the time that art first arose in the Netherlands there are no examples of artists who were able to dig up such rich veins of gold with their brush. Nor one who had seen the arts of his brush rise to such heights, witness the public auction from the death house of Mister Adriaen Paets, which had everyone looking on with amazement, for six pieces of painting by our knight were sold for 16,000 guilders, including a small piece depicting Lot and his Daughters for 4,200 guilders [2], which now hangs in the cabinet of the art-loving Mister Court Clerk François Fagel.

Before the time that our great painter, stimulated to immortal fame by golden spurs, took to higher reflections on art, he made many artful portraits, mostly of the size Netscher was wont to make; but in these he always departed as much from modern fashion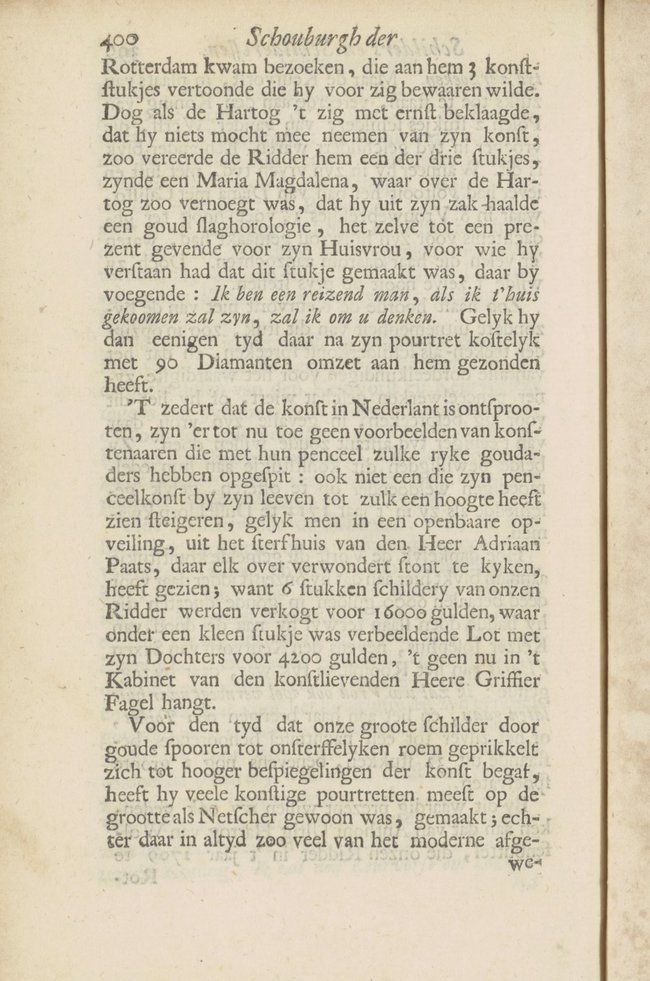 ---
1
Adriaen van der Werff
The penitent Saint Mary Magdalene, 1708-1709
panel, oil paint 29 x 21 cm
Whereabouts unknown

2
Adriaen van der Werff
Lot made drunk by his daughters (Genesis 19:33-34), dated 1711
panel, oil paint 44.5 x 34.5 cm
lower right : chev v. Werff fec. an° 1711
Sint-Petersburg (Russia), Hermitage, inv./cat.nr. 1117

---
Page 401

as was workable and followed Italian grandeur in dress. But his great spirit intending a higher fate, he developed an aversion to them, so that he left several portraits, of which the features had almost been done, standing about incomplete, without his friends being able to avail anything, no matter how earnestly requested. However, he later did make several life-sized portraits on oval canvasses, such as that of his wife [3] and family and Misters Adriaen Paets [4] and Nicolaes Antoni Flinck. But he did this when his inclination disposed him to this, to which he always gave free rein. That is why (though begged for it) he could not continue a work if his passion did not motivate him. With this desire waning he could also no longer postpone things, although the necessary models were always at hand that could have served him with great convenience and sometimes became available on their own. This happened to him when he painted that piece depicting Christ amongst the doctors in the temple, which he painted for the Elector [5]. Because just as he was busy with some of the features of bearded Israelites, some of these came by accident to offer their services, of which he made grateful use.

In his last years he developed an equal aversion to nurturing students, even though his friends seriously beseeched him, because one finds few among the youth who wish to undergo such labour properly, and it gives sorrow to a master when his students remain dead losses due to lack of diligence or conceit.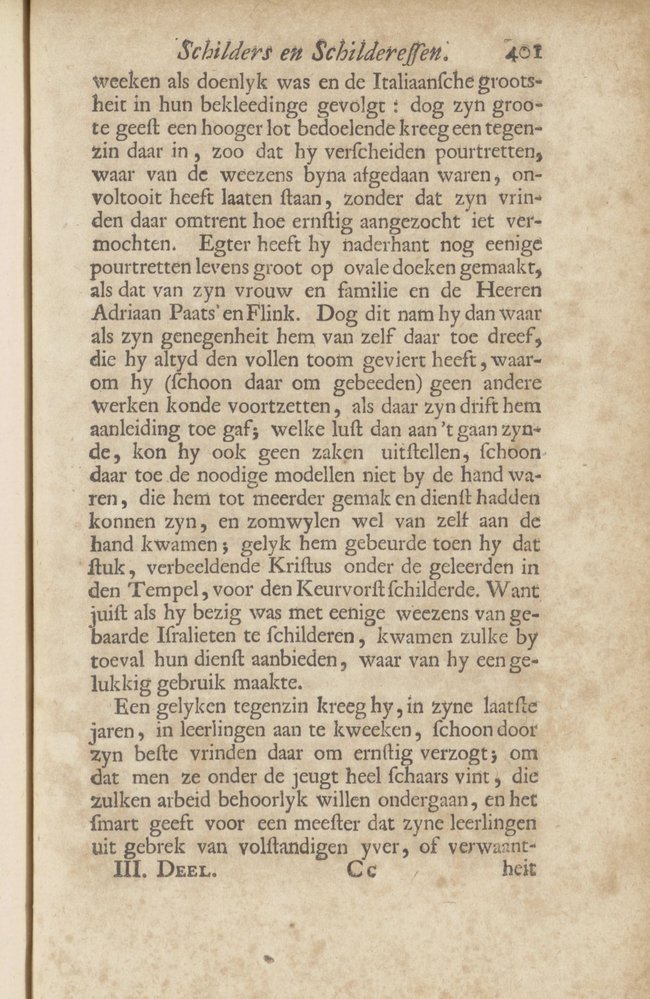 ---
3
Adriaen van der Werff
Portrait of Margaretha Rees (1669-1732), dated 1705
canvas, oil paint 80 x 67.5 cm
left center : Chev r van der Werff. / Ano 1705
Rotterdam, Museum Rotterdam, inv./cat.nr. 10570

4
Adriaen van der Werff
Portrait of Adriaen Paets (1656-1712), dated 1705
canvas, oil paint 80 x 66 cm
Private collection

---
5
Adriaen van der Werff
The twelve year old Jesus in the temple among the doctors, dated 1708
panel, oil paint 81.6 x 57.5 cm
lower left : Chevallr vr Werff. / fec. 1708
Munich, Alte Pinakothek, inv./cat.nr. 236

---
Page 402

That is why he can claim of only three that they underwent the direction indefatigably that has them climb to the height of the mount of art, to wit, his brother Pieter, Hendrik van Limborch and Johann Christian Sperling, currently court painter of the Margrave van Anspach [= Wilhelm Friedrich von Brandenburg-Ansbach]. He now has only one student, Bartholomeus, son of Jan Frans van Douven, former court painter and favourite of Johann Wilhelm Elector Palatine.

In his spare time our knight also had desire for the practice of architecture, in which he advanced so far that he made models in the service of his good friends, after which their Bentemer stone buildings are constructed, as with the front facades of the houses of Misters the governors Jacob Noorthey and Joseph Schepers, both on the Haringvliet of Rotterdam and also the front facade of the masters Van Ellemeet [6]. In these the distinguished and bold manner of antique architecture shows through, because large flat parts are not messed up by decoration or additions of scrolls. He also found amusement in arranging various country places and gardens for his good friends, even where the ground was desolate and deformed, which unsuitability he was even able to use to his advantage and guide to harmony. Great spirits, says the politically astute Baltasar Gracián, have moved everyone to amazement by everything they undertook.

With the death of the Elector, his great Maecenas, having occurred in June of 1716,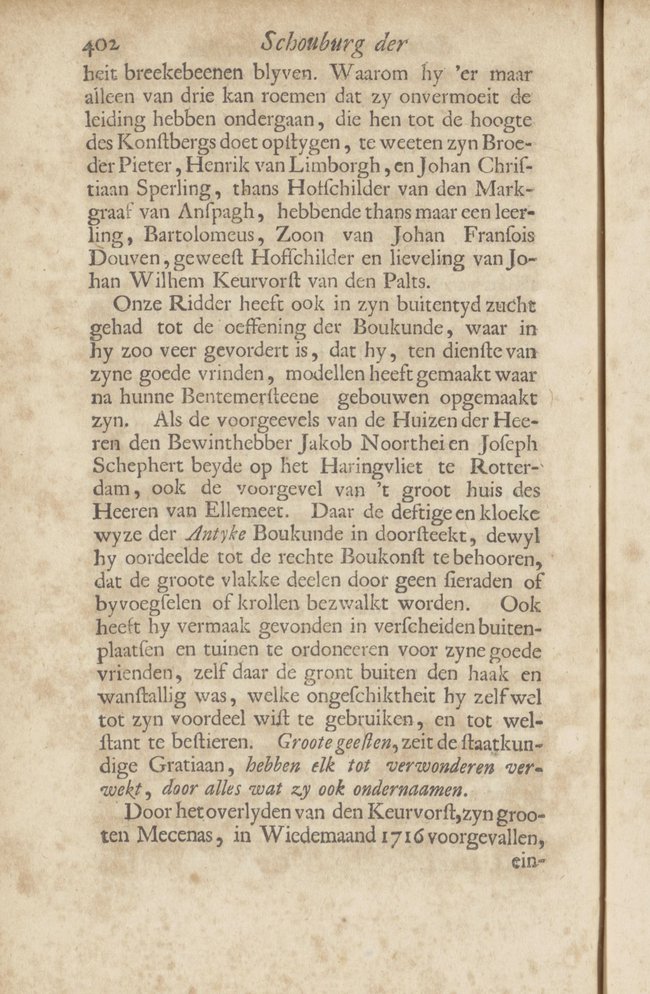 ---
6
Jacob Roman after Adriaen van der Werff
Design for the facade of the house of Cornelis de Jonge van Ellemeet in Rotterdam, 1705
paper, pen in brown ink, brown and grey wash 203 x 241 mm
Private collection

---
Page 403

the service of our knight also came to an end, who now in full freedom could choose his subjects for his brush to his own preference, striving daily with great passion, as in the following year 1717 when he sold three pieces of his art to Count Franz Joseph Czernin of Chudenitz, a Judgment of Paris for 5,500 guilders [7], a Holy Family for 2,500 [8], and a Mary Magdalen for 2,500 guilders [9].

Just as his fame spread to many places, so it is also transferred to France, where none of his autograph works have been seen. Until in the year 1718, however, when the Duke of Orléans, regent of France, had a work by him bought (it was also a Judgment of Paris [10], but depicted differently than the preceding one) for 5,000 guilders in Dutch money.

Of the five children that he had by his wife (still alive), a daughter lives who in the year 1717 married Adriaan Brouwer, oldest son of the late Martinus Brouwer, during his life time provisioner of the troops of the States General.

People find him genuine in his deportment when receiving with great politeness those who come visit him to see his art, although he prefers not to be disturbed in the mornings, while at his most diligent. For many years on end, to recover his health, which has already much declined, he has not painted in the late afternoons: but taken very good advantage of the morning from 8 o'clock to one or two o'clock, as he is still every bit as active today, having climbed the sixty-third year step of his life. He has never felt a desire to seek his relaxation in inns,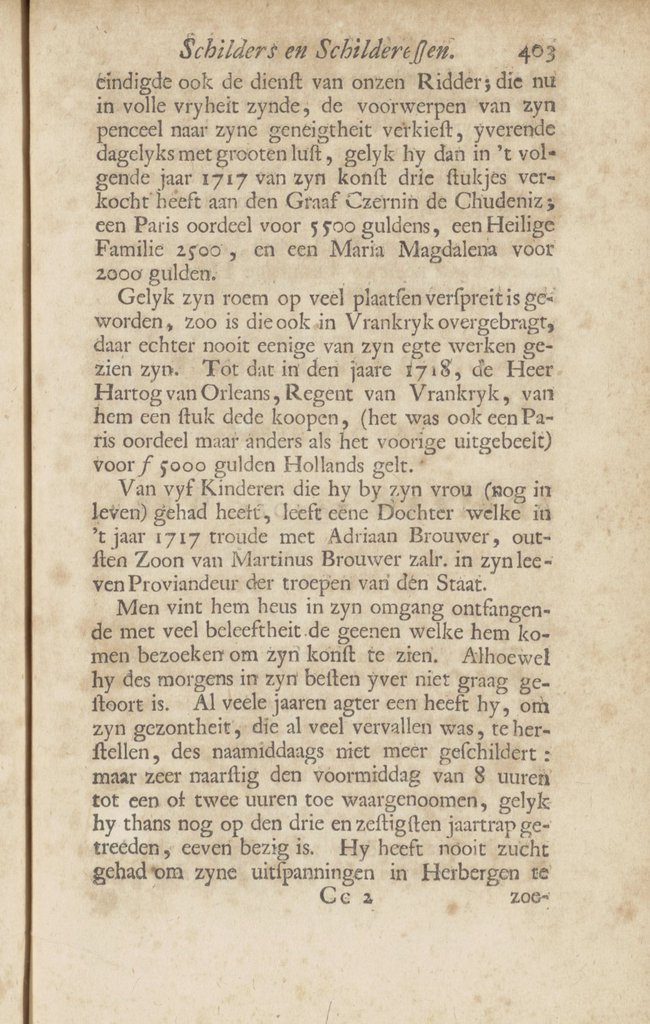 ---
7
Adriaen van der Werff
The Judgement of Paris (Hyginus 92; Lucianus, Deorum dialogi, 20), dated 1712
panel (nut), oil paint 56 x 49.5 cm
location unknown : Chevr vr Werff fec. / An° 1712
Dresden, Staatliche Kunstsammlungen Dresden - Gemäldegalerie Alte Meister, inv./cat.nr. 1818

8
Adriaen van der Werff
Maria met het kindje Jezus en de kleine Johannes, dated 1715
panel, oil paint 46 x 34 cm
lower left : Chevr vr / Werff fec / an° 1715
Dresden, Staatliche Kunstsammlungen Dresden - Gemäldegalerie Alte Meister, inv./cat.nr. 1819

---
9
Adriaen van der Werff
Mary Magdalene reading, dated 1711
panel, oil paint 34.5 x 25.5 cm
location unknown : Chvr vr / Werff fec / an° 1711
Dresden, Staatliche Kunstsammlungen Dresden - Gemäldegalerie Alte Meister, inv./cat.nr. 1817 (cat. 1930)

10
Adriaen van der Werff and Pieter van der Werff
The Judgement of Paris, dated 1716
panel, oil paint 63.3 x 45.7 cm
lower left : Chevr van dr / Werff fec / an° 1716
Dulwich (London), Dulwich Picture Gallery, inv./cat.nr. DPG147

---
Page 404

having an aversion to those who entertain themselves in that fashion; but, for that purpose, he occasionally goes to visit good friends in their homes, receiving the same in turn in his garden or in his house, with a good heart and always prepared to show them friendship.

In praise of this hero painter and his matchless art, the astute Mister Joan de Haes composed the inscription.

ON THE DEPICTION

OF MISTER

ADRIAAN VAN DER WERF,

KNIGHT, etc.

Thus Van der Werff painted himself with his own hand,
Thus lives that painter hero to acclaim of the Netherlands,
Which priding itself on his art is rightly heard:
Is old Greece proud of Zeuxis and Apelles,
Italy about Titian and its Raphael,
The Knight van der Werff was born from my lap.

The same poet also speaks about him in this way in his Crown of Honour of the City of Rotterdam, a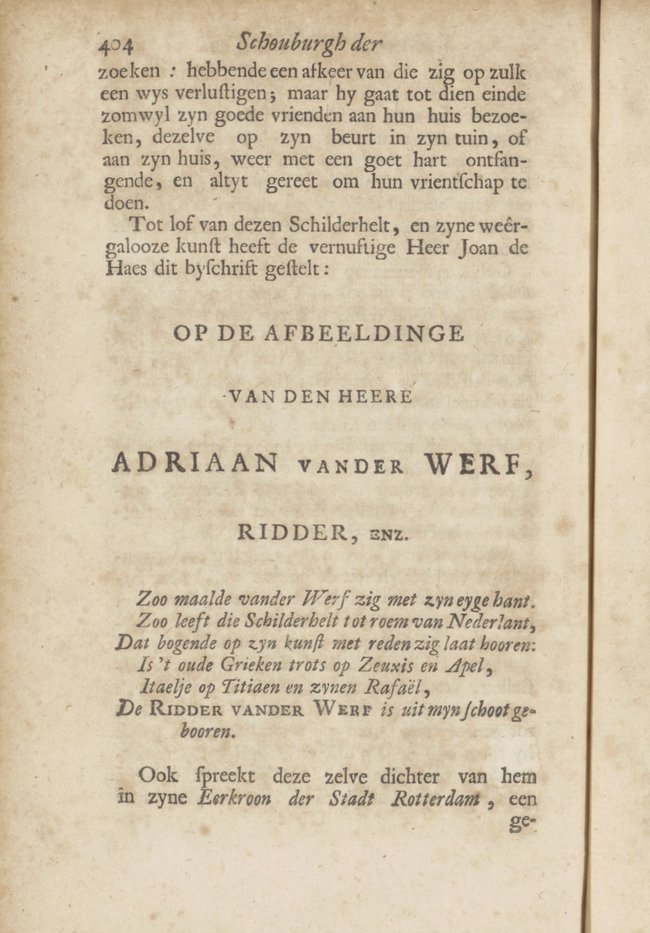 ---
Page 405

poem published in the year 1716:

I would also praise your artists,
And name one of so many others,
Your Van der Werf, your Maes Apelles,
Who can defy the most noble brushes
Of Zeuxis himself and challenge Raphael
With his scenes.

But recently Hubert Kornelisz. Poot, a youth who, though raised to work the fields, does not need to yield to any city dweller in agreeableness of spirit, braided this crown of art for the Knight.

CROWN OF ART

FOR THE NOBLE GENTLEMAN

ADRIAAN VAN DER WERF,

KNIGHT, etc.

PHOENIX OF PAINTERS.

Thou song goddesses descend
From your pleasant mountains,
I must ask you for double assistance:
There is uncommon material for song here.
---
Page 406

Here stands, with suitable tones,
With viol sounds, never dull,
And imperishable laurel praise,
And crown a knightly brush.
Oh speechless poetry
Oh art of painting, risen so high,
How glistens your charming being!
How you are radiantly beautified!
You went in messy robes
Of old, and schooled in Gyges' paint:
Now it is Van der Werff who clothes you
With gold and purple show jewellery.
Who would ever have believed it?
You have (now you truly shine)
First drawn shadows in the sand
With the torchlight of the hot sun.
Now the brush can perform arch miracles:
The find of an Apollo,
How greatly does one appreciate it, before and after,
In Caesar's court and Jove's churches!
Nature long looked on curiously
If nature would in all parts,
mitate her on painting panels,
But tired of the long wait.
In the end Van der Werff stepped forward,
Near the shore of the Meuse;
It halts the roaring of her foaming stream
And wants only that his glory shines through.
Then no other was allowed
He was allowed to paint ruler Alexander.
His order has the senses wander.
It is divine what his spirit offers us.
Prometheus may singe his fingers.
The thievish trick costs him dearly.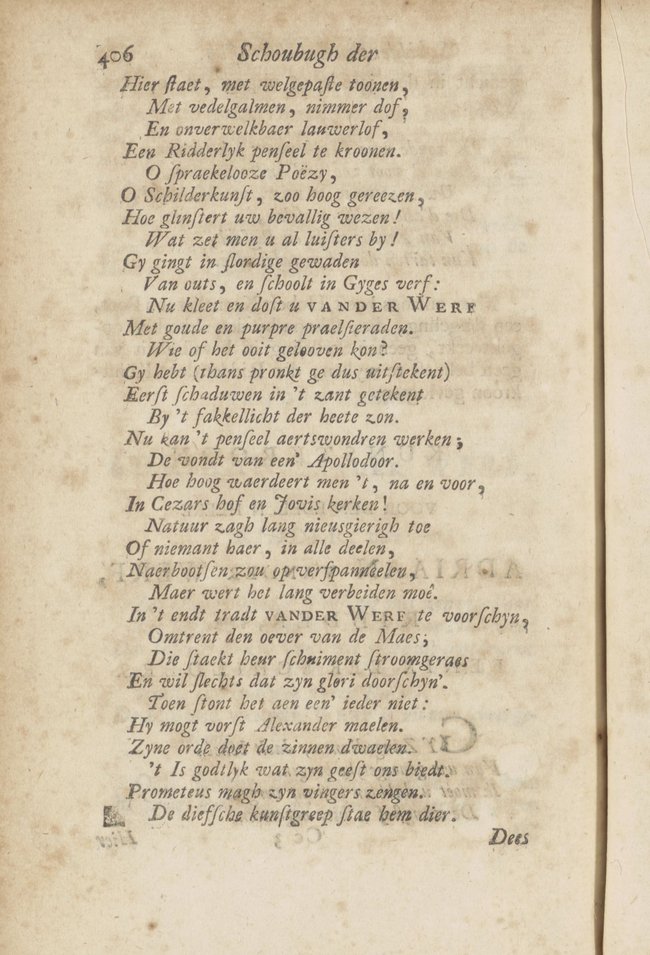 ---
Page 407

This hero needs no heavenly fire
To bring life to a picture.
He heightens and lowers and mixes and strokes,
Until his showpiece, beautiful in members,
In position resembles the three Graces,
Or one of the great gods.
Someone may be slow to believe;
He asked the connoisseurs of art,
Whether I sing here out of passion or favour:
He asks the highest rulers' courts,
Who bid for his art deeds
And show off his paintings
Which gladden the insatiable eye
Like the glow of the sun's rays.
What will I mention further?
His canvas and wood, with frame, with edge,
People weigh them against diamonds
Because they carry fine paints.
Loose rumour long had the habit
Before it wanted to heed the truth,
To expound with stiff cheeks
Tuscany tops the painters' crown.
Now this sun of painter lights shows
That Holland which lacks for nothing,
Also has shrewd painter heroes
Who do not give way to any Italians.
How quick are men's spirit and judgment!
How they rummage in ancient books!
His art draws back after the research
Long departed time.
Thus one must resist wild savageness.
Thus they deceive man and animal
With inimitable painter's elegance.
Thus one can ravish heart and soul.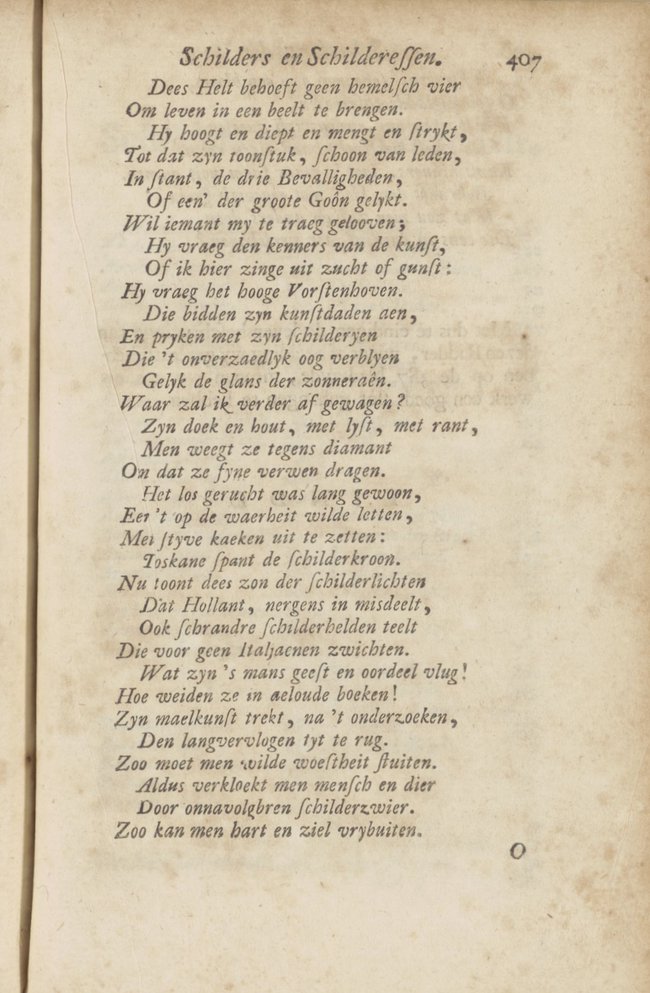 ---
Page 408

Oh colours, more beautiful than a flower
Oh mirror-smooth scenes,
We stop our simple whining.
Art proclaims its own fame.
Art lovers, never let the man's fame wane,
Crown the hero with eternal green.
What else could one do for those
Who only appear once in a thousand years?

By thus ending the biography of this knight, whose portrait we have placed on a page, we believe to have closed this volume with a good lock, which is shortly about to be followed by a fourth.

E N D.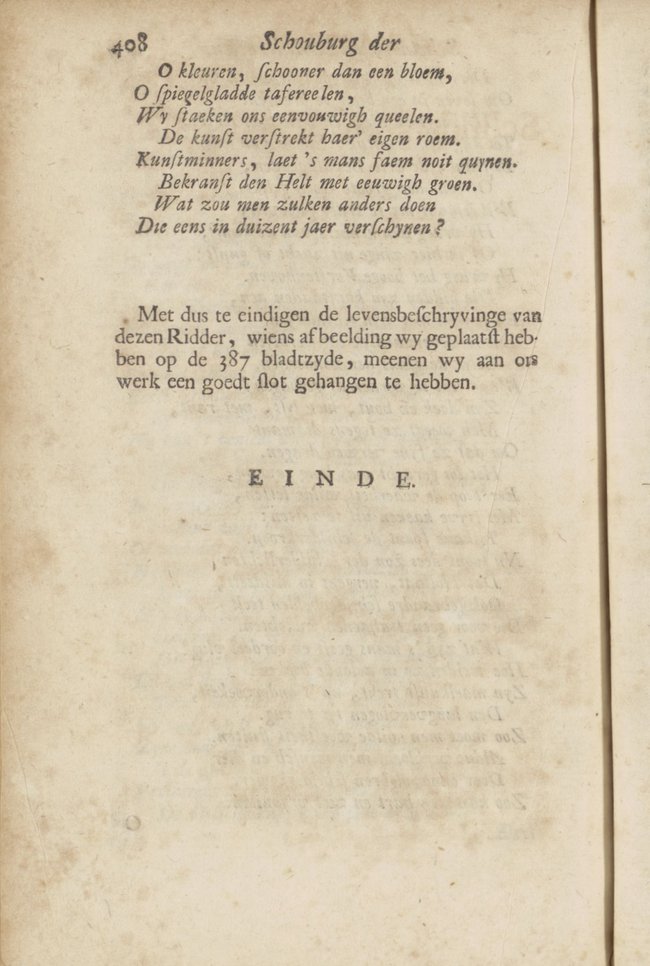 ---
---