Volume 3, page 200-209
---
Page 200

vied for a captain's place but missed out because a Gelders nobleman snapped it up.

While he lived in Nijmegen it was discovered that there were various art lovers among the French with whom he associated, including the Marquis de Béthune [= François Gaston de Béthune, marquis de Chabris]. He took Vorstermans to Utrecht and elsewhere to buy art for an art cabinet. They say the mentioned Marquis returned to France shortly and would have liked to take him along as his steward. But whether he did not feel like it or something else got in the way, he remained in Nijmegen.

Some time after that he left for England, where he arrived highly regarded because of his art. He was even given an opportunity to paint a chimney piece for King Charles II in a room, others say a small gallery, at Whitehall, which piece features one of the King's Royal estates [1]. In it he had depicted with his brush several figures of Lords who daily came to court, in their natural manner of moving, posture, and dress, even their features, so naturally and artfully that each of them could be recognized individually. This was praised by all as amazing, and satisfied the Royal family and the King, who let it be asked what the painter desired for his art work. This embarrassed our Vorsterman a little. The one advised him to offer it to the King as a present. Others advised him the opposite. He therefore demanded two thousand guilders for the same, which the King thought a little too much,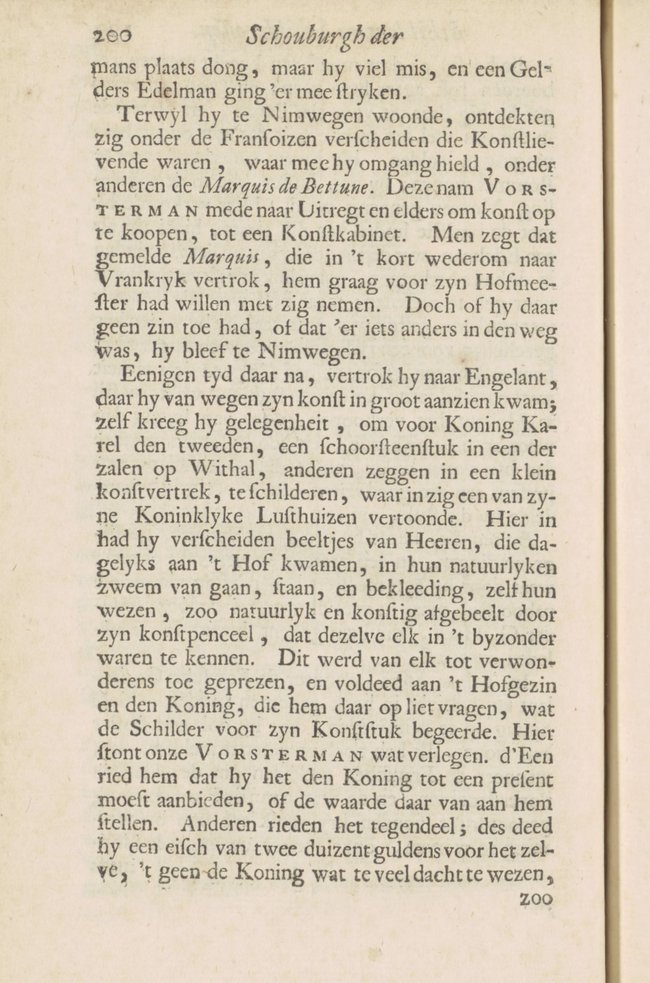 ---
1
Johannes Vorstermans
View of Windsor Castle from the west, c. 1675-1685
canvas, oil paint 81 x 109.3 cm
Great Britain, The Royal Collection, inv./cat.nr. RCIN 400599

---
Page 201

as he was informed. In the meantime our artist took comfort in the hope of that handsome booty, which he imagined would be handed over to him with a small discount (as sometimes happens in Holland), and already deliberated with himself how much he would slip into the palm of the messenger. He deliberated in vain about this as it never came to pass. He waited days, weeks, months, first in hope, later with impatience, until it got so far that he had already consumed nine hundred guilders of the debt at his inn, for which the innkeeper (seeing nothing would ever come of it) had him detained.

Karel du Jardin, when he fell into such disastrous conditions in Lyon, was more fortunate, for his innkeeper, seeing that no ready coinage was to be expected from him, took his person in satisfaction of the debt, and with that the account was settled.

Our squire, who had thus far sailed before the wind, was unexpectedly tossed on land by an unexpected headwind. The Spanish have a saying which applies to such folk which says: Fortune got tired of carrying him.

No matter what requests for payment he had various acquaintances make at the court, it came to naught. In the meantime he sat in misery, until the painters agreed amongst each other to invest a little in his liberation. The innkeeper, who preferred a little sure money over waiting on a hopeless uncertainty, released him from prison. Then, starting from the beginning, he again appealed to the courtiers; but nothing had changed. In the meantime it happened that a diplomat from England [= Sir William Soames] went to the Porte [= Constantinople]. The latter took him along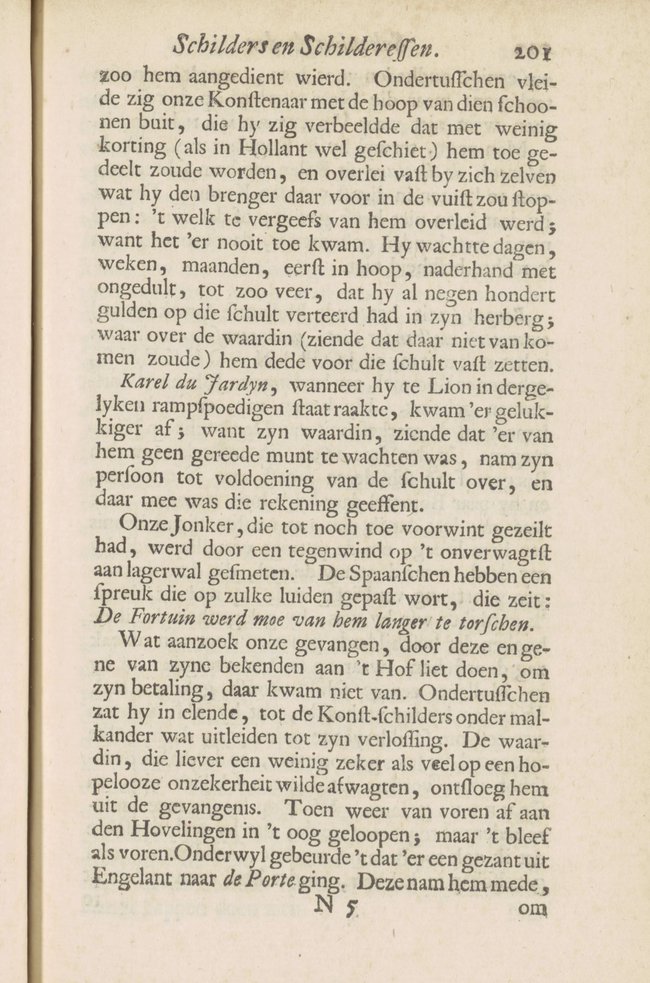 ---
Page 202

to sketch some antiquities after life for him, but that lord died on the journey and no one knows what became of Vorsterman.

They say that while he was in England the Marquis de Béthune wrote him from Poland to come over in service of the King. But whether he did not want to go there or the letter never reached him, I don't rightly know.

Mountains (the old Dutch proverb says) don't meet each other, but people do. Thus it happened to me and JAN SOUKENS, born in Zaltbommel and a student of Johannes Vorstermans. I got to know him and he me on the market boat from Dordrecht to Nijmegen in the year 1694. I had been summoned to Nijmegen to paint the Viscount [= Frederik Hendrik van Randwijck] and he to Zaltbommel, where he belonged, and it was to my regret that I did not meet him at once, for the comical stories which he told me, which made the time, which was vexing because of the slow progress, seem brief to me. I discovered who he was on the occasion that I saw the corners of his paintings project from the corner of his duffel bag, whereupon I asked him if he had bought some works of art in Holland. Whereupon he told me that he had been in Holland to sell paintings as he was accustomed to do twice a year. and that these were the remnants, and also that he was a painter named Soukens. Whereupon he said to me (after much other talk), that he wished that I also lived in Zaltbommel to have the honour of my company and that it seemed all the same to him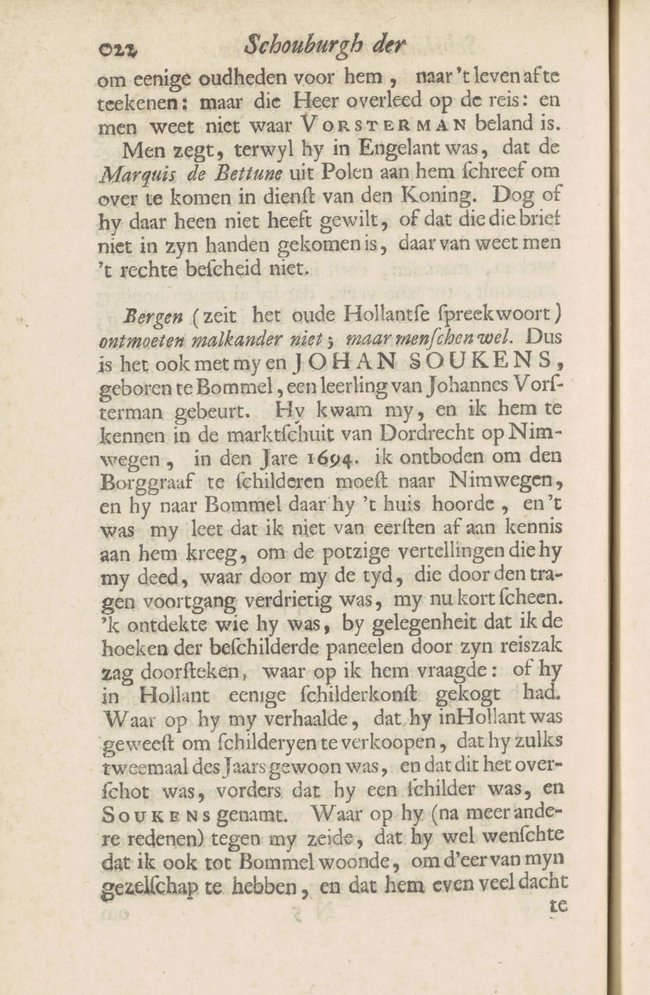 ---
Page 203

where I lived to practice art and continued: should you grant me that, I have my house at your service, or should you want it fully as your property, I will give it to you. That seemed very strange to me at first, so that I asked him where he would then live? Whereupon he gave me as answer: I have two and want, moreover, to give you the choice of both. This reply seemed all the more droll and strange to me because I was not aware that due to unemployment in that region houses were worth little. I therefore asked him is the one then empty? The answer was no, but that he lived in both, one in the winter because the roof was watertight and the other in the summer because being open up above, it was airy for him. I thanked his for his offer and was surprised that he could be so lighthearted and resigned to his fate, for the market for his art had declined by then. Since then I have neither met him nor heard from him.

His contemporary and fellow artist was

JORIS van der HAAGEN, from The Hague. He spent most of his time drawing handsome landscapes around Cleves and elsewhere, which he treated wonderfully spiritedly with the drawing pen and the pencil on white and blue paper. The majority are dated 1650, 60 and 62. In the year 1715 they were sold for a good price amongst the amateurs in Amsterdam. His paintings are not as pleasing because the blue ash with which he painted his greens has changed colour or become black. The art-loving Eduard Feitama has let me see several of his skilfully drawn landscapes.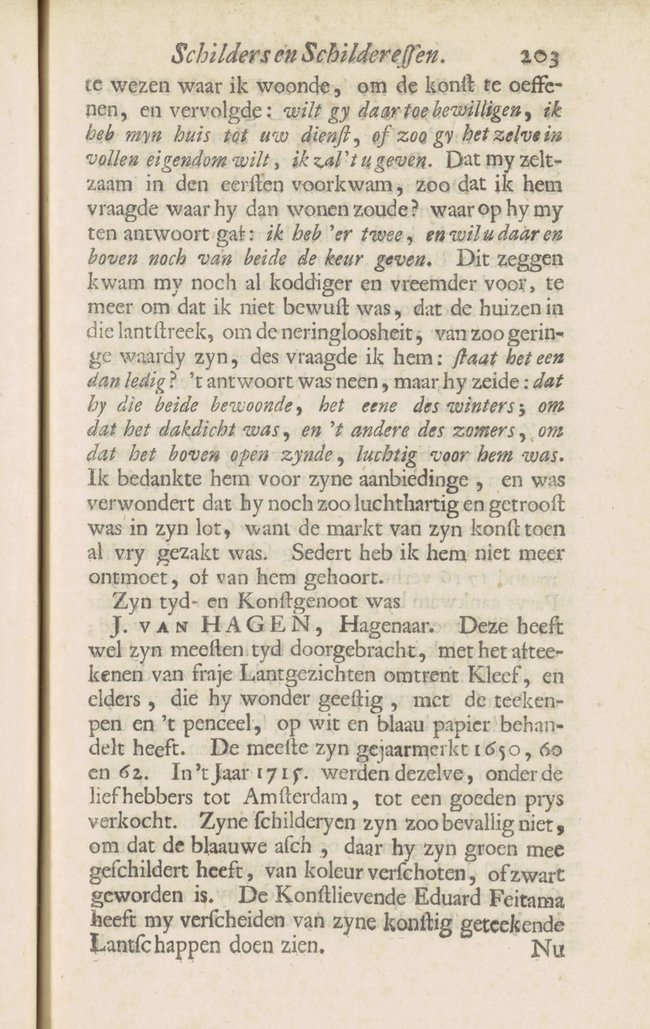 ---
Page 204

Now I must speak about FRANCISQUE MILLET, also known as MILEE, born in Antwerp in the year 1644. His father [= Pierre Millet I] was born in Dijon and was an artful ivory turner. The Prince of Condé, who took particular pleasure in his art works and for whom he wrought a lot, tempted him to his government in Brabant, by which he did well, seeing that the love for such artworks had increased more and more, which is why he settled there with his household.

Inclined from his youth to the art of drawing, Francisque was at once placed with the painter Laureys Franck.

His natural passion, great intellect and exceptional diligence brought him so far in a few years that his brushwork was seen to be fully as artful as that of Franck. This Laureys Franck was the nephew of Abraham Genoels, who tells me in a letter from Antwerp of November 1716 that in the year 1659 he arrived in Paris with mentioned Franck, his cousin, where he encountered Millet, then a young man of 17 years. As a consequence there is a difference of two years for his time of birth, which I find booked for the year 1644 with French writers. In which communication the mistake may reside, I don't care to do anxious research. We are not dealing in scriptural texts, where the last iota counts.

To his credit Genoels tells me in mentioned letter (which I also did not want to hold back) that in Paris, painting a room with him, he discerned that he had a marvellously firm memory and was able to absorb so firm an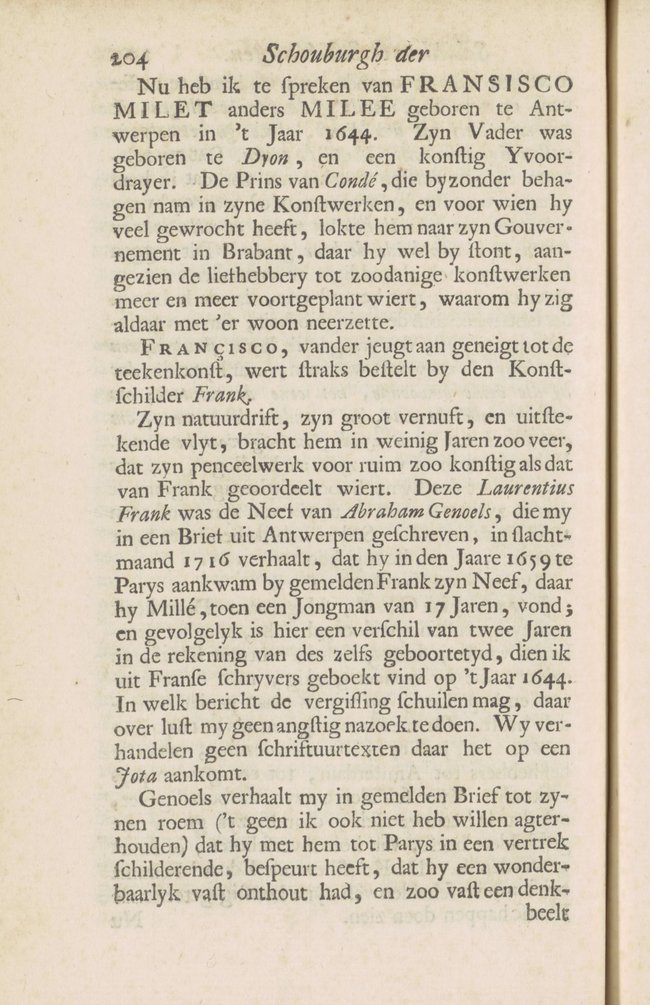 ---
Page 205

Image of the objects that he had only seen in life or as made by other masters that he could imitate them as if he had them before him, and as a consequence when he painted after a piece (or copied after it, to speak like a painter) he did that so easily that he only needed to turn his head towards it a few times. He was only 18 years old when he married his master's daughter, from which time fortune mildly favoured him. But whether his legs (as the proverb goes) could not carry luxury or whether he sought greater fame through excessive generosity, or sooner waste, I do not find recorded. But I do read that he spent more than he kept for himself. It is likely that he did not know the saying of Cicero, the oracle of eloquence, which says: People do not understand nor consider how great an income frugality provides. Nor this one by Plutarch: Many dare not use their treasures; others abuse them. One should be opposed to both. For the first yields no benefit and the latter only shame and contempt.

He travelled through France, England and Holland, leaving samples of his famous art everywhere. He usually decorated his landscapes (entirely like Poussin's) with small figures, so that everyone took pleasure in them, by which his fame increased and jealousy found reason to envy it. Yes people take it for certain truth that one of his fellow artists, who could not tolerate his rise, poisoned him, for his body, infected by an unquenchable fire,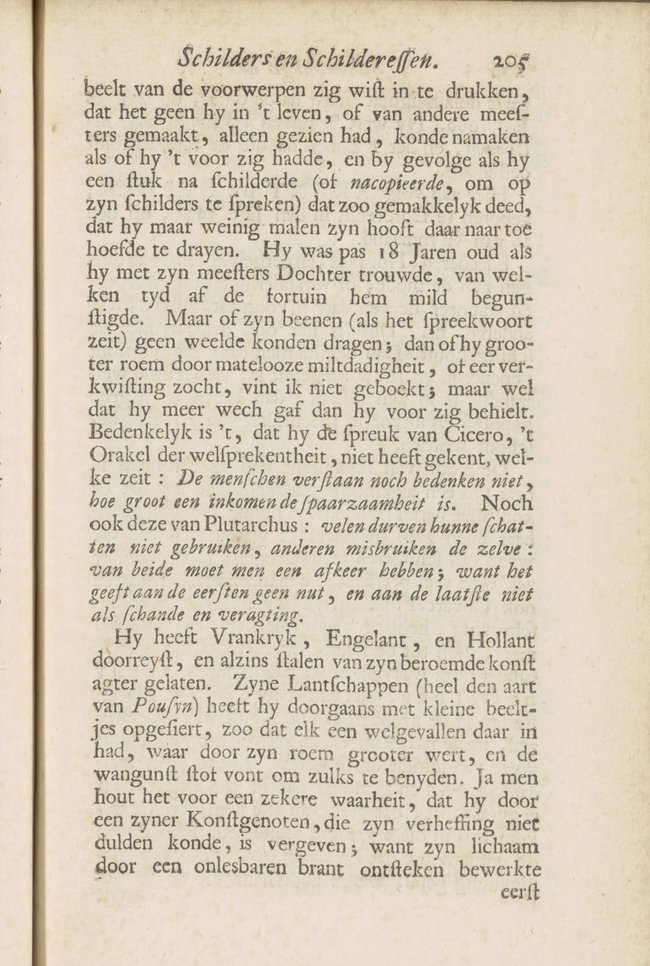 ---
Page 206

first caused madness and then his death in 1680 in his 36th year. He was buried in Saint Nicolas des Champs and left 2 sons who practiced the art of painting.

On this follows ARENT de GELDER, born in Dordrecht on the 26th of October of the year 1645.

Clothes, furniture, and other such things are subject to fashion, or changes, and when one takes the lead, others follow at once. This is also the situation with the art of painting. Now people love all that is boldly brushed and roughly attacked, as long as it looks good from a distance. Then they prefer what is polished and, being painted in detail, can be viewed from up close.

As something new at the time, the art of Rembrandt met with general approval, so that practitioners of art (if they wished their works to be current) were obliged to get used to that manner of painting even if they had a much more praiseworthy technique themselves. That is why Govert Flinck (as we noticed in the description of his life) and others joined the school of Rembrandt. Amongst these was also my fellow townsman Arent de Gelder, who, after he had been taught the basics of art by Samuel van Hoogstraten, also moved to Amsterdam to learn Rembrandt's way of painting, which came to him so naturally and successfully that I must say to his credit that none of the others approached Rembrandt as closely in that manner of painting. In addition it is remarkable that he alone amongst such a large number who later abandoned that way of painting,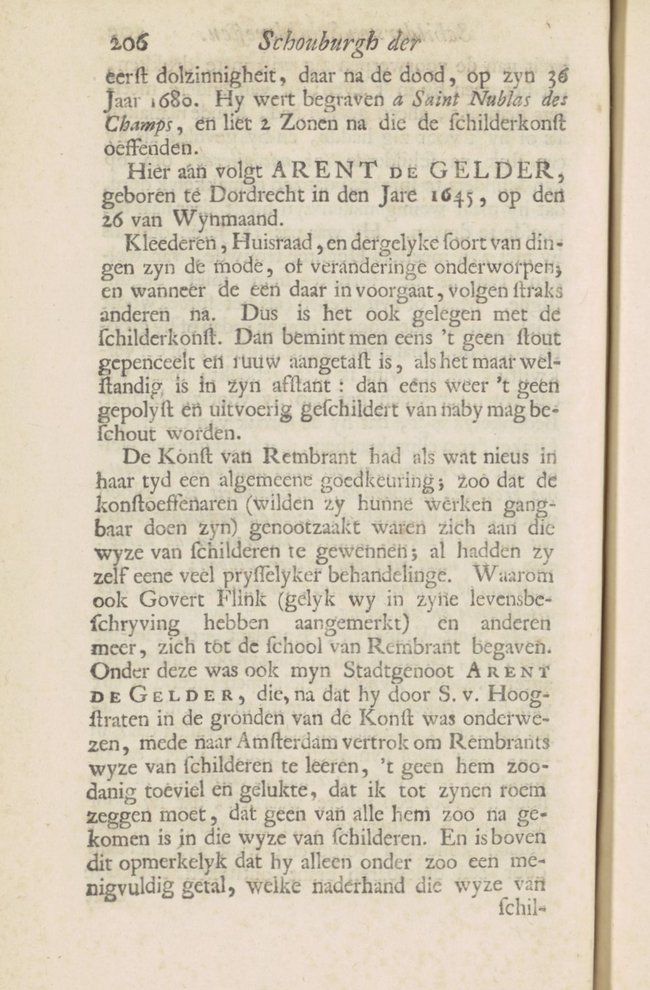 ---
Page 207

stayed with it.

He arrived with Rembrandt in the year 1645 to learn art and remained there for two full years, when he returned to Dordrecht and practiced art commendably up to the present.

About Rembrandt Andries Pels says that he

...Through the entire city, on bridges and in corners,
On the Nieuwe and Noordermarkt most assiduously went in search for
Harnesses, helmets, Japanese daggers, fur
And frayed collars, which he thought picturesque.

But our De Gelder collected no less of a trash heap of all kinds of clothing, hangings, firearms and swords, harnesses, etc., including shoes and slippers, and the ceiling and walls of his studio are hung with transparent and embroidered silk wrappings and veils, some whole, others torn, much like the captured army ensigns in the hall of the Hague's Court.

From this rich store he got the costumes for his pictures, just as he also has the habit of clothing his dummy from head to toe and of arranging it in such a guise as he needs, which he then imitates with his brush, or with his thumb and finger. Sometimes, for instance, when he wishes to paint a fringe or embroidery on some cloak, he also smears the paint with a broad palette knife on the panel or canvas, and scratches the pattern of the embroidery or the threads of the fringe with his maulstick, not excluding any method as long as it contributes to his goal. And it is remarkable how naturally and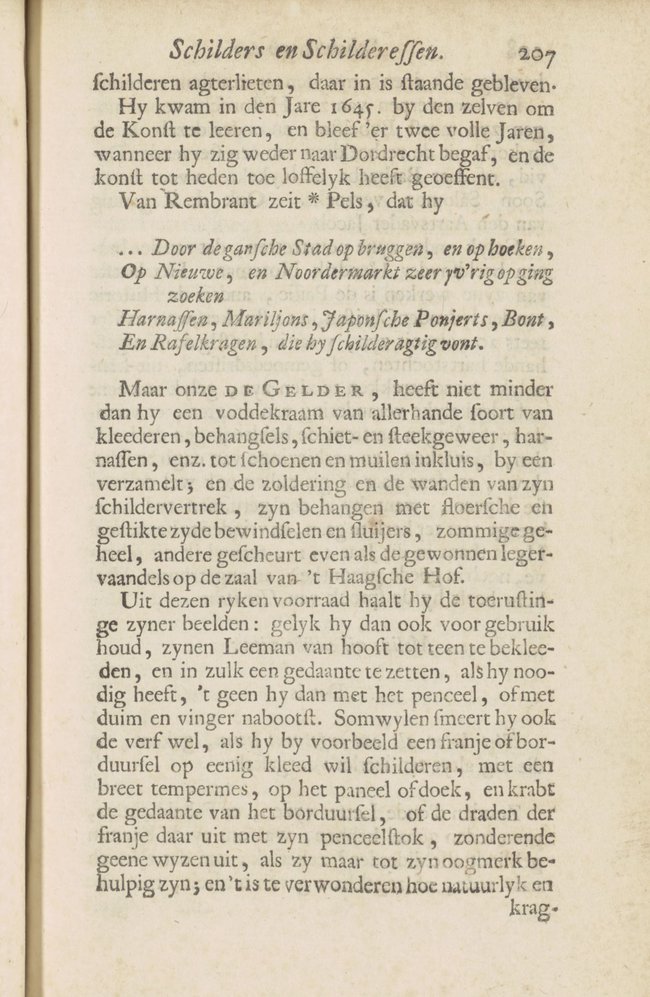 ---
Page 208

powerfully these methods sometimes read from a distance.

The subjects of his historical depictions are mostly Biblical, and amongst these the depiction of the dying David, or where Bathsheba requests the crown of state for her son Solomon [1]. Also the blessing of the patriarch Jacob.

Similarly amongst his portraits that of the commendable figure cutter Hendrik Noteman stands out [2]. The last of his work was the Passion, otherwise known as the history of the suffering Christ, in 22 pieces, of which 20 are already completed, in which most artfully the many passions or emotions may be seen from recognizable expressions, just as there is an inconceivable variation of dress and strange contrivances with respect to the clothing of figures, supplements and choices of daylight and shadow [3-14]. And I guess that these works will also be his last, because he already spends ample time going to church and visiting his friends. He is now, as I write this in the year 1715, still in good health and single. Possibly he knew the saying of Horace

......Melius nil caelibe vita:

This means:

Nothing better than a single life, and always kept that in mind as his guide.

Can the ancient philosophers and fable poets have had no reason to show Fortune blindfolded? It was no doubt because she does not mete out her gifts according to reason or rule, but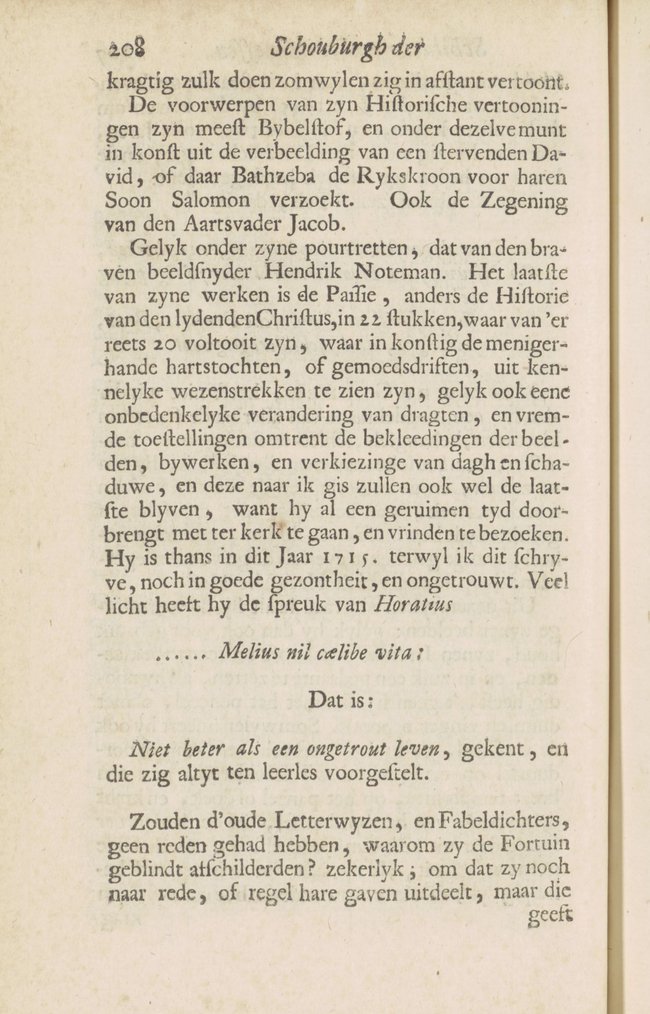 1
Arent de Gelder
Bathsheba entreating David to name Solomon as his successor (1 Kings 1:15-21), c. 1687
canvas, oil paint 86 x 100 cm
upper right : A De Gelder f.
Private collection

2
Arent de Gelder
Portrait of Hendrik Noteman (1657-1734), dated 1698
canvas, oil paint 72 x 62 cm
lower center : A De Gelder f. / 1698
Dordrecht, Dordrechts Museum, inv./cat.nr. DM/886/133

---
3
Arent de Gelder
The Last Supper, c. 1715
canvas, oil paint 71 x 60 cm
lower left : ADe Gelder f
Aschaffenburg, Staatsgalerie im Schloß Johannisburg, inv./cat.nr. 6327

4
Arent de Gelder
Christ's prayer in the Garden of Gethsemane, c. 1715
canvas, oil paint 72.1 x 59 cm
Aschaffenburg, Staatsgalerie im Schloß Johannisburg, inv./cat.nr. 6298

---
5
Arent de Gelder
The arrest of Christ, c. 1715
canvas, oil paint 71.9 x 59.3 cm
lower center : ADe Gelder f
Aschaffenburg, Staatsgalerie im Schloß Johannisburg, inv./cat.nr. 6293

6
Arent de Gelder
Christ is taken to the house of the high priest, c. 1715
canvas, oil paint 73 x 59 cm
lower left : ADe Gelder. f
Amsterdam, Rijksmuseum, inv./cat.nr. SK-A-2359

---
7
Arent de Gelder
Christ before Caiphas, c. 1715
canvas, oil paint 73 x 59 cm
lower left : ADe Gelder. f
Amsterdam, Rijksmuseum, inv./cat.nr. SK-A-2360

8
Arent de Gelder
Flagellation of Christ, c. 1715
canvas, oil paint 72 x 60 cm
lower right :
Aschaffenburg, Staatsgalerie im Schloß Johannisburg, inv./cat.nr. 6284

---
9
Arent de Gelder
The carrying of the cross, c. 1715
canvas, oil paint 71.9 x 60.1 cm
lower center : AD Gelder
Aschaffenburg, Staatsgalerie im Schloß Johannisburg, inv./cat.nr. 6337

10
Arent de Gelder
The crucifixion, ca. 1715
canvas, oil paint 71.8 x 59.9 cm
Aschaffenburg, Staatsgalerie im Schloß Johannisburg, inv./cat.nr. 6455

---
11
Arent de Gelder
The taking from the cross, c. 1715
canvas, oil paint 72.5 x 59.8 cm
Aschaffenburg, Staatsgalerie im Schloß Johannisburg, inv./cat.nr. 6453

12
Arent de Gelder
The Entombment, c. 1715
canvas, oil paint 71.8 x 59.6 cm
lower left : ADe Gelder f
Aschaffenburg, Staatsgalerie im Schloß Johannisburg, inv./cat.nr. 6331

---
13
Arent de Gelder
Christ appearing to the two Maries, c. 1715
canvas, oil paint 68.5 x 59.1 cm
Aschaffenburg, Staatsgalerie im Schloß Johannisburg, inv./cat.nr. 6318

14
Arent de Gelder
The ascension of Christ, c. 1715
canvas, oil paint 68.5 x 59.1 cm
Aschaffenburg, Staatsgalerie im Schloß Johannisburg, inv./cat.nr. 6300

---
Page 209

gives them to those who have most, and passes by those who have nothing.

Experience has shown us that entire families, from father to child, are blessed and prosper, while other whole families sigh in hardship due to scarcity and lack of luck, for which people can give no reason other than this, that the Almighty wants it that way. It is the lucky ones whose ship (as the proverb goes) always sails before the wind. Amongst them one can count JEAN BAPTIST de CHAMPAIGNE, born in Brussels in the year 1645.

His father was the brother of Philippe de Champaigne, whose biography has been discussed in detail in our first volume. He had two sons, but who had died young, and one daughter, who turned to the cloister life, kept this nephew as his own child and raised him in the art of painting. Having mounted in years and art, he undertook a journey to Italy for fifteen months to see the art works of foreign intellects and to entertain his painting-loving eye. He used that time with diligent painting and drawing but kept to the same way of painting that his uncle had. Returned home, he was able to get so far as to attain the advantages of the King's favour and become supervisor of the Royal Art School, or Academie. He died in 1688, 43 years old.

Too early by the implacable fate,
Of bitter emergency curtailed.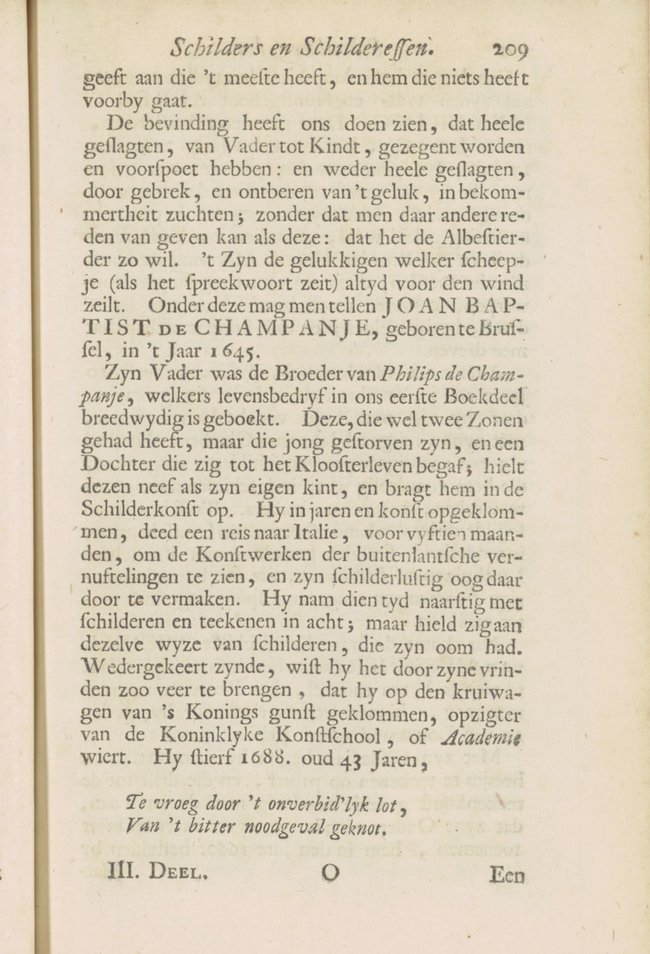 ---