Volume 3, page 190-199
---
Page 190

long before he developed an aversion to it, quit doing it, and wanted to become a painter, in which inclination his parents supported him and found a competent master for him (who it was, I don't know) to learn the fundamentals of art.

Job worked so hard at this that in few years he was able to make a handsome piece of painting, which charmed his brother into also putting his hands to the plough of art. The one competed with the other, but each in that to which his inclination drove him.

Already rid of his master and outgrown the leading leash, he tried to go on his own, which worked out so well that he began from time to time (as he himself told me many times) to dream that he could fly to the clouds. That gave him great courage that weakened at times when he also dreamed that he remained hanging in the branches of trees. But as he had been a farcical lad from his youth on, he continued to imagine that his art would make him a great man. He then continued his practicing with steady diligence, set himself down on the banks of the Rhine and made himself known to the villagers between Utrecht and Leiden, where he portrayed many of them for a modest price, thus practicing after life and also extracting money from his models.

When this had lasted for some time (likely as long as he had fully grazed those environs bare) he returned to the painting of modern scenes with animals, societies, farmers and such, just as Gerrit did with the painting of pleasant views of houses, great
---
Page 191

buildings, churches as well as tunnel views of the Heren- and Keizersgracht, planted on both side with trees and decorated with all sorts of small figures, which he all drew after life and then introduced artfully and elaborately to panels, to which this verse alludes.

Berkheiden shows on canvas a living prospect,
Where, the more one says about it, the more one sees in it.

This lasted ample time; then things changed once more. Job got wanderlust in his head, and what the one wanted, the other wanted too. Thus they decided to take a trip to Germany together. So said, so done. Having reached Cologne, they remained there for a while to exchange for money some small works that they had taken with them, which is how they met some people, including a nun whose brother, having been a priest, had died and been buried, about which she was deeply sorrowful, all the more so because she had no remembrance of him in a painting. She asked them about this if they could paint a scene for her on the basis of a description of how he had been in appearance and nature. Job looked at Gerrit and Gerrit at Job. They at last understood one another and answered yes, and exacted a good sum of money. But another problem, they had nothing on which they could paint. Job, who was the more audacious, quickly invented a solution, asked the Beguine for a piece of old cloth, who gave him a shirt of her deceased brother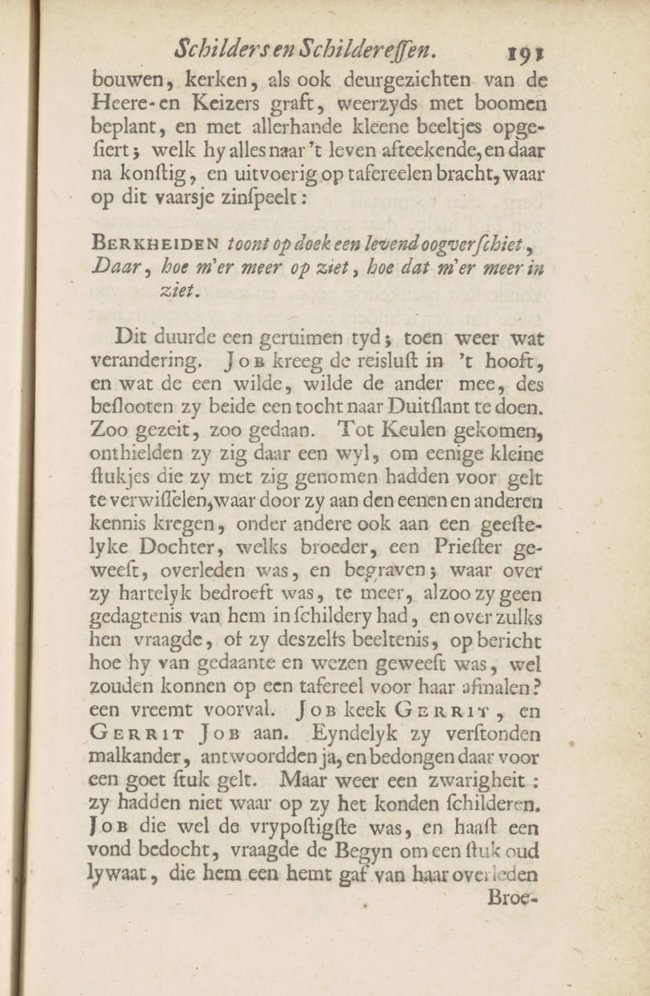 ---
Page 192

from which they prepared two canvases. After which they painted the deceased priest (according to the account they received) on the front side, and the Beguine on the rear slip of the shirt.

From there they travelled further upstream to Heidelberg, where the Elector Palatine kept court at the time, where they daily found opportunity to observe the elegance of the entire court when the ruler rode out on the hunt. They paid particularly close attention to this and made two pieces of painting the best they could, with the image of the ruler, some of the key courtiers, as well as the master of the hunt, so that they (though small) were recognizable. But they did not know what to do with these art works, as neither had the nerve to offer them to the ruler with his own hands. What is faint-heartedness or timidity not able to think up! They decided to tie the pieces together and set them up in the gallery where the ruler had to pass, which is what they did, and merely charged a caretaker that if it were asked who had placed the same there, he should say that it was painters who were housed in such and such an inn. Then they went on their way, arguing in the meantime with each other about the outcome and if they should expect money or a beating. These would be strange reflections hardly to be believed if it were not that some were found who heard it told from their own mouths, as a joke. In what such fearfulness and diffidence has its origins, Baltasar Gracián lets us know in the following oration: Impudence (says he) is sketched by nature and completed by education.
---
Page 193

All those who possess this advantage find all things done. This quality makes everything easy, so that they are hindered by nothing, and come out of everything with praise. Mediocrities have often moved ahead of the brilliant because they were aided by this superiority (Impertinence). Those who lack this gift, enter into affairs with doubt. From the lack of confidence arises fear, it stops conversation and impedes speech, and ventures remain stifled in stupefaction. But what shall I say about this? It is not always in man's powers to heal the limitations of nature. The greatest intellects have suffered shipwreck on this reef. Juan Rufo, one of the greatest minds and orators of Spain, whom Gracián calls easily the most intelligent, imagined that he would not be moved in the presence of a king, saying that kings were men, that one had to lack understanding or judgment to be afraid to speak in the presence of a king who gave audience with such virtue and amicability and from whose presence no one had ever left dissatisfied. But returning from there, he had to admit that he, as well as others, had become confused by shyness and missed his North Star. Just as the Jesuit Antonio Possevino, when he had to bring some matters before Philip II, King of Spain, was rooted to the ground at the second point of his address. Thus the King, to help him out of that confusion, said: If you have a petition, I will take it and have your cause advanced.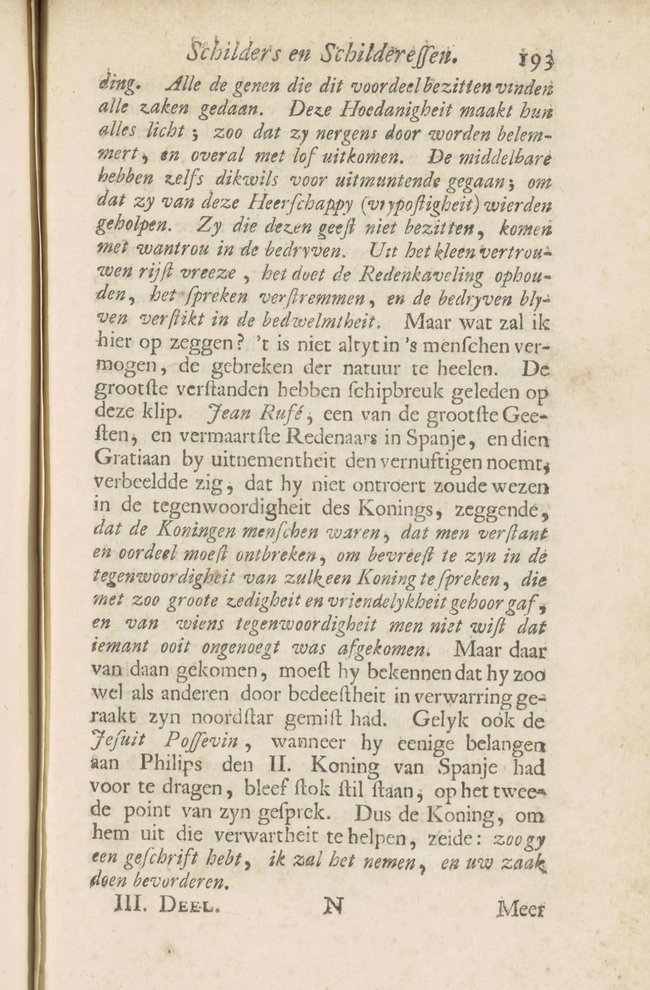 ---
Page 194

I could adduce more examples which might also serve to excuse the diffidence of our artists, but the reader must be dying to know what became of the two pieces of painting (which we left in the gallery).

The ruler set his eyes on them at once, asked what it was, had the works unwound, or loosened, and regarded them with astonishment, all the more because he discovered his own features as well as those of others in them. He had the painters called, praised their art, paid them handsomely and in addition at once gave them a golden medal. They were also immediately provided with a horse to be able to accompany the aristocracy on the hunt. This brought them to the greatest fear in the world, seeing that they usually regarded horses as a way to break one's neck. Lifted unto their horses, they constantly looked at each other to see who would first bite the dust.

I let the reader imagine how this train of the hunt looked and in what anxiety they were, especially Job, who began to think of his dream, considering how by flying through the forest on his mount, he could end up hanging on a tree branch like a second Absalom. They escaped in one piece but thereafter avoided that aristocratic diversion that had brought them such fear.

They remained for a considerable time practising their art at the court, but they also experienced that the courtly life is nothing but a sea of uncertainties and changes and could therefore easily expect of their elevation what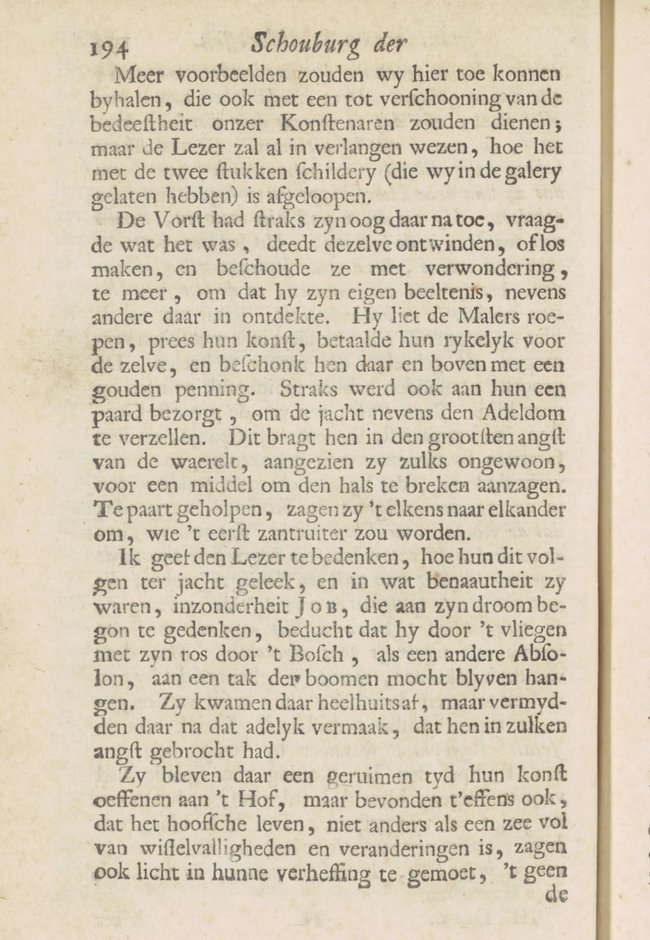 ---
Page 195

the poet Jacob Zeeus observes when he says:

Chance, which in alterations
Is never tamed,
And which in upheavals of state
Swims too nimbly:
And Realms, Lands, Cities, Peoples
By favour,
Raises to the heights of the clouds,
Or plunks them down.

They at last developed revulsion for court life, and Job said one morning, Brother, what good is this doing us? Always to be exposed to foreign eyes? If we were in Holland with our old company, we would have the odd amusing discussion about art while smoking a pipe. It was decreed and they returned to their native land, where they kept house with a sister. From there (after they had made a few pieces) they went to Amsterdam to sell them and to have a jolly evening with practitioners of art.

It usually goes with the telling of sayings as with the selling of old silver, where decency and cost of labour are lost, says Juan Rufo in his 310th aphorism. But Job was comical in his association and knew how to prevent this loss in his stories because he did not worry too much about a lie if it was of use in the telling.

It happened that someone in the company boasted about the famous acts of his forefathers. Job did no less and was able to relate a whole list of his distinguished ancestry by heart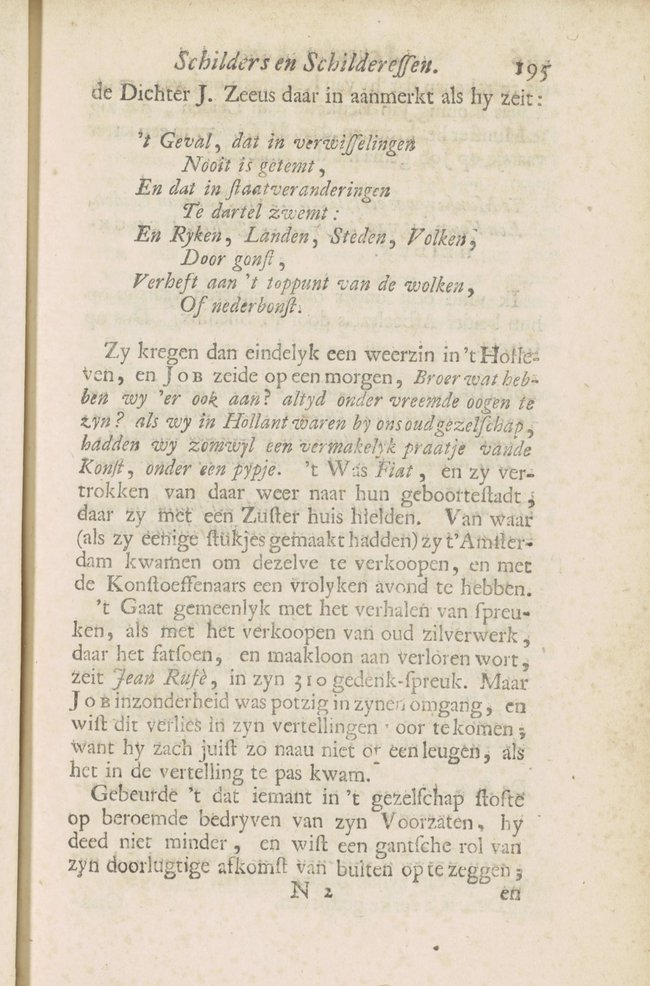 ---
Page 196

and calculate that he was of royal blood, but it was King Jan Beukelsz. of Leiden, who had himself crowned in Münster, to which M. Consart alludes in an acrostic composed about Job:

In Münster there was once a king Jan van Leiden.
An ancestor of the family of the witty Berckheydens.

I also find under old papers verses on both their portraits by François Snellincx. Thus about Gerrit:

This is Berckheyde, who can empower architecture after life
And give it proper well-being.
And through powers of imagination depicted every being
So that the least of life is lacking from the work.
And Count Palatine gave him instead of the painter's crown,
A golden breast ornament, the image of his son.
And thus about his brother.
This is Job Berckheyde, whose equal in building
And temple painting you will neither find nor see.
He also paints what he wants in the most artful way of all
As witness Heidelberg and Mannheim in the Pfaltz.
How does one best honour that spirit, to show him off truthfully?
The elector himself gave him his portrait in gold.
One can see his portrait in Plate E3, next to that of his brother Gerrit.

He was the first to die.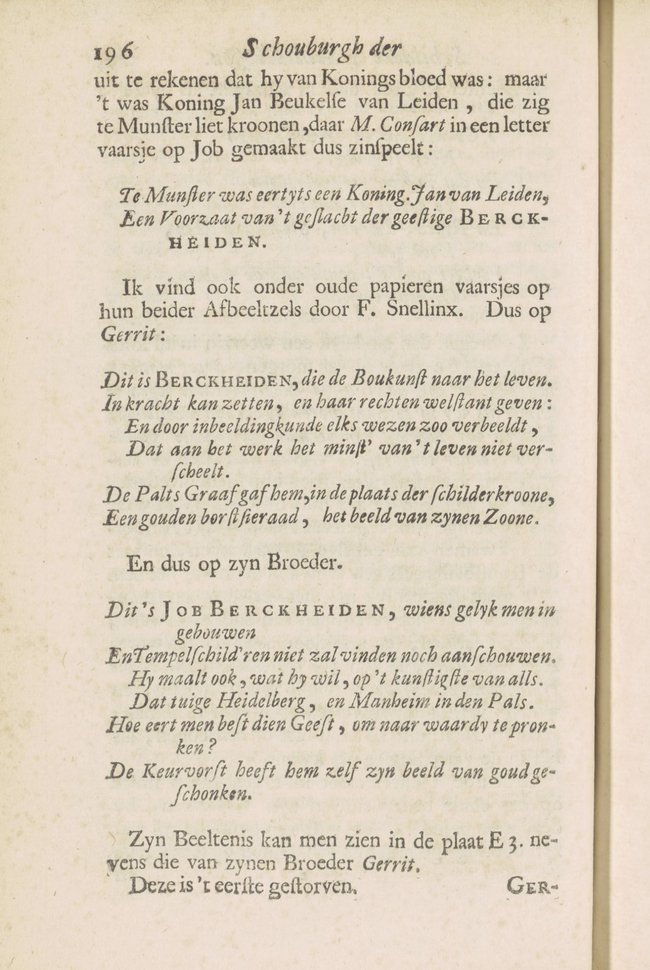 ---
Page 197

Gerrit was more attentive, and also more reserved in his life, and often chided his brother that he should not speak so loosely and crudely, that it was not fitting that when they were in company together, he had to reprimand him when (purely out of clownishness) he passed off lies as truth, and that he was fed up with this. If it then happened again that he went into company with his brother, he would agree in advance with him, saying: listen Job; if you lie too crudely I shall lay my hand on my breast. Watch out for it; that will be a sign that I have had my fill. Then stop.

Having reached the age of seventy years, he walked in the evening hour, coming from company and out of the garden of Alexander Vos, into the Brouwersvaart and drowned in the year 1698. He was buried on the 14th of April, after he had seen his brother go before him on the 23rd of November 1693.

Among the poems in praise of paintings etc. by the great poet Joost van den Vondel I find one on the view of the new Herengracht in Amsterdam painted by Gerrit Berckheyde [1], in which he says to his credit:

Berckheyde paints the Herengracht
After life, worthy of inspecting.
Buy paintings: avoid building.
Why? It is French midnight:
Therefore wait for a clear morning.
House building involves difficulties and care.

And also a great verse in his honour, in the
---
1
Gerrit Berckheyde
The Gouden Bocht ("Golden Bend) of the Herengracht in Amsterdam as seen from the east, 1671-1672
panel, oil paint 42.5 x 57.9 cm
Amsterdam, Rijksmuseum, inv./cat.nr. SK-A-5003

---
Page 198

Mengel-rymen by Pieter Rixtel when he had painted the city hall of Amsterdam in small size, which has the poet speak at the end of the verse:

Berckheyde, floating on the wings
Of swift rumour, braves the Greeks,
Apelles and Zeuxis with the brush.
And creates life on the panel.
I will now, living in his paints,
Despite time, never be able to die.
Thus spoke the eighth wonder, and
Gave material and encouragement, to my pen,
To lead you and your brush, Berckheyde,
Immortal to the firmament.

Among the painters who led a changing role in life is also counted JOHANNES VORSTERMANS from Zaltbommel.

His father was a portrait painter of a good family, married to a widow whose husband had been burgomaster of Zaltbommel. With this wife our Vorsterman was engendered, but in what year I know not. But because he was the art teacher of Jan Soukens (who follows), we have placed the master (as appropriate) before the disciple.

It is conceivable that he learned the rudiments of art with this father [= Ottho Vorstermans] before, finding himself inclined to that way of paintings, he went to Utrecht to continue to practice art under the supervision of Herman Saftleven. After this time he decided to see France (as diversion, it was said). Nothing less would do (so much noble Gelderland blood coursed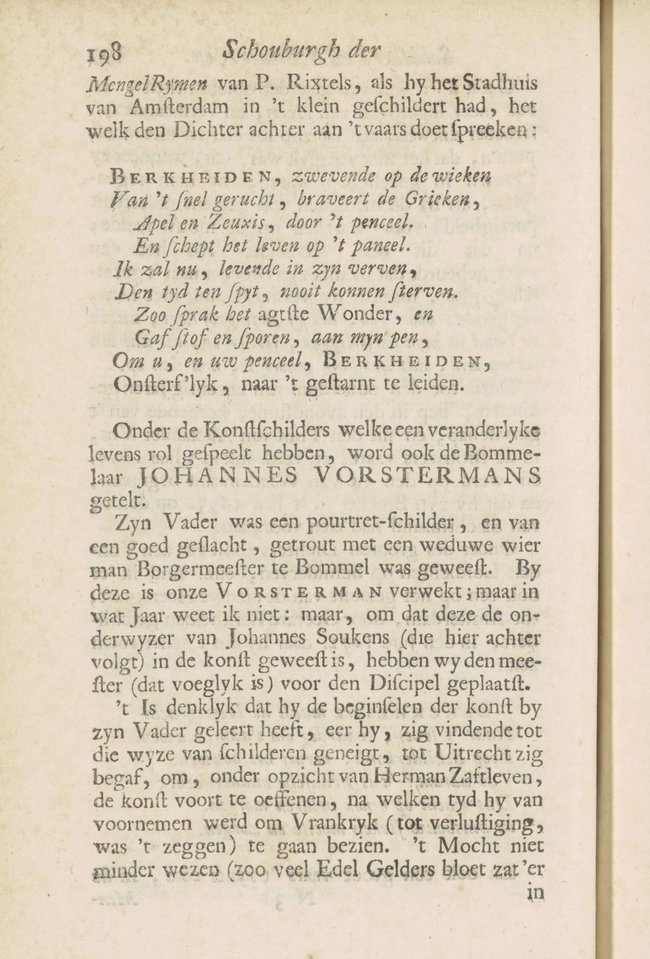 ---
Page 199

in his breast) than that he had to be followed by a servant with a trimmed coat; and (so people said) he passed himself off as a baron there and during that journey went through most of the money that his parents had left him. He later returned to Zaltbommel to live with his sister, who was usually called Madam. Here he associated with the most excellent people of that place, deported himself as a nobleman, dressed with distinction, and let himself be seen in the best inns, always denying that he practised his art for money. But knowing the state of his purse best, he sometimes avoided company for a while under the pretext that something had been amiss with him (which was the truth) and painted some pieces that he sold in Holland in secret, which he then used anew for income. And if he made anything to which he was willing to admit, it would only serve as a present for a good friend. That is how carefully he treated that piece so as not to hurt his pride.

Aside from this he possessed a great intellect, witty inventions and a deft and flattering brush with which he not only copied his master's handling but (says painter Gerard Hoet, who knew him) surpassed Herman Saftleven in many things.

In the year 1672, when the French had occupied Gelderland and the Bishopric, he stayed in Nijmegen, where another sister lived. I have forgotten to mention that when the French made moves to flood these lands and the States and province felt necessitated to muster soldiers in their defence, our squire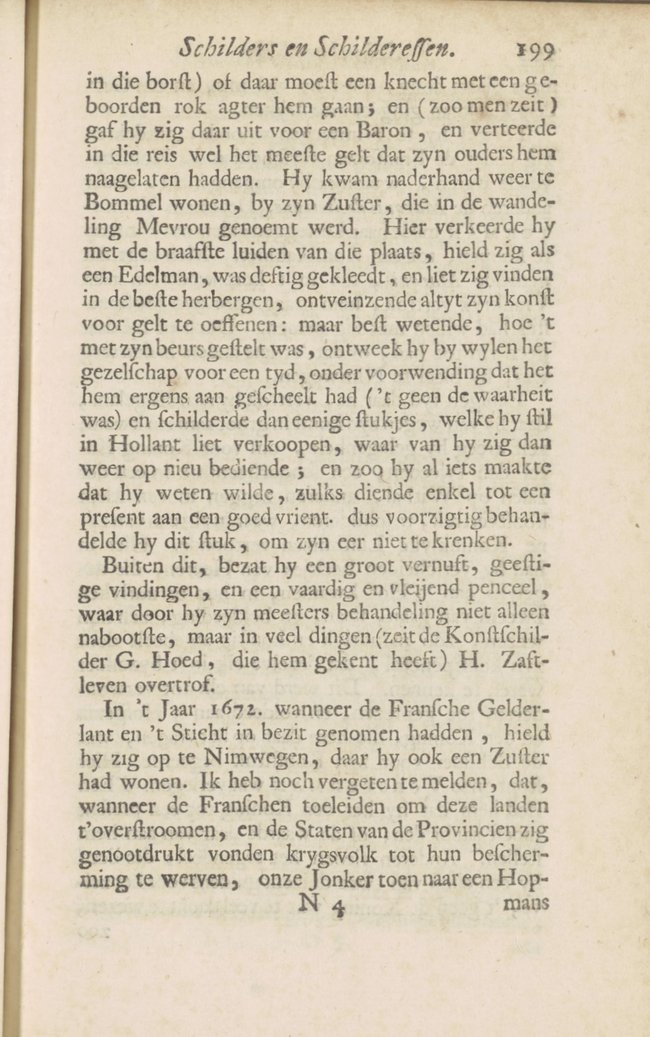 ---