Volume 3, page 160-169
---
Page 160

that of freedom, torn Privileges and the Dutch Lion, flattened between the slabs of a press, which by those powers depicted by Margaret, Duchess of Parma; the Spanish Inquisition and [the] Duke of Alba, each standing at a spill, were so severely oppressed that the tongue hung out of the mouth, as if taking its last breath, in distress. The drawing instructor asked: Why the figures of the Inquisition, and that of Alva were turning the screws with greater diligence and power, and the Regentess barely touched the blood press with her hand? gave as answer, because the history writers say in unison, that people in Spain judged that she had not treated the Netherlands with enough severity, removed her from office, and had sent Alba, reinforced with a more severe Inquisition, in her place.

A slow type may say: why should I spend my free hours learning things that will never be of use to me? But he does not know that there is nothing more pleasing for those who have the taste than scholarship, and he does not yet know the old Dutch proverb, one should not venture on ice unless properly shod.

With Livy one reads about the commander Philopoemen, who constantly occupied himself with military exercises both in peace and in war so that he would not in a pinch lack any competence or advisor. Similarly a young painter must in his spare time steadily practice reading, questioning, researching, drawing and composing to sharpen his intellect thereby and to supplement his spirit with competent concepts, so that when he gets the opportunity to show his understanding and art,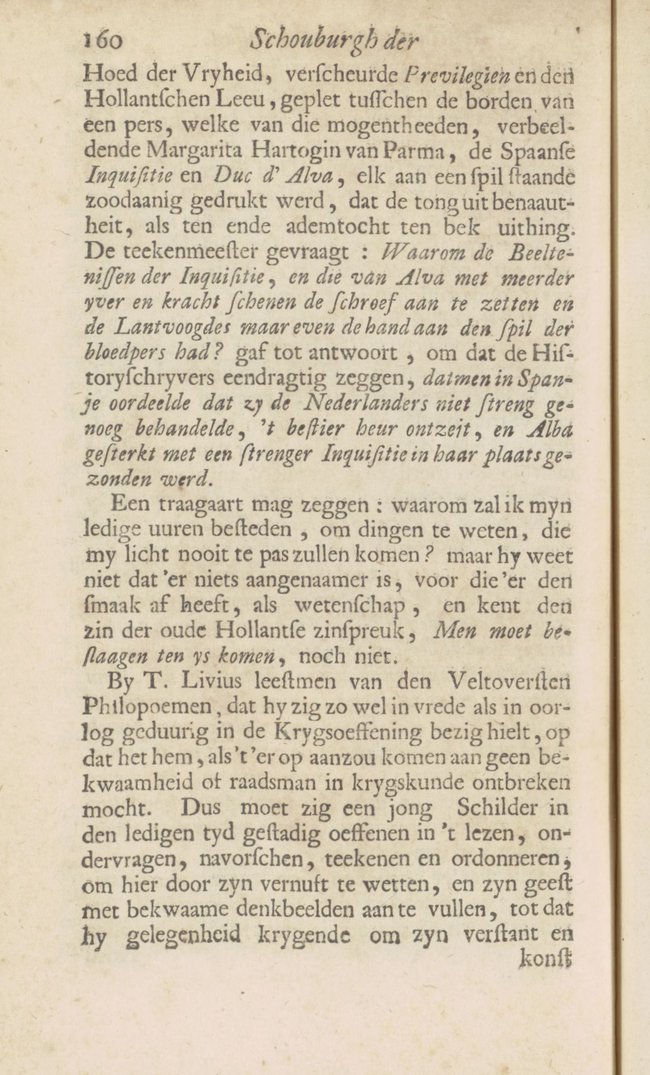 ---
Page 161

he can help himself to the priceless supply shut up in his secret cabinet, to which reason has the key. With respect to this there is nothing more to be proposed than the golden saying of Epictetus, who said: He who is wise, does voluntarily what he must do.

With this we end, as the stage curtain (this digression having dragged out a little too long) is already being raised, with the painters Barent Appelman and Pieter van Slingelant coming onstage.

BARTHOLOMEUS APPELMAN, born in The Hague in the year 1640, was a commendable painter of landscapes and Roman prospects. In the princely palace of Soestdijk is a great room with landscape and handsome figures painted by him, which are greatly praised. As are also other large works for which he as well paid in his time. But later he often painted landscapes behind portraits in the service of Jan de Baen. What shall I say? Fortune is no inheritance. It also happened thus to mentioned De Baen who, long having sailed before the wind, finally had the current run against him.

Appelman died in the year 1686, 46 years old.

PIETER van SLINGELANDT, son of Cornelis Pietersz van Slingelant and Trijntje van Polanen, was born in Leiden, on the old vest, on the 20th of October of the year 1640. He followed his teacher Gerard Dou not only with respect to similar preferences but equalled him in precision. Yes, I have seen artworks by him which in detail and polish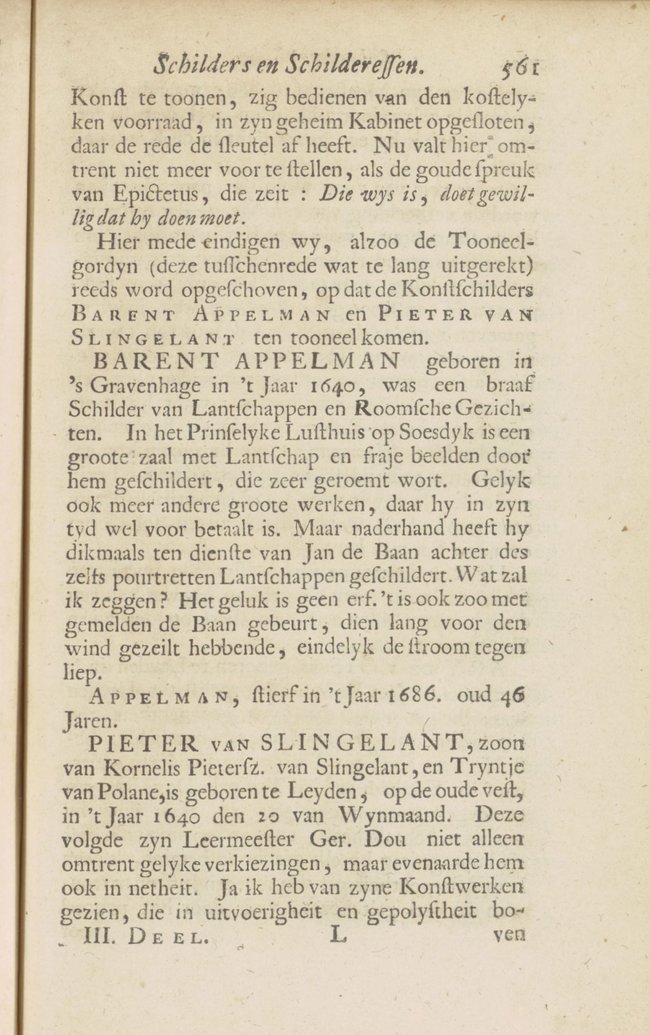 ---
Page 162

surpassed those of his master in detail. But is also true that they are somewhat stiffer owing to this treatment. However, he was a great light of art.

Amongst his many worthy brushworks the depiction of a girl holding a mouse by the tail, at which a cat jumps, is praised for its marvellous detail and natural rendering, as is a piece in which is depicted a sailor in whose woven cap the threads and direction of the weaving show. But this hardly gives cause for surprise if one knows what tireless diligence and time he invested in such things. Because with the well-known piece with the portraits of Mister François Meerman and his family [1], he painted for three years during which he was continually busy. Yes, it has been told to me as truth that he sat painting for a month or six weeks on a jabot with lace.

His way of painting won him more fame than money. He was of a commendable and quiet nature and died on the 7th of November of 1691.

ARY de VOIS was born in Leiden in the year 1641. His father, who was organist in Leiden, observing that his inclination leaned to the study of painting, placed him first in Utrecht with Nicolaus Knüpfer and later with Abraham van den Tempel. But he adopted his own way of painting, by which he became famous and was beloved by one and all for his art and pleasing behaviour, which gave him the opportunity to marry a damsel with lots of money. Because of that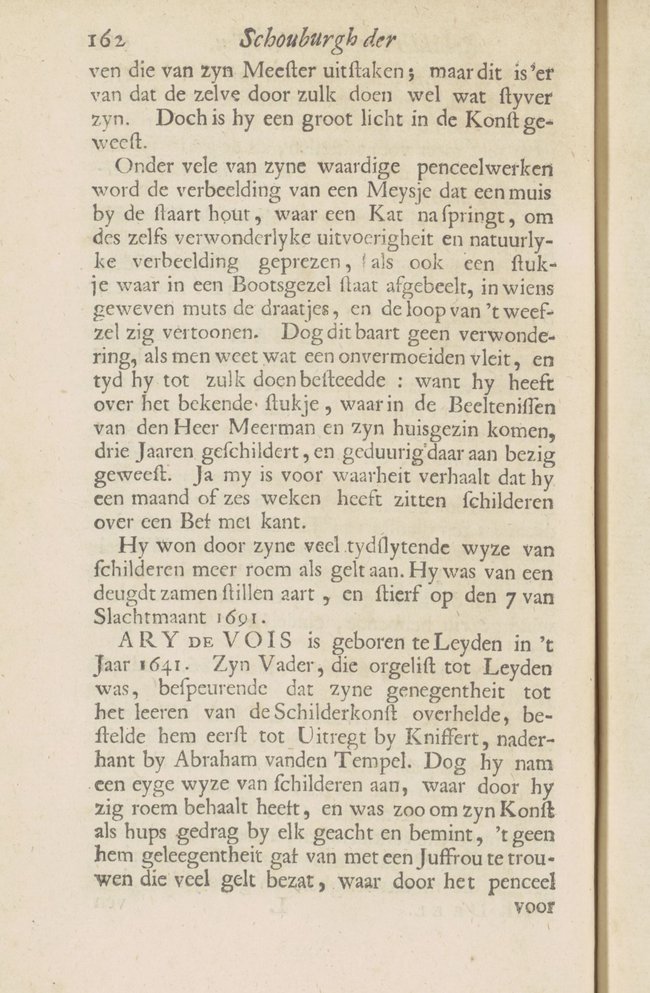 ---
1
Pieter van Slingelandt
Portrait of the family of François Meerman (1630-1672) and Theodora van Hoogeveen (1630-?), with a servant, dated 1668
panel, oil paint 53 x 44.5 cm
on the back :
Paris, Musée du Louvre, inv./cat.nr. 1840

---
Page 163

his brush ended up behind the workbench, as the saying goes, for some years on end. Because he had a certain style at the time, early afternoon at the fish market and late afternoon in company or out on a horse.

But I must not forget that before his marriage he made an artwork that he dedicated to his father's memory, in which was depicted Cecelia playing on a small organ with Saint Luke and his oxe next to it, painting the emblem for Gratitude, the stork [2].

When his money began to diminish a little through the way of life mentioned above, he began to think about painting again and to get away from all activity of people, he went to live in Warmond. But the opportunity that he had to go fishing there made him forget his practice with the brush, so that, observing this, he returned to Leiden. I have been told that in thirteen years he completed one piece, depicting Dido and Aeneas on a yacht, where they see a thunder storm coming on in the distance which beaches the sea ships [3]. Otherwise he generally painted nude figures in a landscape, which can satisfy the eye of the most refined amateurs.

Certainly the goddess of art has reason to complain that one of her best students did not practise the brush with greater diligence,


--------
* They say that amongst other reliquaries there still exist painted scenes of S. Luke kept in Rome. But as far as the art of the scenes is concerned, they say that a certain painter, when one of them was shown to him, said: Oh St. Luke, how fortunate you were! If you lived now, you would not be able to earn dry bread with it.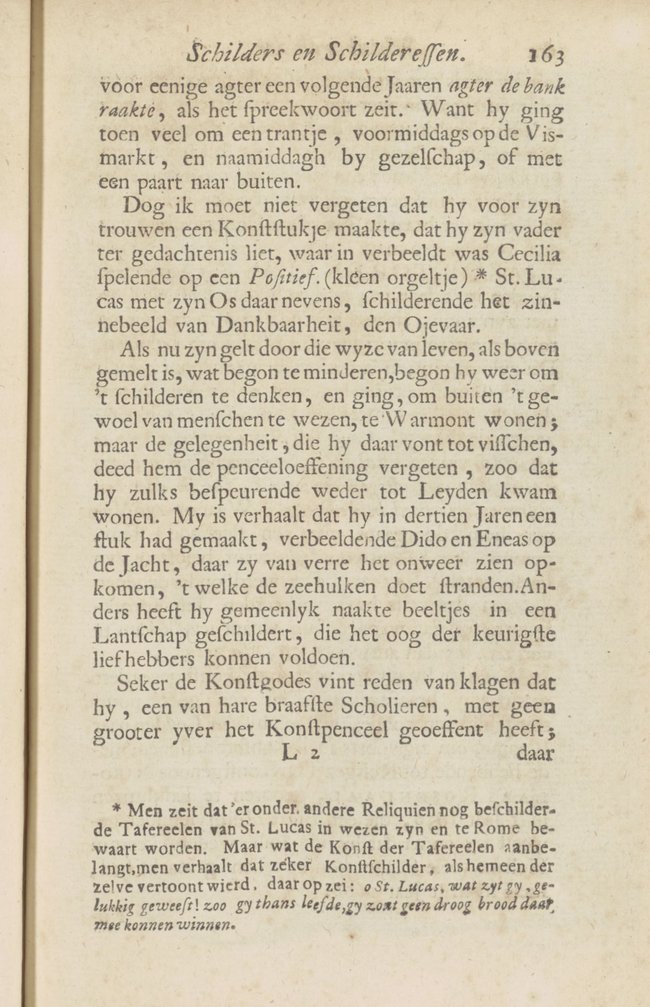 ---
2
Ary de Vois
Saint Cecelia and Saint Luke, c. 1650-1656
panel, oil paint 20 x 25 cm
Sotheby's (London (England)) 1937-07-13, nr. 142

3
Ary de Vois
Dido and Aeneas hunting, c. 1660-1670
panel, oil paint 29 x 36.5 cm
lower left : AD Voys
Leiden, Museum De Lakenhal, inv./cat.nr. B 1250

---
Page 164

as he was already so far advanced in art that this may well surprise one. I have seen a small work by him in the art cabinet of Mister Jacob Hiskia Machado, in The Hague, skilfully and elaborately painted, that may hang amongst the art of the best Dutch masters of that time.

JACOB TOORENVLIET was born in Leiden in the year 1641. His father was very fond of his son and in the habit of encouraging him in his youth with fine promises. This he believed, and it served to spur him on, but (desire is the life of the soul) he did not fail to extract ever more promises, often saying, father, once I will have become a master, will I then have a fine cloak, will I then wear a sword? Will I then have a plume in my hat? Etc. Whereupon his father would usually answer with a drawn-out voice (for promises are readily granted) Yes son. This became proverbial amongst the occupants of that house, so that when someone came to demand something of them, they answered, yes son.

When he had advanced so far in art that he was able to draw commendablely and paint a good portrait, he went from Leiden to Rome to further practice art. As travel companion and fellow artist he had Nicolaas Rosendael, born in Enkhuizen in the year 1636, who was a commendable history painter and who, after he had returned from Italy, painted many handsome art works in Holland, and died in the year 1686.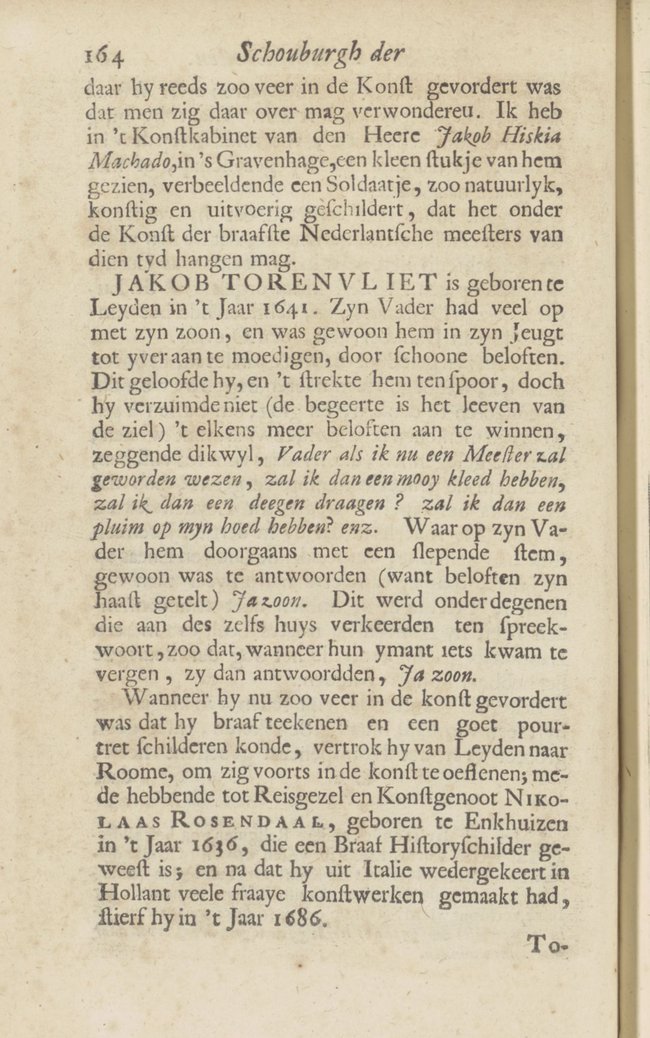 ---
Page 165

Having arrived in Rome, Torenvliet was pricelessly got up in a velvet cloak, with silver buttons, a plume in his hat and much more of the like, so that he hardly recognized himself, and when he first arrived in the inn with the painters who were among his acquaintances and had drunk a glass more than was his wont, he began to mock them because they looked a bit meagre and unimpressive. Afterwards he made things still worse, for standing in the door of the inn and seeing a group of thirsty painters hovering about the door like bees around sugar, he enquired of the ones who stood with him, are those bentvogels as well? And when he was answered Yes, he responded with curled-up moustache: I thought they were beggars: seeing they look so mangy. This was remembered, and when he had himself initiated into the Bent, they kept silent until all his money had been consumed, and then paid him back for his slighting words.

For then, according to old custom (so it was claimed), as relief and to banish the sleep from their eyes after they had stayed up all through the night, they still had to take a walk.

Where the newcomer, already pleased
With his bent name and equipped,
With his bulge leads the troupe,
Faithfully accompanied by both,
The very oldest of the bent.
Keen on scouring and used to
Scrubbing clean the gold purse of
Such lads, such green ones.
But who ever learns for nothing?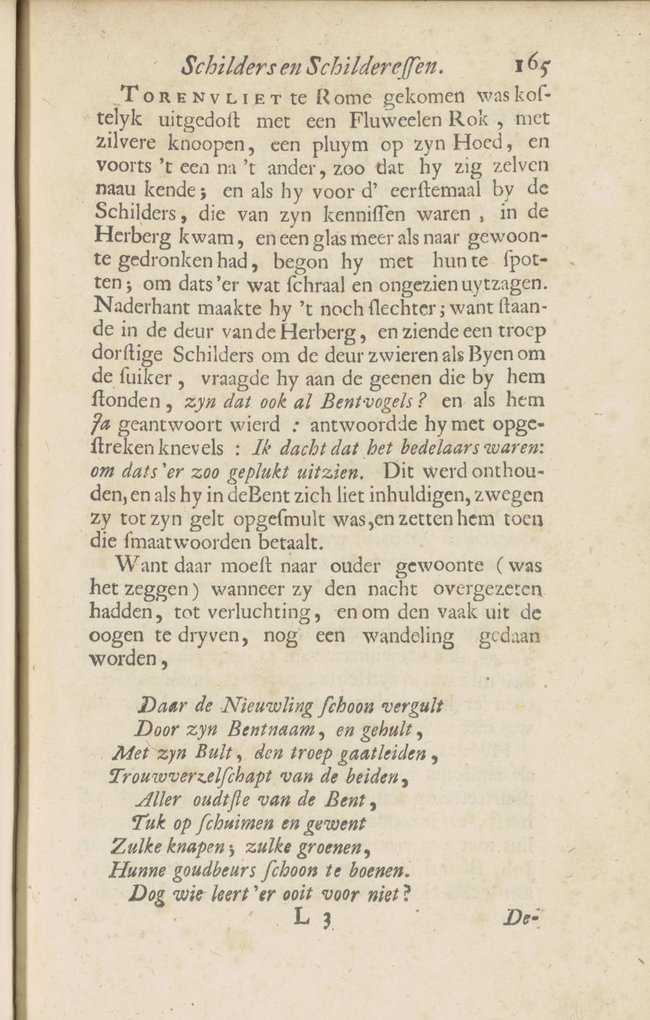 ---
Page 166

They show him in the distance,
Tivoli with waterfalls,
The most desirable of the dales
Of the entire Roman countryside.
None point to the other side,
Caves and dismembered walls,
Which endure time and regrets.
Each boasts about old lustre,
Until they reach the gravestone.
Of god Bacchus, around which a vine
Is inventively draped.
Here they at once begin again,
To offer wine to the moon and drink,
To the flowering of the bent,
And toast from hand to hand
Until they see his last money
Paid out to the innkeeper.

Among the crowd there were some who had remembered the old saying of Yes son that I have mentioned. These convinced the others that they should baptize him with this name. And he, not noticing this in all that jollity, imagined that they had bent-named him after the knight Jason, who had won the Golden Fleece, and he was most pleased with this until the next day, when it was explained to him. But that was irrevocable.

He was fully 29 years old when he came to Rome, as will soon appear, and had by then already painted many portraits by which he gained much fame; in particular with Mister Cornelis Schrevelius and his wife and children in one piece, about which Johan Blasius composed a long poem, at the end of which the muse of song speaks thus: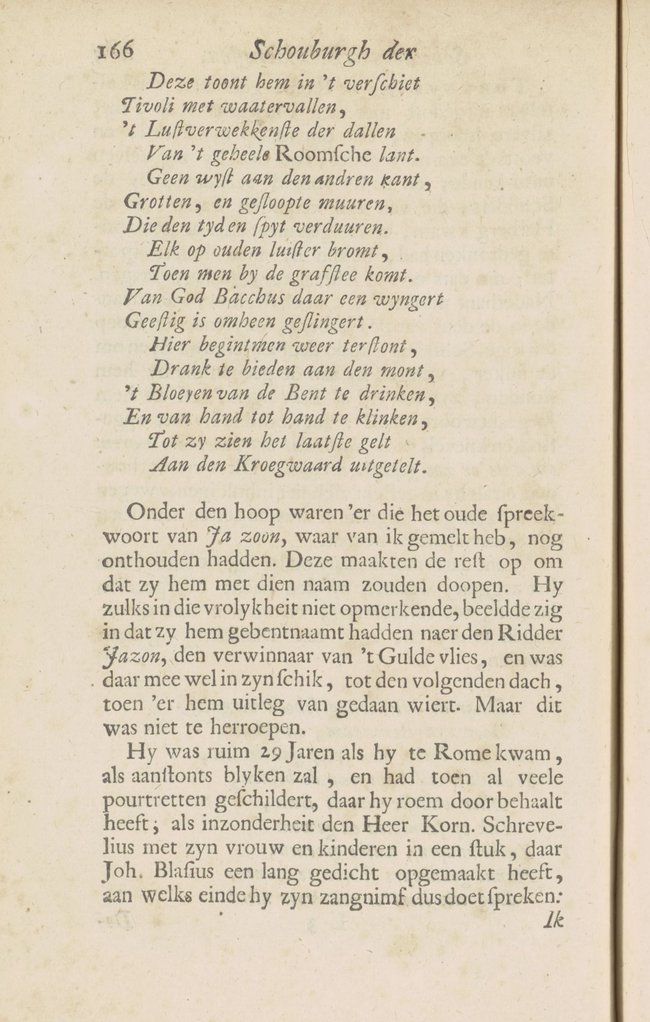 ---
Page 167

I yield to Toorenvliet, his elegance in painting,
Represent a challenge.
He gave art and spirit to these his last strokes,
The portrait, which is now a shadow, would speak.

That was in the year 1661.

He spent his time with effort and diligence by drawing after the painting of Raphael, Paolo Veronese, Tintoretto and so forth after the most famous art works which hung in palaces and churches, in which undertaking his travel companion Rosendaal, who was also a commendable draughtsman, always accompanied him. Of which we now, being November 1718, we see evidence, since some days ago a sale was held in Amsterdam of the paper and brush work of Toorenvliet, long collected during his lifetime.

Just as I have mentioned of many that they did not profit from their art, I have to say that about him. It is true, patience in the readiest remedy in such a case. It is grievous, however when one sees that others who are less gifted (as the proverb says) roll through the world where they have to creep.

He died in the year 1719.

He is followed by his fellow townsman and contemporary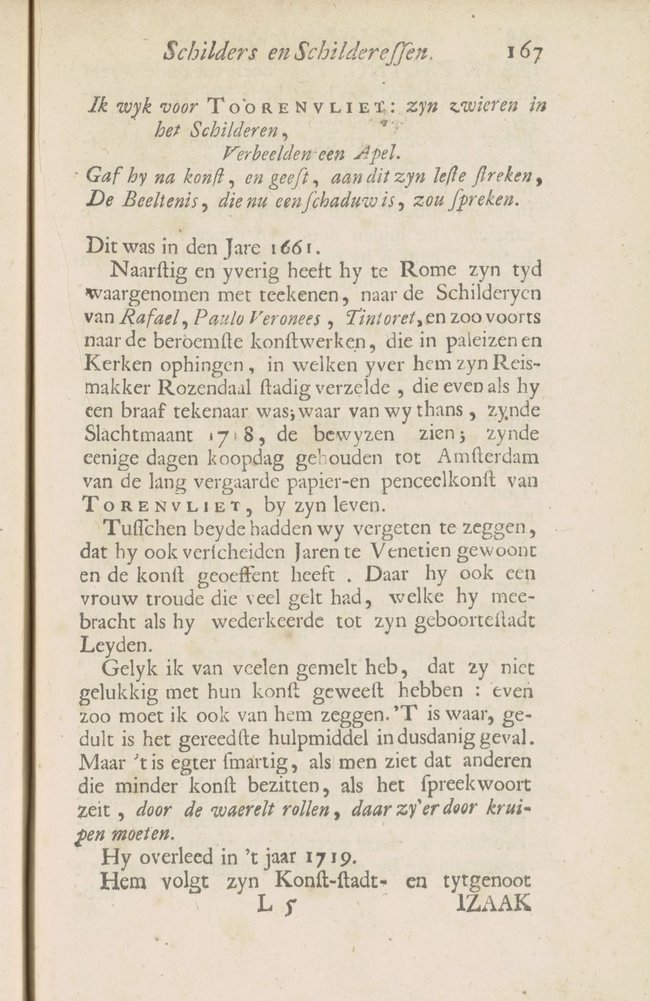 ---
Page 168

ISAAC PALING. He had the famous Abraham van den Tempel as art instructor. He later worked for some years in England and had opportunity there to practice the commendable art of his brush for one year, from whence he returned in the year 1682 and settled in The Hague, where he portrayed a large number of important people with his brush. He is still alive and keeps that practice as amusement.

I guess that if one were to make a calculation of how many portraitist the world has seen from time to time in comparison to history painters (aside from the bunglers and dunces who are spurred on by nothing but greed), they would amount to at least 30 to 10. When I was in London I saw with amazement that (with few exceptions) there were only portrait painters to be found. This has convinced me that opportunity, and not inclination or individual passion makes for so many portrait painters. For it is certain that the majority abandon more praiseworthy art pursuits, driven to this by the glittering profit that they see in it and in such a way satisfy their inclination and target, which is to make money. Nevertheless there have been many who held to their chosen way of painting and preferences to the end of their lives without wanting to waver from them. I do know that stubbornness is a reef on which many have been shipwrecked, but I also know well that those who from time to time have turned like a weathervane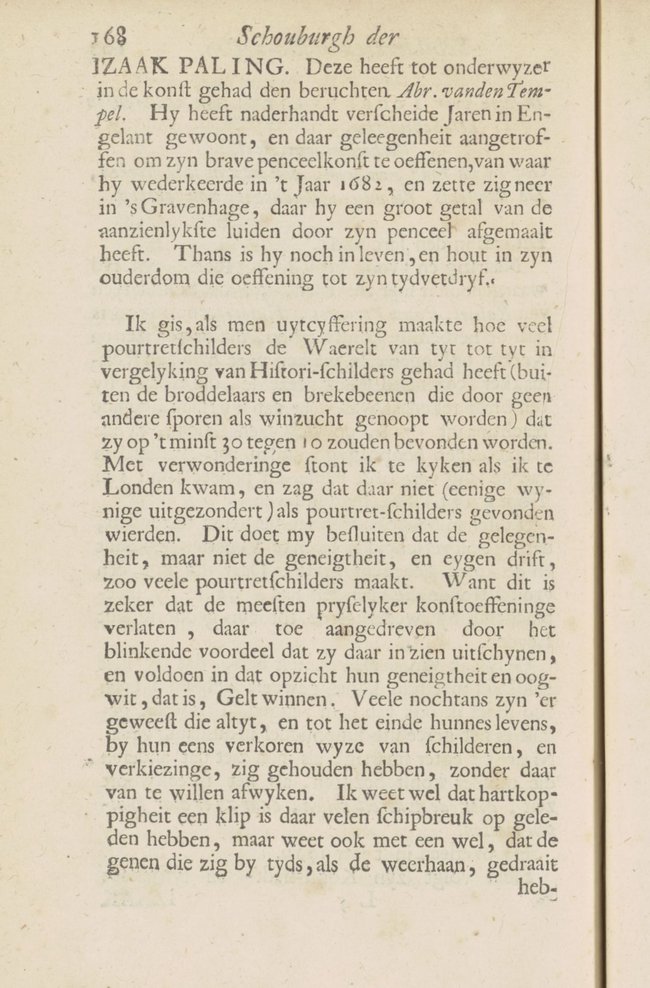 ---
Page 169

to that which seemed more profitable, have done very well by it, as, for instance

JAN van HAENSBERGEN, born in Utrecht in the year 1642 on the 2nd of January. In 1669 he went to live in The Hague, where he also died on the 10th of January 1705.

He had studied art with Cornelis van Poelenburch and had come so far

by intelligence and diligence in that way of painting that his art works were often seen for the work of his master, since he was able to imitate the choice and arrangement of the animals, terrains, backgrounds and skies so inventively clear and pleasant. However, they were not as quickly bought as painted, whereby his works grew in number but his wallet did not swell. That is why he was advised to turn to the painting of portraits, because it yields more profit more quickly and because his flattering brush could be of particular service to him there, especially with respect to the painting of young damsels, who love to have pure lily-white and fresh rose colour show through in their portraits. I do not wish to say that they are all keen on this, but those who are inclined that way let it be known in such manner of disguised expressions that no Oedipus is needed to unwrap the riddle. It has happened to me that I painted one damsel of that kind who asked me during the painting which pigments cost most? To which I answered without reflection that Ultramarine, Carmine and Florentine Lacquer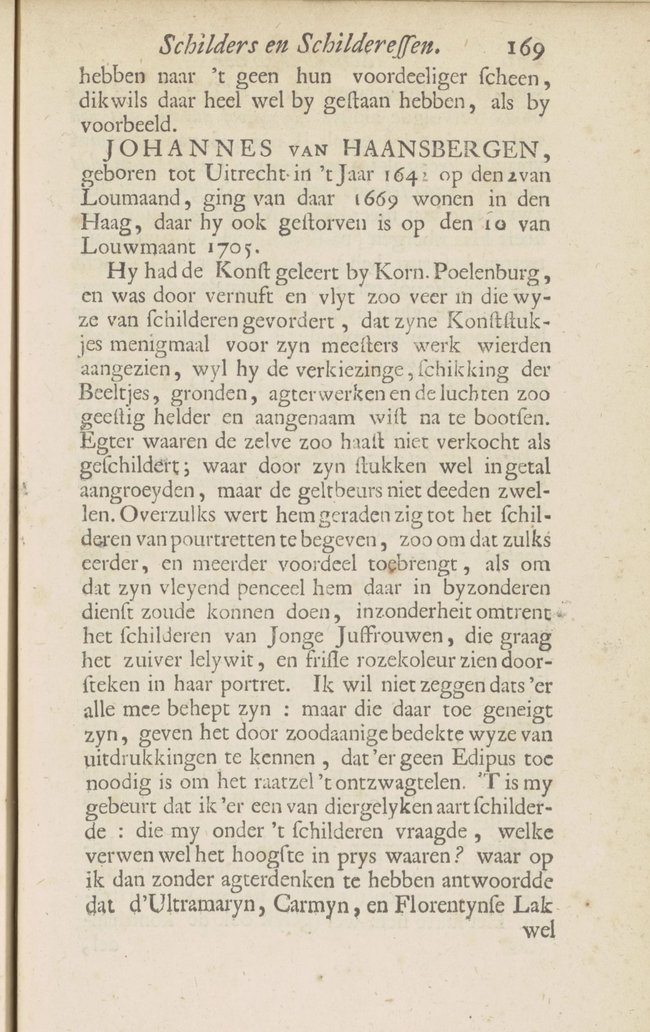 ---