Volume 3, page 50-59
---
Page 50

and thus frustrated the wrath of the people. These officers brought them captured into the city by way of the market square, which crawled with people who shouted after them, sorcerers, sorcerers, up to the house of the governor of that place, to whom they demonstrated their innocence, and showed that superstition was at the bottom of such a riot, whereupon they were set free, and the rioters silenced, but not so much that (when they left there on the next day in a carriage) many called out sorcerers, sorcerers after them.

Upon this follows the commendable portrait and society painter PIETER van ANRAEDT. He was a Dutchman by birth, but of which city I do not know, nor in what year he was born. He was a clownish lad and particularly liked the rhyme exercises of Jan van der Veen, which is why he often associated with him, just as he also (to strengthen the ties of friendship even tighter) later married his daughter [= Antonia van der Veen]. With her and various children he went to live in Amsterdam, where he painted the regents of the poorhouse on the Breestraat in a work that is especially praised [1]. I do not know where he subsequently went.

JACOB de BACKER (it is incomprehensible that the man's art works are not known, unless he stayed abroad because he found no patrons in his fatherland) was a great master. I have seen an art work by him depicting the Last Judgment which contained many nude female and male figures, with the front ones one and a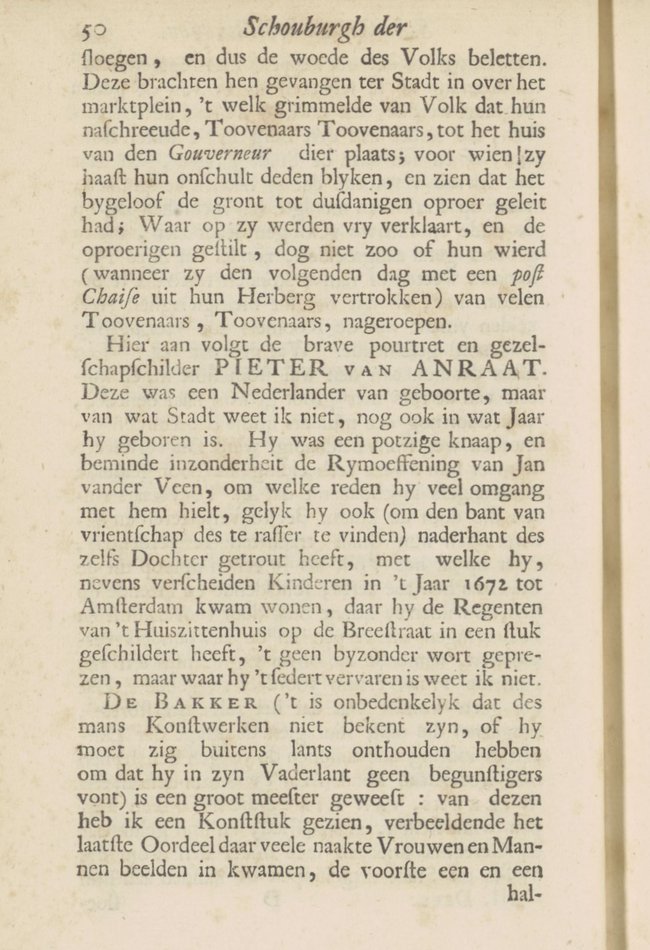 ---
1
Pieter van Anraedt
Six Regents and the Housemaster of the Oude Zijds Institute for the Outdoor Relief of the Poor, Amsterdam, dated 1675
canvas, oil paint 237 x 425 cm
lower right : Pieter van Anraadt / Aº 1675
Amsterdam, Hermitage Amsterdam

---
Page 51

half times large. They were as artfully drawn and powerfully painted as Cornelis Cornelisz. of Haarlem ever did, and the art of the smaller figures did not have to give way to Hans Rottenhammer.

There has also fallen into my hands a small piece by Joost van Geel in which was depicted a nurse with an infant on her lap, next to whom stood the mother in a red velvet jacket with white fur, inventively slung around her body, and a yellow satin skirt, thinly painted and naturally draped, playing with the child as if she wished to tempt it away from the nurse with a sugar-coated almond [2]. Whether this Van Geel was a pupil of Gabriel Metsu, I do not know, but it was so skilfully painted in his manner that one would have taken it for the brushwork of Metsu. Nothing more about him has come my way, and no one of whom I made inquiries about him, knew the man or his art, which makes me conclude that often commendable souls are nipped in the bud for want of benefactors. That is why the more often mentioned Spanish writer Baltasar Gracián said, not without reason: People of great worth have not always had time on their side. The affairs of the world know their tides and in addition, that which is most excellent is subservient to the inconstancy and fickleness of fortune.

Boasters and braggarts have always been able to push their way ahead of others into the favour of people while others sigh. Fancy talkers know, asfather Abraham says, how to fill the cellar of their stomachs so well that they ought to be shored up with struts.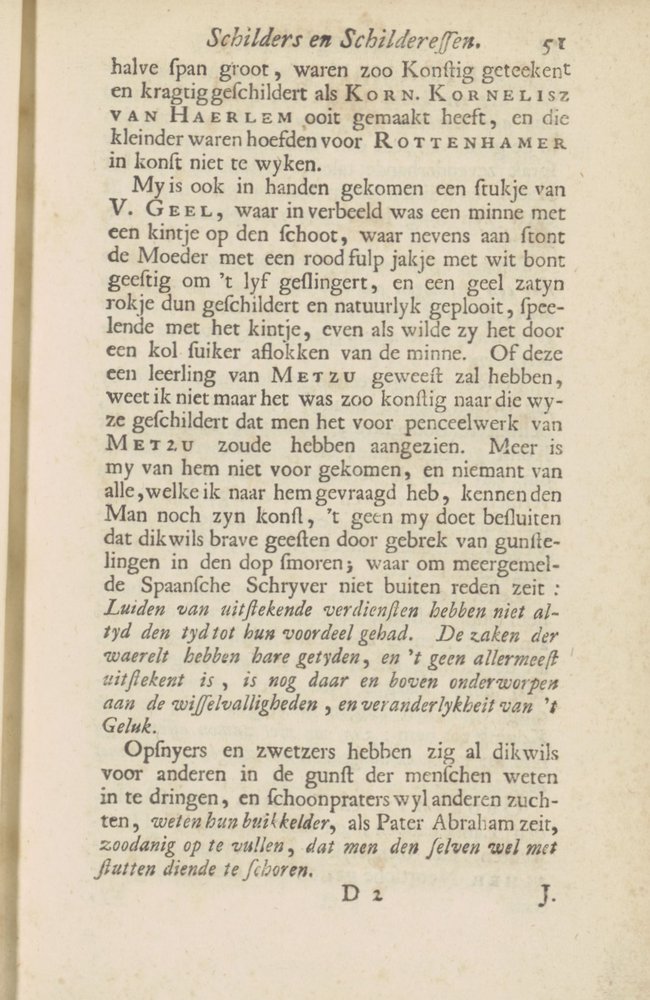 ---
2
Joost van Geel
Interior with a Mother, a Nurse and an Infant, c. 1665
panel, oil paint 35.5 x 29.5 cm
lower left : VGeel
Rotterdam, Museum Rotterdam

---
Page 52

JACOB CAMPO WEYERMAN, bent-named Compaviva, was (as the saying goes) a true all-rounder. He was able to flatter himself into the favour of this man or the other. He spoke seven languages, was marvellously knowledgeable about flower and fruit painting, but managed his tongue better than his brush.

Some people, says Baltasar Gracián, are born with the ability to attract the favour of everyone with everything they say and do, and to capture their affections so that they rule over them.

For several consecutive years he managed to stay with Daniël van Beke, sheriff of Bodegraven, who, being inclined to the practice of art, seized the opportunity to learn the handling of the brush and mixing of paints from him, so that one sometimes sees a fruit piece or dead birds hanging on a nail in a niche by his hand as well.

Certainly the lessons and smooth talking cost Van Beke dearly, seeing that Weyerman stuck with him for a long time and was not so easily rid of him as King Dionysius of his singing instructor. When the latter complained that he had received no compensation for his singing, the King said to him: are we not even with one another? You have given me pleasure with your singing, and I to you by feeding your hopes.

Evert Oudendijck and Jacob Drossaert painted landscapes and depicted deer hunts and such hunting scenes in them. Jan Ruyscher painted northern prospects with here a low valley,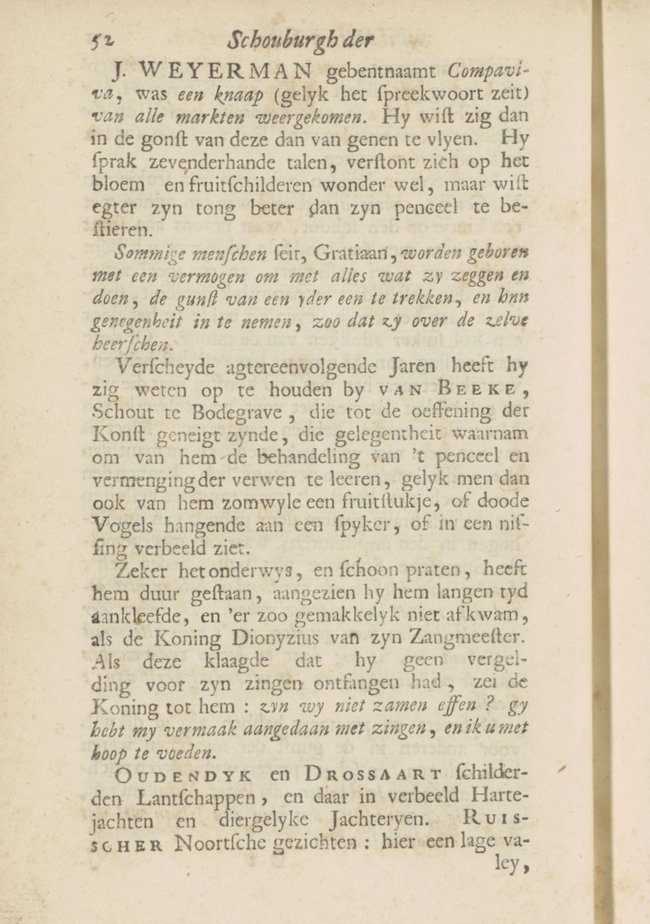 ---
Page 53

there a steep cliff, with straight mast trees planted between them and decorated with cavorting mountain goats next to the rustling of a plunging waterfall. Akerboom painted views of cities, villages, neighbourhoods etc. I have seen the city of Tournai painted by him on small scale, which was painted in remarkable detail. Peeter Gijsels, student of Jan Brueghel I, painted small and detailed landscapes with creeks. I have also seen views of the Rhine in the manner of Herman Saftleven, which were artfully treated.

ROMBOUT van TROYEN painted all sorts of amusing Italian land prospects with invented decrepit palaces and views of subterranean caverns, even though he had never seen Rome. He died in Amsterdam, where he had always lived, in 1650.

The first mentioned, Evert Oudendijck of Haarlem had a son named Adriaen Oudenwijck who also practiced art. But whether he was intelligent or wished to be seen as such, I do not know. I have been told that he learned landscape painting from his father and that to make the animals more agreeable he was able to gather them from the works by Adriaen van den Velde, or took farmers from the scenes of Thomas Wijck and others to decorate his brushwork with them, which why he was usually called Rapiamus.

Even less commendable was Van Harp. He had a pleasing brush and painted nude figures and cherubs, also a feast of Bacchus,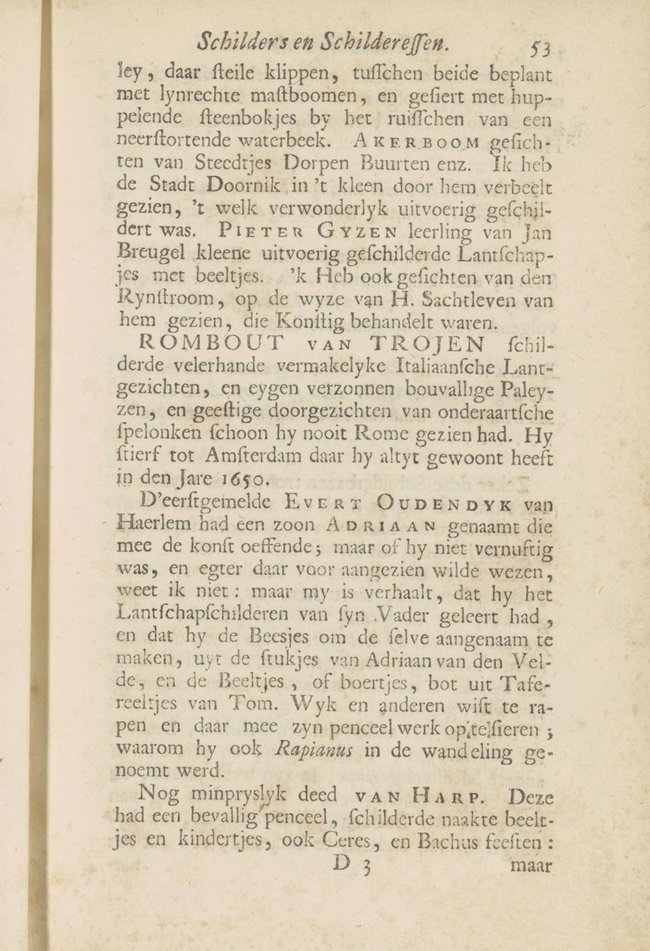 ---
Page 54

but one finds amongst them ones that are entirely based on prints. When he was challenged he called on the expression of Horace which says:

Painter and poet both received the power
To employ anything they deem useful.

This reminds me of the flower painter Simp, about which Ludolf Smids in his preface to his Gallerije ofte Proef van dichtoeffeningen composed the following verse:

Bolanus saw that Simp had made a copy
After [Daniël] Seghers' art. Ho! He said, if that is allowed to
Painters, then why not to poets?
..........

Certainly these painters appropriated freedom a little too freely. Yes, do not think that Karel van Mander would have given them the name of well-stewed turnips, as will appear.

The line of freedom that has been permitted to painters from olden times on, is now being stretched by so many; and the saying of Van Mander, Turnips are good when they are well-stewed, so twisted out of its true meaning that it may well be of service if an Interpretation, or closer explanation of it were given.

It is something quite different when a painter places in his work and sells as his own discovery figures gathered from paintings, drawings, and prints by other masters. It is something else to help oneself to the elegance of the figures, costumes, and attributes of others, so that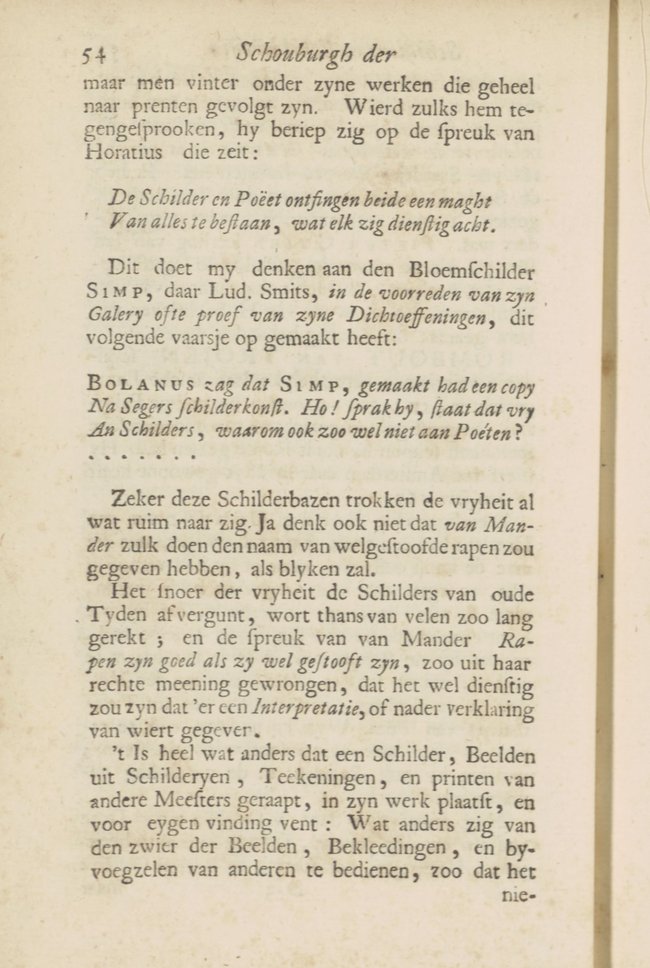 ---
Page 55

no one sees or discovers it. This is stealing in the one case and letting each keep what is his in the other. But to pick up whole figures recognizably from other masters, and to pass these off as one's own, cannot be given the name of well-stewed turnips. That is to say, the saying of Van Mander in his art lesson Chapter I, verse 46.

Steal arms, legs, bodies, hands, feet,
it is not forbidden here, those who will, must
Play the part of Rapiamus,
Well cooked Turnips [Rapen] make for good pottage;

is not intended to announce that a painter is free to steal a figure here, a leg, or arm etc. there, and thus compose an assemblage of what is scraped together, but, on the contrary, that which is stolen must be welded, reshaped, stewed in the mind as in a pot and prepared and served up with the sauce of intellect, so that it will be tasty, as is validated by this example.

A scene in which each part was entirely stolen was put before the great Michelangelo to pass judgement on it. But the would-be master painter who expected glory was put in his place thus: If I were to return to every painter what is his, then nothing but an empty panel would remain. That is why Philips Angel compares this case in his Lof der schilder-konst with the raven of Aesop, which had made a display of himself with the feathers of other birds, and thus gotten up, strutted in the midst of them until each plucked back what was his, and mocked him for his borrowed beauty.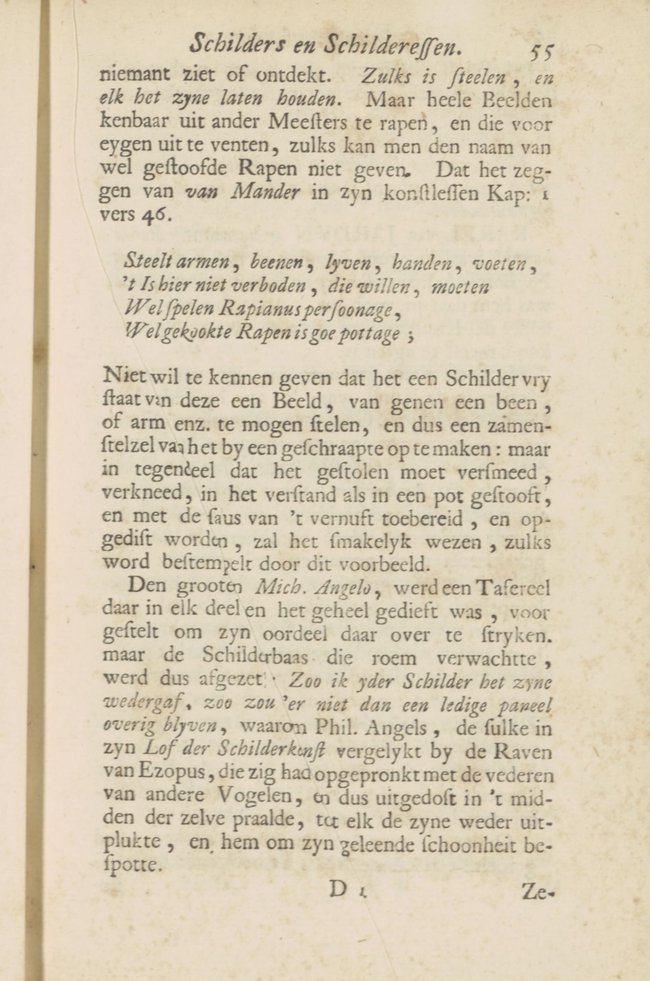 ---
Page 56

Many would have been phoenixes in their activity (says Baltasar Gracián) had others not gone before them.

KAREL du JARDIN, nicknamed goat beard, was a great master in his art, but Nicolaes Berchem, with whom he studied art, went before him. Otherwise it is disputed amongst connoisseurs whose art of the brush is most to be esteemed.

He has amply demonstrated that he was a great master in art, be it that he depicts small oxen, sheep, goats and Roman markets, or any farcical show in particular, just as the art-loving Jan Thomasz. de Vogel in Amsterdam is still the owner of a choice work depicting a quack standing amidst a group of onlookers, talking away in funny fool's costume and masked [3]. This small work is skilfully drawn, inventively arranged and clearly painted. I have also seen various depictions of Christ on the cross by him which were artfully drawn, naturally coloured and boldly painted, and in which the brown and light were observed to satisfaction. Painters paint shadows so that what they wish to emphasize stands out with stronger light, professor Petrus Francius says very aptly, for a painter demonstrates his intellect by this.

Amongst all his artful brushworks is praised a cabinet piece depicting the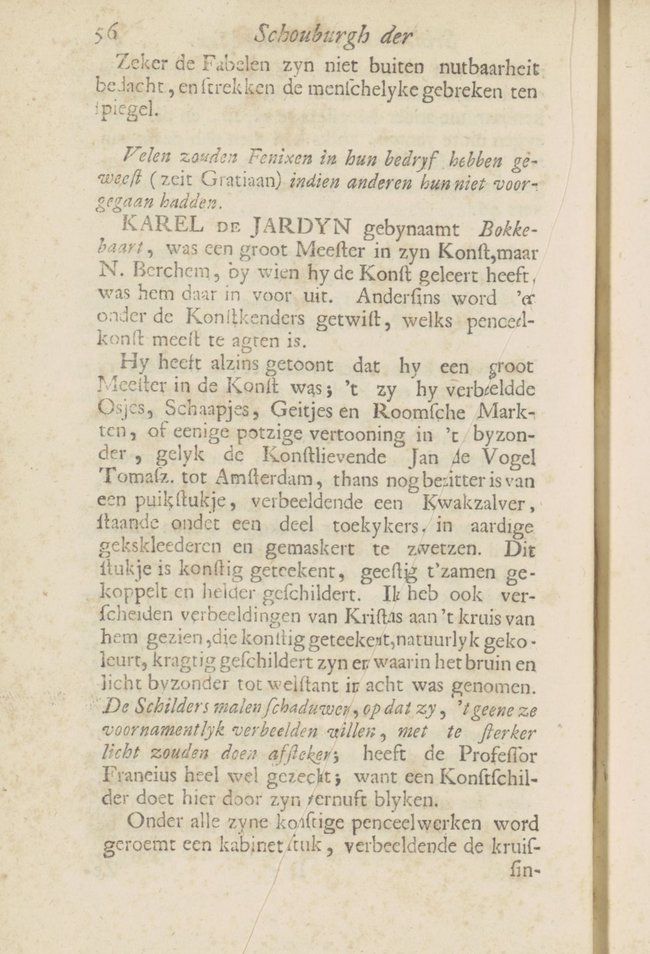 ---
3
Karel du Jardin
Landscape with Italian comedians and their audience, dated 1657
canvas, oil paint 44.5 x 52 cm
lower left : K. DU JARDIN fec. 1657
Paris, Musée du Louvre, inv./cat.nr. 1394

---
Page 57

Crucifixion of Christ, with all that goes with it. It is praised according to its desert by the prince of Dutch poets, and described in full elegance by artful expressions in the following outstanding poem:

Thus far I have believed, following the words of Heaven's interpreters
That Christ was crucified; now the faith is done.
I see the Saviour himself, by the rage of the Jewish people,
Oh cruel and necessary evil! Nailed to the wicked wood of the cross.
The belief, this is certain, must give way to knowledge.
The brain is less enlightened by the ears that by the eye.
The truth receives her power by living appearance.
This is Calvary. Oh terrible representation!
The son of God is here hung up by murderers.
Evil weighs Virtue and Vice in a balance.
Nor does sin make the soul long for the death of Christ.
I see the blessedness on the holy face.
The love for mankind has him blaze in suffering.
He who seeks salvation with others has a cursed delusion.
Here they approach him, oh fright! with bitter gall.
The zeal of the temple does not fear to commit any horrors.
The fear for loss of office is allowed to be tainted with blood.
Stay evil one, who entraps the words of Christ.
The undisguised evil is not to be missed by any alert eye.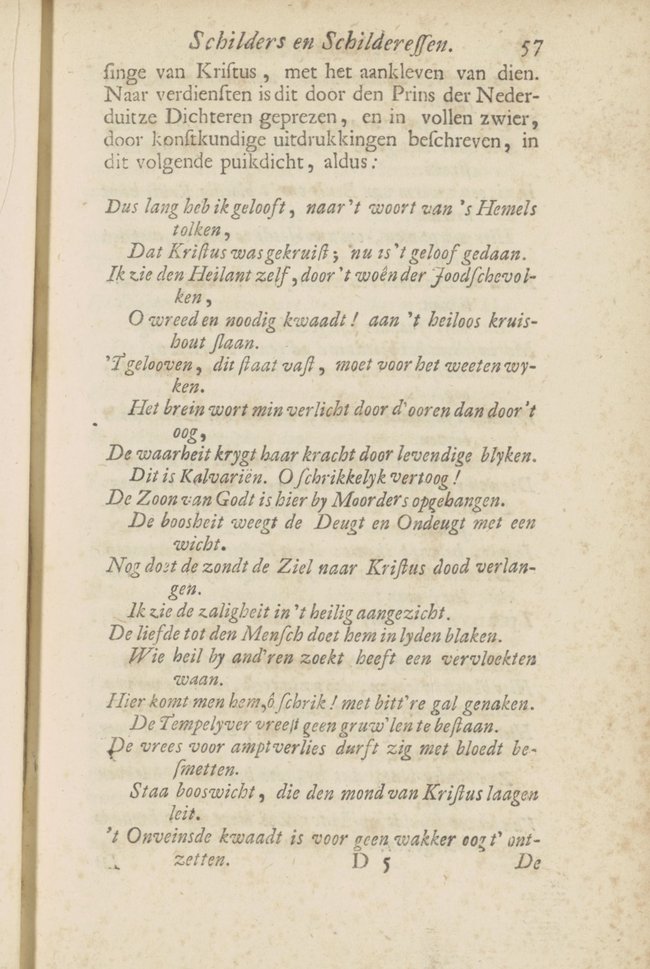 ---
Page 58

The sky, oh wondrous deed! is covered by a cloud.
The sun faints with fear, now that the sun of souls,
Which graces her with its glow, is horribly combated.
I see a swarm of executioners crowd around the bloody cross.
Here they toss the dice to win his robe:
But he who wins his robe will lose salvation forever.
Yonder John raises his head and heart upward.
The blood appears to freeze in Mary's veins.
Her son's death agony clouds her eyes.
He who loses his offspring looses a part of life.
The true Saviour dies; I do not see him move.
He who gave others spirit appear to give up his ghost himself.
He who creates everything has been undone by his creations's hand.
I am mistaken, alas! I am mistaken. It is only paint that I see represented.
The cloud which obscures the light has me go astray: no:
Jardin has fooled me by the art of his brush.
But commendable deceit has never suffered punishment.
Here he blows life into dead paints through his spirit.
My soul has a desire to often enter this Church.
Here they preach, with the brush, how Christ before dying,
Prays to his father, that those who threaten his life,
May be freed from their sin. Thus one learns to forgive evil.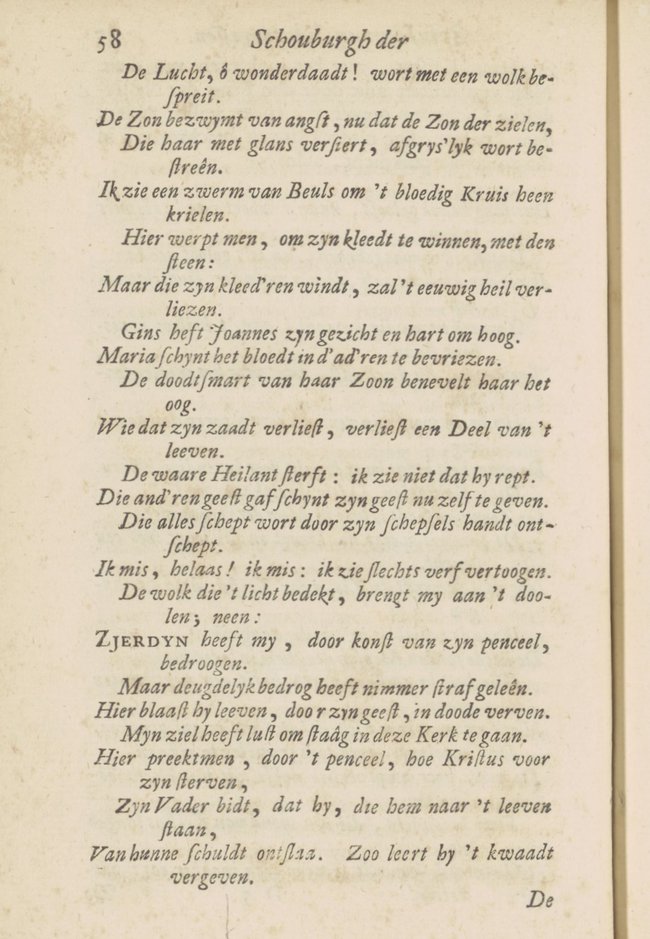 ---
Page 59

The pulpit of the brush has often performed virtue.

This art work has for many years been in the family of Mister Jacob Cromhout in Amsterdam [4].

He also painted a portrait once in a while, as may be seen from the following verse by the poet Jan Vos on his portrait [5]:

Bravery seeks to gain fame with the sharp steel.
The poet knows how to escape the grave with his quill.
Each seeks to limit the rage of death's arrow.
To live long requires either shrewdness or strength.
I do not seek eternity by princely displays,
Nor with triumphal chariots; nor with triumphal arches; no:
Jardin protects me from Death with his brushes.
The arts of Apelles outlast marble stone.
Nature has created me; but weaker than his paints.
He who lives through the art of painting, she also keeps from dying.

It seems to us that he was a flighty type. Mister Jan Reynst, a good acquaintance, neighbour and house owner intended to undertake a journey to Italy, especially to see Rome, and Karel (ostensibly) was to accompany him to Texel, where the ship, ready to sail for Livorno, lay at anchor. They say he was restive as he went along. But the next day Karel wrote to his wife for a change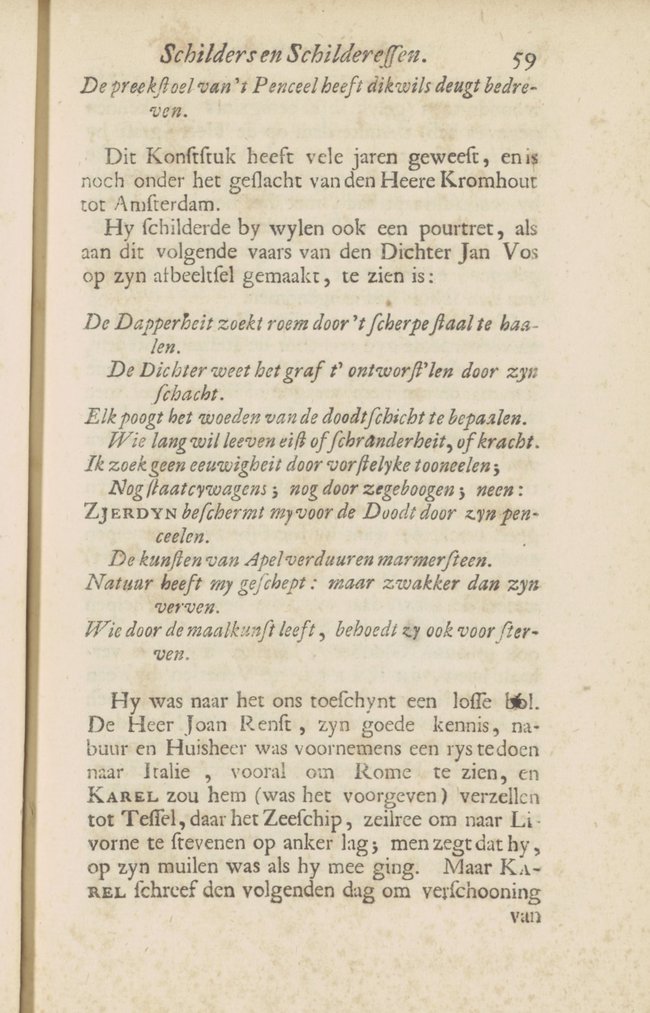 ---
4
Karel du Jardin
The Crucifixion, dated 1661
panel, oil paint 97 x 84 cm
lower center : K.DU IARDIN fec. / 1661
Paris, Musée du Louvre, inv./cat.nr. 1393

5
Karel du Jardin
Portrait of Jan Vos (1610-1667), before 1662
paper, etching 166 x 127 mm
upper left : K.DV.IARDIN F.
The Hague, RKD – Nederlands Instituut voor Kunstgeschiedenis (Collectie Iconografisch Bureau)

---