Volume 3, page 1-9
---
Page 1


The
GREAT THEATRE

Of the
NETHERLANDISH

PAINTERS
And
PAINTRESSES.


THIRD PART.


An orchard man can bend a young tree and its branches according to his will as long as these are still tough and flexible, but it may also happen that when the powerful nourishment of its roots spreads into its trunk and branches, it breaks free of these bonds. That is when the manager of the garden, seeing that the power of nature is not to be confined, gives it its full freedom, wherever nature drives it. Thus it went with the famous painter

FRANS van MIERIS, who is the first to appear after the opening of the third act of the Great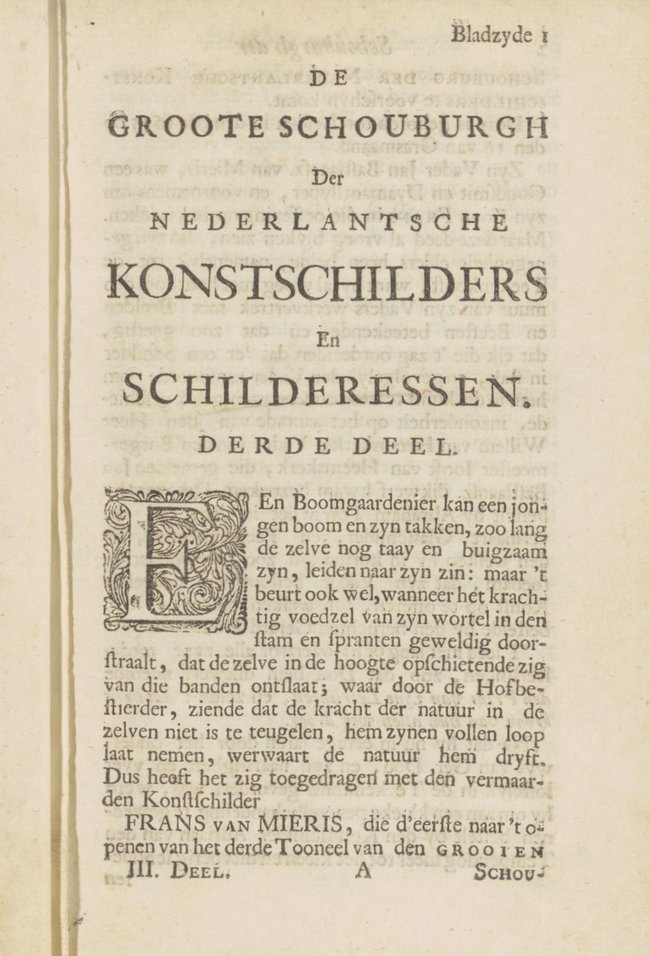 ---
Page 2

Theatre of Netherlandish Painters and Paintresses.

He was born in Leiden in the year 1635 on the 16th of April.

His father, Jan Bastiaensz. van Mieris, was a goldsmith and diamond polisher, and determined to raise his son Frans in that practice. But the latter gave early signs that his affections inclined elsewhere, namely to the art of drawing, for early on he covered the walls of his father's shop with figures and animals with charcoal, and that so inventively that everyone who saw it judged that he had a painter in him and consequently urged the father to let him be instructed in that art, as happened, especially on the advice of Mister Willem van Heemskerk, father of the burgomaster Joost van Heemskerk, who often came to visit the mentioned Jan Bastiaensz. Thus Frans was placed with Abraham Toorenvliet I, a renowned glass painter and drawing master at that time, with whom he made such marvellous progress in little time that his father decided to sacrifice him to art altogether, to which end he placed him with the famous Gerard Dou.

It did not take long before he surpassed all his fellow pupils, so that Dou often called him the prince of his students and said that he carried off the crown from them all.

After he had advanced praiseworthily in the art of drawing through the teaching of Gerard Dou and his own diligence and effort, he was placed with the painter Abraham van den Tempel so as to get used to a bold brush handling. But more inclined to small and detailed painting,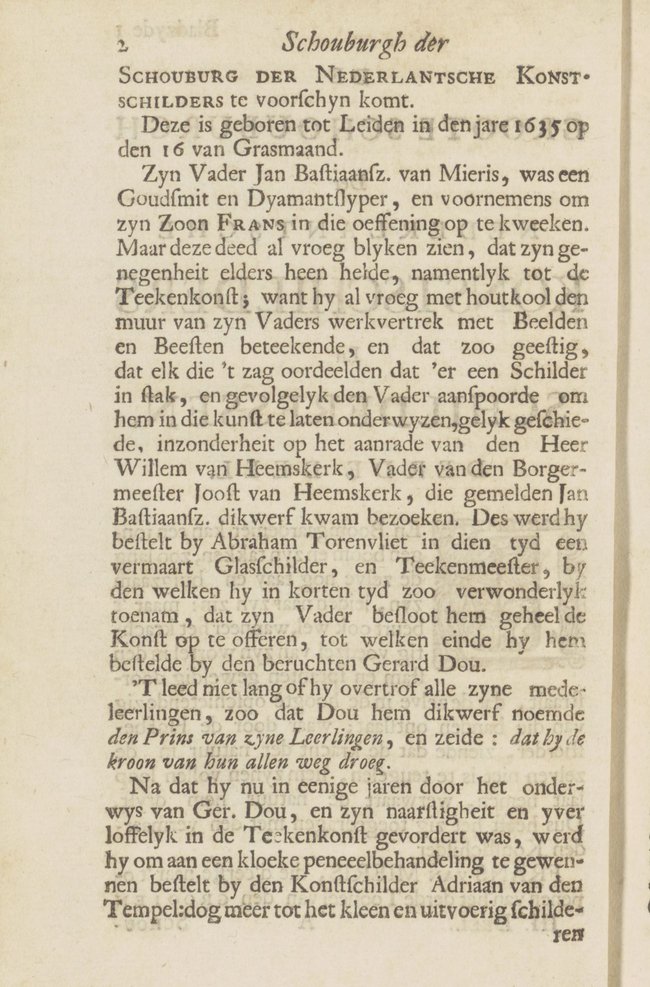 ---
Page 3

he returned to the instruction of Gerard Dou until he was advised by his good friends to continue practicing art on his own, which worked out so well that his brushwork found admirers and supporters from the beginning. Among these were Misters Vredenburg and Isaac Gerard, and Professor Franciscus de le Boë Sylvius. The latter often requested that everything that he made might be for him, or that he might have the choice to acquire it at the price that someone else was prepared to pay for it. This spurred on his love of art more than a little, and even more when owing to the favour of the mentioned gentleman, his Maecenas, he gained the opportunity to paint a small work for the Archduke Leopold Wilhelm von Österreich. In it he depicted a beautiful woman standing in a silk fabric store and next to her a horseman, ostensibly there to purchase some fabric but who peeks more at that beauty than at the wares [1]. This pleased the Archduke so greatly that he had him paid a thousand guilders for it, with the offer that if he wished to come live at the court in Vienna, he would richly pay him for his art and in addition give him an annual present of a thousand rix-dollars. But he declined this with the pretence that his wife was not in agreement.

He also painted several artful candlelight scenes in his days. One of them depicts a woman who, having drunk too much, has fallen asleep and who, derided by a joker, is crowned with a piss-pot. It was pleasingly rendered in print by the artful engraver Hendrik Bary [2], uncle of Mister G. Cincq, currently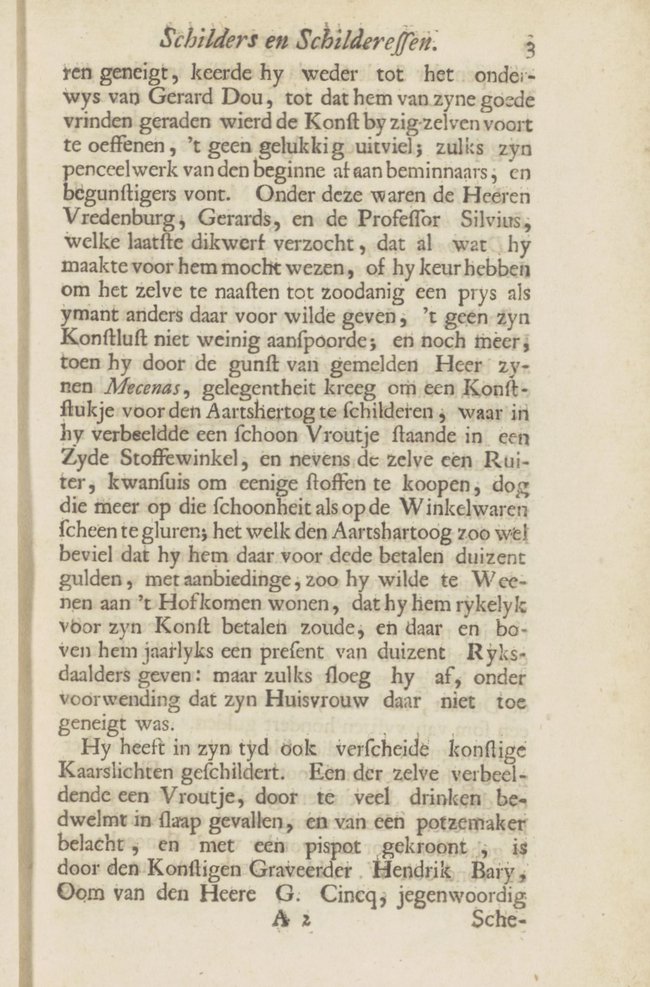 ---
1
Frans van Mieris (I)
The cloth shop, dated 1660
panel, oil paint 55 x 43 cm
left center : F.van Mieris f i660
Vienna, Kunsthistorisches Museum

2
Hendrik Bary after Frans van Mieris (I)
A fool placing a chamber pot on a drunken woman's head: 'Wine is a mocker', dated 1670
paper, 2nd state 291 x 192 mm
Braunschweig, Herzog Anton Ulrich-Museum, inv./cat.nr. HBary AB 3.11

---
Page 4

alderman of the city of Gouda. Christoffel Pierson has applied to it the saying in Proverbs 20, verse 1, Wine is a Mocker, along with the following verse:

Here BARY lends a hand to MIERIS' great spirit,
Thus the King's word can touch the face as if by a thorn.
Drunkenness always mocks itself most,
Although it would vomit its surfeit on others.

At that time he painted the wife of Mister Cornelis Paets [3], in which he invested much effort and time, seeing that this gentleman had studied the arts of drawing and painting with him in his youth. This portrait is considered to be one of his most artful brushworks here in this country, and though much money was often offered for it, it may still be seen in the home of the son, Mister Willem Paets, alderman of the city of Leiden.

Mentioned Cornelis Paets also let him paint in his house a cabinet piece in which is depicted a young damsel who lies in a faint, along with a medicine master and a crying old woman [4]. For every hour that he spent on this art work he received a golden ducat, adding up to a sum of fifteen hundred guilders when it was completed.

The gentleman received numerous requests for this piece from the Grand Duke of Florence [= Cosimo III de' Medici], who had three thousand guilders (but in vain) offered for it. This art work is unanimously taken for a miracle of the brush, and therefore Willem van Heemskerk found reason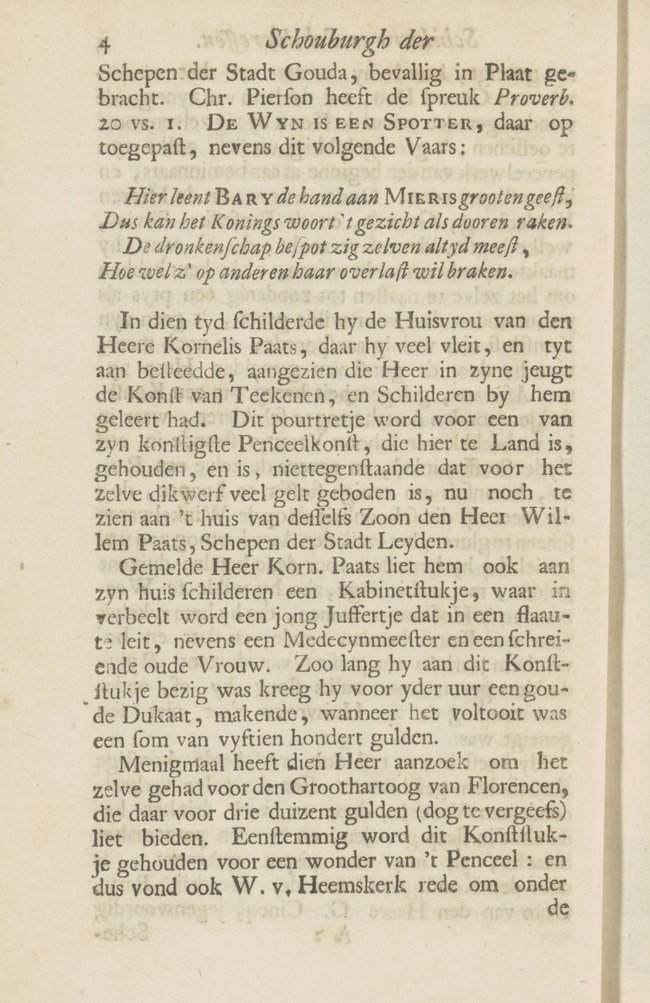 ---
3
Frans van Mieris (I)
Portrait of Agatha Allards Kouwenhoven, wife of Cornelis Paets, dated 1665
panel, oil paint 27 x 21.5 cm
left center : F. van Mieris / fecit A. 1665
Private collection

4
Frans van Mieris (I)
The doctor's visit, dated 1667
panel, oil paint 44 x 33 cm
location unknown : Fvan Mieris / A° 1667.
Los Angeles (California)/Malibu (California), J. Paul Getty Museum, inv./cat.nr. 86.PB.634

---
Page 5

to write below the drawn portrait of our great master:

Thus Frans Mieris could, only with coal and chalk
On parchment give his own appearance its features:
But who wants to see the miracle of life more noble than life
Note how brush and paint compete with life;
If Parrhasius and Zeuxis could see:
They would at once end their competition and fight over who would offer him the wreath of honour.

This drawn image was later engraved in mezzotint by Abraham Bloteling [5] and is kept and valued amongst the portraits of artists collected by print lovers. Nor have we failed to give this worthy portrait the highest place in Plate A among so many dignified men, so that his memory may long remain alive.

He had the honour that the Grand Duke of Tuscany came to visit him in Leiden (out of the respect that he had for his art), and seeing various art pieces that were half or largely completed, his eye and then his predilection at once fell so mightily on one of these works that he begged the artist to finish it for him as quickly as possible [6]. In it was depicted a company of damsels. In the foreground stood one dressed in white satin, having a lute in the hand and looking as if having got up from a chair upholstered in green velvet which stood behind her. In addition to her there is another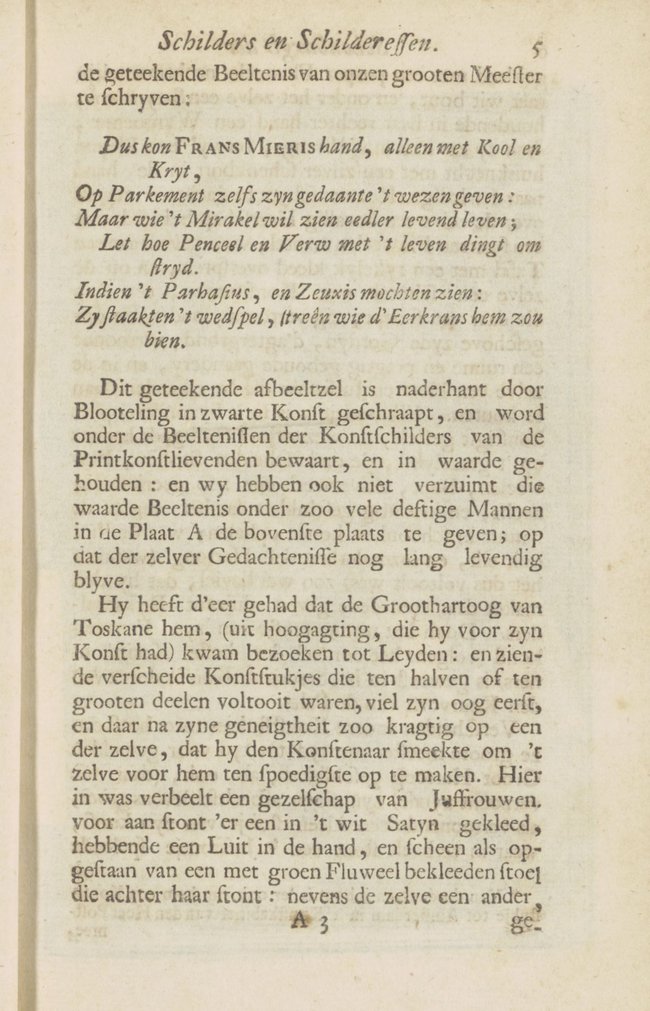 ---
5
Abraham Bloteling after Frans van Mieris (I) published by Abraham Bloteling
Self portrait of Frans van Mieris (1635-1681), 1667 or later
paper, mezzotint 205 x 143 cm
The Hague, RKD – Nederlands Instituut voor Kunstgeschiedenis (Collectie Iconografisch Bureau)

6
Frans van Mieris (I)
Elegant company in an interior, dated 1675
panel, oil paint 51.8 x 40.2 cm
left center : F. van Mieris Fecit. 1675.
Florence, Galleria degli Uffizi, inv./cat.nr. P 1305

---
Page 6

damsel, dressed in a purple velvet dressing gown with white fur, and beneath it a satin skirt, holding a wine glass in her right hand, which she raises to her mouth, while a small servant with a silver tray, seems to be waiting for the empty glass. Opposite her is a handsome gentleman dressed in a black velvet cloak, with next to it a table covered with a rich carpet and on it a tray with candy. A monkey nibbling from these shows up next to him beneath an open silk curtain. Showing in the background is a spacious and splendidly constructed gallery, and in it a gentleman and damsel who are chatting with each other. Every figure individually tended to the inventive, the features comely, the hands at their most graceful, the diverse fabrics, velvet, fur, silverwork etc. so exquisitely soft and powerfully painted that it could compete with nature in beauty. That is why it was so pleasing to everyone, and to the Duke in particular (when it was completed) that he gave the maker a thousand rix-dollars for it. Even so, the very best of his brushwork (in the opinion of the best connoisseurs) was in the famous art cabinet of the Elector Palatine [= Johann Wilhelm von der Pfalz].

Our great master painted many other art works from time to time for the mentioned Grand Duke, as also (having been requested) his own portrait, life size [7], holding a small piece of his art in which was depicted a damsel* playing on


--------
* There is a work by him with similar content in Amsterdam in the art cabinet of Mister post-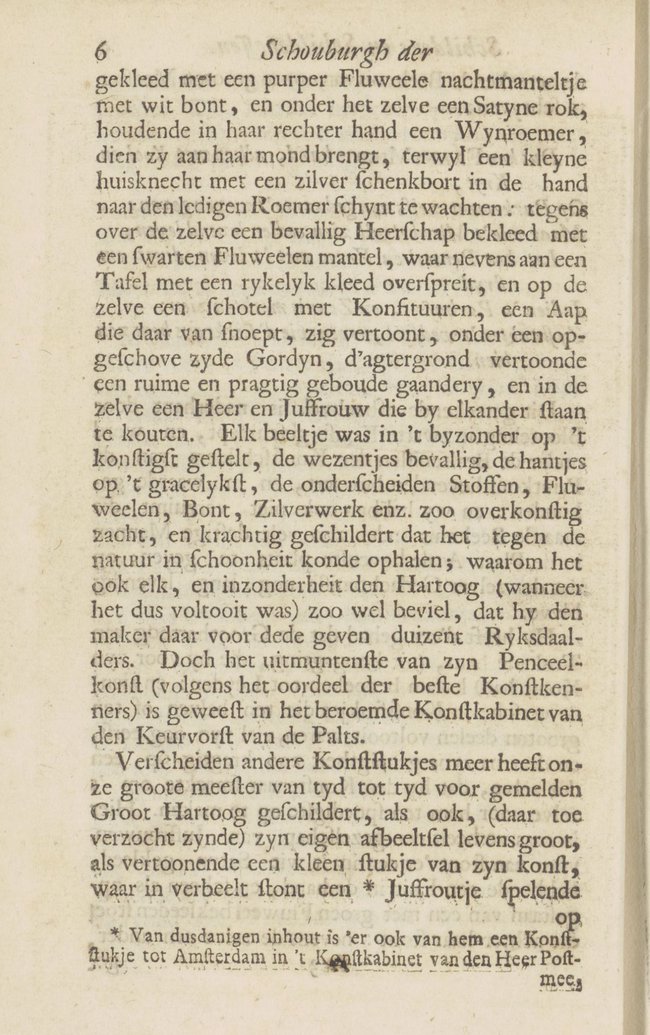 ---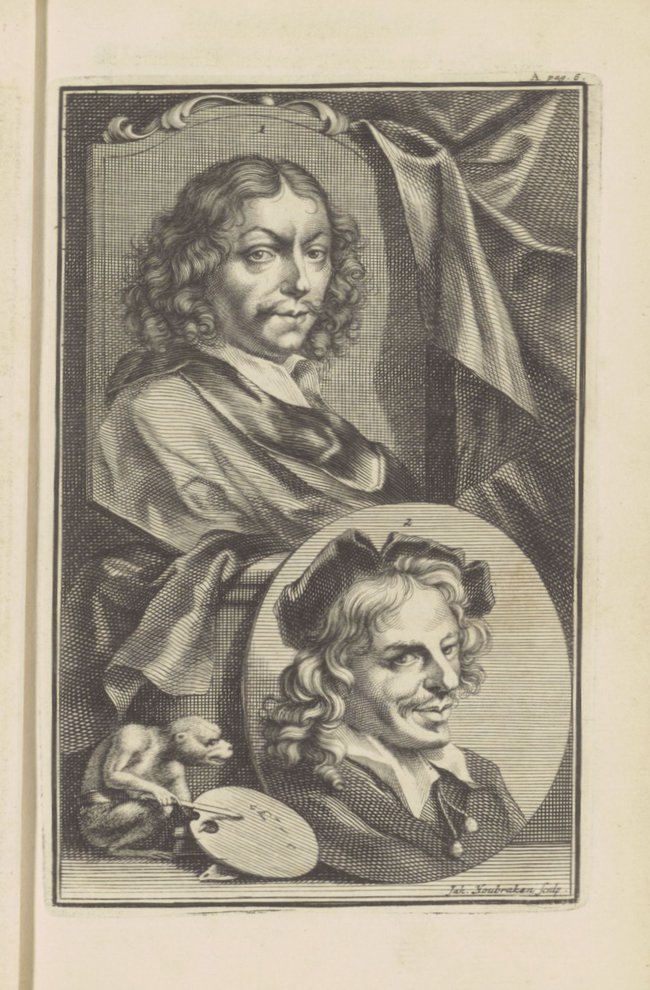 7
Frans van Mieris (I)
Self-portrait of Frans van Mieris I (1635-1681), c. 1677
canvas, oil paint 71.5 x 57 cm
Florence, Galleria degli Uffizi, inv./cat.nr. 1876

---
Page 7

a clavichord along with an old man who ostensibly instructs her in that art. This portrait was painted so powerfully, beautifully, fleshly and round that it seemed to be more alive than painted. But he was not well rewarded for it because he had refused something to a courtier who had the ear of the Duke and therefore played him that trick and henceforth always frustrated him so that he later did not paint any more for the Duke. It appears that our great Frans did not notice, or want to notice, that the hands of such people need to be kissed with feeling, or that he was more concerned with following his own nature and affection than with slavish courtly flattery.

He was a particularly good friend of Jan Steen and loved his peasant antics so much that he was captivated by his company and often visited him. But as Jan Steen sank ever more into drinking (he who handles tar says the old Dutch proverb, will be stained by it) it sometimes happened that our Mieris erred in the measure of his drinking. Who, says Seneca, is equally wise at all times?

Later on, when Jan set up a liquor store and became a purveyor of wet wares, Mieris sometimes looked him up. And when Jan's cellar had gone dry and the shop closed, he tempted Mieris to go elsewhere with him, where he


--------
master Jacob Boreel II, which is so exceptionally artfully painted and drawn that it could not have been more sublime. With the woman (in addition to being painted beautifully after life) one sees clearly that she stands listening with elevated thoughts to the tones of the string playing [8].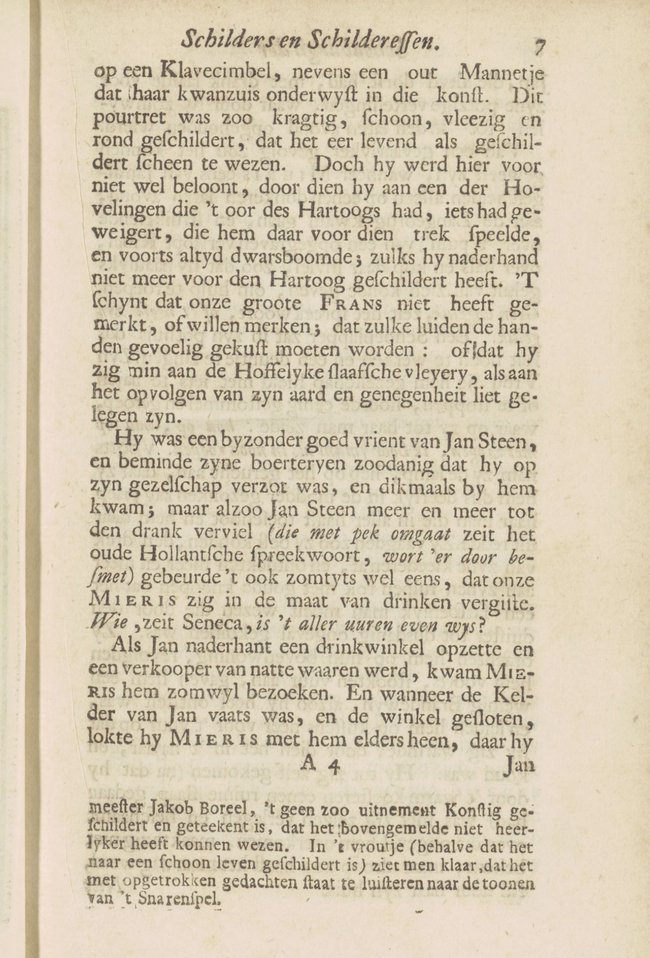 ---
8
Frans van Mieris (I)
Woman at a harpsichord, dated 1658
panel, oil paint 31.5 x 24.9 cm
lower right : F. van Mieris / 1658
Schwerin, Staatliches Museum Schwerin, inv./cat.nr. G 82

---
Page 8

plied Jan, who was always thirsty, with drink for his comical tales, which sometimes kept him up until late in the evening.

Things could have had dangerous consequences once when Mieris, separated from Jan, passed alone by the Langebrug on a dark evening, and tripping over the debris from the excavation of a plugged sewer, fell head over heels into it, so that he was hardly able to make a noise to call for help. No accident, says the proverb, or it brings some luck. A shoemaker sat working in his shop at that late hour, singing a tune. His wife, who was keeping him company by sewing or darning something, heard some rumbling and calling and said to her husband: cut out, cut out that singing, I hear someone calling as if in danger. Then she took the lamp and headed for the noise, where she found Frans sadly sunk into the muck. She called out to her husband, who in all haste shot over and saved him from the mud. They wiped the filth off his clothes as best they could and discovered more and more from his velvet coat with gold buttons that it had to be a respectable man who had come to such dire straits because of the dark.

They brought him to their upstairs apartment, cleaned him further, lit a fire, gave him a little brandy, as he was quite upset, and laid him down on pillows before the fire so that he might warm himself, it being autumn and cold. He, coming to himself (after the warmth had lulled him into an ample sleep) felt embarrassed and ashamed about this accident that had happened to him, did not make himself known but slipped away to his house as soon as it was dawn.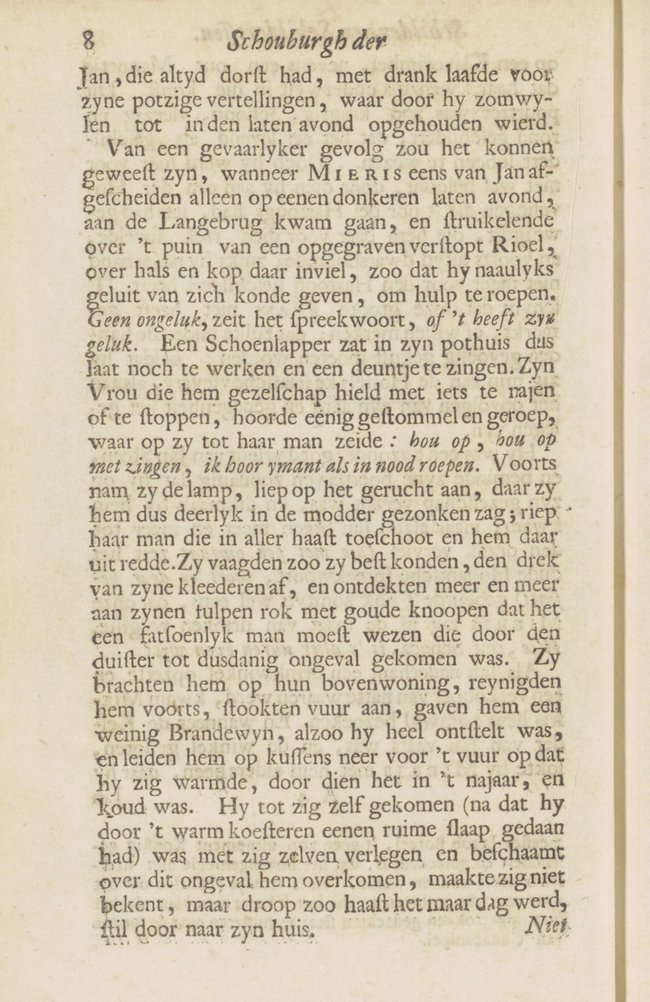 ---
Page 9

Nothing is sooner forgotten, says the common proverb, than gratitude. But he kept this in mind and showed the opposite. He took a piece of painting to hand and worked on it with pleasure every once in a while, so that it was finally completed after two years had gone by. Then, at dusk, he took the piece under his cloak and went to the shoemaker's dwelling, where he found the wife at home, whom he asked, to know if she was the person who had a considerable time ago, with the aid of her husband, rescued someone who had fallen into a sewer. The woman said yes, but that she did not know who it was. That's no problem (answered he), at once took the piece from under his cloak, and placed it in her hands, saying: there, keep this piece of painting well. It is for the service that you did back then. But should you sooner have money for it, bring it to Mister Paets, and left without identifying himself. Truly an example of a grateful and noble spirit.

The woman who, taken aback, had not paid attention to that saying but had accepted this piece, was pleased and showed it to this or that of her neighbours, who praised it and said that it was worth a lot of money. Desirous of knowing what was true, she decided to go to burgomaster Jacob van der Maas on the Hooigracht (where she had once lived as a maid) to show it. He, seeing at once that it was painted by Mieris, asked her how she had come by it? and what kind of man it was from whom she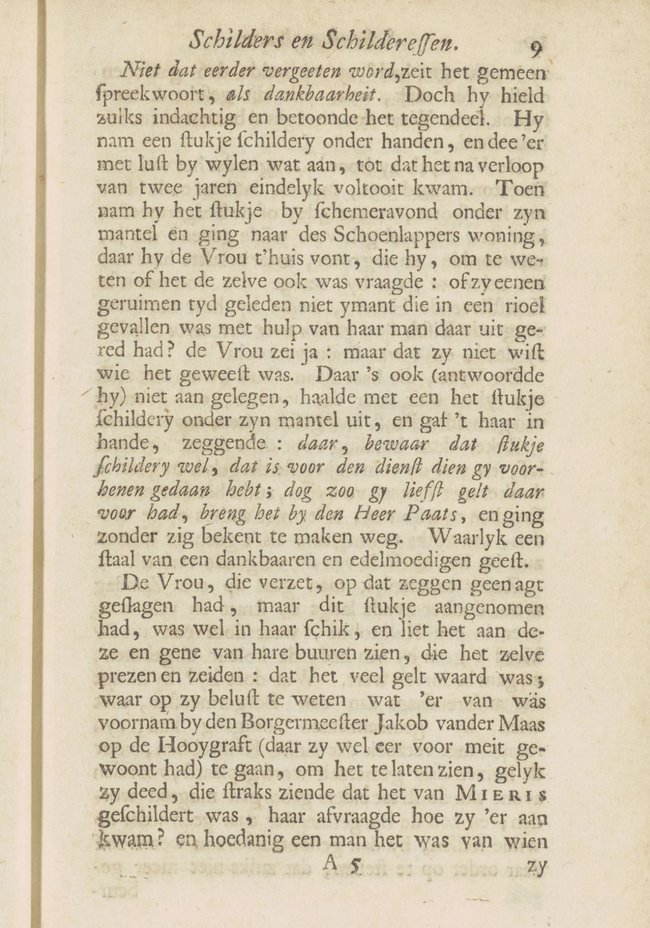 ---