Volume 2, page 320-329
---
Page 320

Later, and still today, this work was held for one of the most artfully painted scenes to be seen in Rome.

I have known those who, whenever a work of art by someone else was shown to them, in order to be able to say that they had never spoken any ill words against it, would shrug their shoulders and purse their lips (when they were asked about its worth) in such a way that their contempt could clearly enough be understood from this. Some who wish to be greeted as friends of art, also have a rôle in the play. Whenever they are asked about a work of art, they speak or remain silent according to whatever they perceive as more advantageous, seeing that they forget the rules of living well, and remember only the article of their own profit and the promotion of the same. Concerning those who remain silent when they ought to speak, the Athenians used to say: He has an ox in his throat or has seen an owl, because the currency of that time was struck with the image of an ox or an owl.

Those unfortunates who encounter the greedy as their helpers have first to kiss them tenderly on the hand, or else they have to share the profit with them in the end.

It is not everyone who encounters a Christopher to bear him through the waters of oppression, or a powerful Maecenas who elevates him so high that Envy cannot reach him, to drive her sharpened claws into his skin.

The world is corrupt, and its inhabitants for the most part degenerate. The spiders increase greatly and the bees decrease. Examples have shown us that one artist will slander and insult the work of another.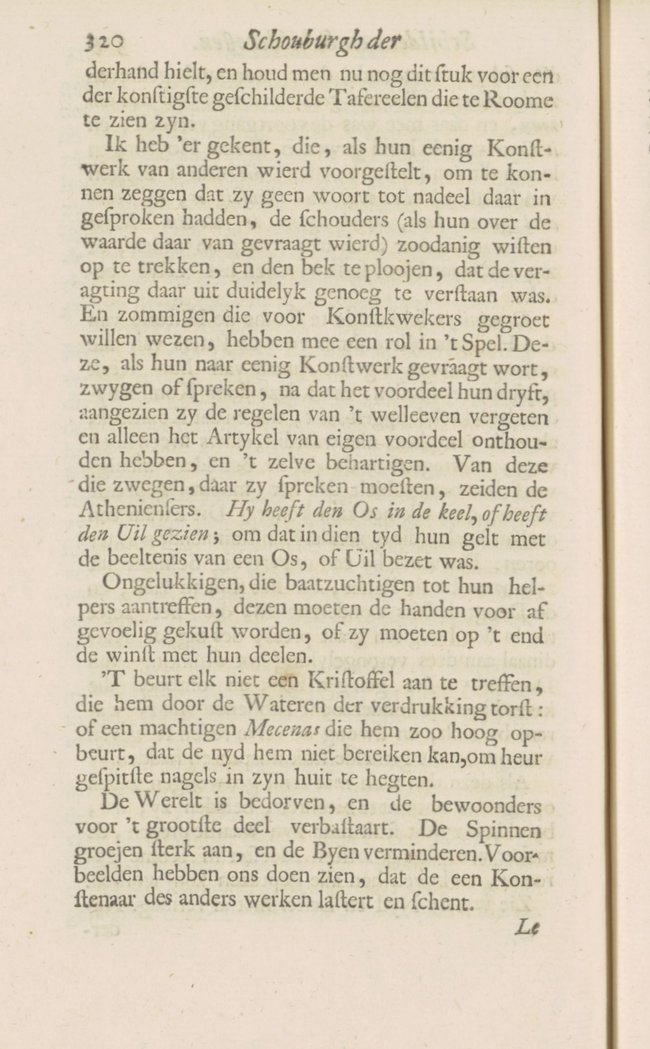 ---
Page 321

Eustache Lesueur, one of the most commendable painters of his time in Rome [= Paris], painted the life of St. Bruno for the paters of that order in the gallery of the cloister [1]. Cursed Envy, who could not tolerate such a handsome artwork in her evil face, nor leave it undamaged, has scratched out the most beautiful and artful faces with her destructive nails. Indeed, we shall see of what despicable Envy is capable if she herself is given free rein, in an incredible occurrence that happened to the painter Jan de Baen, which we cut out of the body of his biography to fit it into this discourse.

De Baen, renowned as the best portrait painter in the Netherlands, and having already painted many princes and rulers to great acclaim, was summoned to the court of Friesland to paint the Prince and his wife. This stung him (we shall not mention his name) painfully in the eye, since he had for many years been living at the court as painter. He developed a hatred for De Baen but did not show it in the least, but instead feigned to be his friend. De Baen believed this, being good-hearted, and therefore showed him many signs of his friendship. But he bottled up his hatred until it vented itself in a damned resolution, and he made plans to murder him. For this purpose he came to The Hague, but found no occasion to carry this out in the evening or at night, seeing that De Baen always went about with his dog, on which he relied.

The murderous man decided to do it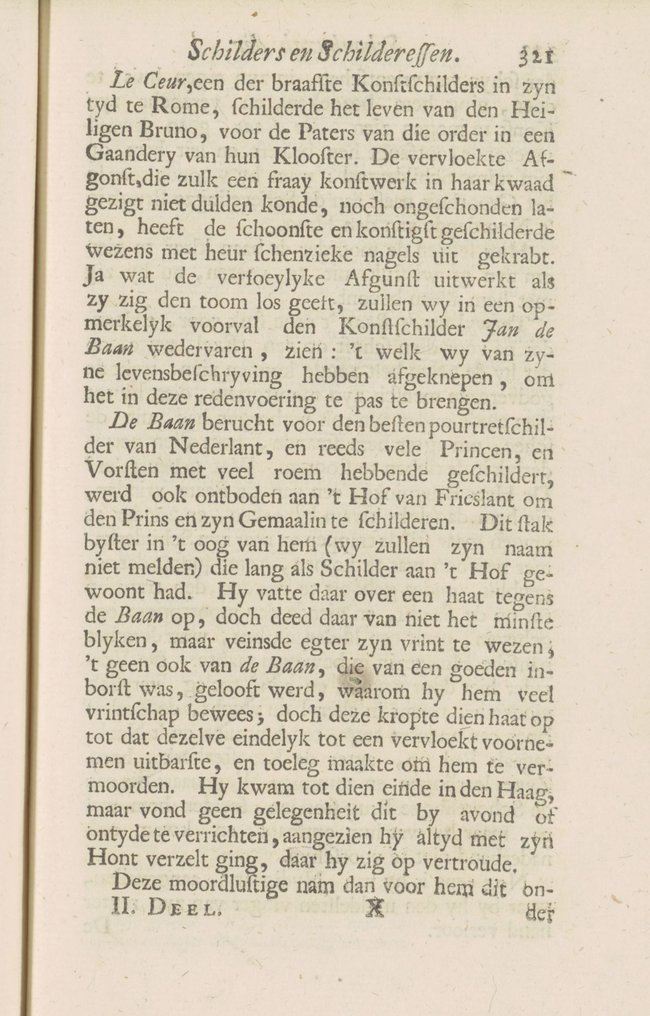 ---
1
Eustache Lesueur
Saint Bruno in prayer, between 1645-1648
canvas on panel, oil paint 193 x 130 cm
Paris, Musée du Louvre, inv./cat.nr. 8027

---
Page 322

under guise of friendship in his own house, went to visit him, and requested to see his art. De Baen, suspecting no harm, receives him kindly and leads him up to his spacious studio, for at the time he lived in the great house next to the Scheveningen Bridge in the Northern Quarter of The Hague.

Here the way seemed to be clear for the murderer to carry out the gruesome deed, now that he found himself alone with him.

While De Baen was setting one piece after another on the easel for that scoundrel so that he could best view them, the godforsaken man drew his murderous dagger, which he had hidden under his cloak for this purpose, out of its sheath, standing behind him, to stab him treacherously in the ribs. What happened then? Mister Bruijninks, one of de Baen's friends, who came to visit him every day and who was used to coming up the stairs to his studio quietly and without asking, at that very moment came up the stairs to the landing without being heard, and seeing the murder weapon raised high, let out a loud shout, disturbing the entire household. The traitor, interrupted thereby and finding his purpose foiled, fled away in all haste out of the room and by another stairway out of the house, and up the Nightingale Path, behind the Cloister Church. His students and several wagoners who were standing on the Scheveningen Bridge chased after him, but he escaped them. Nor did he reappear later.

De Baen was attacked one more time by enviers, on which occasion he lost the middle finger of his right hand.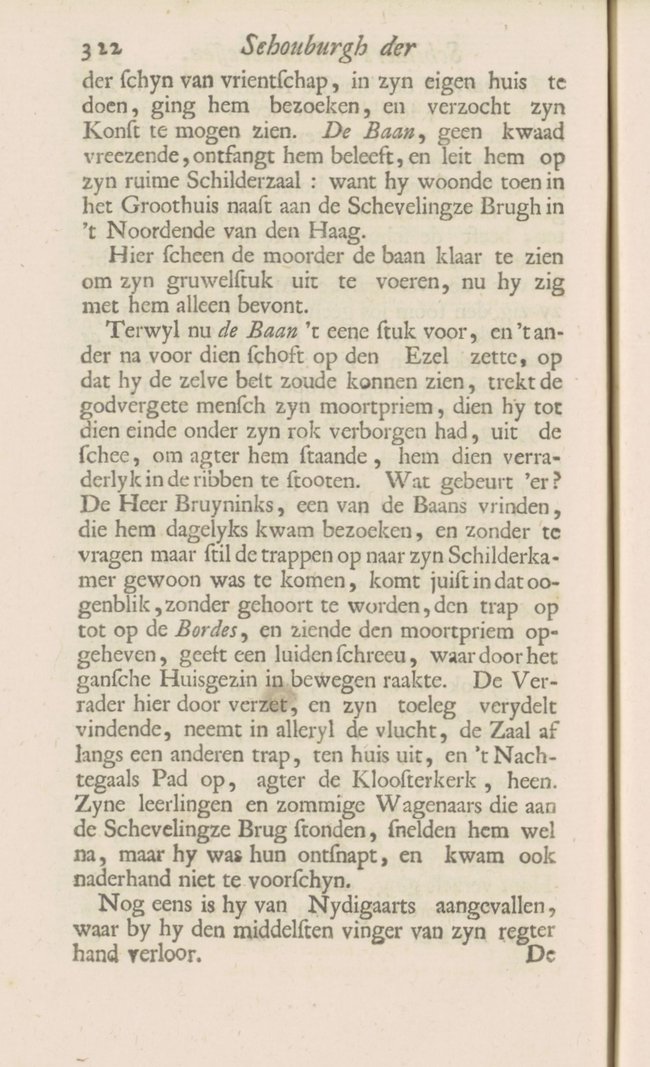 ---
Page 323

Slander and falsehood also played their part to his disadvantage. They spread the word to different foreign courts that De Baen was no longer able to paint, but was going blind. This rumour was even spread all over The Hague, which the Prince of Ansbach-Brandenburg (whose portrait he had previously painted) could not believe. He had his coach prepared, rode to him, and had himself painted once more, to the shame of the forked tongues. This took place in the year 1692. Envy resorts to all sorts of wicked devices.

I do not possess the nature of the old Tobias and do not care to go to funerals, but should Envy ever be interred, I would follow the funeral procession with gladness and help cover the grave.

The practitioners of the art of painting, including the youthful learners, should treat every great master like an Antenos* who, grown up with burning love for art, awakens emulation and spurs on others to also become great.

Diogenes, crowned by the fame of the most learned, learnedness then being as highly esteemed as money today, was stimulated by ambition and this ambition spurred him on to desire and alertness. And when the saying


--------
* Antenos was the son of Venus. Posirio thus relates the occasion or cause of his being borne by her: Venus had given birth to Cupid, but when the boy remained small and did not grow, she asked the oracle for advice, which answered that as long as Cupid was alone he would become no bigger. Antenos once born grew up and became big. Cupid seeing this did not tolerate that he outgrew him. If Antenos walked ahead of him, he flapped his wings and boldly walked behind him, etc.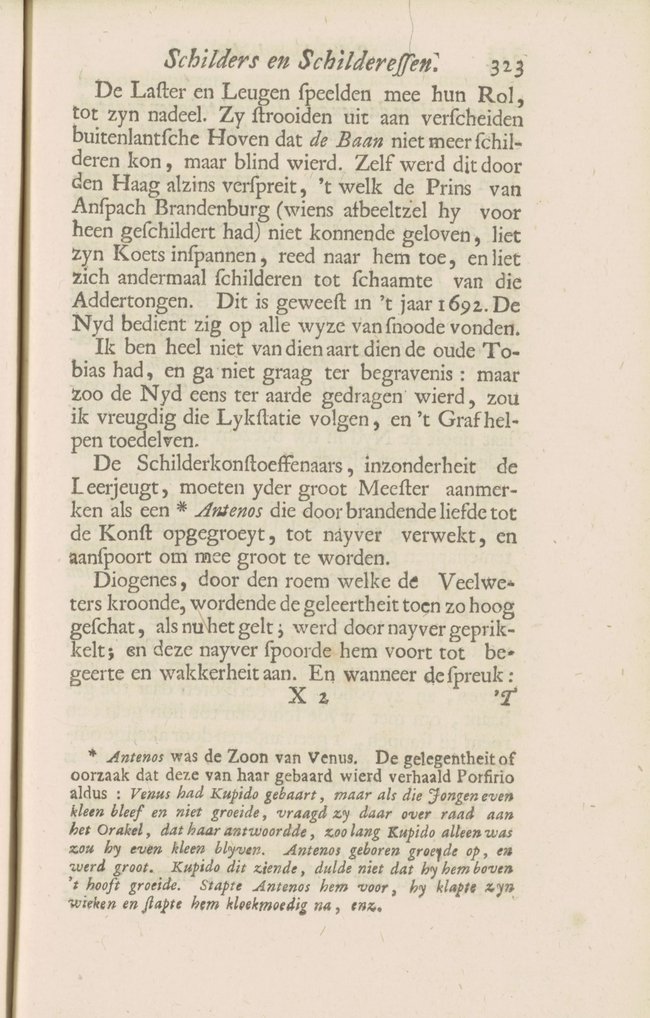 ---
Page 324

It rarely happens that a spirit surmounts the trap.
Who in his poverty aspires after the sciences;

seemed to dissuade him from his intention, he took courage and said to himself: the saying does not say 'never', but 'rarely', and who knows if I am not one of those on whom the gods wish to confer that favour. Lucas van Leyden (when he was told that Albrecht Dürer was having great success with his art) asked: Is he not a man? And if they said yes he continued: Why then would I not be able to catch up to him with ambition? Such a saying is magnanimous and praiseworthy and befits a noble soul. But never let Envy settle in your heart, but let it remain buried elsewhere.

Opportunity is a big help for those who find themselves inclined to the art of painting or other sciences. Which is why, as of old, the saying: Not everyone is so fortunate as to be allowed to visit Corinth, was in use amongst the Greeks. Many who had parents who understood this were raised with the arts and sciences as if they were baby food (as the saying goes), and they found the trail cleared to proceed with big strides to their fame and fortune, which others had to find by nasty roundabout routes. This fortune was apportioned to the phoenix of marine painters,

WILLEM van de VELDE II. He was born in Amsterdam [= Leiden] in the year 1633 and inclined to art from his youth on, he was encouraged in it and instructed with inclination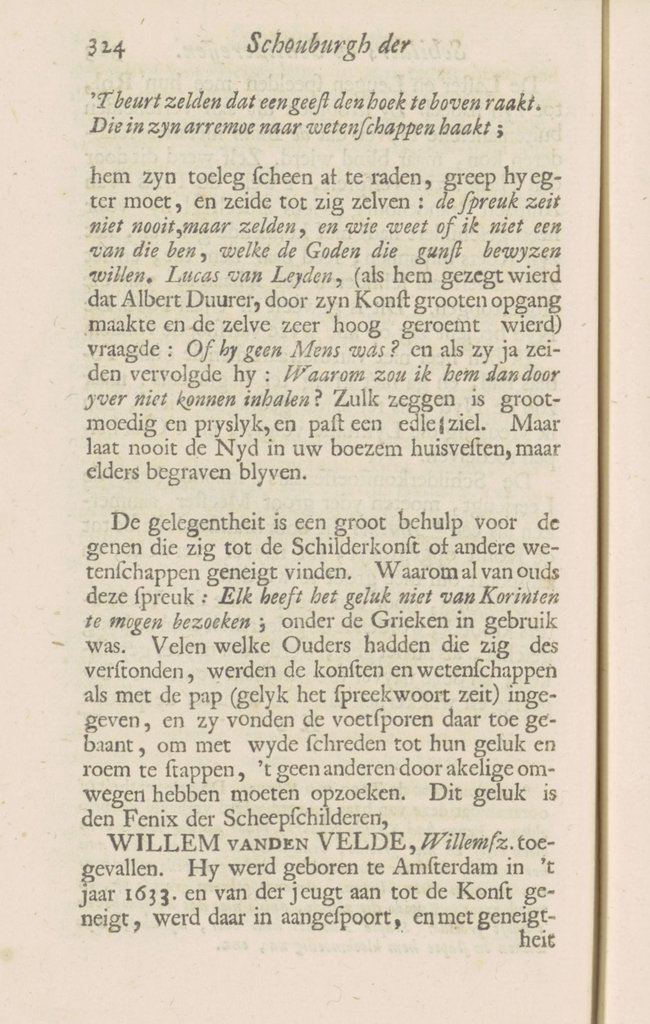 ---
Page 325

until his father [= Willem van de Velde I] and his household left for England in the service of King Charles II and left him in Amsterdam under the supervision of the artful ship painter Simon de Vlieger, of whose way of life we have nothing to say, just as we have not been able to establish the time of his birth nor with any certainty his place of birth and are only able to say about him that he was from Haarlem or Amsterdam by birth and was an esteemed master in his art. Particularly praised for its natural and artful handling is a piece in which is depicted the Haarlemmermeer with all sorts of ships in a faint wind moving by and weaving through each other.

He had a daughter named Cornelia de Vlieger, who understood poetry. On the occasion of her birthday on the 28th of June 1658, being 28 years old, I find the following verse applied to a heavenly song (so called, made by her) the following verse:

Hey! Amsterdam's display ornament
Sad Weesp goes
With tears in its eyes,
Dressed in black mourning,
Because to its sorrow it
Has to endure and tolerate;

That, beautiful one, your face
Lights up the Amstel stream,
And leaves the Gein without lustre;
It matters not that it complains,
And no matter how beautiful the dawn,
Calls itself without you, altogether dark.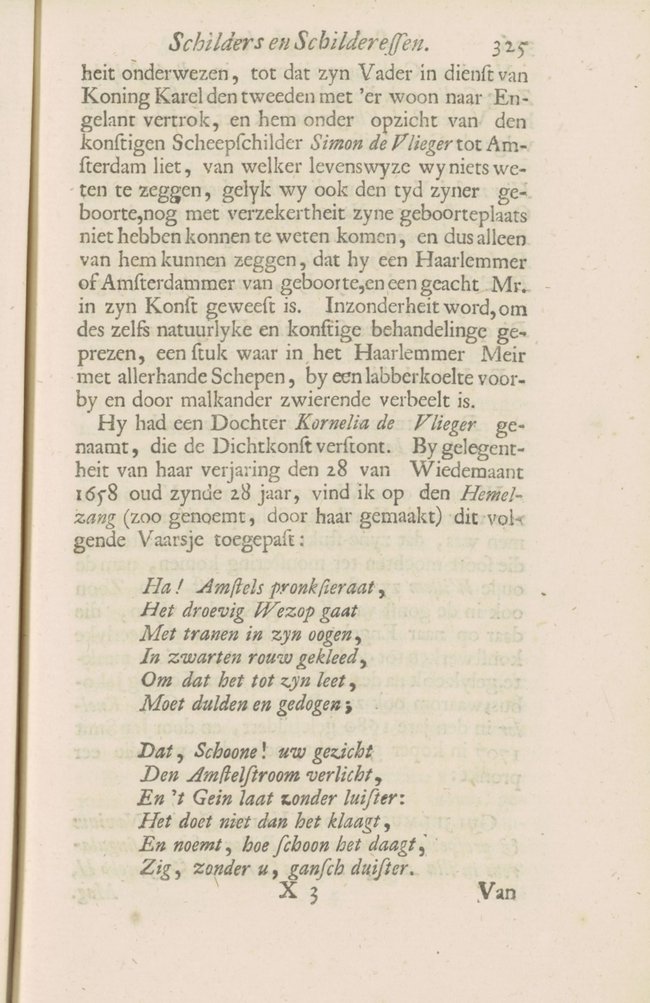 ---
Page 326

One also sees some of her poems in The Amsterdam Song Goddess, including some that apply to her, but I have discovered none about her father Simon de Vlieger except the following epigraph:

Here rests De Vlieger, who with his brush once
Strove for the prize with nature, on canvasses and panels;
And led by his ambition and natural passion.
Has sealed the lips of slanderous Envy.
This coffin may enclose his corpse but not his praise;
Which floats on the tongues of all his fellow artists.

And Joost van den Vondel elsewhere [= Poëzy]:

In the end de Vlieger [= the kite] took flight
From this oppressive air.

When our Willem van den Velde had come so far in the art of ship painting that his works could stand comparison to the best of that kind, the old Willem grabbed his chance and was able also to introduce his son to the favour of King Charles II, who then left for England and painted many sublime works for the royal chambers, as well as for King James II after Charles' death. This is why his portrait was painted by Gottfried Kneller in the year 1680 and introduced to copper by John Smith in 1707 [2], also flaunts that honour thus:

Guljelmus van den Velde, Junior, Navium & prospectum marinorum Pictor: & ob singularem in illa Arte peritiam a Carolo II. & Jacobo II.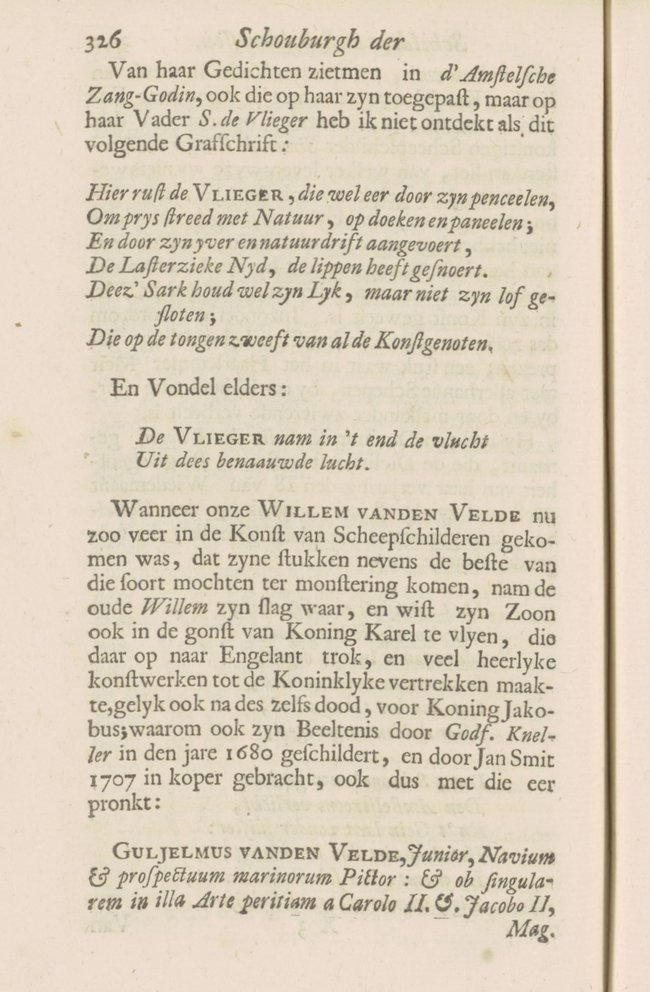 2
John Smith after Gottfried Kneller
Portrait of Willem van de Velde II (1633-1707), 1707 (dated)
paper, mezzotint 347 x 252 mm
The Hague, RKD – Netherlands Institute for Art History

---
Page 327

Mag. Britanniae Regibus annua mercede donatus. Obiit 6 Aprl. Ann. Dom. 1707, Aetat suae 74.

The English, having great esteem for the art of his brush, and deservingly so, have bought it up throughout Holland, depriving our eyes of that pleasant contemplation, and transported that art over there so that one does not see much of it here. And it is not easily seen that someone who is that beautiful in that part of art will turn up to illuminate the school of Pictura with his light of art.

Now follows the commendable painter FREDERIK de MOUCHERON, born in Emden in the year 1633. Inclined to art by nature from a young age on and taught the rudiments of the art of drawing, he chose to learn the treatment of the brush with the famous Jan Asselijn, otherwise known as Little Crab. He advanced so much with him in a few years that he undertook to travel to France on his art, where he remained several consecutive years, diligently practicing after nature in everything that served him in his preference and later as stock. After that he again descended to the Netherlands and settled in the thriving Amstel-city, where he painted both large and small art works for lovers of art, which announced the intelligence of their maker.

The subjects of his pictures are usually foreign, naturally and skilfully assembled. The recessions appear to be covered by a greyish mist or morning dew. The foregrounds, by way of contrast, are clear and bold. The trees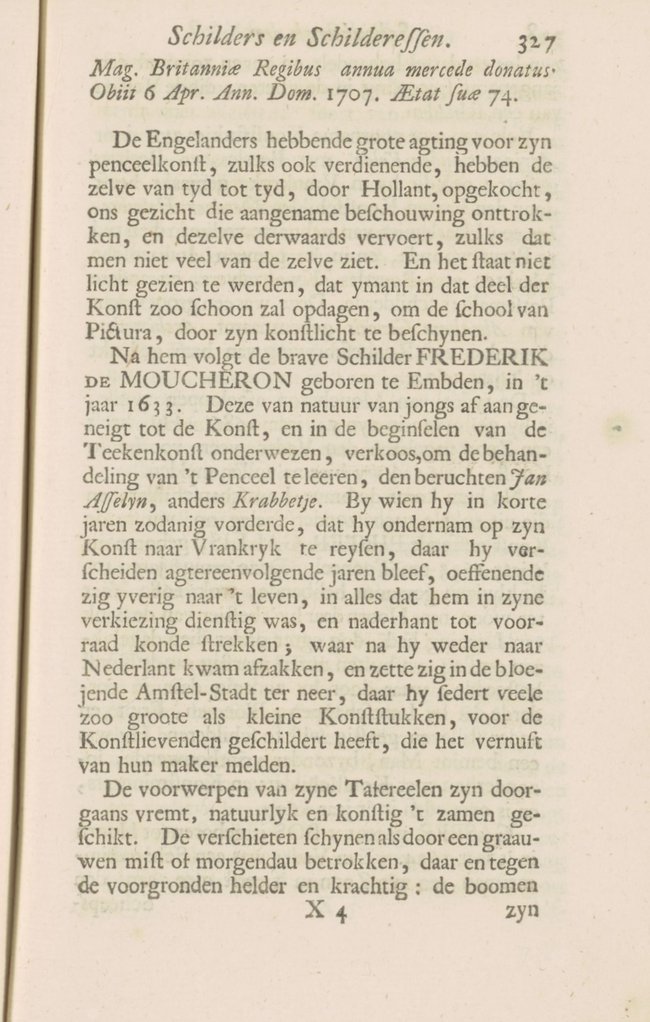 ---
Page 328

have been handled loosely and playfully and are sometimes pleasantly reflected in the streams that separate the fields.

Many of his important art works are embellished with small animals and figures by Adriaen van de Velde, including ones made in France by the excellent painter Dirck Helmbreeker, a Haarlemmer by birth who lived in Paris at that time and generally painted Italian markets with farmers, quack doctors and other jokers. He was a great friend of Abraham Genoels II, bent-named Archimedes, who also commemorates him in his travel journal for the year 1674.

Moucheron's time span having come to an end he died in 1686 in his 53rd year. He left a son who far surpassed the father in art, whom we will mention after this.

After this the commendable landscape painter PIETER GALLIS comes on stage. He was born in the year 1633, and practiced art out of desire alone, without interest in profit. In 1682, having lived in Enkhuizen for some years, he and his family moved to Hoorn, where he ran a pawn shop. However, during that daily bother he spent his spare hours diligently on art, by which he progressed so greatly that he was able wittily to paint landscapes, flowers, fruit and other still life. He was a beloved man and exceptional at maintaining friendships, especially with painters and art lovers, and died in the year 1697.

JASPER van den BOS was born in Hoorn in the year 1634. His father was a ship's carpenter and his son at first also in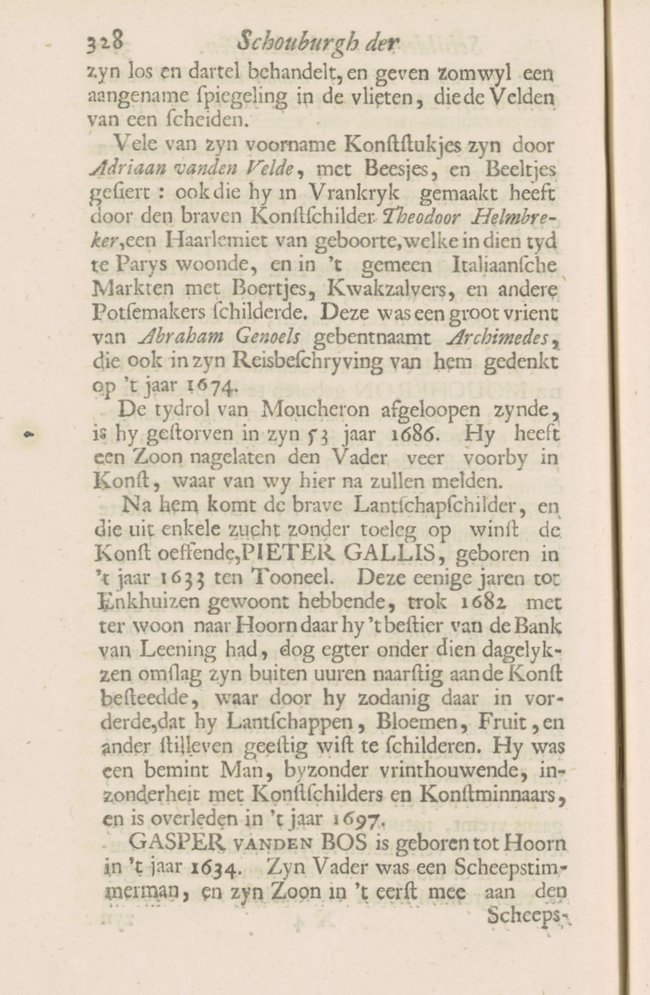 ---
Page 329

ship building, but driven by a great passion for art, he drew the seas and quiet waters with all kinds of ships as artfully, precisely and loosely handled as they are firmly and fluidly hatched with the point of the brush, so that the painter Bronckhorst declared to me he had never seen better. But this lad died in the prime of his life, which makes it surprising that he was still able to make as much as one sees by him in his native city.

Fortune, by her highly changeable nature at first raises some to a happy state. But later the sail of prosperity shifts without looking back, which has given ground to the Spanish saying: Fortune tires of always carrying the same man on the back. It has (to say it in a Dutch way) many eat their white bread in advance. The least number of people keep her favour from the beginning to the end of their lives. Still, we have reason to count among the fortunate

Our painter ADAM FRANS van der MEULEN. Born in Brussels in the year 1634, he had his origins in one of the most commendable families of that city, so that he lacked no means to train himself in the sciences, by which his spirit was polished and made competent for elevated activities as well as inclined to the art of painting. He was placed with a commendable master whom he surpassed in little time (although just out of the cradle), after which he continued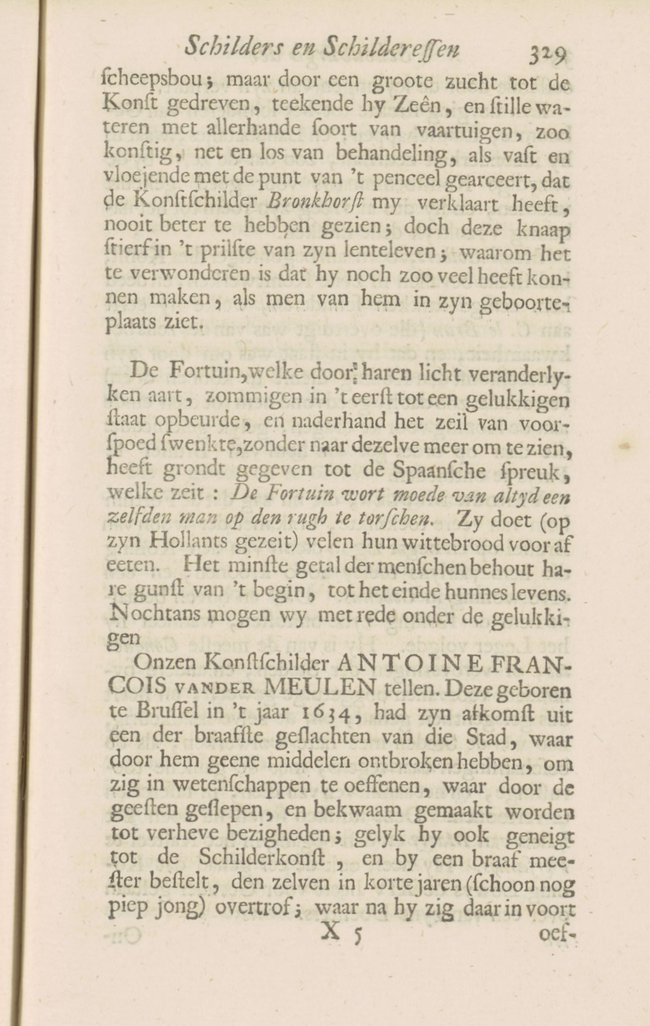 ---