Volume 2, page 290-299
---
Page 290

at the court in Württemberg, and beyond his remuneration was honoured with the title of Württemberger court painter.

When Strasbourg passed over to the French he was inside the city but seeing that he had earlier painted many portraits of the military leaders with his brush and was therefore known to them, they exempted him of the oppression of the soldiers which plagued the burghers of the same habitat.

JURIAAN van STREEK, who follows, was born in the year 1632. He chose as his subjects all kinds of still-lifes: plumed helmets, books, letters, toys and everything that pertains to them, as well as the odd skull or something of the kind to make it serve as emblematic of the transitory nature of human life, which he combined with such good judgment that the opposition of one part to another had its appropriate effect. He was able to observe his light and brown wonderfully well and had a bold brush whereby his brushwork could compete in power with nature. He sometimes also painted portraits that are good, of which I have seen various ones, especially of his wife, which for lack of recollections we placed under the name of Emanuel de Witte on p. 283 of part one.

Certainly, as far as the depictions of reflection on human mortality are concerned, they are much more useful than displays of foul love acts. These only provoke us to sinning; the others are mirrors that would have each of us consider his end and spur him on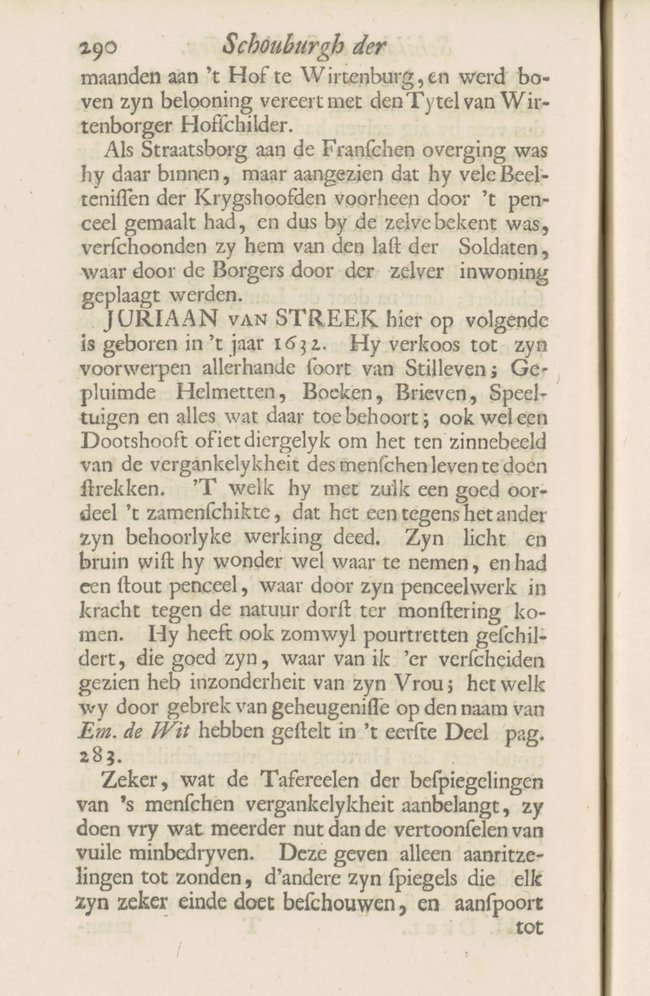 ---
Page 291

to virtue and a pious life after the example of the ancient Egyptians, who had the habit of showing a human skeleton during guest meals which, carrying it around, they introduced to one after another saying: See and consider well what this is. Be jolly but know that you will become thus. Which is also why Saladin Sultan (Lord) of Babylon and Damascus, King of the Egyptians, dying in the city of Ashkelon at the time of Philip Augustus, King of France, ordered that at his funeral or funeral procession his chief arms bearer should carry his shirt or death shroud stuck on a lance through all the streets of the city, preceded by a herald calling out: The king of all the East is dead; and of all his treasures takes nothing more with him.

Certainly the brush would not wear itself out needlessly on such subjects. Is this choice a little too limited for an artist, see here a third, large and animated enough to fill a scene. In olden days in Constantinople (according to the story of Isodorus) it was customary that at the crowning of emperors a mason appeared before them showing four kinds of stone, saying: Good Lord, chose from these the one your Highness likes best for the building of your gravestone.

See the same adduced for its usefulness in the Devices Heroiques & Emblemes, de M. Claude Paradin.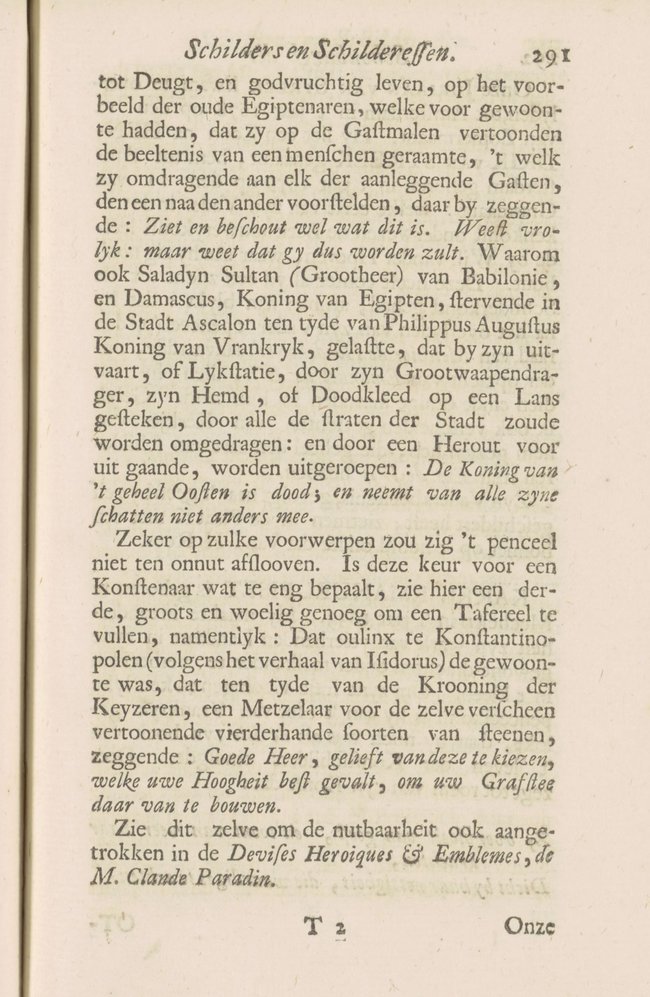 ---
Page 292

Our Jurriaan van Streek came to die in Amsterdam on the 12th of June of the year 1678. He left a son named HENDRIK van STREEK, born to him on the 11th of April of the year 1659, who, first instructed in the art of drawing by his father, studied sculpture with Willem van der Hoeven, to which he still clings. However, he always had a craving for the art of painting, which is apparent from this, that he took up the brush after the death of his father (on the advice of Melchior d' Hondecoeter) under the supervision of Emanuel de Witte, who took him into his home for some months for that purpose. Indeed, I have seen various views of churches by him which are entirely painted in the way of Emanuel de Witte.

One sees his father's portrait, based on one he painted himself, in Plate K, with a bonnet on his head below that of Johann Heinrich Roos.

CHARLES EMMANUEL BISET was born in Malines in the year 1633. He especially made it his task to depict all kinds of national characters in their usual costumes below each other on small scale. He was lured to the court of France for his handsome inventions, where he still was when Cornelis de Bie ended his book about the lives of painters. He says in praise of his art that:

It overflows with spirit and shows her powers from afar,
From nearby her precision, which is worthy of esteem.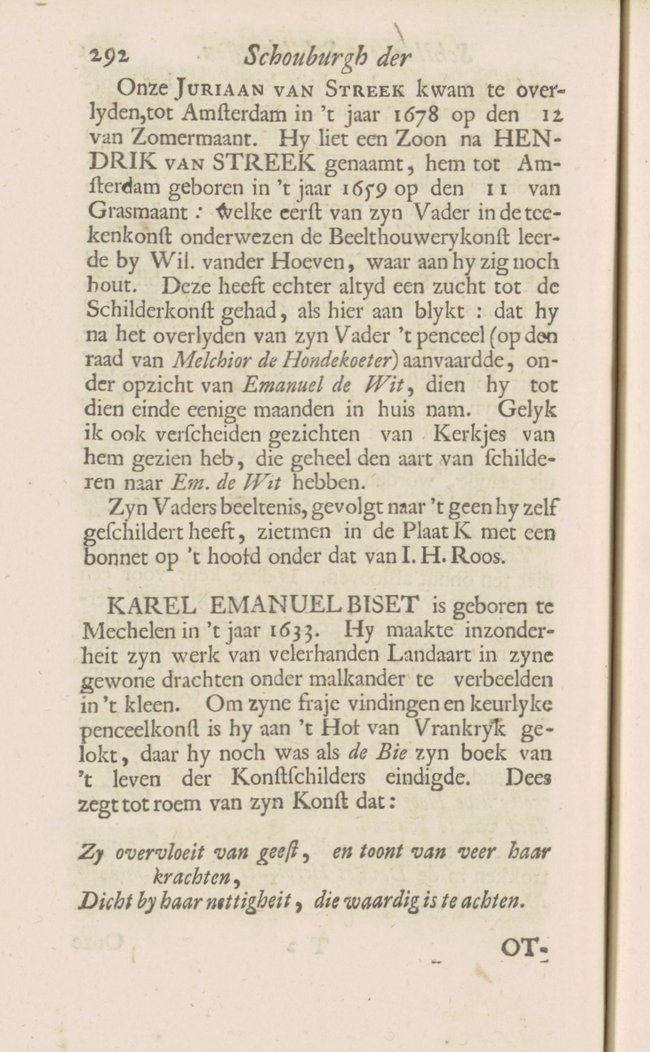 ---
Page 293

OTTOMAR ELLIGER I the elder was born in Göteborg in the year 1633, on the 18th of September. And just as everyone's natural passion is propelled differently from that of others, so he found himself inclined to the painting of fruit and flowers, for which purpose he went to Antwerp to Daniël Seghers to imitate that manner of handling that brought him so much fame. And he succeeded at this. For as a consequence he was enticed to the court in Berlin in the year 1666. After that he was also attracted by Friedrich Wilhelm von Brandenburg, grandfather of the current King of Prussia, in whose service he died. He was especially esteemed for his witty replies and wisecracks.

His father, who was a physician and raised him to that end in the practice of languages, did not like to see him using the drawing pen. Nor did his mother, who did not at all want to permit him to learn the art of painting until a certain incident had her decide to the contrary.

It happened that a stranger, a man who was exceptionally skilled in languages, asked to speak to his father. The message was a request for alms. His mother (as women are often most curious to know everything) asked what the man had to say? The answer was that he was a great linguist, but poor. Whereupon she said: Well, if there also beggars among scholars of languages then let our son study painting.

GERRIT UYLENBURGH, who follows on this, was born in Amsterdam. I do not know with whom he studied art, but it is known to me that he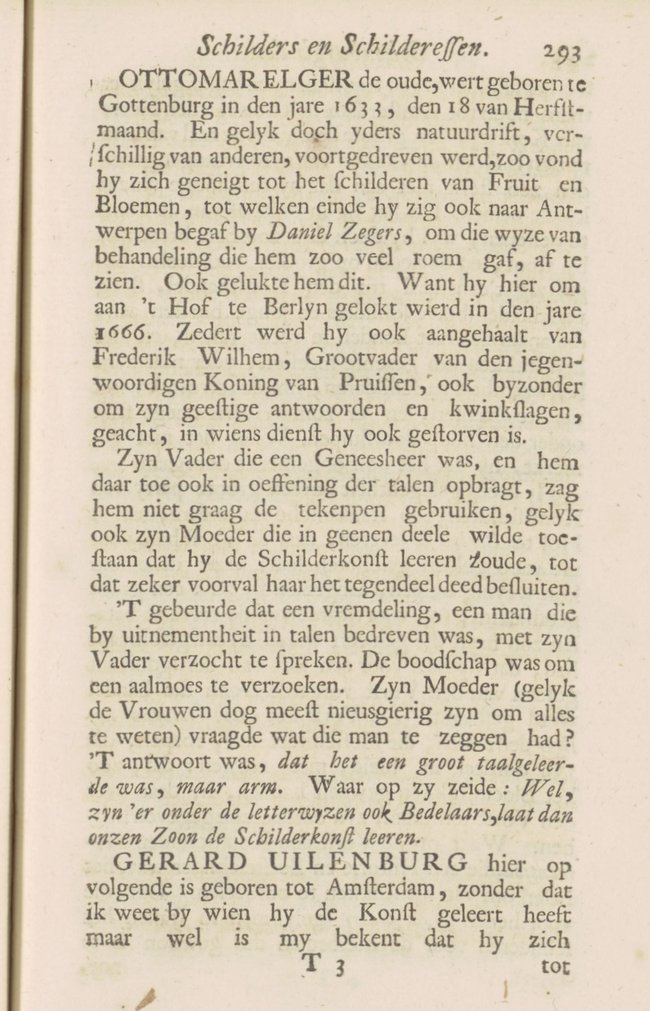 ---
Page 294

settled on painting landscapes, so that there is now a great painted room by him in Amsterdam in the home of Mister van Kerkwyk. But the wings of his abilities did not grow strong enough for him to be able to take a high flight. He therefore ceased to practice art with time, since he was not doing at all well with it, and aiming for greater advantages turned to dealing in art. He approached various commendable painters and young lads who did not otherwise have the right contacts and had them copy the works of esteemed masters, each according to his competence, to hawk them for profit, sometimes slipping a fake piece under the pile. If it was not noticed, then he let it pass unnoticed.

He gained an opportunity to buy in a large consignment of art works, both Italian as well as others, to be delivered to the court in Berlin, since the ruler had advanced him 4,000 guilders, but this sum could hardly suffice as he had assembled such a large number (under the proviso that they would be paid for as soon as they were delivered) that he demanded a sum of thirty thousand guilders from the ruler. But that deal was frustrated. First the ruler had Ottomar Elliger the Elder, who was court painter, called in, who suspended judgement, saying: that if it had been flower pieces, he would have provided the ruler with his opinion. Whereupon the ruler had the painter Henri de Fromantiou, who was a history and animal painter, called in to assess the pieces. He had done time on the galleys (as the Italians are wont to call painting for cutthroat dealers)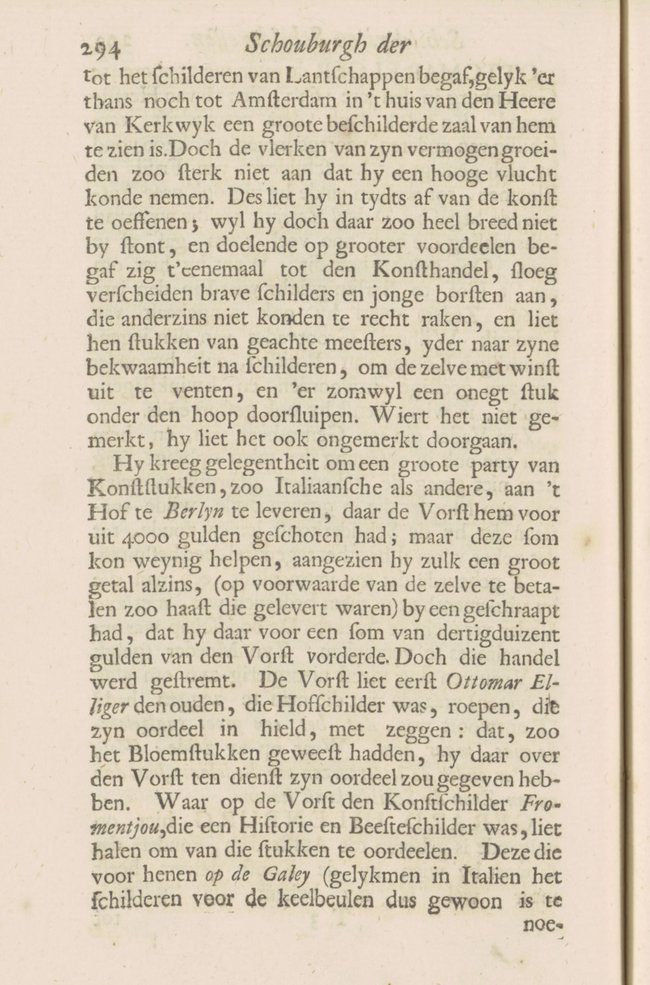 ---
Page 295

and had even painted for Uijlenburg, and therefore, knowing the way of those foxes. He baptized the paintings as copies and assured the ruler that he could point out and acquire real ones in Holland and elsewhere. That is why the ruler declined the paintings, ordered them packed off, and donated the mentioned 4,000 guilders to defray the costs of the transport. Happy are those who do not (as it usually transpires) look through another's glasses, but can see out of their own knowledgeable eyes and can recognize real works from ones that are varnished with appearances and gilded with lies. Such, among which Mister Nicolaes Anthoni Flinck may be counted, can at once demonstrate to anyone who sees their art cabinets that they are good connoisseurs.

This (to continue) dealt a great blow to the worth of this art and brought the owner into difficulties, so that he was necessitated prematurely to hold a sale of them in Amsterdam on the 23rd of February 1673.

Joost van den Vondel composed the following poem on Uylenburgh's sale of Italian paintings.

The art of painting still comes out on top with commendable gentlemen,
And yields to ignorance without a grimace of animosity.
She wishes to furnish the spacious room of Uylenburgh
With Italian art, at these sad times;
Though Mars, armed in harness, to the destruction
Of the people, sets the lands on fire and flames out of revenge.
This tenth muse, elected by Minerva,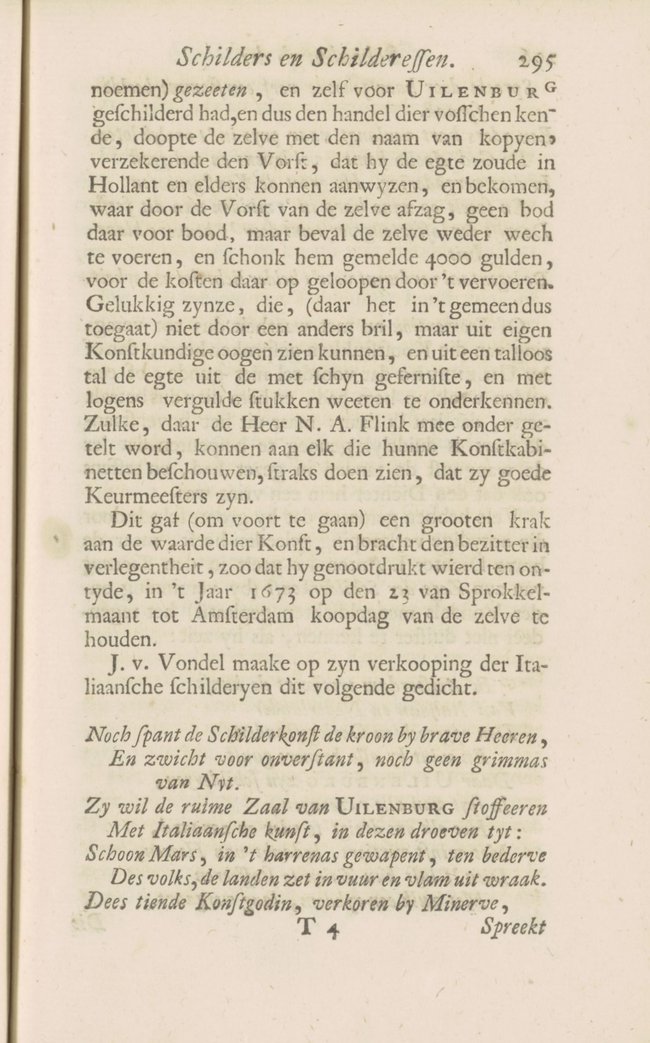 ---
Page 296

Speaks with its beautiful paint a mute pictorial language,
Everyone's heart longs for a price in the merry lottery.
The God Apollo comes, full of life and spirit
To this gathering. He greets his fellow artists
And plays his harp in the middle of this feast.
The fog of the tongue of slander yields to knowledgeable clarity
The lying language disappears before the clear light of truth.

Whether Fromantiou spoke truthfully with contempt for these art works or whether he begrudged Uylenburgh that advantage, or had an old grievance with him and thus paid him back, I leave for what it is, but it may be clearly enough discerned from the above verse that envy had sunk in her teeth and also that the poet was his friend.

Many have believed that he suffered great damage by this untimely sale, but the commendable poet Joannes Antonides van der Goes makes the opposite quite clear in the Toezang of his Zege der Schilderkonst (mistakenly placed under Vondel's Mengeldichten), when he says:

In Amsterdam the art
Of Italians and Netherlanders
Defies the raised war standard,
And wins favour with all connoisseurs.
Where Uylenburgh sells his paintings
In spite of all fury,
How everyone threatens us with fire and sword,
Consumed by profit, thanked by gentlemen,
Who desire to decorate their rooms.
With such riches, long gathered.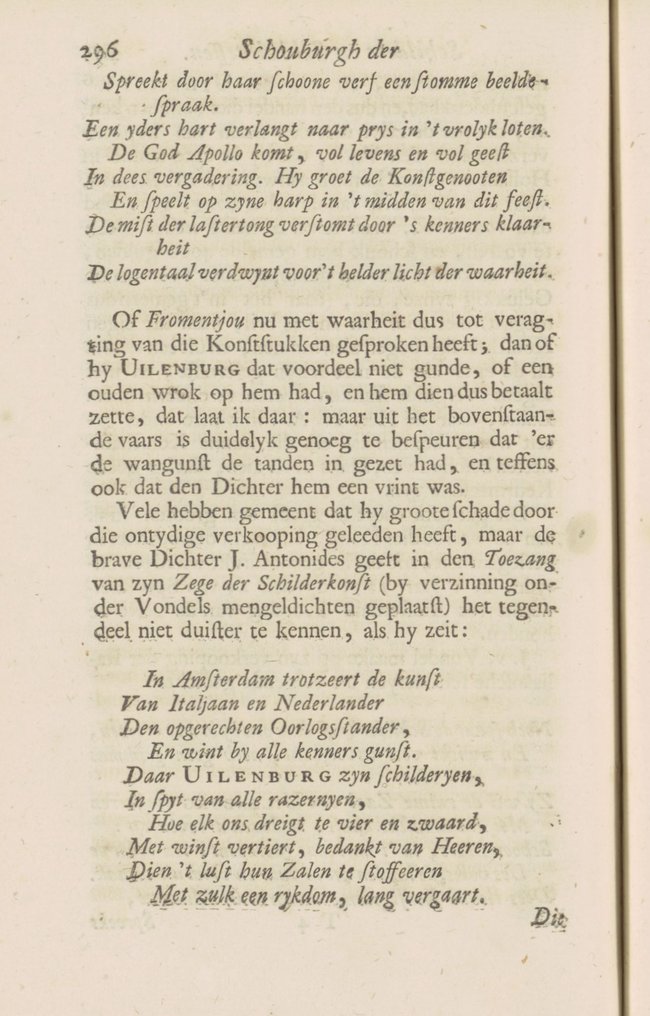 ---
Page 297

No matter how it affects the misery of conflict,
The art of painting may raise its head.

Be that as it may, his esteem having been hurt by this, he left for England and for a while helped Peter Lely (whom he knew) paint clothing and landscapes behind his portraits, and died there at once.

Those who are lovers of the art of Rome or have travelled through Italy and have seen the art of the great masters do not only speak about it with amazement but also praise superhuman works and thereby impress a great conception of them on everyone. This is especially done by those who trade in it. Almost no work of art comes to us on public sale from Italy or from elsewhere and at once, with the spelling of a great master's name, everybody stands gaping at it with amazement and is taken in by preconceptions to discover amazing beauty in it, or at least will convince themselves and others. This is done by those who know as much about art as a calf about Sunday and only repeat what they have heard, a decay which, having slowly crept in, denigrates our commendable Dutch art.

Prejudice often reveals more than pure reflection and gives the same satisfaction. This serves as an example of this saying. Isaac de Moucheron, having come from Italy, had brought with him among a multitude of models, a canvas which he himself had painted after a piece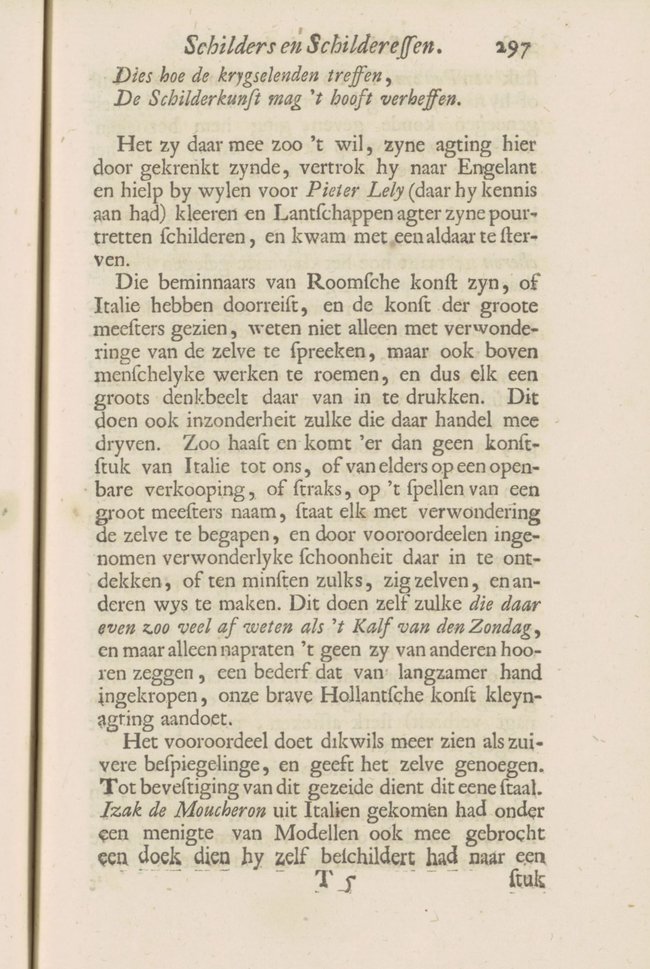 ---
Page 298

by Nicolas Poussin. The postmaster of Zwolle, desiring to know if he had not brought something with him that might satisfy his sensuality, went to visit him. His eye at once fell on this piece and he bought it as one of the best pieces by Poussin, without asking who had painted it, and continued to think that even though the real work arrived here in the country and was placed next to it. Moucheron, when asked what the story was, frankly explained the circumstances.

We do not deny the fame that real Italian art deserves, nor must anyone suspect me because of my frank writing of being motivated by prejudice against foreign art. Not at all. I love the great thoughts and bold handling. Yes, I can look at the work with so much appreciation that I almost forget myself. But I can't stand it when copies and junk are pawned off on people as genuine art and when it is then still expected that everyone is amazed at the beauty of that art.

If there are pictures so dipped in brown that one cannot tell where they begin or end, people call it uncommon handling. Are there ones with figures in the foreground thrust into clear sunshine by the background (which depicts a dark night), people praise the powerful painting.

Are there works with misshapen and monstrous figures, people overlook these mistakes and praise what is handsome. This is praiseworthy behaviour if one does not want to be taken for a spider, but if people praise the same things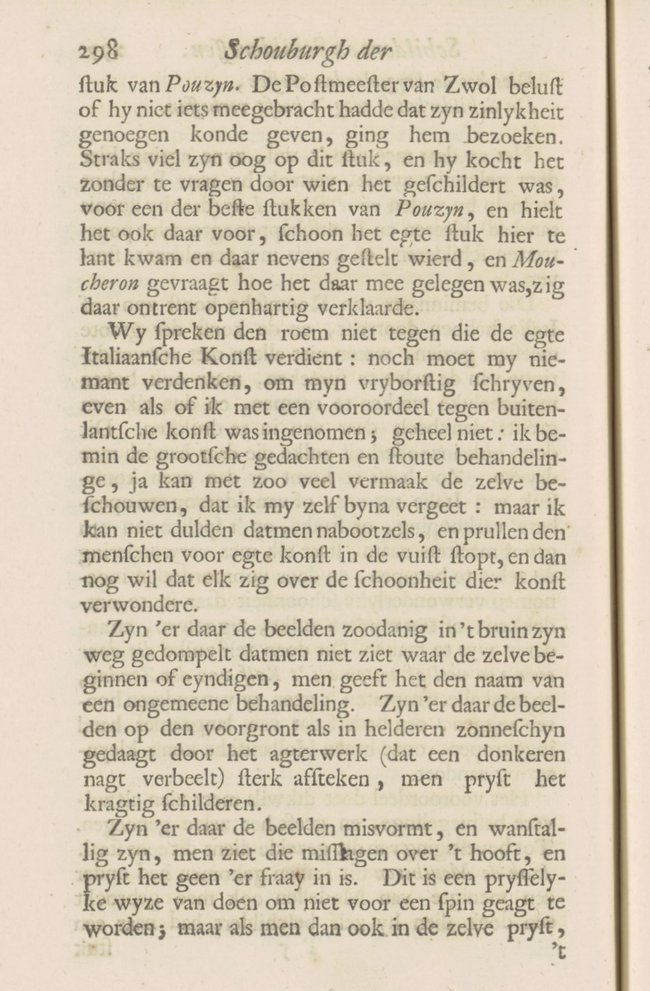 ---
Page 299

that they despise and reject in Dutch painting, that is surely intolerable.

There is no gold without dross goes the saying, nor any painting so bad that there is nothing that one can't praise. These are two the handles that art has, and it makes a big difference by which one grasps it.

Happy would art be in general and living artist in particular if their works were viewed through impartial eyes, without attention paid to names, and judged according to their worth. Then many would hold their heads up high that now, buried in contempt, do not pick the fruits of their labour. Unfortunate are those who moan under oppression and encounter no Maecenas during their lifetime who might cheer them up in spite of their misfortune.

Shortcomings are sooner ignored in the works of foreigners and in art works of the deceased than in those of the living. This work had better be perfect if it is to be deemed passable because it will be closely screened, compared and sampled by nitpickers.

If there are some that that are dubiously brownish, people will at once say that it is to cover up mistakes.

If it happens that some make their works strong in the foreground and brown behind, one at once hears it said that the natural clarity is not observed and that it is not art to oppose white and black. And if there are shortcomings or faults in a work, they are crowed louder than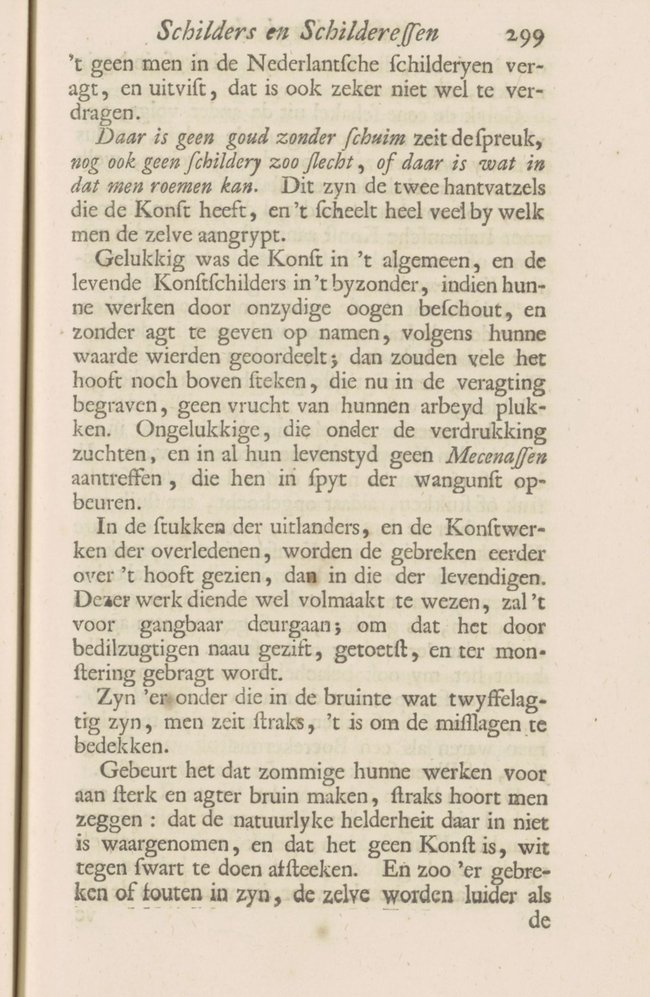 ---