Volume 2, page 260-269
---
Page 260

through hardship to the stars) gave no trouble to others, as will appear from the following biography of CHRISTOFFEL PIERSON, born in The Hague on the 19th of May 1631.

Proceeding from an estimable family, he spent his spring years learning the Latin and French languages and the art of drawing, and also, later on, writing in a chamber of accounts. But inclined to painting from his youth on and spurred on by association with BARTHOLOMEUS MEYBURGH* (who was only about three years older than he and who was a commendable painter from his youth on), he decided to switch to the art of painting. That is why in his 20th or 21st year he went on to the mentioned Meyburgh. And after having practiced only one year with him he undertook to paint bold portraits and histories, taking Schiedam as his residence. But in the year 1653 his old master and good friend spurred him on to undertake a journey to Germany with him, as happened.

During the return journey (the Swedish army encamped around Bremervörde at that time) they got to know Fieldmarshall Carl Gustaf Wrangel, whose portraits, along with other generals, they painted with their art brush, for which they were richly rewarded. Mentioned fieldmarshall was so well satisfied that he did everything he could to attract them to the court of the art loving Queen


--------
* He was born in Maaslandsluis [= Maassluis] and was a commendable portrait and history painter. He subsequently painted at various German courts and still lived in the year 1661.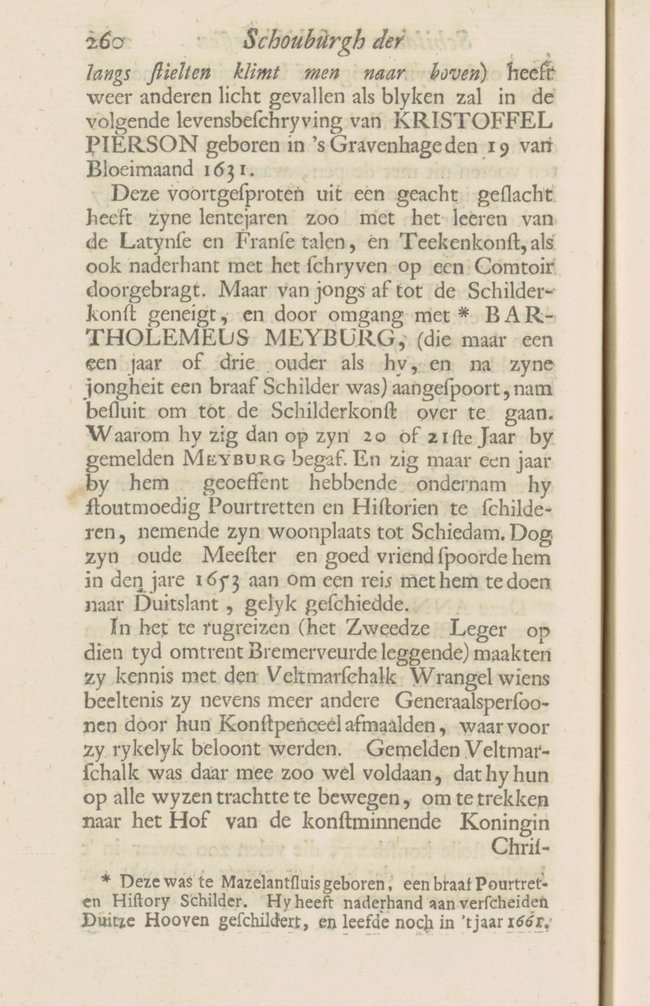 ---
Page 261

Christina of Sweden, offering them letters of recommendation to become her court painters, to which Meyburgh was not inclined while Pierson could not decide because he had married fully a half year before. Thus they thanked the renowned commander for his extended favour, took leave politely and continued their journey to Holland.

In the year 1654 Pierson and his household left Schiedam for Gouda, where he painted many portraits and history pieces both small and large with a bold brush and elegantly, which were found with art lovers both in that city and elsewhere. Seeing that hunting paraphernalia, bird cages and shooting arms painted by Anthonie Leemans were especially esteemed and well paid for, he began to take up that kind of painting as well, which suited him so well that no one was ever his equal in this, as appears from works in the hands of many connoisseurs, which are so naturally painted that each thing in particular seems to hang on the wall, by which a multitude of people have been fooled.

He also rendered on small scale and on parchment all the windows of the church of St. John in Gouda [1-2], painted artfully by the famous Crabeths and other artists. Which drawings are preserved among the Misters burgomasters.

In 1679 he returned from Gouda to Schiedam with his household at the request of his second wife, who lived and had her friends there. There he remained until the year 1691, when he settled in Gouda a second time, where,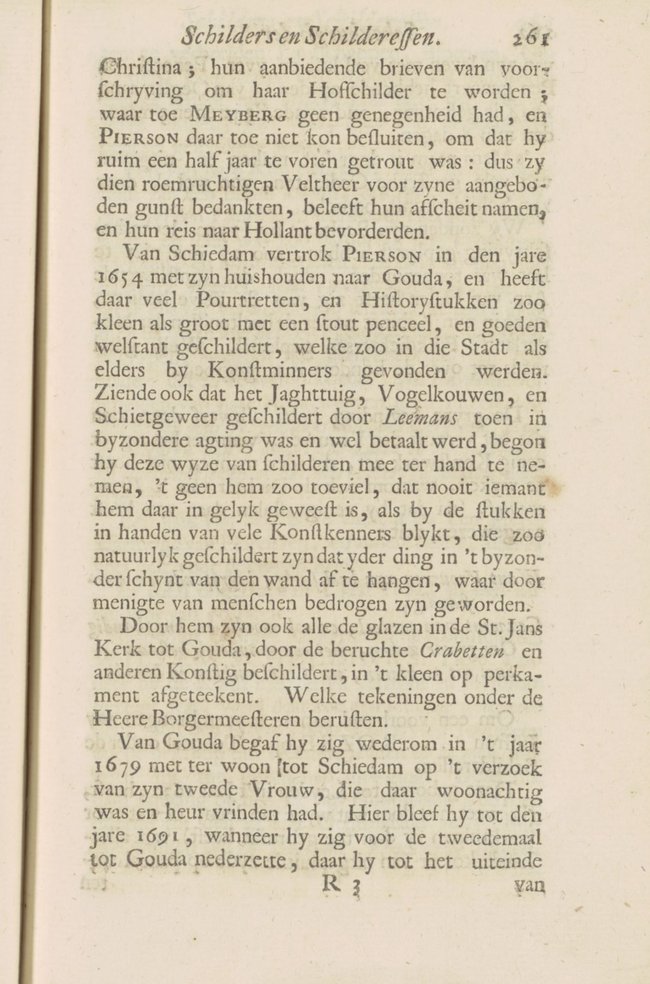 ---
1
Christoffel Pierson after Adriaan Gerritsz. de Vrije
Heraldic Window of the Rijnland Polder Board (after window/cartoon 4), dated 1676
parchment (animal material), pen (technique) 780 x 550 mm
Gouda, Protestantse Kerk Gouda

2
Christoffel Pierson after Daniël Tomberg
The arms of the members of the town council of Gouda (after window/cartoon 22), dated 1675
parchment (animal material), pen (technique) ? x ? mm
lower center : 1675. Chr: Pierson.
Gouda, Protestantse Kerk Gouda

---
Page 262

having plied pencil and pen with great pleasure and diligence to the end of his life, he died on the 11th of August 1714, being 83 years and three months, minus eight days, old.

The man's name is famous for the making and publishing of many spirited poems as well as for his paintings.

We should have placed his portrait with his biography, had it not been sent to us too late, but the art loving Arnoud van Halen has used it in his cabinet among the portraits of the outstanding Dutch poets [3], which numbers have grown to more than a hundred.

Grey experience had often shown us that the intellect of women, when it is put to some art work, does not have to give way to that of men, which is why the poet of the Praise of Women (after he has pointed out some examples) says:

For Women are very incisive, understanding and sensible
Quick in judgment, and also courageous and dexterous
To carry out quickly, after much deliberation and consultation
Great affairs, with male enterprise.

To give an example we bring Miss ... ROZÉE on stage amongst the paintresses.

Born in Leiden in the year 1632, she managed (I don't know how she did it, or what equipment she used) to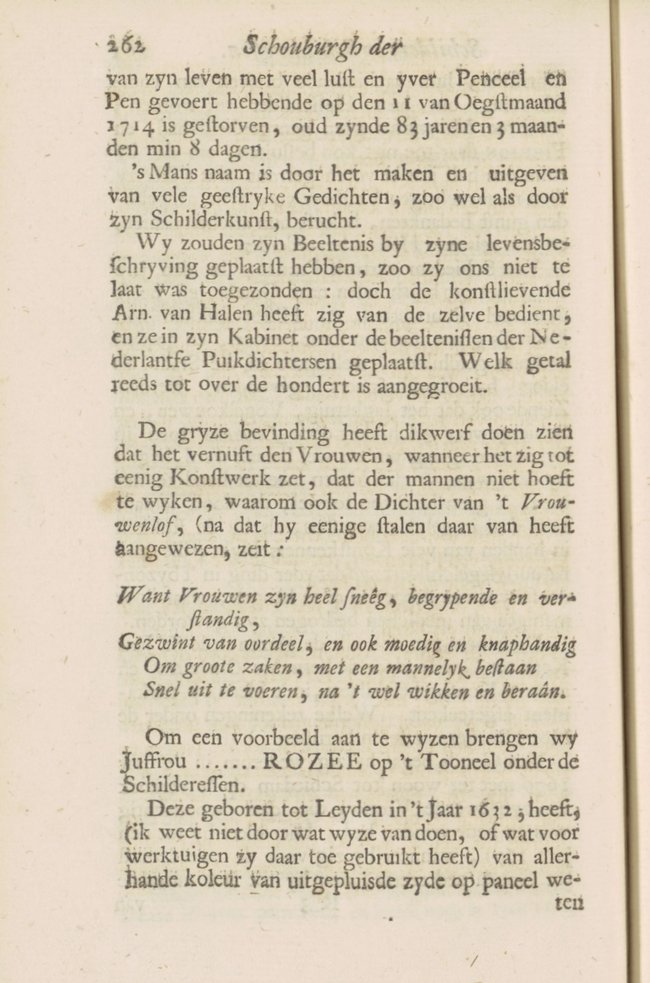 ---
3
Arnoud van Halen
Portrait of Christoffel Pierson (1631-1714), ca. 1700-1719
tinplate, oil paint, grisaille 110 x 95 mm
on the back : CHRIST. PIERSON 1631/1714
Amsterdam, Rijksmuseum, inv./cat.nr. SK-A-4606

---
Page 263

depict landscapes, flowers, animals, portraits, etc. made of all sorts of colours of combed silk on panel in such a way that from a little distance one could not see that these things had not been rendered in paint by a well-guided brush.

One of her art works, which featured an old tree trunk, a spider in its web and further a landscape, was sold for 500 guilders. The trunk, with its bark, knots and moss overgrowth, as also the spider with its fine weaving, were painted so naturally after life that it amazed everyone, all the more as people could not fathom how it was made, which is why the common people said of her that she could do magic. Michiel Carrée, who saw several of her art works, says: That she had made a portrait that was a good likeness with the colours of the flesh so softly unified and blended as if it had been done in oil paints.

A piece of her best work is with Cosimo III de' Medici, the Grand Duke of Florence, and others elsewhere, for which she got a great deal of money.

She died single in the year 1682 at the age of 50 years.

She is followed by the commendable Amsterdam painter WILLEM SCHELLINKS. When he had a masterful understanding of art and was inclined to travel, he found a beautiful opportunity when Mister Jacob Thierry Junior developed a yearning to see foreign lands, whom he joined as company. This journey began on the 14th of July 1661 and lasted until the 24th of August of 1665, in which time they saw England, France, Italy,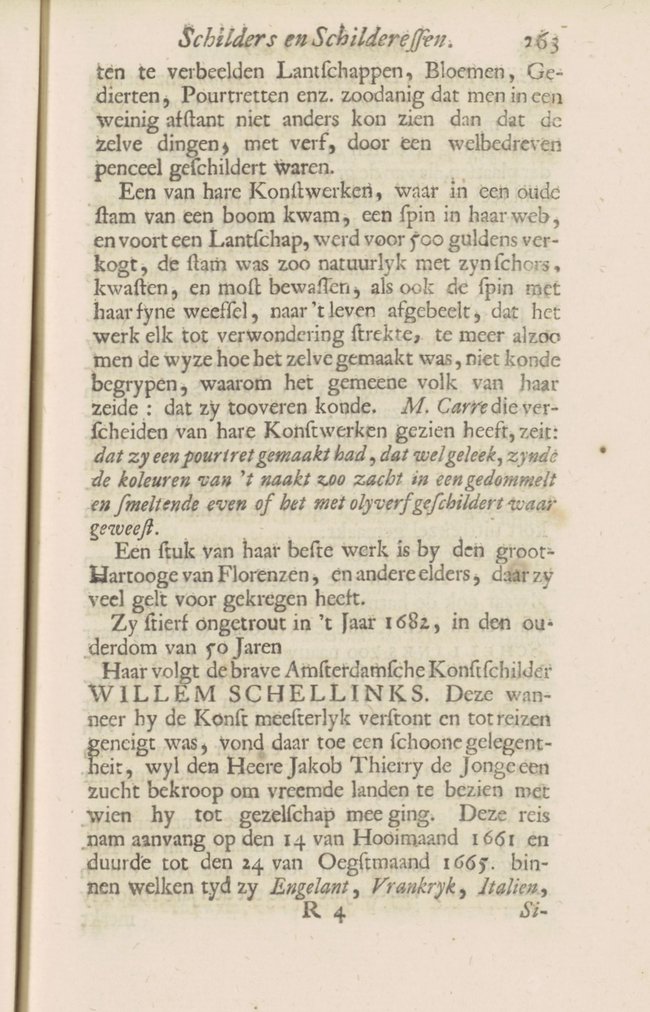 ---
Page 264

Sicily, Malta, Germany, Switzerland etc., not in passing as the saying goes, but with close attention to everything that is remarkable both with respect to the location of cities as well as the customs of peoples, old commemorative monuments, grave inscriptions, art works, etc., of which Schellinks not only took precise notes but even made a host of notations concerning cities, castles, mountains, ships, etc. based on life.

The drawings are dispersed amongst amateurs but the memories have been preserved, for having returned to Amsterdam from the trip, he collected the latter in three books with comments by the best authors, of which the more often mentioned Arnoud van Halen is the owner. Having leafed through the written books, we have compiled an abstract of this, that, or the other (beside that which concerns art) that we judged would please the reader.

Having arrived in London, our travellers first went to the tower to see all the armament rooms, where the harnesses, stabbing and shooting gear of various kings are displayed, of which Schellinks kept such precise drawings that he described the codpiece of King Henry VIII, which was also displayed there and how all female persons are wont to stick a pin in it and extract it, to revive delicate thoughts by so doing.

We follow our travellers to the London exchange where he compiled a name list of the statues of kings and queens from the year 1060 to the year 1660, which stand all around in niches. He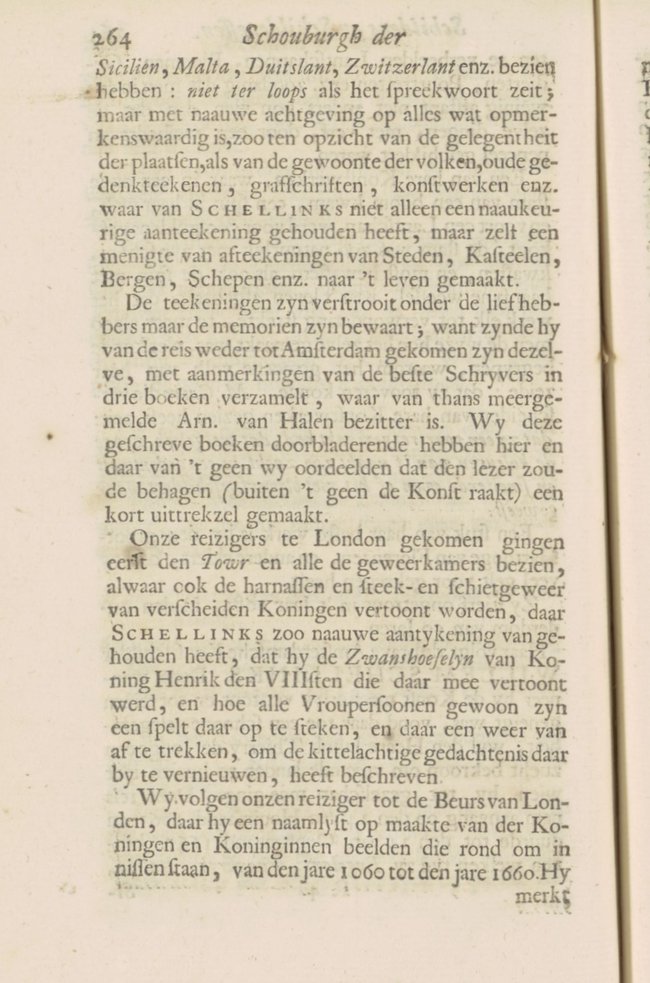 ---
Page 265

also observed when the portrait of Charles I was set up a second time, since Oliver Cromwell had the hands struck off the first statue and had written above it CAROLUS PRIMUS TIRANUS EST and later had it destroyed altogether. From there he arrived in Westminster to see the great hall, the court of justice built by King Edward II, who having ruled for 19 years, seven months and five days, died in 1327 or, as others would have it, by Richard II, who died in 1399 after he had ruled the realm for 22 years, 3 months and 14 days. He then saw the location of the House of Lords, in which all the sea battles under Queen Elizabeth I and Edward III are artfully depicted next to the portraits of the sea commanders, which hang in frames, and especially the artfully embroidered hanging* behind the throne of the king, as also the various art rooms hung with the most colourful old and modern Italian and Netherlandish painted art. Thus he also mentions a long and great room hung all around against the walls with portraits of professors and depictions of the physicians of old at the University of Oxford. Remarkable is to see the portrait of


--------
* In its middle stands a female figure depicting spring, very handsome and artful in colour and grace. It was wrought with the needle with all sorts of lively colours and gold and silver thread by Queen Mary, daughter of James V, King of Scotland and mother of James I, King of England, who ascended to the throne while she was imprisoned in Fotheringhay Castle.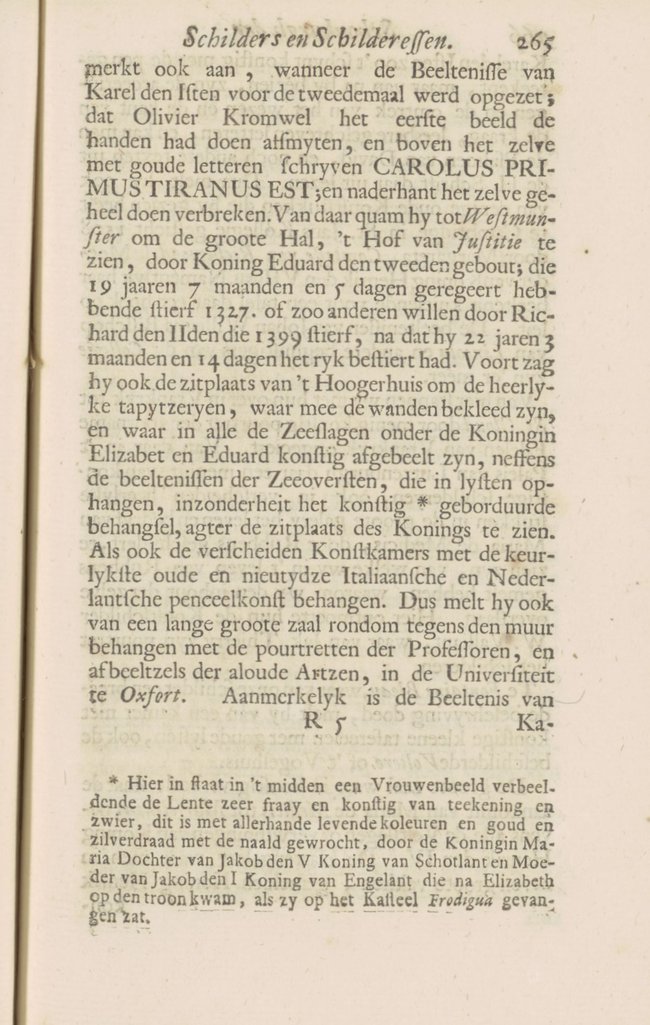 ---
4
after Willem Jacobsz. Delff after Daniël Mijtens (I)
Portrait of King Charles I of England, before 1662
parchment (animal material), pen in brown ink, metalpoint (technique), blue wash, gold leaf ? x ? mm
Oxford (England), St. John's College (University of Oxford)

---
Page 266

Charles I [4], which seems to be artfully drawn with the pen, but seen from up close the crosshatchings of the face and the border of the collar are legible written letters, with the Psalms of David and still other texts from the Holy Scripture to be read. He also mentions an old artwork that he saw in Cambridge in Saint John's College, founded in 1508 by Margaret Beaufort, Countess of Richmond, the mother of King Henry VII, including her portrait kneeling before a table on which a book lies [5]. There are also portraits of John Williams, Bishop of Lincoln [6] and other benefactors of the College.

From there we step with them over to France to St. Cloud, decorated by many an artful portrait of the important nobles of France. From there to the Palace of Luxembourg, where a multitude of splendid works are to be seen, including various divine pieces in the great gallery of the life and acts of Maria de' Medici, painted by Rubens, which we have mentioned in the life of Peter Paul Rubens, so that we now skip over their contents. Here they were met by the painter Wallerant Vaillant, by whom Jacob Thierry had his portrait painted.

In Fontainebleau, of which our painter gives an ample description, he mentions a room with artful small scenes in gold frames, as well as a painted aviary or bird house.

They saw the great room with its artful depictions of the arrival of Maria de' Medici in Marseille, in addition to all the battles and victories of King Henri IV, and also the stag gallery in which one sees the mentioned King Henry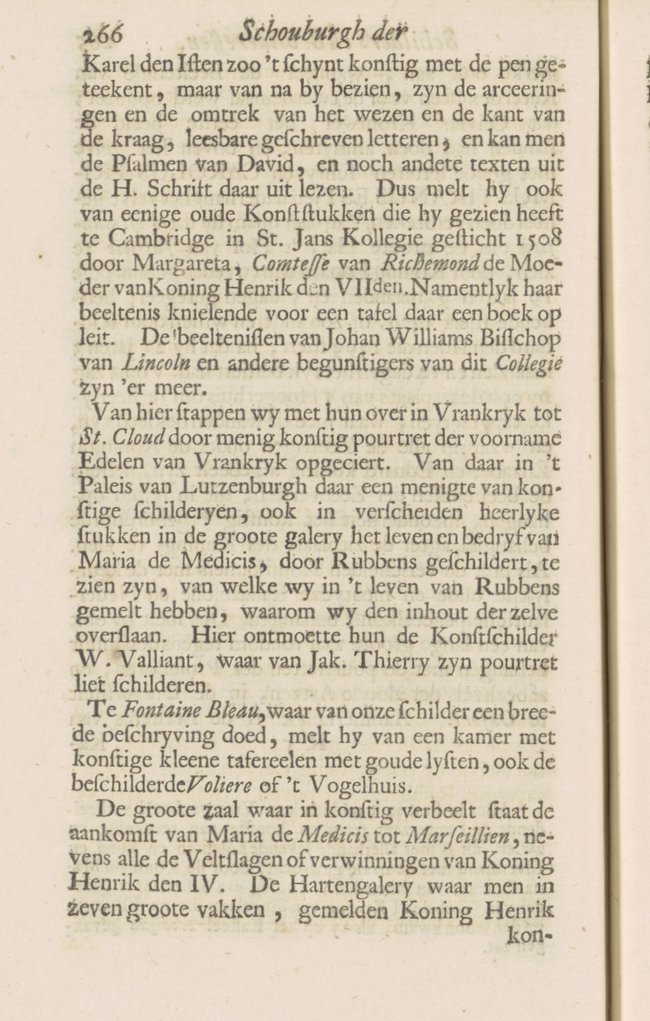 ---
5
Meynnart Wewyck
Portrait of Margaret Beaufort (1441/3-1509), mother of King Henry VII, c. 1510
panel, oil paint 180 x 122 cm
Cambridge (England), St. John's College (University of Cambridge)

6
Gilbert Jackson
Portrat of John Williams (1582–1650), c. 1627
canvas, oil paint 214.6 x 144.7 cm
Oxford (England), St. John's College (University of Oxford), inv./cat.nr. 148

---
Page 267

artfully depicted in seven great compartments, hunting a wild boar, or stag, or some other wild animal. In the distance are Fontainebleau, St. Germain, or some other pleasant prospect, etc. In La Chambre Neufe, over the chimney piece, Madam Gabrielle d'Estrées, mistress of King Henri IV is artfully rendered in the guise of Diana.

In Florence he commemorates the artful Greek paintings in fresco on the wall of a gallery in S. Marco church and still another gallery until one arrives in the church [= SS. Annunziata] painted by Andrea del Sarto [7-8]. He also mentions the various chambers and room of the palace with divine art by old and new maters, which are priceless.

In Siena he commemorates the famous book room in the cathedral, with walls artfully painted in fresco with figures and histories and decorated with gold.

In 1664, on the 1st of April, he arrived in Rome, where he was welcomed by the commendable poet Reyer Anslo and on Palm Sunday he was in Monte Cavallo, where he had the honour of kissing the slipper of Pope Alexander VII, from whom he also received an anointed palm branch. Mister Hontom of Amsterdam was with him. He mentions in particular that in the church of Santa Maria della Scala, or blessed virgin of the stairs, he saw an artful work by Van Honthorst, being a candlelight scene depicting the beheading of John [9], various works by Rubens and above the high altar an artful piece by Pietro da Cortona.

Being in Naples he commemorates the more than precious art cabinet of Caracciolo, Prior of Malta, and the vault and walls of the church of San Severino, artfully painted in fresco [10] by Belisario Corenzio,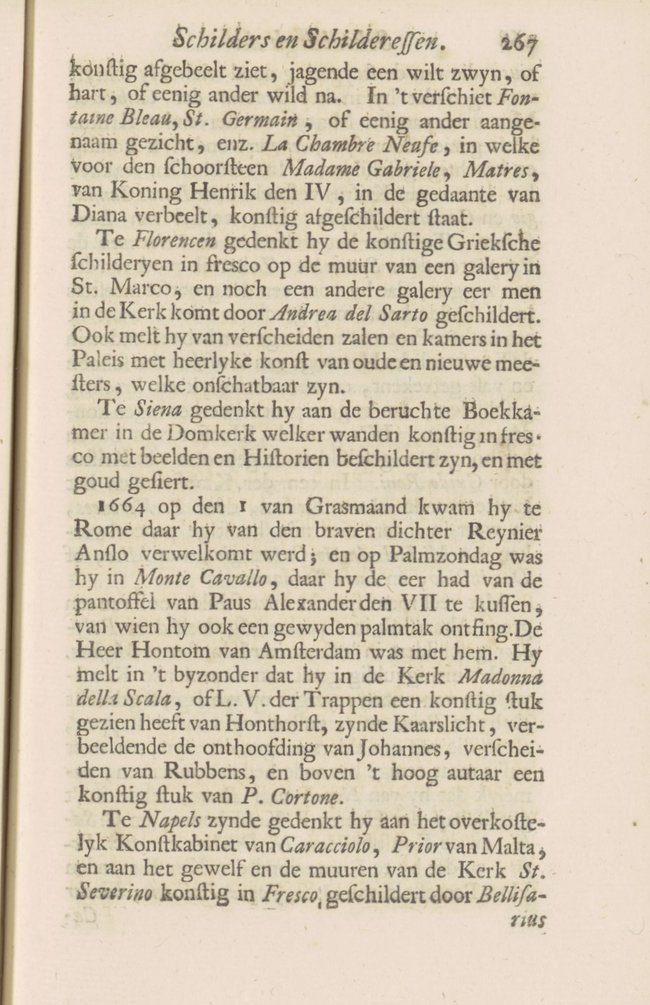 ---
7
Andrea del Sarto
Death of Saint Philip and the resurrection of a child, c. 1510
stucco, fresco (technique) 362 x 307 cm
Florence, Santissima Annunziata (Florence)

8
Andrea del Sarto
Healing by St. Philip's Relics, c. 1510
stucco, fresco (technique) 386 x 381 cm
Florence, Santissima Annunziata (Florence)

---
9
Gerard van Honthorst
The Beheading of Saint John the Baptist, c. 1617-1618
canvas, oil paint 345 x 215 cm
Rome, Santa Maria della Scala (Rome)

10
Belisario Corenzio
Rebekah at the well
stucco, fresco (technique) ? x ? cm
Napels, Chiesa dei Santi Severino e Sossio

---
Page 268

who fell to death from the scaffolding. He goes on to write that in the Convent of the Carthusian monks of St. Martin he saw a dying Christ by Jusepe de Ribera [11], marvellously artfully and powerfully painted. In various compartments he saw the Passion of Christ depicted by Luca Cambiaso and Giuseppe Cesari [12], the vault by Giovanni Lanfranco [13] and, between the vault and the columns, prophets by Ribera. I certainly must say of him that he may be considered one of the greatest masters of the art of painting, for I saw a naked Proteus by him in London, in the art room of the Charles FitzRoy, Duke of Grafton, so beautifully and firmly drawn and so naturally and powerfully painted that no brushworks could touch it. Above the high altar of the mentioned cloister was painted The Birth of Christ by Guido Reni [14]. In one of the cloister rooms was the Last Supper of Christ by Paolo Veronese, and in still others, no less artful brushworks by Caravaggio, by Mico or Domenichino, and Luca Giordano.

Our painter also speaks with great praise about a great altarpiece, divided into six compartments, painted by Polidoro da Caravaggio in the Capuchin cloister in Messina.

We will pass by the multitude of excellent art works daily booked by our traveller while he was in Rome, since these have been touched on elsewhere, and mention only a few particulars, namely that he travelled from Naples to Rome in the company of Misters Frédéric Kerseboom and G. Sabé and the painters Pieter Donker and Alexander le Petit and that in Rome he met the art-loving Mister Beresteijn of Delft, Jacques Vaillant, Adriaen van der Kabel
---
11
Jusepe de Ribera
Pietà, 1637
canvas, oil paint 264 x 170 cm
Naples, Museo Nazionale di San Martino

12
Giuseppe Cesari
The Passion
stucco, fresco (technique) ? x ? cm
Naples, Convent of the Carthusian monks of St. Martin

---
13
Giovanni Lanfranco
Christ surrounded by Saints and Angels, 1637-1638
stucco, fresco (technique) ? x ? cm
Naples, Convent of the Carthusian monks of St. Martin

14
Guido Reni
Adoration of the shepherds, between 1640-1642
canvas, oil paint 480 x 330 cm
Naples, Museo Nazionale di San Martino

---
Page 269

and Rammelman, in whose company he went to see the inn where the bentvueghels are wont to be. The walls all around are drawn with the portraits of Netherlandish painters, like those of other regions, but the portraits of the French had been erased by this time, or had been scratched out, so that nothing of them could be seen.

In the same company he viewed the castle of San Angelo, and speaks with great praise for various art rooms painted in fresco by Perino del Vaga and Daniele da Volterra. That same day he saw the Academy of St. Luke, being behind the Capitoline Hill, on the Campo Vaccino, where a multitude of clay models and drawings hung, made by young art practitioners in competition or for the price. In this room, hung all around with portraits of the most famous old and new masters, is also to be seen the true skull of Raphael of Urbino, standing on a pedestal, with a Latin inscription which means this:

This is RAPHAEL, nature began to shudder
As if overpowered by him, and thrust him out of life.

Later he went with mentioned Reyer Anslo to see the famous cabinet of Pater Athanasius Kircher in the Chiesa Nuova, filled with wonders and unusual rarities.

In Malta (inclined to investigate everything) he went to visit the ruins or remains of the old Medina, more or less accurately reconstructed on or around the same, and called Malta, and made various drawings of them of which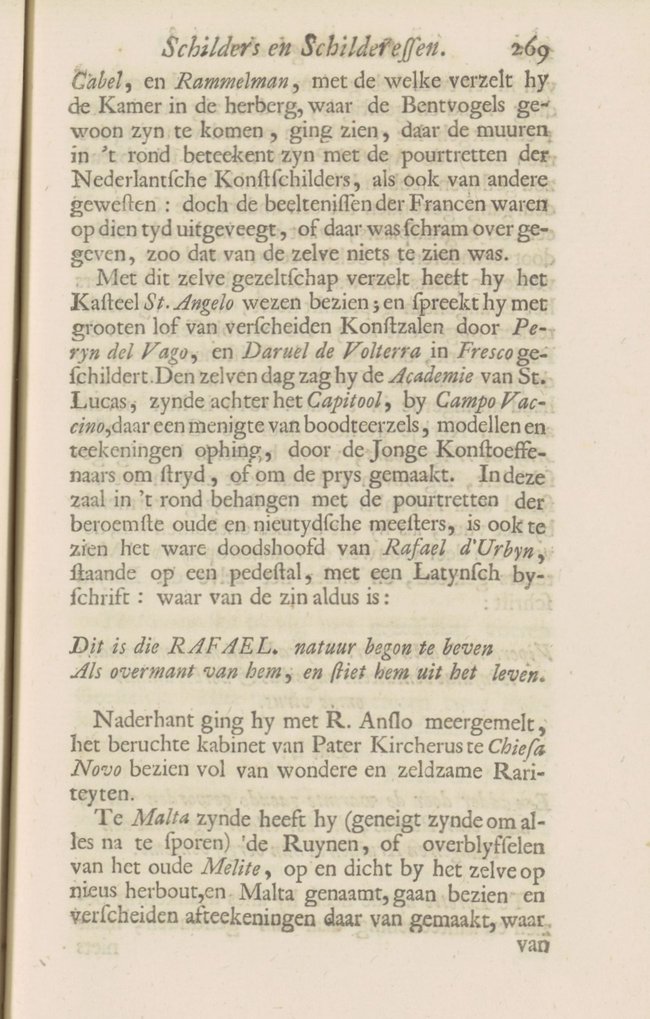 ---