Volume 2, page 230-239
---
Page 230

who with his stubbornness and by opposing the laws of England deprived that Prince of his right to the throne, still practiced art during his banishment. François Roettiers I of Antwerp, son of the stamp cutter of the mint of Brabant, was his teacher of art. He had a way of drawing like that of Raymond Lafage and painted histories.

Mister August Christoph von Wackerbarth, general of the Elector of Saxony, was a diligent practitioner of art. When he was in Rome in the year 1695 he joined the bent. His bent name was Alexander Magnus. He drew assiduously after antique ruins and everything that he judged worthy of his selection. The painter Isaac de Moucheron, who was also in Rome at the time and associated with him, has told me that he saw the drawings by him on large paper, the one of Rome and the other of Venice, artfully drawn after life. Yet his passion for art went so far that his body guards had to take turns practicing art. The Swedish general Magnus Stenbock did the same. After he had torched Altona at the command of his king [= Carl XII], he and his troops were later encircled by the Danes (their King taking this badly) and made prisoners of war. He amused himself in prison for several years by painting with the brush various landscapes of which he dedicated some to his king. The Amsterdamsche Courant also mentions this at the time.

The painter Willem Schellinks mentions in his diary of his four-year description of his travels,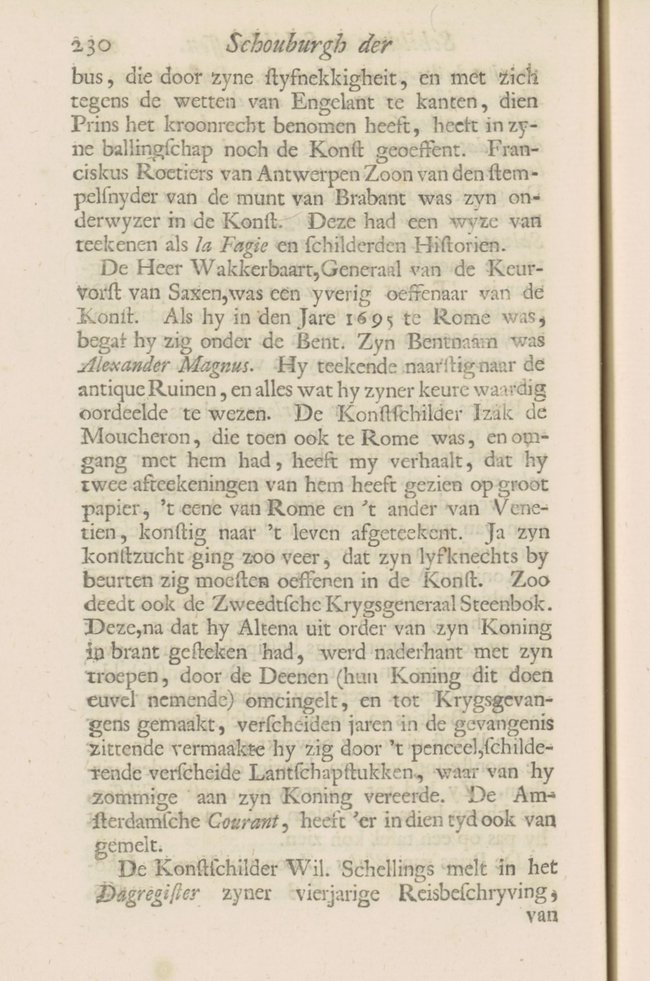 ---
Page 231

one René d'Anjou , by whose own hand an artwork may be seen in Avignon in the choir of one of the chapels of the cloister church of the Celestines. This was an allegory of death, of mortality, previous given as a new-year's present to a nun. Surprising among all the painted objects in this piece is a spider web on a funeral bier, so artfully and naturally painted that one could have taken it for a true spider web. Below it is a Latin verse, dated 1481, which, in translation, addresses the passerby as follows:

Spectator, remain standing before this scene a while:
Since every flower announces the fragility of
Your life, no matter how splendidly elevated.
Will unexpectedly perish before you know it.

In his description of his travels in England he also commemorates Mary Stuart, daughter of James V, King of Scotland, born in 1541 and beheaded in February of 1587, after she had been a prisoner for 20 years in Fotheringhay castle, for the artfully drawn and embroidered hanging which we will discuss in the biography of Willem Schellinks.

In addition we could enumerate an entire list of painters of earlier and later days who were raised by emperors, kings and rulers to the dignity of knighthood or baronetcy, as well as several who have held the position of burgomaster, such as Dirck van Delen in Arnemuiden in Zeeland, Dirck van der Lisse in The Hague, Hendrick Verschuring and Jacob van der Ulft in Gorkum, and further regents of cities, such as Gerard ter Borch II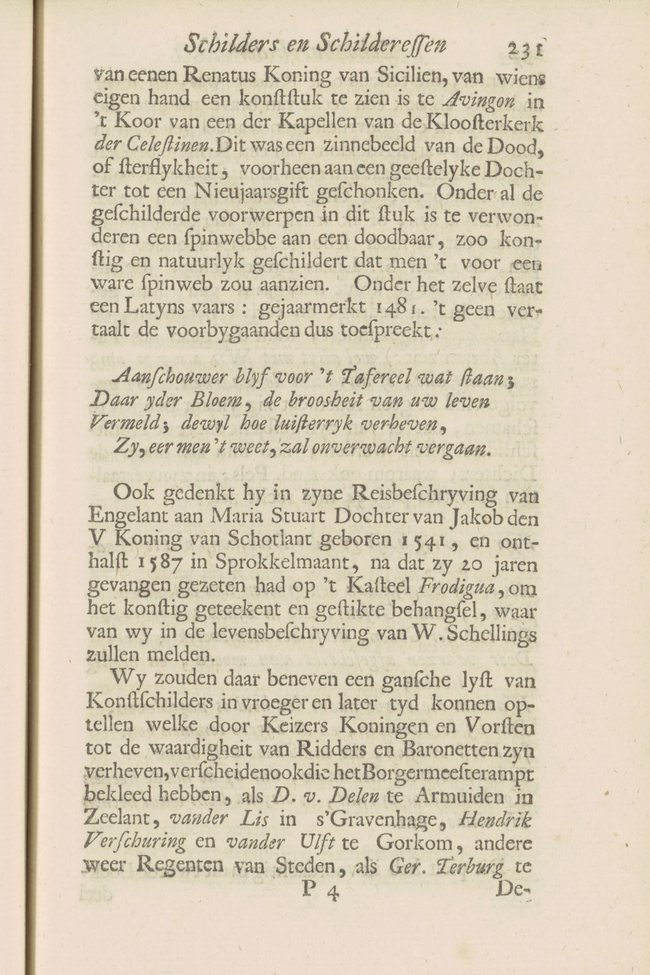 ---
Page 232

in Deventer, who was also knight, and many other commendable men who pursued an honest and pious walk of life and excelled in the true nobility of a Christian. Yes there are no Societies, Art companies, or Guild Brotherhoods that are very numerous, or I am convinced I could demonstrate that there are more scrofulous sheep walking amidst them than in the St. Luke Brotherhood. Aside from this, art is normally practised by them without deceit, and treated honestly, with the exception of the dealers, for those (as Father Abraham says) always handle wares [truths], but not all, or always, with the truth. As a consequence I see no reason why anyone needs to be ashamed that one of his family was counted among the painters, no more than among the poets. That I why Andries Pels rightly says on p. 34 of his translated Homer:

What's more, you need not be ashamed for poetry
As if she treats the great ones badly.
Oh no; for Orpheus, so esteemed in his days,
That interpreter of the gods, has by verses
Deterred the human race from murder and bestial life;
Which is why this commendable name survived the hero,
That he could tame lions and tigers.
Yes Ruler Amphion, who began to build ancient Thebes himself
Gained the name that he could lead the hard stones
With his lute and caressing poetry wherever
He wanted, etc.

I have deliberately presented this plea in this second volume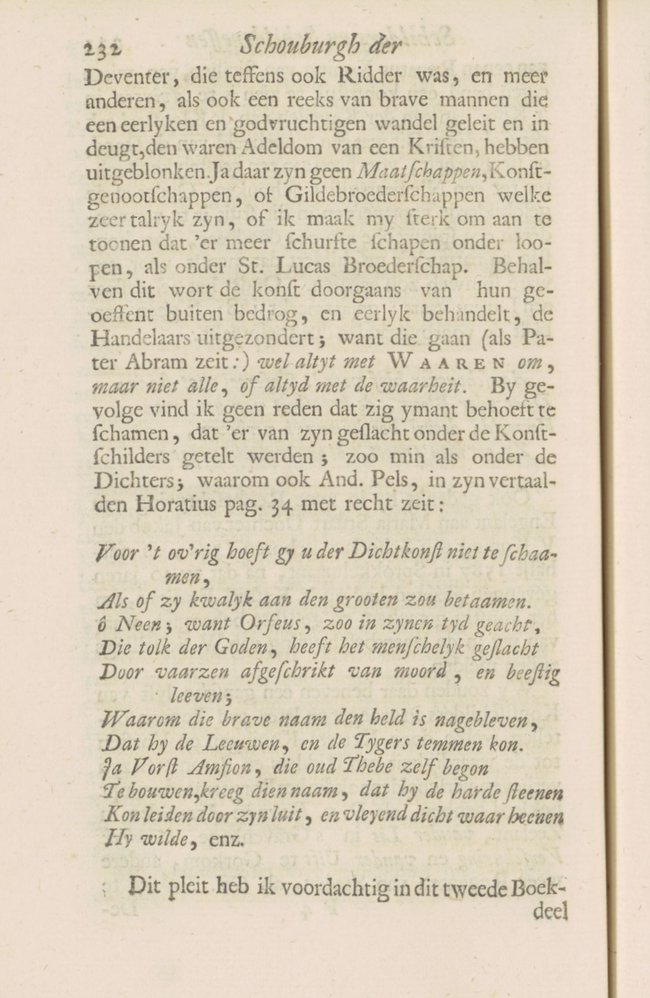 ---
Page 233

because some are seriously delayed with their information (though seriously requested) might be convinced of their foolish position and I may thereby find opportunity to bring the biographies of my fellow artist on stage in greater completeness.

It now pleases us to dedicate our pen to Prussia, where MICHAEL WILLMANN was born in the year 1630. He preferred Amsterdam to Rome as the advanced academy for his art in order to avail himself of the contemplation of lofty models and of association with the most outstanding intellects to serve his progress in art.

His father, Peter Willmann, was a common painter and born in Lübeck.

Once he had come to art he improved so greatly that in his twentieth year he surpassed his contemporaries and fellow countrymen. That was not enough for him, so he left for Holland, where he was welcomed by art practitioners and art lovers for his polite behaviour and his art. When in company he mostly associated with Jacob Adriaensz. Backer and Rembrandt, in whose art, presence, and conversation he found so much pleasure that he gave up his intention to travel to Italy but decided to make a wide circle through Germany, which he did. And he showed his excellent art in most cities, including the imperial city of Prague, and after a ten-year journey returned to Lübeck [= Leubus], where he made his name famous on account of his art.

Amongst his numerous art works are counted the depiction of Vulcan, forging in his smoky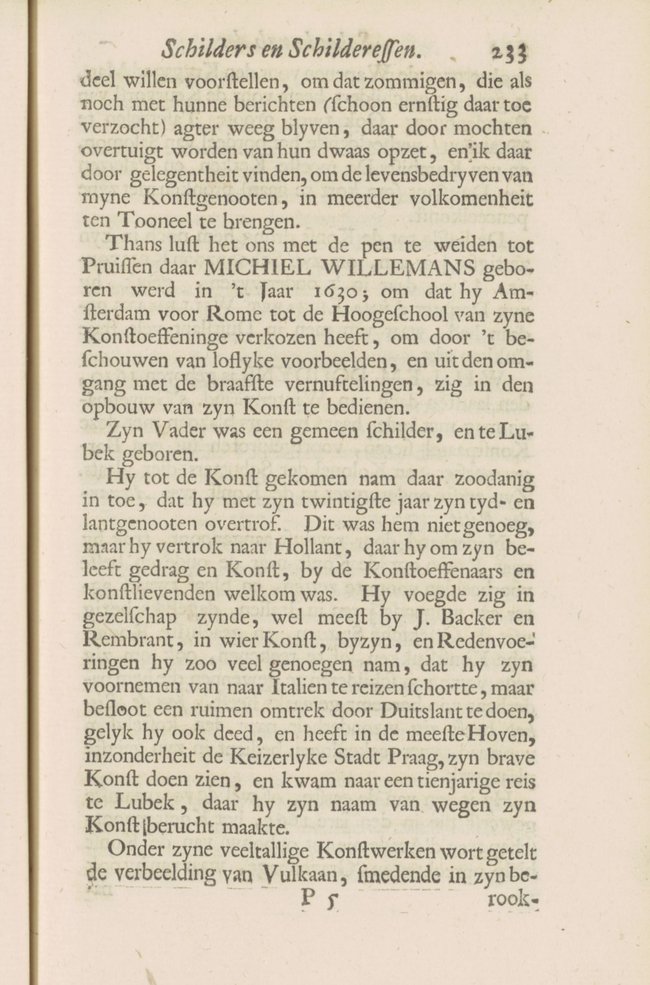 ---
Page 234

cave the weapons for Mars, the God of War, which he painted for the Elector of Brandenburg [= Friedrich Wilhelm von Brandenburg] [1], and also two great scenes in Wrateslau [= Breslau/Wrocław] depicting the judgement of Solomon and of Cambyses [2]. Most of the churches and palaces of Germany (to keep it short) display his art of the brush.

In his sixtieth year love of art forced him to instruct his son-in-law [= stepson] Johann Christoph Liška von Rottenwald in it, as he had done for his daughter Anna Elisabeth Willmann, by whom one sees many handsome pieces in Germany.

WILLEM DOUDIJNS was born in 1630, on the last day of December. The Hague has reason to decorate her stork arms with this pearl of art, produced by a burgomaster and colonel of the militia of the place. His first teacher of art was Alexander le Petit.

Later on, excited by wanderlust, he left for Rome to continue his art after the old and best models and remained in Italy for twelve consecutive years, daily occupied by drawing Greek statues and the most esteemed art works, and also to habituate himself to a way of painting that later made him so famous. Jan de Bisschop in particular used the invaluable supply of his drawings for his etched plate work.

He was one of the first and also the most important of those who in the year 1661 helped set up the Art Society for Progress in Art in The Hague, of which he was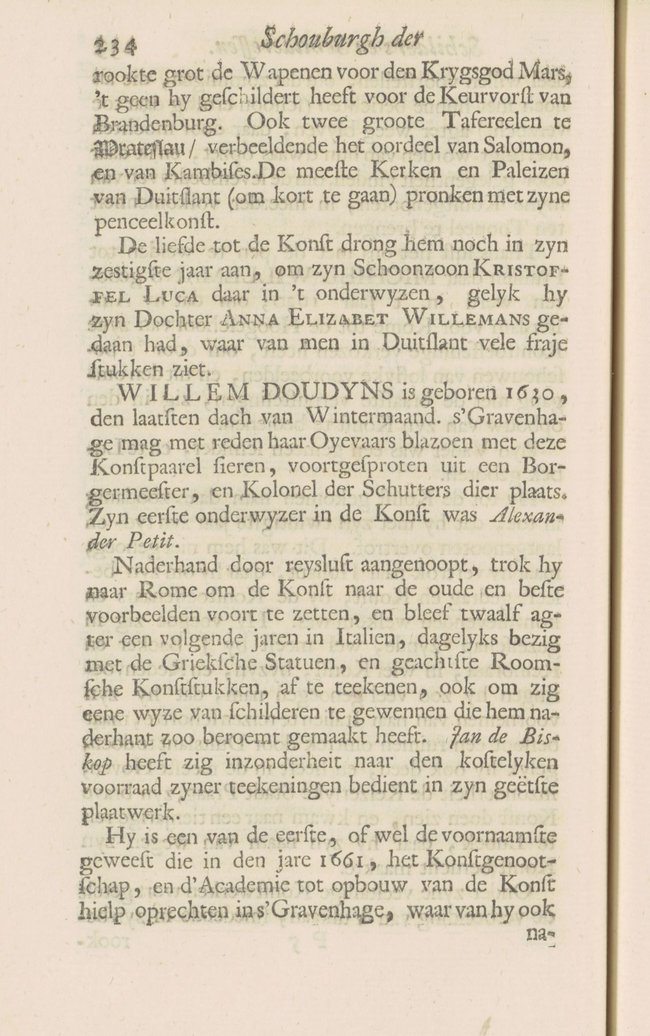 ---
1 (missing since 1945)
Michael Willmann
Venus and Cupid in the forge of Vulcanus, 1682
canvas, oil paint 223,70 x 304 cm
Berlin (Charlottenburg), Schloss Charlottenburg

2 (missing since 1945)
Michael Willmann
The judgement of Solomon: Solomon gives verdict; he commands a soldier to divide the living child in two; the true mother objects to Solomon's verdict (1 Kings 3:25-27), dated 1664
unknown, oil paint ? x ? cm
Wrocław, Town Hall of Breslau

---
Page 235

later repeatedly director or regent. He helped support it to the end of his life, which he reached in the year 1697 at the age of 67 years, with death not bothered by what the school of art had to fear by the great loss of this Diomedes (that was his bent name).

About how grand he was in his compositions, how firm in the drawing of his nudes, how broad and naturally he draped his cloth, and how bold and powerfully he painted his art works (in order to be able to compete with the most outstanding Italians), it would be futile to say much, seeing that the work, well-enough known, praises its creator. Amongst many of his most famous art works, I wish to refer the reader, only as an example, to the Hague Tribunal, where he depicted Solomon's judgment in three compartments [3], and save for elsewhere what we would further have said.

Now we let ADRIAEN van der KABEL follow. He was born in Rijswijk outside The Hague in the year 1631.

His true name was Van der Touw [=Rope], but his teacher Jan van Goyen, being farcical by nature, said that such a name was too slight and despised for him, seeing that he was named after the kind of rope of which they make necklaces with which clever individuals who find things that are not lost are strung up, and that it sounded more impressive if he were to be named after cable. Since that time they always called him Van der Kabel. He died in Lyon in France, but I do not know in what year. He painted mainly landscapes and views of water. He also had a brother named Engel van der Kabel who practiced art.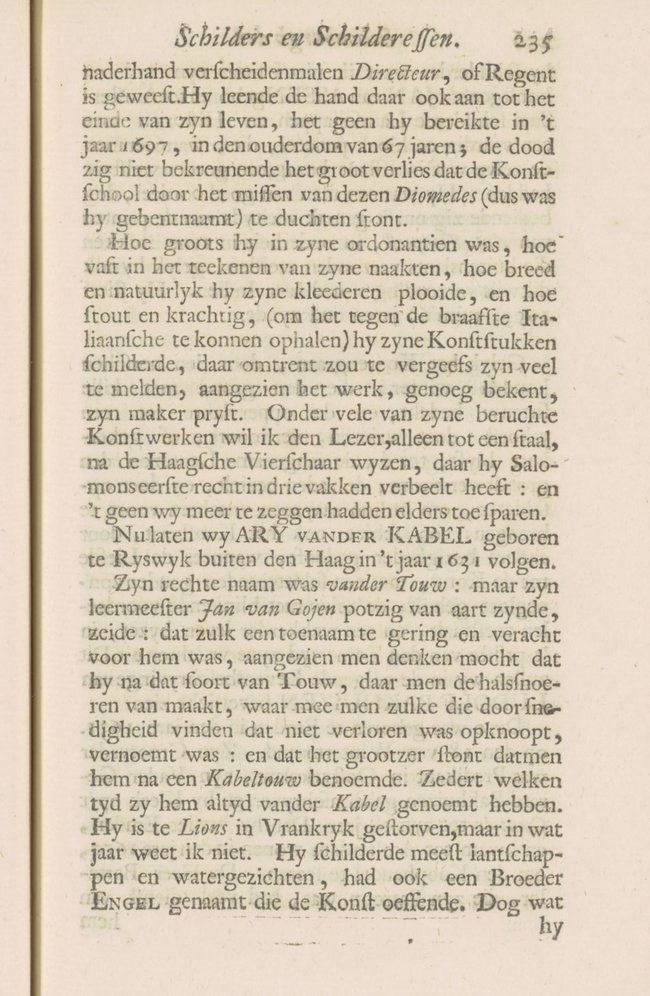 ---
3
Willem Doudijns
The judgement of Solomon (1 Kings 3:16-28), dated 1671
diverse ? x ? cm
The Hague, Stadhuis aan de Groenmarkt

---
Page 236

I do not know what he painted, but his contemporary fellow artist JAN van ASSEN, born in Amsterdam, painted landscapes and histories with a facile and broad brush which, if one saw them from a distance, were quite elegant. He was a man of good judgment but often for convenience used the prints of Antonio Tempesta, especially in his works that were sent abroad, just as he often had shipments to the Indies. He died in 1695, fully 60 years old.

Just as the grain remains smothered or imprisoned by the severe and cold winter which covers the ground with frigid snow and crust of ice until the pleasant spring sun warms the ground, animates the seeds, and makes them sprout so as to produce fruit in their season, so the seed of art, smothered by other activities, will, when the love for art wrapped in a glittering golden solar glow shines on it with radiant benefaction and gives it a brisker life, shoot up its fruits at the first signs of summer. We will see this confirmed in the following biography of LUDOLF BAKHUIZEN.

He was born in Emden in 1631 on the 18th of December. His grandfather was preacher in East Friesland. His father, Gerard Backhuijsen, was confidential clerk there, and he was clerk at the accounting chamber until his 18th year. He then left Emden and came to live in Amsterdam in 1650 to learn commerce. Mister Guillelmo Bartolotti, who was his patron, made much use of him,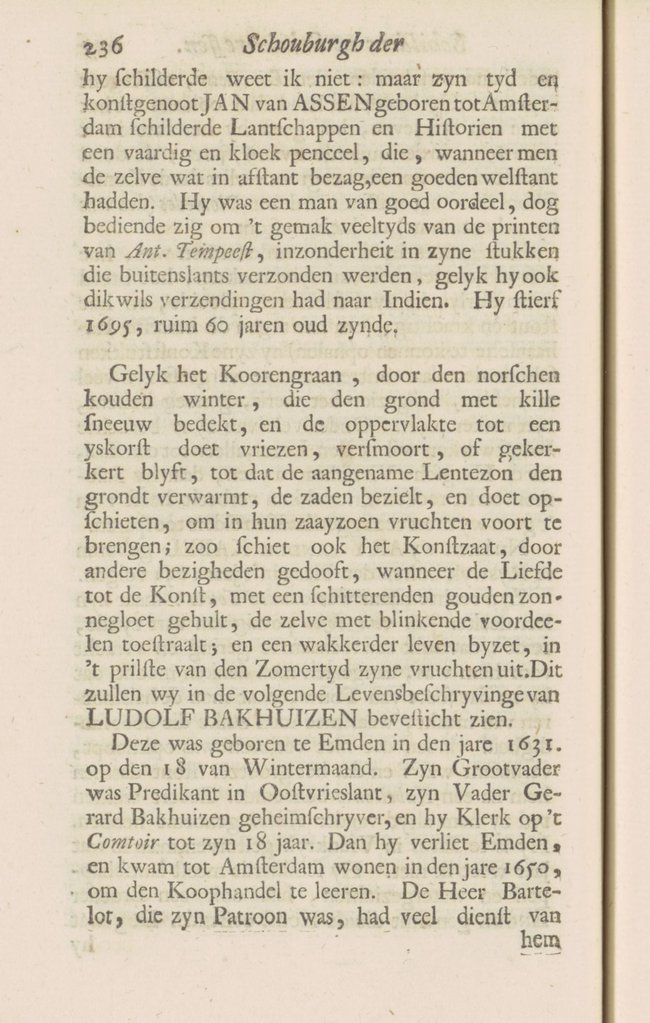 ---
Page 237

as he had a masterful understanding of bookkeeping and calligraphy. But he did not remain there for long since the goddess of art tempted him to her training school when with his 19th year he moved on to drawing of naval architecture after life, without his having seen this manner of drawing or the handing of the drawing pen. Life was his model, and the desire for art his teacher.

It was the golden century for art at that time, and the golden apples (now hardly to be found even by perilous paths and with sweat) dropped into the artist's mouth by themselves. He had devoted only little time to the drawing of ships when he saw his sweat sweetened by profit, for he received 10, 20, 30 and finally 100 and more guilders for a drawing, which increased his zeal more than a little.

In the meantime he got to know some practitioners of art who encouraged him to the practice of the brush, for which he had inclination but did not know how to go about it. Allaert van Everdingen was the first to place a palette with paint and brushes in his hands to give it a try. This went as well as it could, by doing and redoing. Even so it became a painting and he got 10 guilders for it. Then he asked this one and then another about the tempering or mixing of paints, making himself liked by all by his inquisitive nature and visiting them in their ateliers while they were at work to see how they treated this or that problem. He had liberal access to the seascape painter Hendrick Jacobsz. Dubbels, then the oldest among the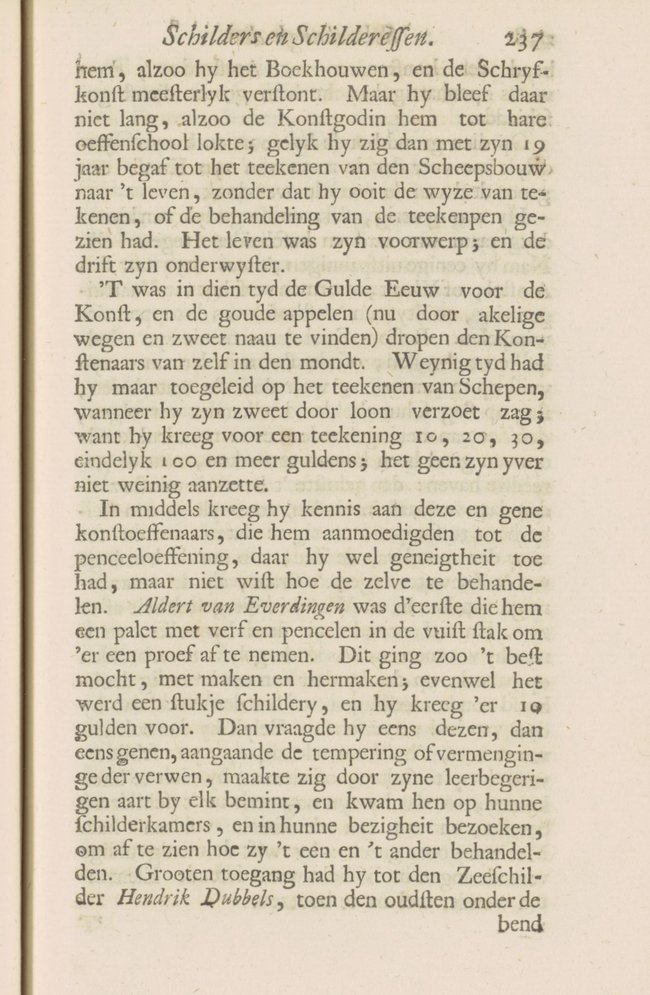 ---
Page 238

group of artists of Amsterdam, whose frank information did him a great service.

He continued to build and finally got so far that the fame of his art resounded over a great part of the world.

He was diligent, quiet and sober, commendable by nature and modest with all. If he went on an outing, it was always to the Amstel or the banks of Het Y, where one finds a surfeit of vessels and always sees a forest of masts fluttering at their tops. If Aeolus undertook to howl from his vortices of clouds or hammer the storm sewers with his fists, so that the waves followed on one another blow by blow, foaming at the mouth and forcing the seaman to seek safe shelter with furled sails, then it pleased him (few would find amusement in it) sometimes to get into a launch and to have himself taken to the mouth of the sea to be able to see the blows of the seawater against the beach and the changes of mood of the air and water. And he especially did this when he had the intention to depict something of the kind on panel, so that he might carry a lively mental image of it or to refresh such an image. That is why he had the habit of locking himself in his studio upon coming home and not letting anyone near him until he had realized his concept. To say it in a word: he was able to imitate wonderfully well the multitude of changes in those rapidly changing elements.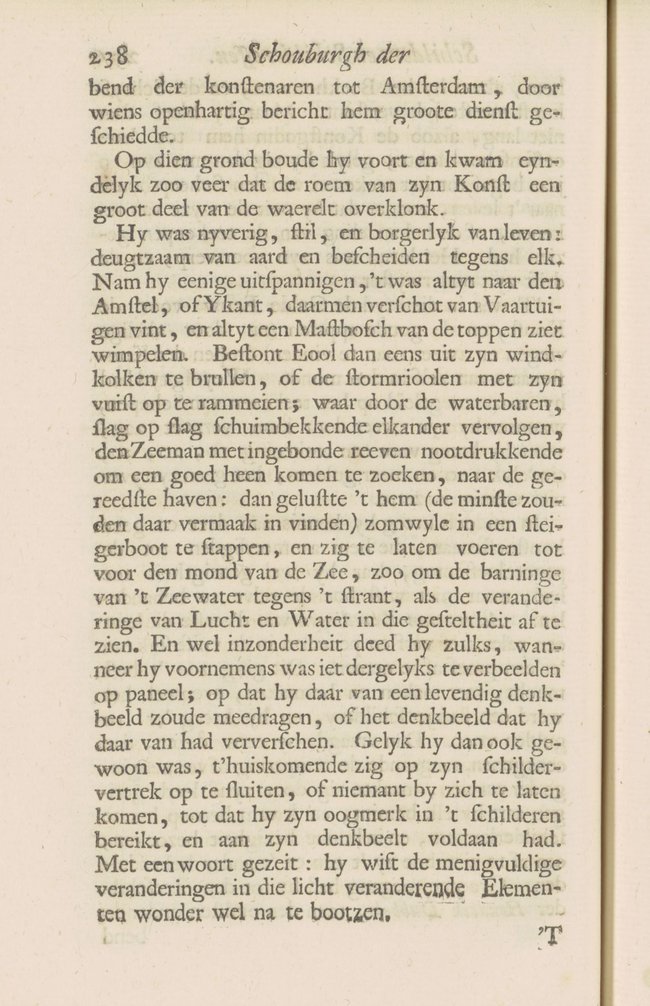 ---
Page 239

It is much more convenient, and it also involves less danger, to carry cabbage, carrots, turnips, pots, pans, brooms and such kitchen paraphernalia to one's studio to depict these after life. At least I can understand that painters who are full off such visions need to be much less concerned that their impressions will escape them, seeing that their objects are of such a nature that, once in place, they stay put. Ever so many have pursued profit with the painting of trivialities. I still recall that the painter Gerard Dou received 25 guilders over and beyond his agreed fee, for painting of fewer than 25 wormholes in an old spinning wheel. What shall I say of this? When my Master Samuel van Hoogstraten was at the imperial court, there was someone who made his living painting small portraits in watercolours, which he knew how to pretty up so appealingly for the ladies of the court that they were crazy about them. Hoogstraten, who was candid enough, rubbed it under the nose of the painter (when he happened to be alone with him): That what he made was not worth the name of art. Who gave as answer, after showing him a handful of gold from his purse, is that not rightly called art which produces this? What else can I say except that it still happens today that people gape at trivialities of inconsequence and stilted refinement; and overlook works of art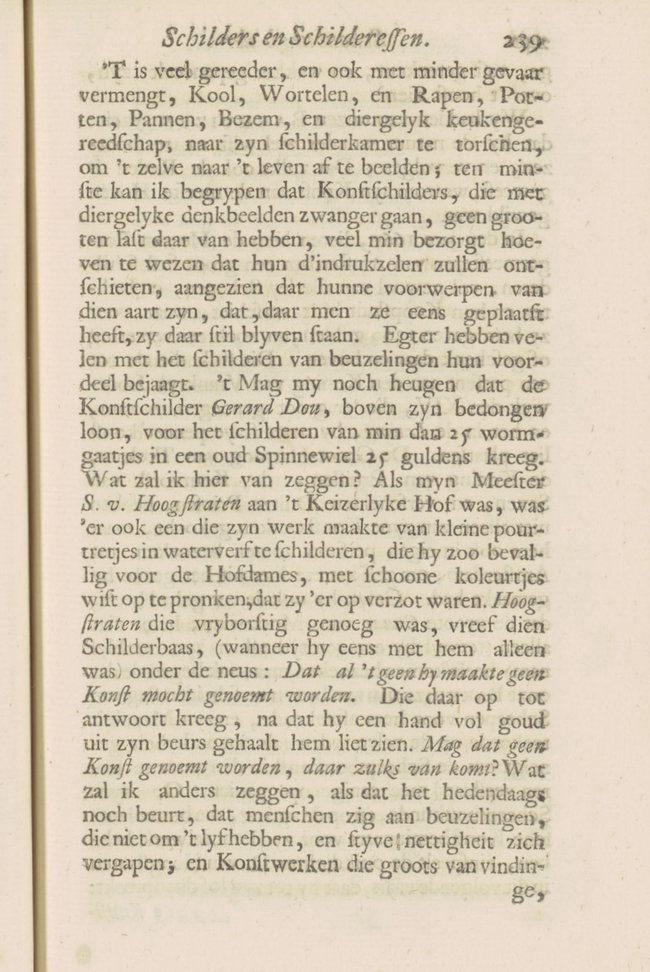 ---