Volume 2, page 200-209
---
Page 200

advancing sea waves on the shore is depicted with animation. And just as these waves do not last because of their steady movement back and forth, this may be taken as emblematic for our painter, as he continually inclined to change did not stay put in one place for long, which is how Johannes Voorhout (who had left from here with his wife out of fear that the French might flood these lands) unexpectedly met him in Hamburg in the year 1674, as he told me himself. Besides, the thread of his life reached further than I had been informed, namely that he is to have died in Amsterdam in the year 1669. His pupil, Aernout Smit of Amsterdam, emulated his way of painting.

Experience had shown us that people who possess a low spirit are in the same position as those who, cuffed by arms and legs, cannot take a step forward. Small mindedness keeps the intellect imprisoned in the extinguisher of fear and hesitation to the end. An ample spirit, on the contrary, supports and fans the intellect and does not rest until it has obtained with distinction what it had imagined. Of this we have an example in

BAREND GRAAT, born in Amsterdam on the 21st of September of the year 1628. His mother nurtured him with much care and love until his tenth or eleventh year, after which she sent him to school in Heusden for a period of four or five consecutive years, after which he returned home. His mother, who only wanted what was best for him, no doubt considered one or another means by which he would not have too much time on his hands,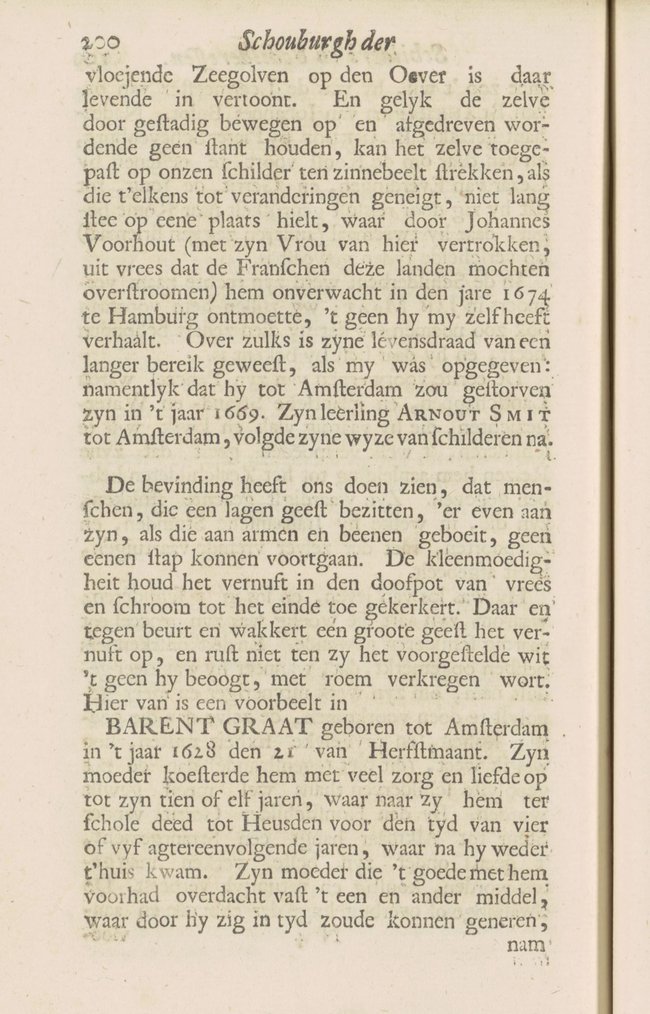 ---
Page 201

consulted his uncle, who was a handsome animal painter and usually called master Hans. Discerning in him a great spirit and natural passion for art, he decided to support him in this and took him into his home. The zeal for art grew in such measure especially when he began to master the use of the drawing pen that he sometimes turned night into day. And when his uncle tried to prevent this by taking away his light, he at once had the answer. He went to the Old and the New Church around the time that the evening service was completed (necessity is the mother of invention) and managed dexterously to pinch the remaining ends of the candles from the candle holders, and to use them in the still of the night.

Thus, finally having got around to painting, he did not cease to draw after life. Yes, in the summer he was usually ready with his portfolio under his arm approaching the time that the gate was opened, to draw horses, oxen, cows, sheep, or goats after life in the fields until eight in the morning, when he again turned to painting with all the more zeal. But as the wife and daughter of Master Hans concerned themselves little with the household and all the more with the investigation and discussion of differences in religion, and since his uncle could only get around on crutches, Barend often had to play the part of a kitchen maid, which was accompanied by so much time lost that (after he had lived with his uncle for six or seven years) it made him return to his mother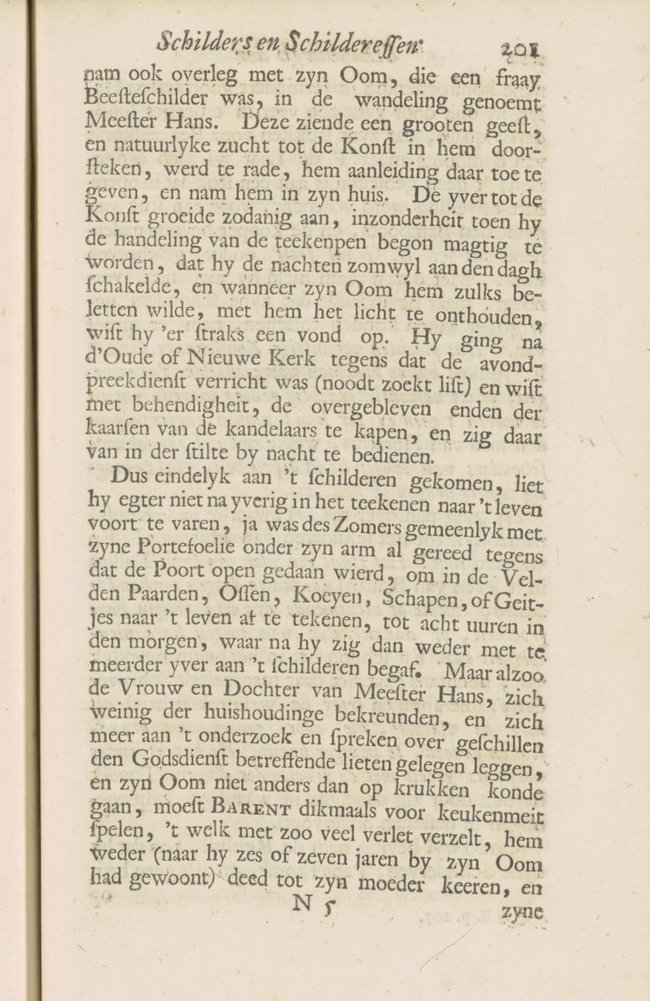 ---
Page 202

to continue his art practice without interruption. Indeed, he came so far through zeal in the painting of animals that his pieces were taken for the brushwork of Bamboccio, also known as Pieter van Laer, as became evident from a piece that was sold at public auction as by mentioned Bamboccio and the buyer found there was B. Graat fecit written below it. He did not take satisfaction with this fame but discovering that his shoulders could carry more weighty matters, he took the test. Thus intelligent artists (says Franciscus Junius*) were wont carefully to weigh their powers, whether they were truly strong enough to execute what they had taken to hand, following the council of Horace, who said: Let your shoulders try out with time what they can or can't carry.

He then proceded with the most difficult in art, namely to the painting of histories. And why not? Everyone is free (says Tullius in the life of Brutus) to take up such things as are excellent on account of their greatness or remarkable on account of their novelty etc. And though it may be difficult in the beginning, it proceeds (says the writer of the Samenspraken about eloquence) as with the flame which, fed by sufficient fuel, burns more fiercely. The power of our intellect grows with the importance of things. That is also what he experienced through daily practice in worthy reflection.

In the meantime he was overcome by wanderlust, so that he sold his paintings, art on paper and everything that could not


--------
* 3 B. p. 207.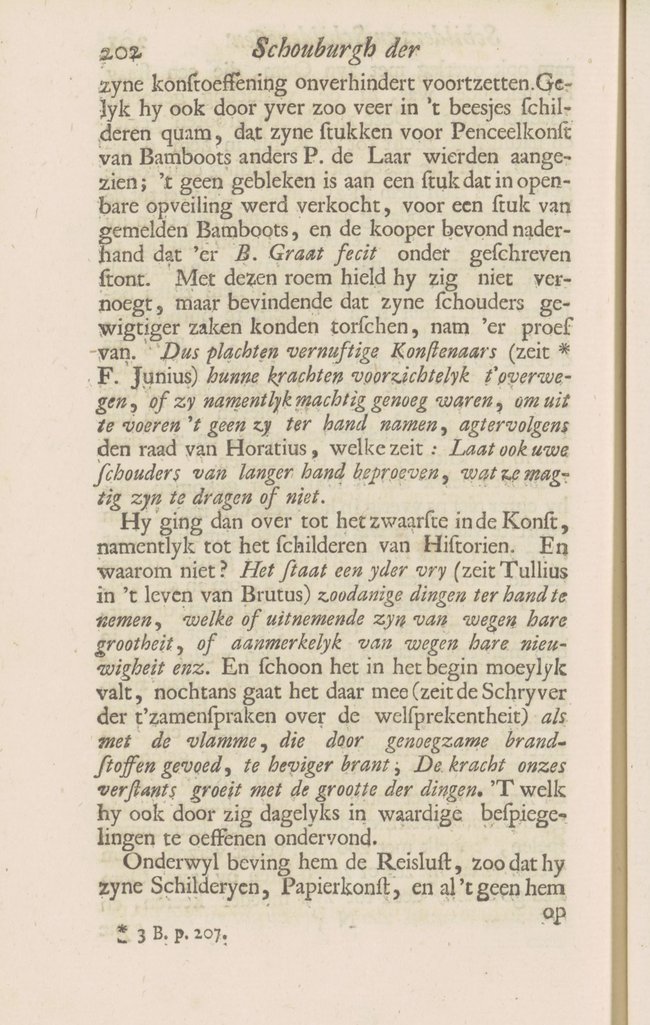 ---
Page 203

be of use on the journey and firmly decided to leave for Rome. But this was at first prevented by discouragement from his friends and later by marriage to Maria Cornelis Booms, widow of Jan van Belle. This made him better known amongst commendable people so that he got his hands full of work painting portraits (including the four regents of the old men's home in one piece and also the six supervisors of the leatherworkers' guild, ceiling and chimney pieces, and grisailles in niches and portals. In addition he was cheerful by nature, comical and amusing in company, but also with a tongue sharp enough to combat those who attacked him, not hesitating in all cases to speak the truth, even less to obscure his highly particular judgment in art to curry favour.

Many important houses in Amsterdam still display his painted histories and allegorical reflections in niches, chimney pieces and ceilings, with much more to be seen with Mister burgomaster Velters and aldermen Cornelis Calkoen, Cornelis Broek, Venkel, Menard Domp and many others.

For fifteen consecutive years, twice a week, he ran a training school in the manner of the Royal Academy, not only for himself but also for others who found themselves inclined to gain competence if the nude in that way. The first and most important of the Amsterdam painters attended this art society, where one drew after living male and female models, and his unusual eagerness to learn tempted others to follow him in this path, by which the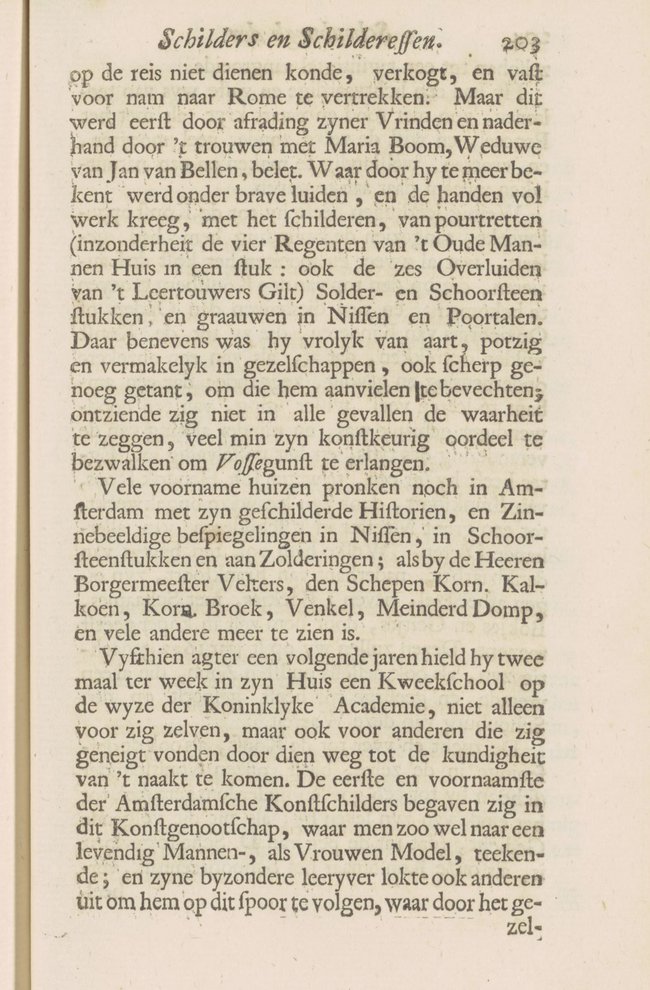 ---
Page 204

company grew to about twenty in number.

He had a swift and firm way of drawing both with red and black chalk as with the brush, and was able to make them pleasing and give them a natural touch.

He raised few students in art since experience had taught him how much sweat and effort it takes to obtain the laurels that grow at the top of the mountain of art and therefore discouraged parents or guardians from raising their children to art, meaning an uncertain undertaking and outcome, saying that it was much wiser to learn a trade of necessary use and less dependent on changes of time and inconstancy of fate. However, he did raise one student, to wit Johann Heinrich Roos of Frankfkurt, by his way of teaching to a great master in the painting of all kinds of animals. Roos therefore later sent Graat as proof of his gratitude his own portrait [1] from Frankfurt as well as three small books with sheep, rams and goat, etched in copper by himself. We will consider them in the year 1632, as well as his oldest son, who played a strange and amusing rôle in the theatre of this world.

The desire and diligence for art, as also its practice, remained with our painter to the end of his life (although he reached a good old age), at is to be seen from the following poem (which flowed from the pen of Dirk Schelte when our painter made a chimneypiece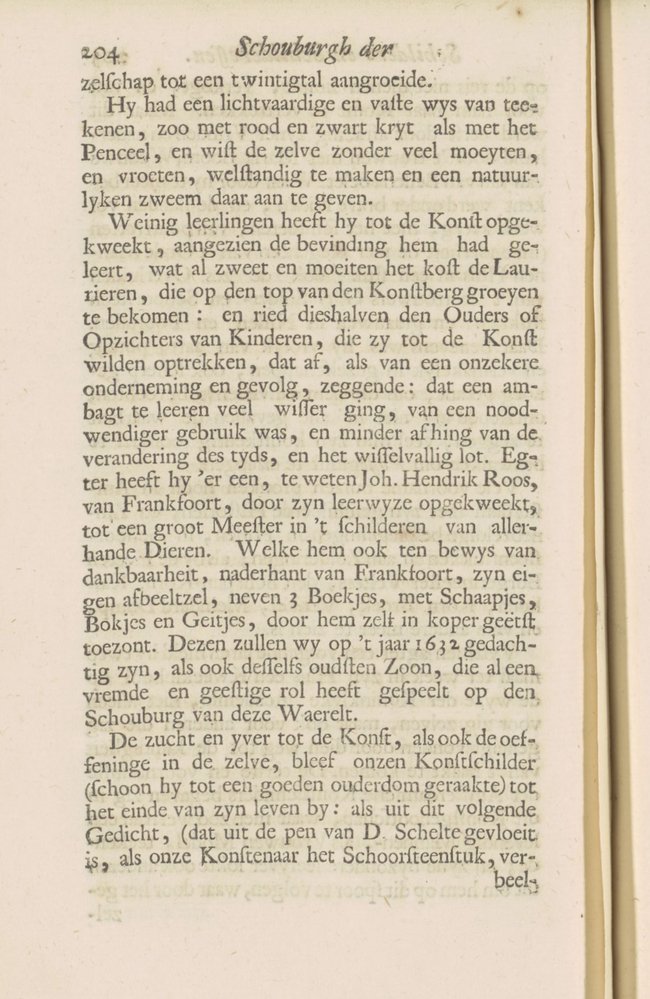 1
Philipp Kilian after Johann Heinrich Roos
Self portrait of Johann Heinrich Roos (1631–1685), dated 1684
paper 363 x 260 mm
Tübingen, Universität Tübingen

---
Page 205

depicting a well-run household) [2] It begins thus:

The charming view (which belongs to household management)
Here sits at the rudder, and tightly hold with assiduous hands
The leash that has child and maid trot on the right track.
The compass measures all time, all action, all mistakes and gifts.
The bare chest shows the pure and true heart,
Domesticity is here depicted by the unshod foot.
The olives of peace which grace the blonde enclosure,
Grow from the ground of such a household.
The brick-coloured child teaches that who stands at the house door,
Peeks through two pair of eyes at what happens in front or back.
The keys teach how ear and mouth and cash boxes,
Should now and then, like ear and eye, be closed or open.
The fertile ear of corn and the mild vine wreath,
(Which encircles the heart) predicts plenty, food and drink.
Thank Graat who with his brush, now four times eighteen years.
Achieves in this piece that art is paired with wisdom.

After this he still made various art works with his brush until the thread of his life was cut off at the age of 81 years, 1 month and 13 days on the 4th of November of the year 1709, after he had been bedridden for six weeks.

Govert Bidloo made these epigrams on one of his chimney pieces, depicting David and Bathsheba [3] and decorated with some allegorical trimmings.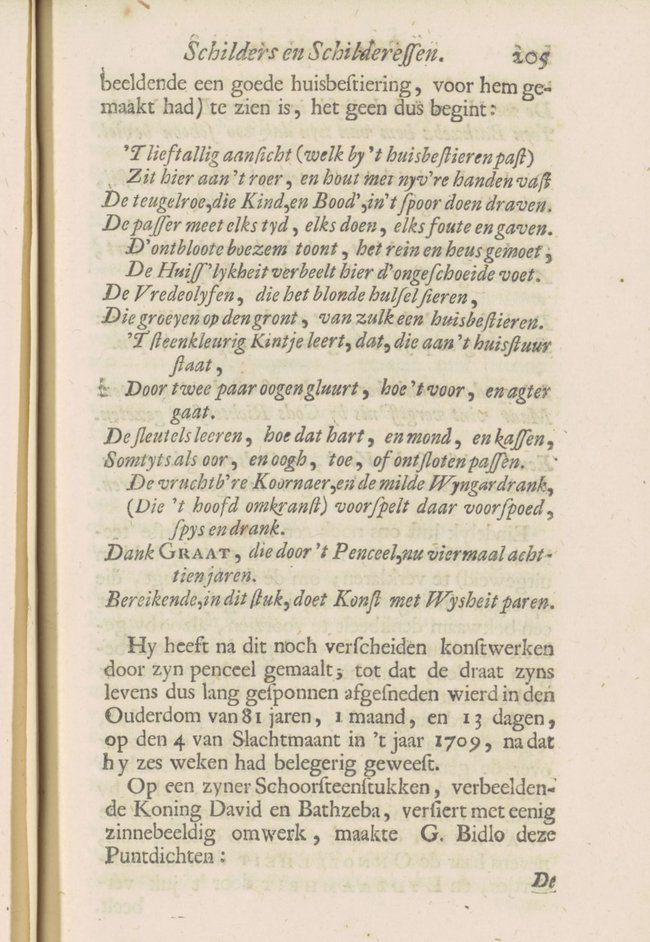 ---
2
Barend Graat
Allegory of Economy, 1700
canvas, oil paint 85 x 155 cm
lower right : B. Graat f.
Blindarte Casa d'Aste 2012-05-29, nr. 113

3
Gerard Valck after Barend Graat published by Gerard Valck
Bathsheba attended by servants; in the background David on the balcony, after 1680
paper, mezzotint 302 x 377 mm
lower left : B. Graad. Pinxit
London (England), British Museum, inv./cat.nr. 1893,1018.33

---
Page 206

Luxury ignited love in King David's soul,
When Batheba so beautifully pleased him from his roof.

This produced impurity which, while she caresses, most quietly,
Murders temptable youths like a crocodile.

Soon one saw treachery and deceit of dual nature,
Paired like two sisters for the ruin of the soul.

Raging passion opens the door to manslaughter:
And deems no price too high to buy adultery.

In the end regret awakens, and rest flees the conscience:
But gains forgiveness seated at God's judgement seat.

An angel punishes the ruler, for God's provoked anger.
But he who truly repents is not entirely lost.

Finally it pleases us to explicate one of his most profound drawings (although we have already been expansive enough) so as to provide youthful painters, who tend to depend on his own inventions, with a competent concept in such a case, since for lack of such most mistakes in art are made. For it is almost well made what has been well thought out.

He was asked to make a sketch for a large piece which was to be placed against the wall above the windows of the advocates' room in the city hall of Amsterdam, which he did. In the middle of the drawing one sees Truth, which is uncovered by Time, and next to her Folly represented by small children and Forbearance by a yoke.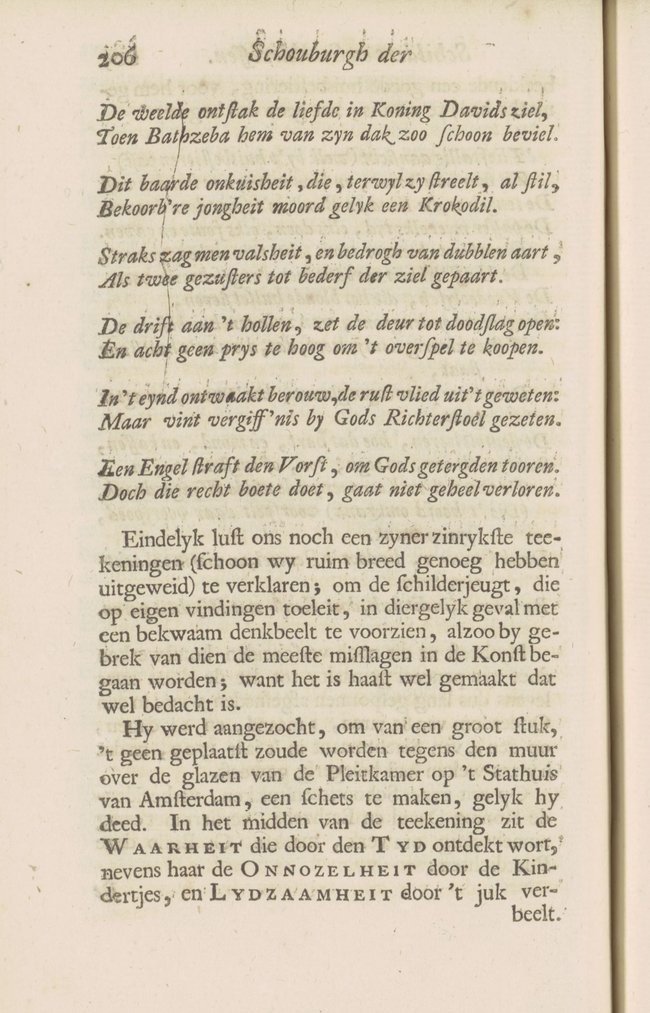 ---
Page 207

To her left side stands a male figure, dressed after the fashion of the old Roman praetors, depicting the chief officer or upper servant of Profane Law, and behind him the aldermen, again dressed after the fashion of Roman Praetors or bailiffs. The child at the feet of the Praetor or bailiff meant easy conscience. Behind the steps on which Justice and the servants of Justice stand, one sees the Community, some of them bent over, others loaded with petitions and other papers, accompanied by lawyers or advocates who point them to Justice or lead them to the side where Hope reveals herself on an elevated gallery. On the other side one sees Deceit, Murder, Thievery and Lies, as well as a barren tree encircled by a serpent or snake, to indicate that these failings have their origin in sin.

In the air below one sees Hercules, depicting Virtue, who dispels these monsters. A winged cherub floating above Virtue crowns it with palm and laurel, as a sign of Conquest. And in the upper air one sees Divine Wisdom, Justice and Mercy, to confirm the approval of Worldly Power, in which respect she is also called God's servant.

It was to be wished that he had painted this with his brush, but this was prevented by a certain incident. It is also too bad that we are not allowed to place his portrait next to his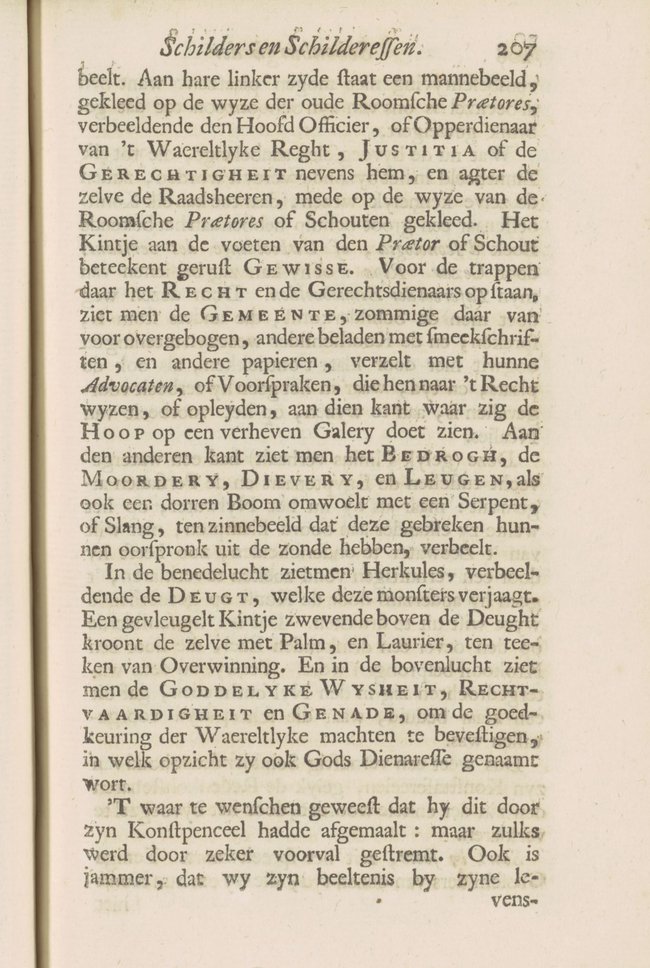 ---
Page 208

life's account, since his son-in-law has refused us the use of his likeness for that purpose.

As far as the addenda are concerned, which are required for each emblem in particular, these have to be recognizable. To this end each practitioner of art can be greatly helped by the well-known book Iconologia, of Uytbeeldinge des verstands by Cesare Ripa, or he can make use of my Toneel van sinnebeelden. By this means one has the art of painting, which is otherwise mute, speak. And the painter knows how to reveal his meaning and intention clearly, as well as to indicate the place and time for what he depicts has happened, after the example of Nealies.

He (as Pliny relates) had painted a naval battle between Egyptians and Persians, but since he did not know how to distinguish Nile water, on which they boarded each other, from sea water, he sought to explain by a clever find what he was not otherwise able to express in any way through art. That is, he painted on the banks a drinking donkey which is being jumped by a crocodile. Since these water monsters inhabit the Nile, he clearly indicated where the naval conflict had taken place.

Thus a clever painter is able to explain the content of his art scenes, like the orators the sense of some words, by an attribute.

Kind with kind says the proverb. We now also bring some glass painters of this time on stage whom we do not want to pass by because of their art,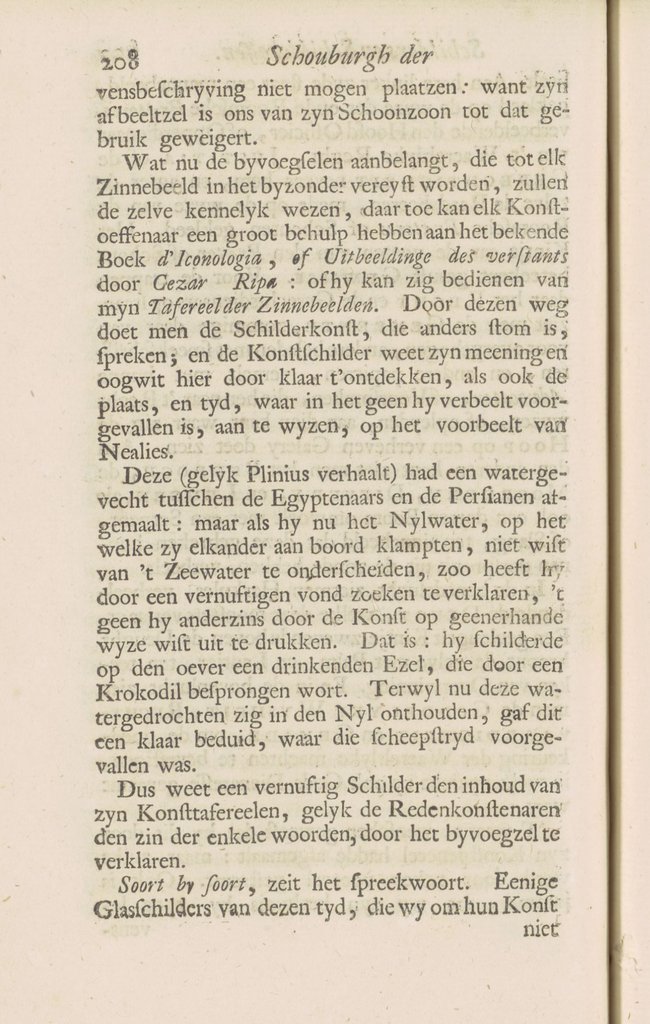 ---
Page 209

though they differ in their time of birth, to avoid any mixing.

The oldest, who stands in front, is the artful glass painter JOZEF OOSTFRIES, who was born in Hoorn in the year 1628 and died on the 8th of October 1661. He was a student of Jan Maertensz. Engelsman, who was an artful glass painter. Various church windows of his, which have been handled loosely and beautifully, are still to be seen in villages in the North quarter as well as in various houses in Hoorn.

One also sees by our Jozef Oostfries, who was full of spirit and love for art and clever in composing, samples of his art both in Hoorn as well as in surrounding village churches, which preserve his memory. He is followed by

CLAES van der MEULEN, who was born in Alkmaar on the 10th of November of 1642 and died in 1694.

He was a diligent man, and some of his artworks are now still to be seen in Alkmaar and surrounding villages. They are worthy of praise. He is followed by

CATHARINA OOSTVRIES, sister of Jozef Oostfries and wife of Claes van der Meulen. She was born in Nieuwkoop in the year 1636 and died in Alkmaar on the 13th of November of 1708. She was so art-loving that she still daily strove and diligently practiced both drawing and glass painting into her 72nd year. Now comes

JAN JANSZ. SLOB, born in Edam in the year 1643, a pupil of the aforementioned Oostfries, and the only person, I believe, who is famous in that place,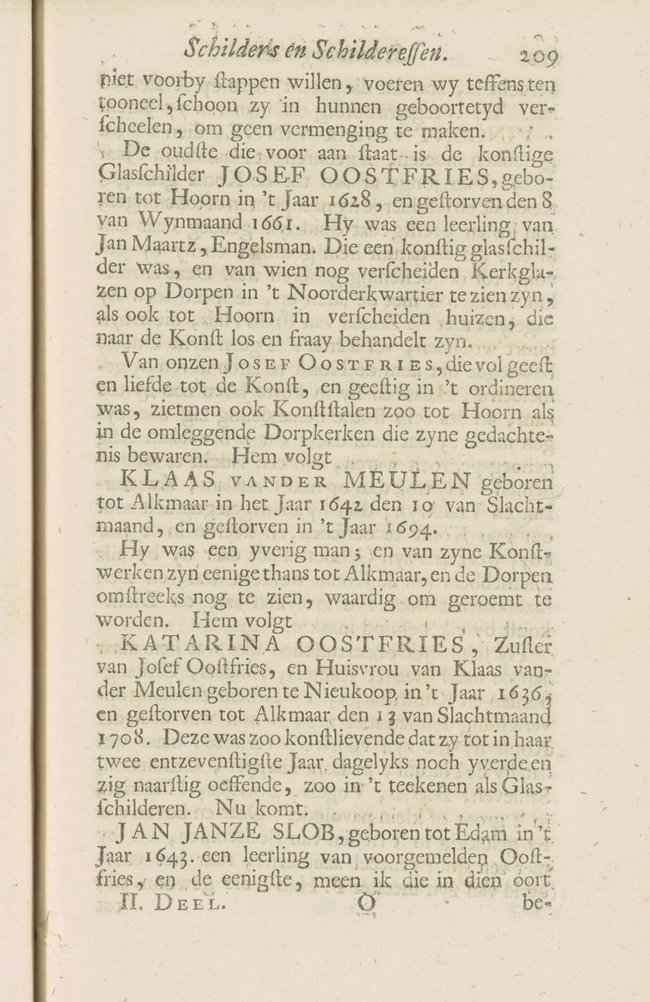 ---