Volume 2, page 1-9
---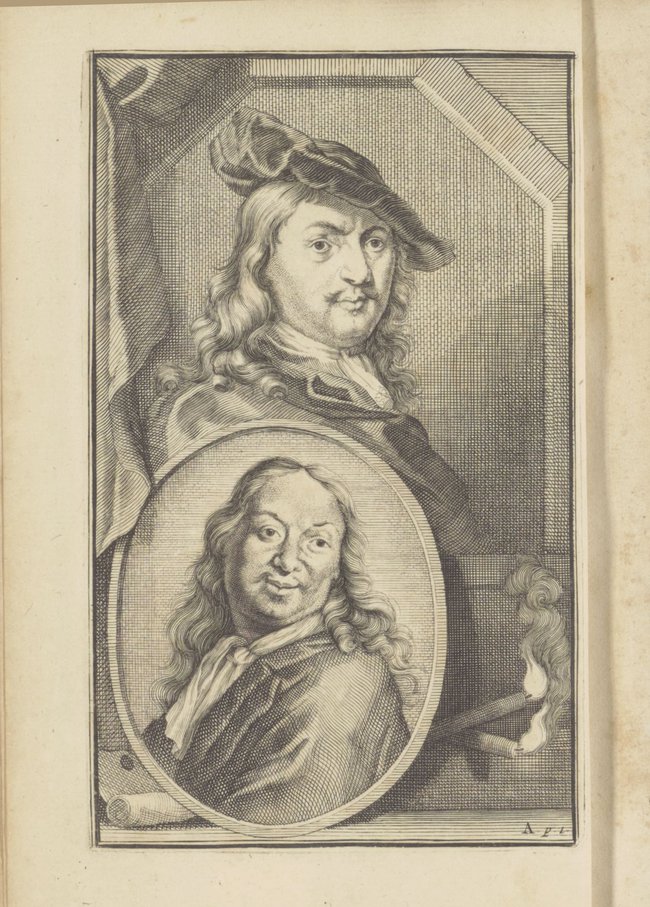 ---
Page 1

The

GREAT THEATRE

Of the
Netherlandish

PAINTERS

And

PAINTRESSES.

SECOND PART.

Parents concerning their children and guardians with respect to minors may, according to their best intentions and for their benefit, decide to have them learn this or that profession, be it an art or craft. But when natural inclination, which wells up powerfully in the spring of their years, paired with affection, choses a path to their livelihood, they will much more certainly hit the target of their intentions and their happiness. This is confirmed by the following biography.

GERARD DOU, who hailed from Friesland but was born in Leiden on the 7th of April of the year 1613 (whose portrait is here placed in front of Plate A above that of Bartholomeus van der Helst) was the son of Douwe Jansz., a glass maker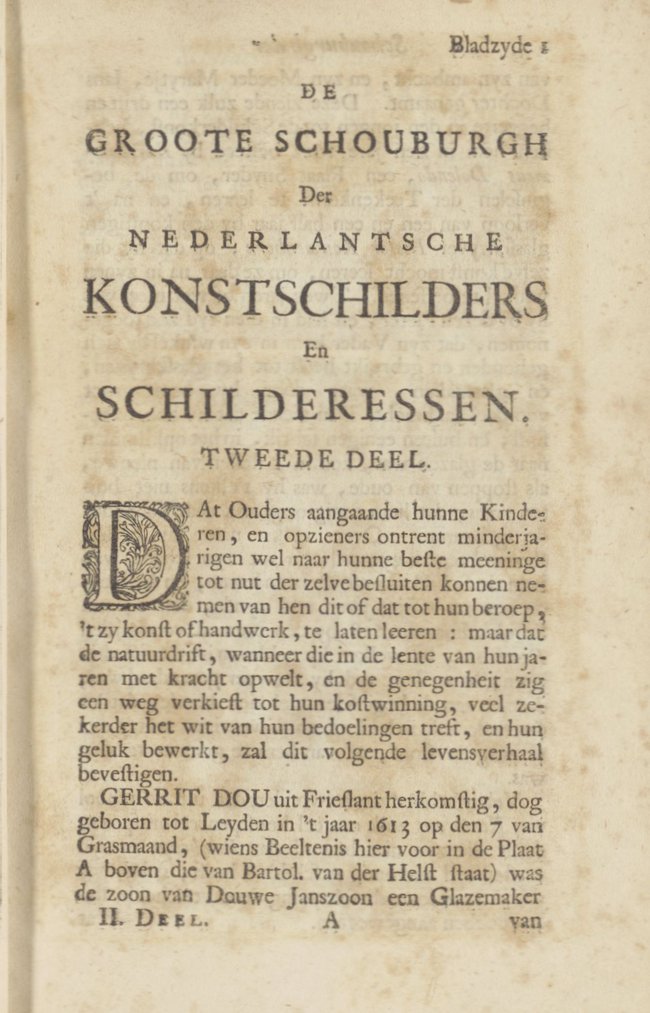 ---
Page 2

by trade. He and his mother, named Marytje Jansdr., seeing such passion and desire for the art of painting in the boy, apprenticed him in 1622 with Bartholomeus Willemsz. Dolendo, an engraver, to learn the rudiments of drawing, and after a duration of one and a half years, with the artful glass engraver Pieter Kouwenhorn so that he might learn this art and might later practice it in his shop. He was with this Pieter for two years or a little more and had advanced so much in this time that his father kept him in his store and used him for glass engraving and glassmaking, by which he brought himself great profit. Then, seeing that he was so reckless and without any fear in the climbing up for the windows, both in the placement of new ones and in the repair of the old, the father was repeatedly afraid that Gerard might meet with some accident. In view of this he decided on the 14th of February 1628 to place his son, now fifteen years old (though to his disgrace against his will), with the then already renowned Rembrandt, with whom he remained about three years, in which time he had so far advanced that one could tell from the first efforts (especially with things small and detailed) something good awaited him or was to be expected of him.

Many have wondered that such a refined brush sprang from the School of Rembrandt, but they are not aware that in his first period Rembrandt painted in detail, as we have pointed out with diverse examples in his biography.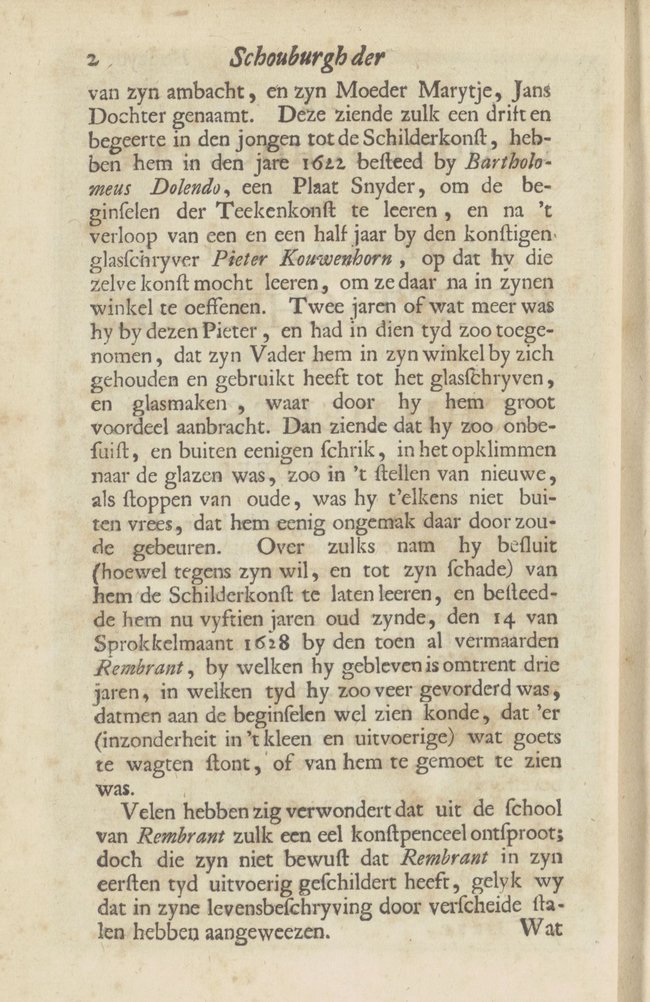 ---
Page 3

As far as our GERARD DOU is further concerned, he painted everything with the greatest application and patience after life through a frame stretched with a grid of threads, an aid for those who don't trust themselves to draw freehand. But this crutch is banished by everyone (because people habituated themselves to it through reluctance to draw a lot), which is why my master Samuel van Hoogstraten also condemned the use of the compass (except where necessary, as in buildings), saying: One should habituate the eye to measure things.

JOACHIM von SANDRART writer of the Teutsche Academie tells that he once went to visit GERARD DOU along with Pieter van Laer, alias Bamboccio, who received them well and showed them what in the way of art works he had both half and fully completed, which they praised, and especially his patience in the rendering of a broom stick; to which he answered that he would have three more days of work on it. At that time he had painted the portrait of the art loving Mister Pieter Spiering van Silvercoon, sitting as if in or in front of his cabinet, and next to him his wife and his wife's mother, who passes her a book, which was painted in such amazing detail that one could hardly take it all in with the naked eye (which is why he had used magnifying glasses from his 30th year). But it was not a great success in the rendering of the features, and the mentioned housewife of Mister Spiering declared that she had sat for five days for that one hand resting on the armchair. This robbed people of the desire to have themselves painted by him; which is why he did mainly his own compositions, in which he employed much still life, and paid the sitters that he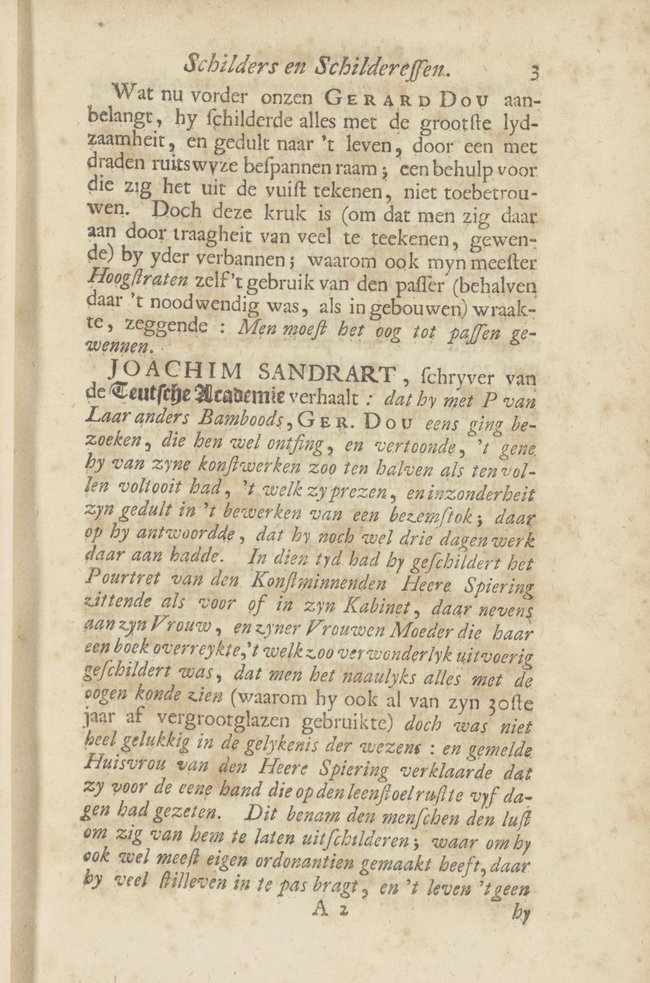 ---
Page 4

used as supplement handsomely for their patience in sitting. Mentioned Pieter Spiering van Silvercoon gave him 1,000 guilders annually* and in addition paid him as much money for each art work as it weighed in silver. He made his brushes himself, ground his paints on glass, and kept it from contamination by dust. Thus far Joachim von Sandrart. One would conclude from this description that it was written more to mock than to praise Dou.

It is almost inconceivable when we consider the detail of his brushworks that a man could work out so much in his lifetime, which assures us that he must have made very good use of his time. And as far as his art is concerned, it does itself celebrate the intellect of its maker. Nor is there any art which is so generally appreciated, which is why it is bought up at high prices for all the famous art cabinets, and it would therefore be futile to direct the reader anywhere with respect to them. But the piece which is deemed by many as the best of his art works is the one the Governors of the East Indian Company bought from him for 4,000 guilders and gave to Charles II when he went to England to accept the throne [1]. Others say that the States General donated it to King Charles in the year 1660, when he arrived in his realm, which they had bought for a great sum


--------
* This is also confirmed by Philips Angel in his Lof der schilder-konst, saying on page 23: Gerard Dou receives 500 Karolus guilders annually in compensation for giving Mister Spiering first choice of his art works. But they differ in the amount of the figure.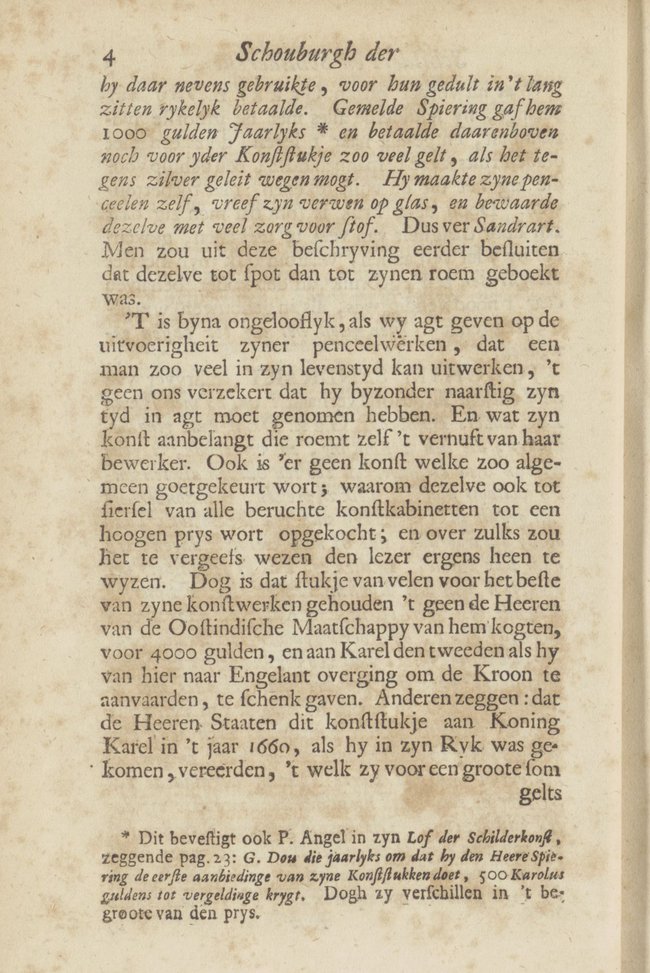 ---
1
Gerard Dou
Young mother, dated 1658
panel, oil paint 73,5 x 55,5 cm
left center : GDov / 1658 (GD in ligature)
The Hague, Koninklijk Kabinet van Schilderijen Mauritshuis, inv./cat.nr. 32

---
Page 5

of money from the famous cabinet of Mister Johan de Bye, Dou's great Maecenas. In the same location was depicted a woman with her child on her lap and a girl playing with the infant. King William III later shipped this piece from England and placed it in Het Loo palace. I do not know where it is now but I do know that the largest of his art works known to be in Holland hangs in Amsterdam with the widow of the art loving Jacob van Hoek, measuring, inside the frame, three feet high and two feet six inches wide. In it are depicted two interiors. In the front one, which has a skilfully painted tapestry as a curtain, is seen a woman who is giving a small child her breast. In addition one sees a cradle and other basket work, a table with a tapestry rug and on it a handsome silver pitcher, a copper church candelabrum and still other still life. In the second room is seen a surgeon's shop, a farmer who is being lifted from a stretcher, along with an old biddy crying, with still other figures. The two opened wings show on the one side a study and in it an old man who is sharpening his pen by candlelight. On the other side one sees a writing and arithmetic school with children at separate tables, which are more than skilfully lit by various candles and a lantern. This and that, and everything in particular is as naturally, ingeniously, powerfully and elaborately painted as can be conceived. The exterior of the shutters that close this art scene are skilfully painted in grisaille by Jan Anthonie Coxie with images of the liberal arts.

It is to be regretted that the man's intellect was not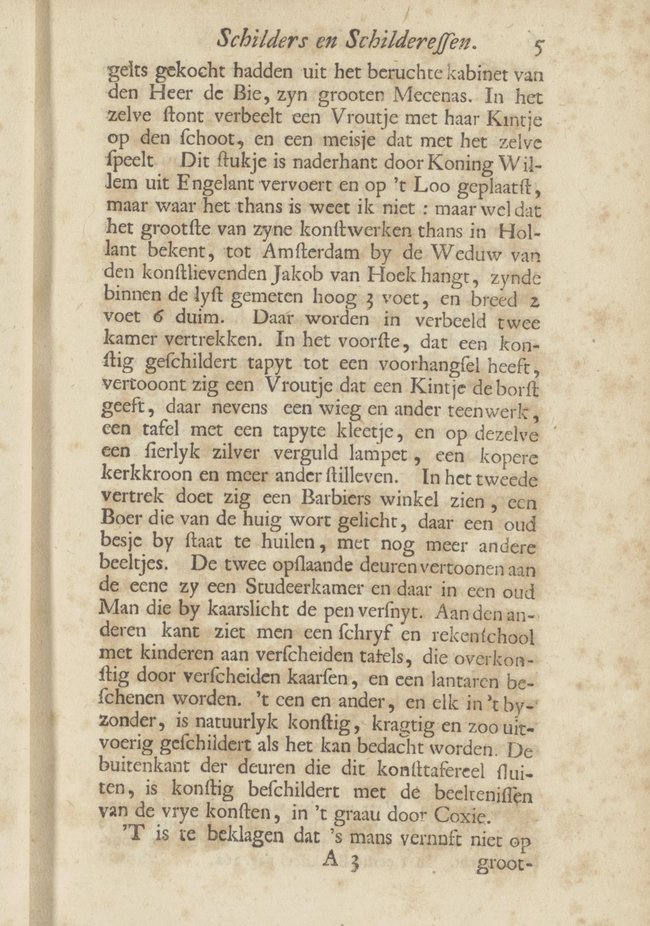 ---
Page 6

applied to important considerations, and his brush set to the depiction of more worthy and valuable subjects, but it is lamented or wished for in vain, seeing that it is not so and no change can take place in this respect because, having moved to the dark grave with all his contemporaries, he is no more. There are two considerations that people suppose may have been the reason why he always stuck to the depiction of lesser matters, the first that he had developed so strict a routine in life that he could not and would not alter it (following the example of Caravaggio*, whereas those who go in for all kinds of historical depictions at times have to relinquish their fixed ideas about many things, or that his spirit was not able to push through to those heights and therefore (with respect to the choice of his subjects) kept him down. The philosopher Bion of Borysthenes, contemporary of the Macedonian king Antigonus said quite cleverly (though in another context): Just as the suitors of Penelope, when they were not able to talk to her, remained seated with the maid servants, so those who are unable to grasp philosophy pass their time chatting. But who can decide whether it was otherwise with him? But this is certain, that through his way of proceeding he is a marvel to the world and must be praised by all practitioners of art,


--------
* Caravaggio. By which he is differentiated from Michelangelo Buonarroti. I forgot to mention this when I brought him onstage in this same context on page 262 of the first volume.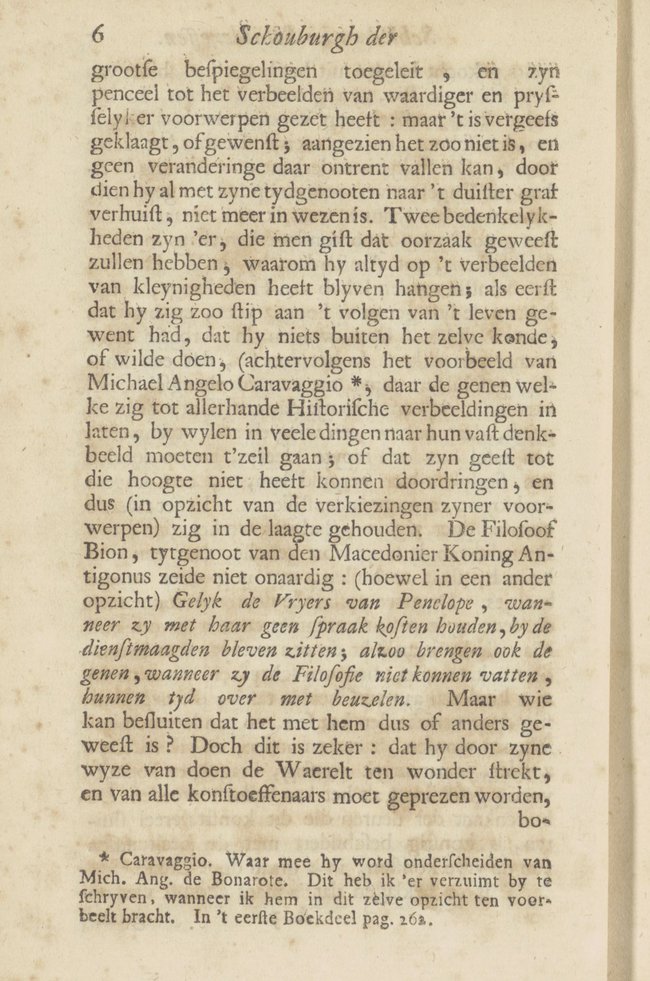 ---
Page 7

above all those who in his time have applied themselves to detailed painting, because he has drawn and stroked more with the brush than others who tried to reach their goal with softening and blending. That is why his brushwork has great power, even from far away; where on the contrary the brush work handled in the other way disappears as if in a fog.

He died at a ripe old age and left much money and fame.

By this time and even earlier was in full flower CLAES JACOBSZ. van der HECK, whom Karel van Mander commemorates on the last page of his Schilderboeck with these words: In Alkmaar there is also one Claes Jacobsz. Van der Heck of the dynasty of Maarten van Heemskerck and disciple of Jan Nagel, who is a good painter especially of landscapes. Karel van Mander has here (as the proverb goes) hit the nail on the head. For several of his brushworks still witness that he was a good master at the painting of figures and histories. Even so he was a greater master in the painting of landscapes. In the city hall of Alkmaar in the aldermen's chamber one may still see three pieces by him. The first depicts the bailiff of South Holland when, at the command of Count William, named the Good, his head was chopped off for his cattle rustling [2]. In the second one sees how Cambyses has the unjust judge skinned alive and his son placed on the seat of judgment draped in his father's skin [3]. And the third piece shows King Solomon, in which he settles difference between two whores over a living child, and judges rightly [4].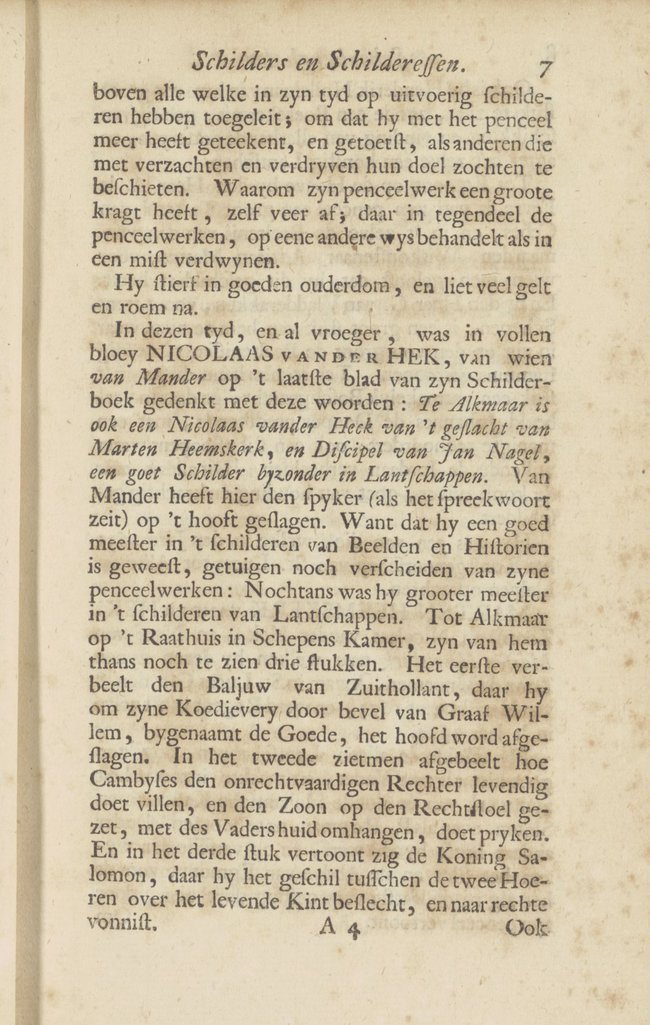 ---
2
Claes Jacobsz. van der Heck
The Justice of William III, Count of Holland, dated 1618
panel, oil paint 129,6 x 212,5 cm
lower right : Aº 1618. / C. Heck . fecit ...
Alkmaar, Stedelijk Museum Alkmaar, inv./cat.nr. 021015

3
Claes Jacobsz. van der Heck
The judgement of Cambyses, dated 1620
panel, oil paint 130 x 210 cm
lower center : C. Heck fecit / Anno 1620
Alkmaar, Stedelijk Museum Alkmaar, inv./cat.nr. 021014

---
4
Claes Jacobsz. van der Heck
The judgement of Solomon, dated 1616
panel, oil paint 126 x 187 cm
lower left : C. Heck fecit 1616
Alkmaar, Stedelijk Museum Alkmaar, inv./cat.nr. 021013

---
Page 8

There is also a large piece by him to be seen with Henderik Nolleman, being a farmers' kermis, clever in arrangement and invention of all sorts of farcical elements, with an artful landscape behind it.

In Egmont at the farm of Mister A. Le Fevre there is a large scene by his brush of Cebes [of Thebes], containing a portrait of the renowned mathematician Adriaen Metius for whom one believes that it was painted. And with Mister G. van Vladderakken [= Gerard Geldolfsz. van Vladeracken], presiding alderman, there is a work by him in which the portraits of some family may be seen [5]. On the right, deeper in the piece is a delightful forest prospect and in it depicted John the Baptist preaching, with a multitude of listeners and a quietly flowing rivulet intended to depict the Jordan. All of this is painted according to art, purely, harmoniously and powerfully.

He was one of those who helped found the art society of St. Luke in Alkmaar in 1631.

MARTEN HEEMSKERCK van der HECK, son of Claes Jacobsz. van der Heck and cousin [= grand-nephew] of Maarten van Heemskerck, after whom he had his son named, joined the St. Luke's Guild on the 8th of September of 1653 and became its regent in 1654.

He painted only landscapes, but not as good as those of his father and based his work especially on imitating ancient Dutch castles and canals, much like Roelant Roghman. Amongst other things his brush often depicted the castle and abbey of Egmont in various ways as it appears after the last destruction.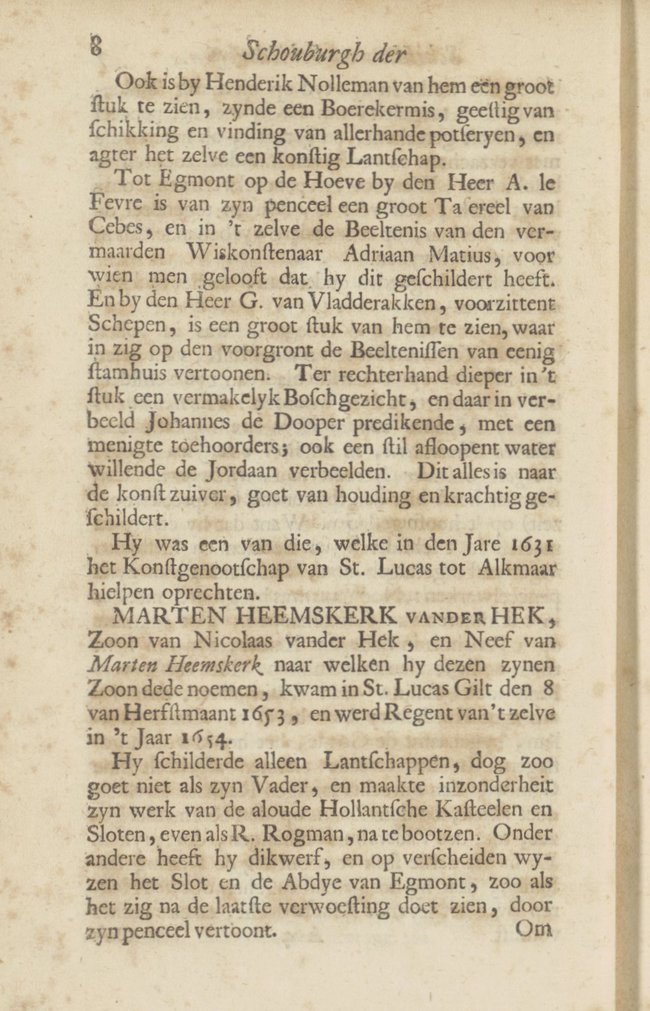 5
Claes Jacobsz. van der Heck and studio of Claes Jacobsz. van der Heck
Wooded river landscape with family portrait; John the Baptist preaching and the baptism of Christ beyond, 1640s
canvas, oil paint 135 x 200 cm
Belgrado, Narodni muzej Beograd, inv./cat.nr. 34_606

---
Page 9

Around this time the phoenix of Dutch portrait painters, BARTHOLOMEUS van der HELST was born in Haarlem. His portrait is seen in Plate A beneath that of Gerard Dou, and next to them are two burning torches to indicate that they are two great lights of art.

With whom he studied art I do not know, but I do know that he was an excellent master in the painting of portraits, of which examples still exist.

Among the multitude of his skilfully painted portraits stands out the great militia piece dated 1648, now in the Council of War chamber, in which Mister Cornelis Witsen sits at the front as commander [6]. The flesh in this piece is so natural, clear and glowing, the diverse fabrics of the clothing so recognizably observed in their nature, the gold and silver beakers and other feast and dish ornaments painted so naturally and skilfully in detail, that it can only amaze one. Which is why the author of the Wegwyzer door Amsterdam has noted on page 454: That a great connoisseur of art, in the presence of several gentlemen volunteered: If there is a painting in the world worth worshipping, one does not need to go to other countries to find a better object.

The great praise which Gottfried Kneller, knight, baronet and court painter of England has pronounced concerning this painting, we leave to introduce elsewhere.

With Mister Johan de Graeff Lord of Polsbroek hangs a small piece in which four portraits are painted most artfully, being depictions of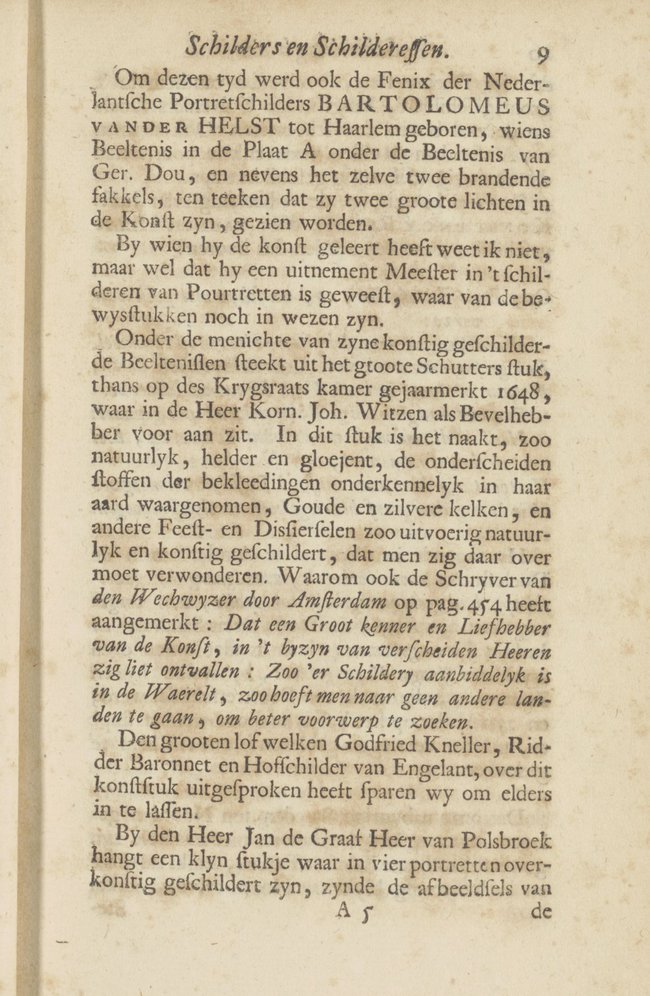 ---
6
Bartholomeus van der Helst
The celebration of the Peace of Münster, 18 June 1648, in the headquarters of the crossbowmen's civic guard (St. George guard), Amsterdam, 1648 (dated)
canvas, oil paint 232 x 547 cm
lower center : Barthelomeus vander Helst, fecit Ao 1648
Amsterdam, Rijksmuseum, inv./cat.nr. SK-C-2

---