Volume 1, page 90-99
---
Page 90

with his brush, inquired after you, and went away. Protogenes, having come home and having received notice about what had happened, and seeing this work with amazement, said: Apelles did this, for no one else could do this. Then he took up a brush and made another stroke on the same canvas, saying to the maid, If Apelles comes again, show him this stroke, and say, he whom you enquired after made this mark. Apelles came, and seeing that this stroke was more skilful than his own, took a brush with different paint and made a stroke* through the other strokes, so ingenious that when Protogenes saw it he admitted defeat, walked in all haste to the harbour and treated Apelles, whom he found there, with cordiality.

We encounter a similar case in the life of FRANS HALS, whose portrait is shown opposite, with a hat on his head. Anthony van Dyck, the phoenix of his time, when he was about to cross over to England in the service of Charles the First, sought beforehand to say farewell to him, came to Haarlem and went to his house.


--------
* Samuel van Hoogstraten, in his ninth book of the Schilderkonst, p. 332, is in agreement with Van Mander regarding this. They do not believe that these could not have been merely long straight lines, which a calligrapher can often draw better freehand than the best painter, but some outlines of arms, legs, or something of the kind. Hoogstraten supports his feeling with the testimony of Pliny, who says: that those who understood the art of painting were greatly surprised and astonished, from which may be concluded that the lines were not straight lines, and that the old writers had not understood the meaning. It happens more often when the uninitiated write about things they do not understand, about which they judge the way the blind do colours.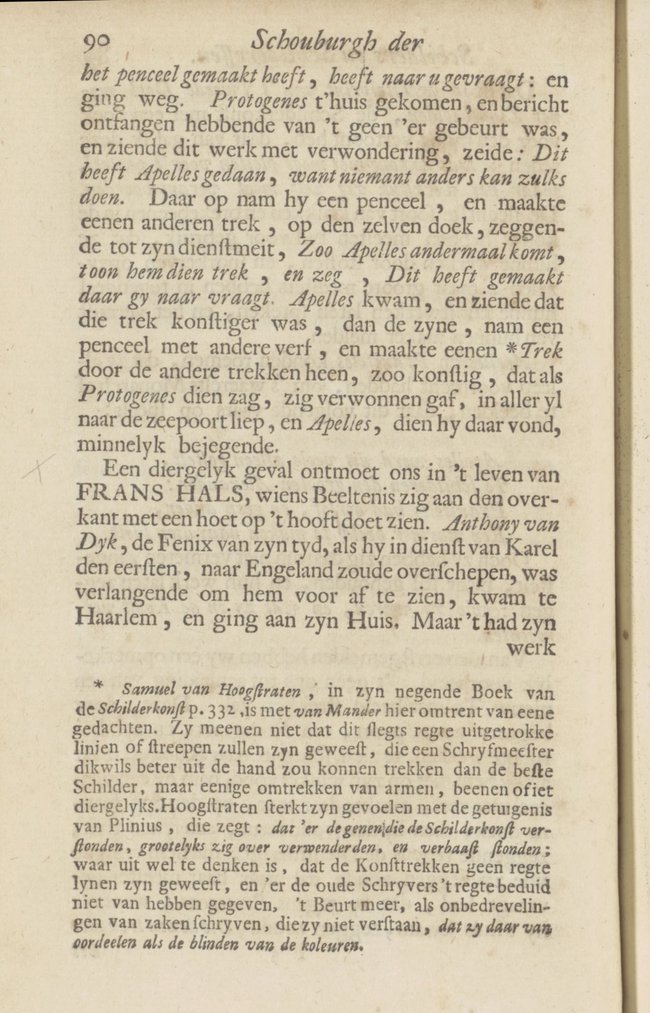 ---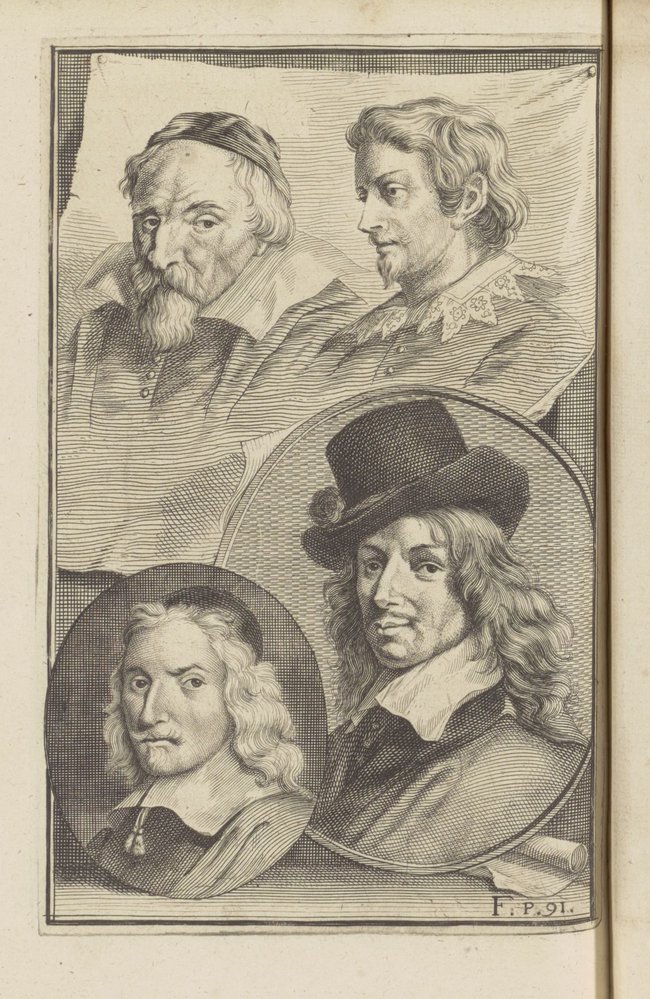 ---
Page 91

But he had to look him up in the taverns, which he never left before he had emptied his pint. Meanwhile Van Dyck stood waiting with great patience, keeping his identity concealed from him, saying to him only that he was a stranger who had no other time than the present and desired to have his portrait painted by him. Frans Hals granted him this without further inquiry. He took a canvas, as good or as bad as he had on hand at the time, and went at the task. Van Dyck made a little conversation with him during the sitting in order not to be recognized or discovered. It was done shortly, and Frans sought to have him rise, to see whether it was then to his liking. Van Dyck praised it, and then conversed a little with him, but in such a way that he could not notice anything. In passing he said: Is this how one goes about painting? Could I not do it too? Taking up an empty canvas that he saw standing there, he set it on the easel and got him to sit down. Frans quickly saw from the preparation of the palette and the brushes that this was not a first time, and that the disguised Ulysses would give himself away, even though he still did not think of Van Dyck but decided that he must be one or another prankster artist who wanted to make a name for himself by showing off a sample of his art. It did not take long for Van Dyck to request him to stand up and view the work. As soon as he saw it, he said: Thou art Van Dyck, for no other person is able to do something like this, embraced him around the neck, and kissed him.

Van Dyck took his still wet portrait with him, thanked him, and generously gave Frans' children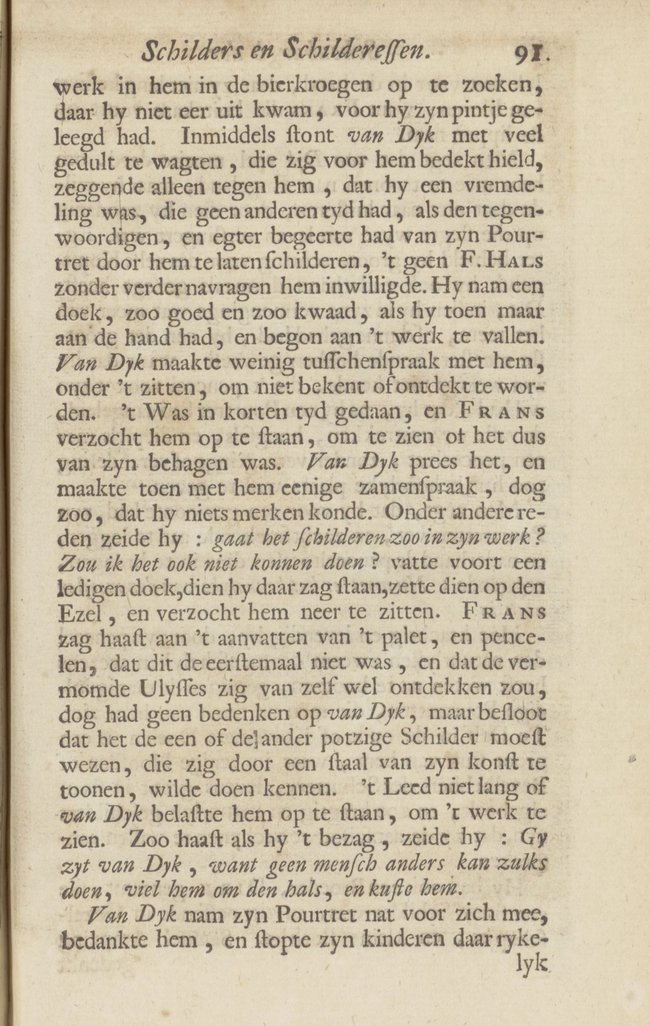 ---
Page 92

something in the hand for it, of which they were not recipients for long, as Frans soon poured that windfall down his throat.

They say that Van Dyck went to great trouble to entice him to England, but that Frans would not hear of it because he was so addicted to his bad way of life. Yet Van Dyck kept great respect for Hals' art, just as he often said later: That if the blending of his pigments had partaken a little more of the delicate, or the thin, he would have been one of the greatest masters, for that he did not have his equal in such control of the brush that, after having set up a portrait, he was thus able to place the fixed expressions, heights and depths at once in their proper place, without softening or alteration.

They say that he was in the habit of laying down his portraits thickly and softly melting and of adding the brushwork later, saying: Now the essence of the master must be introduced.

The numerous portraits by Hals that are still to be seen attest to the boldness and vivacity with which his brush imitated the natural appearance of human beings. In Delft [= Haarlem], in the Old Caliver's Hall, there is a large work by him in which some of the heads or commanders of the civic guard stand depicted large as life and so forcefully and naturally painted that it seems as if they wanted to address the onlookers [1].

He also had a brother named Dirck, who was a fine painter and practiced doing companies and small figures. Samuel Ampzing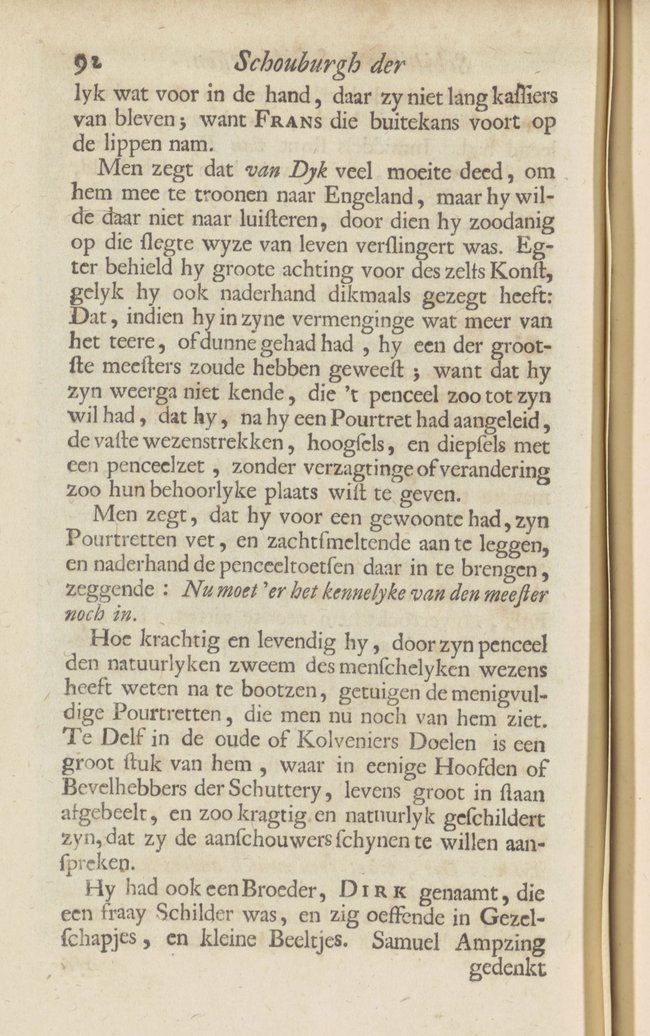 ---
1
Frans Hals (I) and Pieter de Molijn
Banquet of the Officers of the Calivermen civic guard, c. 1627
canvas, oil paint 183 x 266.5 cm
lower left : FHF (in ligature)
Haarlem, Frans Halsmuseum, inv./cat.nr. OS I-111

---
Page 93

commemorates both artists in his description of Haarlem with the following rhyme:

How alertly Frans paints people after life?
What pure figures is not Dirck able to give to us?

The youthful painter must take his bold way of brush handling but not his way of life for example and emulation, seeing he was not a good driver of his life's cart, as it too often left the centre track, since he gave his passions too much slack.

Frans was usually drunk to the gills every evening. Still his students had great respect for him, and the elder understood each other that they took turns watching over him and fetching him from the pub in the evening, and especially after dark, so that he would not walk into the water or encounter an accident in any other way. They then brought him home appropriately and put him to bed.

They, having noticed one after another that, no matter how intoxicated, he would, out of habit, stammer out an evening prayer, always closing with this wish: Dear Lord, take me soon to your high Heaven, were wondering amongst each other whether this wishing of their master was truly in earnest. They therefore together devised a means to put it to the test. One Adriaen Brouwer, a student of his who had specialized in pranks since boyhood,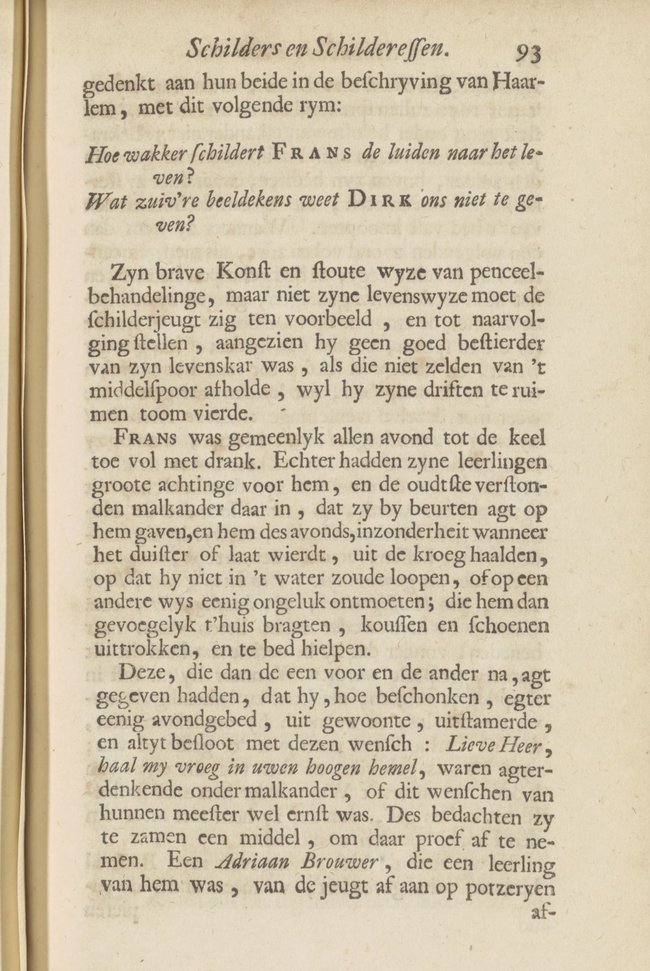 ---
Page 94

and Dirck van Delen, of whom we shall speak in the year 1650, had a part in this. This piece of theatre proceeded between the four of them under a pact not to squeal on one another. They drilled four holes in the ceiling, above his bedstead, through which they let down strong cords, which they fastened to the corners of the bed. When, the following evening, they had assisted him to bed full-brimmed and sweet, as one usually says of such as he, and had carried the lamp from the room, they mounted the stairs in their stockings to play their part, without him noticing anything, and listened keenly to the mumbling of his evening prayer, which as usual he concluded with the wish: Dear Lord, take me soon to your high Heaven; whereupon with one accord they hauled him up with the bed. Deep in the doze of his inebriation, he perceived this, and firmly resolved that Heaven had heard his prayer, and as he felt himself ascending, he changed his tone, crying out much louder than usual: not so hasty, dear Lord, not so hasty, not so hasty, etc., whereupon they gently lowered him again, without the prank being noticed by him. Now when he lay sleeping like a log, they nimbly untied the ropes and neither they nor he disclosed what had happened until after years had passed: but from that day on Frans no more used this way of praying. Which often gave them cause for laughter, when they no longer heard him wishing for heaven.

I had progressed with the writing of my book a long way toward the end when, among the papers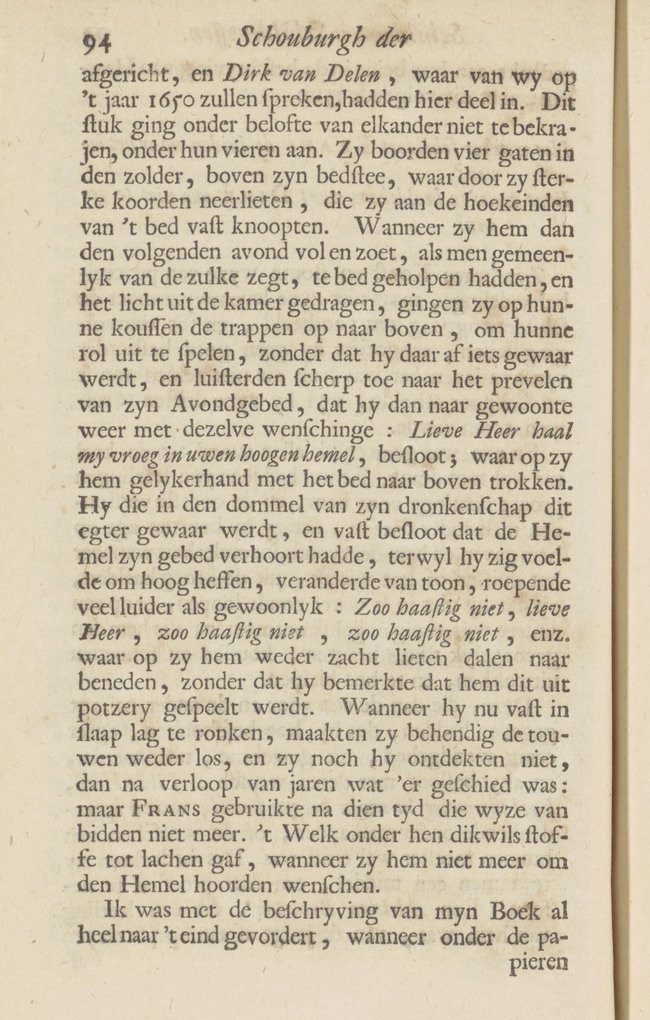 ---
Page 95

of an old Haarlem painter, a funeral notice for him was found. On the back stood written: Frans died in Haarlem at the age of 85 or 86 years and was buried in the Great Church on the 29th of August in the year 1666, after his brother Dirck had preceded him in the year 1656. They were from Malines by birth. And various sons and grandsons of Frans Hals are booked on the list of the St. Luke's guildbook who all took up art, such as Frans Hals II, Harmen Hals, Jan Hals I and Claes Hals and Jan Hals II, of whom one still lives in the East Indies and is married there to a metis or half-black, no doubt for her money. He built a house there and hung it with paintings in the Dutch manner, and is a great lover and skilled practitioner of music-making, by which he endeared himself more to the most excellent souls than he did by his painting. Something of the sort must have been inherited. Joan Wielant, an old lover of art who knew most of them personally, witnesses that all the children of Frans Hals were sprightly of spirit and lovers of song and music making.

The proverb says: Necessity is the mother of invention; but this is not always certain, for if this were a general rule, it would follow and pass for truth that the most excellent artists and scholars were motivated by need, or have proceeded from poverty. But many examples have shown us the contrary, how,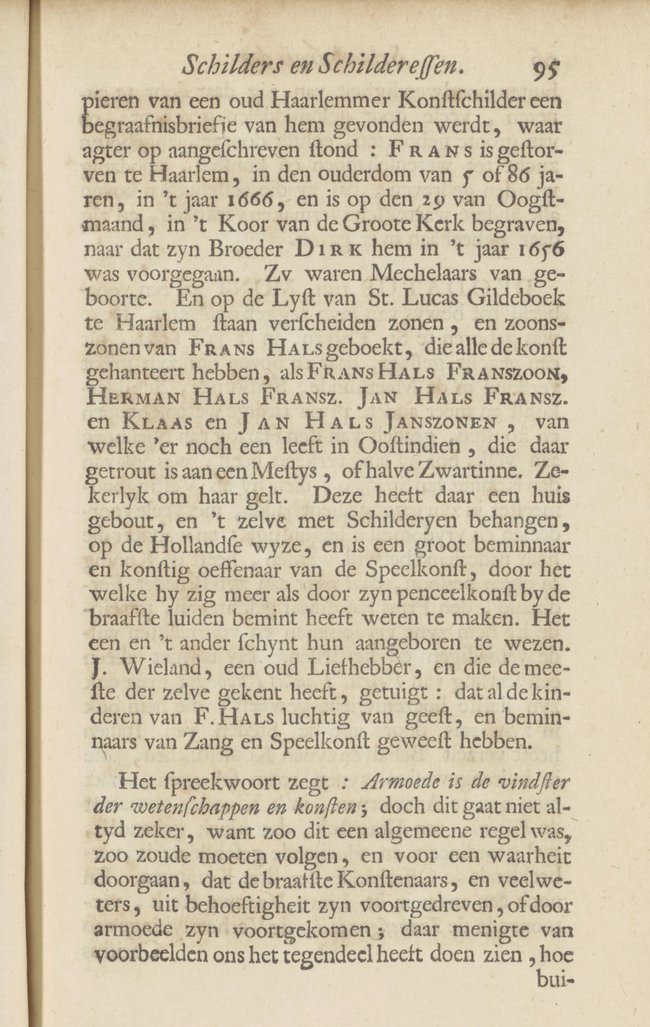 ---
Page 96

without needing to be apologetic about this, many blessed with financial means and of high birth were so driven that they preferred the practice of art and scholarship above all other worldly amusements and committed themselves entirely to them.

Deodat van der Mont will provide an example to prove my claim. He was born in Sint-Truiden in 1581 of an esteemed family and beyond that ennobled by the Duke Nieuborg [= Wolfgang Wilhelm von Pfalz-Neuburg] at whose court he long remained because of his great understanding of geometry, astronomy, the art of painting and other praiseworthy sciences and arts. He was also favoured with many advantages and exemptions by the King of Spain [= Philip IV], whom he served in his youth as fortifications architect. And when his exemptions and privileges were later disputed, the king in person wrote about this to his brother, Ferdinand Prince Cardinal, in order to defend and restore them. He was not only a student but also the dearest soul mate of Peter Paul Rubens, whom he accompanied on his journey through all the cities of Italy. In addition to his artworks, which support his fame abroad, one also sees in Antwerp, in a cloister named de facons, an altarpiece which is boldly handled, well composed and fluidly painted, and which depicts the offering of the three kings. And still another in the church of our Lady shows the Transfiguration [2], the blessing of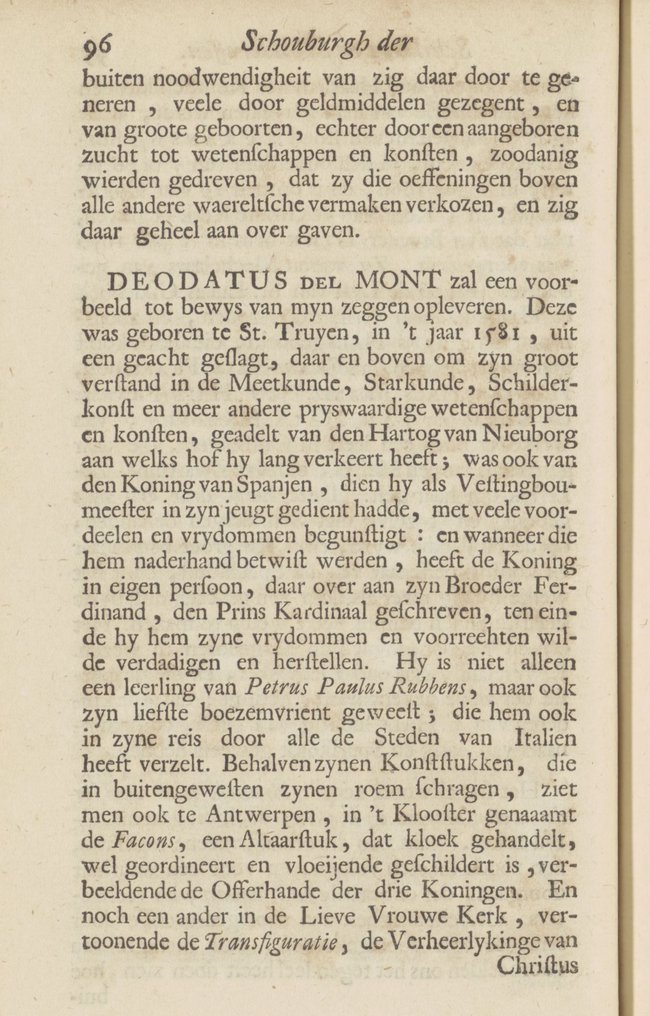 ---
2
Deodat van der Mont
The transfiguration, 1614
canvas, oil paint 408 x 399 cm
Antwerp, Koninklijk Museum voor Schone Kunsten Antwerpen, inv./cat.nr. 56

---
Page 97

Christ on the mountain, as also a Bearing of the Cross with the Jesuit fathers etc., sufficient samples of his ability in the art of painting.

Frustra sit per plura quod per pauciora fieri potest.

It is futile to use many words if one can convey it with a few.

He died within Antwerp on the 25th of November of the year 1634. And it is said of him that because of his expertise in astrology, he was able to predict many events, including also

Accurately to foretell the year of his death.
And as he had said, it also truly happened.

It is Cornelis de Bie who vouches for this. But he who refuses to believe it will not be burned for it.

The time has now come for me to bring the renowned PIETER LASTMAN onstage, seeing he was born at or around this time.

He was a student of Cornelis Cornelisz. van Haarlem, born in 1562. On page 207 B of his biography, Van Mander has this to say about him: Lastman is a young man of great promise, and now in Italy. That was in the year 1604. If I now state that he was then 23 years old (because it is inconceivable that he should have undertaken the journey to Rome at a younger age) and if one subtracts these 23 years from 1604, one arrives at 1581.

I have often heard speak of the great fame of his artworks but had no opportunity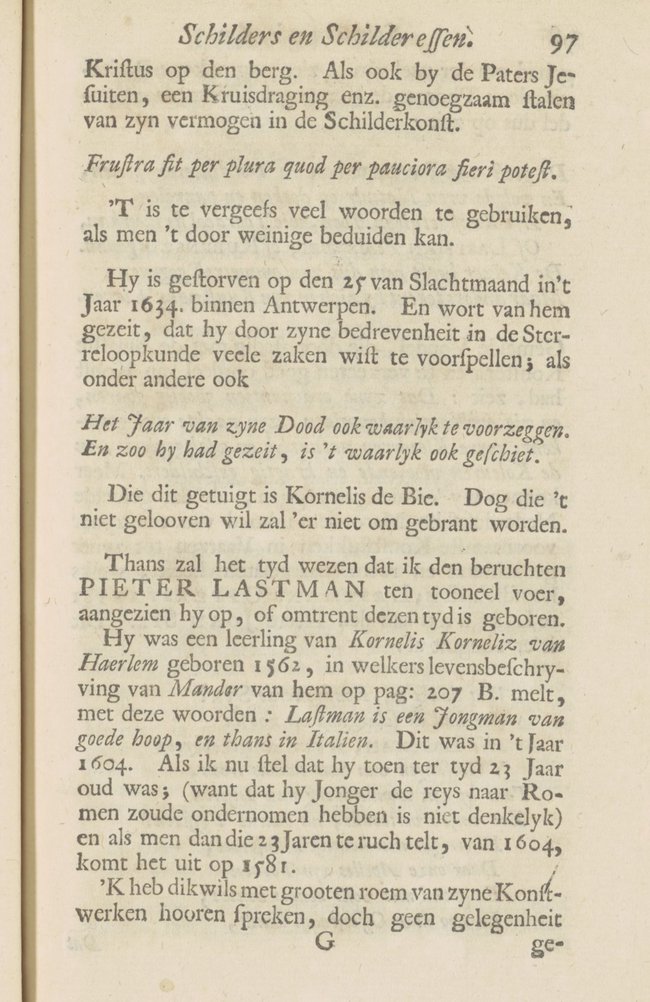 ---
Page 98

to see many of them, not even the portrait painted by Thomas de Keyser, about which Vondel had this to say:

The spirit of Pieter took delight in composition
And followed mother Nature on canvasses and panels,
Witnesses of his art. Then who can pass judgment,
Whether Lastman was phoenix, or Rubens, his colleague.
In this way De Keyser gave him his outline;
But otherwise he draws himself after life in his art.

Mentioned Vondel, who came by his sound judgment by often associating with the most commendable artists, says: That his compositions were bustling and joined harmoniously, his nudes well drawn, his fabrics pleated naturally and powerfully and the colours fluid and powerfully painted. We are not able to say more about this than how the mentioned Dutch Virgil commemorated the content of one of his most important artworks in verse to his memory and fame. It is entitled 'Lastman's Sacrifice at Lystra, to Mister Jan Six [3-4]. This is its beginning:

What do you think art scholar Six?
Who ever had such mastery of composition
As Lastman, worthy to receive the
Drawing crown from Saint Paul's throne,
When he showed his wonder work of Lystra
So freshly as if it happened yesterday?
This dresses your divine scene,
Where our Apelles builds his stage
And background in full knowledge,
And stages this sacrificial procession,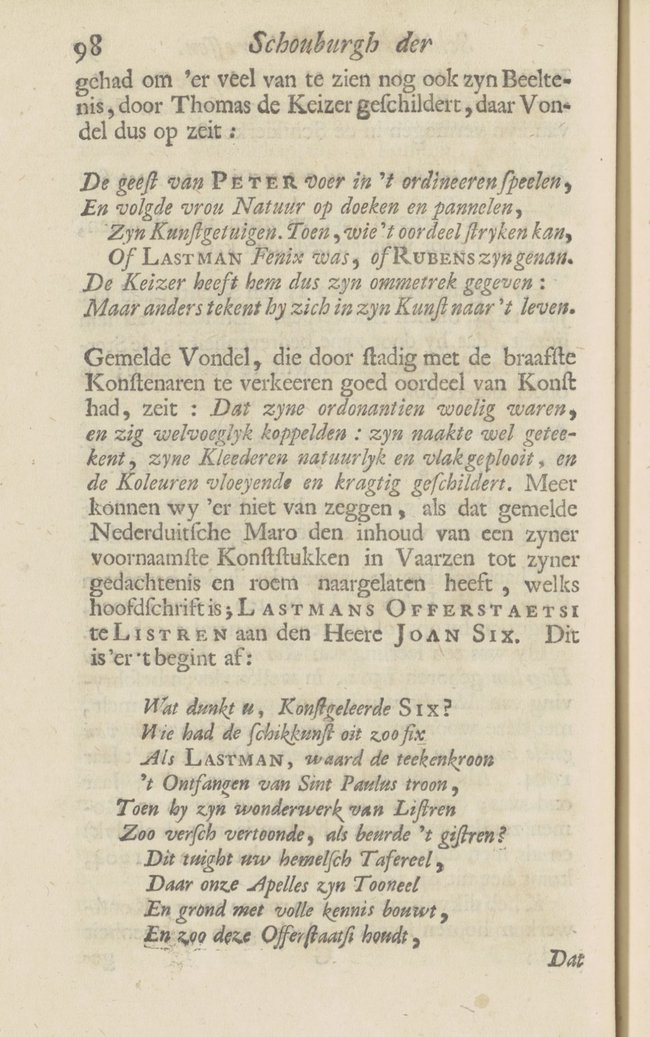 ---
3
Pieter Lastman
Paul and Barnabas at Lystra, dated 1614
panel, oil paint 74 x 111 cm
lower right : Pietro Lastman fecit A° 1614
Sucha (Poland), Juliusz Tarnowski

4
Pieter Lastman
Paul and Barnabas at Lystra, dated 1617
panel, oil paint 76 x 115 cm
center : Pietro lastman fc. 1617
Amsterdam, Amsterdam Museum, inv./cat.nr. A 31443

---
Page 99

So that even the spirit of Rome and Greeks
Never floated higher than on his wings.
With what liveliness and stateliness
And priestly majesty
Appears all the heathen priesthood
Before the ancient city, full eagerness
Burn incense for Christ's messengers,
Here taken for Greek Gods!
People think that here in human guise*
Mercury and thunder god Jupiter
Appear to heal the youth,
Who went just now, and hung on crutches,
Without the art of herbs.
That event amazes many thousands of people.
A wealth, and diversity
Of equipment approaches and brings out
Laurelled† and white bulls§ firmly


-------
* Superstition had inspired the ancient heathens to believe that the gods sometimes appeared in the world in human guise and associated with people, a notion that the old fable poets helped support. Among these Ovid may be said to have been one of the most important. During the life of Emperor Augustus he wrote a whole book about metamorphosis, in which he tells the stories (for they do not rate any higher with us) about how Jupiter and Mercury walked about in human guise, exterminated the ingrates and turned the hospitable Philemon and Baucis into trees so that (as was their prayer) they would not witness each other's hour of death with grief, about which the epigrammatist Lukas Rotgans, said:

Thus Philemon will never grieve at his wife's funeral celebration;
Nor Baucis tear her wrinkled skin out of sorrow for him.

† Laurelled. We have given several examples from antiquity that the sacrificial animals were hung with green wreaths around neck and loins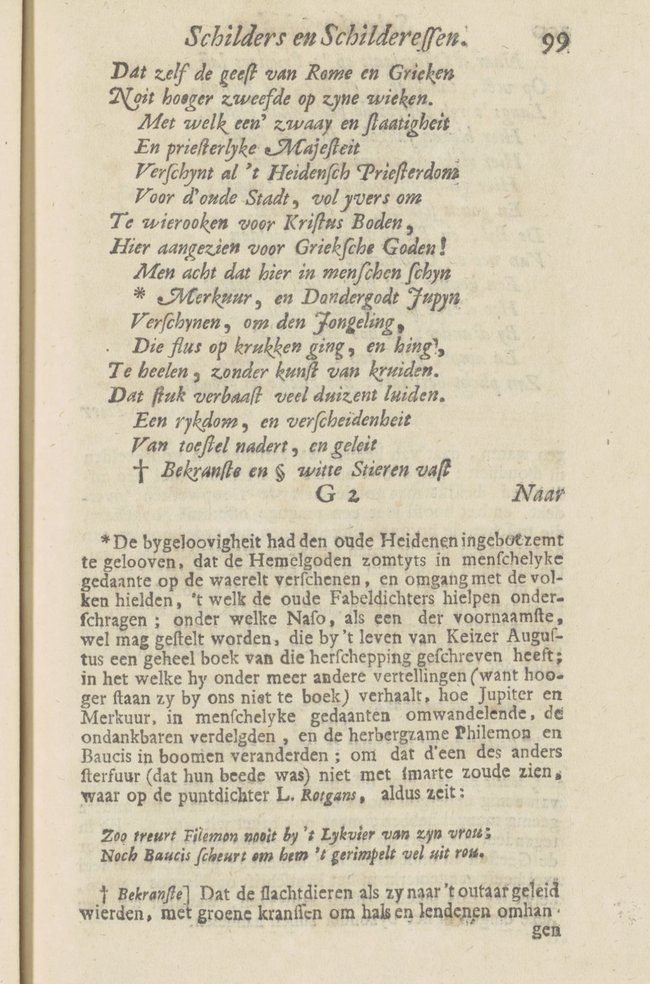 ---