Volume 1, page 80-89
---
Page 80

and seeking aid in his decay. But who, says the saying of Amphilogus, is equally wise all the time? Thus it also went with our Abraham Janssens. He chose his ruin, being love, for his comfort and stubbed all his prosperity to pieces against the stone of his untimely love. He daily took his new wife for a walk and cherished the emptiness that consumed him like moths, by which his household fell into disarray and eventually into poverty while he, wandering about with an inebriated head, found comfort in inns and washed away the heaviness with drink.

Such examples can serve the youthful painter as a beacon to carefully avoid that reef while embracing the way of Rubens, to sail on tranquilly to the harbour of fortune, which can only be reached by indefatigable diligence, steady practice and frugality.

In his turn appears

ORAZIO GENTILESCHI. He was Florentine by birth but is not counted amongst the Italians because he spent most of his life in Spain, England, Brabant and Holland, which is why we cleared him a small place amongst the painters. His inclination mostly ran to the painting of large history pieces. Sandrart relates: that he saw two pieces by him in Amsterdam which he had painted for King Charles the First. The one depicted Mary regretting her sins [1], the other Lot and his two daughters [2], which was outstandingly good and well handled with respect to both drawing and colour.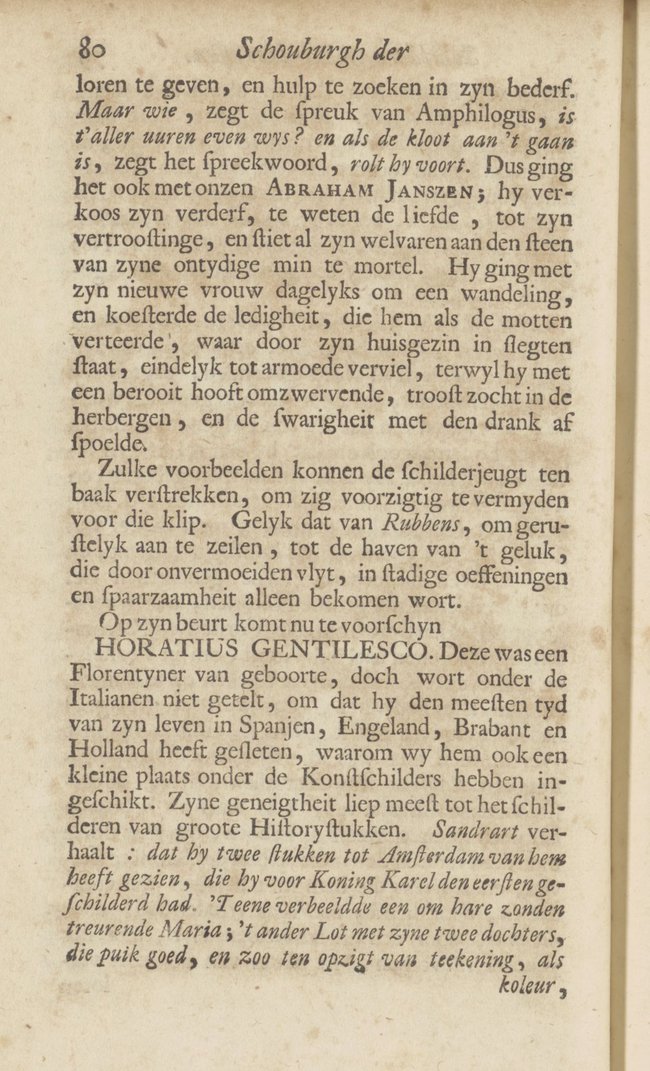 ---
1
Orazio Gentileschi
Penitent Mary Magdalene, 1626-1628
canvas, oil paint 130.5 x 206 cm
New York City/Chicago, art dealer Richard L. Feigen & Co.

2
Orazio Gentileschi
Lot and his daughters, c. 1628
canvas, oil paint 226 x 282 cm
center right : HORA[.]VS / GIENTIL[.]VS
Bilbao (Spain), Museo de Bellas Artes de Bilbao, inv./cat.nr. 69/101

---
Page 81

He was later called to England by the king [= Charles I] to paint for him. He also died there, but I could not find out in what year. Those of Brabant call him Gentiel. He was well acquainted with Sandrart, who when in Naples looked up his daughter Artemisia Gentileschi, who was a paintress and who conveyed greetings from her father. She received him politely and showed him what she had painted at the time, being a life-sized David displaying the head of Goliath, which was elaborately and boldly painted [3]. She also painted portraits and was favoured by the spouse of the Viceroy of Naples. She also drew at the academy.

At this time we must also commemorate the famous Brabant painter

HENDRICK VAN BALEN. According to the testimony of Karel van Mander he was a pupil of Adam van Noort. As far as his painting is concerned, it is so commendablely good with respect to composition, arrangement, drawing, and way of painting that his work deserves to be hung with the art of esteemed masters. In particular I must also say that he delineated his nudes so beautifully, and executed them so roundly and powerfully, that almost all other art is lacking in comparison.

Amongst many of his greatest artworks stands out a sinful world at the time of the preacher of penitence, Noah, with the thirsty Israelites drinking water from a cliff. There is also a piece in which the Egyptian King Pharaoh drowns in the Red Sea, so that Israel escapes the pursuer. Only recently I saw a smaller piece with the same subject,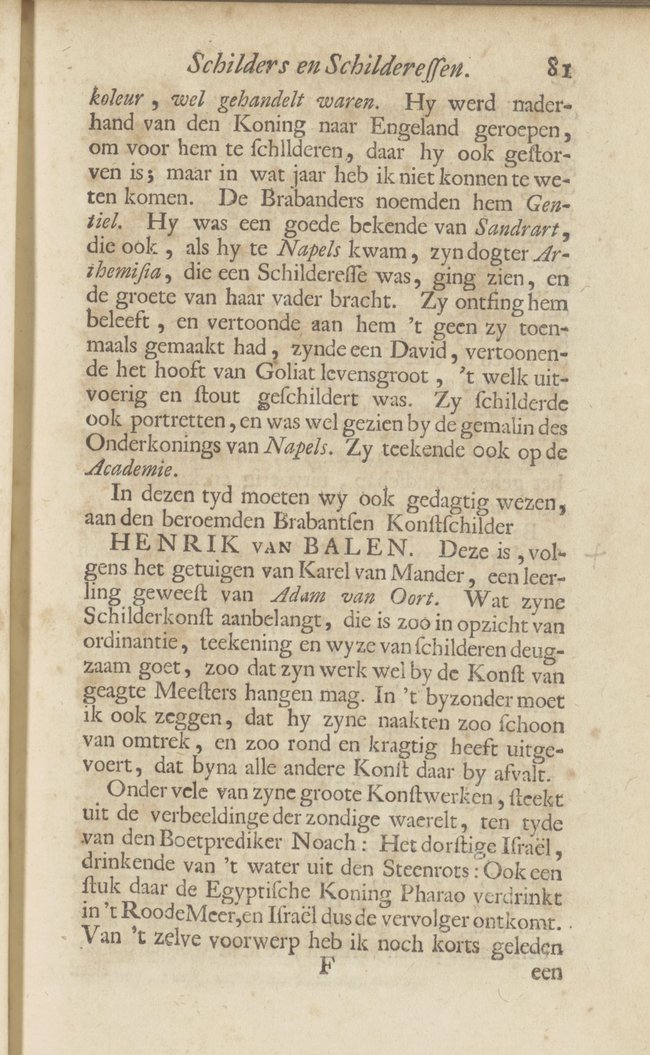 ---
3
Artemisia Gentileschi
David with the head of Goliath, 1631
canvas, oil paint 203.5 x 152 cm
Private collection

---
Page 82

very animated, well-conjoined and full of a variety of costumes. The great troupe of refugees was in the middle ground, situated in clear daylight, and the figures in the foreground in shadow, which confirred elegance on that massed movement in the middle ground, which in turn held its own against the misty mountainous background and the blue distance. There is also a small work painted on copper, depicting the judgement of Paris, and the three goddesses, especially Venus who showed herself from behind, which were so roundly, powerfully and elaborately painted that they seemed to protrude from the picture. In addition the ground on which they stood, with grass and herbs, and also the entire landscape, were painted elaborately and skilfully by the Velvet Breugel.

In addition to his many historical depictions, which he rendered skilfully with his brush, one also encounters allegories used inventively and edifyingly by him. Mister and Master of Laws Johan van Schuylenburch, Counsellor and Secretary of the Princely Domains, etc. has one in his famous art cabinet in The Hague, depicting a virtuous man sitting under a splendid canopy, with a crown of honour on his head. Minerva, goddess of wisdom, stands to the left of his seat [4]. On the right hand is Justice, with a balance in the hand, in one scale of which the heads of a swine, fox, wolf and peacock, emblems of Gluttony, Deceit, Rapaciousness and Pride, are featured, which compared to square, ruler, stork and bridle, emblems of commendable behaviour depicted in the lower scale, are found to be too light.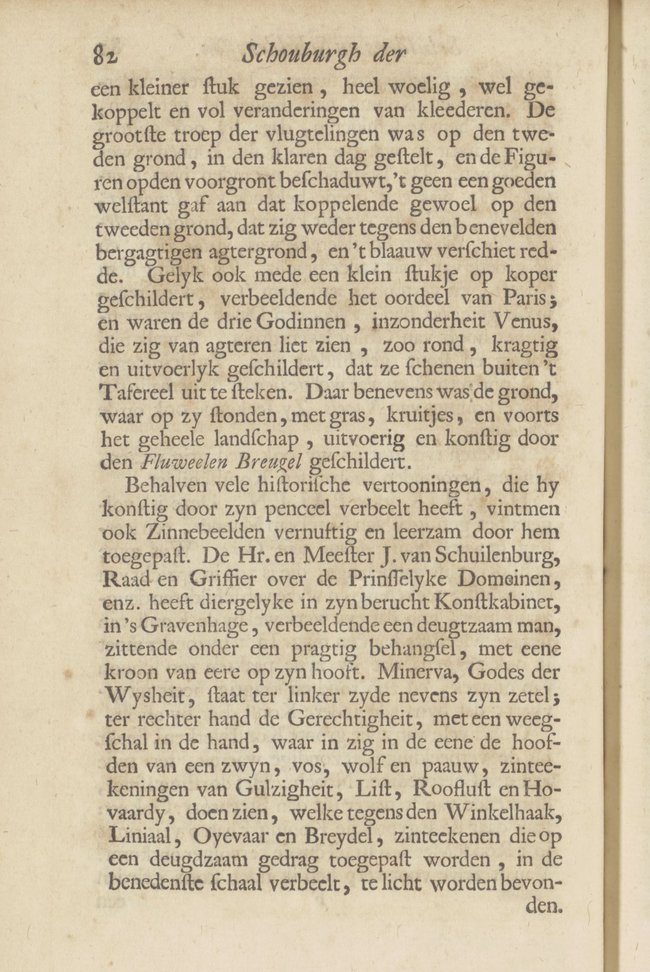 ---
4
Hendrick van Balen (I) and Jan Breughel (II)
Allegory of Virtuousness, c. 1625-1626
canvas, oil paint 91.5 x 122 cm
Sint-Petersburg (Russia), Hermitage, inv./cat.nr. 439

---
Page 83

In addition one sees Love repulsing Envy, and cherubs lashing away at snakes and other miscreants. His portrait appears next to that of Roelant Savery in Plate D.

He left a son named Jan van Balen, who was born to him in Antwerp in 1611, of whom Cornelis de Bie says on p. 120: He studied art with his famous father Hendrick van Balen I. He later pursued art in Italy, and achieved great fame during his father's lifetime, to which this verse refers:
Pythagoras,* tyrant of Lemnos† has written:
When the body dies, the soul moves to a worse or better state.
Who could doubt this old wisdom, for
The spirit of Hendrick lives in Jan during the father's life.


---------
* It is clear that by this word the ancient Latins understood one who exercised dominion with authority and great dignity. We have an example with Virgil, where Lantinus says of Aeneas:
Pax mihi pacis erit dextrum tetigisse Tyranni:
Thus translated by Joachim Oudaan:
I expect Peace, a good part at least,
To touch the brave right hand of the tyrant.

And Atheneus called love, Τῦραννος θεῶντε ανθρώπων: A tyrant, that is a ruler over gods and men. It is also known to scholars of languages that this word means king, ruler and great master in arts and sciences. See Pieter Rabus, Griekse, Latijnse, en Neêrduitse vermakelijkheden der taalkunde, p. 123, where he confirms this with a Greek verse from Anacreon. He was later, via devious ways, deceit, violence, etc., branded with the hated name of tyrant for practicing despotism. See more in my commentary on p. 125 of De Kruisheld, of het Leven van den grooten apostle Paulus, printed by Pieter Boeteman.
† Others say Samos, since his father, still young, brought him from Tyrrhenia to Samos. See Thomas Stanley, Historische beschrijving der Grieksche en Oostersche Wijsgeeren ]...], p. 125 [= p. 268].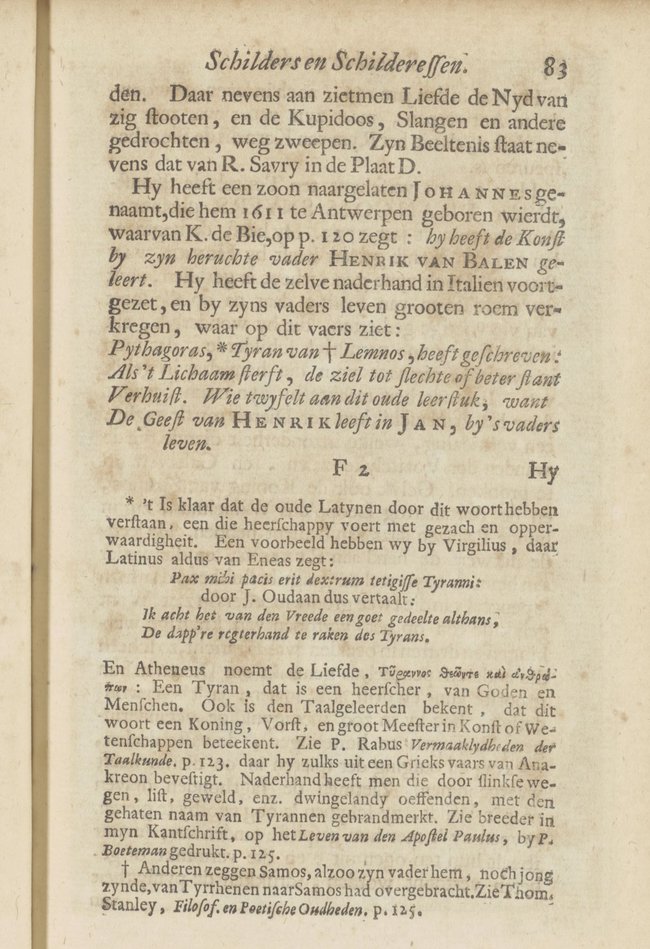 ---
Page 84

In the year 1662 he was still alive and living in Antwerp, but his father had already died by then, as may be deduced from the rhyme by Cornelis de Bie.

Here in addition appears on the stage the painter FRANS SNIJDERS, born in Antwerp in the year 1579. He learned the rudiments of his art with Hendrick van Balen I. But his inclination first fell on the painting of fruit and then on all sorts of four-footed animals, which he painted so naturally and wonderfully well, each in its kind, that no one is to be found who is his equal. He made his name especially famous with the combination of animals in the hunt, a preference which especially served to grace the walls of princely chambers and galleries and which the King of Spain [=Philip IV] and the Archduke Leopold Wilhelm also used in their palaces. He often lent a hand to Peter Paul Rubens, and he to him in return. They are certainly the most esteemed paintings in which one sees the brush of both these two great masters. For just as the one was specialized in the display of powerful effects and emotions in figures, so the brush of the other seemed made to paint animals in all their great fire and passion. Yes, it is amazing how he observed the separate parts and the stretching and bending of the muscles in animals in a multitude of changes, turns and vaults. If one sees hunting hounds chasing after game, they seem to flash from the eyes. When they grab it with their pointed teeth, the fire shines from their eyes: and those animals who are shown mutilated or bitten, express the pain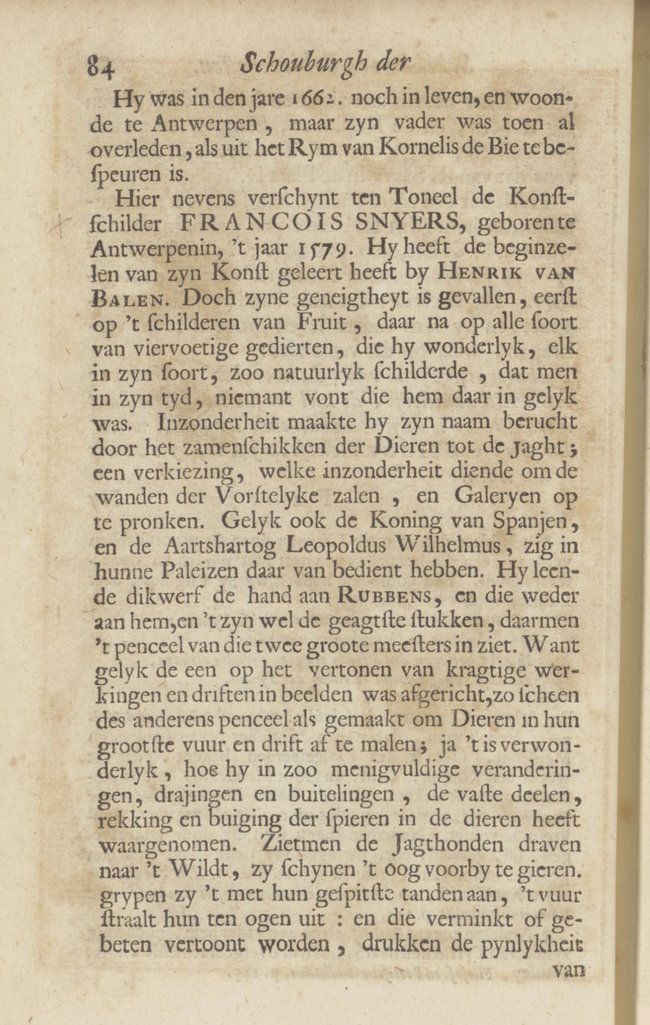 ---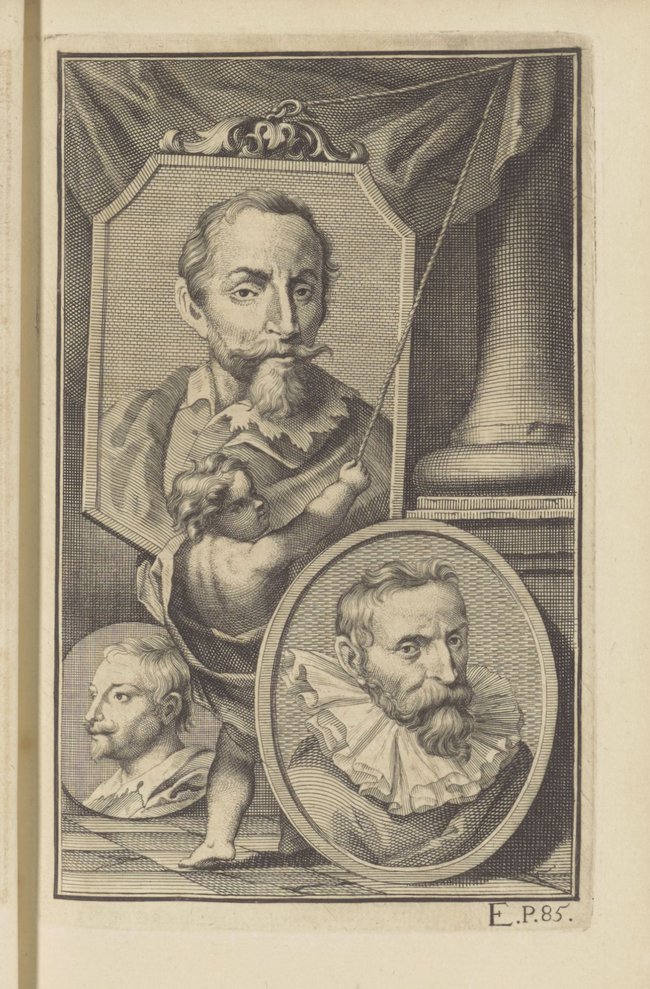 ---
Page 85

of the wounds they have received through arched back, torturous twist and wide-open jaws so naturally that one might suffer with them. What more needs to be said, when the artwork speaks for itself? His portrait is found at the top of Plate E.

We may no longer shift around his commendable countryman, contemporary and fellow in art

JAN BRUEGHEL I, nicknamed the Velvet. He was the son of Pieter Bruegel, otherwise known as Peer den Drol, thus named for his amusing drolleries and buffooneries which he often made, in which respect Van Mander also witnesses that in one of his last pieces he had depicted a gallows on which sat a jabbering magpie, with which he wished to indicate the contribution of a clacking tongue, and left the work to his wife as testament [5]. Plautus says that he has never found a silent woman, and that jabbering is a female household good. And Socrates complained about three vexing things, literature, poetry and a garrulous woman, and said that he had been able to rid himself of the first two, but had to keep the jabbering wife. Leaving this aside, it is doubtful that our Jan Breughel learned the rudiments of art under the supervision of his father. He applied himself to a totally different kind of painting, for he chose the flower court of Flora as subject for his brush. As the proverb says, one can love one's children but not please them. But just as mankind lives by change, so after the course of some years one saw his brush frolic in graceful land and water prospects in a variety of ways and as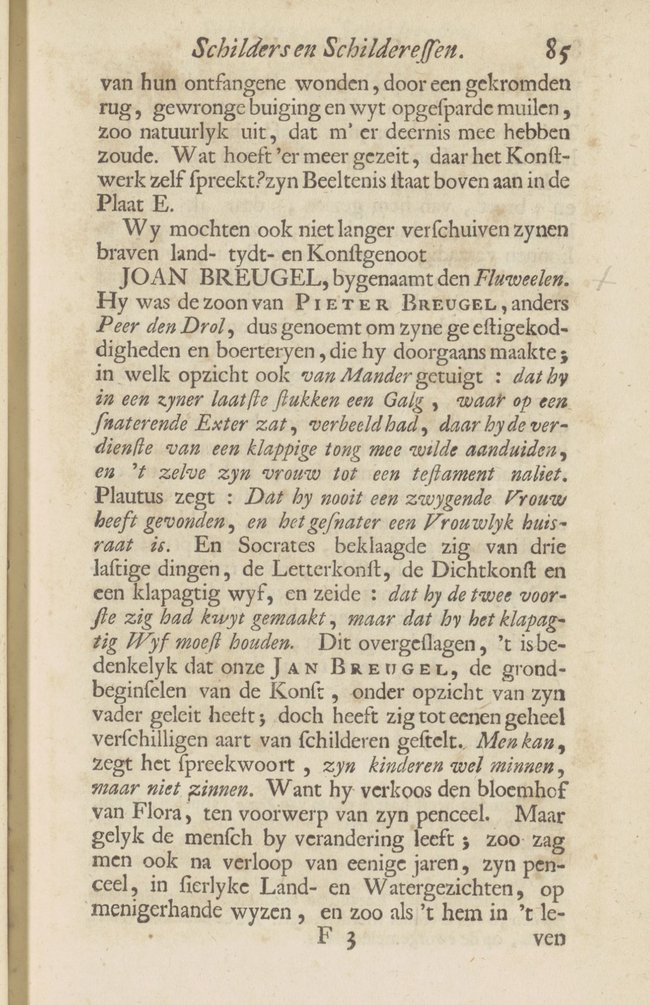 ---
5
Pieter Bruegel (I)
The magpie on the gallows, dated 1568
panel, oil paint 45.9 x 50.8 cm
lower right : BRVEGEL 1568
Darmstadt, Hessisches Landesmuseum (Darmstadt), inv./cat.nr. 271

---
Page 86

he encountered them in life. He did not, however, altogether cease painting flowers and fruit and what belongs to field and garden plants but still employed them in his landscapes.

In 1713 I saw a piece 3 feet high and 4 wide by him, at which I and all art lovers stood looking with amazement for hours on end without being able to sate ourselves. In it such a variety of flowers, shrubs and trees were painted in the foreground that the eye was lost in it as if in a maze. And though it was not even a twentieth as large as life, everything in its kind was nevertheless painted so elaborately, ingeniously and naturally in that small compass as if it were life-sized. In particular a fig tree, planted in a garden pot, stood out, of which the trunk was so naturally coloured and the leaves so inventively and thinly painted, with the green buds and figs, half-coloured, mature, or wrinkled with age, painted in such a way that it appeared to be life instead of brushwork. This piece, having been brought from Het Loo, was sold in Amsterdam in the Gentlemen's Inn on the 26th of July 1713 for 2,825 guilders. The two figures in this work depicted Pomona* and Vertumnus,† painted by Rubens. A pendant


--------
* Her name Pomona came from Poma, apples, pears, etc. She was one of the Latin tree virgins, who was unequalled as nurturer since she found her amusement only in garden activities and not in hunting or bathing. See Publius Ovidius Naso, book 14, chapter 11.
† Vertumnus, a Latin god whose feast day was celebrated on 30 October. See the note by Ludolf Smids in the afore-mentioned place.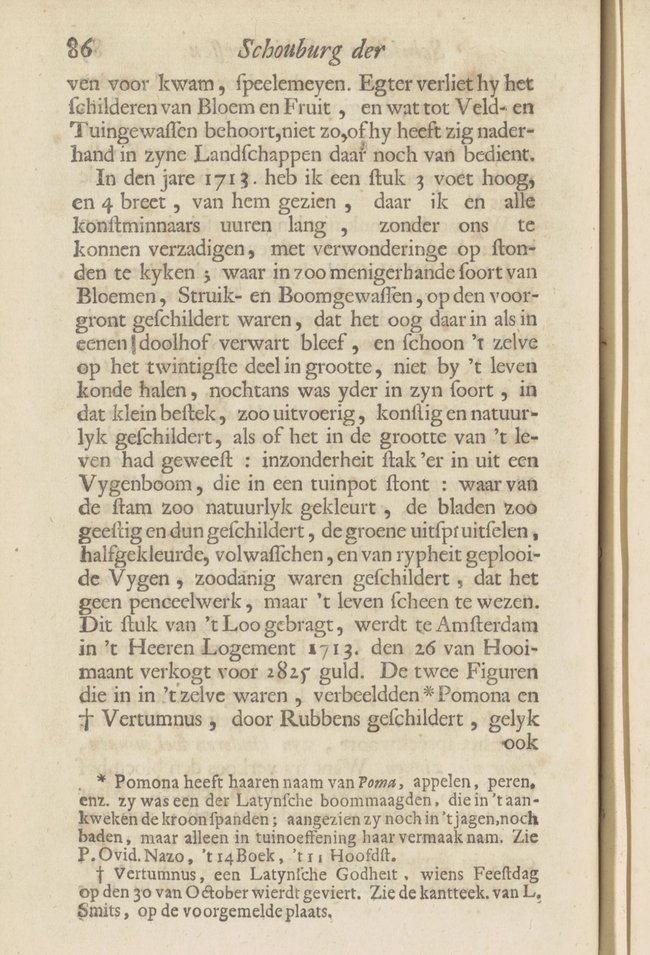 ---
Page 87

with a sleeping woman and satyr, was sold for 1,875 guilders. But the most outstanding work by him that I have seen is his so-called Paradise with Mister Pieter de la Court van der Voort in Leiden, which shows a multitude of animals of all kinds in a most skilful way in a no less skilfully painted landscape, with Adam and Eve painted most finely by Rubens [6]. This work came from the most famous cabinet of Mister Johan de Bye, the Maecenas of Gerard Dou.

A host of his small pieces, as proof of diligence and his artful hand, are to be seen in art cabinets, including many in which a mill court on the edge of a rivulet is depicted, or some other village on the bank of the water, which he then further decorated with small sail and rowing conveyances, as also on land with carts, wagons, horses and all sorts of small figures, which he was able to make exceptionally artful and detailed. That is why he was also used by Joos de Momper II and other of his contemporaries to decorate their landscapes with figures, horses, etc. Indeed, he was able to show the world in one way or another that he was a great master in art.

Here appears the commendable painter ADRIAEN van STALBEMT, born in Antwerp on the 12th of June of 1580. Of him it is witnessed that he was from his youth on so diligent and industrious in the practice of art that he seemed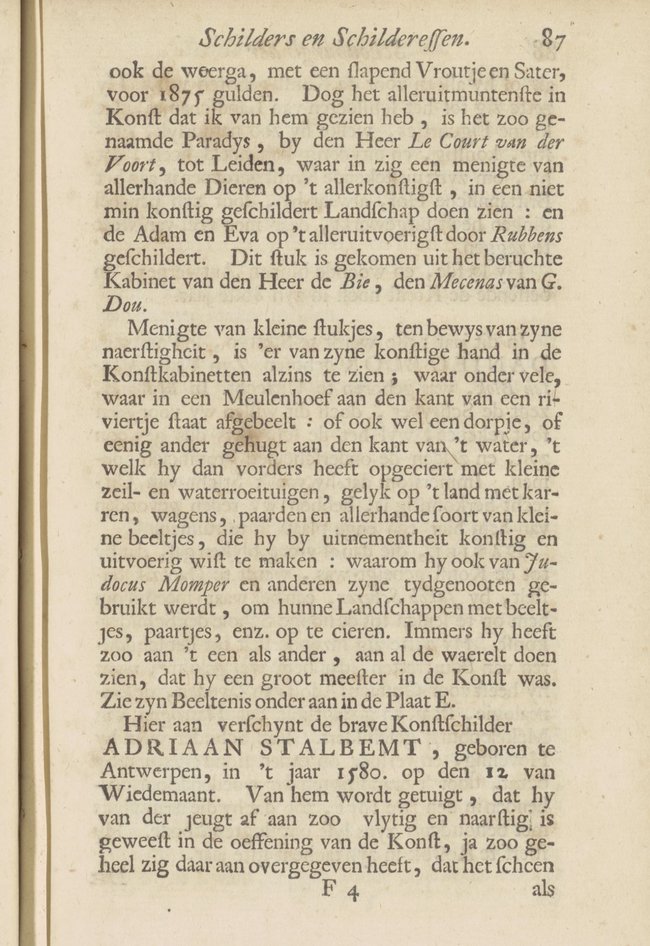 ---
6
Peter Paul Rubens and Jan Brueghel (I)
The garden of Eden with the fall of Man (Genesis 3:4), c. 1615
panel, oil paint 74.3 x 114.7 cm
lower left : Petri Pavli Rvbens...Figr
The Hague, Koninklijk Kabinet van Schilderijen Mauritshuis, inv./cat.nr. 253

---
Page 88

to have been born for art only. He applied himself to the painting of small landscapes with small figures which he treated so naturally, inventively, artfully and in detail that he was called to the British court on account of his choice art, where he executed things about which people have a lot to say.

He lived and dwelled within Antwerp and still practiced his art in his 80th year.

In that year 1580 DANIEL BLOCK was born in Stettyn, in Pomerania. His father, Marten Blok, was born in Utrecht. In Holland says the writer, but we do not wish to count this an error because authors have this habit and rarely differentiate between provinces. Because he came from the Bishopric of Utrecht we have found reason to clear him a small place here.

Daniel, who early on showed that he was inclined to art, was placed in Danzig with Jakob Scher, a competent painter, to prepare him for the advanced school of painting. He particularly applied himself to the painting of portraits, at which he succeeded, for he painted the origins and family lineage of the dukes of Meckelenburg for Gustavus Adolphus of Sweden. From painter he became courtier and in one blow lost all he possessed in the year 1651 to the fires of raging war bands, so that he was barely able to flee from them and save his skin. He died in Rostock in his eightieth year.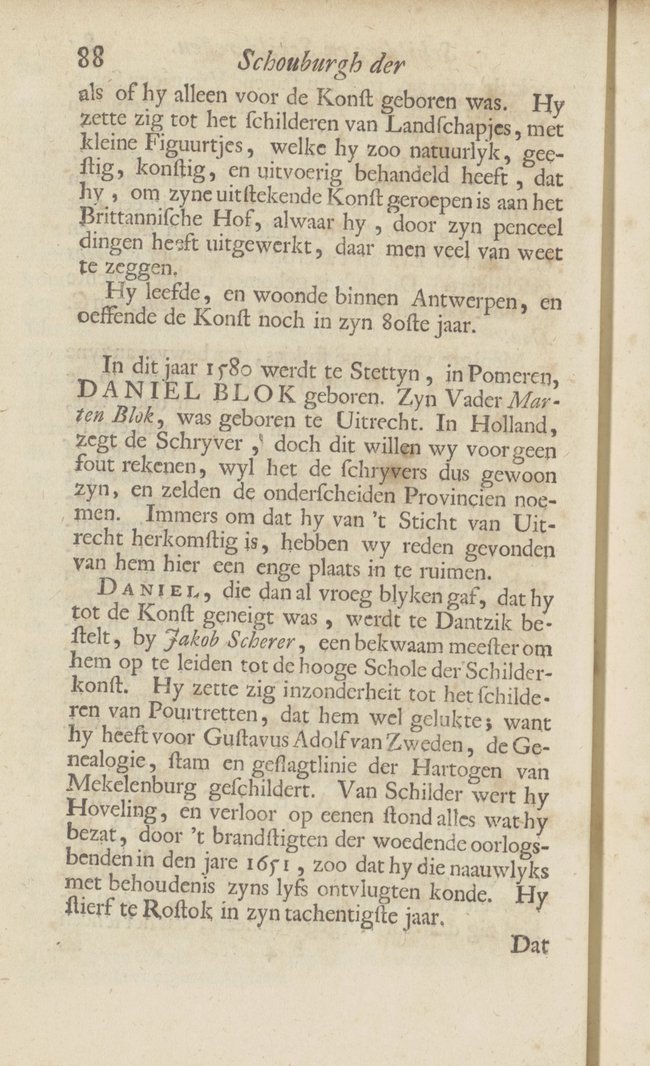 ---
Page 89

I gave the following reason for why I depicted the art of painting with a cloth in the mouth in the Title print of the second volume of my emblems [= Toneel van Sinnebeelden] : That the tongue should not plead for the brush but that the work should account for itself. The bad kind of bunglers and dunces in art are generally in the habit of promoting their work through boasting and bragging, but great masters on the contrary have let their artworks speak and announce the intellect of their maker.

Apelles and Praxiteles could boast that they alone had the privilege of depicting the monarch of the world, to which the following verse alludes:

Apelles of many was appointed
To paint the great Alexander:
Praxiteles had permission, and no other,
To make a marble statue of that hero.

But they did not therefore take on airs but kept quiet and let their work say: who they were, and what they achieved in art.

We have a remarkable example of the first mentioned, which will serve us as the occasion for a new stage image. Spurred on by a desire to see Protogenes and his famous works, Apelles took passage to Rhodes, but when he did not find him in his studio, he took a brush with paints to make a fine stroke on the stretched canvas that he found standing there, saying to the maid, who asked him whom she should say had called on her master, that she should say to Protogenes when he came home, He who made this mark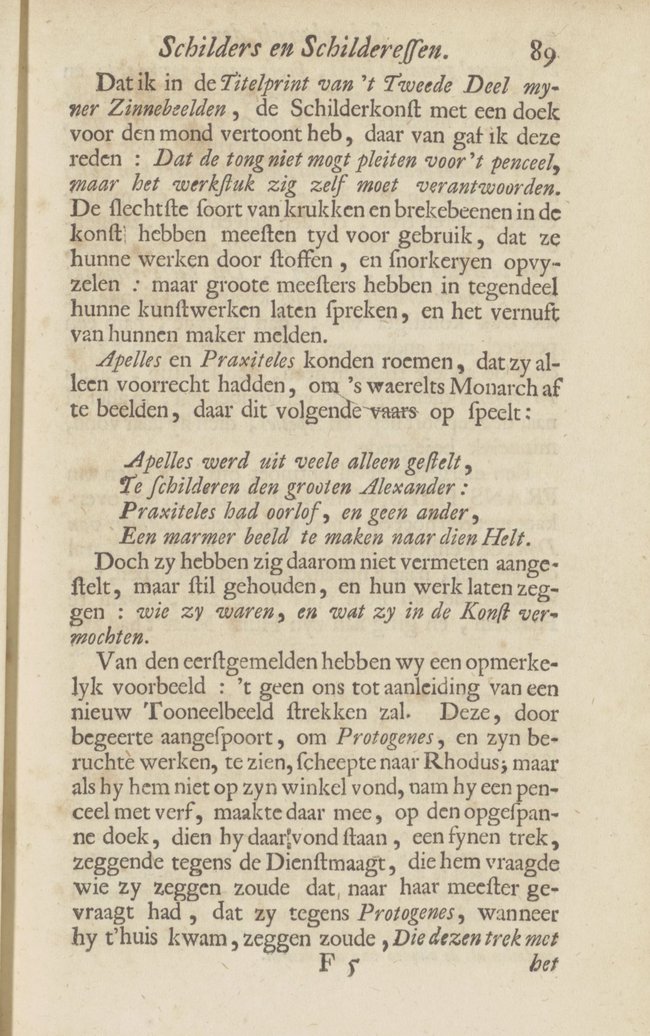 ---