Volume 1, page 60-69
---
Page 60

reason why, he set out with the saying of Horace:

.......Melius nil caelibe vita: that is:

Nothing better than an unmarried life. Or else with a verse, thus translated, from the poet Menader:

He who would marry may marry:
But he who loves peace
Will avoid women.

He lived quite contentedly and dwelled in Utrecht, where he also died in the year 1639.

This year 1577, fully as fertile as the preceding one in the production of artists, brought forth from Antwerp, the cradle of so many famous artists,

ADAM WILLAERTS. He had applied himself to the painting of rivers, with ships, vessels and galleys teeming with tiny figures, as well as sea and city harbours bustling with the plying of commerce and the loading and unloading of cargo, all of which he painted elaborately, naturally and skilfully with his brush, so that he became famous for such works. In particular (which I almost passed over) he excelled at the depiction of fire. He died in Utrecht, where he lived.

AART JANSZ DRUYVESTEIN, whom Van Mander commemorates at the end of his book under the new arrivals, became a fine landscape and animal painter, but practiced this art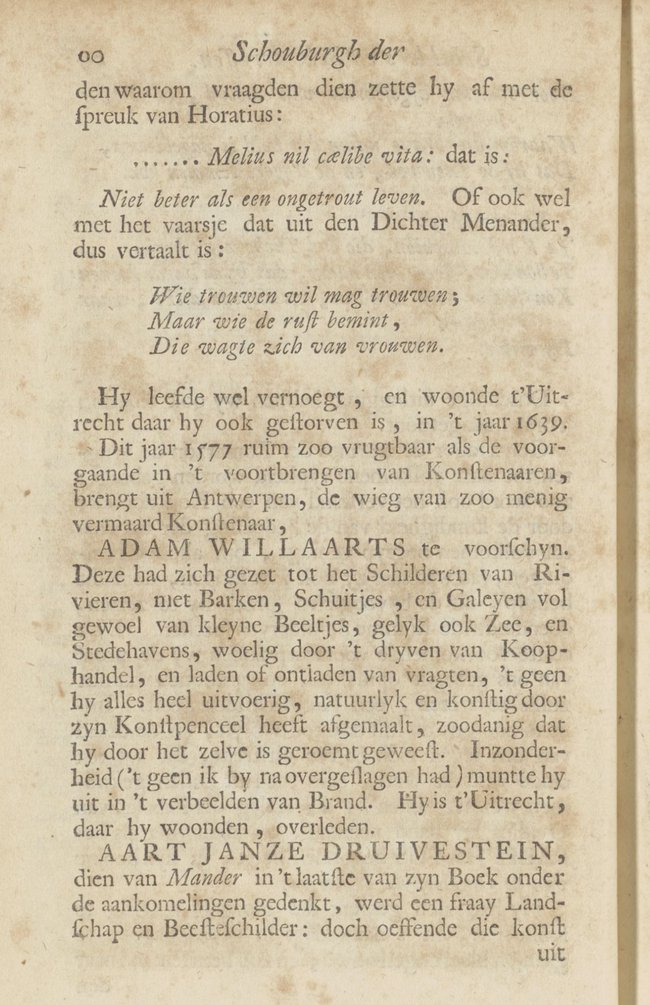 ---
Page 61

only out of love for it and not out of necessity. He is counted among the burgomasters of Haarlem, and was before that time elder of the Reformed Church. He died on the 5th of August of 1617 at the age of 50 years.

Now follows his commendable contemporary

JACOB WILLEMSZ. DELFF. He was a good portrait painter, as may be seen from the guardsmen company in the municipal militia chamber in Delft, which he painted there in 1592, which ended up bashed and torn to threads along with other artworks by the explosion of the country's powder storehouse in the year 1654, but which, owing to the esteem Mister Jacob Delff had for them, were repaired and restored [1].

How great an inclination and love Jacob had for art is clear from the fact that he nurtured all three of his sons in it.

Cornelis Delff, the oldest, first had his father and then Cornelis Cornelisz. van Haarlem as teacher of art and was a good still-life painter.

Rochus Delff, the second, was a good portraitist.

Willem Delff, the youngest, was an artful engraver. He was married to the daughter of the renowned Michiel van Mierevelt, whose most important portraits he engraved in copper. He died on the 11th of April 1638.

In this same year 1577, on the 28th of June, the greatest solar light of the Netherlandish art firmament,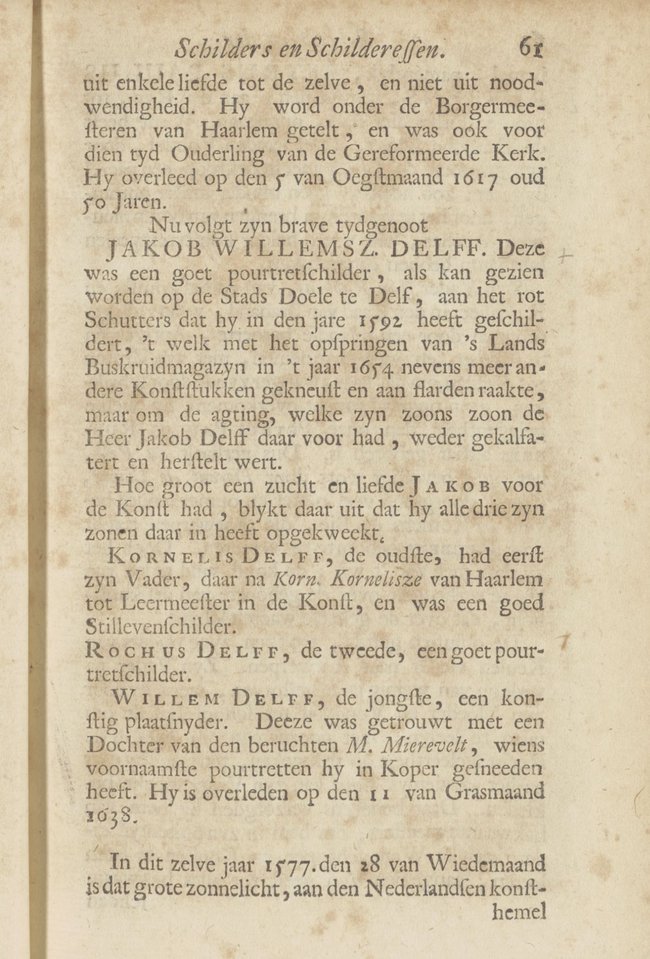 ---
1
Jacob Willemsz. Delff (I)
The fourth garrison of arquebus gunmen in Delft, dated 1592
panel, oil paint 195 x 295 cm
upper left : Aº 1592
Delft, Museum Prinsenhof Delft, inv./cat.nr. PDS 21

---
Page 62

namely PETER PAUL RUBENS, rose in Cologne on the Rhine, to great lustre of that city. For if the German Virgil, Joost van den Vondel, added a pearl to the Agrippian city crown, so she received no less lustre by bringing forth this new Apelles, from whose bright fire of art many lit their lamp.

His father Jan Rubens, of noble descent and counsellor of the Council of Brabant, found himself necessitated by interior troubles to leave Antwerp for Cologne with his wife, so that, being pregnant, no accident might befall her. On this occasion our Peter Paul Rubens was born there. Thus tells Roger de Piles, as is confirmed by Florent le Comte, whom I usually find much more precise and observant than Cornelis de Bie, who attempts to honour Antwerp with the birth of Rubens. But be that as it may, art finds reason to take pleasure in the birth of that light of art, which shines on the entire world.

The troubles silenced, his parents travelled from Cologne back to Antwerp. His father having died after the passing of a few years, his mother and guardians placed him in school to learn languages with the intention of raising him in jurisprudence, so that he might take up the important profession of his father. In addition they furnished him with competent masters to teach him other honourable sciences and arts in his spare time, since his spirit seemed up to everything.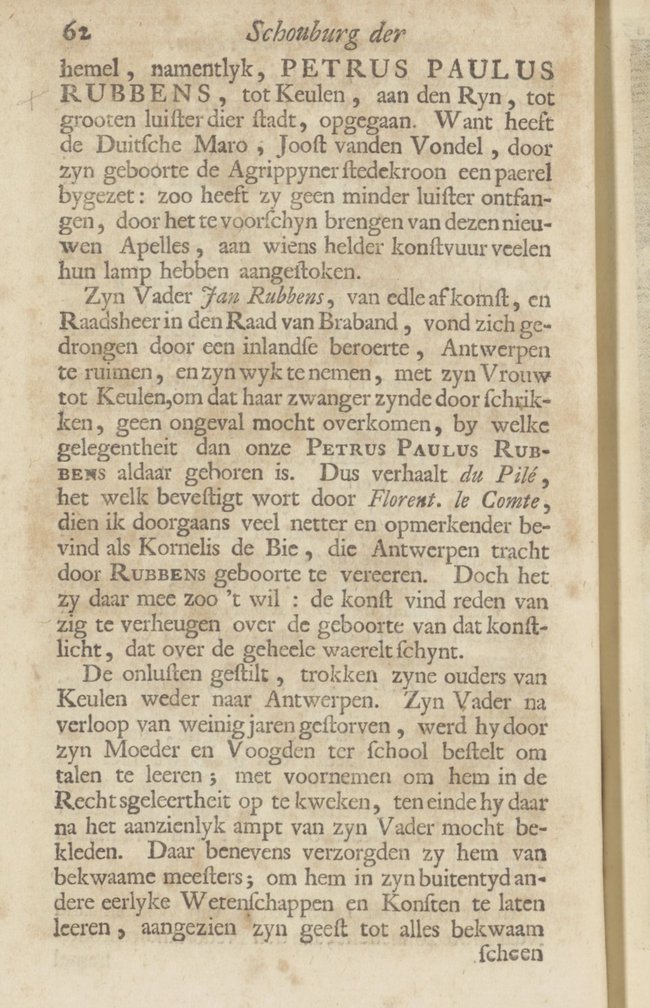 ---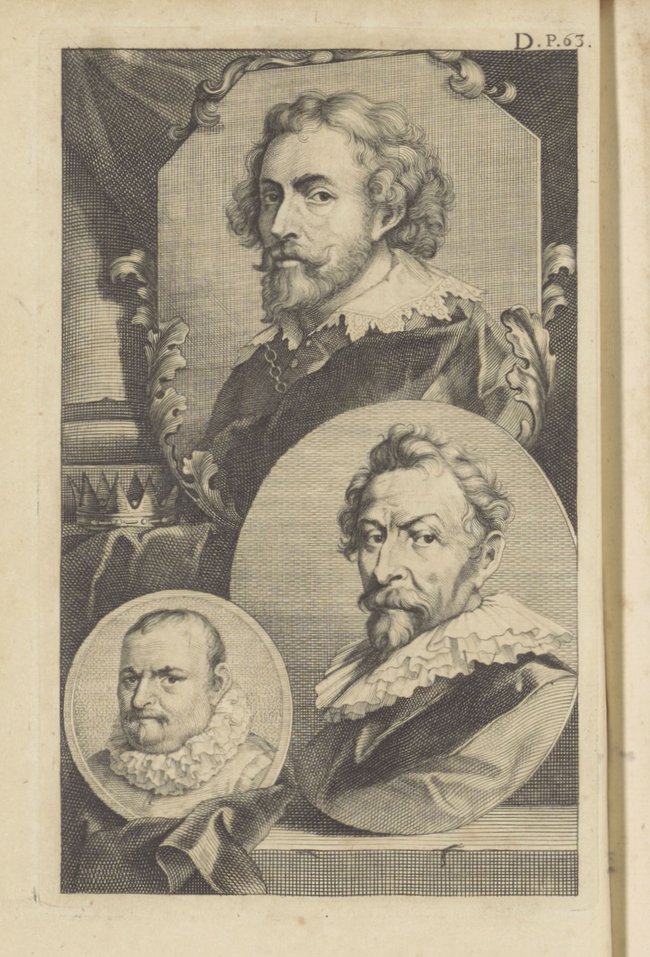 ---
Page 63

And seeing him also unusually inclined to the art of drawing, they placed him with a good master to invest some of his spare time in that practice. But it was not long thereafter that his passion and inclination for that art grew so strongly that his mother and supervisors thought it advisable to follow his inclination and commit him entirely to learning of that art. They therefore placed him with Otto van Veen, painter of the Duke of Parma [= Alessandro Farnese] and Archduke Albrecht VII, but first with Tobias Verhaecht, whose portrait flaunts the honour that il este premier maistre du fameux P.P. Rubens [2]. Others want Adam van Noort to have been his first instructor in art.

It does not please us to set off a battle of pens about his place of birth, or who taught him the first rudiments of art, but I say, like Basil Kennett in his description of the life of the Greek poet Homer with respect to the quarrel of cities* over his birth: In the meantime the lovers of poetry have helped themselves to this uncertainty and wished that both their great master as well as their art must be deemed of divine origin. This is with respect to the notion that the human intellect, from which the arts are bred and spring forth,


--------
* The cities of Rhodes, Colophon, Salamis, Chios, Argos, Athens and Smyrna have long quarreled over the right of birth for Homer. Herodotus seems to attribute the honour to the last mentioned, seeing that his mother Critheïs lived in Cyme in Aeolis and was pregnant with him before she left there. However, being with friends in Smyrna for a celebration with other women at the River Melis, she unexpectedly gave birth to him and named the child after the place of his birth, Melesigenes.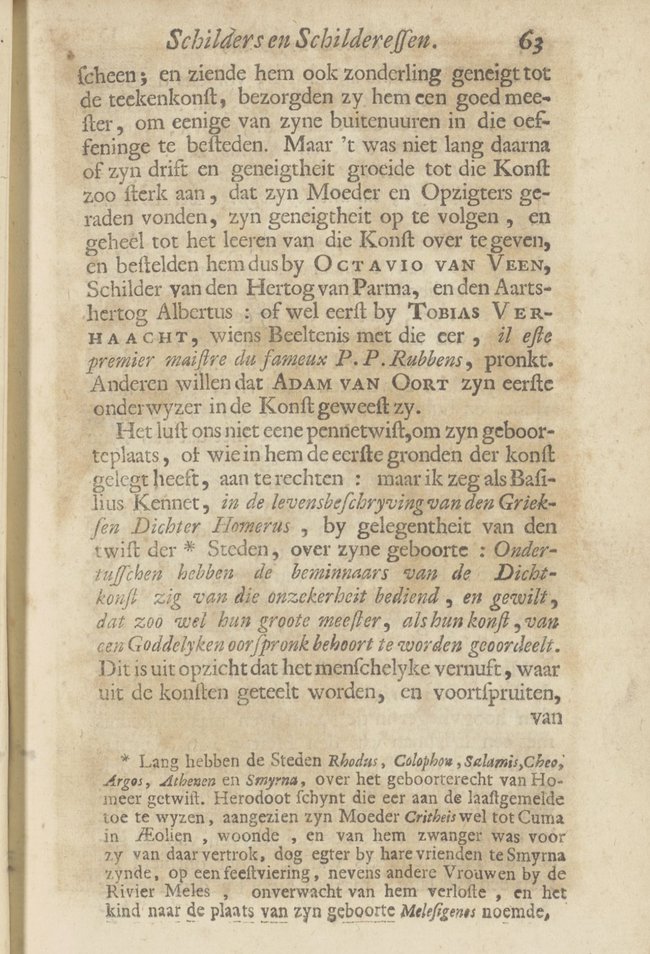 ---
2
Cornelis van Caukercken (I) after Otto van Veen
Portrait of Tobias Verhaecht (!561-1631), c. 1649
paper 163 x 118 mm
Antwerp (city), Erfgoedbibliotheek Hendrik Conscience

---
Page 64

is of divine origin, according to the Biblical pronouncement in the Book of Exodus, in which Moses explicitly says of Bezaleel, the son of Ury and Ahaliab, in the name of Jehovah, that he filled her with the spirit of wisdom, understanding and knowledge, to make all sorts of artful works, etc.

But skipping over all of this, after Rubens had availed himself of the instruction of the mentioned teachers, he finally again preferred Otto van Veen, not because he was a greater painter than the others but for his great intellect and ingenious reflections, until he had finally progressed so far in the arts by his outstanding diligence, sound instruction and the aid of his intellect that his work competed for the prize with that of his instructors.

Shortly thereafter wanderlust crept up on him, whereupon he went to France and Italy, where he stayed for some years, sometimes painting and spending the rest of his time carefully studying everything in Rome, both sculpture and painting, that stands out by its beauty of outline and treatment.

At the same time he went to Venice, to the school of Titian (then the most important high flyer in art, and became acquainted with a nobleman of the Duke of Mantua [= Vincenzo Gonzaga], who asked him in the name of the duke to enter his service as nobleman and painter, which request he granted and accepted, because there were in Mantua outstanding paintings by the most esteemed painters. He remained there for some time, made himself greatly beloved by the Duke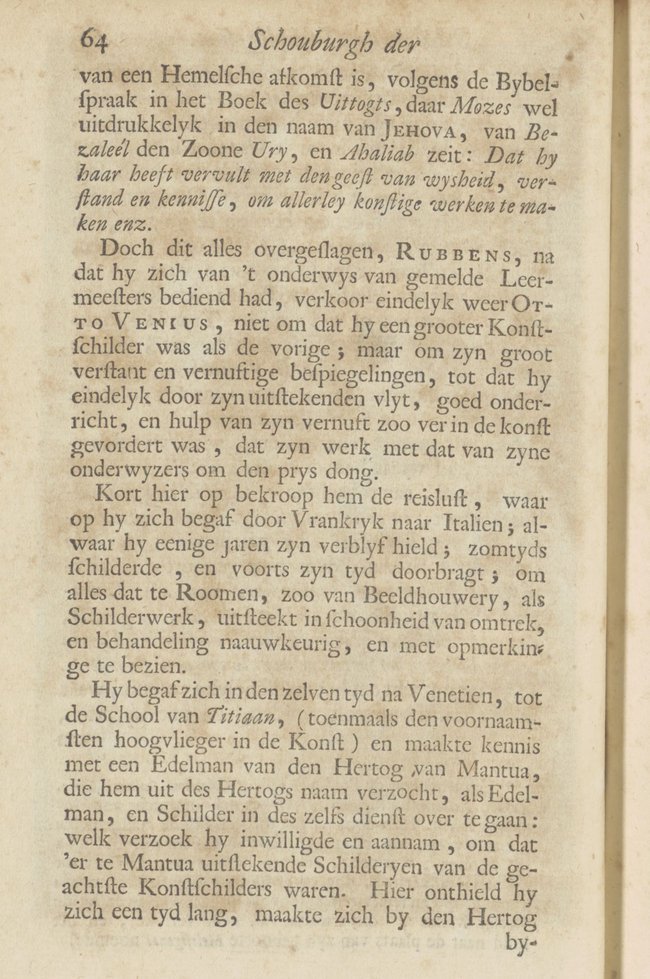 ---
Page 65

and worked with great diligence on the artworks of Giulio Romano.

From there he left once more for Rome, where he practiced everything that could serve the improvement of his art and found opportunity to paint altarpieces for the church of the Holy Cross [3-4] as well as for the new church of St. Peter [= Chiesa Nuova -Santa Maria in Vallicella] [5-6], and also for Albrecht, Archduke of Austria.

He was in his seventh year by then when he received tidings that his mother was dangerously ill, which had him leave Rome without any delay. But she had already died before he arrived in Antwerp.

It is remarkable, as is told, that he brought few drawings or models with him from Rome and that when (now returned home) he was asked to show them, he gave as answer that they were locked away in the cabinet of his memory. It was also apparent from the powerful way of painting to which he had become accustomed that he had seen the famous artwork by Titian, Paolo Veronese and Tintoretto. But this I must say in passing, that the fame that he had garnered by his painting in Rome and Venice had already been trumpeted about before his return, whereby one after another desired to have something of his brushwork. This caused many to look at him with jaundiced eyes. Among these was Abraham Janssens, who challenged him to a painting competition, wishing to submit it to the judgment of all amateurs,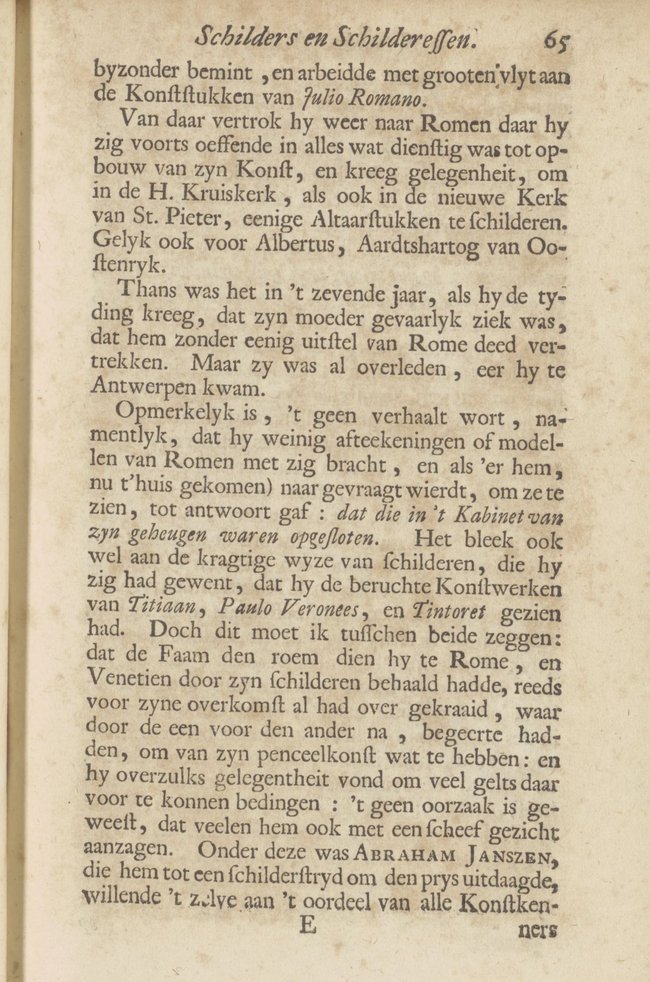 ---
3
Peter Paul Rubens
The mocking of Christ, 1601-1602
panel, oil paint 224 x 180 cm
Grasse (France), Chapel of the Municipal Hospital (Grasse)

4
Peter Paul Rubens
Series for Saint Helena's Chapel in Santa Croce in Gerusalemme at Rome, 1601-1602
panel, oil paint 225 x 180 cm
Grasse (France), Chapel of the Municipal Hospital (Grasse)

---
5
Peter Paul Rubens
Madonna della Vallicella adored by angels, documented 1608
blackboard slate (material), oil paint 425 x 250 cm
Rome, Chiesa Nuova - Santa Maria in Vallicella

6
Peter Paul Rubens
Chriesa Nuova series, 1606-1608
? x ? cm
Rome, Chiesa Nuova - Santa Maria in Vallicella

---
Page 66

which he wittily declined with this answer: That he had already done this long ago and submitted his work to the judgement of the entire world, and that Janssens could do this in the same way.

The intellect that he possessed and his facility in handling the ways of the world found means to turn his enviers into his friends. For he followed the lesson of Cleobulus: Treat your friends well so that they may become even more your friends, and your enemies so that you may turn them into friends. In addition he was modest, polite and amiable to one and all, a capacity that made him beloved by great and small, especially by artists, for which we will adduce a remarkable example.

His mother, as mentioned, had died, which moved him to marry, which happened before long to Catarina Brintes, with whom he lived in harmony for four years until she died. He took this so much to heart that to combat the sadness he thought it good to undertake a journey to Holland to visit the art schools, art societies and art practitioners in all cities. The Beschryving der Stad Gouda also commemorates this and mentions in particular that he went to visit Jacob Reyersz. Block in his house to see his art; which we have more amply mentioned in the description of his life. Sandrart, whom he got to know around this time and who has since remained his friend, witnesses: That having arrived in Utrecht, he first went to Gerard van Honthorst, whose art he saw and also at once bought a piece by him which had just been started depicting Diogenes as he searches for [honest] people with a lantern on a clear day in the market of Athens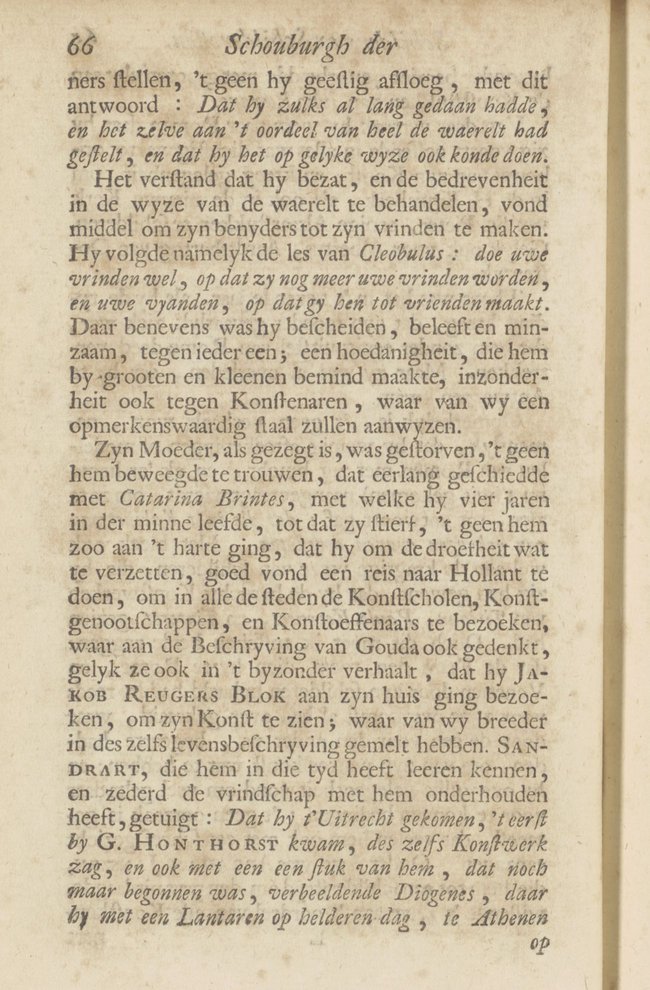 ---
Page 67

and particularly praised the composition of the piece. The mentioned Sandrart offered his services to Rubens to guide him further while his master Honthorst was ill, first to Abraham Bloemaert and then to Cornelis van Poelenburch, whose art he held in great esteem and of which he bought several small pieces. Then he left for Amsterdam, where Sandrart accompanied him, and spent fourteen days seeing everything.

In addition to this he had an unusual craving for all sorts of sciences and arts, even for linguistics. He himself was practiced in several languages as well as by nature eloquent, with his outer features showing the inner gifts of his noble soul. On account of his accomplishments he was sent to the British court for some unusual tasks by Philip IV, King of Spain, for whom he made many praiseworthy works. And De Piles adds to this that the Infante, who wished to do him a favour, had so much influence on Philip that Rubens was sent to the English court in the capacity of ambassador. He further relates how Charles I, King of England, received him politely and in the presence of parliament presented him with a sword and cordon set with diamonds worth twelve thousand rix-dollars. Whereupon he again left for Spain, to give account of his acts to his master, from whom he received large presents. But others believe that this largely happened to give Rubens an opportunity to speak to the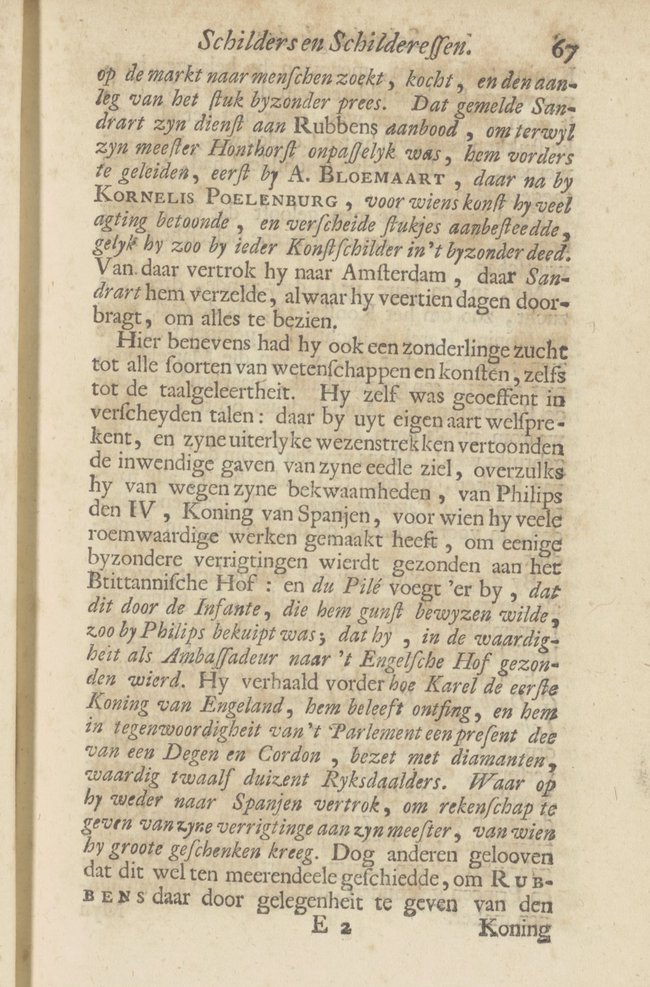 ---
Page 68

king, with whom he shared an interest in connection with the painting of the chamber in Whitehall [7], which was agreed on but not paid for, which pieces were sent to him in London from Antwerp, where he had painted them.

Charles Stuart, whom people believe understood this intention, showed him exceptional politeness and friendship.

Being there in 1714, I was driven by a yearning to see the artwork as well as the chamber from which King Charles approached the executioner's axe, which since the time of that martyr's death is no longer used as a court of justice but to receive foreign potentates and ambassadors, which is is now called Banquet Hall. Because of the scarceness of churches in London, the common prayers, the communal prayers, are read in it on all late afternoons and preached on Sundays.

With this we would also be attentive to one of his most important works, the gallery of Luxembourg, which brought him ever so much fame. As it does even now because it was engraved in its entirety in copper by the best engravers, such as Gérard Edelinck, [8] Gaspard Duchange, Cornelis Vermeulen [9], Bernard Picard, Alexis Loir [10], and Benoît and Jean Audran, the impressions of which, spread through all countries and kingdoms, show the world what his art was able to achieve. As a consequence it would be in vain to elaborate on his praise. All the art depictions, used as altarpieces or for something else, as well as a multitude of portraits painted for rulers and princes, themselves proclaim the praise of their maker.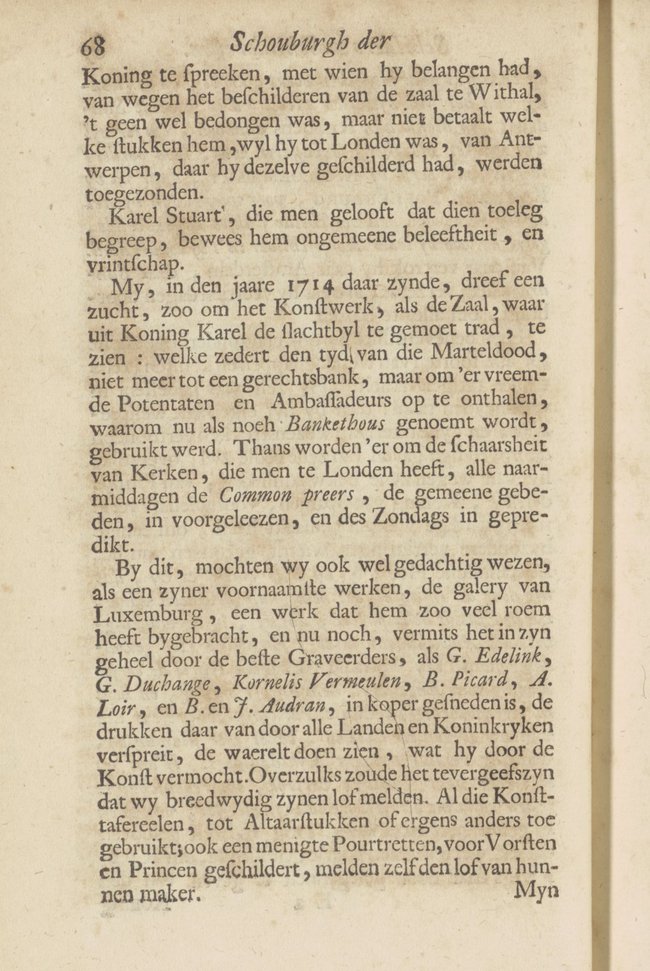 ---
7
Peter Paul Rubens
The Glorification of King James I (the complete series at Banqueting Hall), c. 1633-1634
canvas on panel, oil paint ? x ? cm
Whitehall, Westminster (London), Banqueting House

8
Gérard Edelinck after Peter Paul Rubens published by Jean Baptiste Nattier
Portrait of Grandduchess Joanna of Austria (?-1578), wife of Francesco I de' Medici, c. 1707
paper, etching (printing process), coloring (process) 442 x 270 mm
London, Royal Academy of Arts (Londen), inv./cat.nr. 06/2924

9
Cornelis Vermeulen after Peter Paul Rubens published by Gaspard Duchange
Maria de' Medici's flight to Blois, c. 1708
paper, etching (printing process), coloring (process) 445 x 338 mm
London, Royal Academy of Arts (Londen), inv./cat.nr. 06/3003

10
Alexis Loir (I) after Peter Paul Rubens published by Jean Baptiste Nattier
The education of Maria de' Medici, c. 1710
paper, etching (printing process), coloring (process) 445 x 335 mm
London, Royal Academy of Arts (Londen), inv./cat.nr. 06/2928

---
Page 69

My pen almost skipped a certain incident that happened to Rubens in Spain, and thus would have robbed the reader of the following story, which needs to be mentioned early on, before we see him back to his fatherland. John Duke of Braganza, a lover of the art of painting who later became King of Portugal, wrote to one of his friends in Madrid to have him request that Rubens come to visit him in his residence, Vila Viçosa. Rubens granted this request and set out, accompanied by a large entourage. The Duke, informed that Rubens, whom he possibly expected alone, was already approaching Viçosa accompanied by such a great apparatus and entourage, sent a nobleman on horseback to meet him in great haste to say to him, that, for important reasons, the Duke had left for elsewhere and had not been able to receive him; but in compensation for his expenses and inconvenience, offered him 50 pistols. But Rubens refused to accept them and said: that it was way too little, as he had intended to take 14 days for his stay in Viçosa, and to consume a thousand pistoles there.

After Rubens had remained in Spain a while longer he left for Antwerp, where he made so many divine artworks that one must be amazed. Yes, people would not believe it unless one also gave them the news that he trained many pupils in his time whom he used for the painting of clothing, terrain, prospects, buildings and other items, as well as for the setting up of nudes. By this he did himself and especially his students a great favour,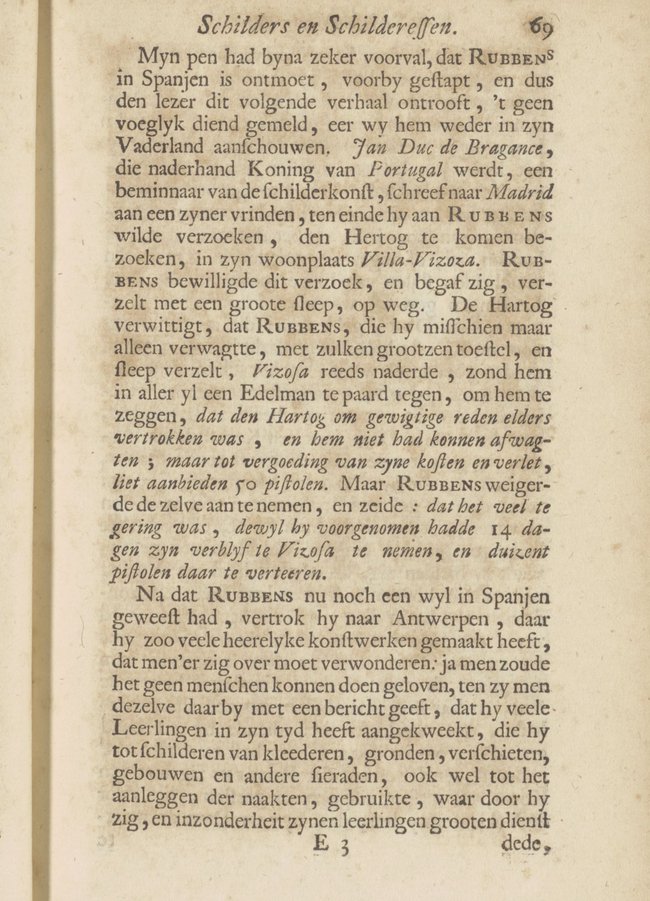 ---