Volume 1, page 350-359
---
Page 350

thus taking their last leave of each other. But he was also contaminated by the plague fire and he followed her shortly, in the prime of his life.

The art of his brush, estimated to be the best of its kind, is displayed in the esteemed art cabinets of the Netherlands.

His portrait, based on that drawn in his youth by his fellow townsman Leendert van der Cooghen [1], appears in plate O next to Jürgen Ovens.

His contemporary, fellow townsman and colleague LEENDERT van der COOGHEN, descending on his mother's side from the Beeresteins (among whom there were as of old great supporters and patrons of art, whom Van Mander mentions with praise in his book on painting) studied art with Jacob Jordaens in Antwerp.

Our Van der Cooghen, having returned home from his master, fraternized especially with Cornelis Bega, spurring each other on to the advancement of art, and they often drew after life together. He had the same pure, flat or broad handling of the drawing pen as Bega, but bolder and hatched in one direction. He also painted his figures larger and often life-sized. He also etched some plates in copper, reasonably handsome and bold but a little rough, in the manner of Carracci.

But since he did not paint for bread (as the proverb goes), he did not urge himself on but worked only when his desire moved him by itself and therefore made too little to become famous outside his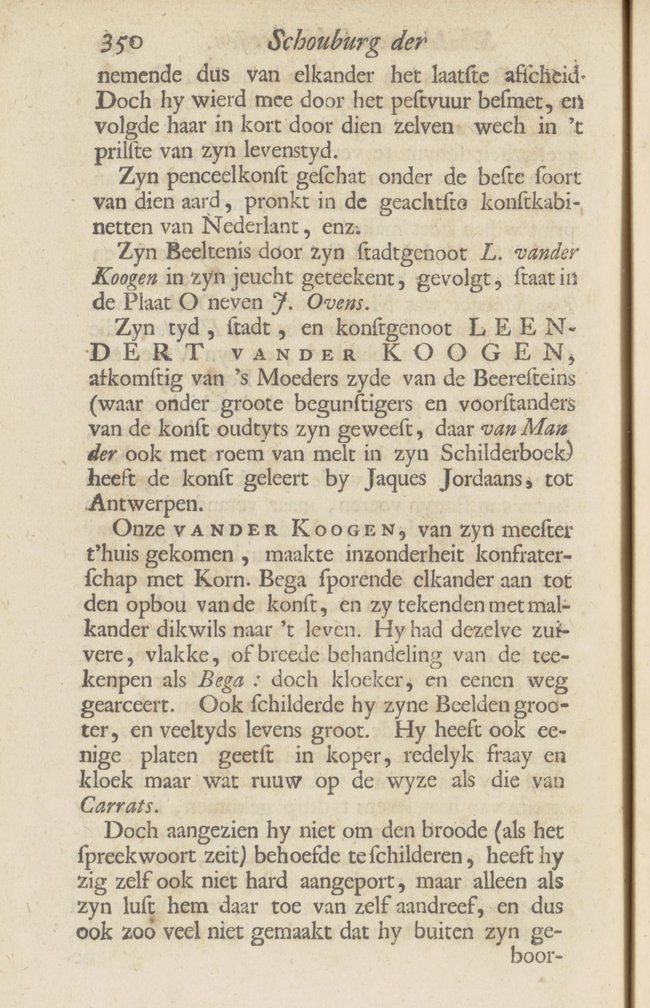 ---
1
attributed to Cornelis Bega
Portrait of Cornelis Bega (c. 1630/1-1664), c. 1653/4
parchment (animal material), black chalk 113 x 94 mm
all around : Cornelus Bega. Pitor / HARLEMENSIS.
London (England), British Museum, inv./cat.nr. 1836-8-11-812

---
Page 351

place of birth, Haarlem (where he also died in 1681). As a consequence there is little about him that we can record; but we will compensate the reader for this with a strange, comical and amusing incident that he encountered in his life, which has me laughing as I write.

At that time he lived unmarried on the Schagchelstraat of Haarlem, boarded with one of his relatives and generally called Leendert Oom by his house mates, as people often call elderly single men. We therefore wish henceforth to call him Leendert Oom.

What happened? At an evening hour a certain damsel, well-known to them all, comes to ring the bell and asks if Mister Van der Cooghen is at home? The answer of the maid who opened the door was yes; upon which she continues that she would like to have a word with him. When the maid arrived out back with that message, everyone at once had an eye on Leendert Oom, while the maid said in jest (not knowing she was a diviner): Leendert Oom, here comes a spinster to court you. They then ushered the damsel into a room. Leendert Oom, who was a little put out by this incident and having heard from the maid that the damsel was very neatly dressed, did not want to appear altogether unkempt either, combed out his locks, pulled up his socks and, with his finger and thumb, ironed the creases out of his vest as well as he could, stepped forward, and greeted the damsel. She did not want to deliver her message at once, but first made a start in which she demanded a promise of silence and that he would not reveal what she would say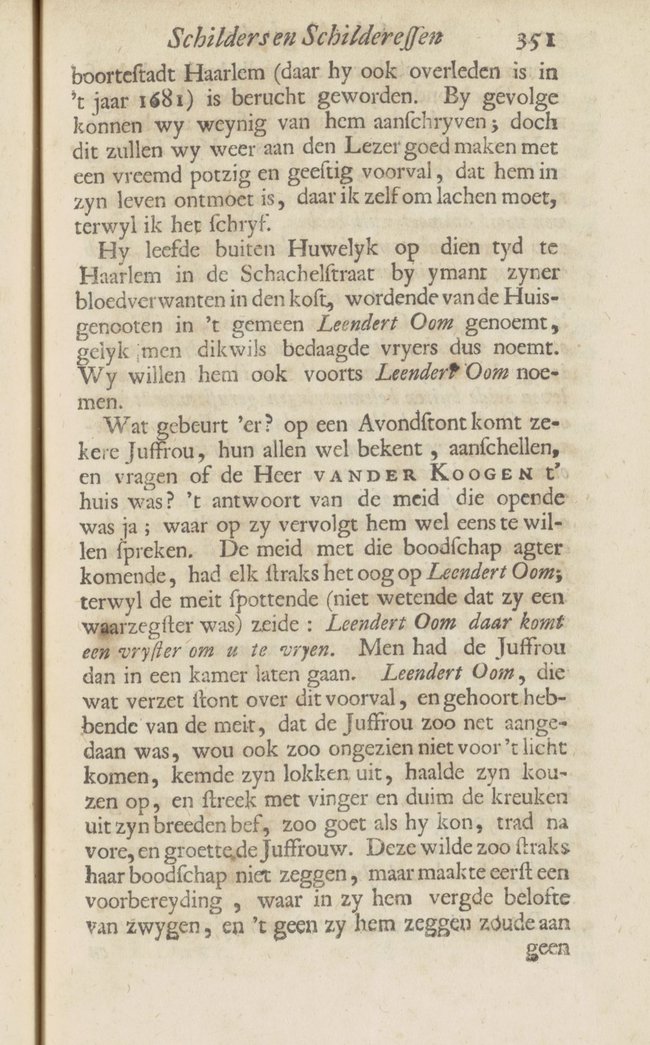 ---
Page 352

to another human being, which he promised her. But in the meanwhile everything was overheard by members of the family without their knowing it.

Her proposition was as follows: Dear Sir, this may strike you as very strange, as my message is altogether out of the ordinary, and of a kind that you will probably not have encountered before in your life. Possibly it will strike you as improper. As for me, I see nothing unseemly in it. The proverb says: nothing ventured, nothing gained. You are a Young man who has always been seen as pleasant and honest by me and my friends: you know me, and also know who I am. You and I both live worry-free, provided with that which our parents have left us. A tranquil life is a life to be desired. But in the meantime the years pass us by one after another, and we are getting no younger or more youthful. Also, our friends are leaving the world one after another, and the worst of all is that the best die first, and we miss their company and conversation. Some of our friends are too prominent to look at us, for others, we live too long because they would like to get their hands on our property. Observing this, I turn away from them more and more; but life thus becomes ever lonelier. This would as soon convince me to commence a companionable life, and in case this would also please you, you would not find me unwilling.

Leendert Oom, who had never heard such a sermon nor had ever received a message which had more troubled his intestines, said, with trembling mouth and shaking legs. Well Miss! well Miss, that seems strange to me!

That I already knew ahead of time (she answered),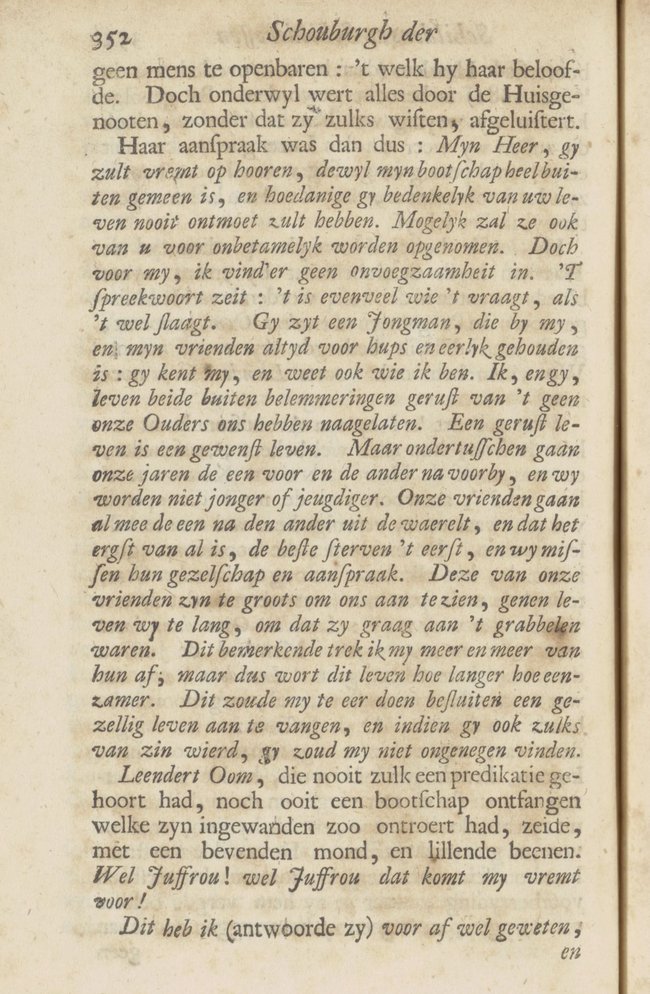 ---
Page 353

and that is why I said from the first that it would strike you as strange. But take counsel with yourself. I don't demand that you will give me your decision on the spot. Our standing and ancestry cannot be too different from one another, so that you may give it consideration. I have opened my heart to you, may you now take counsel with yours: and whether you approve or not, we will always remain good friends. You know the customary ways and means (in case you do approve) by which this matter must be handled, etc.

He, more and more embarrassed at being so unexpectedly buttonholed and taken by surprise, was so timid that he could not speak but stammering and with fragmented words." Well Miss! well how! I don't know, marry! well yes, I am not able to say. It strikes me as so strange and unexpected.

She, noticing how much her message had dislocated his brainpan, finally said calmly, and in her most friendly way, to calm him down and put his concerns to rest: that she had not come to decide on the matter, but only to propose it, and that he could think about it for as long a time as he saw fit. With this she ended, and he let the Miss go back home.

As soon as he got back to the kitchen, the farce commenced. For they had heard it all and made fun of this courtship. But Leendert Oom would say nothing, no matter how much they tried to draw him out in every way, but sat like a stickman that entire evening, nor was he able to rest that entire night, and resolved to free himself from this trap.

It happened when he went out in the early afternoon,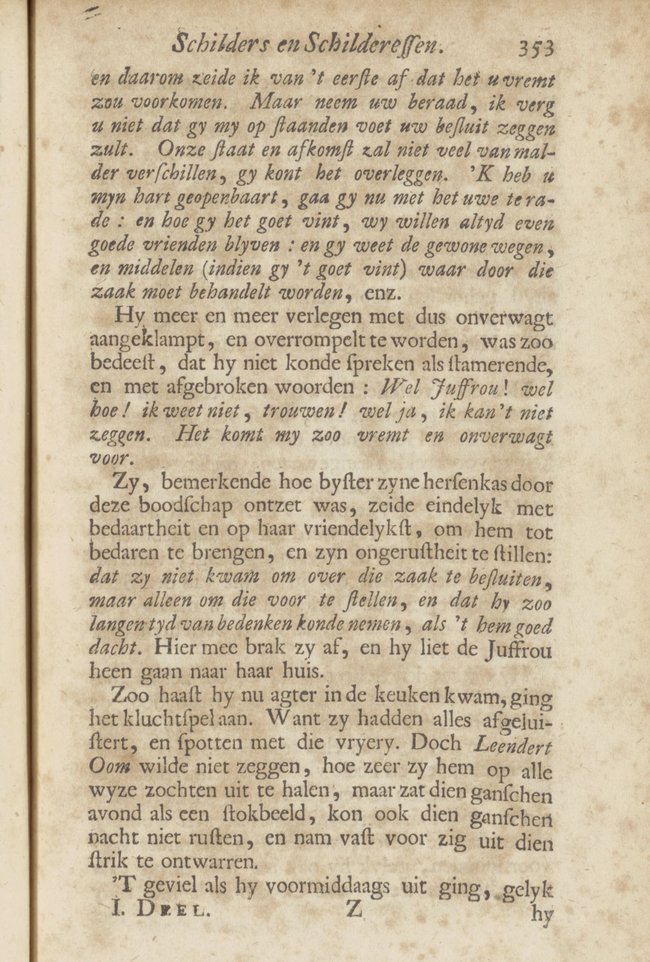 ---
Page 354

as was his wont, to the market or elsewhere, that precisely this spinster, as if it had to be, came right across his path. He takes a snap decision and calls out, hem: hem Miss. Who, coming to a halt, then got her walking papers from Leendert Oom with pallid lips, with these words: Miss, what was spoken of yesterday evening will not come to pass. Very well, dear Sir, answered the Spinster, and then they said goodbye to each other. Since then it has always remained like a mini-maxim in that family: What was spoken of yesterday evening will not come to pass. With that ends this comedy.

How many came to art by various ways and accidents, Karel van Mander and after him Samuel van Hoogstraten have shown with various remarkable examples, amongst which also the artful ship draughtsman

WILLEM van de VELDE I may well be included. He was born in Leiden in 1610 and being inclined to seafaring, he later found opportunity to accompany the war fleet with a sea yacht at that time and by sailing off and returning to carry messages back and forth.

He who thoroughly understood the basics of the building of ships and of their equipment in detail, undertook to draw with the pen all sorts of great as well as small ships on paper and whitened panel, even to depict the admiral's escorts and whole fleets according to custom in sailing the seas, and thus to give the States a visible depiction in addition to his words as report, which paid him particularly well for this, just as he was retained in their service for this purpose. When in 1665 Opdam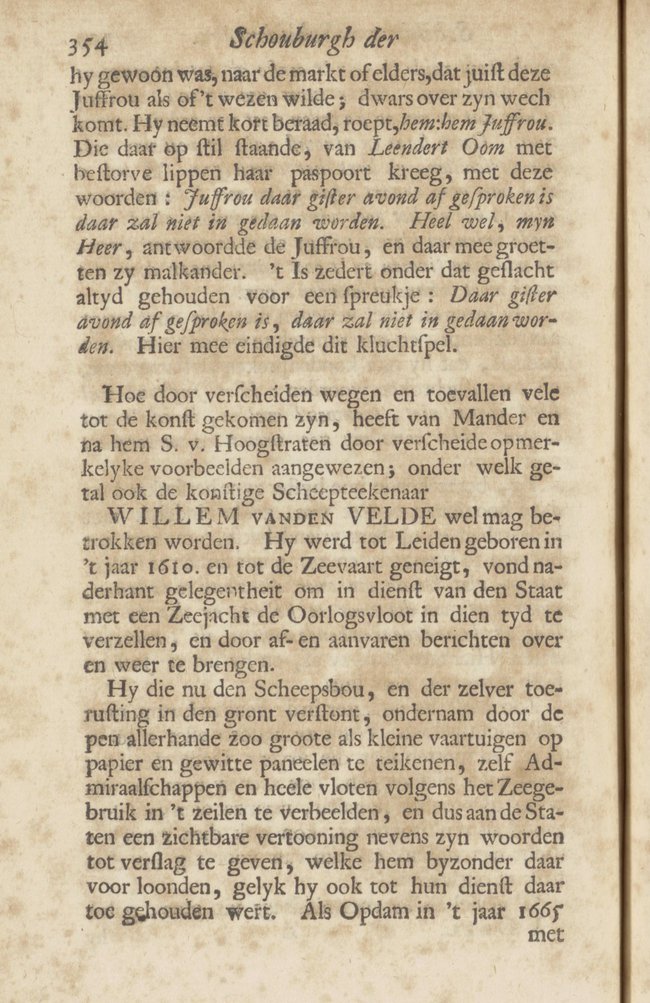 ---
Page 355

and his sea hulk (this happened for lack of attention to the powder chamber) sprang to smithereens, he had eaten his last meal on board with him, who was surprised that anyone would go so close to danger out of love of art. And on page 476 of his biography of Michiel de Ruyter, Geeraert Brandt records for the year 1666 that the renowned ship draughtsman Willem van de Velde came to the fleet with the intention to depict after life incidents of the pending sea battle,* to which end a certain galleon skipper would carry him around, or in location, so that he would find the best view for his drawings.

Later on he entered the service (I know not by what coincidence) of King Charles II, and subsequently of James II, for whom he made many artful drawings of sea battles, sea incidents and other encounters on white panels and glued-on canvasses. In his old age he also undertook to paint in oils.

I do not know his precise year of death, but I do know the day of his interment from a small funeral letter (decorated with depictions of death, ways of interment, resurrection and ascension in prints) with the daughter of Adriaen van de Velde in remembrance of the dying of her grandfather, on which this may be read Mr Wm. V. Velde Senior, late painter of Sea-fights to his majesties King Charles II and King James II, and that he was carried from his home in Sackville Street in Piccadilly to the Parish Church of St.


--------
* This battle took place near Oostende on 11, 12, 13 and 14 June 1666 between Michiel de Ruyter and George Monck, the English admiral.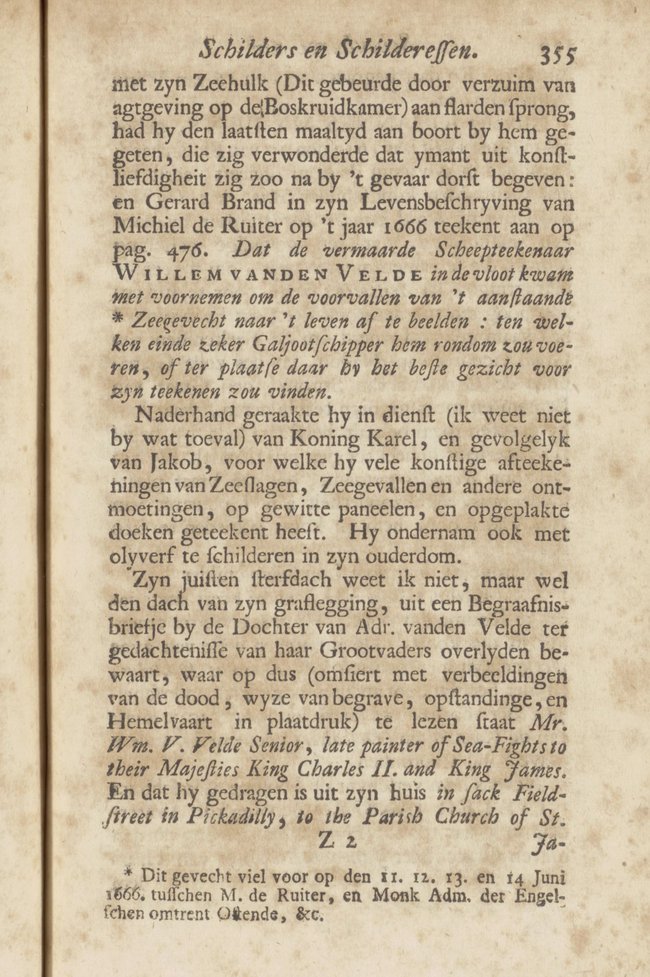 ---
Page 356

James, and buried there on the 16th of December 1693.

Now follows JOANNES MEYSSENS, born in Brussels in 1612, on the 17th of May. In his youth he first studied art with the famous painter Anton van Opstal and later with Nicolaes van der Horst, where by natural passion, diligence and steady practice (things which, as Aristotle says, must come together in order to succeed at any endeavour) he climbed so high in art that he was in his time judged competent to paint the portraits of Count Hendrik van Nassau-Siegen [2] and his spouse, the Countess Maria Magdalena van Limburg-Stirum, the Earl of Benthem and more of the great, by which he garnered great fame. But he later turned entirely to the print trade. He had a son named Cornelis who was a commendable plate cutter, as may especially be seen from the portrait of his father cut by him in copper [3].

He is followed by the great landscape painter

Philips Augustijn IMMENRAET. He lived for long years in Rome. He was a great master in that art. The most and best of his works are decorated with figures by Erasmus Quellinus II and with animals by others. Several of his most important pictures hang in the church of the Carmelites (called Descalced) together with other commendable art.

Next to him appears the artful glass painter

PIETER JANSZ., born in Amsterdam in the year 1612. He was a student of the commendable glass painter Jan van Bouckhorst of Haarlem,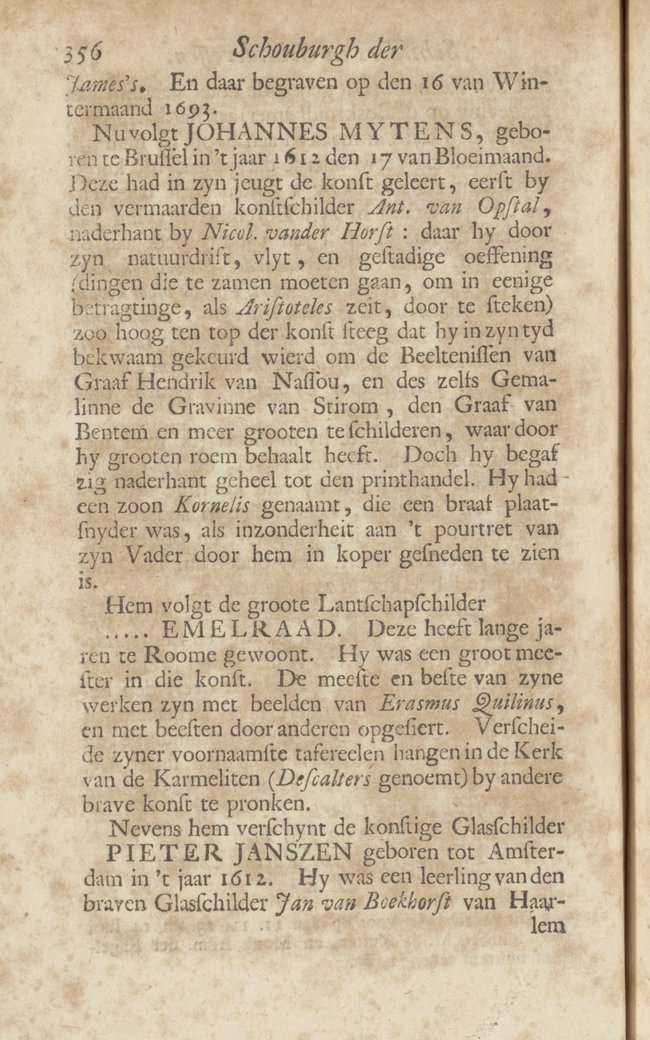 ---
2
Joannes Meyssens
Portrait of Hendrik Count of Nassau Siegen (1611-1652), before 1649
panel, oil paint 24 x 18.5 cm
The Hague, Stichting Historische Verzamelingen van het Huis Oranje-Nassau, inv./cat.nr. 315 (Paleis Noordeinde)

3
Cornelis Meyssens after Joannes Meyssens
Portrait of Joannes Meyssens (1612-1670), c. 1661
paper 180 x 121 mm
London (England), British Museum, inv./cat.nr. 1872,1012.4071

---
Page 357

who ended his run at life in the year 1672 and by whom various painted windows in churches of the Netherlands are still to be seen.

Pieter Janszen, first mentioned, was an artful draughtsman on paper, the value of which we will discuss in the biography of his student Jan Pietersz. Zomer. He died at a good age in the year 1672.

Following this appears

THOMAS WILLEBOIRTS BOSSCHAERT, born in Bergen op Zoom. He was a good painter of large figures and portraits. In his time he showed his art in Rome, Germany, Spain and England. In particular he was honoured by the Prince of Orange, Hendrik Frederik (later changed to Frederik Hendrik) and his son, Prince Willem II, for his wisdom, behaviour and art. Gerard Seghers was his teacher of art. He was born in the year 1613 and in 1660 lived in Antwerp, where he practiced art with diligence.

There is no reason to be given for it. Yes I am often surprised by the varying inclinations of art practitioners with respect to their choice of subjects. The one falls for sad and the other for jolly depictions. This one chooses the most worthy subjects, the other the most contemptible ones or repulsive subjects like

OTTO MARSEUS van SCHRIECK, who painted almost nothing other than poisonous snakes, toads, and lizards. However, he has always done well by them (because he was able to imitate them so naturally) both in England and in France, where he painted for the Queen Mother [= Maria de' Medici], who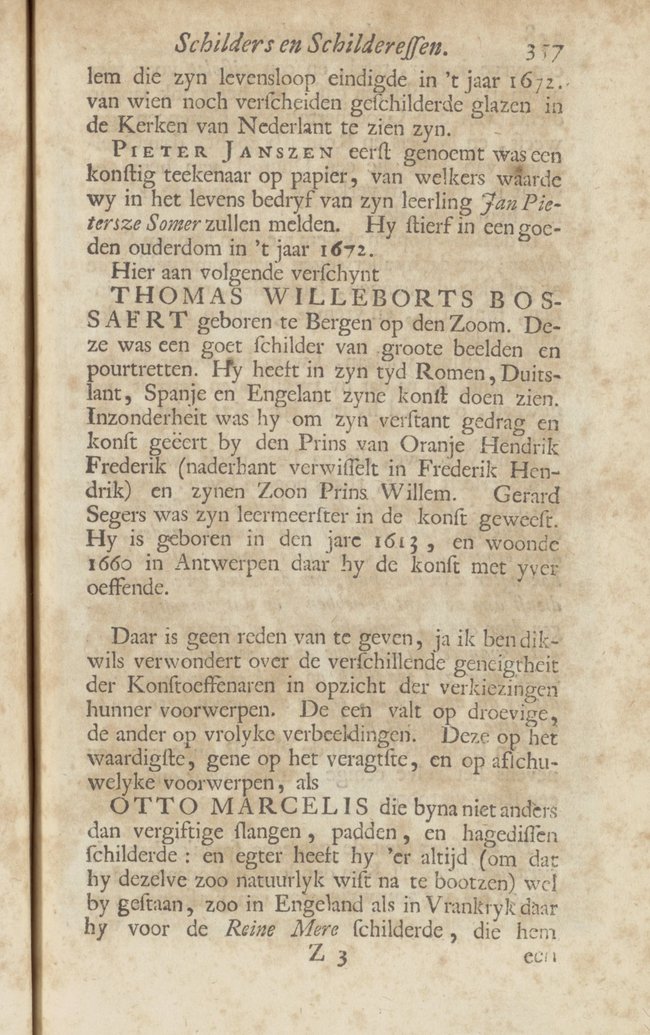 ---
Page 358

gave him free room, board, and a pistole for four hours of painting a day. He was also for a long time in the service of the Grand Duke of Florence [= Ferdinando II de' Medici] and visited Naples and Rome, where Willem van Aelst, who was a disciple of his, associated with him and carried out many a prank with him.

In the bent they baptized him with the nickname Sniffer because he sniffed about everywhere for unusually coloured and speckled snakes, lizards, caterpillars, spiders, butterflies, and strange plants and herbs.

His wanderlust satisfied, he returned to his fatherland, and after being married for twelve years, died in the year 1673, a good 60 years old.

His widow [= Margrita Gijsels], who outlived two more men after him and is now still alive has told me: That he daily fed those animals outside Amsterdam on a piece of low land, fenced in for the purpose, where they were able to thrive, and also that he had a cage behind the house to keep the reptiles close at hand ready for his service, and that these snakes became so used to him with time that when he wanted to paint them, he would arrange them with his maulstick in such a way as he required, and that they remained thus until he had done painting.

His portrait is located in Plate R at the bottom, and next to it are some herbs under which a snake appears.

Mankind (says the common proverb) lives by changes. It can hardly displease the reader that we sometimes change characters,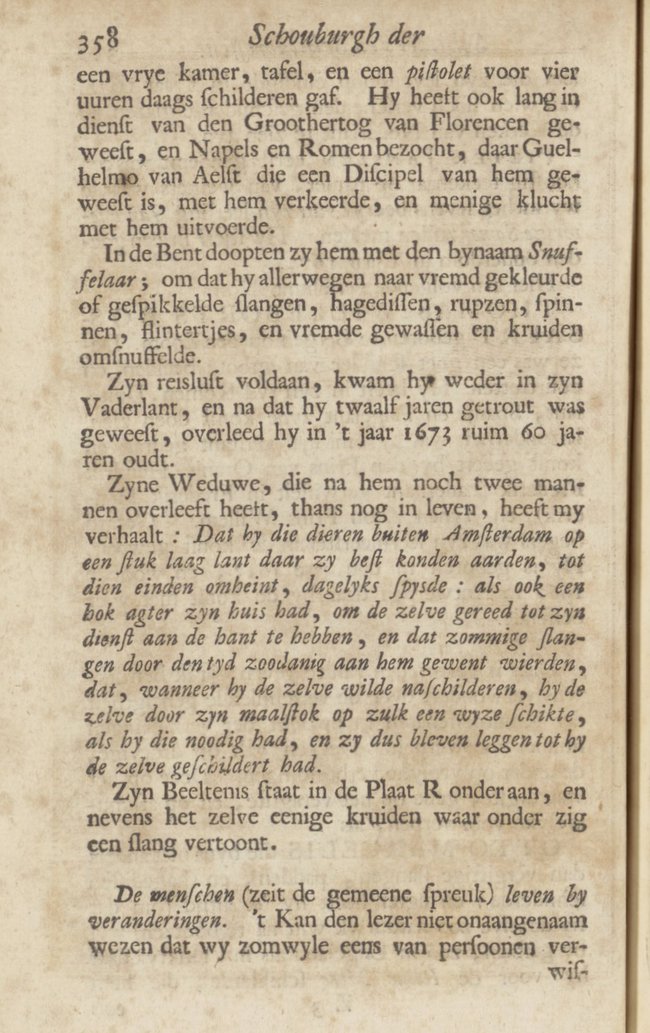 ---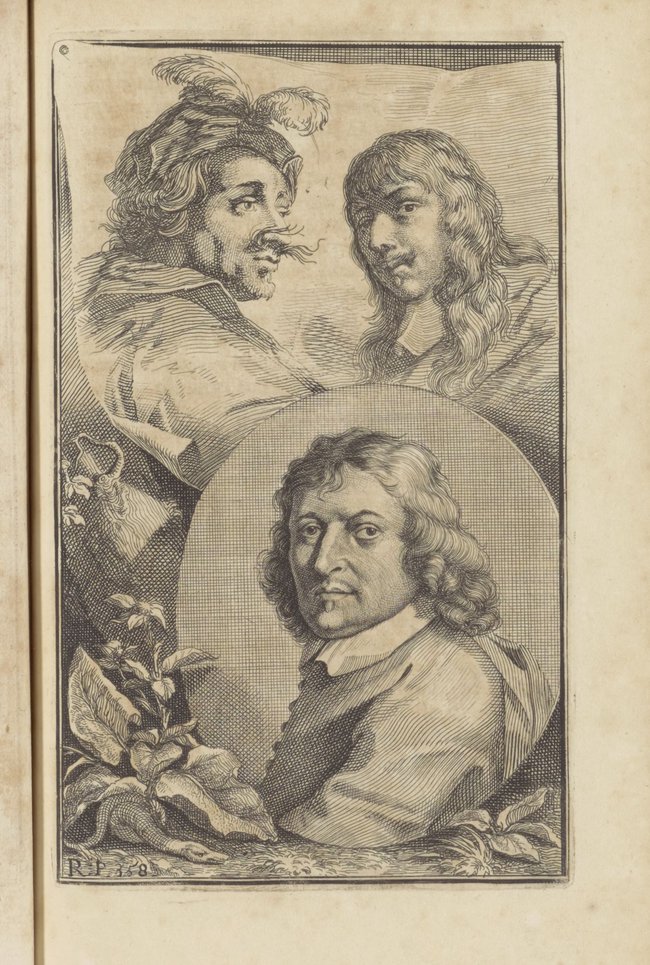 ---
Page 359

following the example of the theatre, which does not always bring brow-furrowed Catos on the stage, but in turn also Democrituses, who make mock of worldly things. Sad plays are usually accompanied by a happy farce, or people use clowns to refresh overwrought spirits. This also often serves in our descriptions of the lives of painters. Now we stage serious acts, then again farces. But the following life's rôle turns out badly; for it changes from comedy into tragedy.

PIETER van LAER, otherwise known as Bamboccio, was born in Laren, outside Naarden, of honest parents who raised him to be moral, civil and polite. The sun of his inclination shone early on over the horizon of his intellect and the execution of his first concepts soon showed for what he had been laid in the cradle, for there was nothing that was not described by him with charcoal and chalk. Having grown from this beginning to competent handling of both the drawing stylus and the brush (though I do not know who his teacher in art was) he had the fortune of being able to imprint a fixed concept of all the objects or appearances that came before him. Yes, it was enough for him to have seen these only once to make use of them in time. Which is why the Italians who knew and associated with him also repeatedly testify that he sketched more in his mind than on paper, yes that he took into consideration the manifold picturesque changes that are caused in fields, valleys, mountains, trees etc. by more or less sunlight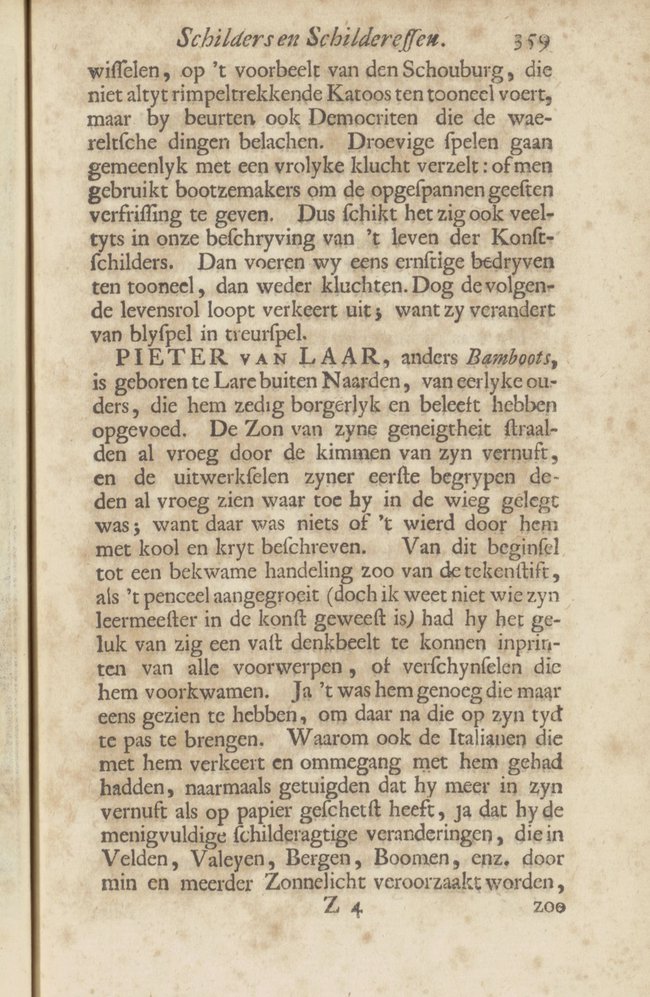 ---