Volume 1, page 340-349
---
Page 340

represents youth. Then, having climbed to full glory in the heavens, come the perfect years of understanding and judgement. Inclining to the western horizon comes the evening of human life, which finally disappears into the dark night of death. Art also knows her youth; that is her beginning and rise, which increases with the years until her full height, after which she again, be it through lack of strength or judgment, slowly declines, depending on whether she has a short or long dusk of life. People have been able to discern such differences in the brushwork of

HERMAN SAFTLEVEN. The works of his first period were simple, being nature followed in arrangement and colour. I have seen some that pleased me marvellously. But later, so it appears, no longer satisfied with the arrangements of nature, that is to paint things as they appeared before him in life (as these are by no means all equally appealing), he brought to his work an arrangement of his own, or, more precisely, a gathering of diverse pleasing objects. Exceptions are some views of the Rhine, in which he followed life closely, which indicate the places by identifiable signs and may clearly be distinguished from his other work. I do not say this because I judge that by doing so he did violence to the rules of art, not at all. On the contrary, I must praise his high intellect and handsome inventions in this respect, as he was able to choose all that is beautiful and arrange it together so that the art of his brush (fashion may play her rôle as she will) will always have a place reserved in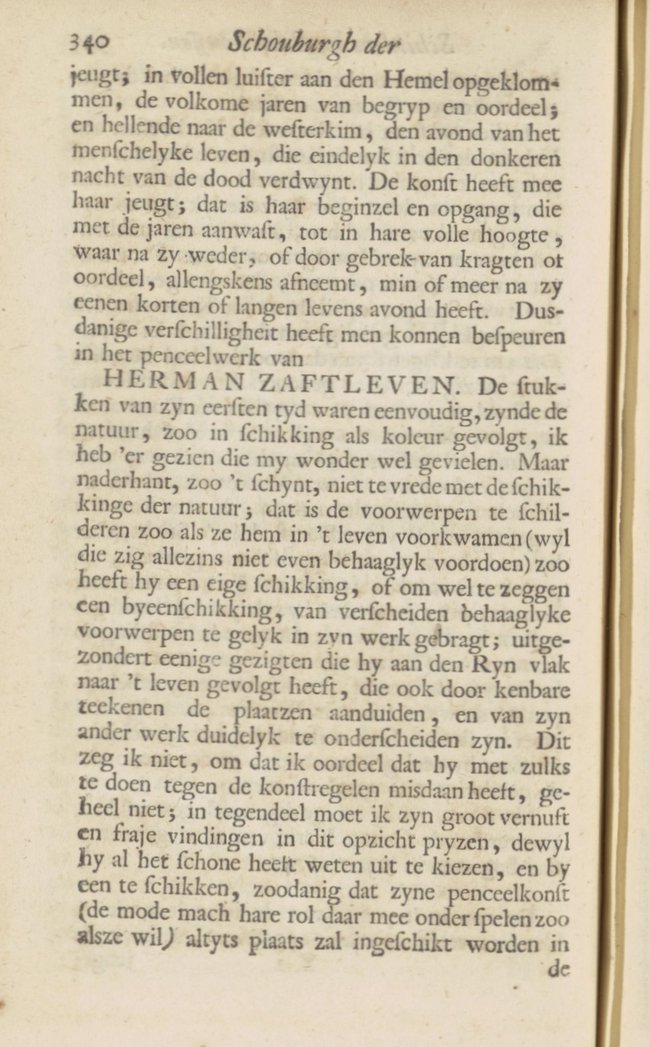 ---
Page 341

the most famous art cabinets. Yes, I must say to his credit that I know of no one amongst the Dutch landscape painters who has observed his views as clearly and thinly, as also the degrees or steps of recession better and more pleasingly, or who has populated his work more vivaciously and gracefully, recognizing that this is said of pieces of his best period; for his later work does not please my eye as well because they are too brightly coloured. In addition to his painting he was exceptionally diligent in drawing after nature, which he was able to do in a skilled but fixed way in black chalk. He was born in Rotterdam in the year 1609, but he lived most of his life in Utrecht, where he also died.

The top poet Joost van den Vondel was acquainted with him (as with others of his contemporaries) and found amusement in it. Once, when he leafed through his art book with his most important drawings, he made the following verse in his praise:

Does it please someone to live softly,
Drawing breath as he wants,
Let him stay home, tranquil and quiet:
He can quietly float up the Rhine,
From Utrecht and its cathedral;
Between the shores of the stream
Between vineyard, forests and trees,
Please himself everywhere,
Canals, cities and estates,
Herds, cattle and village and hamlet,
Fields and neighbourhood and gate,
Look at well and waterfall,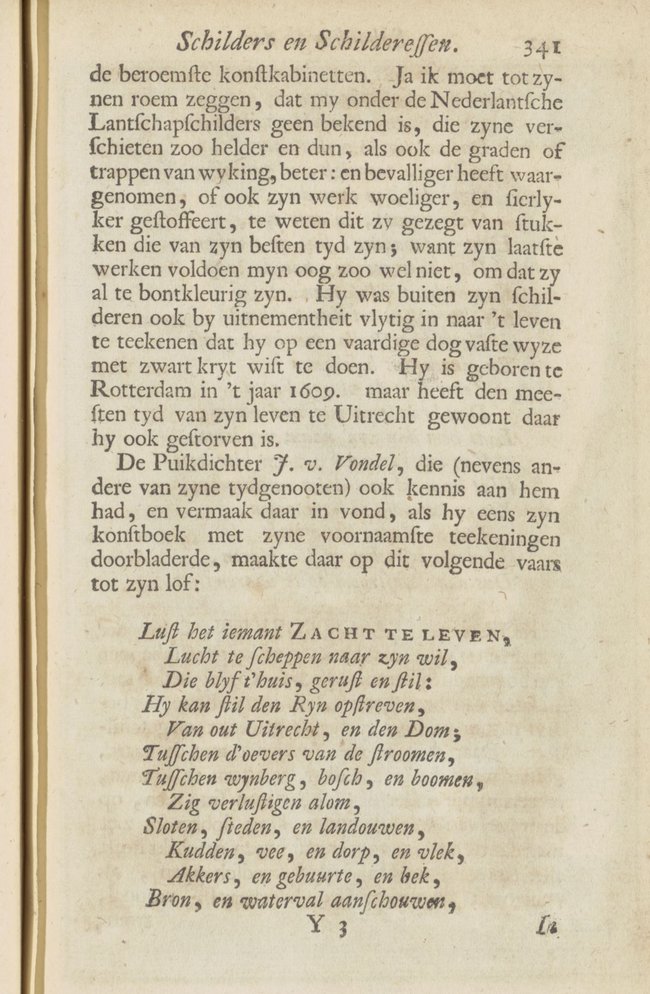 ---
Page 342

In his room, if only he opens these art papers,
So full of life, so full of flourish,
That nature at times stands there
Mute, angered and annoyed,
About this and about that,
About black and about white,
Light and shadow, quickly followed
In their essence by art.
Can the hand of this guide
Take me down to the Neckar?
Has Pallas with her favour
And mercy thus illuminated him?
Certainly let rapid Fame
Then boast with his name:
Let him then take his name freely
From life, for here lives
What he draws with thumb and fingers
Loose and lively in its meandering,
That gives the sheets life.
Who is saddened to sail
Up the Rhine stream in this way?

CORNELIS SAFTLEVEN, the brother of Herman, painted ingenious companies of farmers and soldiers. I have seen guard rooms with soldiers by him, each painted naturally loose and inventively arranged in its specific activity. There we see three or four playing cards. Yonder are others who sit together chatting or smoking a pipe under the chimney in the manner of Adriaen Brouwer. But usually one sees that in the foreground he has gathered together all kinds of war implements, such as blunderbuss, sword, pike, halberd, banner,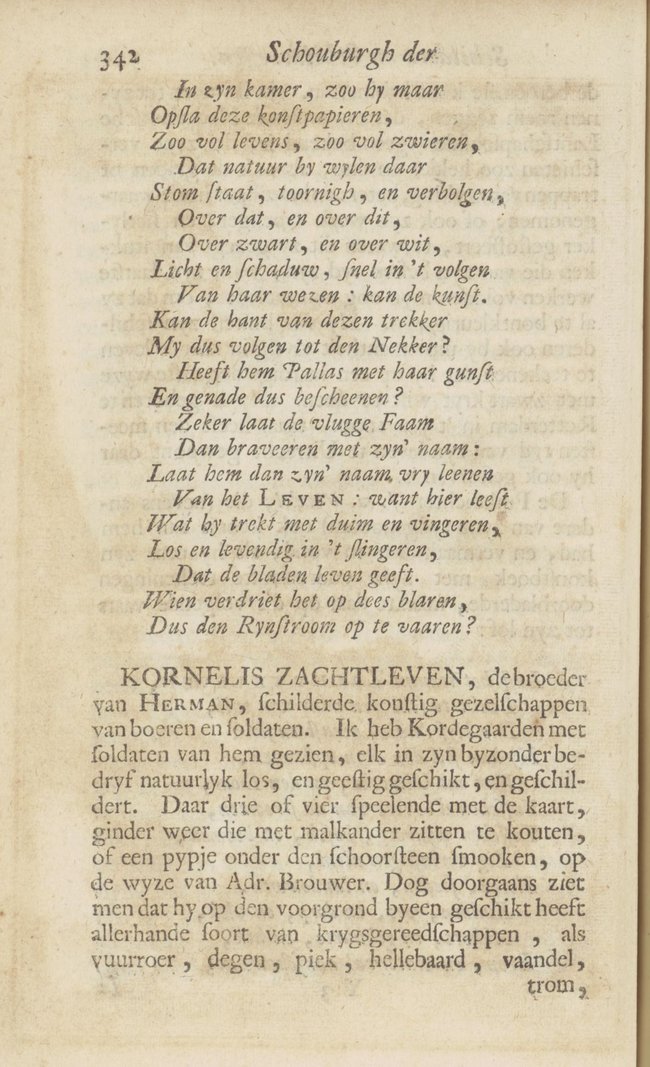 ---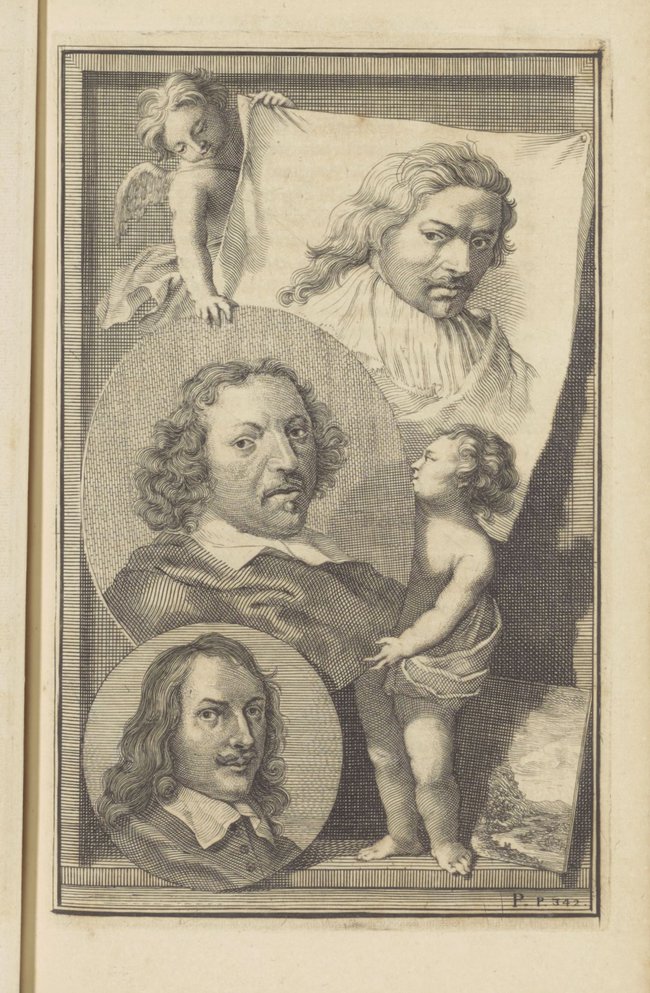 ---
Page 343

drum, sometimes a plumed hat, an embroidered carrying strap or silken veil with golden fringe, etc., all of which he painted after life and was also able to imitate naturally. Thus, one also sees farmers' dwellings from within and all sorts of domestic and building tools arranged and painted as above, just like similar ones that I have also seen by David Teniers II, whose way of painting he imitated.

I guess that he will have been older than his brother, seeing that his portrait is included amongst the portraits by Anthony van Dyck [1-2], which is why we have placed him in Plate P above his brother, whose bust, painted on an oval panel, is raised by a child at whose feet a small panel is seen with a view of the Rhine sketched on it, as he had often depicted it.

Counted among the best disciples of Herman Saftleven is WILLEM van BEMMEL, born in Utrecht. After he understood his work reasonably well, he left for Rome to continue his art after commendable models and because his inclination leaned to the depiction of Italian prospects or landscapes. He drew these with great industry and diligence in Tivoli and later transferred the drawings to panel so wittily and naturally that he gained great fame in Rome thereby. From there he left for Germany, where most of his works are, especially in Nuremberg. He was well able to observe the recession, light and shadow in his works. Still it is disputed whether his intellect and profound spirit or his brush should be most celebrated.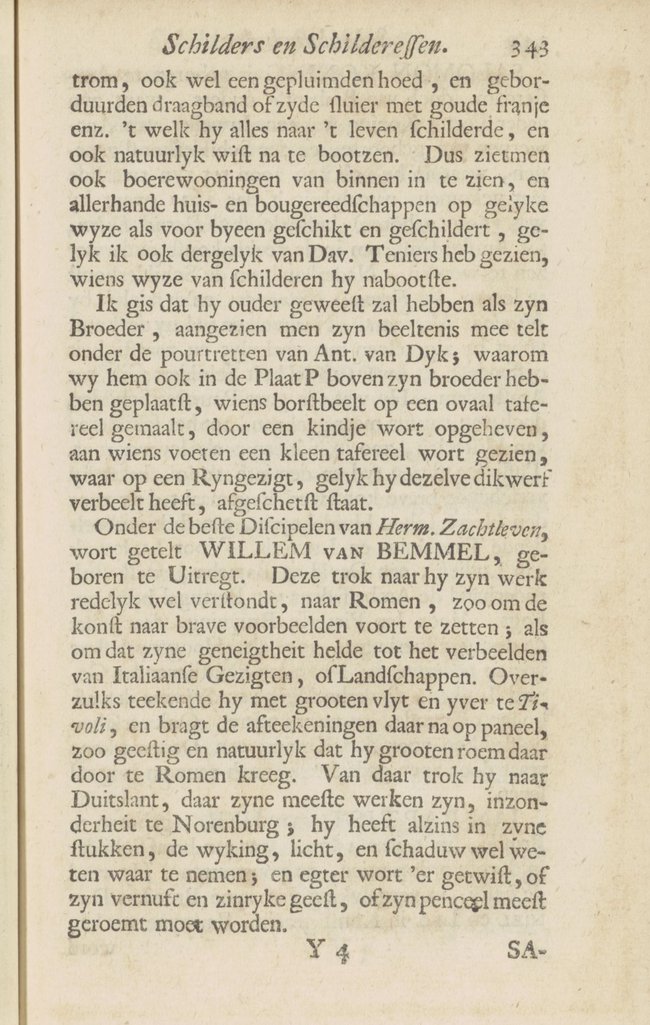 ---
1
Anthony van Dyck
Portrait of Cornelis Saftleven (1607-1681)
paper, black chalk, washed 224 x 176 mm
Amsterdam, Amsterdam Museum, inv./cat.nr. TA 10150

2
Lucas Vorsterman (I) after Anthony van Dyck
Portrait of Cornelis Saftleven (1607-1681), c. 1632-1641
paper, 3rd state 234 x 155 mm
The Hague, RKD – Nederlands Instituut voor Kunstgeschiedenis (Collectie Iconografisch Bureau)

---
Page 344

SALOMON KONINCK was born in Amsterdam, but his parents were from Brabant, for his father, Pieter Koninck, was a jeweller born in Antwerp and well-disposed to the art of painting. That is why he placed his son, when he had reached his twelfth year, namely in the year 1621 (for he was born in 1609), with David Colijns in Amsterdam to be instructed in drawing and later to learn painting with François Venant, and finally with Claes Moeyaert. After this time he practiced his art on his own with great diligence and industry, joining the painter's guild of Amsterdam in 1630. He was a good portrait painter but more inclined by nature to the painting of histories, both on small scale and life-sized. Between this time and the year 1660 he made various commendable artworks, as with a piece depicting Tarquin and Lucretia for Mister Joan Huydecoper I [3] and a David and Bathsheba for Lodewijk van Ludick, which work was later bought by the ambassador of Portugal [4]. For Jan Pietersz. Bruyning he did a work in which Judas throws the thirty pieces of silver before the feet of the high priests [5], and for the art loving Gerard Luyken a depiction of Salomon worshipping idols [6], and many others. There are also various pieces with the king of Denmark [= Christian IV] by which his memory will live for centuries [7].

JAN BAPTIST van HEIL, born in Brussels in the year 1609, was a commendable painter of devout compositions and portraits. He was deemed the best in art compared to his brothers Daniel and Leo. It is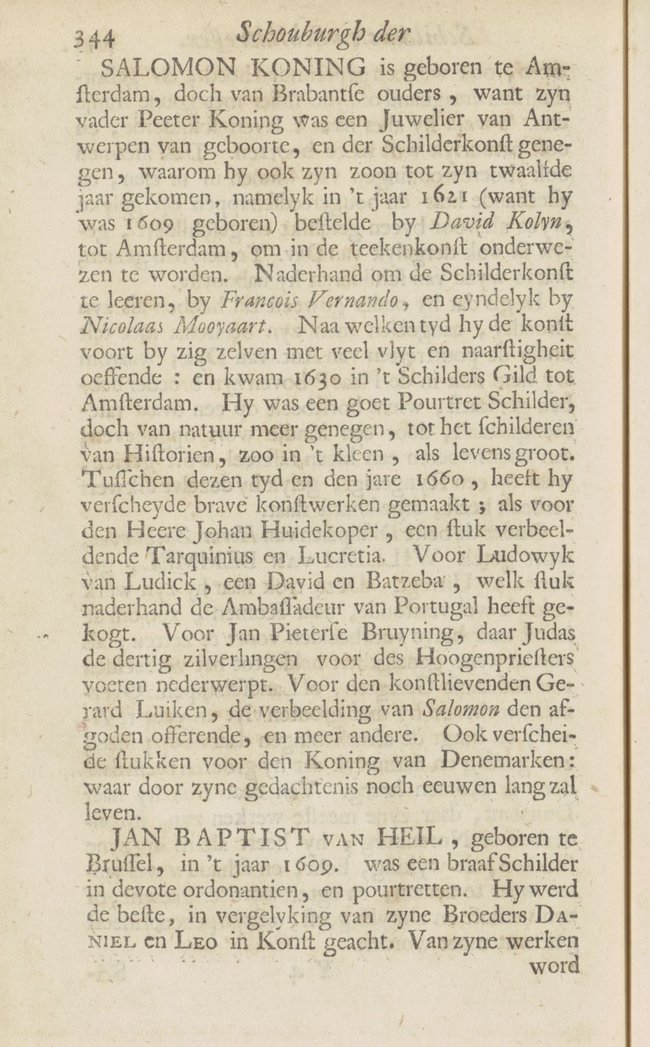 ---
3
Salomon Koninck
Tarquin finds Lucretia while she is working, dated 1641
canvas, oil paint 149 x 169 cm
lower right : S. Koninck. 1641
Private collection

4
Salomon Koninck
David consoling Bathsheba with the death of their eldest son (2 Samuel 12:24), c. 1640-1645
panel, oil paint 86.5 x 72.5 cm
Sotheby's (New York City) 2005-01-27, nr. 149

5
Salomon Koninck
Judas before the Sanhedrin returning the pieces of silver (Matthew 27:3), c. 1640
canvas, oil paint 77.5 x 92 cm
Sotheby Parke Bernet (London (England)) 1978-12-13, nr. 269

6
Salomon Koninck
Solomon offers sacrifices to pagan gods (1 Kings 11), dated 1644
canvas, oil paint 155 x 171.5 cm
left center : S. Koninck ƒ Aº 1644
Amsterdam, Rijksmuseum, inv./cat.nr. A 2220

7
Salomon Koninck
The royal double betrothals or nupitials of 1502, c. 1642
canvas, oil paint 165 x 345 cm
: Salomon Koninck F.
Skoklosters slott (Håbo), Skoklosters slott, inv./cat.nr. 1955

---
Page 345

witnessed of his works that they were clever in invention.

For in your work, briefly said,
Is spirit in abundance.
Says Cornelis de Bie.

They were all three still alive in 1661. Thus it is said that death will not lightly

Let Van Heil's lustre perish
Which lives on in three lives.

His contemporary, ROBERT van den HOECKE, born in Antwerp, painted exceptionally small and precisely whole armies with their accoutrements, such as canons, army wagons and tents, all on small scale so that it could hardly be discerned by the eyes, which is communicated in this two-lined refrain,

Rare and plentiful, equally fine.
Plentiful and small, equally pure.

It means much, says Graçian, if people are amazed by us, but still more when they love us. A lucky star may help a little but the intellect does the rest; it completes what the other has only begun. This is in part applicable to the commendable painter

DAVID TENIERS II, born in Antwerp in 1610. His path was lit from his youth on by the lucky star of his father's intellect, which he later, minding what was still lacking in his father's brushwork,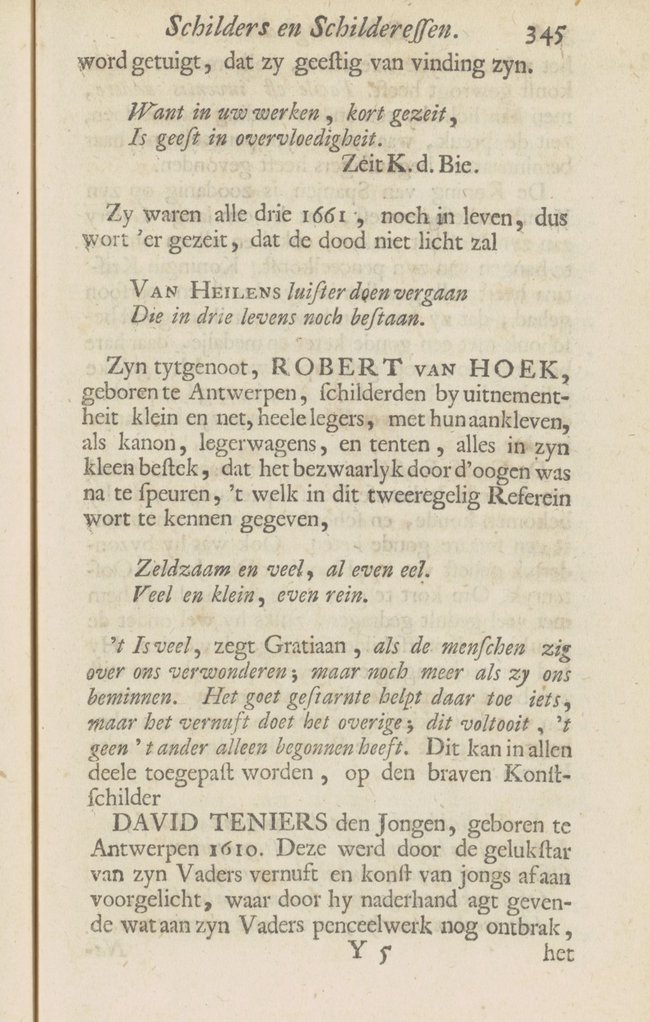 ---
Page 346

developed more completely according to art in his own work. Facile est inventis addere, one can easily add something to another's invention, goes the saying, by which the art of his brush has found admirers and patrons.

The King of Spain was so greatly enamoured of his art that he had a long gallery built at his court, entirely to hang his brushwork. Queen Christina took such pleasure in his work and person that, as proof of her favour, she gave him a gold chain and medal on which her portrait was stamped. Archduke Leopold granted him the same gift and further made him nobleman of his bedchamber.

The Count of Fuensaldaña sent him to England to buy up the best Italian art that he could come by and gave him a heavy gold chain for his trouble. He was also especially beloved by his highness Don Juan II of Austria. In brief, fortune carried him with much patience, so that he may well be counted among the happy painters. He had a drawing-like and smooth brush and was able to confer a lively touch on his pictures. And as far as his preference for his object is concerned, this is what Cornelis de Bie has to say in the following rhyme.

In all the pieces made by his hand
Whether bucolic kitchenware, or witty monkey business
Or animals or prowling of diabolical frenzies,
Or fight by drunks, especially on small scale,

It works naturally and shows itself equally pure.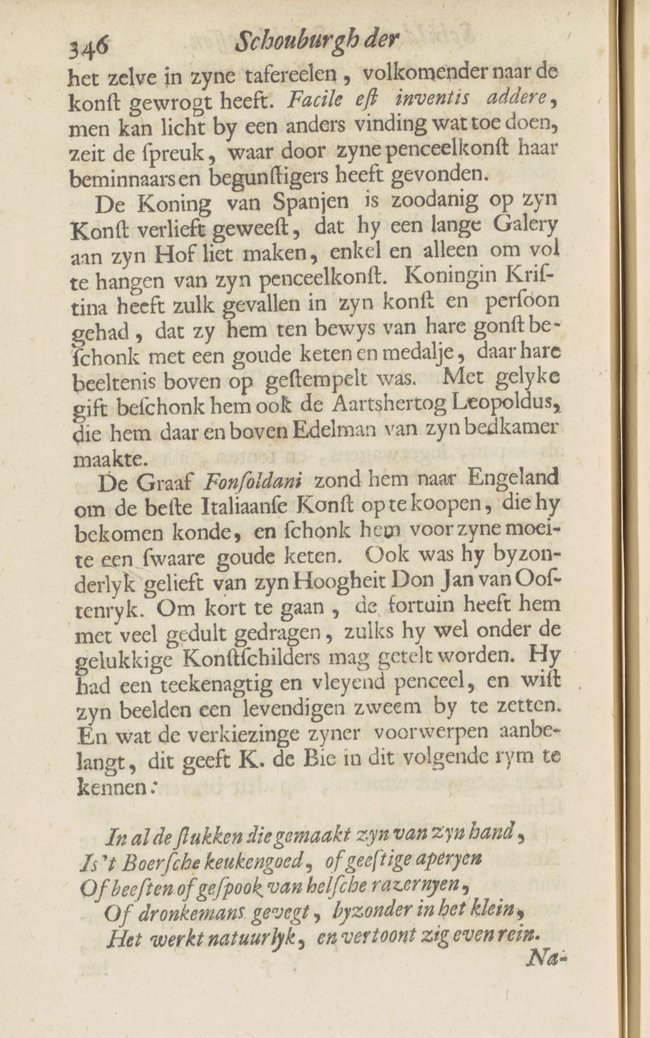 ---
Page 347

Nature brings forth nothing that can be pleasant;
Unless it arises as if alive from Teniers' brush.

His portrait appears at the bottom of Plate P.

After this appear on the stage

ADRIAEN and ISAAC VAN OSTADE. They were, if I am right, born in Lübeck but lived in Haarlem for most of their lives. ADRIAEN van OSTADE was born in the year 1610 and died in 1685. Adriaen Brouwer and he were at one time students of Frans Hals, and ISAAC van OSTADE was a student of his brother but died before he had climbed the height of the mountain of art, so that his brother harvested the laurels of his diligence and effort. In 1662 [= 1672] he turned all his art and household effects into money and came with that purse from Haarlem to Amsterdam with the intention (fearing the violence of the French) to flee to Lübeck. But the art-loving Constantijn Sennepart was able to persuade him so adeptly that he stayed with him in his home, where he made those artfully coloured drawings which Mister Jonas Witsen subsequently bought for 1,300 guilders along with a few drawings by Gerrit Battem, which I looked at several times with great amusement.

Peasant huts, shacks, stalls, including domestic interiors, with all their decrepit furniture, as well as small inns and small pubs with their complete gear, he managed to depict as amusingly and naturally as anyone ever did. He included small figures with their clothing and all sorts of activities so naturally bucolic and inventive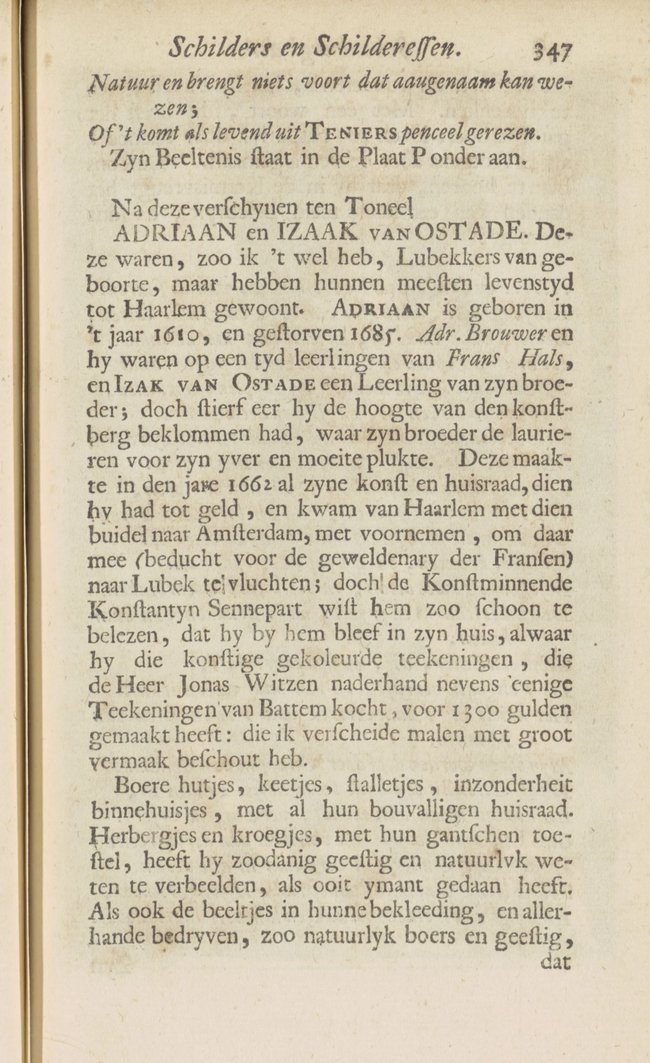 ---
Page 348

that it is astonishing how he was able to invent it all. In one word, he painted all of peasant life as naturally with the brush as Lukas Rotgans did with the pen. It pleases us to listen to him where he describes the joy of kermis and the dancing of a peasant maid, and continues thus:

........ and danced on to the sound of strings,
A young farmer, still with smooth chin and without hairs,
Occupies her left side and guides her by the hand,
The hat rests on one ear. A pipe with saliva burns
While smoking in his mouth. They skip back and forth
Kees Rednose strikes the skins and meanwhile fills his gut
With beer. The dancer grabs the maid by the arm:
She catches the breath of farmer Tewis from the tips,
After the closing of the dance, from his smoky lips:
The breath, which still stinks from the guzzled moisture
From farmer's mugs while he sat on the beer bench.
Drunken Tewes blushes and feels his chest ablaze.
The yokel rubs and grins after pressing her jaw,
Like a Satyr, who bent on eating sweets,
Surprises the field goddess and kisses her against her wishes.
The dance room writhes with women and men.
My ears turn deaf from the clatter of the jugs,
There in a corner sit two lovers side by side.
And make love mouth to mouth, wrapped up in making love.
Yonder sounds a village choir of more than thirty voices
And with song mutilated without sense in all parts.
While sluggish Lammers sits on speedy Wyburg's lap
And sings of Velzen's revenge and landowner Floris' death.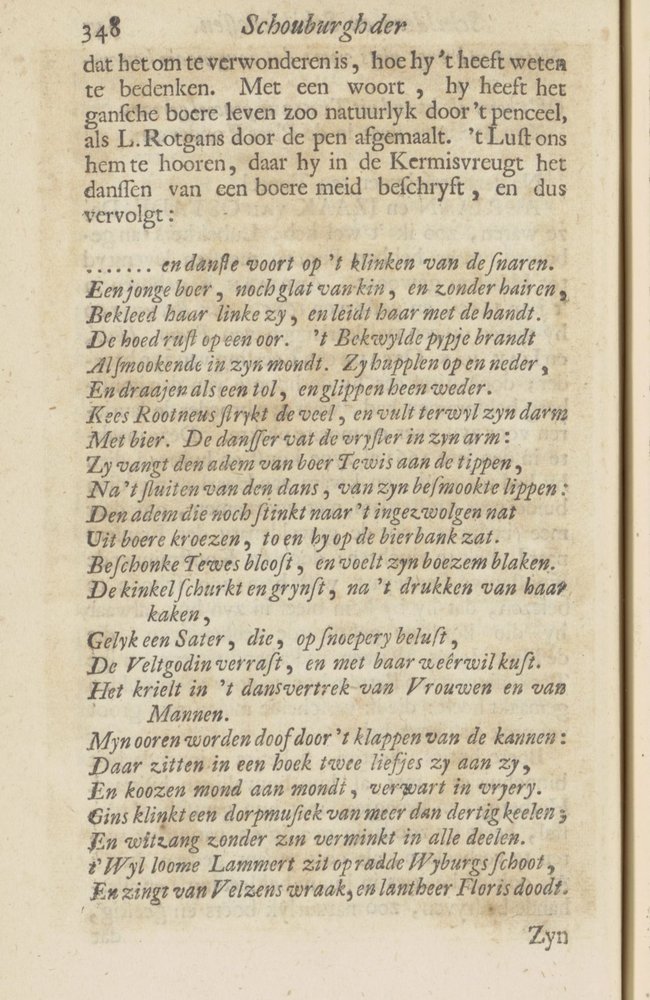 ---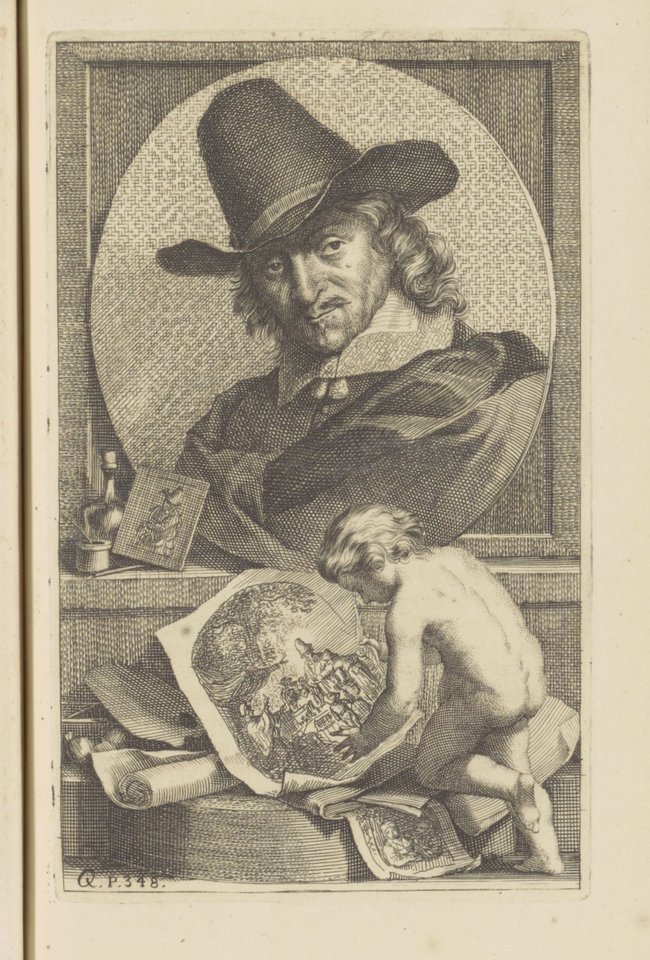 ---
Page 349

One can see his portrait in Plate Q, next to which some of his etched prints are seen as well as a young child, who seems to be amazed at their inventiveness. Because his biography (for lack of further information) has turned out somewhat meagre, we have tried to compensate with the print.

CORNELIS BEGA was his first and best student whom he raised in art. His mother was Maria Cornelisdr., daughter of the renowned Cornelis Cornelisz. of Haarlem, who drew and painted handsomely, and his father a woodcarver named Pieter Jansz. Begijn. He became a great master in the painting of peasant companies, but he was also a loose lad, so that his father did not wish to accept him as his child. Then he no longer wished to go by the name Begijn, but changed it to Bega, saying my father said to me Bega, Bega [= get lost], but . . . . In which year he was born in Haarlem I do not know, but I do know that he died there of the plague on the 27th of August of the year 1664. On which occasion, I have been told, he had a damsel with whom he was very much in love, so that when she became contaminated with the plague, he did not want to part from her, although his mother and the healers tried to prevent this with force and seriously advised against coming close to her bedstead. When she had arrived at the extreme moment of her life, he, crazed by love, behaved as if insane and wanted to kiss her a last farewell, but he was restrained from doing this. He therefore took the handle of a dust mop and held this out to her, which she kissed repeatedly on the one end and he on the other,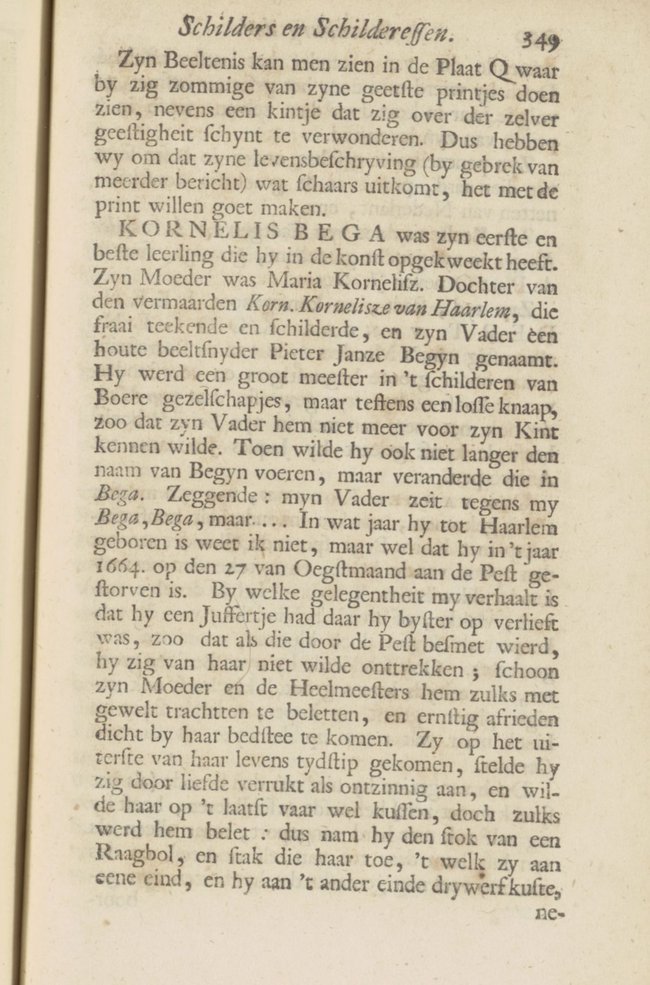 ---