Volume 1, page 330-339
---
Page 330

sitting in prison who wanted to make him something for his amusement. Rubens granted this at once and had what was requested brought in the early morning of the next day.

Brouwer was not slow to get started and chance happened to bring in front of him a subject that he could use. Some Spaniards, who sat around a corner for a game of cards, positioned themselves just so that they formed a model for Brouwer, of which he at once made a sketch (he imprinted in his mind their zest in playing the game, and the earnestness of their expressions) and continuing on with the brush he finished an artistic picture in several days. The Duke was greatly pleased by it because of the earnestness that they showed in the playing of cards and the naturally depicted gaunt and tanned Spanish heads. And especially the one taking a shit in the distance, whose effort, as if things were not being relieved easily, was represented so naturally and humorously that one could not keep from laughing when looking at it.

Rubens, who (as I said) knew the Duke, came to visit him shortly thereafter, and out of curiosity did not neglect to ask what that poor painter had made for him? Which the Duke showed him. Upon seeing it he said at once, stunned with amazement: Upon my soul, it is by Brouwer, and immediately offered the Duke 600 guilders for it. But he wanted to keep this picture for his own enjoyment, and in remembrance of this event.

Rubens, who could not tolerate that such an outstanding painter was being treated so badly,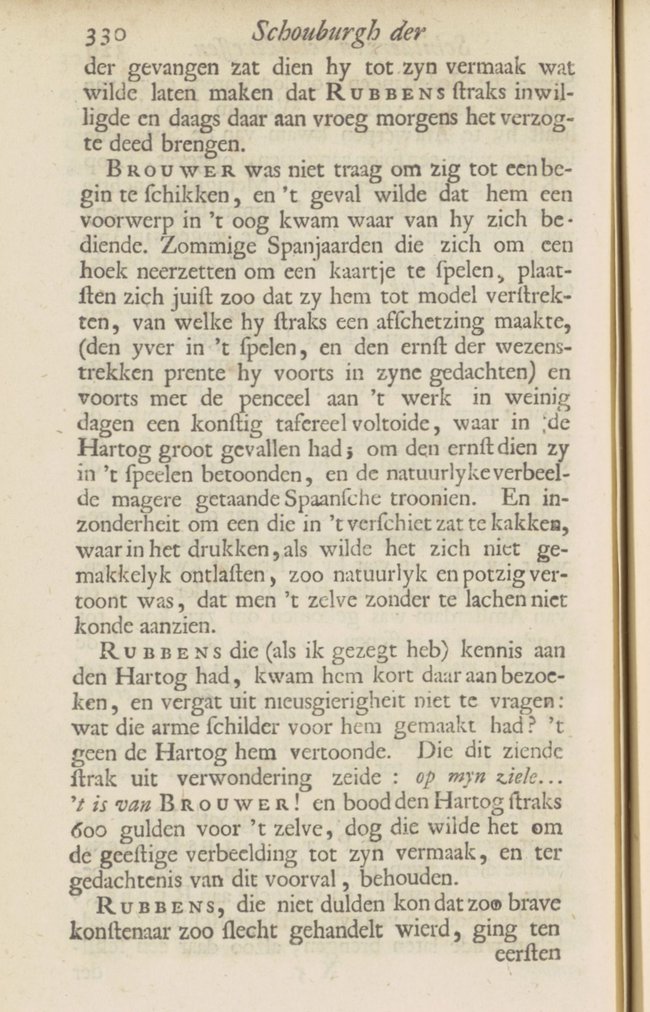 ---
Page 331

first went to the Governor, whom he informed that an artful painter come from Holland had been detained by soldiers and imprisoned simply under the suspicion that he was a spy; that they had seized him under wrongful suspicion; that his Highness could rest assured that he had not come to Antwerp with this intention, but only to practise his art, and because of all this could be given his freedom, which the Governor granted on Rubens' word. So he was let out of the prison and was happy about his liberation. Rubens took him along to his house, at once had a suit of clothes made for him and took him along amongst commendable company of temperate lifestyle, showing thereby that he had great respect for him. But our drifter took this not only as a burden, but it seemed to him a prison more cramped than the one from which he had been rescued. Thus he avoided Rubens and followed his old way of loose living.

It was not long before he fell in love with the wife of a baker who not only loved art but also conducted business in it. He made a deal with Brouwer to take him in so as to receive instruction in art from him. This was precisely what he wanted (as people say), for the reason mentioned. Brouwer not only instructed him in art, so that he became a good painter (which we shall discuss concerning him), but also took care to make him the king of the poultry yard. They were lads of one and the same life and carried out many a prank together, including some of a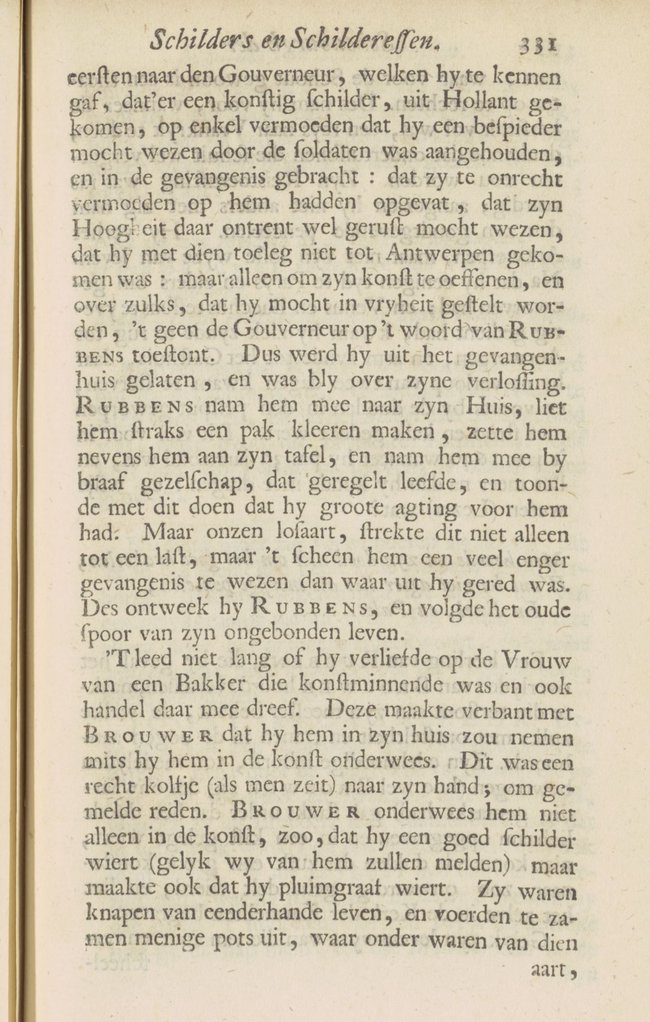 ---
Page 332

kind that had the bailiff stage a trial. Thus he decided when he had too much debt marked on his slate, to take a journey to France, thinking that his debt would be forgotten in the interim. His travel gear was quickly ready, seeing that he took nothing more with him that his gold-yielding brushes. He quit Antwerp, but not his loose way of life. After he had spent some time wandering around Paris and elsewhere and had served Venus and Bacchus too well, he returned sick to Antwerp and, being poor, to the poorhouse, where he came to die after two days. This occurred in 1640, when he was only 32 years old, and left more than he could take with him. And do you (reader) want to know what?

There was no haggling over his goods after he died;
As he left nothing but messy brushes,
And Easel, and Palette......

A student of Rubens who happened to hear about Brouwer's death, informed his teacher of this, who heard this with dismay and tears in his eyes. His noble heart moved to pity (however much Brouwer had made himself unworthy of this), he immediately ordered that the body be exhumed and put in a casket, not able to bear that such a great artist be treated in such an unworthy manner, and had it buried in the Church of the Carmelites.

Just as his way of life differed from that of other people,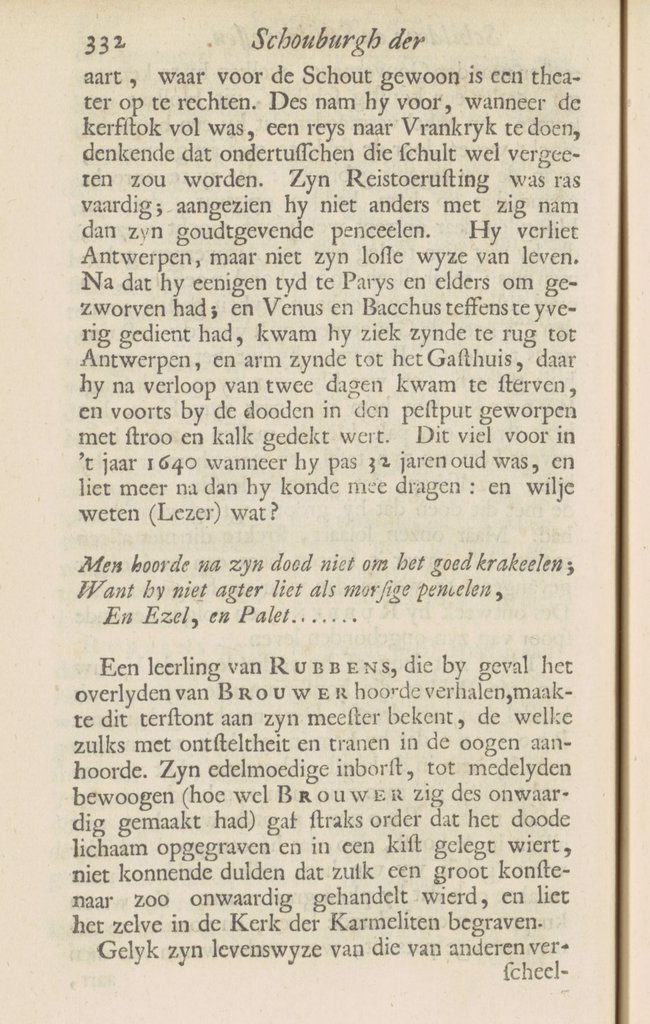 ---
Page 333

so also did the way he was buried, because he was buried twice; first shamefully, and then, followed by an distinguised funeral procession, led to another grave (to which this Flemish poem alludes):

Not for his nobility or brave acts of valour,
Was Brouwer carried from graveyard to church.
But because the first grave was too small for his fame.

They say that Rubens intended to raise an impressive tomb to his memory and that the model for it was already finished, but since the famous artist himself came to die shortly thereafter, nothing ever came of it.

No one should be surprised when I say that sympathy or hidden attraction is native to those who are of similar nature. We do not wish to confirm this only by the common proverb, each loves his resemblance, but more clearly by the following example of

JOOS van CRAESBEECK. He was by trade a bread baker in Brussels, but through daily association with Adriaen Brouwer and Brouwer with him, they became like brothers to one another, so that in whatever liquor store one was, the other also had to be. For when Joost had completed his day's work, he was at once with Brouwer, whom he kept company with a pipe and a mug of beer until Brouwer had also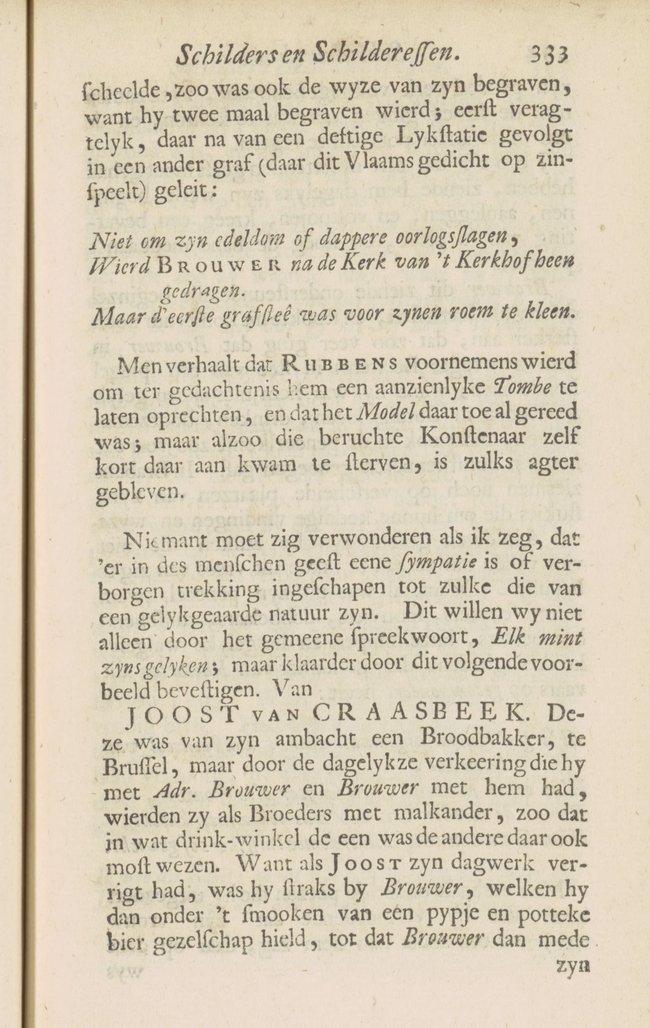 ---
Page 334

completed his brushwork, when they went to the pub together to chat a little and to play some prank or another.

Joos, who must have had an observant spirit and seeing him daily begin, perform and complete his work, developed an understanding of it and also turned his hand to the brush.

Seeing this, Brouwer supported this beginning through fixed lessons of instruction and fanned this art fire even further, going so far that Brouwer saw in him his own portrait instead of a mirror, because he had not only become his equal in loose living, drinking and buffoonery but also come so far in the art of the brush that it pleased the connoisseurs. In sundry places in Brabant one can still see pictures of his which, because of his comical inventions and manner of painting, are esteemed by those who are not averse to touching them out of fear of defiling themselves. For all that preceded from his brush were shitters, vomiters, gamblers, cheats, brothel keepers, flea catchers and similarly repulsive farces, about which the chamber of rhetoric has composed this verse:

Everything that was painted by the brush of Brouwer,
Was a swiller, a shitter, or a vomiter,
And as the master was, so was his servant,
For Graesbeeck joined in painting cheaters or fights .

It is told amongst the pranks that he carried out that, suspecting that his wife would rather see another than him, he put this to the test in this manner.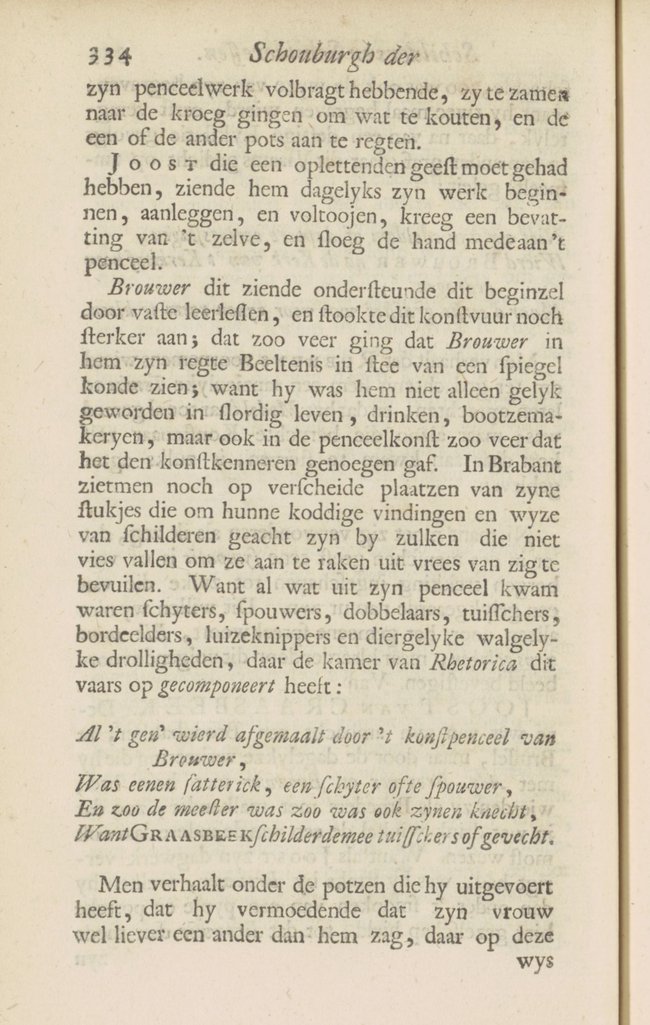 ---
Page 335

He tore open his jerkin and painted his bare chest even as if he were heavily wounded, and with his lips and cheeks smeared with white, cried blue murder and then lay down stretched out on the floor as if he were dead. His wife, having bolted upstairs, made a great clamour, fell crying over what she mistook for a corpse, after which he at once got up, saying: Now you mad woman, shut your trap. I see that you love me. I am not dead.

Such and similar pranks Craesbeeck played more often, by which he wanted to emulate Brouwer not only in his art but also in his farcical conduct of life. It surprised me that not one of the Brabant plate cutters had committed his portrait to copper until I learned that he did that himself with paint better than the best engravers, because they could only have depicted his features. But he painted his features along with his nature and entire way of life. Because he sometimes painted himself yawning, vomiting, his face distorted as if the brandy were biting his tongue, or also with a bandage on the eye [1]. By which his memory remains alive. If Craesbeeck had known the poet Jan Vos and shown such scenes to him, he would certainly have said what he did to L. den Schilder when he showed him his painting.

I love the portrait, for it is very loosely done: but you,
Which I hate, are as loose as your painting.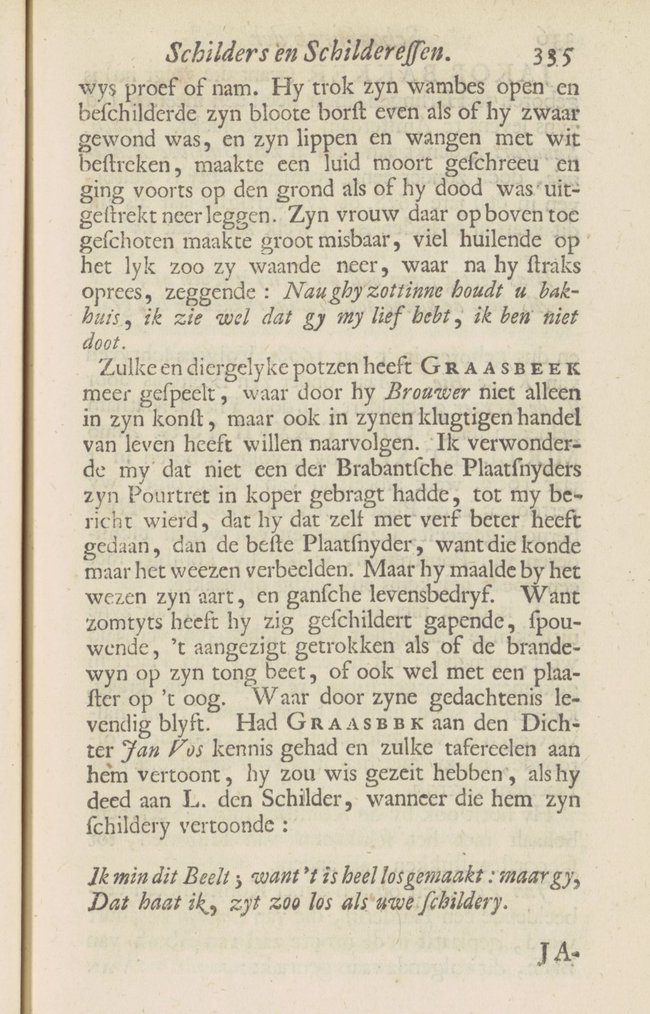 ---
1
Joos van Craesbeeck
Self-portrait as a grinning toper with an eyepatch
canvas, oil paint 55 x 40 cm
The Hague/Nice, art dealer J. Gans

---
Page 336

JACOB ADRIAENSZ. BACKER (for he now follows) was born in Harlingen but spent most of his life in Amsterdam.Joachim von Sandrart commemorated him in his Teutsche Academy, but without any indication of dates. He died in the year 1638, in his thirtieth year, as may be deduced from this verse, which says that he

Was thirty years old when he laid down his life;
When pale death came to tear him into the grave.

and therefore born in the year 1608 according to the writing of Cornelis de Bie. But under his portrait painted by Thomas de Keyser and engraved by Theodor Matham it says: OBIIT XXVII AUG. Anno MDCLI. AET. XLll., consequently born in the year 1609 [2]. We show this portrait as followed by us in Plate M, next to Rembrandt. He was especially famous for his portraits, which he made artfully, with a good likeness and handily.

It is hardly to be believed what is told of his exceptional facility at painting, namely that in one day he completed a woman having come from Haarlem to have her portrait completed, with collar, clothes, two hands, life-sized half way finished and well painted, and that she left for Haarlem with the piece before the evening.

He has also garnered great fame with art lovers with the painting of histories, as chimney pieces or otherwise.

Jan Vos made the following verse on one of his artworks depicting a shepherdess who is being spied upon by Cimon, located in the great room of Abraham van Bassen [3]:

---
2
Theodor Matham after Thomas de Keyser
Portrait of Jacob Adriaensz. Backer (1608-1651), 1651-1653
paper 339 x 243 mm
Amsterdam, Rijksmuseum, inv./cat.nr. RP-P-OB-23.191

3
Jacob Adriaensz. Backer
The shepherd Cimon spying on Iphigenia and her friends (Boccaccio, Decamerone, day 5 no 1), c. 1642
canvas, oil paint 150 x 230 cm
Braunschweig, Herzog Anton Ulrich-Museum, inv./cat.nr. 670

---
Page 337

Van Bassen, hold your own; the nymph that you see sleeping,
Was not created by the great brush, but by nature.
Let Cimon look at who makes his breast burn.
One can also satisfy lust, on occasion, with the eyes;
Be therefore a little more quiet; no footstep must creak here.
You will, if you stir, awaken the field nymph.
She burns us now she sleeps: should she awaken,
She would turn us entirely to ash; for the eye kindles the heart.

And Ludolf Smids expressed himself thus with the Iphigenia of Cyprus, made by Jacob Adriaensz. Backer:

Mars, treading in a room which might have one think
Oneself in heaven by the inventive brushes,
Saw a slumbering woman on a grassy carpet.
He bent down and began to stroke her white breast,
And shoved his smooth helmet from his brow to
Kiss that mouth before which Nature stood enraptured.

Lady Venus, he spoke (though it was a shepherdess,

Whom Cimon* finds in the forest) here is the God of War!
Awaken! Grant him the fruit of your requited love:
At once he gave way, ashamed of his imagined pleasure!
He thought that Venus lay before his playful eyes:
But he was fooled by Bakker's art, and paint and canvas.


* In the 19th chapter of his stories, Boccaccio says that Cimon was a lout, though of a great family, who by viewing this beauty changed into a sensible lover.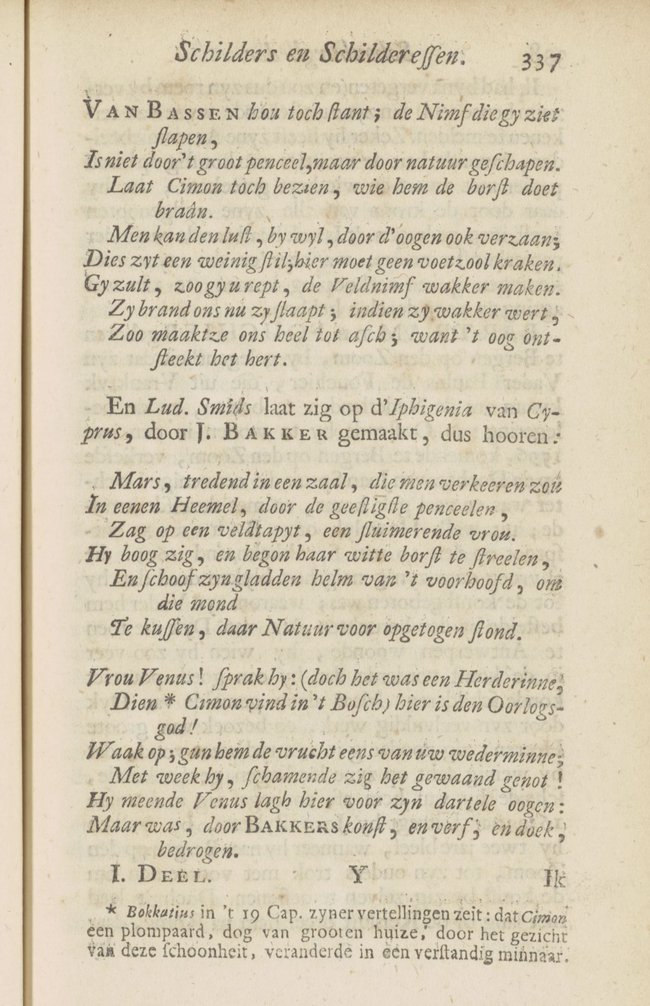 ---
Page 338

I almost forgot (and would therefore have slighted his fame through negligence) to mention his outstanding way of drawing. He was certainly able to draw his academy figures, especially the women, so skilfully with black and white chalk on blue paper that he carried off the crown from all his contemporaries. It may also easily be seen from the passion of lovers of art on paper when one of his drawings comes up for sale how much esteem they have for them.

BERTRAM de FOUCHIER was born in Bergen op Zoom on the occasion that his father, Paulus de Fouchier, came from France in the year 1596 to see the Netherlands and to take in the siege of Ostende. Arrived in Bergen of Zoom, he fell in love with the daughter [= Cathelyne Andriesdr. Spruyt] of Joan Spruit, who was an only daughter and had lots of money, and married her, from which marriage our Bertram resulted on the 10th of February 1609. He showed early on by his inclination that he was born for art, which is why his father placed him with the famous Anthony van Dyck, who then lived in Antwerp, with whom he advanced so far in art that he could paint a good portrait. But since mentioned Van Dyck was so occupied by his plentiful work and visits by great gentlemen that he was able to pay little attention to his students, he separated himself from him and in 1634 went to Utrecht with Jan van Bijlert, with whom he remained for two years, when he went to his parents in Bergen op Zoom with the intention to practice his art on his own. But before long his wanderlust drove him to Rome, where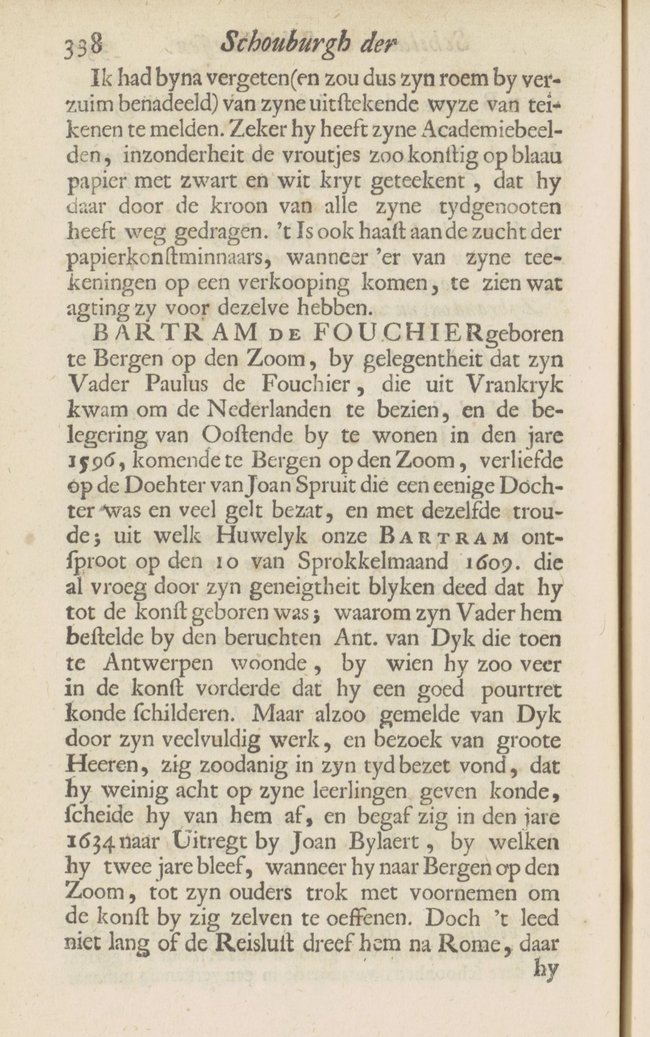 ---
Page 339

he practiced after commendable models, especially the brushworks of Tintoretto.

At that time the leadership of the Church of Rome was in the hands of Urban VIII, who being art-loving provided much opportunity for the nurture and support of young masters. He would certainly have scored a great hit were it not that an incident robbed him and his fellow artist, Joan Frederik van Isendoorn, of that advantage, being a fight with two Spaniards who had claimed they were heretics and threatened to report them to the Inquisition. Because of this they found themselves necessitated to leave Rome in all haste and go to Florence, where they remained for a while and practiced their art. From there they went to Paris and shortly thereafter to Antwerp, where they took leave of each other. Isendoorn went to Wijk by Duurstede in the Bishopric of Utrecht (where he was later chief bailiff and died in the year 1684), and Fouchier to Bergen op Zoom, where he practised art for many years. But seeing that his handling in the manner of Tintoretto did not catch on, he left it with time and painted companies in the manner of Adriaen Brouwer, with which he did much better. He also practiced glass painting, with which he made much money and may therefore be counted amongst the lucky ones.

He died after he had been sick for some days and was buried in the Great Church of his city of birth in the year 1674.

The sun having risen above the hazy blue horizon at the very beginning of sweet spring

---