Volume 1, page 310-319
---
Page 310

a sculpted marble stone brought from Greece to Rome) amongst his Roman statues [1]. Hieronymus says in his foreword to the letter to the Ephesians: that they did not honour Diana as huntress but as she with the many breasts. This was intended to convey the power of education, as by the swaddling of the navel lower down on the statue (between which were shown various heads of animals), since by unlocking the ties of birth she has the creatures come forth. That is why the Greeks also called her Diana Genethlios, because she has dominion over birth.

My fellows in art may possibly say; who is going to pay such close attention to whether everything is or is not observed precisely according to antiquity. I answer, no one but those who are practised in it. And that is also the situation with historical depictions. No one will notice the mistakes made in them other than those who are experienced in histories, from whom one may expect reprimands and whose observations the inexperienced heed, We could say more on the topic were it not that the stage curtain, already raised, did not order us to break off.

Until now the theatre has featured nothing but painters. Henceforth famous paintresses will also appear and at their allotted times will come onto the stage next to the men and by this changes amuse the reader anew and inflame his dormant desire for what they say.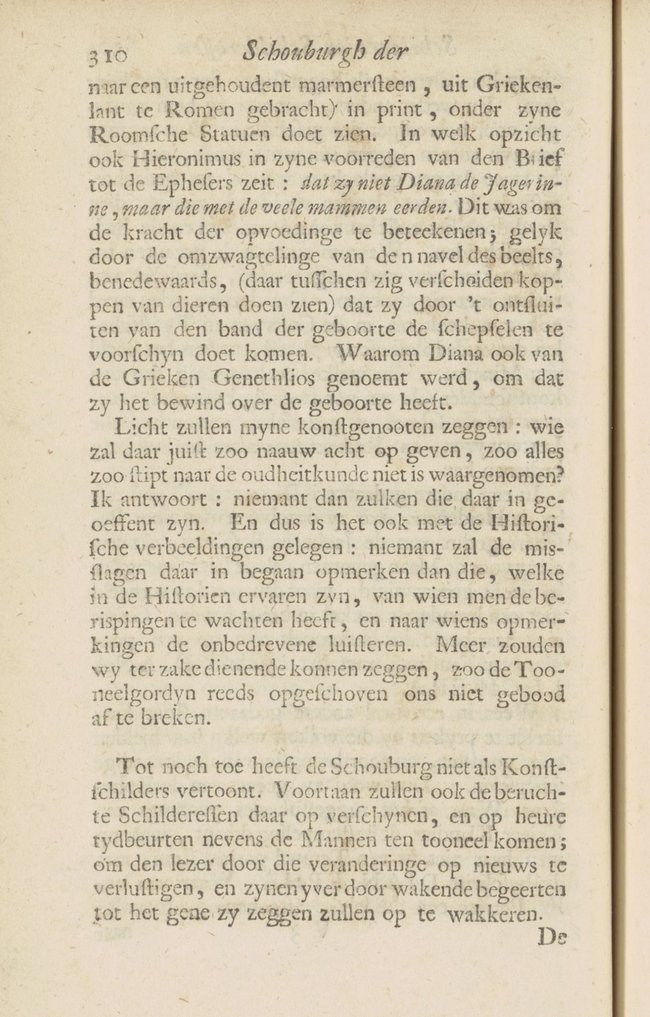 ---
1
François Perrier
Statue of the goddess Diana, ca. 1638
paper, etching (printing process) 215 x 127 mm
Overasselt (Heumen), Pictura Antique Prints

---
Page 311

The old commemorative texts mention one vestal virgin named Lala 1) who understood the art of painting. But why do we need to search in doubtful antiquity 2) for examples? The preceding century gave us one 3) Marietta Tintoretto, daughter of the famous Italian painter Tintoretto, advanced in the same art to the amazement of


--------
1) Lala of Cyzicus, or Spiga. She (says Pliny) was so greatly accomplished in the art of the brush that her work was estimated more worthy than that of the painter Sophilos, although it was sold at a higher price.
2) Doubtful antiquity. We do not controvert this and even less that the poets sometimes placed the poles of freedom a little too far apart and that as a consequence they are not to be relied on too far, while we recall the saying of Gracián: The truth rarely reaches our ears purely, especially when it comes from afar, because she then catches some paint from the passions that she meets on her way.
3) Marietta Tintoretto, born in Venice, learned art with her father [= Jacopo Tintoretto], to which she was so drawn that she was accustomed when still young to dress herself in boy's clothes to be allowed to be with her father (when he painted large works away from home), who loved her unusually much, so that she was taken for his son. She excelled in the painting of portraits, painted many Ladies, who liked to be with her was because she was able to entertain them with her singing and guitar playing, for which she was famous. What made her especially famous was the portrait of Bishop Marco and that of the first steward of Emperor Maximilian, which portrait she dedicated to the Emperor, and by which she made herself so famous that she received the opportunity to paint Philip II, King of Spain and the Archduke Ferdinand II. She died in the year 1590, being only 30 years old, and was buried in the Church of Santa Maria dell'Orto. Thus reports Sandrart's Teutsche Academie on page 203.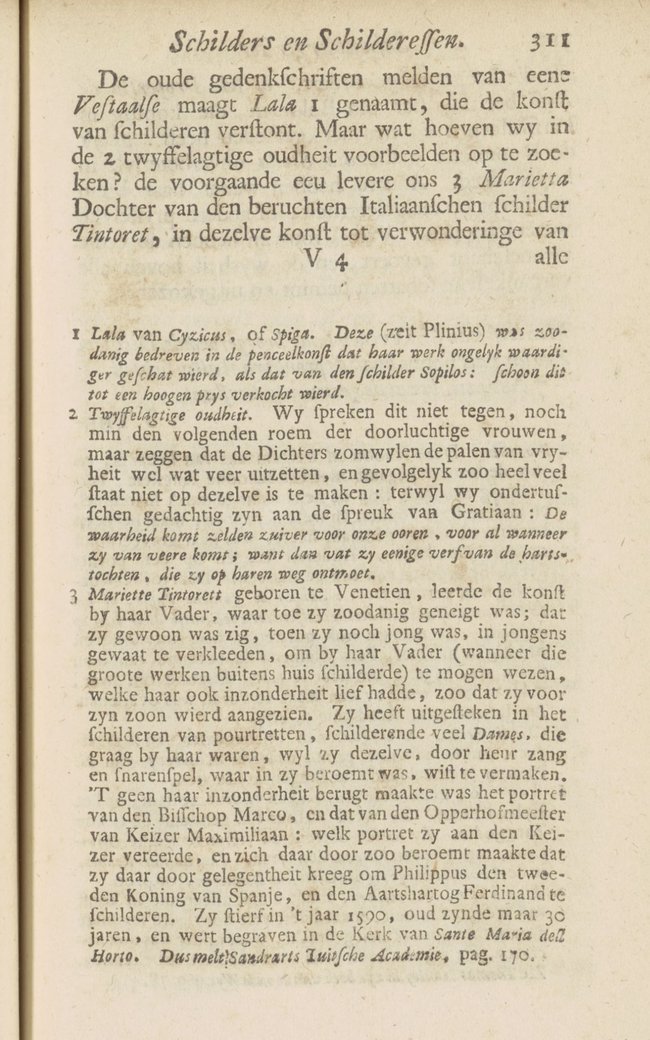 ---
Page 312

all who saw it. 4) Properzia de' Rossi, figure carver from Bologna, who artfully carved peach stones and marble, as the Roman 5) Claudine Stella did inimitably in copper. Others have sharpened their brains on linguistics and other praiseworthy sciences. Many women have handled the noble goose quill and have loved and chosen wisdom over all transient treasures.

One reads about 6) Sappho and her vaunted poetry,
As long of Phoebus remains the show piece of all lights.
7) Aspasia possessed the gifts of wisdom,


--------
4) Propertia. She was beautiful and well-formed physically and naturally endowed with a beautiful singing voice, and was masterful in the handling of the strings and other fine arts and sciences, but what made her most famous were her engravings on peach stones. Others say on a porphyry stone the size of a peach stone. Of which is witnessed in amazement: that she had depicted on it the complete Passion, or the Suffering of Christ, with each part of it distinct. She also made a small portrait, very detailed and skilful in marble. Pope Clement VII of that name was desirous of seeing her and sent for her, but too late, for she had died the week before. See Joachim von Sandrart's Teutsche Academie, p. 203.
5) Caudine Stella was matchless in the handling of the engraving iron, as seen in the well-known print after the painting (depicting the snakebite) by Nicolas Poussin [2].
6) Sappho was born in Mitylene, an important city of the island of Lesbos. She was in her time called the tenth song goddess. She lived around the forty-fourth Olypiad, at the time of Pittauc the tyrant. See p. 90 of Basil Kennet's Levens-bedrijven der Griekse dichteren.
7) Aspasia of Miletes excelled not only in the art of eloquence, but led many to perfection in it by her direction, including Socrates, who was not ashamed to admit it. See Thomas Stanley in his Boek van de oude wyzen, p. 78.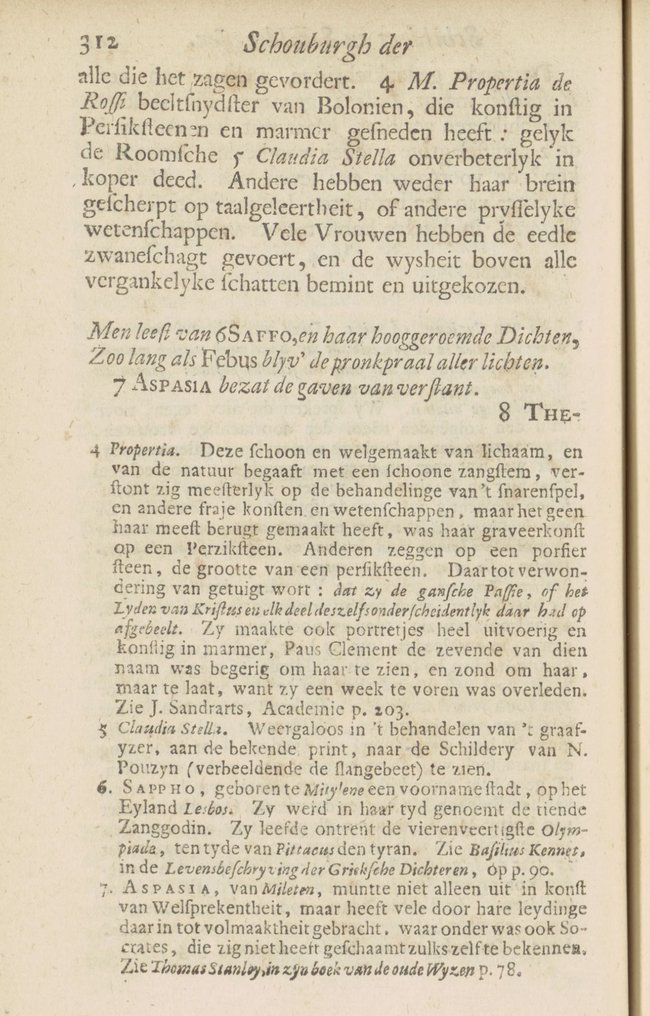 ---
2
Claudine Stella after Nicolas Poussin
Moses Striking the Rock, dated 1687
paper 543 x 778 mm
Buffalo (New York), Albright-Knox Art Gallery, inv./cat.nr. 1891:4.55

---
Page 313

8) Theano preserved the school of her husband.*
9) Arete taught her son learning.
Terrentia the wife of Cicero is praised,
For her intellect by fleet-winged fame,
As are numerous others, famous for their names;
The fame of many resounds from ivory thrones,
They live after death graced by beautiful crowns,
As once in triumph the great ruler Augustus;
The virtue of women is known to all peoples,
All of the earth raises her praise in spite of slandering pressure
10) Mary broke the bottle with Nardus' salve to pieces
And poured it gladly on the saviour's holy head.

All these laudable capacities, arts and sciences pointed out in so many examples, which will be enough by themselves to have everyone who possessed them a famous name and live in fame, were possessed all at once by our worthy Miss ANNA MARIA van SCHURMAN


--------
8) Teano of Crete, now Kandia, wife of Pythagoras, took over the running of his school after the death of her husband, where, until she married Aristeus, she followed Pythagoras' way of teaching. The same, p. 306.
9) Arete was taught to complete wisdom by her father Aristippus and henceforth taught the same to her son. See the mentioned author on p. 134.
10) This concerns what happened in Bethania as described in Mark chapter 14, verse 3, to which Judas takes offense, about which Nicolaas van Brakel wrote.
God-fearing Mary, your charity can't please that evil,
Of the purse carrier; what is the purpose?
He barks at her, to what end this loss of caution;
Why this oil, which you waste so recklessly?
One could have sold it for a high price.
De lydende en verheerlykte Christus, p. 9.
* Pythagoras.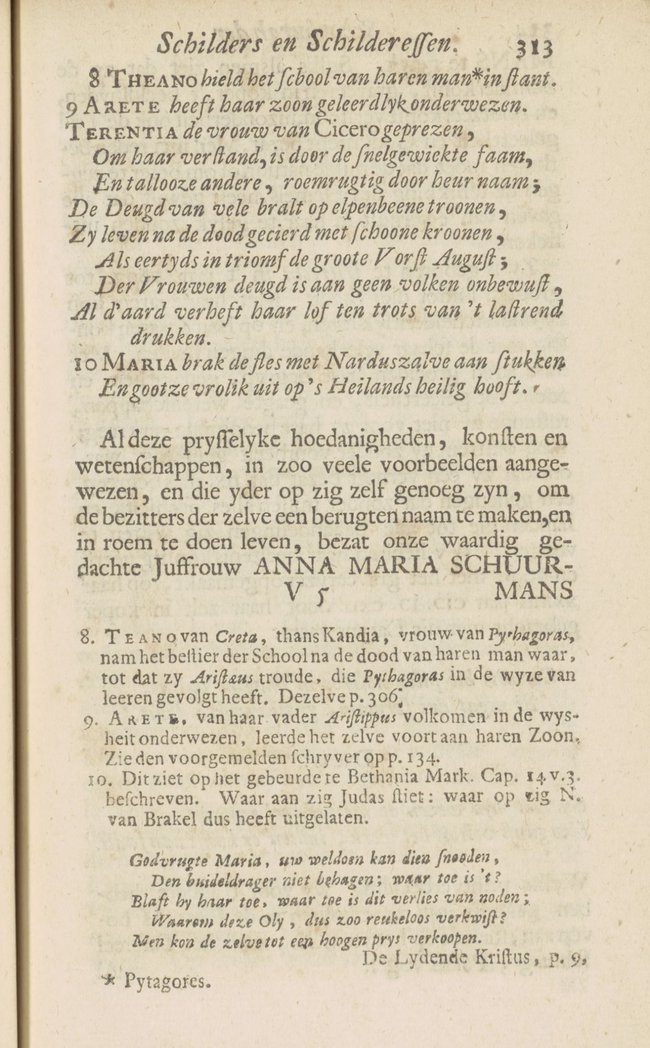 ---
Page 314

to such a degree that one sees that she understood painting, engraving in copper, sculpture and the art of modelling, and especially philology and piety. One must with reason conclude that mild nature, or better said, the disposition of the heavens, wished that all the gifts of intellect would stand out in her at the same time.

She was born in Utrecht in the year 1607 to the great credit of that city. At the age of three she was able to read with discrimination, and at the age of six she could cut many things with her scissors. Her understanding, inclination and passion for learning and esteemed sciences grew with the years and never rested until she had reached her true goal, in which she was fortunate without equal, because she had an intellect that quickly grasped everything, a memory that retained everything without lapses and hands that could adapt to all tasks. We have artfully etched her portrait and touched it up with the engraving stylus, as committed to copper by herself on her 33rd year, with this Latin verse [3].

Cornitis hic picta nostros in imagine vultus:
Si negat ars formam, gratia vestra dabit.

Which is:

You see my features painted on this picture.
Your favour will complete the work, should it lack art.

Which depiction in print we chose to follow instead of others in Plate M at the top. Standing on the base which supports the panel is Pallas' bird.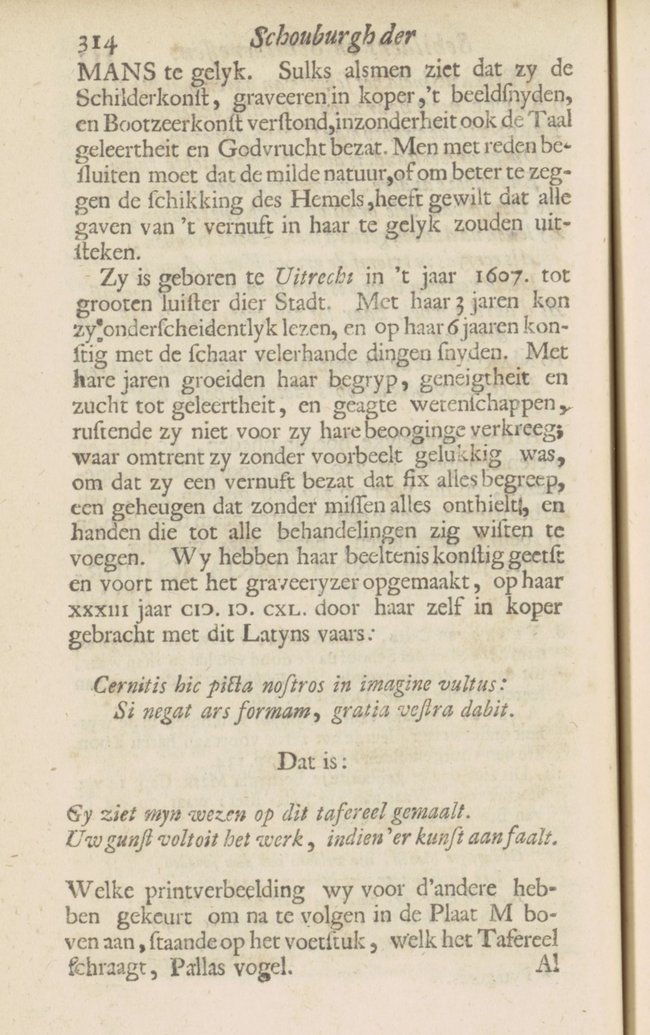 ---
3
Anna Maria van Schurman
Self portrait of Anna Maria van Schurman (1607-1678), dated 1640
paper, etching (printing process) 200 x 152 mm
Amsterdam, Rijksmuseum, inv./cat.nr. RP-P-1887-A-11945

---
Page 315

She mastered the treatment of the brush early on and painted all sorts of flowers very naturally, as well as many sorts of animals, such as snakes, lizards, caterpillars and butterflies, which, however, she did only as relaxation, whenever her spirit needed a rest from studying foreign languages. In addition it is said of her that using only a knife (and no other sculptor's equipment) she cut portraits of her mother, brother and herself so skilfully and with such a good resemblance that everyone looked on with amazement. Yes, people say that the painter Gerard van Honthorst valued the portrait of her brother at 1,000 guilders. In addition she also modelled her half-length image in wax, through which she attained great fame. But what made her most famous was her matchless learning in languages. Because people say that she understood and spoke nine languages thoroughly. In addition she was practised in biology, biblical texts and rhetoric. Yes, she grasped the fine points of languages and the very essence of philosophy and biblical texts, and exchanged letters on these subjects with learned men of her century. But all this fame on account of her art and learning she threw away all at once when, under the pretext of wishing to serve the lowly Jesus in simplicity, she turned to the Labadist zealotry, which also took her from Utrecht and her friends to Altona, where a society of kindred spirits was being formed. To which manner of change the poet

---
Page 316

alludes under her portrait, which was engraved by Jan van Munnickhuysen [4].

Here you see the noble maid, called matchless,
Before she chose a better life over worldly praise.
She was as if composed of wisdom, spirit and virtue:
Her love was crucified, the cross was her joy,
Art, languages, scholarship, learning, honour,
She gladly placed before Christ's feet.

She died in Altona in the year 1678 at the age of 71 years. And the greater part of her fame died with her.

Next to her MARGARETHA van GODEWIJK appears onstage.

The reader will forgive me if I exceed my proposed limits for a single journey and introduce Margaretha van Godewijk next to her on the stage, even though she was born years later. This happens because everything I have said to the renown of Anna Maria van Schurman and the praiseworthy examples that I adduced could be applied to both equally.

Margaretha was born on the 31st of August 1627 in Dordrecht (where her father was in the service of the Latin School). She was granted great intellect by gentle nature, was exceptionally experienced in the Greek, Latin, Italian, French, and English languages, and also understood the Hebrew chronicles and rhyming inventively in poetic measure. She was able to stitch landscapes, farms, houses, flowers and all kinds of ships, as well as paint everything in oil and water paints. For which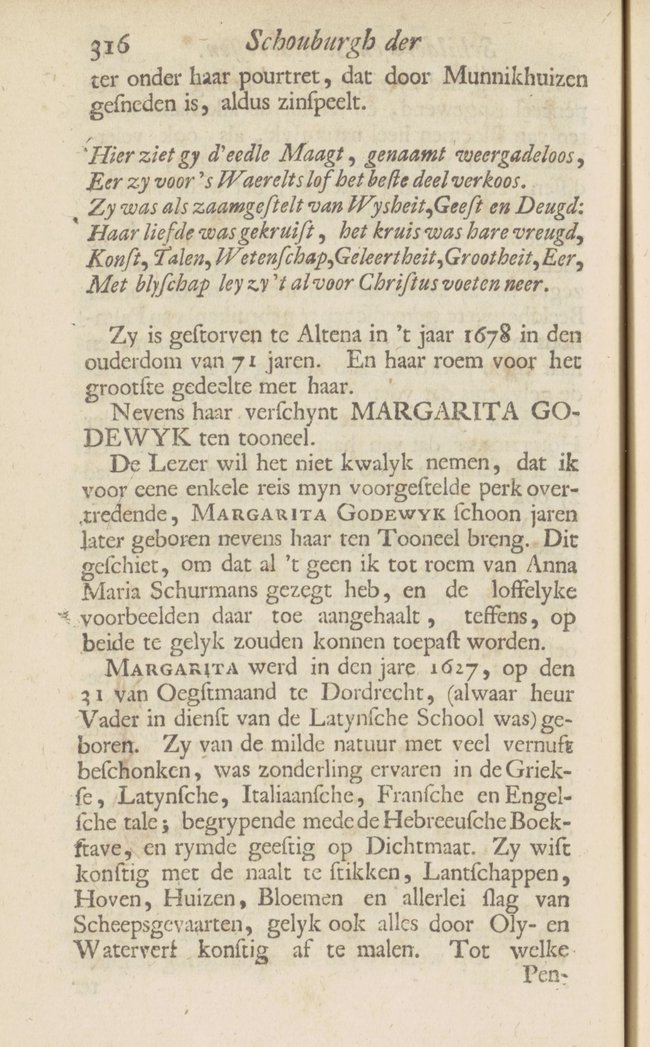 ---
4
Jan van Munnickhuysen possibly after David van der Plas published by Jacob van de Velde (uitgever)
Portrait of Anna Maria van Schurman (1607-1678)
paper, etching (printing process) 152 x 98 mm
The Hague, RKD – Nederlands Instituut voor Kunstgeschiedenis (Collectie Iconografisch Bureau)

---
Page 317

practice with the brush she had Nicolaes Maes as teacher. She was also able laudably to depict all sorts of objects in pen and pencil, could further write inventively on glass and was competent in harmony singing and playing the clavichord. In addition, she understood astronomy and what have you.

Matthijs Balen, who writes about her in his description of Dordrecht, attests that after her death he had been shown several of her written books as well as her Latin, French and Dutch emblems, with images, decorated by her intellect and art and also letters in Latin on a variety of subjects to learned men, including Mister Arnoldus Senguerdius, professor of philosophy in Amsterdam. These three bound works, as well as her incidental writings and several samples of her art, resided at that time in the cabinet of Mister Samuel van der Heiden.

The mentioned Balen has also graced his book on the origins of Dordrecht with a portrait of that beautiful pearl (as she herself painted it after life). Below it one sees the following inscription, composed by Mister Samuel van Hoogstraten [5]:

Thus Margariet painted her exterior appearance,
As if she stood before us: but to grasp her spirit in languages,
In art in knowledge, and in piety,
The lifetime of Nestor would seem to be too short.

She died in Dordrecht on the 2nd of November 1677.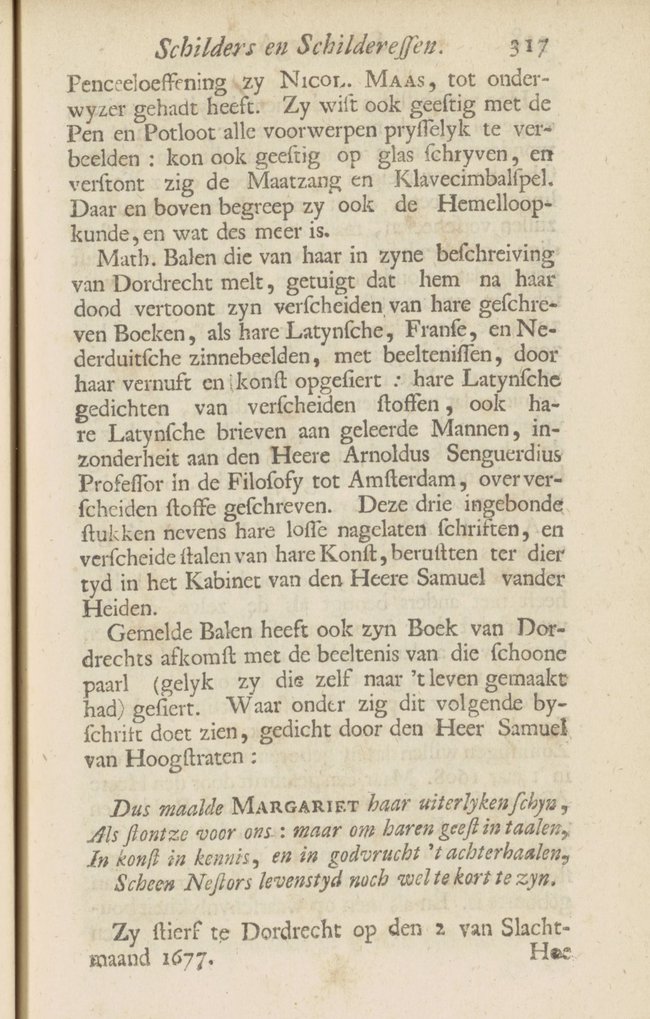 ---
5
after Margaretha van Godewijk
Portrait of Margaretha van Godewijk (1627-1677), c. 1677
paper, etching (printing process) 175 x 127 mm
The Hague, RKD – Nederlands Instituut voor Kunstgeschiedenis (Collectie Iconografisch Bureau)

---
Page 318

How differently one encounters human character and the concomitant inclinations is less surprising when one notices that this is native to human nature so far that even twins of one gestation will not only differ in nature but be driven by totally contradictory affection, this being a certain consequence of the diverse passions that originate from the varying natural constitutions. And as a consequence the effects generated by differing and unusually rooted impulses also differ. However, no matter how different something is, there is nothing that stimulates pleasure more than the following of natural inclination. Nor are the bodily members ever more ready (with respect to some action or effect), because the work is gratifying in itself. The life of

ADRIAEN BROUWER will demonstrate this saying as if in a mirror. He followed his inclination, which tended to peasant subjects. He did not have any other aim than to paint them with the brush in the most natural manner (in which he succeeded above others) and in this way received the honourable name of a great master.

Farcical was his artwork, farcical his life. As the man was, so was his work.

Some want him to have been born in Oudenaarde in the year 1608. But a record found by Mister Nicolaas Six, a student of the Leiden knight and excellent painter Carel de Moor II, among the papers of his ancestors and put at my disposal shows that he was a townsman of Haarlem by birth. And if one may build on probability,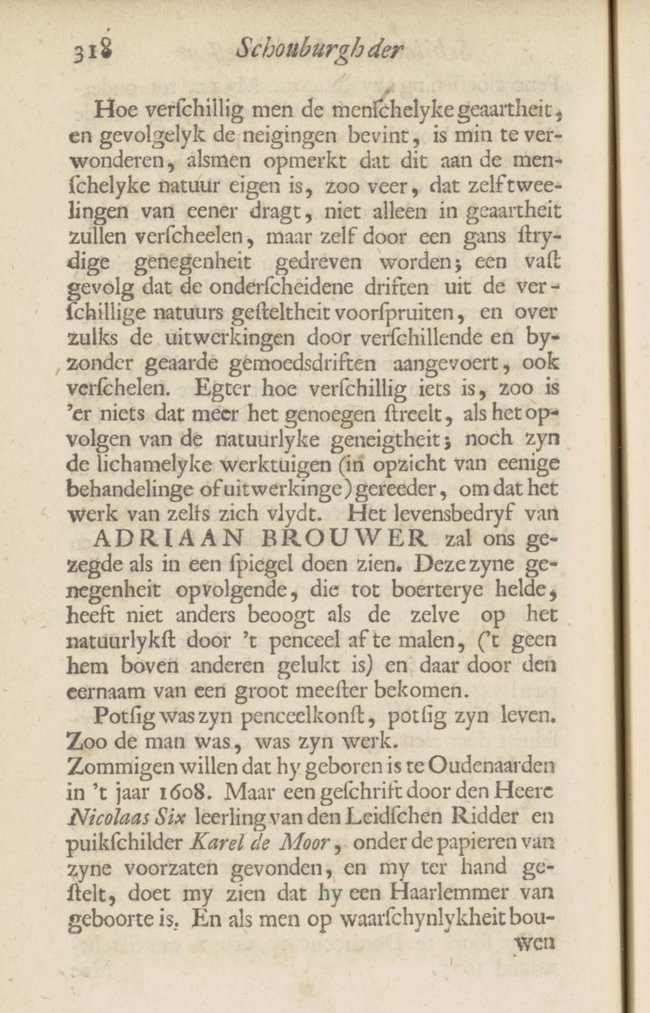 ---
Page 319

with no more certain proof at hand, we have to settle for this city, seeing that this record provides me with certain indications.

First, he was a student of Frans Hals, who always lived in Haarlem. After all it has never been evident to me that Hals lived in Brabant or practiced his art there, so that Brouwer would have had opportunity to be instructed in art by him there.

Secondly, because it seems to me that he was born of humble parents and as a consequence would not have been sent from Oudenaarde to Haarlem, as people of means are want to do when there is no competent master to be found in their city. But the opposite appears, for Brouwer was taken in and trained in art by Frans Hals, who sensed in him a quick spirit, about which the aforementioned document states, among other circumstances, that when he was still young, Brouwer was kept by his mother to draw foliage and flowers on cloth, which she then embroidered with the needle and, cut into mittens and bibs, sold to farmers' wives.

Frans Hals passing by there by accident and seeing how freely and inventively he handled this work, asked him: would he not like to become a painter? To which he immediately answered yes, if his mother would allow it. Frans Hals asked it of his mother, who allowed it, provided that he would board her son.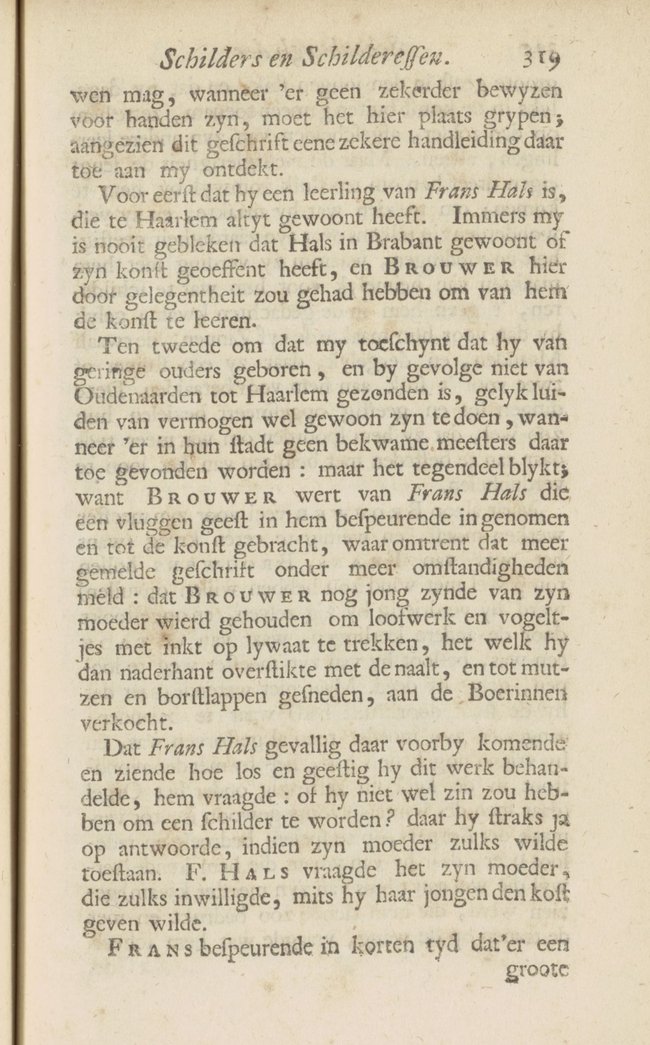 ---