Volume 1, page 210-219
---
Page 210

to give it as a present to his highness the Prince of Orange, later King of England, expecting to come by some position, and all the more because the soldiers of the States were mainly the cause of his downfall. And to make the work more tasteful for the Stadholder he had his portrait painted in the middle of the mentioned fruit and flower wreath [1]. But (as the proverb goes) nothing is sooner forgotten than good deeds. It happened that the prince did not think of him for some time, even though he kept his cause alive by advocacy and petitions. Others have noted that the death of the Lord of Zuylestein near Woerden (who had his best interests at heart) was his misfortune. Finally the Prince appointed him to the city council of Utrecht, which could be of as much use to him as the fifth wheel on a wagon. The council of Utrecht being at a loss with him, seeing he had missed his aim, gave him the toll keeper's position on the Vaart, otherwise known as Vreeswijk. This was his reward for such a divine jewel of art, of which I do not know what happened to it since.

His artworks pleased various foreign courts, and the sign of knighthood that he wore is proof of the respect his art met with, in which he had no other guidance (except from his natural passion) than from his father, David de Heem, who still lived in 1660, at the same time as his son, as may be gathered from the rhyme of Cornelis de Bie.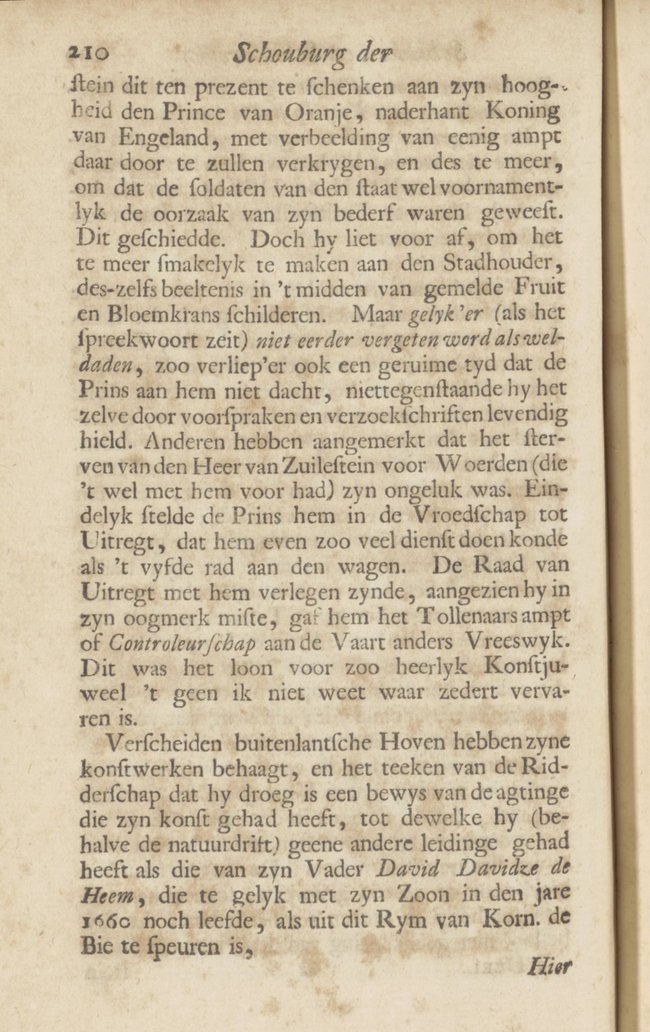 ---
1
Jan Davidsz. de Heem and Johannes van der Meer
Portrait of Willem III van Nassau (1650-1702) in a cartouche of flowres and fruit, c. 1670
canvas, oil paint 134 x 114 cm
lower center : J.D.De Heem R
Lyon, Musée des Beaux-Arts de Lyon, inv./cat.nr. A85

---
Page 211

Here live two by art, the son with his father.

The inclinations of both ran to the painting of all sorts of eye- and taste-caressing fruits, such as grapes, peaches, apricots, cherries, oranges, lemons and pineapples. Both were dedicated to the imitation of beautiful nature; so that we may say together with the mentioned De Bie:

The son ploughs as well, as purely, as alertly,
As the father does, Pictura's fertile field.
He who juxtaposes the work of father and son,
Will not be able to discern any difference ........

But Jan Davidsz. de Heem is especially praised because he was able to imitate gold and silver, such as trays, bowls, etc. naturally, as if they were truly gold and silver.

When De Heem, full of fire, on the unsullied panel,
Deceives the curious eye by strokes of his brush,
Nature is surprised, who by the glow of the paints
Sees her harvest, so rich, pale and die.
It's in vain that people speak of the avaricious Midas
Here art has recreated paint as pure gold.

His portrait is on Plate K below Anthony van Dyck, whose portrait is viewed with amazement by the youthful painter.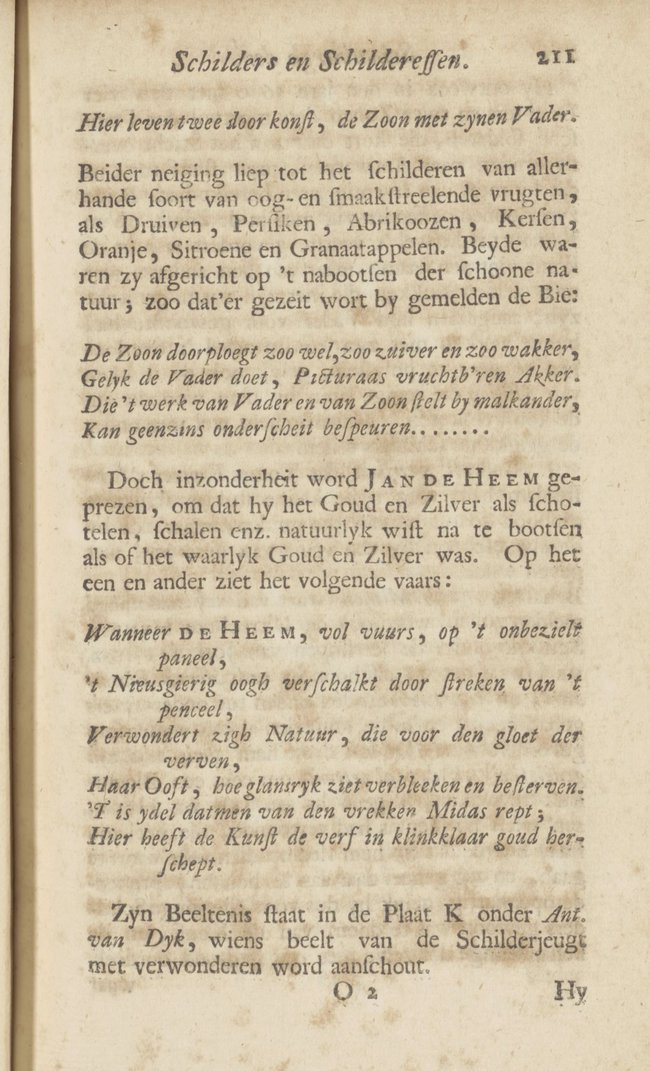 ---
Page 212

In 1670 he fled for Antwerp with four sons and two daughters to escape the aggression of the French soldiers, who flooded the Bishopric shortly thereafter, but died in 1674 after he had reached more than seventy years. Both sons also practiced art. With Cornelis, who was most advanced in art, one encounters the signature. But with the other, one rarely sees pieces that are marked with his name, seeing that their father was in the habit of going over works to polish them, as is also the case with some pieces by Mignon, who lived with him for some years to study art. One may rightly place him among the most fortunate painters.

Joachim von Sandrart tells that in Amsterdam Thomas de Keyser offered De Heem 450 guilders for two small paintings, but he would not part with them, even though he was his friend.

Other than Abraham Mignon (whom we will mention later), the Utrecht painter Hendrik Schoock is also counted among the students of Jan Davidsz. de Heem, although he first had Abraham Bloemaert and Jan Lievens the Elder as teachers and had already advanced a big step in histories. Desire drove him (who can always limit his inclinations?) to make a flower piece, which he showed to Jan Davidsz. de Heem, with whom he was acquainted, who deemed it so handsome that he advised him to continue in this way and entirely apply himself to it, speaking frankly (as he was wont to do with all young painters) about art and its handling with a well-grounded verdict,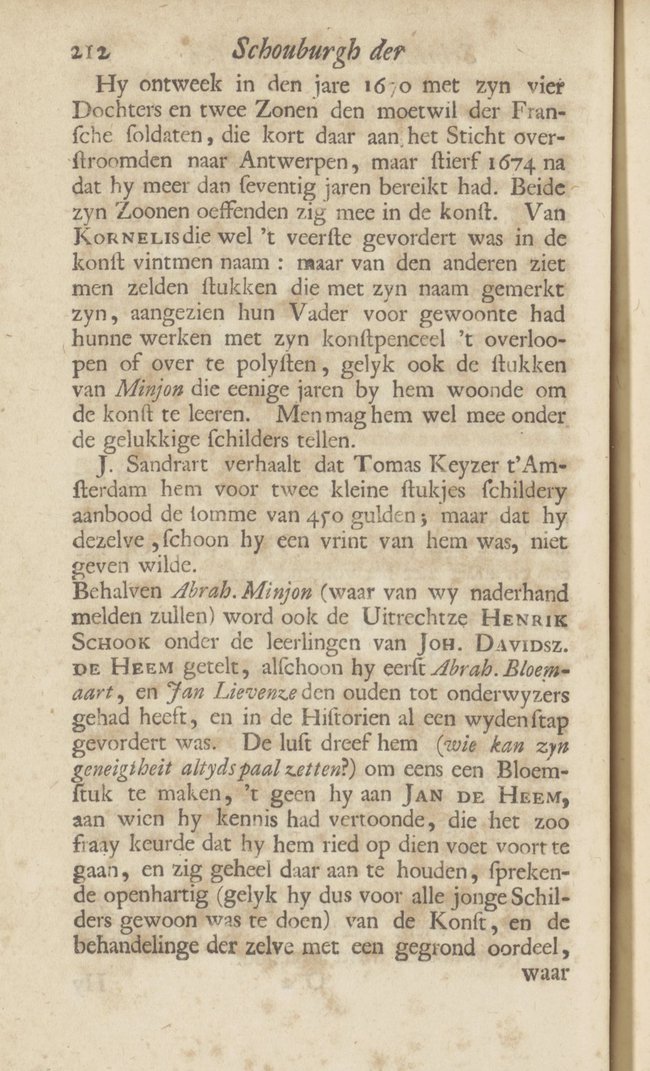 ---
Page 213

owing to which the mentioned Schoock attached himself to him, all the more because this part of art came more easily for him than histories.

JAN PORCELLIS, whose precise time of birth we do not know, is placed by De Bie with Hendrik van der Borcht, born in 1583, and Jan Wildens, born in 1600. And on the list of painters that we find in the description of Haarlem, he is placed with Pieter de Molijn, Chaerles de Hooch, Jacob Pynas and Salomon de Bray, born in 1597. We have taken the certain for the uncertain and placed him at the beginning of the XVIth [sic] century.

Jan Porcellis, pupil of Hendrik Vroom, painted sea ships, sea storms, and sea beaches naturally and skilfully, with handsome figures. I have seen works by him depicting how the fishermen drag their ships onto the beach on rollers, and others in which they carry loaded baskets up the dunes on their shoulders, but his art consists particularly of the natural depiction of sea storms, in which thunder clouds turn day into night and enormous lightning flashes pierce the dense clouds and flicker against the foaming brine, so that even an itinerant German labourer would be frightened by the seawater.

He was, people think, born on the Kaag, a village on a lake near Leiden. But the Knight Carel de Moor II has assured me that he was born in Leiden and buried in Leiderdorp. He had a son named JULIUS, who approached him so closely in art that it often causes confusion, all the more because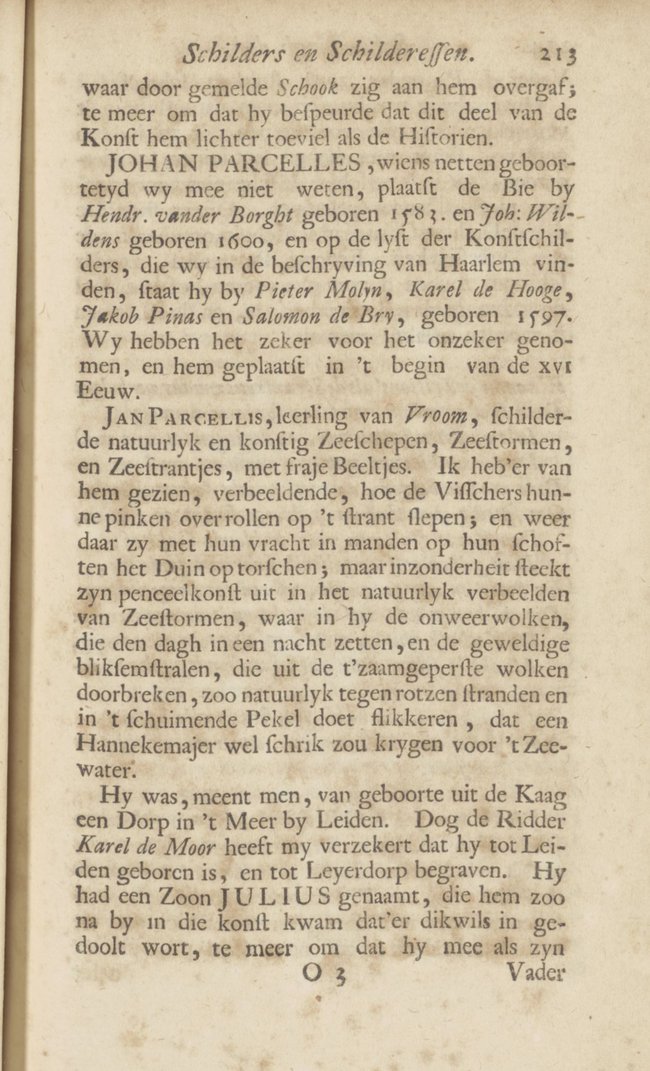 ---
Page 214

he wrote J.P. under his paintings like his father.

He was inclusive and equally natural in the depiction of his subjects, be it a paved beach with high sand dunes, in which small ships move playfully in front and behind in the distance. Or a placid sea and the poet's Galatea in a shell, fleeing from the terrible one-eyed Polyphemus, who would not hesitate to swamp her, or elsewhere an Eolus, who disturbs the sea with his blowing and makes the waves howl, even as

When the Tritons (when the beach giant greatly angered
Pursues his Galatea with regret and love sickness,
Wanting to end her flight and force her to his affection)
Cleave the waves with their crests to save her in
That need, and accompany her with the intention to
Hasten over the sea to the dry beach,
Lay low the sea way for the blonde Galatea:
Then roll wave upon wave towards a good harbour,
And pile, whipped up, to high mountains
Which in their anger taunt even the air and storm.
The sea hulk back and forth, tortured by that compulsion,
Makes the sailors fearful and the heart of the helmsman afraid,
Seeing himself in this emergency pressed on all sides;
Now the rudder will not listen to avoid cliff and reef.

Jan en Jacob Pynas of Haarlem painted figures and landscapes. Jan had progressed farther in art and was in Italy for several years around 1605 along with Pieter Lastman, born in 1581, to practice after the best models. His brushwork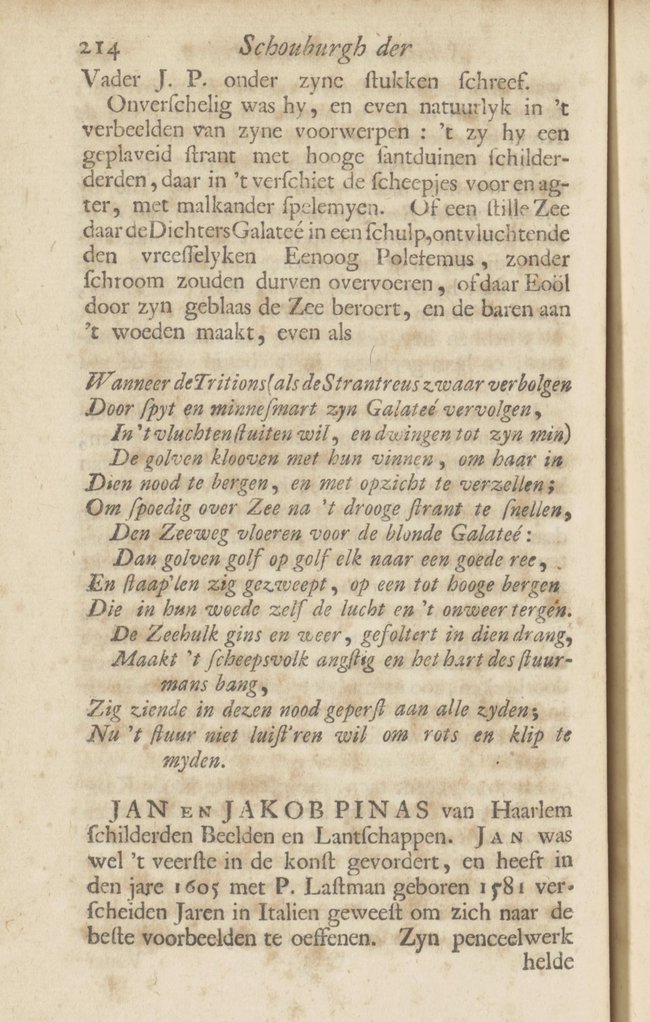 ---
Page 215

tended towards brown, which is why many believe that Rembrandt copied him in this.

Vondel commemorates him in his preface to his play Joseph in Dothan with these words: The sale of Joseph came to our mind through the scene by Jan Pynas, hanging next to artful pieces by Pieter Lastman in the home of docter Robbert van der Hoeve, in which the bloody robe is shown to the father [2].

PIETER de MOLIJN, his contemporary and fellow townsman, was a painter of handsome landscapes, clear and thin in his recessions as well as naturally glowing in the foregrounds.

In addition to this a whole company of painters, his contemporaries from various places, though mostly from Antwerp, appear on stage, such as Werner van den Valckert, Remigius van Rheni, Lodewijk de Vadder, Martin Ryckaerd, Andries van Eertvelt and Jacob van Es.

WERNER van den VALCKERT was born in Amsterdam, but in what year of the fifteenth [sic] century I do not know. But from a large piece by him on which he wrote in his own hand that he had completed it on the 10th of September 1623, it could be seen that it was not made by a youth. We have therefore placed him with other of his contemporaries whose time of birth is unknown. In this work were various life-sized portraits, along with other figures, and with his own portrait at the top. In the distance appeared a St. John preaching in the dessert [3]. This figure was especially artfully drawn and painted in the round, as with another work painted in the manner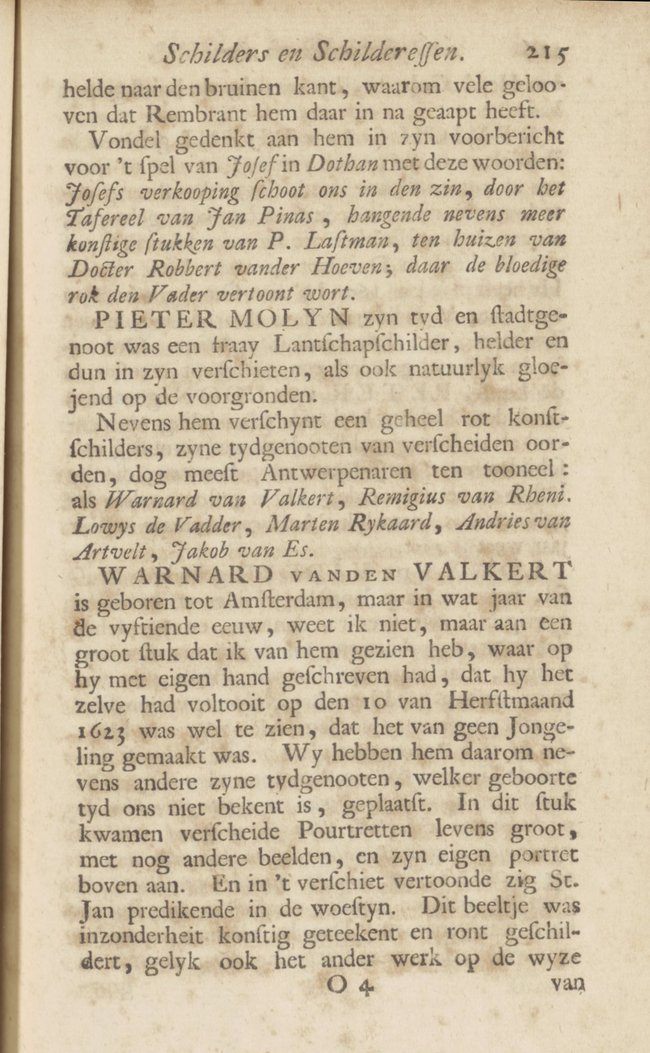 ---
2
Jan Pynas
Joseph's blood-stained coat is brought and shown to Jacob (Genesis 37: 32-35), dated 1618
panel, oil paint 90 x 119 cm
lower center : Jan Pynas fe 1618
Sint-Petersburg (Russia), Hermitage, inv./cat.nr. 5588

3
Werner van den Valckert
Pottrait of a family as Caritas with a self-portrait of the artist; in the background John the Baptist preaching, dated 1623
panel, oil paint 162 x 125.5 cm
topside, left of the middle : Ick / heb dit [voltooid] int Iaer ons / heeren 1623 [den 10] September / In Amstelredam
Utrecht (city), Museum Catharijneconvent, inv./cat.nr. RMCC s111

---
Page 216

of Hendrick Goltzius, with whom he studied art.

REMIGIUS van RHENI, born in Brussels, was a great striver in investigating everything that could serve to add great power to art. And he got far, as appeared from artworks that he made for Heinrich Count of Wolfegg in Germany. In the year 1600 he lived with that count in his castle, which was later burned with all the art by the fury of the Swiss. At this time there was also an outstanding master in art named PETER van LOON. But though he had an entirely different handling of the brush as the aforementioned artist, he was brilliant in the painting of perspectives and buildings, which he executed laudably and precisely. He died where he was born, namely in Antwerp, but in what year I don't know.

LODEWIJK de VADDER, who was born in Brussels, was a fine landscape painter and unusually diligent in the investigation of the nature and characteristics of trees, terrain, etc. with greater or lesser foreshortening according to their distance and what further needs to be considered to be a good landscape painter. They say of him that (before Aurora wrapped in radiance raised her head above the horizon to announce the day) he was already about to pay attention to how with the night vapours having eventually been thinned out by her glow, things reveal themselves more and more clearly to the eye, even into the extreme distance, which he has observed with artful judgment in his pieces. In addition one sees everywhere in his work such sweet reflections of trees and

---
Page 217

terrain in the sweetly flowing creeks, which he generally used, so that his work flattered everyone's eyes. He had as his student

LUCAS ACHTSCHELLINCK, also from Brussels, was a good landscape painter who was able to imitate his master's handling very well.

That the seed of art, once tossed on arable ground will later sprout new shoots is demonstrated by the landscape painter MARTEN RIJCKAERT, son of the brother of the old David Rijckaert II. His treatment approximated that of Joos de Momper II.

Now appears before our eyes

ANDRIES van EERTVELT of Antwerp. He was handsome in the painting of water, especially of the wild sea, tempests when the salt pool, whipped up by the roaring blowing of Eolus whips the sea spume up to the black clouds against flashing lightning bolts:

Which Artvelt has painted so handsomely after life
Naturally, powerfully and so sweetened by art,
As if he had been raised on the sea from his youth on.

Like other of his contemporaries he had the honour that his portrait was committed to copper by the great Anthony van Dyck [4].

JACOB van ES, also from Antwerp, painted fish, birds, flowers, and especially all sorts of tasty fruit very naturally, to which this verse refers: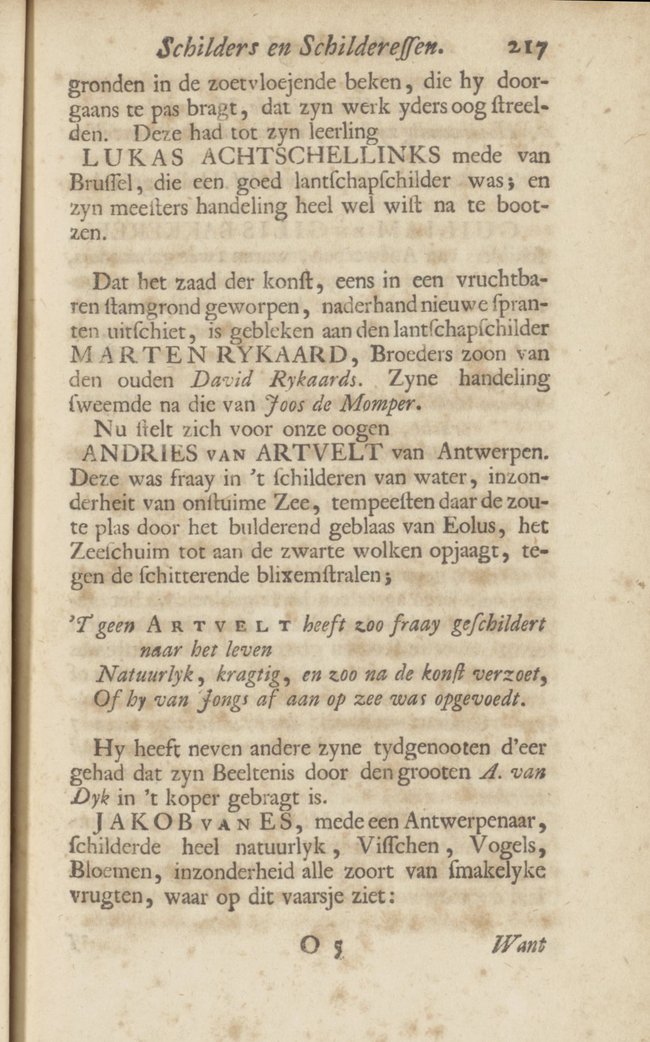 ---
4
Schelte Adamsz. Bolswert after Anthony van Dyck published by Gilles Hendricx
Portrait of Andries van Eertvelt (1590-1652), c. 1630-1646
paper 250 x 173 mm
Amsterdam, Rijksmuseum, inv./cat.nr. RP-P-2010-327-63

---
Page 218

........ For see the muscadelle
How lively they stand; one might count her seeds.

His image is in print, engraved by Wenzel Hollar [5].

WILLEM and GILLES BACKEREEL, painters of Antwerp, were two brothers linked by name but generally altogether different in the nature, inclination and preferences of their art handling. For the one was a landscape painter, the other applied himself to the painting of large figures.

The one always mocked the world's vanity,
But the other esteemed status and honour all the more.
They remained separated from each other after death.
One died in Rome, and in Antwerp died the other.

No family is known in which art flowered as many consecutive years as in the family of the Backereels. There has always been one or two living in Rome as of old, and the one had hardly died or another two or so at once travelled there from Antwerp to take their place. Sandrart relates that he knew seven or eight during his life who gained much money by their art but also consumed it all in jolliness.

JAN WILDENS was a landscape painter from Antwerp. Some have called him a portrait painter, misled by the following verse: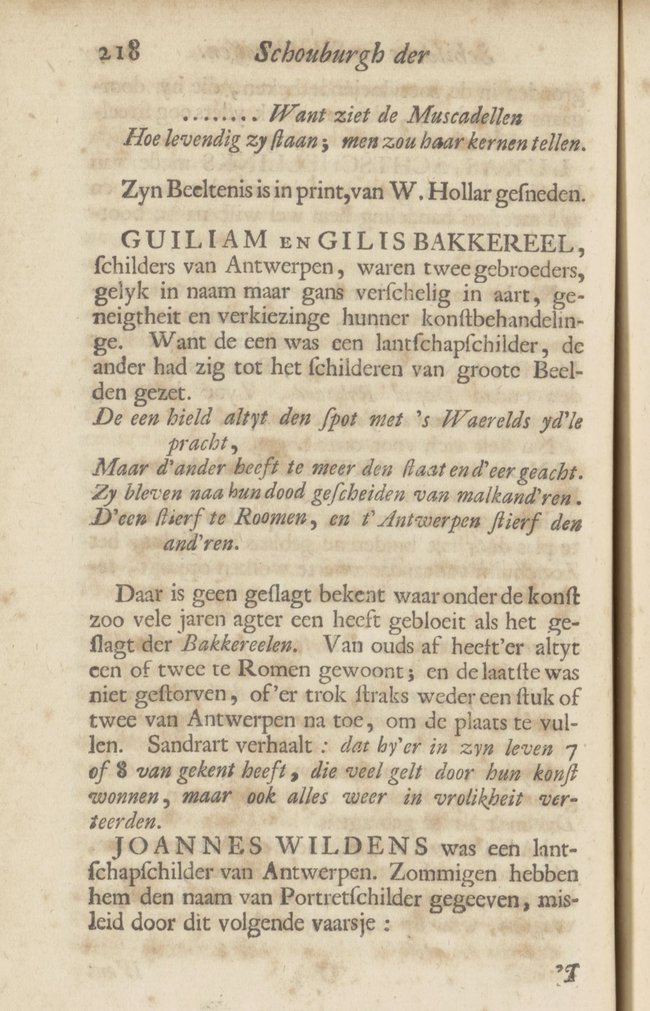 ---
5
Wenzel Hollar after Joannes Meyssens published by Joannes Meyssens
Portrait of Jacob Foppens van Es (1596-1666), 1649
paper, etching (printing process) 164 x 115 mm
bottom, in the middle : IACOBUS VAN ES
Amsterdam, Rijksprentenkabinet, inv./cat.nr. RP-P-OB-11.381

---
Page 219

It was Wildens whose art received its first life
Through Rubens, the greatest in art at that time,
She has finally out of gratitude,
In his portrait, returned that favour to him.

But it is the truth that Peter Paul Rubens often used this Wildens to paint terrain and backgrounds with landscapes, which is what the following lines are intended to say.

When Wildens brought the terrain to Rubens' art,
Life came to enter with much greater power.

Who, being realistic, would not look at time askance because so many an artwork has been so greatly abused by it that almost nothing remains to assess a master's fame? More fortunate have been those whose artworks were torn out of the enraged claws of the riotous iconoclasts or were preserved through particular care and remain accessible, to have the names of their makers live on the tongues of art lovers over the centuries and to serve as models for emulation. Thus it went with the artworks of the Dutch PIETER van der PLAS, to whose praiseworthy memory Cornelis de Bie says: He deserves great honour and to be kept away from all art-hating critics since he excels over others in many parts of art. That is why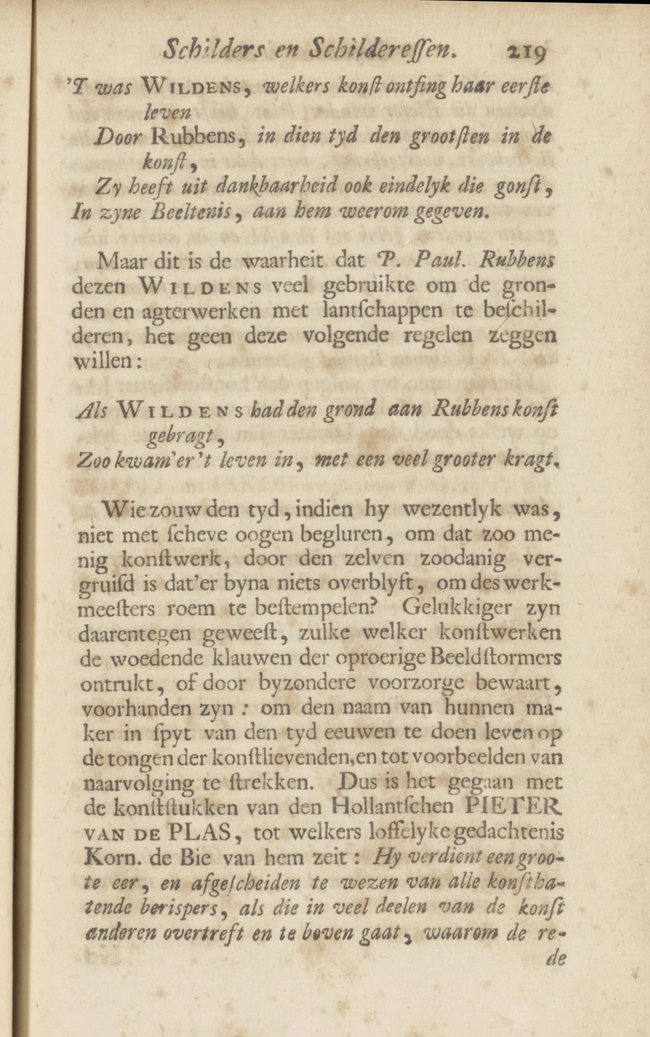 ---