Volume 1, page 170-179
---
Page 170

pass it on without embellishment for the same price as I received it. I saw his student François Boitard, now in England, do the same in full company in my presence, though with a work of lesser complexity.

In the year 1596, on St. Pontian's eve, which then fell on the 13th of January, JAN van GOYEN was born in Leiden. His father, Joseph Jansz. van Goyen, was a lover of the arts of drawing and painting, and seeing in his son inclination and passion for art, readily agreed to raise him to it, which is why he placed him with Coenraet van Schilperoort, landscape painter, to be taught the rudiments of art, and three months later with Mister Isaac Claesz. van Swanenburg, inventive painter and burgomaster. But he did not remain with him for long either, nor with Jan Adriaensz de Man. After which (his father wanting to make a glass painter of him) he was placed with Hendrick Clock. But Van Goyen professed to have no inclination to that profession but only to oil painting, which is why, not to extinguish the passion for art in him, his father placed him in Hoorn in North Holland with Willem Gerritsz, with whom he pursued art with diligence and ambition for two years. After this time he again went to Leiden and continued to practice art on his own. Being around nineteen years old, wanderlust crept up on him. He left for France but returned after he had examined the most important cities. His father, seeing that he was already far advanced in art,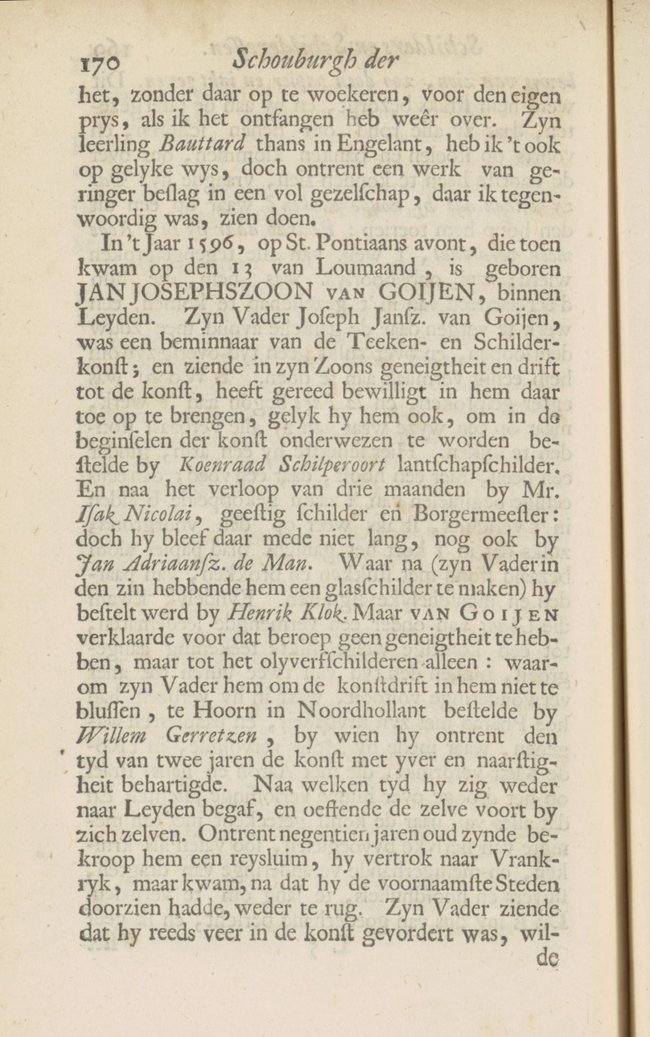 ---
Page 171

wished very much to see him develop into a great master and, sparing himself no expense, placed him with the famous landscape painter Esaias van de Velde, with whom he remained for a year and so greatly improved in art that everybody was amazed. He came to marry and from then on practiced art in Leiden until the year 1631, when for some reason he left with his household for The Hague, where he also died at the close of April 1656.

He mainly painted quiet water views, with inland market ships and fishing boats, and a small church or some familiar village in the distance, most of which he drew after life. These drawings, cleverly heightened in black chalk, are now still preserved by connoisseurs.

One generally sees that his pieces are a little monochromatic or drab, but they were not originally painted that way. At that time there was a pigment that people called Haarlem blue, now no longer used because it does not last, which is the cause of it.

One sees his portrait in Plate H, below Jacob Jordaens I.

Among his fellow townsmen and contemporaries are counted.

Cornelis Liefrinck,
Arnout Elsevier, and
Cornelis Leonardsz. Stooter, who daily practiced their art with diligence and ambition until the year 1640.

One sees financial means (a great help in taking on the arts and sciences) unequally divided in this world: and so the saying of an old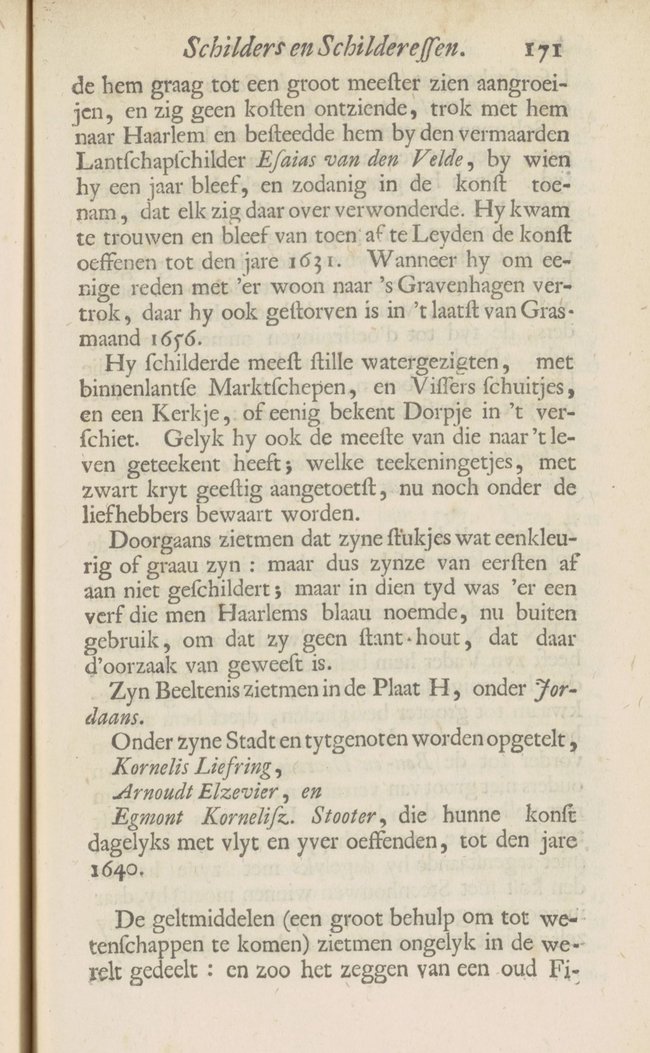 ---
Page 172

philosopher is certain, the gods rarely bestow riches and intellect at the same time.

The many lazy good-for-nothings ought to be ashamed about wasting valuable time. But it goes in the world as the saying has it: Those who are willing cannot. Many people amply blessed by the heavens, waste that beautiful opportunity, and some who would love to turn to the arts and sciences are ruthlessly denied the time to practise by need or by something else. But a persistent passion can sometimes surmount that cliff, and sees to it that it reaches its goal. The saying of Juvenal:

It rarely happens that a mind transcends the hook:
Who in his poverty hangs after the sciences;

Do not say, it never happens, but rarely. The following biography will confirm this.

In the year 1597, on the 16th of December, was born PIETER de NEYN, or Van Neyn. When he was twelve years old, his father [= Pieter de Neyn] placed him with a stone carver, where he remained for some years. But his spirit, fit for greater things, drove him to the learning of mathematical science, and further to architecture and perspective. But his parents, being of limited means, could not allow him to study properly. However, his passion for such sciences was so great that (even though he had to win his daily bread with stone carving) he advanced and improved so far that he was able to teach others to perfection.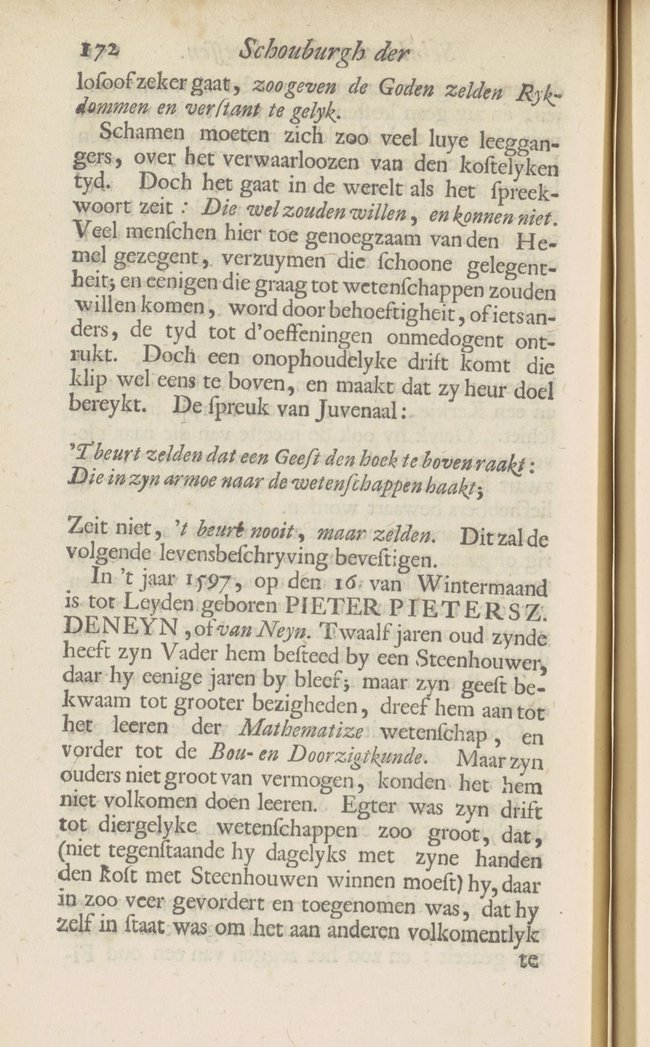 ---
Page 173

And on account of this, he became acquainted and associated with learned men and also with painters, including Esaias van de Velde, a landscape and battle painter. The latter allowed him to copy some of his drawings and then also his paintings (with specific directions concerning the mixing of paints, because he saw an unusual passion in him). He was in a short time so advanced that he found himself able to support his family with this. In the year 1632 he became city stonemason, which function he carried out and maintained in addition to painting until the year 1639, when, having been tormented for some years by a constricted breast (a failing that is common amongst stone carvers), he finally died on the 16th of March.

Now follows ROELANT ROGHMAN, born in Amsterdam in 1597. He was a commendable landscape painter. He brought good harmony to his work but painted roughly and a little burned or tanned. Whether this was worsened by his faulty sight (because he had only one eye) I know not.

He was especially diligent at drawing after life, and one still sees many dilapidated monasteries and castles in print which are based on his drawings. I recall having seen an entire book with drawings by him, in which most Dutch ancestral homes, walled or surrounded by moats, were sketched [1-2]. The inclination to art remained with him into his old age but he was usually wont to say: When one begins to understand things, one is generally worn out. He was still alive in the year 1686 and lived in the old men's home,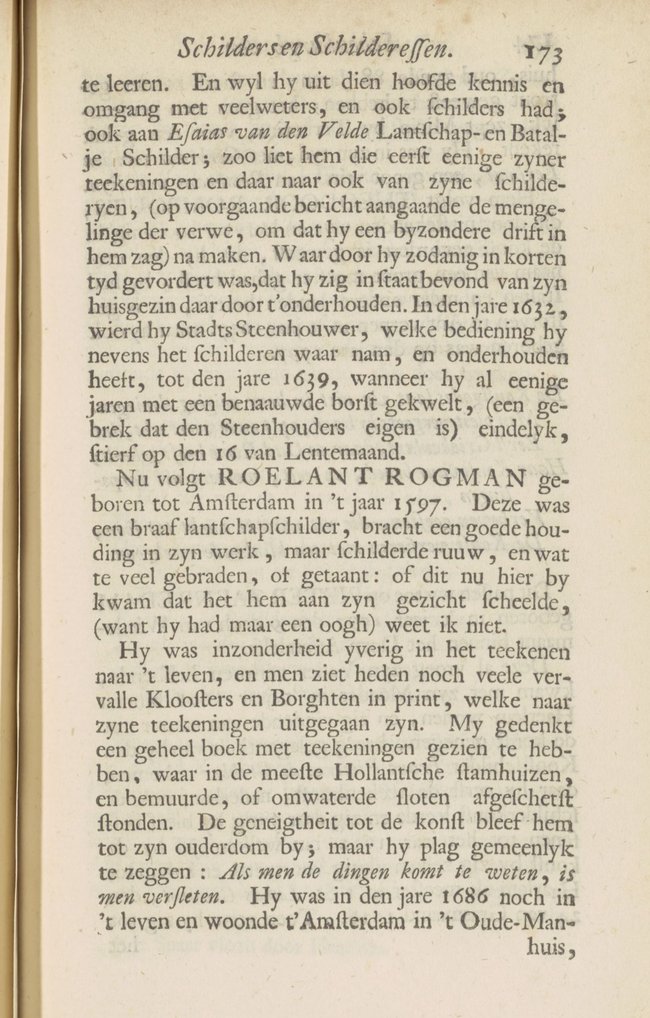 ---
1
Roelant Roghman
Dever, from the rear, 1646-1647
paper, black chalk, grey wash, over graphite, framing line in pen in grey ink 379 x 527 mm
Haarlem, Teylers Museum, inv./cat.nr. O** 23

2
Roelant Roghman
Zuilenburg Castle in Overlangbroek (Wijk bji Duurstede), 1646-1647
paper, black chalk, brush in grey 235 x 348 mm
lower right : R Roghman
Private collection

---
Page 174

being 88 years old, and died without having married, which is usually reckoned to be a blessing, says Micio in Terrence. He was in his time, along with Gerbrand van den Eeckhout, a great friend of Rembrandt.

He is followed by THEODOOR ROMBOUTS, who progressed so far in art through outstanding diligence and acquisitiveness that he had the honourable name of a great master. He had travelled in Italy and many other countries and died in Antwerp in the year 1637, where he was also born in the year 1597.

The goddess of art will not be compelled in her inclination.
One pleads in vain with her for the ancient privilege, that
First Greece, then ancient Rome has had:
Her art fire occasionally breeds and reproduces from villagers
Elevated spirits who, with pure desire as reward,
Decorate art with a shining crown of honour.

We apply this to PIETER SAENREDAM, born in 1597 on the 9th day of June in the village of Assendelft.

In the year 1608, having lost his father [= Jan Saenredam] early on, he came to live with his mother in Haarlem. And finding himself by nature drawn to art, he got the opportunity to join the painter Frans Pieterz. de Grebber, where he first learned drawing and later also painting, which he continued to practice diligently until the year 1622. After that he continued to pursue art on his own and became master in the St. Luke's convent of Haarlem on the 24th of April 1628. Then he turned to the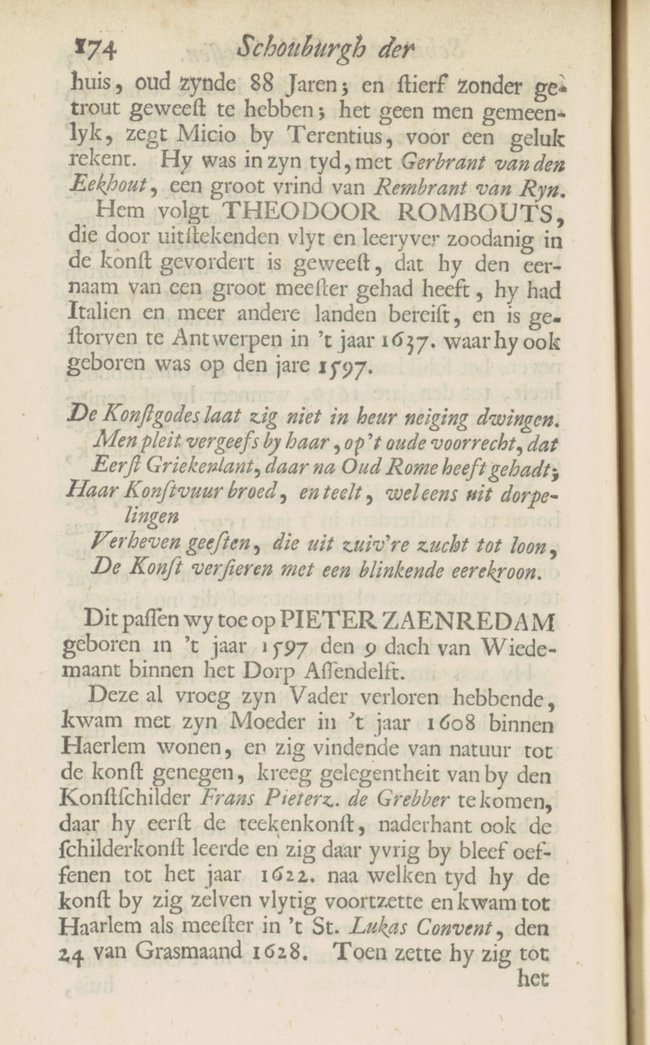 ---
Page 175

painting of perspectives, churches, halls, galleries and buildings seen both on the inside and from the outside, and had a laudable handling with respect to his work.

A sample of his praiseworthy brushwork (which alone is enough to keep the fame of his art alive for century after century) is the depiction of the old city hall of Amsterdam [3], skilfully painted on small scale, still deemed to be a worthy cabinet piece, one that the poet Pieter Rixtel commemorates on p. 52 [= p. 42] of his Mengel-rymen, where he has today's city hall raise itself to its old glory and speak thus.

That old building, destroyed by sparks,
Long lay buried in ashes and rubble,
And was no longer mentioned, since
It did not show itself on panel,
By Saenredam's brushes and paints.
That saving spirit [Spaar-geest]* had it reborn before its dying,
Snatched from death, which destroys all;
And teaches to contemplate in the art of painting
The insignificance of buildings,
While my Burgomaster's room,
Still extracts lustre from that old splendour.

Now also appears on stage SALOMON de BRAY, born in Haarlem in the year 1597. He was counted amongst the commendable painters of his time and praised for propagating art in his sons, whom he supported in their exercises for a long series of years by his judgment in art, seeing


* The Spaar flows through Haarlem.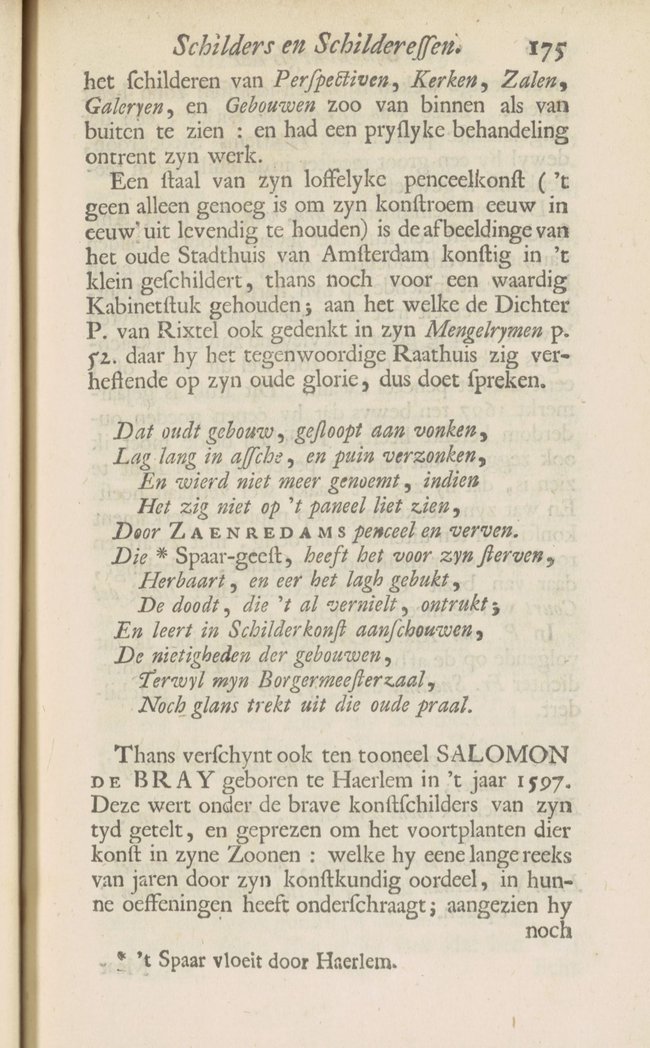 ---
3
Pieter Saenredam
The old town hall at Dam Square in Amsterdam, dated 1657
panel, oil paint 65.5 x 84.5 cm
right : Pieter Saenredam, Heeft dit eerst naer 't Leeven Geteeckent, met al sijn Coleuren int Jaer 1641 en dit Geschildert, int jaer 1657.
Amsterdam, Rijksmuseum, inv./cat.nr. SK-C-1409

---
Page 176

he outlived his youngest son by some weeks. This was Jan de Bray, one of the most exquisite pearls in Haarlem's painters' crown, since he was a great master in the arts of painting and drawing.

The art loving Arnoud van Halen in Amsterdam has a piece with life-sized figures by him depicting King David, in which he stands in a surplice before the Ark of the Covenant, playing his harp, accompanied by singing and playing Levites, which was skilfully drawn, pleasingly perfect and powerfully painted, and which looks as good as if it has just come from his brush [4-5]. This piece is dated 1697, as proof that he reached a good old age. Incidentally, I must also say that it is easily seen from his brushwork that he understood the nude well. And as far as his drawings on paper and parchment are concerned, skilfully and extremely carefully done in mixed black and red chalk, the art-loving Mister Isaac del Court has the most and best.

In Pieter Rixtel's Mengelrymen I find the following on the depiction of the Haarlem poet Franciscus Snellinx, painted by Jan de Bray.

De Bray shows his art to Snellinx on panel;
But Snellinx shows his spirit illustriously with his sheets:
His ink supplies him with paint, the quill his brush.
If Vondel lies on the Y, he lies still more on the Sparen.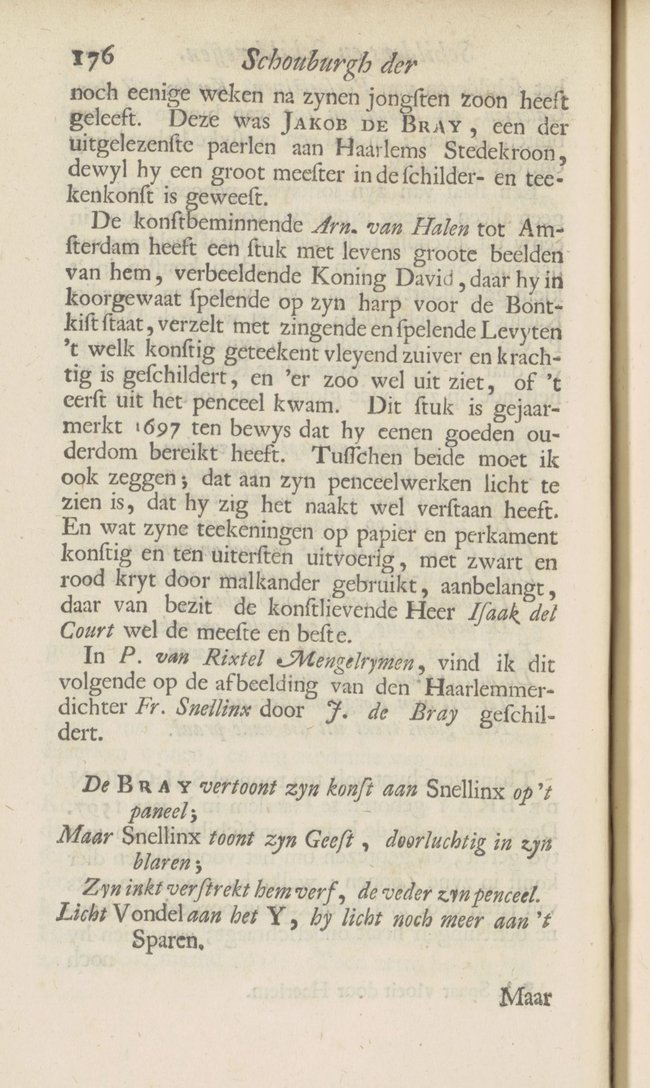 ---
4
Jan de Braij
David, dressed in a linen shirt, brings the ark into Jerusalem, dancing before the ark and making music, while the people rejoice (2 Samuel 6:11-14), dated 1674
canvas, oil paint 147 x 165 cm
lower right : JDBraij / 1674
Braunschweig, Herzog Anton Ulrich-Museum, inv./cat.nr. 286 (cat. 1983)

5
Jan de Braij
David, dressed in a linen shirt, brings the ark into Jerusalem, dancing before the ark and making music, while the people rejoice (2 Samuel 6:11-14), dated 1670
panel, oil paint 145 x 157 cm
lower right : JdBray / 1670
Karlsruhe, Staatliche Kunsthalle Karlsruhe, inv./cat.nr. 2962

---
Page 177

But not all our poetic spirits would say yes to this. He died in Haarlem in April of the year 1664, and his father Salomon followed him into the grave on the 11th of May. The worms may consume his body but his name will last forever. His son Dirck de Bray (who became a fine painter of flowers, later a monk) carved his portrait bust artfully in wood [6], which we have placed in Plate I under the portrait of Leonaert Bramer, on the left hand of Dirk van Hoogstraten.
If men were of one mind (the saying goes) they would take one road, but we see that everyone is motivated and driven by a specific passion. The art of painting has her separate parts and as a consequence enough to satisfy everyone's taste and differing inclination.

ADRIAEN van UTRECHT chose the painting of fruit, animals, including Indian birds, and all sorts of poultry, which he painted so naturally that his art was in demand in various centres of the world. And truly such a still life would also please me more than painted books, letters, hourglasses, skulls and similar displays, which, by crepuscular lamplight would frighten a timid or superstitious person. His brush was so flattering that (not to name other great figures) he also attracted the favour and fondness of the King of Spain, in whom he had a favourable Maecenas.

Sandrart says: His first activity (which may possibly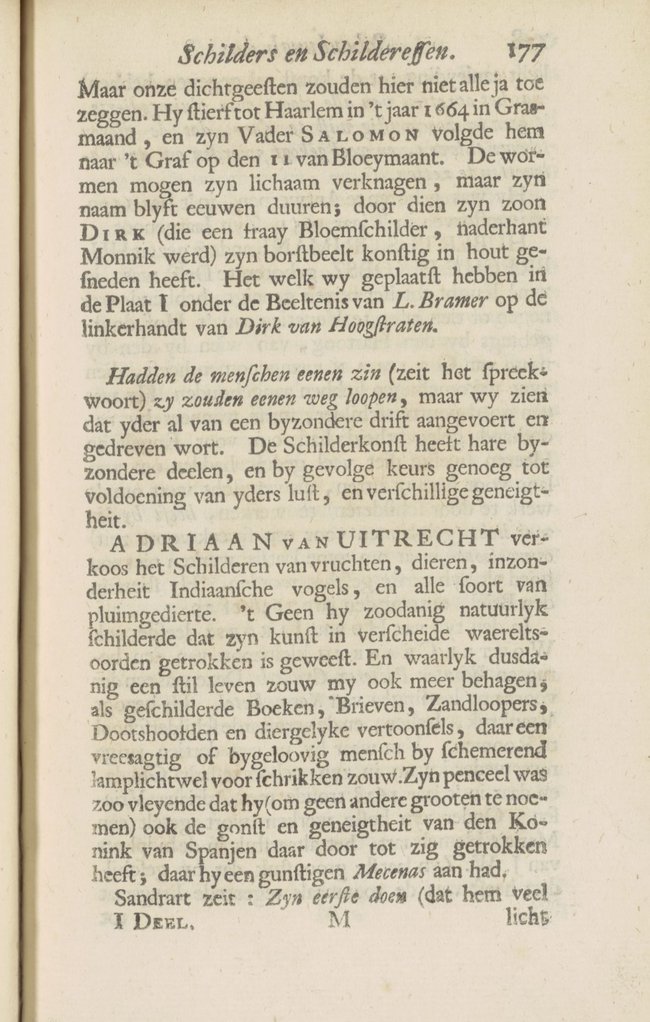 ---
6
Dirck de Bray after Jan de Braij
Portrait of Salomon de Bray (1597-1664), dated 1664
paper, 2nd state 182 x 130 mm
lower right : TDBraÿ . f. B. (TDB in ligature)
The Hague, RKD – Netherlands Institute for Art History

---
Page 178

have given him occasion for art) was the mounting of all sorts of poultry, which he was able to do so artfully that the animals seemed to live and were often bought to be placed on cabinets.

He was born in Antwerp in the year 1599 and died in the year 1651. His contemporary

HUYBRECHT JACOBSZ. GRIMANI, born in Delft, was in his youth inclined to travel, having spent nine or ten years in Venice at the court with the Duke [= Marino Grimani] after whom he adopted the name Grimani, which his descendents have kept. He was a good portraitist, but when he later had opportunity to work for English gentlemen (who did not have much patience to sit for him at length, which required getting on with the work), he went over it a little lightly (as people say as a proverb), which is why his last works are not as good as his first. He died in Brielle around the year 1628 or 29.

At the time of Huybrecht Jakobsz. also lived Wouter Crabeth II, the grandson of Wouter Crabeth I. He was one of the important students of Cornelis Ketel. He visited France, Italy and the renowned painter school of Rome. From where after a thirteen year journey he came back to Gouda, his city of birth, and there married Adriana Vriesen in the year 1628. Among his best work is counted an Ascension of Mary, the altarpiece in the place of worship of J.W. [= Ignatius Walvis] [7]. The last large piece that he painted was the then ruling military council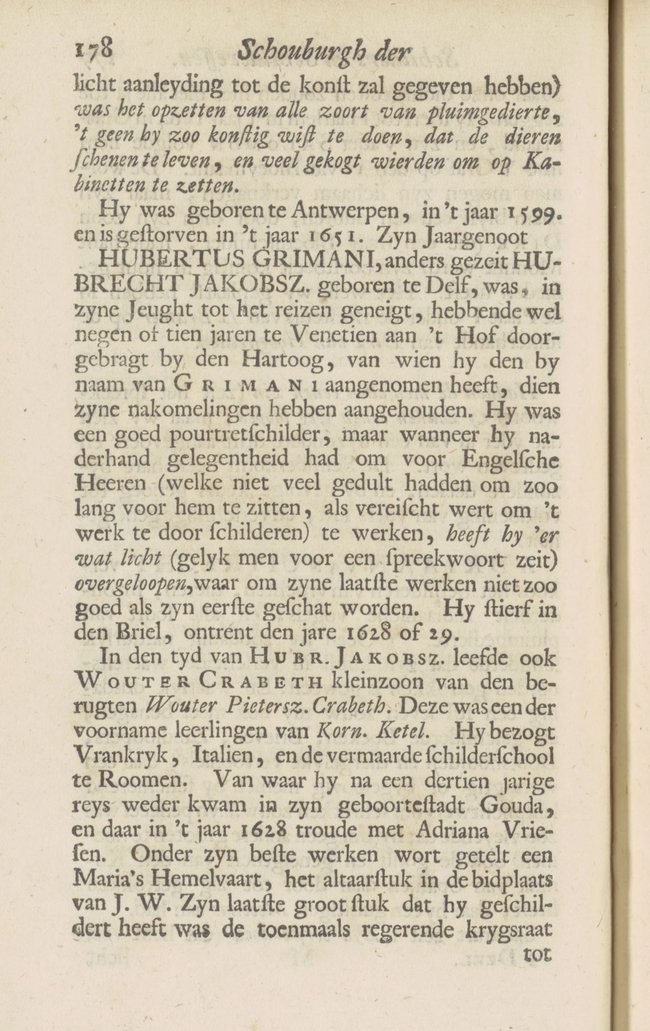 ---
7
Wouter Crabeth (II)
The assumption of the Virgin, dated 1628
canvas, oil paint 225 x 175 cm
Gouda, Museum Gouda, inv./cat.nr. 53.721

---
Page 179

of Gouda [8], which hangs in the chamber of the St. George militia.

That same year 1599, on the 22nd of March, ANTHONY van DYCK was born and laid in the cradle in Antwerp, to grow to his complete maturity in the seventeenth century and end up outshining other artists like a phoenix among birds.

His parents first lived in Den Bosch, where his father practiced the art of glass painting, as may be seen in the Beschryving der stad Gouda by Ignatius Walvis, where one reads: Daniel (meaning the son of the preacher Herboldus Tombergius) practiced that art for seven years under Westerhout, and later with the father of Anthony van Dyck, who was a good glass painter in Den Bosch. Etc. It pleases us (to begin Van Dyck's biography) to have the father look up from the burned ashes of his corpse with his spirit gladdened by the beautiful and divine lustre of his son, in a poetic description, or emblematic exposition about the phoenix bird, to which end we help ourselves to the rhyme of Joachim Oudaan.

But when she notices before long how the ash, compressed,
Welling up from that clump, and funeral urn, produces a boy,
A fruit which takes after the father,
Who picks up the shining cloak of the previous plumage
(Since the noble mixture of gold and purple feathers
Arrange themselves into a jewelled collar and breast decoration)
And recreated with that lustre floats through the air;
Then she cheers: then appears an uncommon flight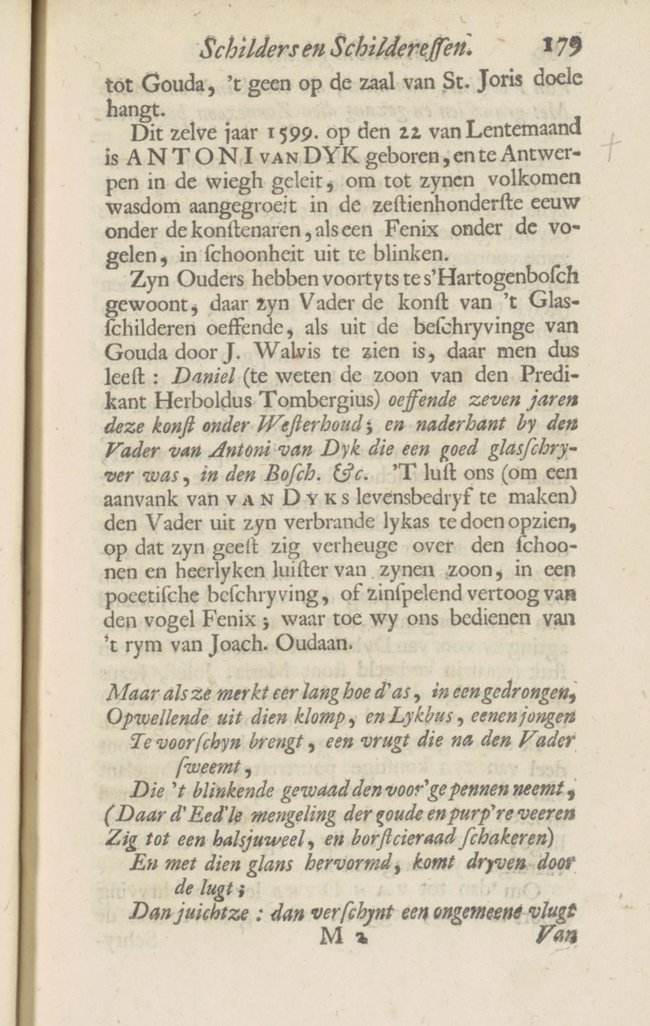 ---
8
Wouter Crabeth (II)
Militia piece with colonel Harmanus Herberts and his officers, dated 1644
canvas, oil paint 254 x 453 cm
Gouda, Museum Gouda, inv./cat.nr. 221

---