Volume 1, page 150-159
---
Page 150

He was unusually amiable, polite and of an orderly life, which is why he also instructed in art the children of the most important persons, notably those of the Queen of Bohemia, sister of Charles I King of England, the Prince Palatinate, Prince Rupert and four daughters, of which one was Louise Hollandine of the Palatinate, also Abbess of Maubuisson, who came far in art.

He painted many portraits of important people and among these also Marie de' Medici, Queen of France [1], about which Jan Vos had this to say:

Thus Medici shows herself, a mother of three realms,
The thorns of envy choke her lily flower:
Everything that fortune ever showed many of the great,
She only felt. Uncertain is fame.
Her ascent is interrupted by heavy banishments.
The thrones are of gold but have slippery steps.

He was still alive in the year 1662 and painted at the princely pleasure palace in the forest outside The Hague.

PETER SNAYERS, born in Antwerp in the year 1593, was during his life painter of the Archdukes Albrecht VII and Isabella Clara Eugenia as also of his highness the Cardinal Infant Ferdinand of Spain and still other princes. His art consisted of the painting of landscapes, but especially of land battles with their sad aftermath. And it is amazing that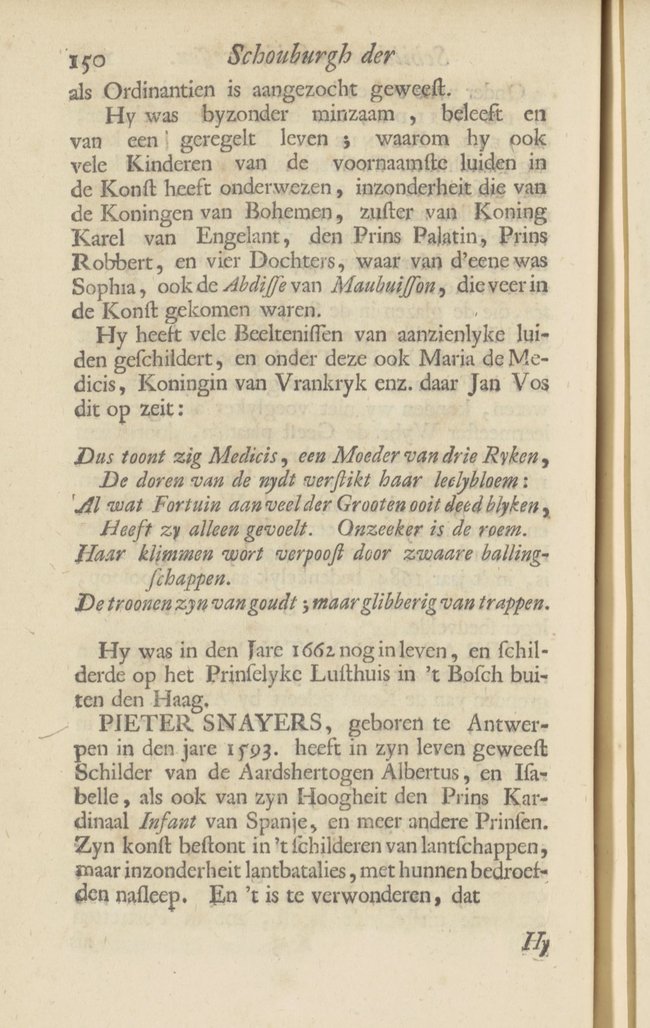 ---
1
Gerard van Honthorst
Portrait of Maria de' Medici, 1638
canvas, oil paint 299 x 198 cm
Amsterdam, Amsterdam Museum, inv./cat.nr. A 3047

---
Page 151

He, whom the war god Mars, who like a Salamander
Lives in the fire of gunpowder, neither armies conjoined,
Nor the pregnant metal, filled with bullets,
Which, when it vomits its flame, bellows and shouts tremendously,
Nor saw the bare swords, gathered in shining caskets
Pulled out of the sheath, nor drums, nor trumpets
Sound the advance: and much less in the bloody field
Ever was, where corpse piled on corpse, overcome
By the violence, lying as prey for plunder-sick hands;
Or where one sees village upon village, burning like Etna:
Nevertheless shows all these acts of war in such a way,
As if he had experienced it from the cradle.
One sees armies like frenzied tigresses
Transform the bloody stage of action into fire and smoke:
And how the crazed resentment on either side is not limited,
Unless there is a harvest of corpses mowed down
By shining metal, sharpened for murder and bloodshed;
How a lost company feels when loosing courage
Where everyone fruitlessly cries out for life in that distress.
How yonder one who finds himself deprived of helpers:
Also has to taste the fearful wound of the point of the blade,
And from that open wound vomit up his doomed soul.
There again are others mutilated in arm and foot,
From wrestling with death, and swimming in their blood.
The entire business and particular events
Of war, no pen could describe as hideously.
Nor also the distortion of the features when the distress
So oppressed a human being that he prays to death for help,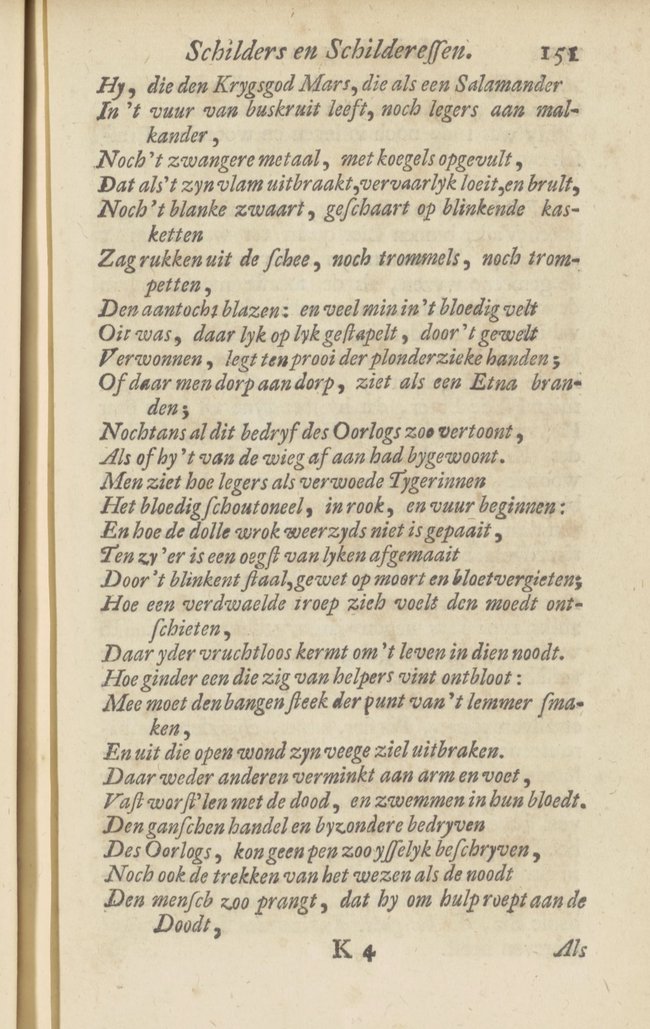 ---
Page 152

As he (entirely from reports) has with his brushes
Painted on the smooth field of his depictions.

He was still alive in 1662 and lived in Brussels.

ADRIAEN de BIE, who born of an unborn father in Lier, came into the world in the year 1594. To wit, his father did not come into the world in the usual way, like most people, but was by chance cut out of his mother's body and miraculously kept alive. In his youth he studied art with Wouter Abts. In addition Hendrick de Pooter witnesses that he left for Paris in his 18th year and lived for two years with one Rudolf Schoof, painter of King Louis XIII, who was very celebrated. He spent this time with exceptional industry and diligence. From Paris he travelled to Rome, where he passed six successive years practicing after the best models. He further visited most and most important of the Italian cities so that his journey took nine years. In that time he also found opportunity to practice his art for various cardinals, which mainly consisted of the painting of gold and silver plate, porphyry, lapis lazuli, and other precious stones, in which they took great satisfaction because of its precise and pure treatment. He returned to Brabant in the year 1623, where he painted many handsome portraits and compositions full of figures, amongst many in the church of Saint Gummarus in Lier, above the altar of St. Eligius [2-3]. This Adriaen was the father of Cornelis de Bie, who wrote Het Gulden Cabinet van de edele vry Schilder-const.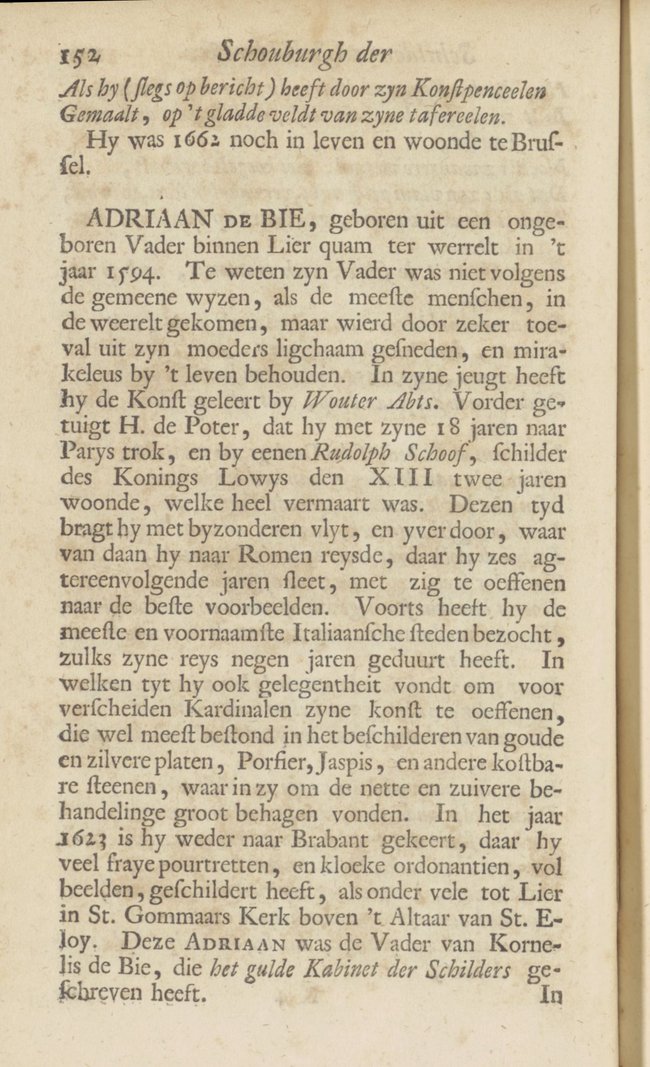 ---
2
Adriaen de Bie
Scenes from the Life of St. Eligius of Noyon, dated 1628
panel, oil paint ? x ? cm
lower right : Adriaen De Bie / 1628
Lier, Sint-Gummaruskerk (Lier)

3
Adriaen de Bie
Scenes from the Life of St. Eligius of Noyon, 1628
panel, oil paint 205 x 187 cm
Lier, Sint-Gummaruskerk (Lier)

---
Page 153

In the same year 1594 the painter CHRISTOPH SCHWARZ, born in Ingolstadt, died. He had climbed to such heights in art that the Elector of Bavaria [= Wilhelm V] took him into his service, for whom he made many striking works of art in Munich, both in fresco and in oil paints. He lived in the Netherlands for some years (which is why we also commemorate him amongst the Dutch) but I was not able to see his brushwork. Sandrart, who knew his art, speaks highly of it.

It goes in the school of art as in the flower court of Flora, as at the same time that one leaves off, the other in turn appears, and thus, while lustre decreases on the one hand, it increases on the other. Ingolstadt loses a flower of art in Schovarts. At the same time it gains one in CORNELIS de WAEL, brother of Lucas de Wael and son of Jan de Wael. He has to all appearances studied art with his father, which is a great advantage because the saying: One should not learn as if one has finished learning does not apply to father and child. He went to Italy either to improve in art or because he knew the saying that says: The fatherland is the stepmother of outstanding spirits; Envy has her place of birth there. He made many important artworks for Philip III and also for the Duke of Aarschot [= Philipp Charles d' Arenberg], who was in Spain at the same time. He was still alive in 1662 and lived in Rome, being 68 years old.

His art practice consisted of the depiction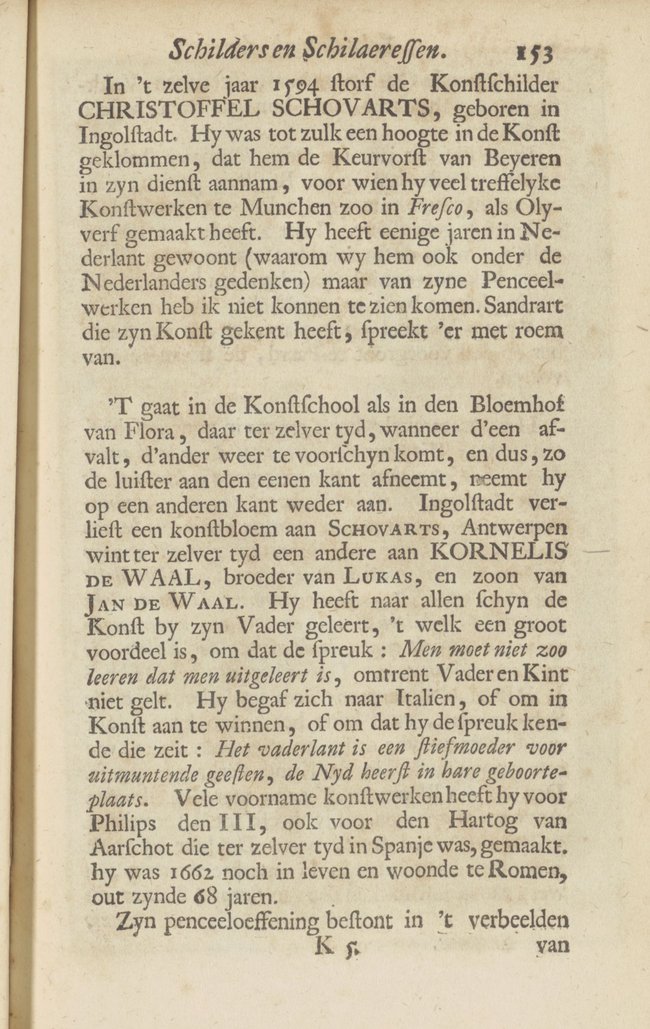 ---
Page 154

of all sorts of war commotion, naval battles, battles and marches, with their entire train in small scale.

In the year 1715 I saw an impressive piece by him in an auction hall in Amsterdam, in which a citadel is being stormed by a swirl of figures and skilfully painted. Here one saw the soldiery scaling the assault ladders, full of courage; yonder tumbling down, mutilated. The citadel seemed almost vanquished. One saw the enemy's banner planted on it and the commander on horseback in the foreground, directing the attackers.

The Oracle of the Meuse* said somewhere in his writings: Whenever the passions for one or another art or science are not powerful enough to withstand promises or threats, or inclination to something else, then these would not have been adequate to bring to celebrated completion that which their passion had envisaged. But when the natural inclination is not to be deflected and is accompanied by implacable diligence, then the outcome of the business one undertakes is certain. So it went with JACOB JORDAENS. He took up the art of painting and succeeded, so that he gained the name of a great master in art through his implacable passion and diligence. He was born in Antwerp on the 19th of May 1594. As teacher he had Adam van Noort, whose daughter he later married. He made it his task early on attentively to copy the artworks both of Annibale Carracci, Titian and


--------
* Erasmus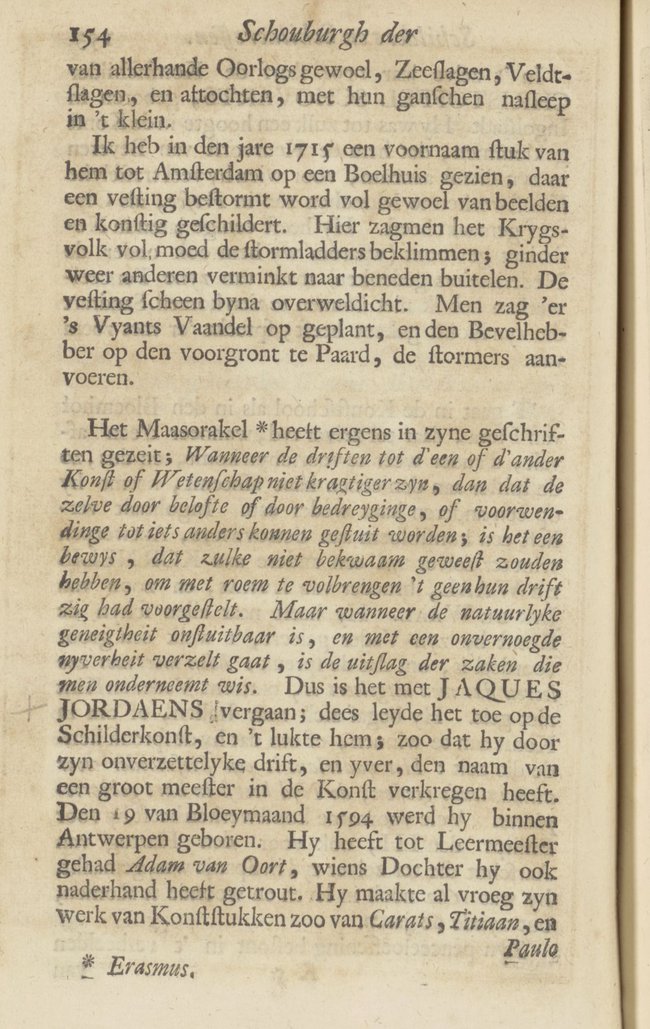 ---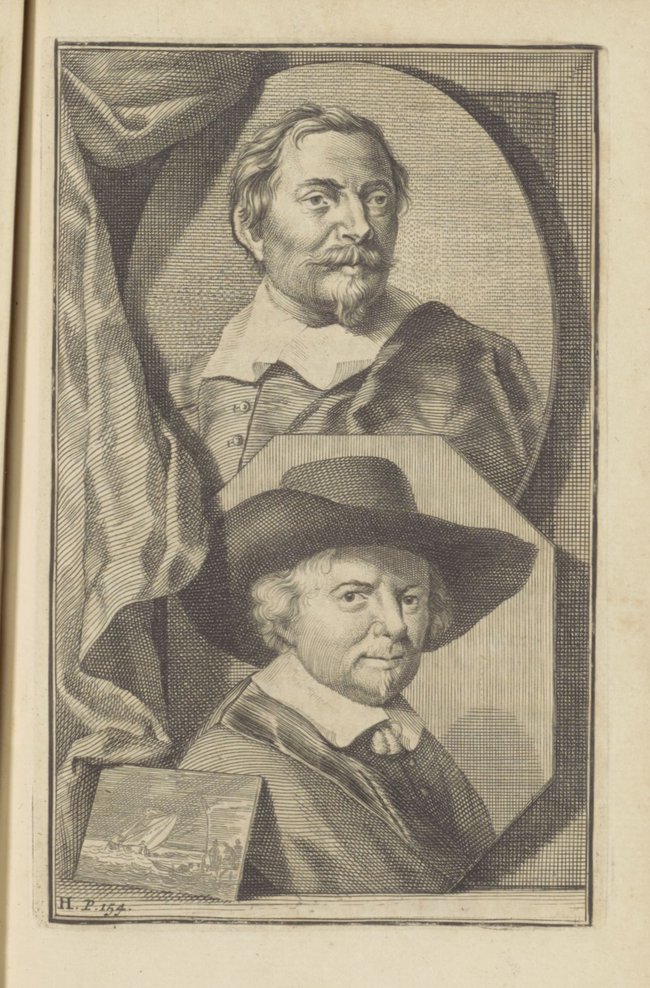 ---
Page 155

Paolo Veronese as well as Jacopo Bassano, and later to get used to the bold handling of Peter Paul Rubens and to have it expressed in his brushwork. Thus his large artworks were grand in conception, animated and ingenious in invention, his brush bold and softly blending, and his nudes firmly drawn and naturally coloured. He painted various large works, which are placed both here and elsewhere, amongst others 12 pieces of Christ's passion for Carl Gustaf King of Sweden. Also, not the least of his works are in the Huis ten Bosch outside The Hague, depicting the renowned deeds of Frederik Hendrik, Prince of Orange. Amalia van Solms-Braunfels, Dowager of Orange had these painted all around a large room (named the Hall of Orange), but only the most important works are by his hand, as where the prince presents himself in his triumphal chariot [4]. He was still alive in 1678 and had garnered much fame and money. He joined company in the evenings and was jolly with wine, but died shortly thereafter.

Sandrart notes that he got in the way of Rubens when he was in his most expansive phase, which is why he saddled him up unsolicited with a great work and arranged for him to be summoned to Madrid to make cartoons in water paints for the tapestry weavers in the service of the court because he might possibly alter his handling by this work, or at least be away from home for the time being. Mentioned Sandrart also indicates that he later did not paint as powerfully luxuriously and elaborately because this colourful and hard way of painting clung to him.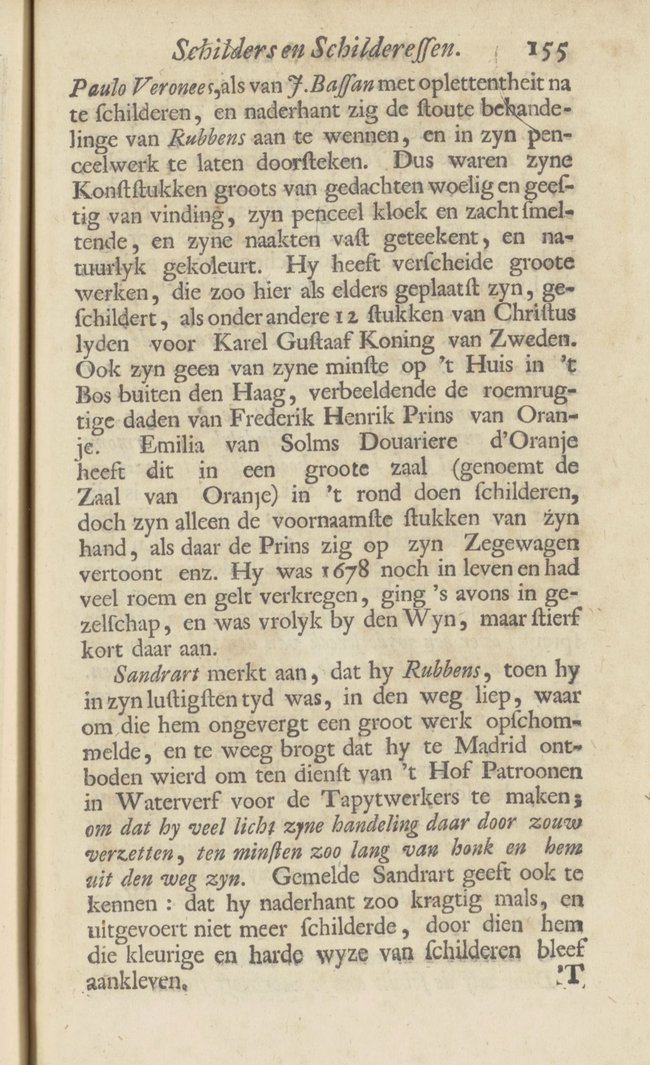 ---
4
Jacques Jordaens
The Triumph of Frederik Hendrik, dated 1652
canvas, oil paint 728 x 755 cm
lower left : J JOR fec / 1652
The Hague, Paleis Huis ten Bosch (Oranjezaal)

---
Page 156

It seems to me that in his biographies Sandrart had more liking for the one than for the other. That incident concerning Rubens and Jordaens recorded by him (and as indicated on my preceding page) does not betray an inkling of this. Assume, Rubens had a specific purpose for this and presented the business to him so beautifully that he achieved his goal by this, knowing (by a political understanding that he possessed) the saying: Truth has power, reason authority, and justice riches: but these are without lustre if a beautiful manner of presentation is lacking. She gilds the mistakes, and hides the imperfections. Finally she disguises everything. That much it gives to those who possess this capacity and make use of it. Even so this is but a guess on Sandrart's part, because Rubens would have kept this secret for himself alone. And even if he had a double intention here, a great service was nevertheless done to Jordaens, because (the Italian saying goes) one must pass through a long stretch of time to arrive at the middle point of opportunity. Which is why I also find reason to credit the accusations that Richard ter Brugghen directs at Sandrart with respect to the biography that he booked for his father Hendrick ter Brugghen, and to apply to the writer the words of Baltasar Gracián, who says: There are people who turn everything into a crime, not through inclination but through their nature. They condemn the one for what they have themselves done and the other for what they wish to do. Which is why the saying goes:

Oh shame where a master castigates
Who himself wears the guilt on his forehead.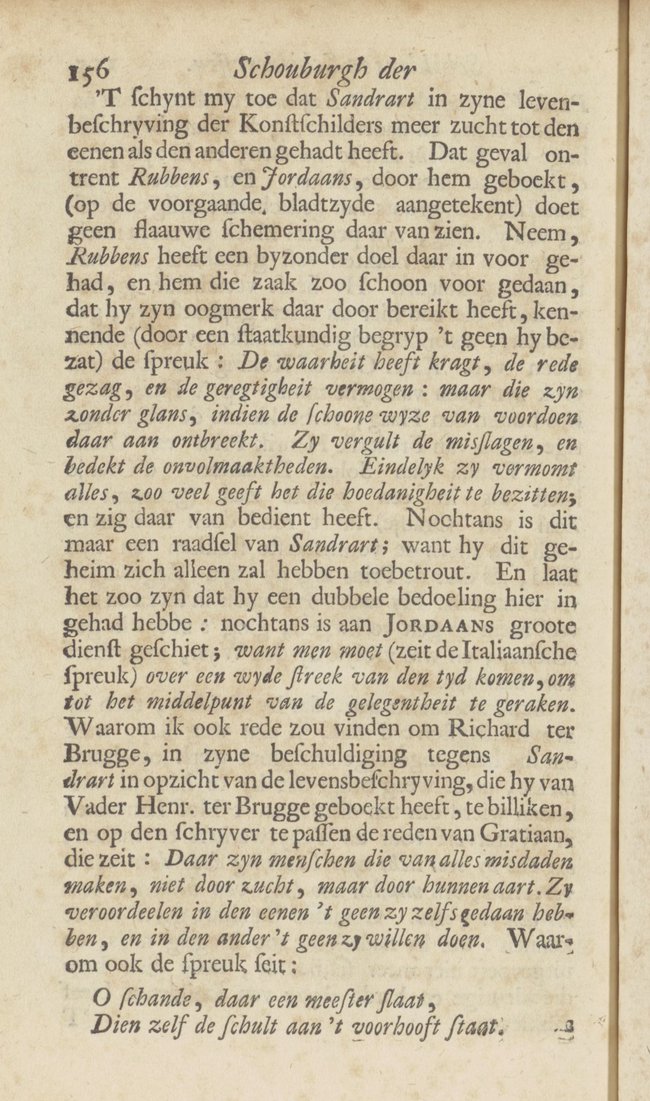 ---
Page 157

He was exceptionally dexterous. People say that he completed the history of Pan* and Syrinx §, with everything that goes with it, life-sized in six days.

He not only understood how to depict what is moral but also what is farcical. He was able inventively to depict both as the old sang, so pipe the young and the evening of the three kings. One sees a print of it as well as of the satyr † of Aesop [5-6], who looks on amazed at how his host blows cold and hot out of the same mouth,


--------
* Pan was of the race that the Greeks called Satyrs, being inhabitants of wild forests and meadows. In particular the invention of the shepherd's pipes was attributed to him. One sees him depicted on old coins with short horns, long, rough ears, and a curled tail at the end of the spinal column, like a goat; because of his goat like lasciviousness, etc.
§ Syrinx or Siringa was the daughter of the Arcadian river god Ladon. Pursued by the cloven-hoofed Pan, inflamed by her beauty, she escapes his brutality by being metamorphosed into a bed of reeds.
† The poets of fables tell of a satyr, half goat and half human, who is taken in out of pity by a householder during a cold winter. When one of the members of the household, being cold, blew in the hands, the Satyr, who was not used to seeing this, asked what it signified. He gave as answer: To warm cold hands. A little later, with the table set, and the hot mash having been served in a dish, he at once blew on it, so as not to burn himself. The satyr seeing this was amazed and asked why he did this. The head of the household said: To let it cool down. At once the Satyr got up, and said: that he did not wish to associate with those who blow cold and hot out of the same mouth, and left that second.
Taken literally, the fable seems straightforward, but applied to two-faced human beings it serves as a warning not to associate with such as they because one cannot rely on them.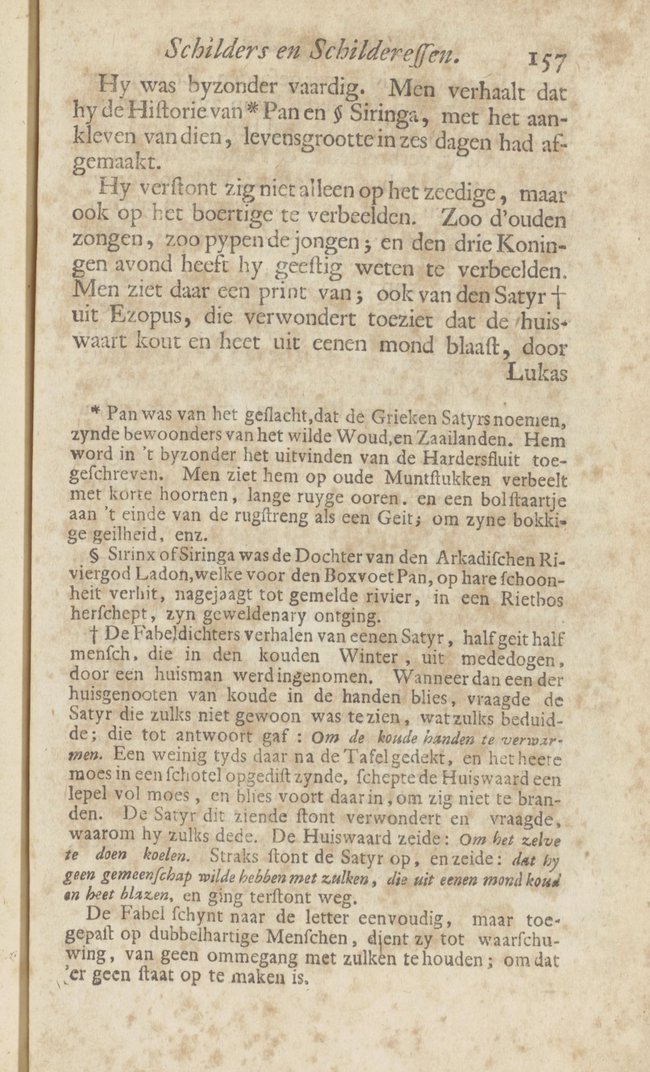 ---
5
Lucas Vorsterman (I)
Satyr and peasant, c. 1621 dated
paper, engraving (printing process) 412 x 398 mm
upper right : LV
London (England), British Museum, inv./cat.nr. 1873,1213.588

6
Paulus Pontius (I) after Jacques Jordaens
Twelfth Night, the Feast of Epiphany
paper 400 x 586 mm
Amsterdam, Rijksmuseum, inv./cat.nr. RP-P-H-O-47

---
Page 158

engraved in copper by Lucas Vorsterman. And what a powerful manner of painting he had in his best days (though he did not reach Italy) was clear from that night scene depicting the history of Peter who in his zeal cuts off Malchus's ear. What more do we need to say, since we can daily see proof of his noble art? We see his portrait at the top of Plate H.

He was a man of civil and polite conduct who had much helpfulness and advice to spare for others, as was shown among others to HENDRICK BERCKMAN of Klundert birth. This was a painter of small battle pieces who was not able to make his way in the world with them. Jordaens advised him to move to large paintings, which succeeded well. He settled in Zeeland, where he also died.

It is incontrovertible that Aurora only shows the beams of her golden shroud above the misty horizon when the leaves of the trees still drip with night dew and the fields are still covered by fog as if in a blue haze and the tops of villages and church towers are here and there beginning to appear in a golden sparkle, but that she shows her most picturesque features to those who make it their business to portray these on panel at the right moment. LUCAS van UDEN observed this, for people say of him that he broke out of his bloated sleep and got up at the crack of dawn and went to fields and forests,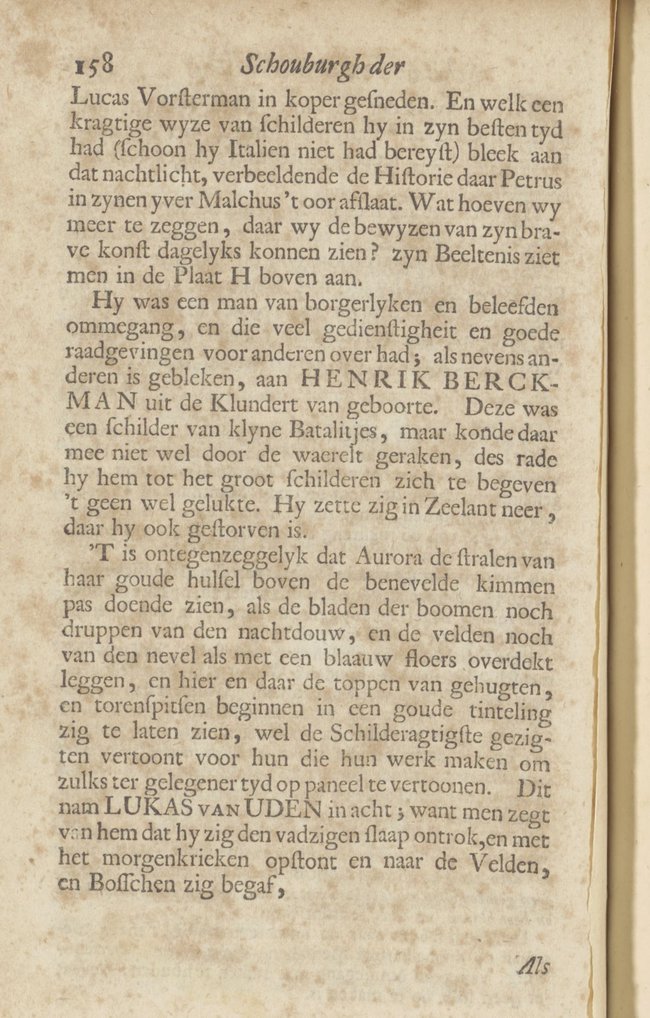 ---
Page 159

When the creatures hop about happily,
The grass is drenched in dew,
And the newly risen Sun
Mirrors itself in stream, or spring.

His languid and sweet handling and the fine elegance that he achieved in all his works as well as the unusually loose grace that he had in his trees, terrain, vistas, and gradations of light, made him a respected name amongst lovers of the art of painting. He was born in Antwerp on the 18th of October 1595. One sees his portrait in Plate F above the bust of Frans Hals I, who is shown with a hat on the head.

In this same year DIRK van HOOGSTRATEN was born in Antwerp. His father, Hans van Hoogstraten, born in the year 1568 on St. Matthew's evening, and died on the 14th of March 1605, came to live in Holland with his family to escape persecution. He had his son learn silver and goldsmith work in his youth in addition to the required art of drawing and also of engraving or plate cutting, in which he was well advanced, as may be seen from a certain well-known print called Ecce Homo (which he also drew himself) [7]. But just as usually one national character excels in some aspect of sciences and craft, so Germany surpassed the Netherlands in the gilding of silver at that time. Thus Dirk was spurred on by inquisitiveness to undertake a journey there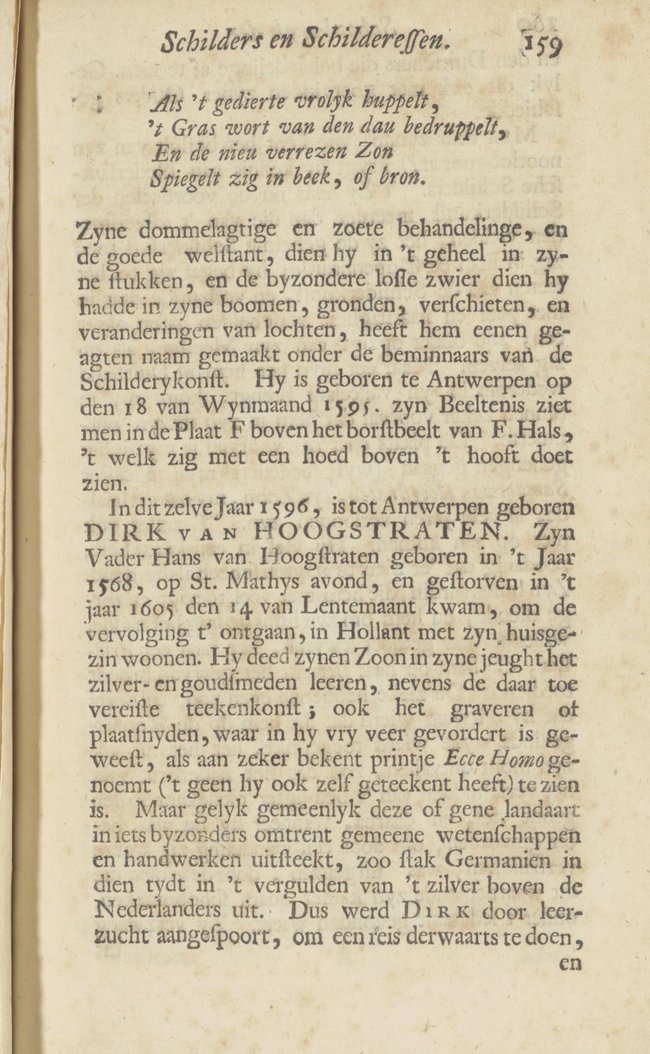 ---
7
Dirk van Hoogstraten
Ecce Homo
paper, engraving (printing process), etching (printing process) 135 x 156 mm
upper right : DvH
Amsterdam, Rijksmuseum, inv./cat.nr. RP-P-OB-48.955

---