Volume 1, page 50-59
---
Page 50

his fate having determined that his body would be consumed alive by flames.

It is almost unbelievable that people in whom reason, love, tolerance, empathy and all Christian virtues and qualities ought to reside, according to the example and doctrine of their patron, Jesus, under whose banner they have entered their name, can resort to such cursed anger, hatred and tyranny, had not many examples demonstrated to us that the ire of such people is much less controlled, their hate more vicious, and their dominion accompanied by tyranny. In any case, almost everyone knows what the Latin saying, Odium Diabolicum and Odium Theologicum means.

But what can we say? We see that it really does happen, against the very law of nature, which allows everyone freedom of religion so that regardless of whom it may be, no one is qualified to rule over another's conscience and to make his convictions conform to those of his own. For in this respect every man stands by himself and depends on no one but his Creator, to whom he will have to give account in his last days. However, as we just said, it happens, and the example of this man will be able to serve as proof.

JAN WOUTERSZ. van CUYCK was indicted for his faith, which differed from that of the monks, and placed in Dordrecht on the Vuilpoort, then the prisoner's gate, with Adriaantje Jans van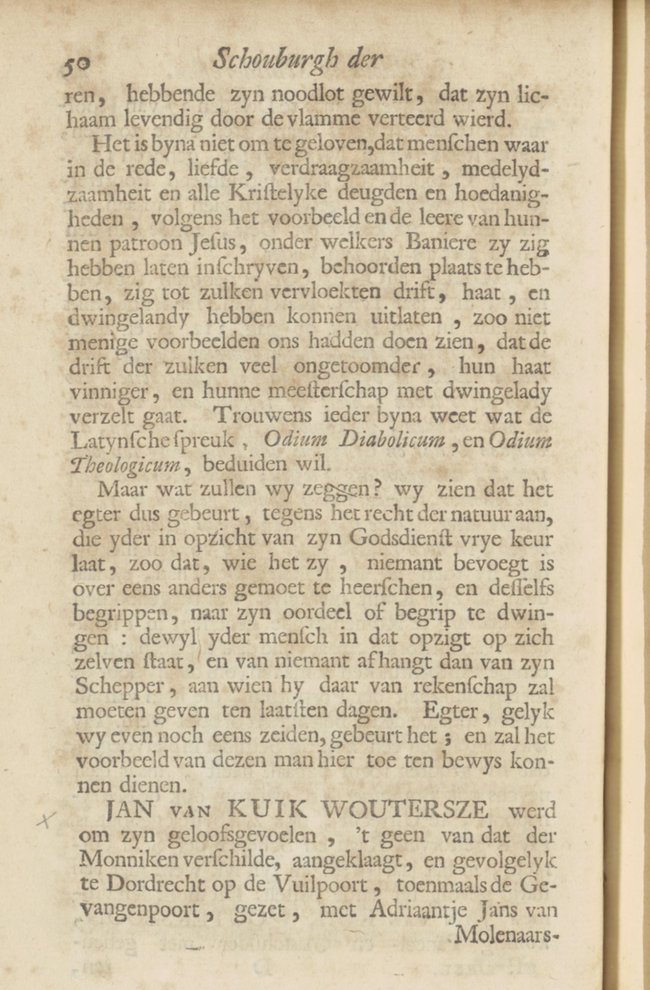 ---
Page 51

Molenaarsgraaf, where he sat imprisoned for a long time for the reason that (as seems clear to me) the chief bailiff, Jan van Drenckwaert would have preferred to have had him acquitted and therefore, as people often do in such a case, postponed the verdict from time to time and let it drag on. The mentioned chief bailiff was still young and clean shaven, which is why his portrait could also serve for Solomon in historical depictions of his first judgement, of which he had painted a large representation in the prison for the chief bailiff [1]. But this did not just raise suspicion with the monks, but they had the nerve to say in their public preaching that the bailiff kept him prisoner so long so that he would paint for him, and slandered his lack of resolve.* That is why the bailiff felt forced to surrender him as victim to their ire, as happened, so that on the 28th of March 1572, to the revulsion of most spectators, he was burned alive together with the aforementioned Adriaantje Jans for their witnessing of Jesus Christ. He left a sorrowful wife, a daughter of seven years, and a good reputation.

He is followed by SEBASTIAAN VRANCX, of whom Van Mander reports: He learned with Adam van Noort and is now, in 1604, about 31 years old and is clever in the making of landscapes, horses and figures.

In addition Cornelis de Bie mentions that Gabriel and


--------
* See Matthijs Balen's Beschryvinge der stad Dordrecht, p. 841, and Tieleman van Bracht, Het Bloedig toneel, of Martelaers-spiegel der doops-gesinde, pp. 590 and 628.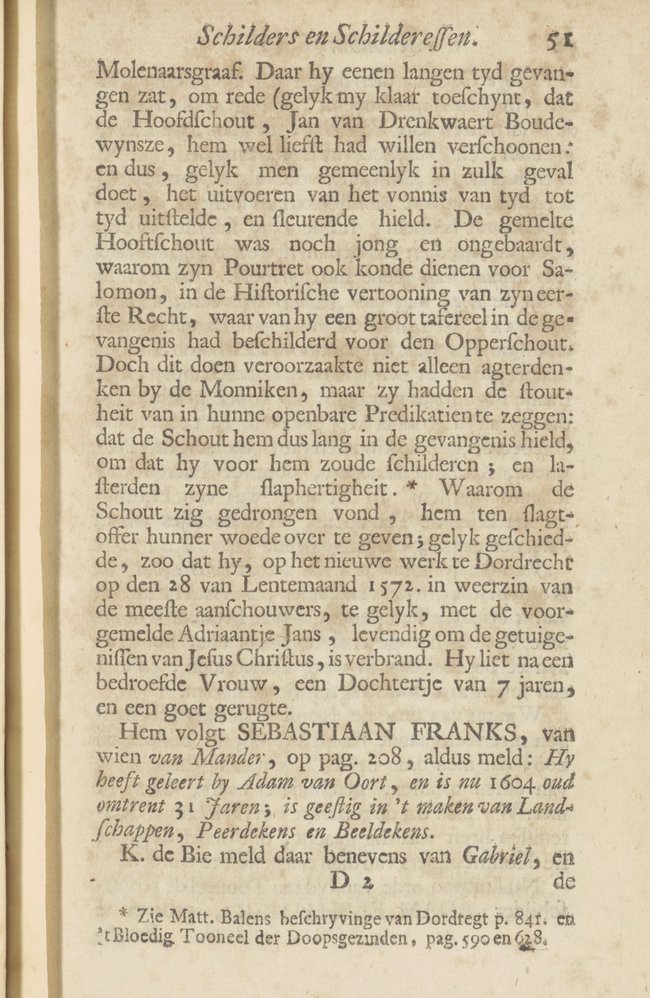 ---
1
Jan Woutersz. van Cuyck
The Judgement of Solomon : the true mother objects to Solomon's verdict (1 Kings 3:26)
panel, oil paint 38 x 38 cm
Dordrecht, Dordrechts Museum, inv./cat.nr. 1405

---
Page 52

the young Francken, whom I guess he calls Jan Baptist on page 100, further on in his rhyme, and under the portraits of Van Dyck one sees Sebastiaen Vrancx, Frans Francken I and Frans Francken the Younger.

Sebastiaan strikes me as the source from which all the other rivulets of art flow, or have their origin. After all he seems to me to be the first of that tree of art, seeing that Van Mander mentions no other. And here De Bie agrees with Van Mander that Sebastiaan was a commendable painter of landscape and figures. In his time my father-in-law, Jakob Sasbout Souburg, had two landscapes with lovely figures by him, painted on copper, which always pleased me wonder well. In one was depicted how the children of Bethel, who called the prophet baldy, were torn up by bears. In the other was a history from the New Testament, and the figures were firmly drawn and loosely dressed.

De Bie says about the young Francken that his art consisted of both histories of the New Testament and of the old Roman people. The bustling is endless that his fine brush is able to depict in them and boldly extract from them with a loose manner.

Which of these art chambers, hung with many art pieces on small scale and with the handling seen clearly, was painted by which master I do not know. We see the famous Van Dyck thought their portraits were worthy to be placed among the greatest painters of that time.

Now comes on the stage, in order of time, the painter ADAM ELSHEIMER, born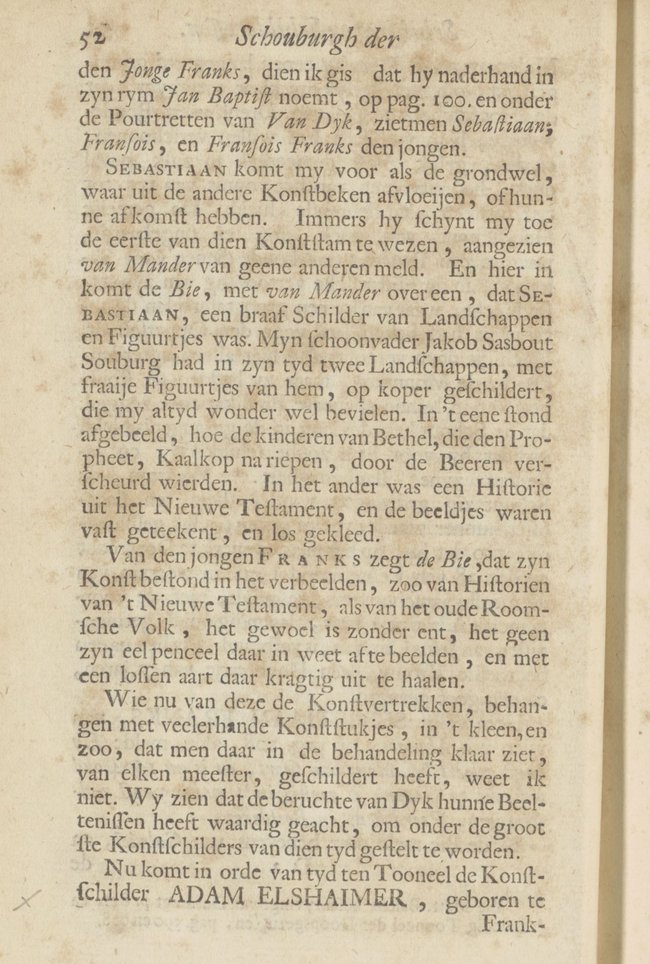 ---
Page 53

In Frankfurt in the year 1574. His father was a potter, others say a tailor, who, discerning in him great intellect and passion for art from a young age, placed him in Frankfurt with Philipp Uffenbach,* a good draughtsman and painter, whom he later far surpassed in art. He was averse to all company, usually sad, and inclined to loneliness. For his relaxation he chose remote places, which is why he was often found by himself in churches and old, dilapidated ruins, and was not to be drawn from this inclination to the company of his colleagues or others, saying:

When I turned to live amongst men,
I found nothing but evil to be learned from them.

By which approach he appeared to be a second Democritus who (following the writings of Thomas Stanley from Lucian and Agellius) hid himself in lonely places and in graveyards which were best suited for reflection by their loneliness and darkness for practicing the powers of imagination; to be outside the bustle of people.

He painted few pieces in his lifetime, though treated powerfully, elaborately and with great effort. Still he was amply able to show with that small number that he was a great master in art. If he had received as much in his lifetime for his


--------
* A great altarpiece depicting the Ascension of Christ by this Offenbach or Uffenbach, teacher of Adam Elsheimer, is to be seen in Frankfurt, in the church of the Dominicans [2]. He had got mixed up in the civil unrest and died in the year 1640.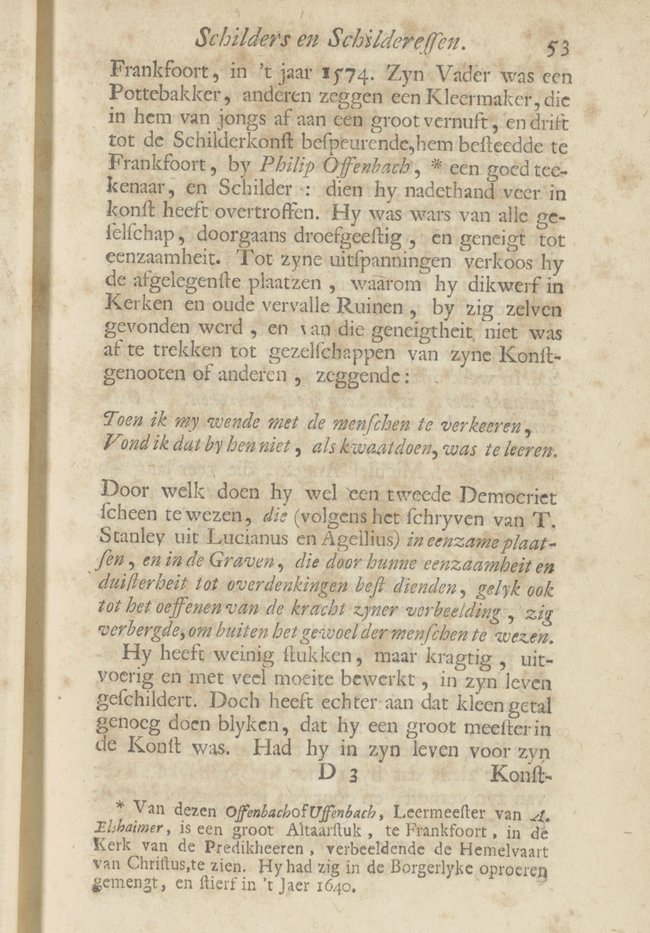 ---
2
Philipp Uffenbach
The ascension of Christ, 1599
panel (lime), mixed technique (painting) 189 x 136 cm
Frankfurt am Main, Historisches Museum Frankfurt, inv./cat.nr. B 303

---
Page 54

artwork as is now paid for it, he probably would not have died poor, because the piece that depicts Ceres, in which she turns a boy into a lizard for mocking her, which is mentioned by Ovid in the 5th book and which, engraved by Hendrick Goudt and issued in print [3], has been sold for the sum of 800 guilders. But what can I say? A minority of artists sees the worth of their art paid for during their lifetime and must therefore be consoled by our Elsheimer who, despite his diligence, left nothing other than a famous name which, thanks to the accomplished products of his brush, will hold its own century upon century. In this respect people say: that which is achieved in one leap, is soon torn asunder. That which must last a century must be made over a century. The most precious of all metals grow most slowly. Michelangelo, who spent a very long time on his works, said: That haste does not pay in art and that just as nature takes a long time to form animals that have to live a long time that is also true for the arts which propose to follow nature, etc. The earliest fruits of spring do not keep for long. Which is also why Apelles answered a painter who showed him one of his brushworks and added that he had made it in little time: It is not hard to believe, for one can tell from the work. But it was easy to see from our artist's brushwork that he had produced it with the precious sweat of his intellect and by matchless patience.

Sandrart says: He had married a Roman wife and had a great many children. Which is why he fell into debt,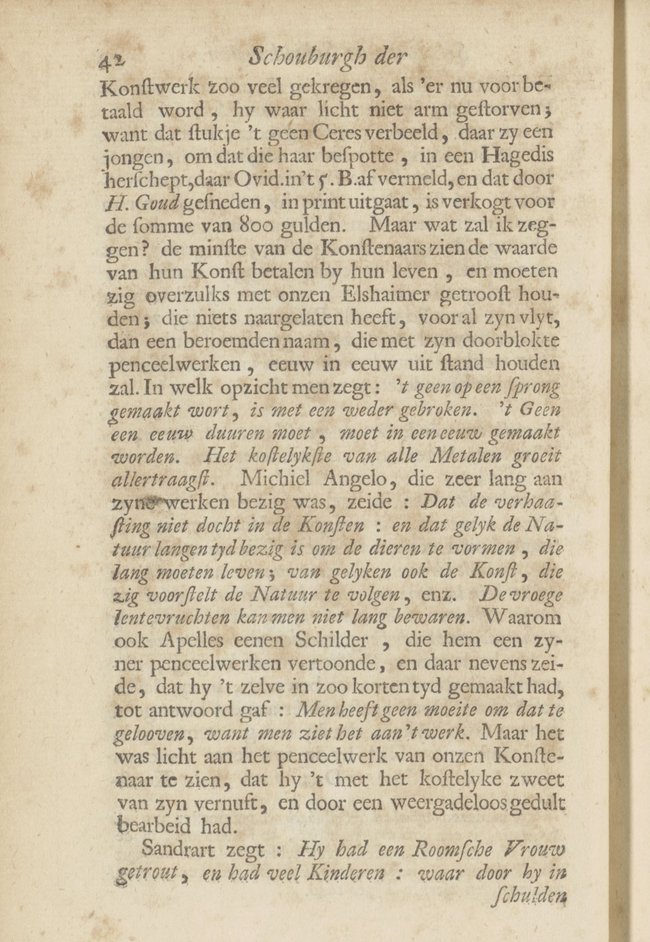 ---
3
Hendrick Goudt after Adam Elsheimer
Mocking of Ceres, dated 1610
paper, engraving 320 x 246 mm
Amsterdam, Rijksprentenkabinet, inv./cat.nr. RP-P-OB-31.707

---
Page 55

became poor and finally ended up in prison. His wife and various sons still lived in the year 1632, but he was long dead by then. David Teniers the Elder studied with him in Italy. But especially famous became his student Jakob Ernst Thomann of Landau, who was able to imitate his handling so precisely that there was little difference to be found.

Of a totally different nature and understanding was his contemporary LUCAS FRANCHOYS the Elder. The former loved lonely silence, the other the bustle of the court. The first had contempt for money and kept nothing. The latter loved it and made use of it. Their ideas differed as greatly as their places of birth were separated, for he understood: that courts are the fortune of art and that one should hold them by the hairs as long as they offer their favour. He practiced his art with praise with both histories and portraits for six years in Spain and France. One still sees some of his artworks in Malines, where he was born in 1574 on the 25th of January and died on the 16th of September 1643, leaving two sons, Peter and Lucas Franchoys II, who were commendable painters and whom we will commemorate in the year of their birth.

At the time that Adam Elsheimer, of whom we spoke just before, was in Rome, HENDRICK GOUDT, born in Utrecht of an eminent family, was also there. He was close to Elsheimer since he had met him when he was in Holland, and held his art in great esteem, which is why he not only bought what he made,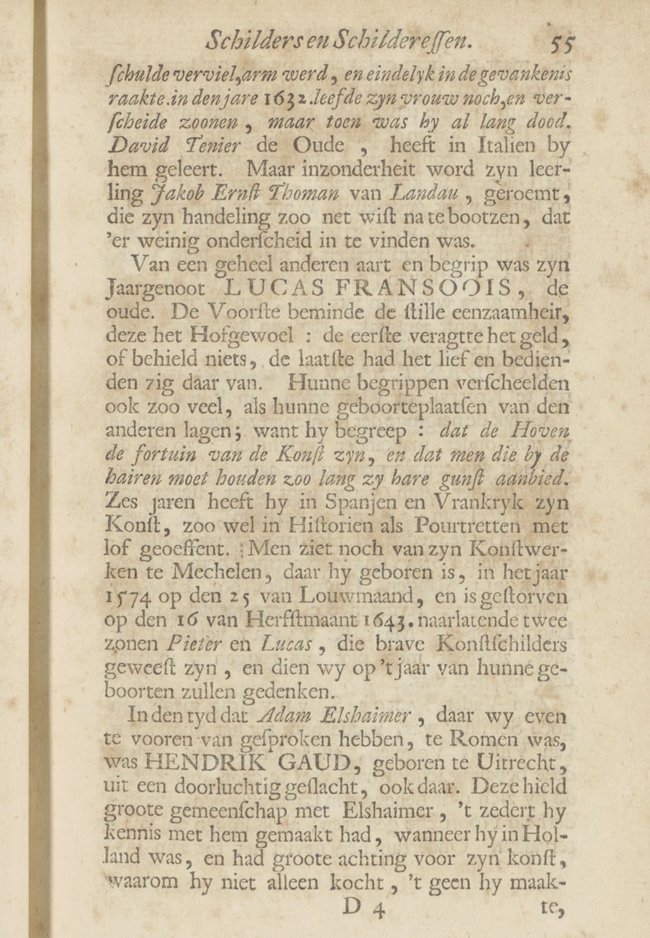 ---
Page 56

but also gave him money in advance to paint for him. He himself painted in Elsheimer's manner, which is why he took him as model, but he particularly stood out in engraving. Returned to Utrecht, he brought out the collected art of Elsheimer on copper, which was his first and last work. For a Miss who badly wanted to marry gave him something which instead of having him fall in love made him loose his mind (this was in 1624) so that he did not understand anything unless one mentioned art to him, about which he was able to judge up to his death.

ROELANT SAVERY Jakobszoon was born in Kortrijk in Flanders in the year 1576.

Just as the inclinations of people as well as their features differ from each other, the one has a more contented nature than the other. Many have taken satisfaction with possessing only a slight part of art and were satisfied with their fate. Melchior d' Hondecoeter painted birds; Peter Snayers four-footed animals; Otto Marseus van Schrieck snakes, lizards, etc.; Adriaen van Eemont waterfowl, herbs etc. These artists did not render landscapes. But Roelant Savery understood it all, so that one can't say in which part he was best.

His father Jacob Savery, who was also a good painter, trained him in the painting of fish, birds, and other animals, but this repertoire seemed much too limited to him. He therefore also practised painting landscapes, including northern prospects, such as cliffs and waterfalls. In the meantime he had the fortune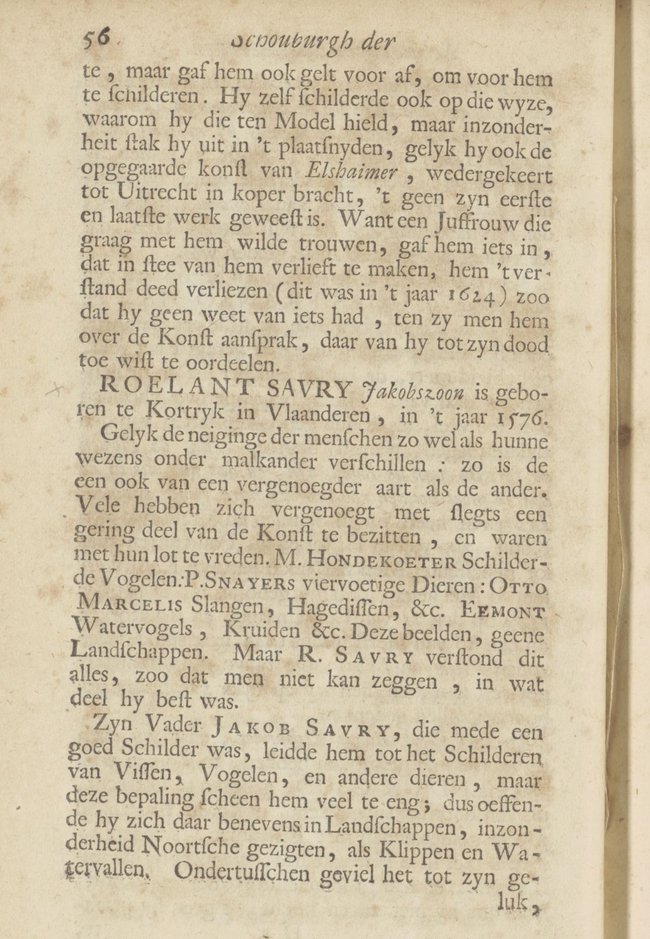 ---
Page 57

that Emperor Rudolf II came to see his work, praised his diligent nature, took him into his service and gave him an opportunity to travel to the Tyrol with a gentleman to draw all the handsome vistas of landscapes and waterfalls after life and to take in the nature of things through steady observation. He undertook this with great diligence, drawing everything that seemed picturesque to him in a book, with the foreground in pen, the vistas in pencil, and the whole washed with coloured saps or with pale watercolours, to which he later helped himself when he painted the gallery in Prague with landscapes, of which the majority were engraved in copper and published in print by Aegidius Sadeler II and his student Isaak Major.

After the death of Rudolf, which occurred in the year 1612, he headed for Holland, where he painted both large and small artworks for art lovers. He was a man of medium height, but stocky, which can be seen from his head or bust which was issued in various ways in copper.

We have helped ourselves to the one that was painted by Paulus Moreelse and cut in copper by Geertruydt Roghman [4], of which we found a proof with the art-loving Edouard Feitama, below which Hendrick Lambertz. Roghman wrote in his own hand in 1640: Roelof Savery, painter of Rudolph and Matthias II Roman emperors etc. with some lines in rhyme which conclude in this way: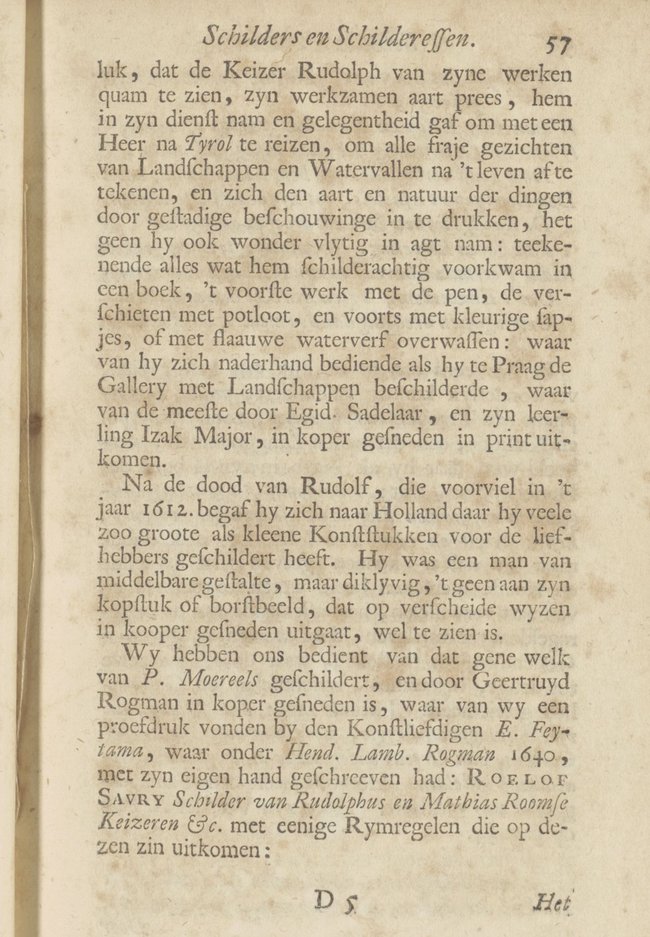 ---
4
Geertruydt Roghman after Paulus Moreelse
Portrait of Roelant Savery (1576/8-1639), dated 1647
paper, copper engraving 267 x 162 mm
Whereabouts unknown

---
Page 58

It seems that Savery has surpassed nature:
When he depicted through art, forest and cliff, and verdant meadows,
In which the four-footed cattle dally lustily,
Which is why death, annoyed by this, poked his side
With whetted scythe to his destruction.
The Goddess of Art laments this sad and pitiful fate
Of her favourite, though old, pruned too early.
But ferryman Charon could scarce transport his soul;
For the denizens of Elysium encircled his boat
And joyfully offered the hand to the new arrival.

I once saw a large piece by him, painted with marvellous skill, in which were depicted Orpheus, a Thracian harpist, son of Apollo, and Calliope, one of the nine Muses, in which, as Ovid says in his II. Book of the Metamorphoses: His string-playing ravishes, lovingly caresses and draws unto itself the trees and the fierce wildlife and rocks. That is the fable, but it is intended to communicate that he was able to tame wild and fierce men, change their nature and distract them from their unsettled way of life, whereby he led them to virtue, politeness, friendship and hospitality. Justinus says: that Midas, that rich king of Phrygia, son of the ox herder Gordius, was instructed by Orpheus to introduce worship of the gods to Phrygia. Horace explained this fable accordingly. Listen to his translator Andries Pels on page 34.

........ for Orpheus, so esteemed in his time,
The interpreter of gods, deterred the human strain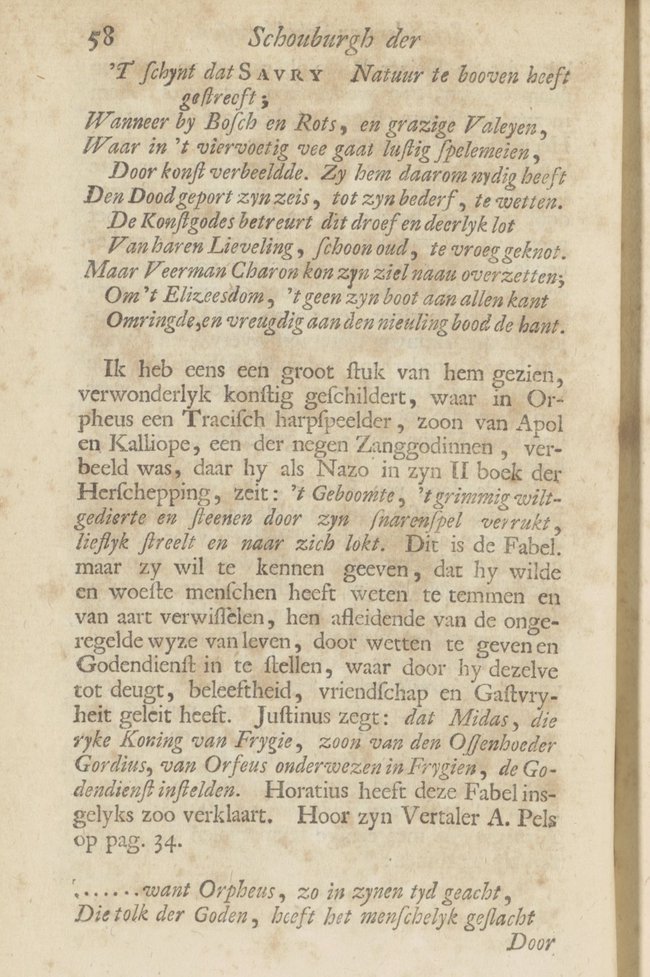 ---
Page 59

By verses from murder and bestial life;
Which is why the commendable name of the hero lives on,
That he could tame lions and tigers.

And continues:

Yes ruler Amphion, who himself began to build ancient Thebes
Received that name because he could lead
The hard stones with his lute, and flattering poetry,
Wherever he wanted.

We have also supplied such explication elaborately elsewhere.

Just as fruit is brought to its complete ripeness by the warmth of the summer sun, so also the intellect of the painter is brought to complete understanding by competence in the meaning of fables, so that, with its aid, all depictions of whatever kind can be furnished with speech and thereby have the mute paintings speak. We will furnish the first proof of our claim and show what use knowing such tales has for the painter. For if our desire for this remains with us and the thread of our life extends that far, we will take up the explanation of the fables of Ovid, in the manner that PALAEPHATUS has begun in his booklet Of the Unbelievable Histories.

He had habituated himself to painting diligently in the mornings and go amongst company in the afternoons, and remained single. And if anyone asked him for the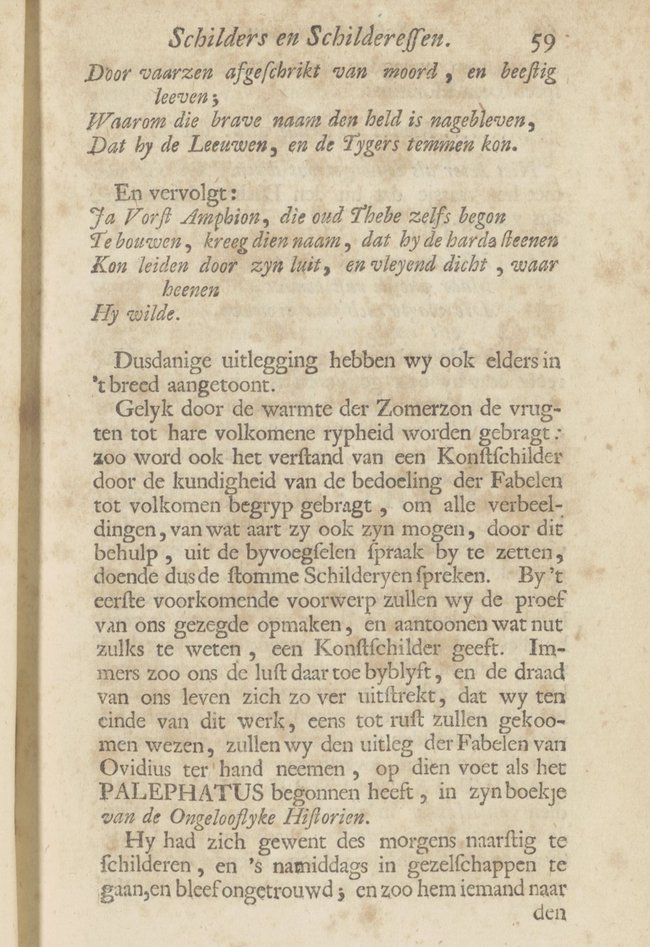 ---