Volume 1, page 40-49
---
Page 40

repeatedly had his court offered to him, but in vain, since he had decided to pass his life in art in the Netherlands. Accordingly he was buried in Brussels in the year 1629, on the 6th of May.

Otto seems to me from all circumstances to have been the first and most important individual who raised his head above the ruins of war and continued and nourished the advancement of art in the Netherlands (where due to the fault of war, art and artists were lacking). That is why people rightly said of him:

Dum quondam ingenties & .....

Which comes down to this meaning, in which sense he is introduced while speaking,

Much material that their pen has raised heroes to the skies
For the defeat of conquered peoples,
And trumpeted their fame throughout the world.
But I desire that our art, so long crushed by Mars,
And submerged and buried in might of war,
Be raised again and have it proceed in lustre
All around the world. By my diligent hand
Art is brought back to her high station,
Of which I am proud despite the slanderers.

for which reason we have placed his portrait on the title page [sic].

That the wreckage of war is the grave of the arts and the ruin of artists is not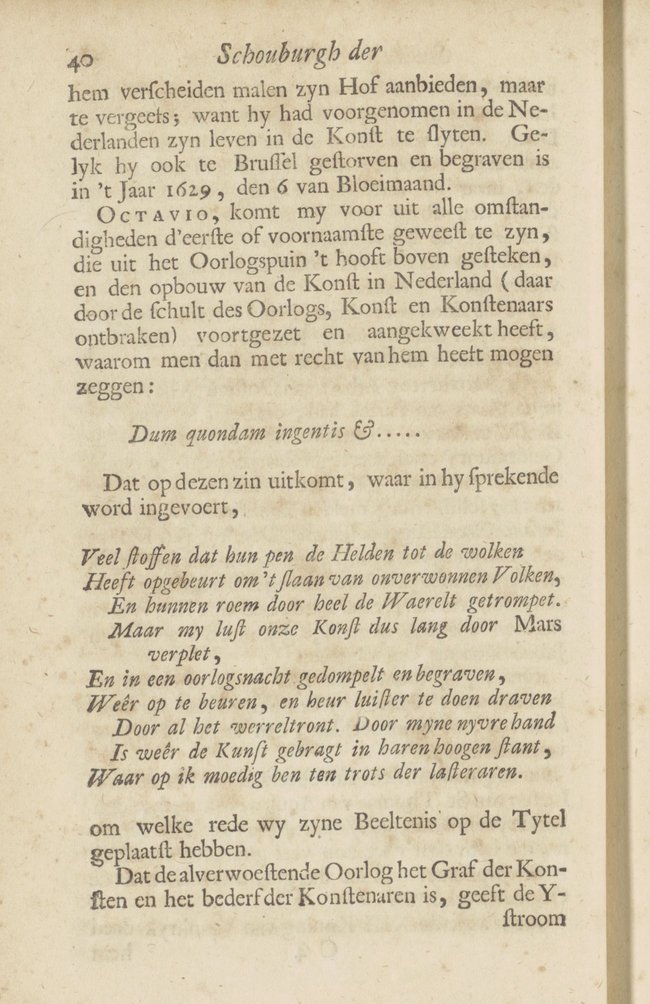 ---
Page 41

ungracefully indicated by the poet of De Ystroom in the introductory stanza of his Zege der schilderkunt.

Oh arts henceforth bend your head,
When you hear the trumpet of war sound:
That piercing sound smothers your speach.
The burning flame of war extinguishes
The lustre which you attempt to create:
Mars himself then claims your laurels.
How does it help if you cleverly range,
And proudly boast of your worth,
When a tempest of war casts down to the earth
Your imagined immortality?
Above all one sees how the finest of paints
Perish around the head of the art of painting.

That the arts are also oppressed by domestic church disturbances and burgher disputes, which gives everyone reason enough to reflect on those disasters and less about art, has been revealed by experience, especially in such a time when art was more often used as display in churches than as decoration of homes. Now Van Veen lived at a time in which the monks looked on timidly, as if worried by a general decline of the Roman chair due to the preaching of John Calvin, Martin Luther and many others, by which the feelings of the populace grew into bitterness and hostility against each other.

Such a state, sometimes worse, sometimes better for art, lasted some subsequent years. For in his Kerkelyke en weereltlyke veranderingen, Willem Goeree records for the year 1566, following Van Mander, that the Bruges painter,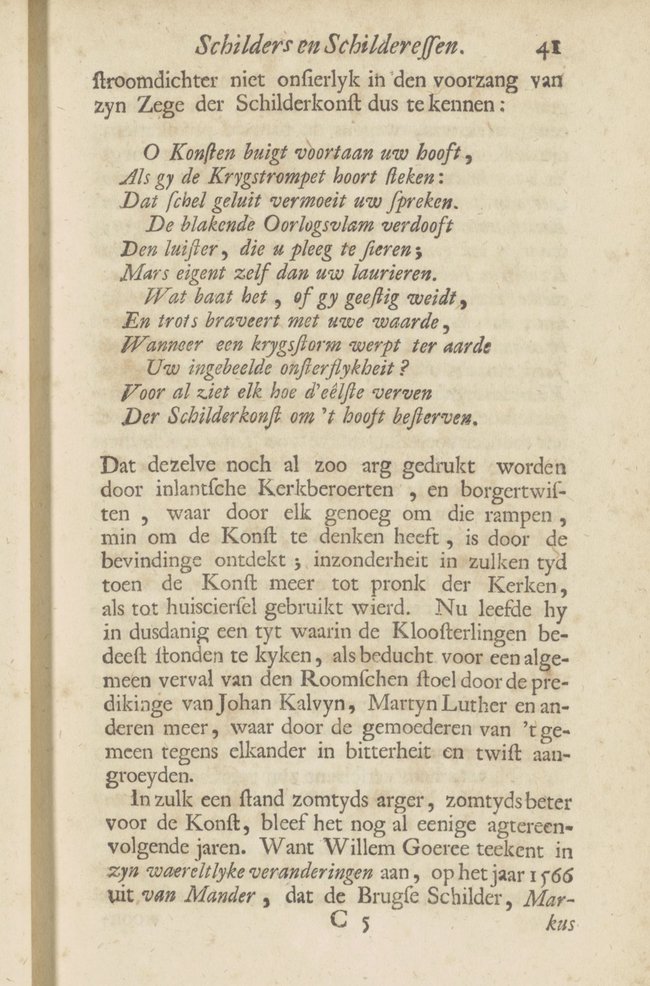 ---
Page 42

Marcus Gheeraerts, who was often occupied with drawings for glass painters, was altogether without work on account of the new preaching, which brought art to a complete standstill. And he adds to this: For the papery in Holland went so greatly into decline that even the painters and sculptors began to complain about their poor income, which is also why the mentioned Gheeraerts took on the etching of Ethiopian fables in 125 copper plates [1], which fable prints were later presented in book form, which is still known to us under the name of Princely Pleasure Ground of Animals and which the poet Joost van den Vondel elucidated with edifying verses. That is enough for now, as time demands that we bring onstage his contemporary, who, it seems, early on fled the dark clouds of dispute that repressed art, to breathe more freely elsewhere.

I do not know what aspect of art JAN de WAEL practiced. But I do know that he studied art with the old Frans Francken van Herentals, who is mentioned by Van Mander on page 161, and that he left for Paris with one Hans de Mayer, who was a good painter, where he continued his art with diligence and fortune favoured him. He was a citizen of Antwerp by birth and died in the year 1633, when 75 years old.

Next to him appears his contemporary, ADRIAEN NIEULANDT, born in Antwerp. He learned the basics of art with Pieter Isaacsz, who was born in Helsingør on the Sound in the year 1569, but hailed from Haarlem and lived in Amsterdam.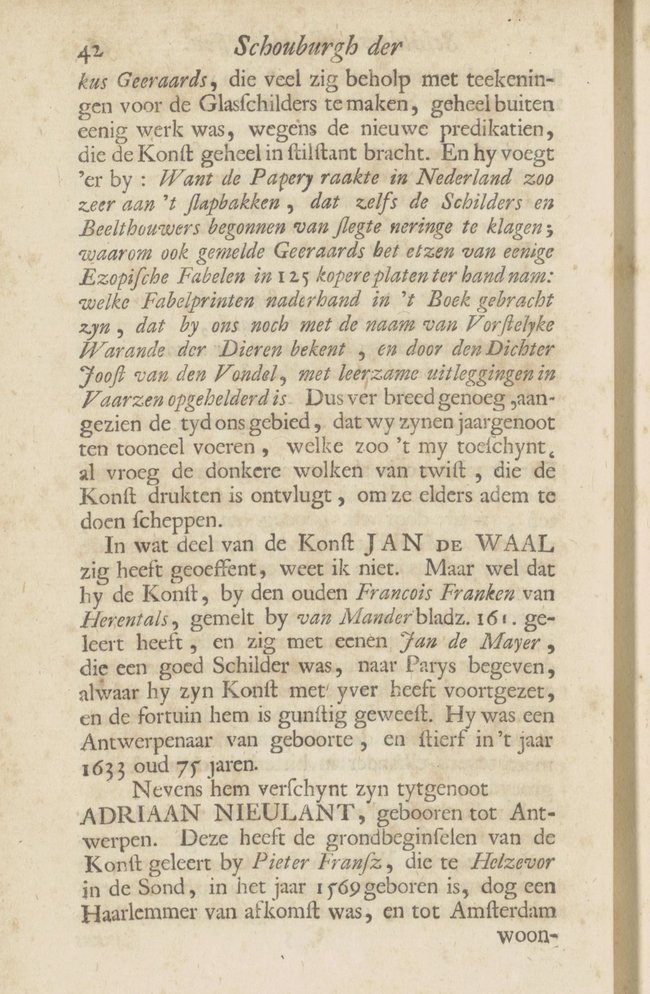 ---
1
Marcus Gheeraerts (I) published by Dirck Pietersz. Pers
The fable of the goat and the young wolf, c. 1567
paper 130 x 120 mm
Whereabouts unknown

---
Page 43

He later turned for instruction to Frans Badens, who was born in Antwerp but who came to live in Amsterdam with his parents in the year 1576 to escape the Spanish murderousness. He was a good painter of small figures and landscapes and died on the 5th of May 1601.

The flowers, which in their manifold beautiful guises, pleasant colours, and refreshing fragrances, grace courtyards and delight the eye of the spectator, come out in the earliest summertime, but our ABRAHAM BLOEMAERT, one of the most beautiful and fragrant flowers of the flower court of art, sprouted in Gorkum in the bleak wintertime, around Christmas of the year 1564. He was a skilful architect and fortifications architect and his father a wood carver, says Cornelis de Bie in error. But Van Mander says that his father, named Cornelis Bloemaert, was accomplished in architecture and fortification architecture, in addition to which he was a skilful wood carver. It is clear that De Bie (who had taken his account from Van Mander) did not show enough care when copying. Van Mander gives the reason why his father and his household left his native city of Dordrecht for Gorkum and from there to 's-Hertogenbosch, and from there to Utrecht, and how our Abraham Bloemaert, having come home from Paris, went from Utrecht to Amsterdam to live with his father, who had been hired there as city architect. After the death of his father, Bloemaert returned to Utrecht and (says De Bie) he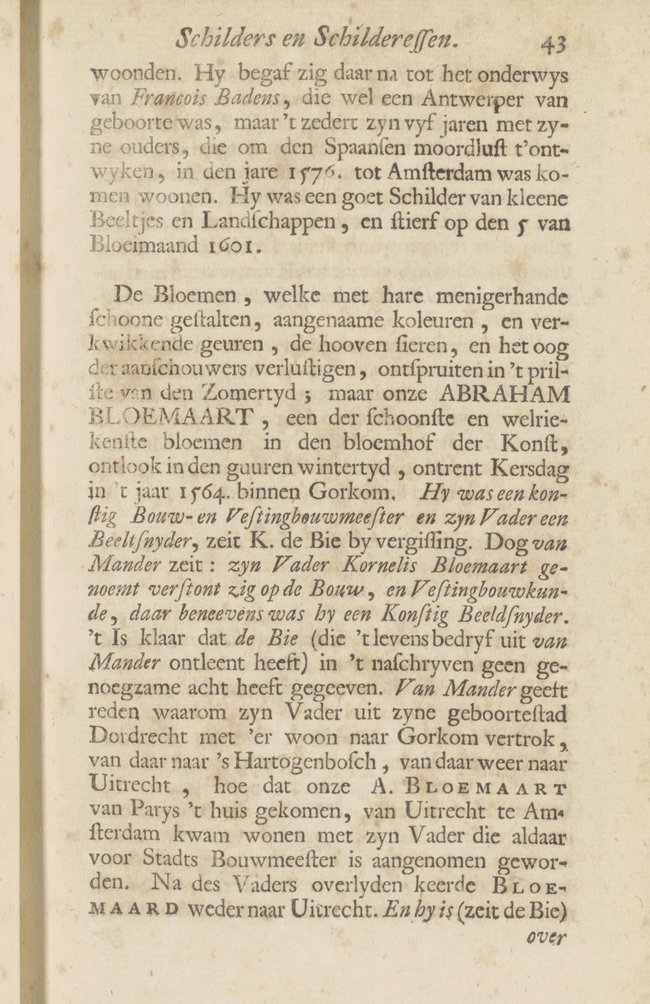 ---
Page 44

died after only three or four years. If one subtracts 4 years from 1662 (when his book was printed), that works out to 1658. But it is unimaginable that he became that old. One should therefore apply the saying after 3 or 4 years to the time that he wrote this book, which could have been many years before it went to the printing press, and that De Bie's calculation is therefore uncertain. But that he became an old man is clear from a rhyme in which one reads: Death had spared him around a hundred years.

What master he had as instructor of art and what important works he made that are still to be seen can be read on page 209 of Van Mander, who differs there from De Bie in that he lists the names of various masters with whom Bloemaert is to have learned. The other says to the contrary:

He mostly derived his art only from the spirit
And without instruction .....

One sees his portrait in Plate C above the portraits of Elsheimer and Adam van Noort.

He left three sons who also took up art.

HENDRICK BLOEMAERT, the eldest, had studied the art of painting with his father but inherited little of his spirit and nature, nor any competence in dealing with the ways of the world. That is why Sandrart wittily says of him: He was not able to fire off the ball of his happiness with enough wisdom and thus the outcome of that beautiful flower was choked. The second, named Adriaen Bloemaert,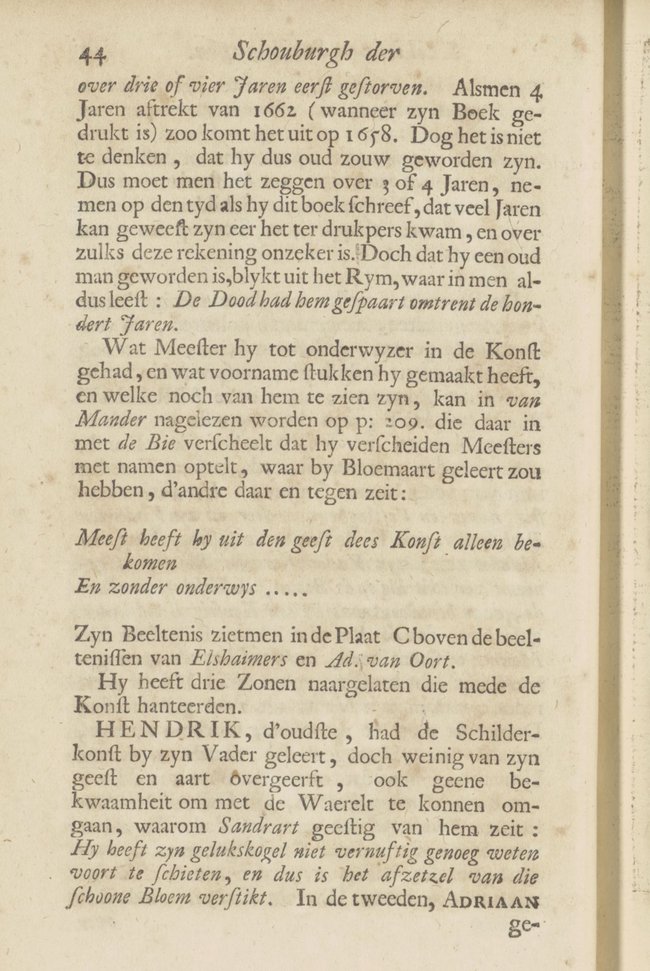 ---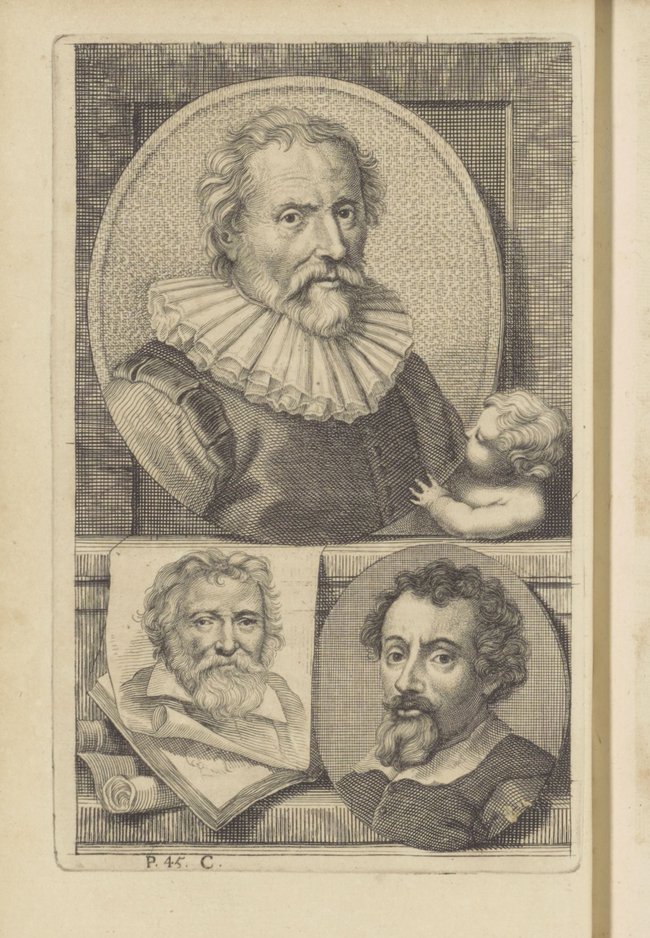 ---
Page 45

had more spirit and diligence. He became a good painter and headed for Italy to carry on with his art, in which he progressed bravely. After that he came into the service of one Benedictus, a great lover of art in Salzburg, and made many handsome pieces there. But embroiled in an argument with a student, he was stabbed to death.

CORNELIS BLOEMAERT, the youngest, also turned to painting, but exchanged the brush for the engraver's stylus, since his nature was better suited to that. He learned the handling of the engraving stylus from Crispijn van de Passe and progressed so far in little time that he cut various plates in copper, both after drawings by his father and by others, of which the impressions are still esteemed by lovers of the art of printmaking. To have the opportunity to make greater works he left first for Paris and from there to Rome, where he made many divine prints after paintings by esteemed Italian painters. His father, who greatly desired to see him once more, summoned him, but he put off the journey so long from one moment to the next that his father died, and he then decided to remain there. He died at an advanced age.

How different practitioners of art are with respect to their preferences for subjects and how they are driven to this or instead to that part of art by a natural passion, one will often be able to discern in our work.

TOBIAS VERHAECHT was set on the painting of trees, mountains, ruins,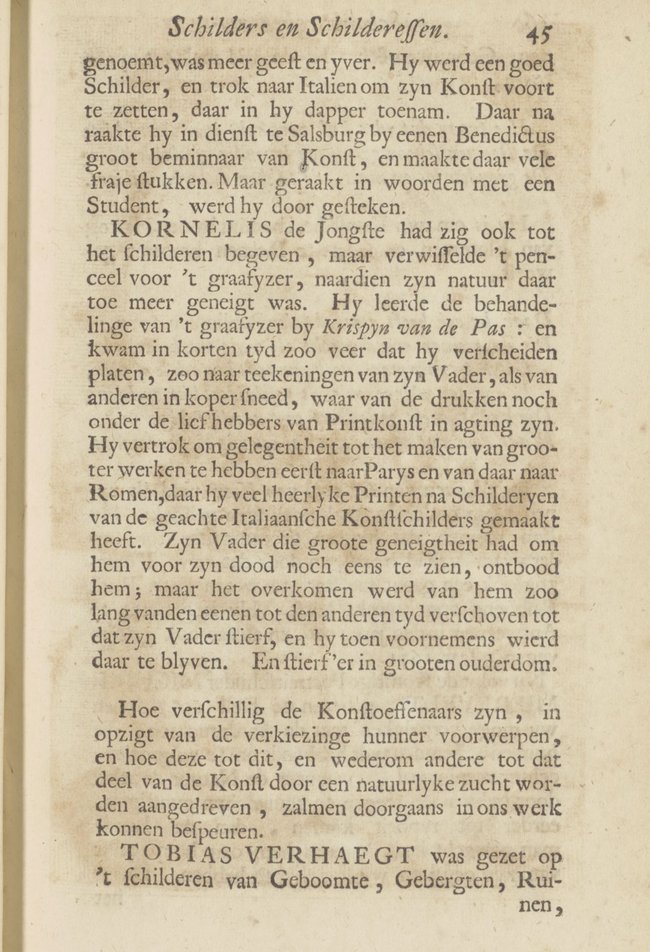 ---
Page 46

buildings etc. Cornelis de Bie reports to his fame,

How handsomely every piece softens in the distance
The trees beautifully clustered and lively painted,
The terrain loose and lush, the branches thickly tangled.

He was much beloved for his art by the Duke of Florence and has been famous in Rome ever since,

Where he also made the Babylonian tower,
Which was more esteemed there than any work before it:
Just as he later made three or four,
Of which one finds one painted in Liège;
Which Frans Francken II has furnished with charming figures,
By which his fame shall last eternally.

In the life of Otto van Veen I find his name booked under the arrivals. He could pride himself on having had a great master as teacher and that in that same wake of art he also nurtured a great master (to wit Peter Paul Rubens). He was born in Antwerp in the year 1566 and also died there in the year 1631.

Now follows the skilful portrait painter MICHIEL van MIEREVELT, born in Delft in 1567, whom we may compare to the fruits of the earth, which have their appointed time for maturation, but often, when nature favours them with sufficient rain and sunshine, mature sooner than the farmer had expected, which then gives him hope of assured harvest and profit. Thus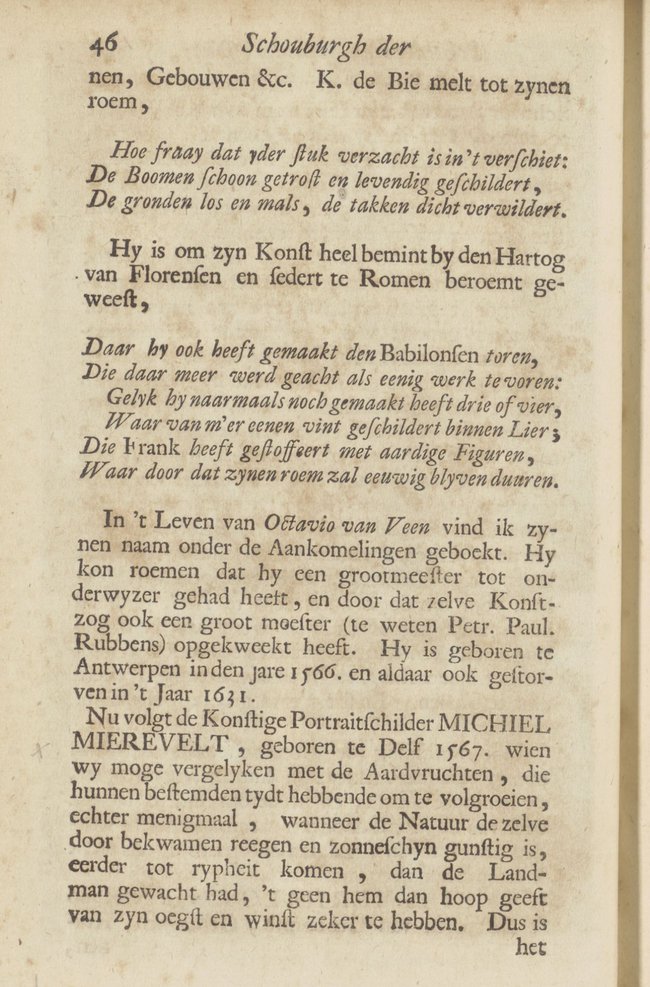 ---
Page 47

it went with our Mierevelt, of whom it is witnessed that the fruits of his intellect, ripening earlier than usual, gave hope of a happy harvest to his parents, for with his eighth year he could write thanks to the best school master of Delft. That is why in his twelfth year he was already placed to study art with the renowned painter Anthonie Blocklandt, whose brushwork he was able to imitate in a few years.

It pleases us to follow the life's story of this top painter of portraits of his century down to his grave, since we will see a young phoenix arise, not unequal in beauty to the father.

Van Mander breaks off the sequence of the events of his life by saying to his renown on page 196 that Duke Albrecht approached him with great seriousness for his elevated art. And Sandrart says: that he had penetrated so far with his art in the favour of the Duke that he permitted him and gave him freedom to profess his Mennonite faith, which was closely persecuted back then, without impediment. And as we sniffed our way through the old records of the city of Delft, we found to his honour that when King Charles I first married Henrietta Maria de Bourbon, daughter of Henri IV, King of France, in the year 1625, he was asked to join his majesty in London. He would have done so if it were not that the plague fire had spread so widely in London that the king and queen themselves thought it advisable to leave the city, whereby his intention being blocked, he decided to spend the remainder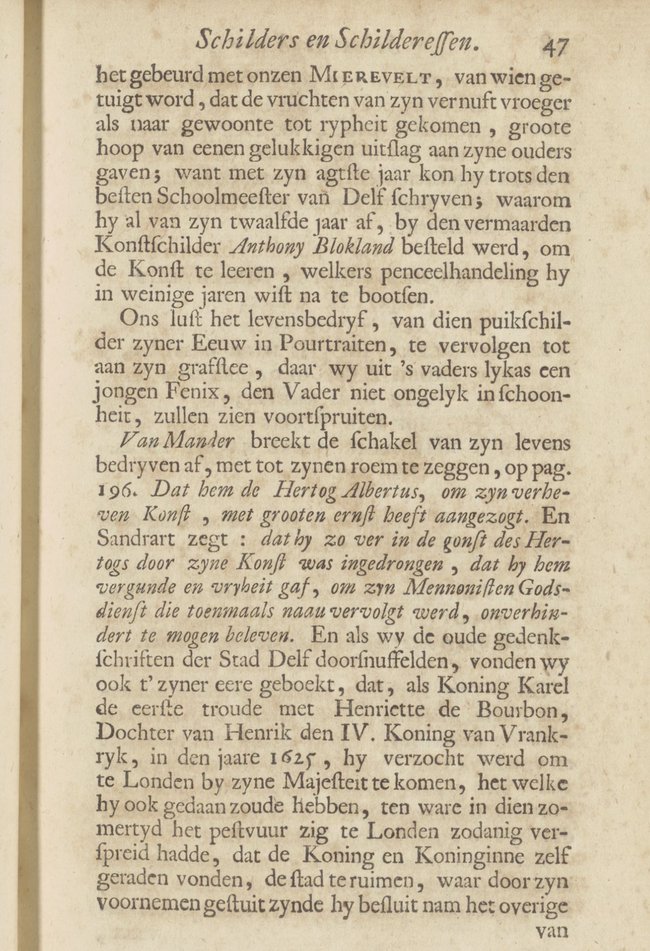 ---
Page 48

of his life in his own fatherland. Accordingly, after having painted many rulers and gentlemen, he died in Delft on the 27th of July 1641, leaving a good resonance. The famous poet Joachim Oudaan made this time-telling grave inscription in his memory.

WHAT WAS MORTAL ABOUT THE GREAT MIEREVELT
WHEN IT DESCENDED TO ASH AND DUST, IS HERE PLACED,
THE REST LEAVES MEMORY
OF THIS CIRCLE;
OR REMOTE HARBOUR
TO THE REALM WHERE THERE IS NO MORE NIGHT.
M. ICC. XLI

I also find another inscription on a portrait painted by him:

This is the outward appearance of Michiel Mierevelt
Who renders himself immortal by his great spirit.

Amongst his students especially Paulus Moreelse, Pieter Gerritz. Montfoort and Nicolaes Cornelisz. Delff are counted. He was a well-spoken and friendly man, which made him liked everywhere. People believe that he made as many as 5,000 portraits in his lifetime, which included some for which he received 150 guilders.

One sees a large number of his portraits engraved in copper by his brother-in-law [= son-in-law] Willem Jacobsz. Delff. He died before his father-in-law,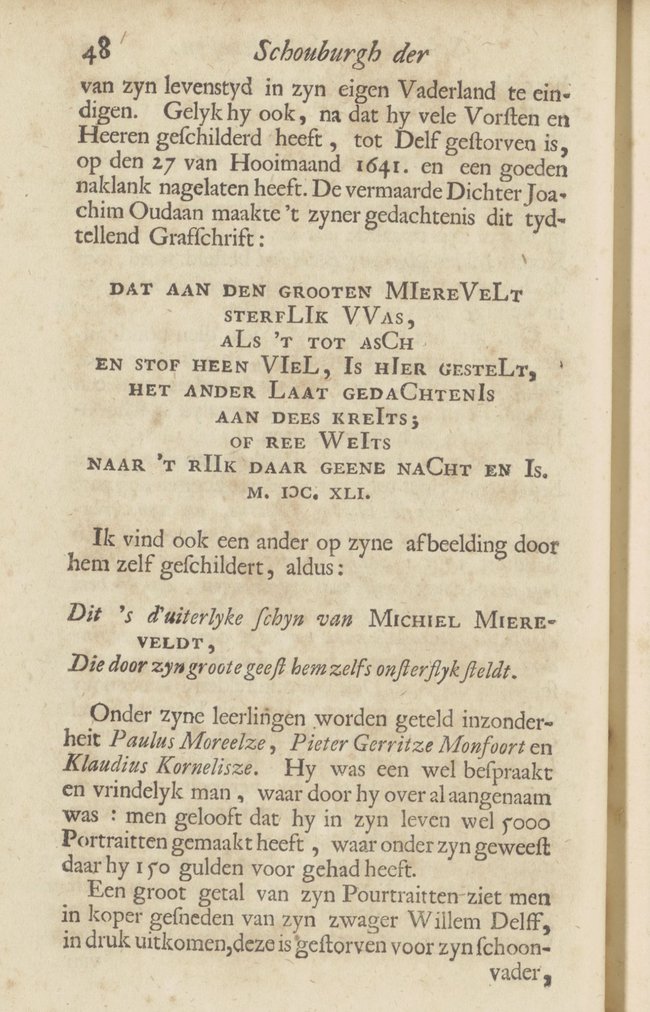 ---
Page 49

who died in Delft on the 27th of July 1641, and left two sons. The first was Pieter van Mierevelt, born on 5 October 1595, who was an excellent portrait painter, as one can see from a piece in the dissection room in Delft, being of a kind similar to those of his father [2].

PAULUS MOREELSE was born in Utrecht in 1571. Karel van Mander commemorates him on page 212 B. of his book and says: Also in Utrecht is a painter named Paulus Moreelse. He is special in painting large as life: has today several in progress which are masterfully handled, as of the Count and Countess of Culemborg [= Floris II van Pallandt and Catharina van den Bergh] full length, as large as life, the wife of Sr. Knotter, whose face is artfully handled, and still others. He is a pupil of Michiel Mierevelt and still fairly young. We add to this that he had already been in Italy by then and had accordingly improved markedly in his art. Being in Rome he had practiced the painting of histories but then found no time to paint any histories because he was hindered or prevented by the multitude of portraits that flowed to him from all sides. He was not just an artful painter in that capacity, which garnered him great fame, but also an architect, which is why the Catharijnepoort in Utrecht was built after his design. He died as counsellor and alderman of the city of Utrecht in the year 1639, and his corpse was committed to earth with a stately following. This was not granted to the pious JAN WOUTERSZ. van CUYCK, artful panel and glass painter,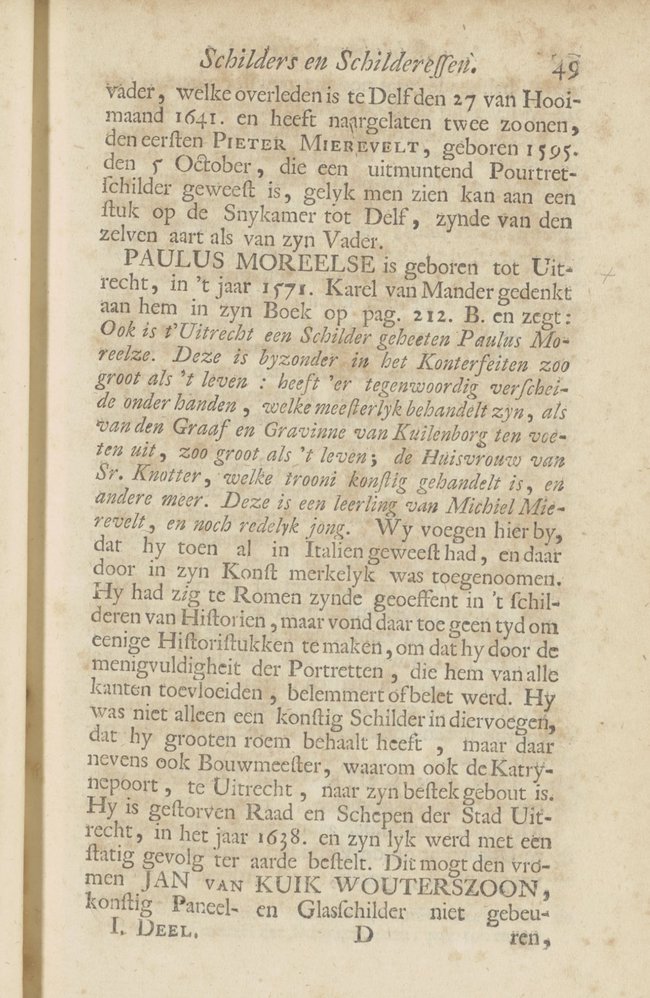 ---
2
Michiel van Mierevelt and Pieter van Mierevelt
Anatomic lesson of Dr. W. van der Meer, dated 1617
canvas, oil paint 150 x 225 cm
lower center : Michael a Mierevelt delineavit Filius vero opus Petrus / praescipto Patris pinxit Delph.Batav.1617
Delft, Museum Prinsenhof Delft, inv./cat.nr. PDS 275

---