Volume 1, page 20-29
---
Page 20

just as the Rotterdammers erected a stone statue and later a metal one [1] to the lustre of their city, about which the prince of Dutch poets has this to say:

What wisdom the Latins and Greeks held contained,
All of Christendom understood as soon as Erasmus came,
And gave his name to Holland's Rotterdam,
A name since he had come forth from her lap
She, when death had extinguished his light,
Took neither the rotten bones nor wind-blown ashes:
But erected a stone statue.*
Envy spat fire and flame,
And tried violently to reject him from the altar.
Then at last! The glory of learning is not deflected by envy or regret
No grave limits his fame. It brightens with time.
His wreath is unwithered verdant and blooms safe from envy:
What formerly was of stone, is now of glistening metal.
And should Envy be offended by this splendour and show,
So people pour golden light on the Rotterdam saint.


--------
*In the year 1572.
On the base of the statue one finds this by Joachim Oudaan:

Here rose that great sun, and set in Basel:
The imperial city honours and celebrates him sainted in his grave:
This gives a second life to he who gave up the first;
But the light of languages, the salt of morals, the heavenly miracle,
Where pride is taken in love, and peace, and theology,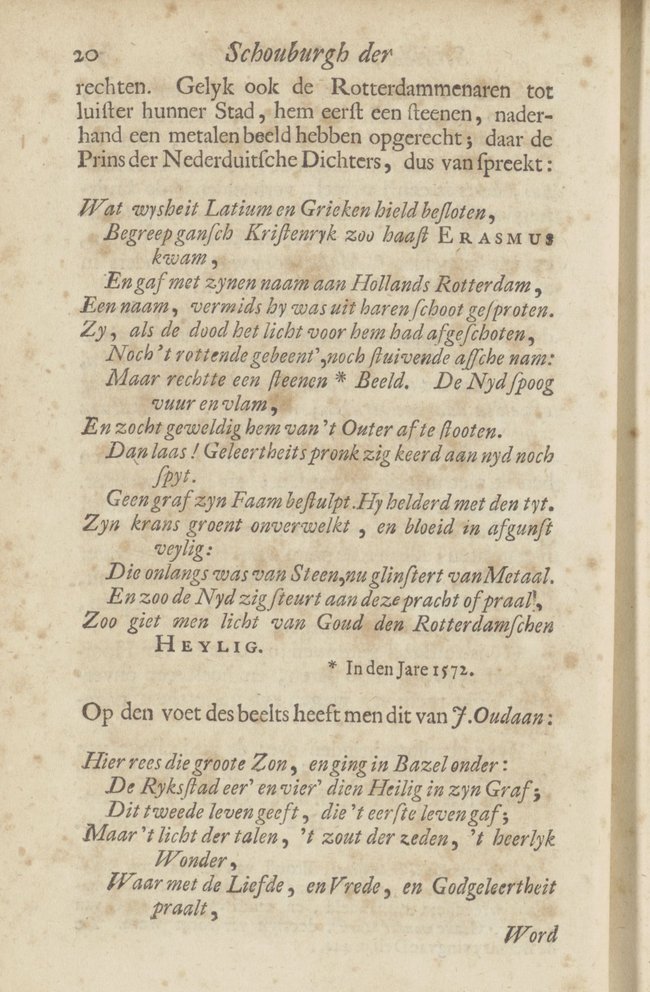 ---
1
Hendrik de Keyser (I) and Jan Cornelisz. Ouderogge
Portrait of Desiderius Erasmus (1466-1536), 1622
bronze 223 x 100 x 138 cm
Rotterdam, public collection Gemeente Rotterdam

---
Page 21

Is not honoured by a grave, nor rewarded with a statue:
Hence the vault of the sky must here cover Erasmus,
After which no lesser place can provide his temple.

On this follows the artful glass painter

DAVID JORISZ.

He was born in Delft, but in what year is still not known to me. It can only be concluded that he was a native of Delft from the preaching of the twenty-six apostles, which were proclaimed by the King of the Anabaptists, which, among other new inventions announced to the people that four prophets had arisen since Christ, two false ones, to wit the Pope of Rome and Martin Luther, and two true ones, namely Jan van Leyden and David van Delft. He was (before the time that he was made Bishop of the Mennonites of Delft by Obbe Philips) an artful glass painter by profession, of which there were still some remnants to be seen in Delft in the year 1667.

He was the son of an organ grinder, unaccomplished in languages but, according to the testimony of all who have written about him, naturally wise and nevertheless exceptionally clever, etc. handsome in his features, well-formed in his limbs, well-mannered in his habits, and well-spoken. He had a long curly yellow beard by which he could still be recognized when, being buried, they exhumed him to burn him.

On the 2nd of January of the year 1538 the first proclamation against him was issued, from which one can guess at the time of his life, and on the 2nd of February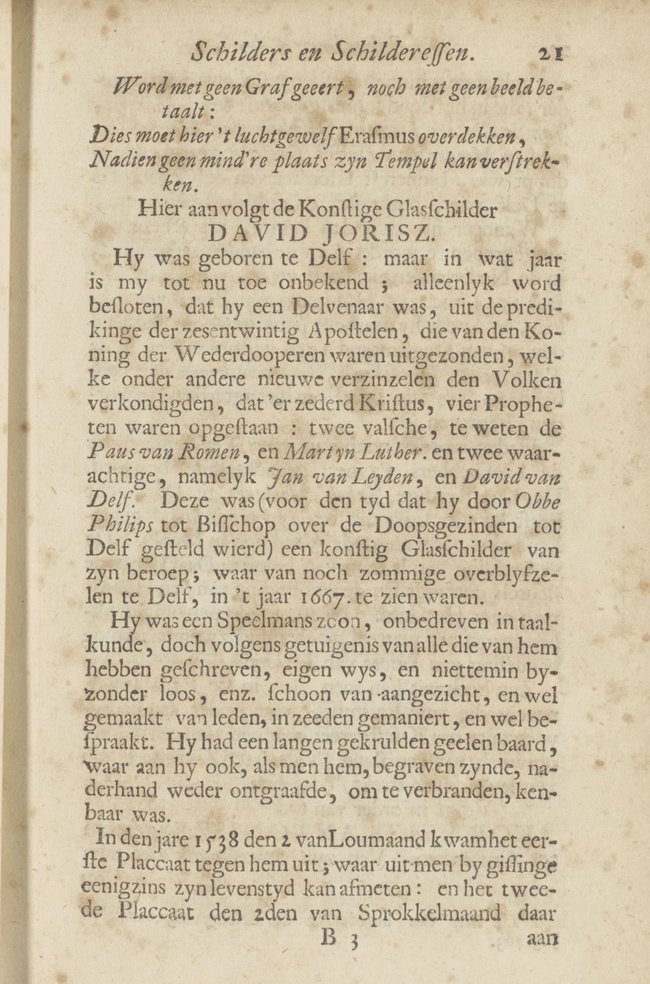 ---
Page 22

a second proclamation followed. In the interim his mother (who in her death sentence is called Marytje, Daughter of Jan de Gorter, widow of Joris de Coman and Mother of David Jorisz) was beheaded within the monastery of the Lollards in Delft and also buried there because she had been rebaptized.

In the year 1544, when he no longer felt safe in the Low Countries out of fear of being seized and chained, he and his family left for Basel, where, after having lived there for eleven years, he died on the 26th of August 1556 and lies buried in the parish or main church (having changed his name to Jan van der Broek so as not to be located).*

Today some of his drawings are still preserved in his memory by admirers. The art-loving Jacob Moelaert in Dordrecht has four items that are drawn by his own hand, being the finding of Moses, the depiction of the promised land, Peter receiving the keys [2], and the centurion of a hundred [3]. The latter, outlined with the pen and shaded with the brush, resembles the handling of Lucas van Leyden.

One can see his portrait in Plate A, next to that of Erasmus, below which, beneath the addition of art implements, is a mask encircled by a snake (serving as an emblem of his way of life) is visible.

Now follows in order of time
CORNELIS ANTHONISZ., born in Amsterdam. Of his brushwork one sees


--------
* For more on this see the Beschryvinge der stadt Delft, p. 763.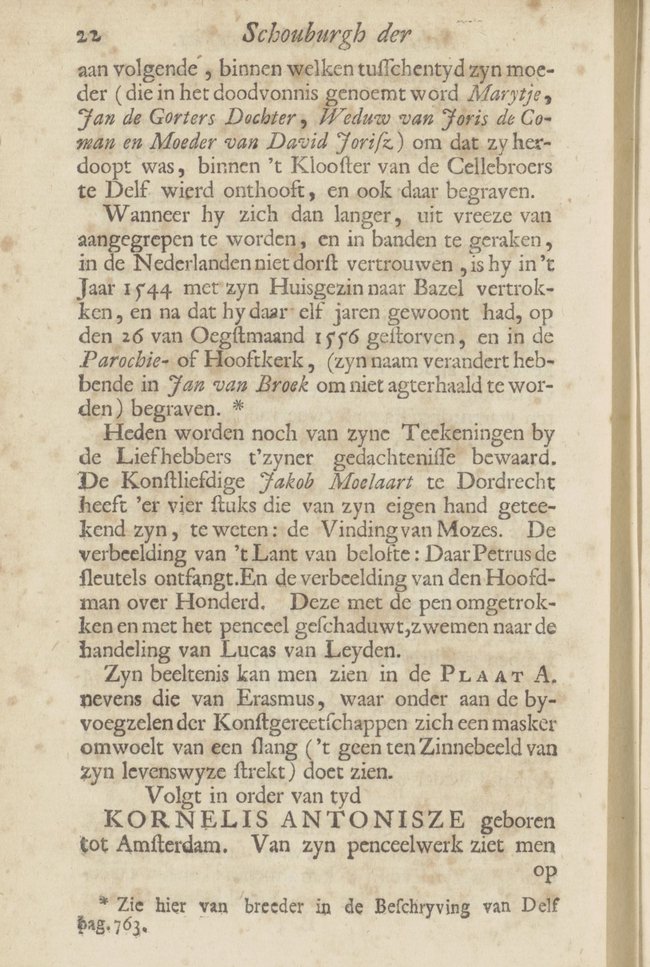 ---
2
David Jorisz.
Christ gives the keys of heaven to Peter (Matthew 16:19), c. 1524-1529
paper, pen in brown ink, grey wash 237 x 191 mm
Detroit (Michigan), Detroit Institute of Arts, inv./cat.nr. 1934.97

3
David Jorisz.
Christ and the Centurion, c. 1524-1529
paper, pen in brown ink, grey wash 247 x 188 mm
Berlin, Kupferstichkabinett der Staatlichen Museen zu Berlin

---
Page 23

in the Thesaurie Ordinaris the depiction of Amsterdam in the state of its first encirclement of walls, begun in 1482. This work was painted after life in the year 1536 by this Cornelis Anthonisz. [4], at that time guard of the crossbow shooting gallery and in the year 1547 become Councilman of the city, and the poet Jan Vos composed the following lines concerning it:

Here Amsterdam is born; full of hope, from brackish peat.
Thus a fisherman's quarter becomes the port of all seas.
On such a foundation the country knows how to erect its state,
One prospers by commerce; one lives by wise laws.

Later he had the same old Amsterdam with its monasteries, churches, and other foundations depicted in twelve woodcut plates and dedicated them to Emperor Charles V, then Count of Holland, who bestowed a patent against copying of the same [5]. Prints of which remain amongst lovers of antiquities.

And next to him appears:

JAN de HOEY, born in Leiden in the year 1545. I do not know with whom he studied art or what he painted. The rust of time has erased his memory and left us only faint marks as evidence that there was such an artist in that early century whose brushworks were honoured by Henry IV,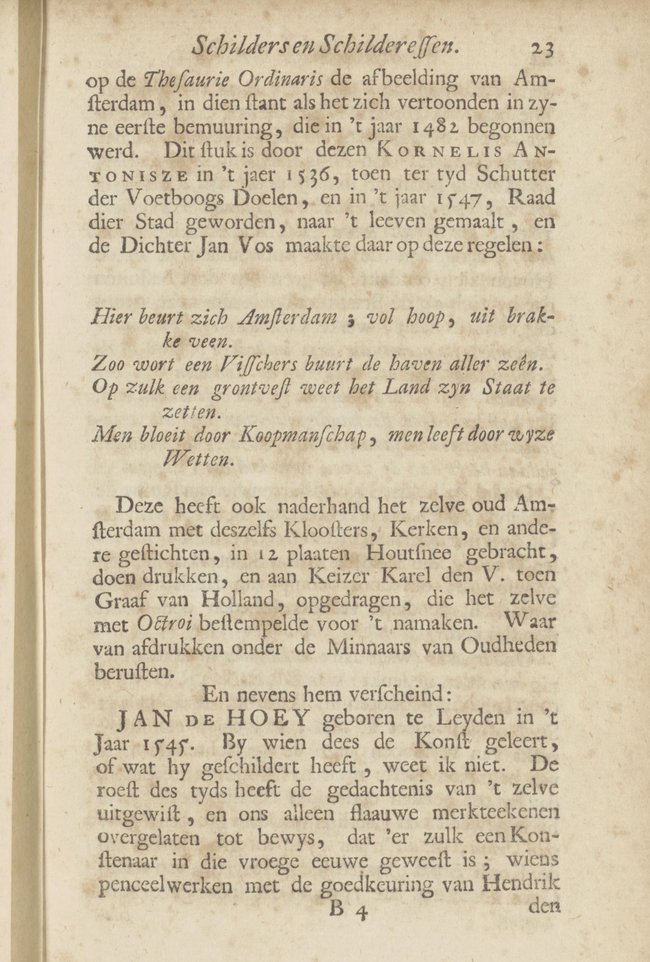 ---
4
Cornelis Anthonisz.
Bird's-eye view of Amsterdam, possibly 1536
panel, oil paint 116 x 159 cm
Amsterdam, Amsterdam Museum, inv./cat.nr. A 3009

5
Cornelis Anthonisz.
The city of Amsterdam in 1544, seen from a bird's eye view, dated 1544
paper, letterpress printing 1007 x 1093 mm
Amsterdam, Rijksmuseum, inv./cat.nr. RP-P-OB-70.399

---
Page 24

King of France, who also elevated him to his chamberlain and superintendent of paintings or art collections. And Florent Le Comte testifies in his Cabinet des singularitez that in all his activities until 1615, when he died in his seventieth year, he led a tranquil life (which is rare, seeing that envy is most often encountered at courts). This has us decide that he must have thoroughly understood the political way of life, which Gracián calls an exceptional capacity which is not taught in books or schools but on the stages of connivance and in the theatre of modesty. He concludes: That the ability to get along with all people has been of greater use and service to some than the several liberal arts combined.

Among the bright artists of Rome who illuminated the world, Rafaël of Urbino was especially famous around this time. Many discerned the location of this lodestar early on to discover the deeply hidden secrets of art with the aid of this celestial light.

Among those (whom Van Mander commemorates with only a few words) was BERNARD van ORLEY, born in Brabant, but in which city or year I know not, seeing that a long series of years have gone by and buried the recollection of events. But it may clearly be measured that he lived to a ripe old age, since he was a pupil of the great Raphael of Urbino, who died in the year 1520, only 37 years old, to the great loss of art, with our Van Orley following his example in 1550.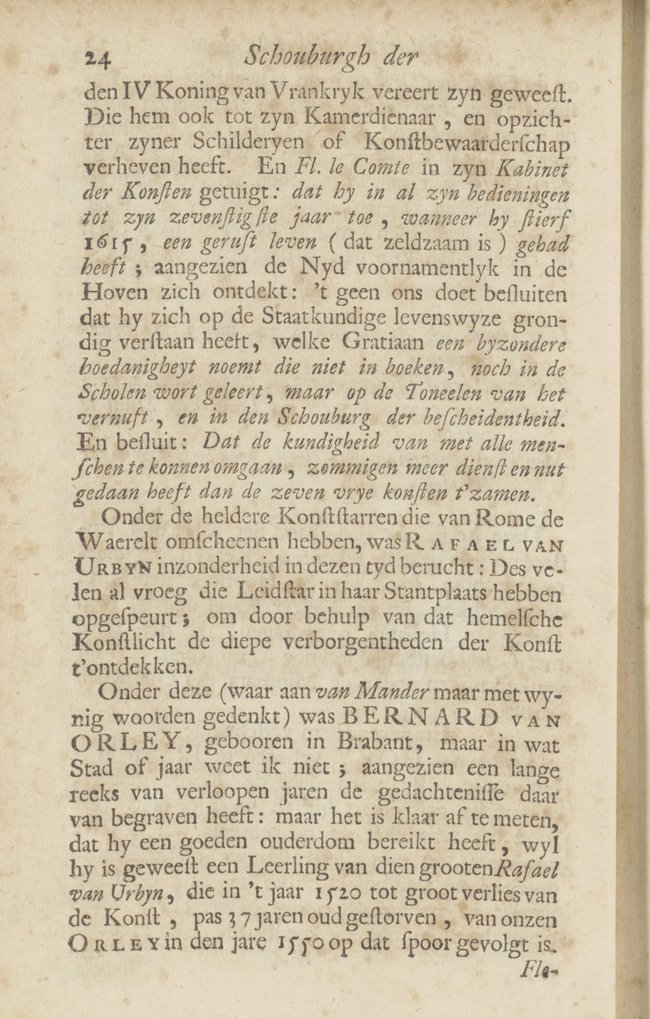 ---
Page 25

Florent le Comte says: that during Raphael's life he was so far advanced in art, that he helped him paint his largest works. Later he also moved on to the painting of animals, animal hunts and landscapes, though without neglecting history and figure painting, as will appear below. Great spirits (says Graçian) have always attempted to find a new way to pursue fame, but in such a way that caution was always their guide. Or they have preferred to be the first of the second group to being the second of the first group. Whether the latter gave reason for the change in his preferences concerning the subjects of the art of his brush, I cannot say; but I can say that he garnered fame with both the one and the other.

Returned to Brabant, he became famous as the best in the painting of hunts in the service of Emperor Charles V, for whom he has painted the Zonien Forest with all the pleasant prospects around and in it. He also worked for the Duchess of Parma to imitate tapestries, for which (as also for the depictions of the Emperor and the most eminent of the court) he was richly rewarded.

In Antwerp he painted for the canons the Last Judgment on a gilded ground to decorate one of their monastic chapels [6], and for the brotherhood in Malines a great piece in which St. Luke sits painting the portrait of the worthy maiden-mother Mary [7-8].

MICHIEL COXIE later painted the exterior of the doors which protected this artwork from excessive light and dust.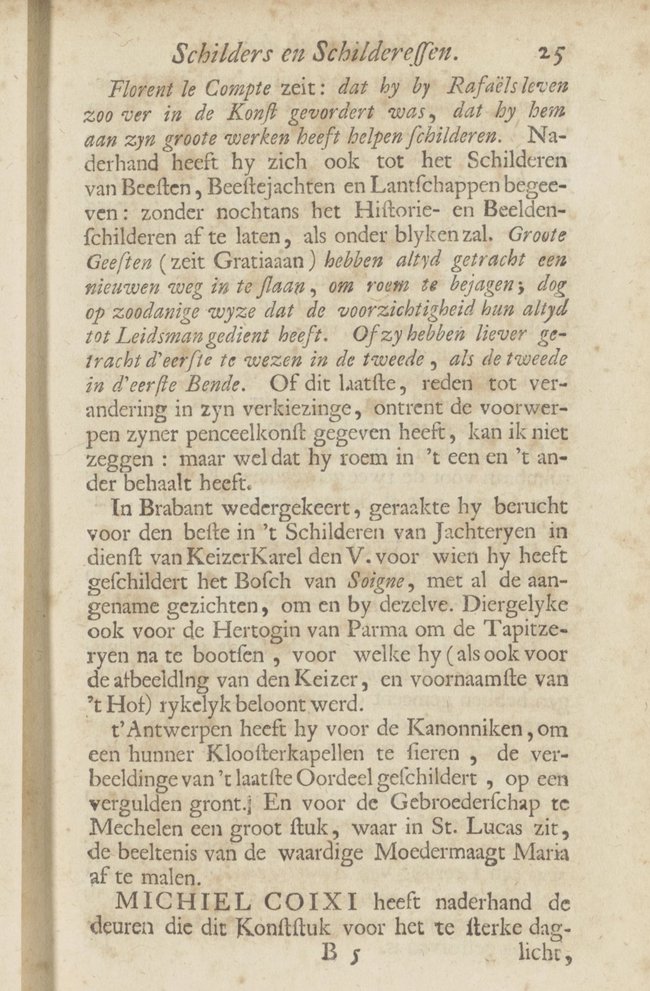 ---
6
Bernard van Orley
Three acts of Mercy (recto left), The Last Judgement and the seventh act of Mercy (middle), Three acts of Mercy (recto right); Saints Stephen and Mark (verso left), Saints Laurence and Elisabeth of Hungary (verso right), c. 1518-1525
panel, oil paint 248 x 406 cm
Antwerp, Koninklijk Museum voor Schone Kunsten Antwerpen, inv./cat.nr. 741, 743, 745

7
Jan Gossart and Michiel Coxie (I)
Tryptich of St. Luke painting the Madonna, c. 1513 and before 1580
panel, oil paint 230 x 385 cm
Prague, Národní Galerie v Praze, inv./cat.nr. O-8765

---
8
Jan Gossart
St. Luke painting the Madonna, c. 1513
panel, oil paint 230 x 205 cm
Prague, Národní Galerie v Praze, inv./cat.nr. O-8765

---
Page 26

Which Van Mander also commemorates in the life of Michiel Coxie, pupil of our Van Orley, with these words: There were also in Malines two wings of the altarpiece of St. Luke, of which the inner depiction was painted by Bernard of Brussels (thus he calls our Orley) [=Jan Gossart] [9-13]. But the monks sold these doors to the Duke Matthias for a high price on account of their artful paintings, and they were moved abroad.

Six cartoons remained incomplete after the death of Bernard van Orley, which were later completed by Jacob Jordaens. And that is all I am able to write about them.

They have played out their rôle and give way to two brothers, painters on which Gouda does not pride itself without reason, namely

DIRCK and WOUTER CRABETH.

It is surprising that Karel van Mander does not devote a word to them. But all the more (says the city's chronicler) their memory needs to be revived. Some have believed that they were Germans by origin, others that they grew up in France, but their descendents witness that they came from Holland.

Van Mander mentions on page 148 one Adriaen Pietersz. Crabeth, whose father was usually called Cripple Pieter. He was a pupil of Zwart Jan, or Jan Swart van Groningen, with whom he studied with the greatest of diligence before leaving for France, where he also died.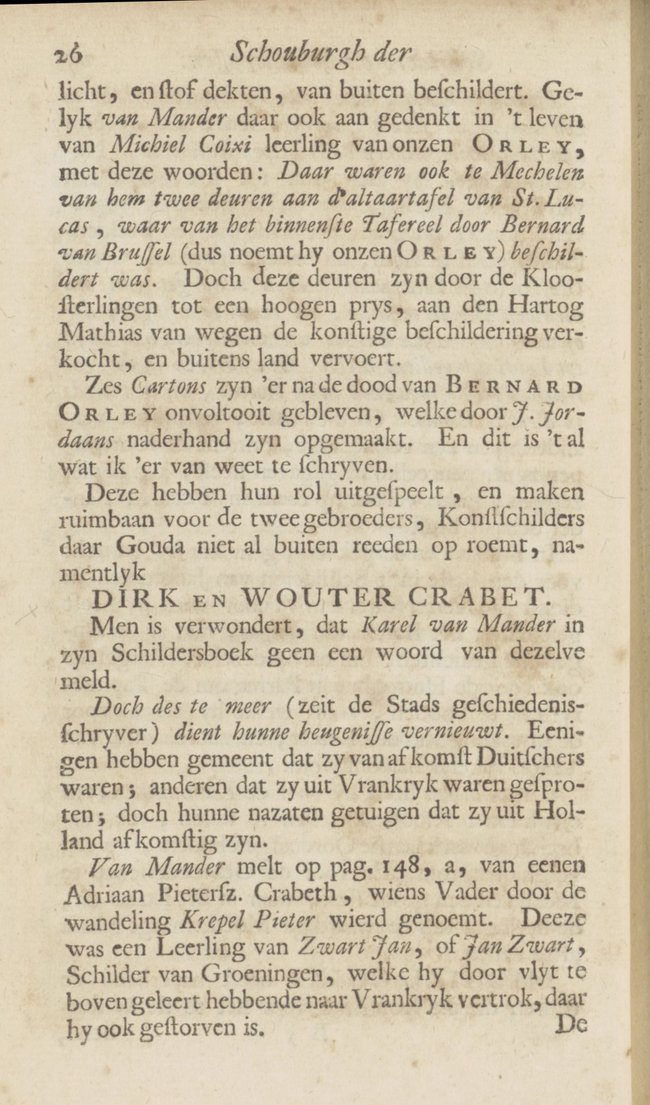 ---
9
Michiel Coxie (I)
The Martydom of St Luke, before1580
panel, oil paint 230 x 90 cm
Prague, Národní Galerie v Praze

10
Michiel Coxie (I)
St-John on Patmos, before 1580
panel, oil paint 230 x 90 cm
Prague, Národní Galerie v Praze

---
11
Michiel Coxie (I)
St Luke, before 1580
panel, oil paint 230 x 90 cm
Prague, Národní Galerie v Praze

12
Michiel Coxie (I)
St John the Evangelist, before 1580
panel, oil paint 230 x 90 cm
bottom (positional attribute) : MIGHEL. / DE MALINO /FACIEBAT.CMR
Prague, Národní Galerie v Praze

---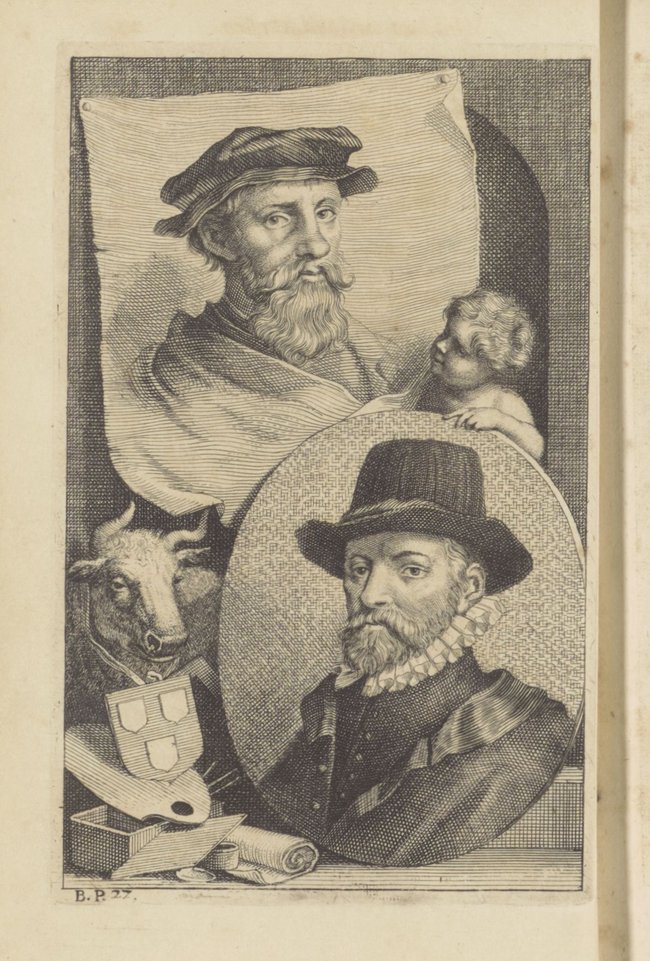 ---
Page 27

Mister Theodorus Janssonius van Almeloveen is of the opinion that Claudius, also known as Cripple Pieter, was not just the father of the mentioned Adriaen but also of Dirk and Wouter, and that as a consequence Adriaen, Dirk and Wouter were brothers. He supports his convictions with the fact that the latter two are called Pieterszoonen like the first and also that the time calculations for all three correspond.

Willem Tomberg, son of Daniël Tomberg, glass painter of Gouda, is of the opinion that they learned their first rudiments from some monks.

Of Wouter it is told that he visited France and Italy and had the habit of leaving behind a window in all the places that he passed through purely as samples of his art. He is judged by all connoisseurs to stand out above his brother, especially in his drawing. His work also stood out in clarity, and that of Dirk on the contrary was more powerful in its colours, so that people used to say: what Dirk does through his shadows, Wouter achieves with his highlights. They were both good masters, both in large and small work, and that with such virtuosity that it is hardly to be believed. That, however, is apparent from the dates. The year after he had finished his first window in the year 1561, in which the Queen of Sheba [13] is depicted, Wouter completed the great window paid for by Duchess Margaret and given by her to the church [14]. In the year 1564 followed a work with the birth of Christ and in 1566 one with the expulsion of Heliodorus all within a space of six years [15-16]. And still Dirk was more deft in his work,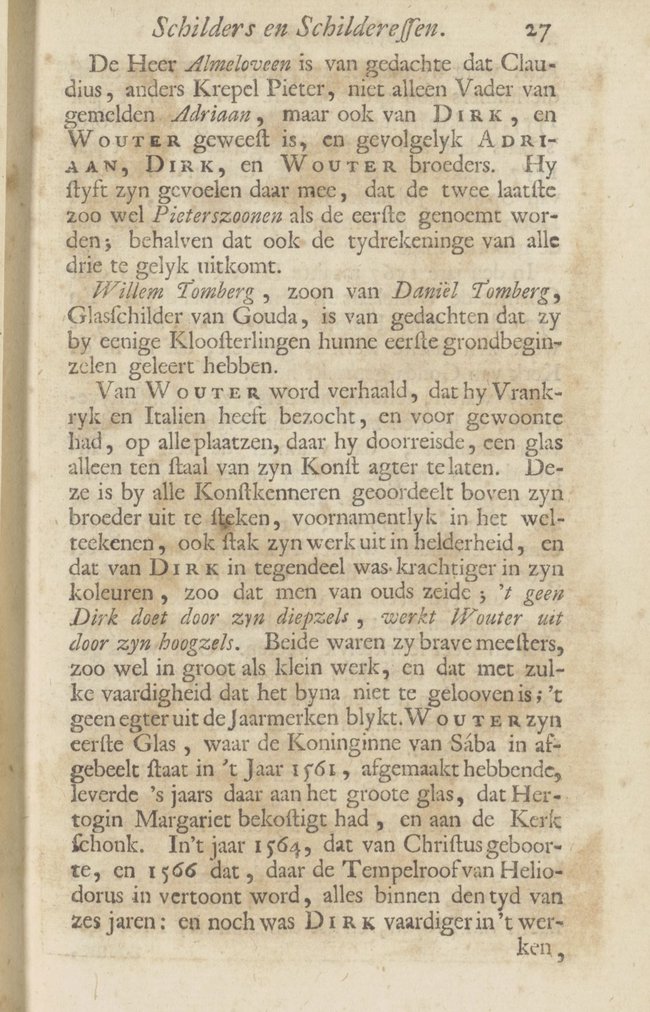 ---
13
Wouter Crabeth (I)
The Queen of Sheba visiting King Solomon (window 5), 1559-1561
glass, stained glass (material) 1126 x 478 cm
Gouda, Protestantse Kerk Gouda

14
Wouter Crabeth (I)
Elijah's sacrifice on mount Carmel and Jesus washing the feet of the disciples (window 23), 1563
glass, stained glass (material) 1880 x 460 cm
Gouda, Protestantse Kerk Gouda

15
Wouter Crabeth (I)
The Nativity (window 12), 1563-1564
glass, stained glass (material) 977 x 280 cm
Gouda, Protestantse Kerk Gouda

16
Wouter Crabeth (I)
The Scourging of Heliodorus (window 8), 1566
glass, stained glass (material) 1360 x 470 cm
Gouda, Protestantse Kerk Gouda

---
Page 28

for in three years he finished six windows that were ever so large. For in 1555 he made the window in which Christ is baptized [17]. In the next year came the two following works and in the year 1557 he completed three windows, that of the King of Spain, Saint John the Baptist preacher of penitence, and the baptism of the Chamberlain, all six being of the largest dimensions.

In 1567 Dirk made the window with Christ driving the money changers from the temple [18]. And 1571 one with Judith beheading Holofernes [19], which was his last work that he made in the church of Gouda.

Although brothers, they were such ambitious artists and so secretive about art with each other that when the one asked something related, the other answered: I sought it out with diligence, go do the same. This went so far that when they happened to enter each other's shop (which happened rarely) the work in progress at the time was covered, so that when they had something to communicate, they informed each other in writing. It is also witnessed that they did not did not claim great reward for their church work, which is also why they continued to make windows for as long as they lived.

Dirk remained single and lived on the west shore of the Gouwe, above the turf bridge, where the Amsterdam ferry is to this day. He still lived in the year 1600.

Wouter lived behind the fish market, on the north side, and married a woman of the old Van Proyen family [= Neeltje Goverts van Proyen] and left a son named Pieter,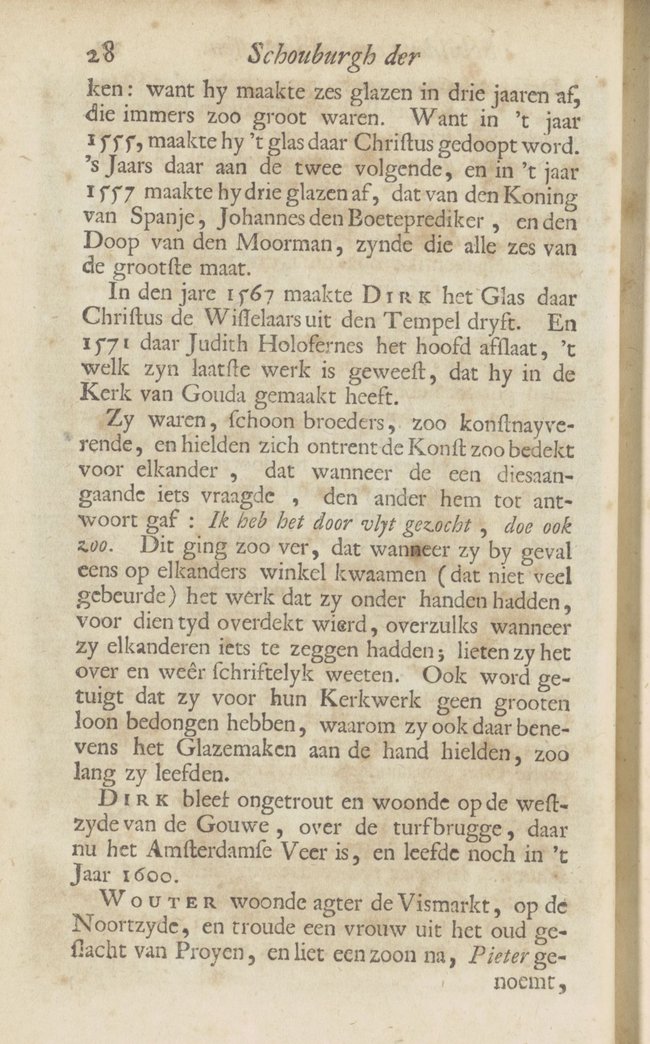 ---
17
Dirck Crabeth
The baptism of Jesus by John the Baptist (window 15), 1555-1556
glass, stained glass (material) 990 x 403 cm
Gouda, Protestantse Kerk Gouda

18
Dirck Crabeth and Daniël Tomberg
The cleansing of the temple (window 22), 1568-1569 and 1657
glass, stained glass (material) 1350 x 460 cm
Gouda, Protestantse Kerk Gouda

19
Dirck Crabeth
Judith and Holofernes (window 6), dated 1571
glass, stained glass (material) 1126 x 478 cm
upper center : Anno / 1571
Gouda, Protestantse Kerk Gouda

---
Page 29

who later became burgomaster. He became unwell in old age, but I do not know the year in which he died. The engraver Reinier van Persijn, married to Wouter's son's daughter, issued their portraits in print [20], which we show in Plate B, below which the renowned poet Joost van den Vondel wrote the following poem:

When Wouter offers with Elijah,
Dead paint seems divinely proud.
When he eats the paschal lamb with the Messiah,
His brush full of art and grace,
Moves all the more courageously and bolder.
Places the picture on the painter's altar.

Diedrik's hour glass has run its course,
Still he perseveres with Saint John,
To teach the people and baptize them,
Since they swarm around this man,
As full of diligence as penitence.
Is that hero not worthy of a crown of art?

These two great masters of that art have died, and with them the artform, says Willem Tomberg, although Mister Almeloveen claims that in the library of Mister Joachim Feller one or two books were found from which this art could be learned. What is the case I do not know, but I do know that nothing more was heard of the influence of that text. Mentioned Willem Tomberg does give some indication of the materials that they used for glass painting, but he confesses his ignorance about how they prepared the materials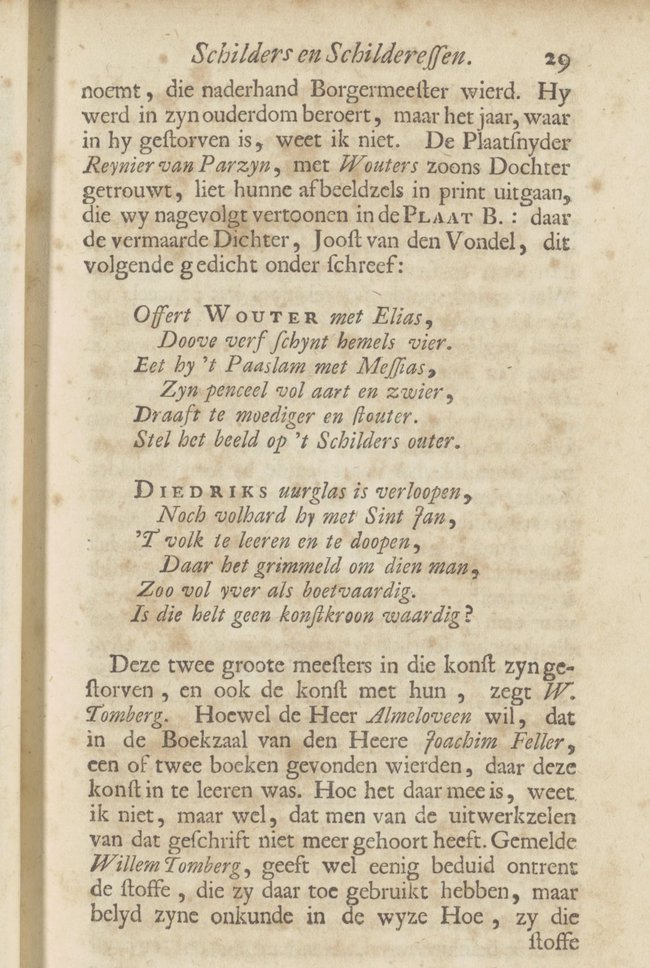 20
Reinier van Persijn after attributed to Cornelis Ketel
Porttraits of Dirck Pietersz. Crabeth (?-1574) and Wouter Pietersz. Crabeth I (1589), dated 1661
paper 174 x 235 mm
The Hague, RKD – Netherlands Institute for Art History

---